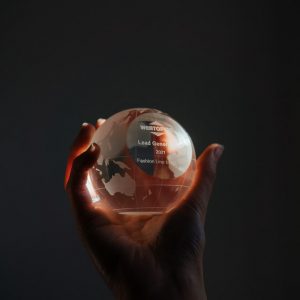 If you've got a tonne of trophies and awards hidden away in a box in the garage because you can't find a good way to display them inside your home – you're not alone. In fact, most young people seem to find it difficult to display all their trophies for two main reasons – it either stands out too much (making the owners of the trophies look a little vain) or it doesn't suit the aesthetic of the room and sticks out like a sore thumb.
Whatever the reason may be, we've come up with a few tricks which can help you find a more suitable placement and arrangement for your trophies, no matter what kind of house you live in.
Without further ado, let's get started.
1. Elegant bookcases
No, we don't mean you have to stuff them in a bookshelf that's full of books where they're barely going to be visible. Instead, your trophies and awards will look better if you give them a dedicated bookshelf where they can be well-spaced out and arranged symmetrically.
Even if you own less than 10 awards – there are small bookshelves which will work just as well.
All you have to do is find a bookshelf that's a suitable size for the number of awards you own and you're good to go. In case you want to add a special touch to your bookshelf, you can go for one which has soft lighting – this means that you can see a golden glow around your trophies whenever you turn on the lights.
For instance, if you've won high-end crystal awards in the past, these will look incredible when placed next to the right kind of golden light. However, by itself, it may end up looking like an ordinary trophy. This is also extremely useful if your bookshelf is in a dark corner, which could make your awards appear dull.
If you happen to have a large bookshelf, you can dedicate alternate shelves to books and trophies – this will also increase the aesthetic appeal of the arrangement, just make sure you don't overcrowd a shelf with too many trophies.
A good rule to follow is one trophy per shelf (if it's a box shaped shelf) or three trophies per shelf (if it's rectangular and large).
2. Floating shelves
Let's be honest, not everyone has the room to install a brand new bookcase in their living room just for their trophies. In case you're running short on space and can't afford to dedicate a separate shelf to trophies, don't worry, because floating shelves were made for this very reason.
Floating shelves can be directly attached to a wall – just about anywhere you wish. In fact, some people choose to attach floating shelves right next to their original bookshelf as an extension of it. However, do remember that this will work only if the shelves you're getting closely resemble the color and texture of the bookshelf you're attaching it next to.
If not for this, they can be a standalone shelf as well. The only tip to keep in mind is to attach them in a place that's well-lit, so they don't merge in with the wall.
Another important pointer is to attach them in a place that isn't in your pathway, as this may hinder your movement.
If you want to go the extra mile and give your crystal awards the attention they deserve, you can get floating shelves that have lights attached to them as well – this will give your trophies a soft glow and will also light up the room a little better.
3. An alcove in the wall
Off late, having an alcove in the wall has become popular once again, since people are realizing the many benefits of having alcoves in the wall and how it adds to the aesthetic of the room.
If you're ready to renovate your living room, corridor, or staircase landing, these could be some of the potential places for alcoves which can contain your awards and trophies.
The best part about this is that they wouldn't take up any real estate and will also look and feel more at home.