We all have some timeless pieces in our wardrobe, good quality, amazing looks, and can be combined with everything! Look at this list of top 10 all-time must-have pieces, that are easy to find, and can be combined easily.
No matter the fashion at the moment, these are the wardrobe pieces that will live forever. We all know them very well, jeans, classic blazer, skirt, dress pants, little black dress, and little white dress are the best choice when you don't know what to wear – whether you are going to a night party or daily walk, with the right details you can wear them anywhere!
Let us know what do you think!?
White Shirt
Photo credit to pinterest.fr
If it is good enough for Khloe, it is good enough for us all! You cannot go wrong with the white shirt. The most perfect shirt that goes well with frankly, anything and everything. If you are struggling with what to wear and time is at the essence, put on a white shirt, a pair of jeans, whatever shoes you like, and voila, you are done and ready to hit out. Whether you choose to wear it with one button-off or prefer the Kardashian way of wearing it, you will look fabulous. A must in any wardrobes that eases the process of what to wear. It will never go out of fashion, and perfect for most weather outside day and night.
Black Heels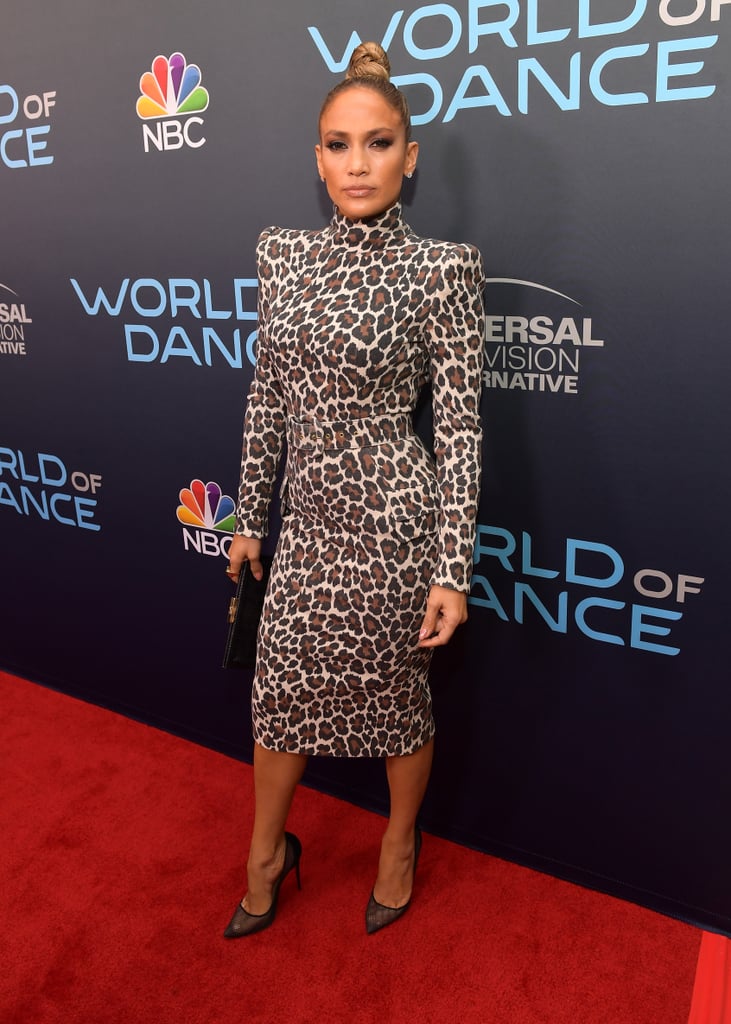 Photo credit to popsugar.co.uk
You see it first hand., like Jenny from the block! Black heels are the safest way to go outside showing yourself to the world. And frankly, you cannot go overly wrong with wearing them. They fit most colors, and most importantly, most outfits. And on top of it all, your heels can be as basic as you want them to be and chances are you will still look ravishing in them. In everyday wear, or for a ball, black heels are always on the scene and won't be going away anytime soon.
Black Blazer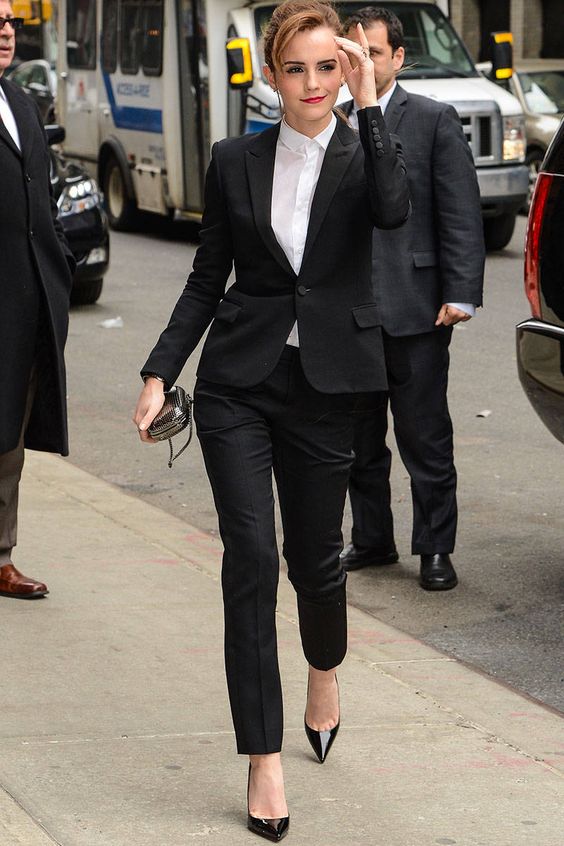 Photo credit to elle.com
Emma Watson looks epic all dressed in black. A color that never goes out of fashion and one that will literally save your life, and hours' worth of decision-making before going out. You might even be on time to the place you need to be! You can wear the blazer with a simple pair of old school blue denim jeans, with any colored trousers or skirt, short or long, or with business trousers for a more formal occasion. There aren't many more items that share that flexibility and manage to make you look great in the process. Put a white t-shirt underneath and look a million dollars. Literally.
Classic Pencil Skirt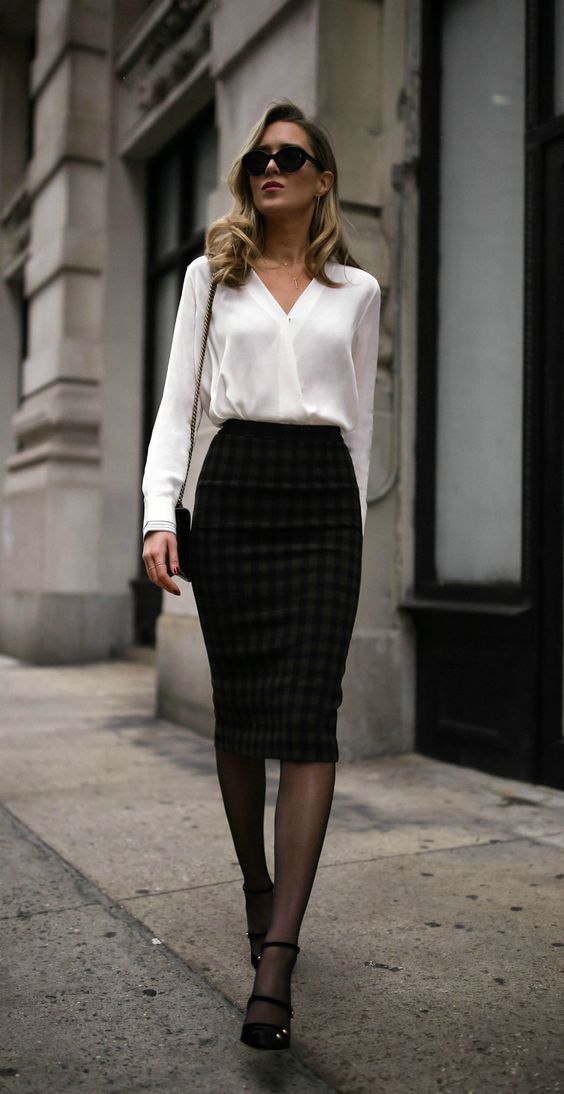 Photo credit to pinterest.fr
Whether made from fabric or from leather, a pencil skirt will always, but always accentuate your figure. Even if you have those hips! This is something you wear with the ultimate confidence as it does showcase every possible outline of your middle part of the body
Trench Coat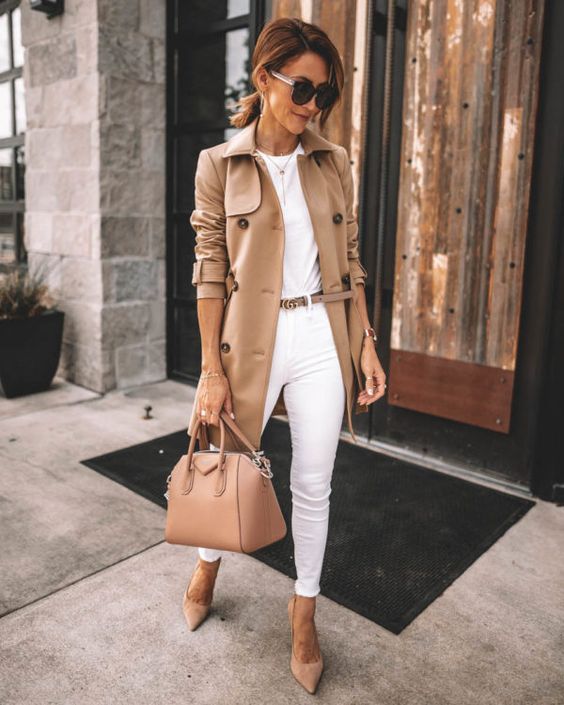 Photo credit to karinastylediaries.com
Despite they are very comfortable and practical, it adds to the fact that they are fashionable and stylish especially as a coat during spring and autumn. These military-inspired coats have reached a staple status and a must-have wardrobe piece, coming in different fabrics such as cotton, leather, or water-resistant. Best is combined with upper knee dresses or skirts, and classic denim jeans, for a business formal or casual dress code. A definite clothing piece that brings so much style.
Little Black Dress & Little White Dress
Photo credit to pinterest.fr
No matter the season, going for a little black dress is an iconic look and the best choice. Perfect for any occasion too. Women wearing black dresses are believed to be ambitious, elegant, powerful, and full of confidence. Another must-have and equally iconic wardrobe piece is a white dress. Women wearing them are portraying energy, softness, spirituality, and protection. Mainly worn during the sunnier days, these two colored dresses are an absolute fashion rule no matter age.
Classic Dress Pants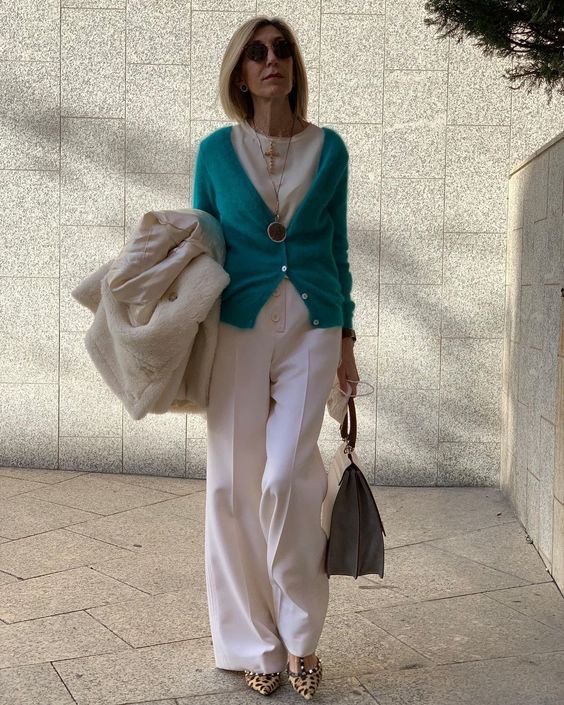 Photo credit to pinterest.com
A super controversial topic whereby in 2019, women from all over the world were fighting to have the right to wear pants covering up their legs; not that they couldn't of course. This was also part to stop the potential provocation by some men at workplaces. A big deal actually. And so many women felt the need to shout at equality. And by wearing a pair of pants, one can assume that you are showcasing equality. And an image that is here to stay; dominating the streets. Besides, if you are waiting to smooth out they are terrific in that respect!
Leather Jacket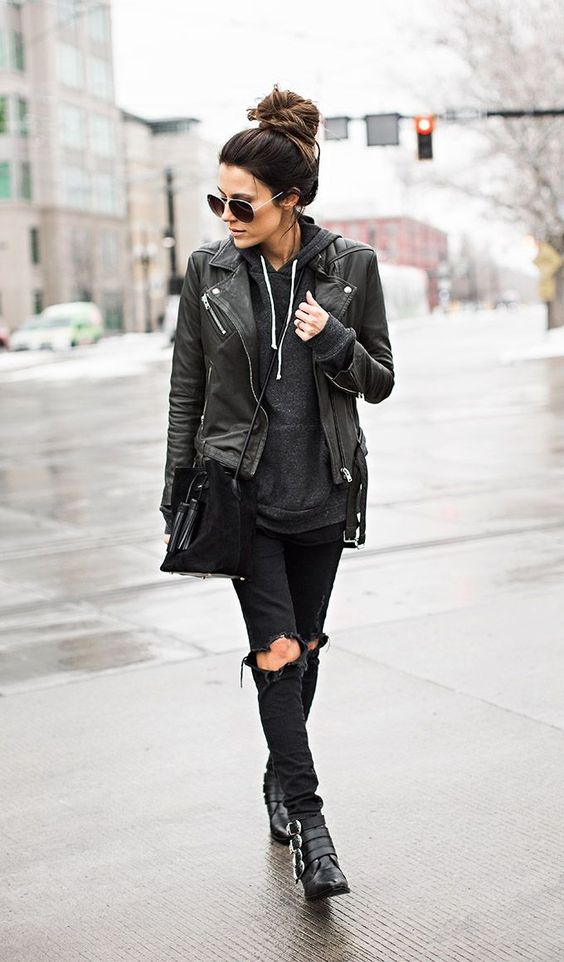 Photo credit to bloglovin.com
The bad girl kinda look, with enormous potential sex appeal. Leather jackets will never, ever go out of style and will always be on-trend. One of the best ways to wear it is by wearing sneakers as opposed to say a pair of boots unless you wish to go for the biker look. In which case, it'll look great as well so go for it. There is a sense of strength from a woman wearing a leather jacket that exudes confidence. Perfect to wear from the beginning of spring all the way to Autumn with a lovely warm jumper underneath it.
Good Comfortable Jeans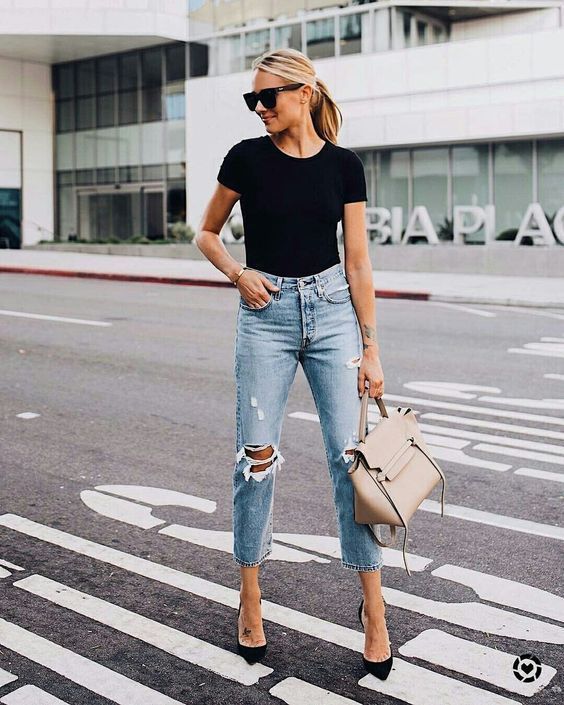 Photo credit to comerblogaramar.com.br
We all own a pair and for those thinking that comfort isn't cool, think again. A comfy pair of jeans means so many things but mainly, that you feel comfortable having just woken up and thrown clothes on in a heartbeat, still looking absolutely and utterly fabulous. Also, when it is the time, like every time once a month, they are life-saving ideas that will see you through the day without a worry. Comfy jeans can also look cool for a more fashionable outtake of them, with a plain white t-shirt and a pair of super stylish sneakers or even a pair of heels.
Simple Flats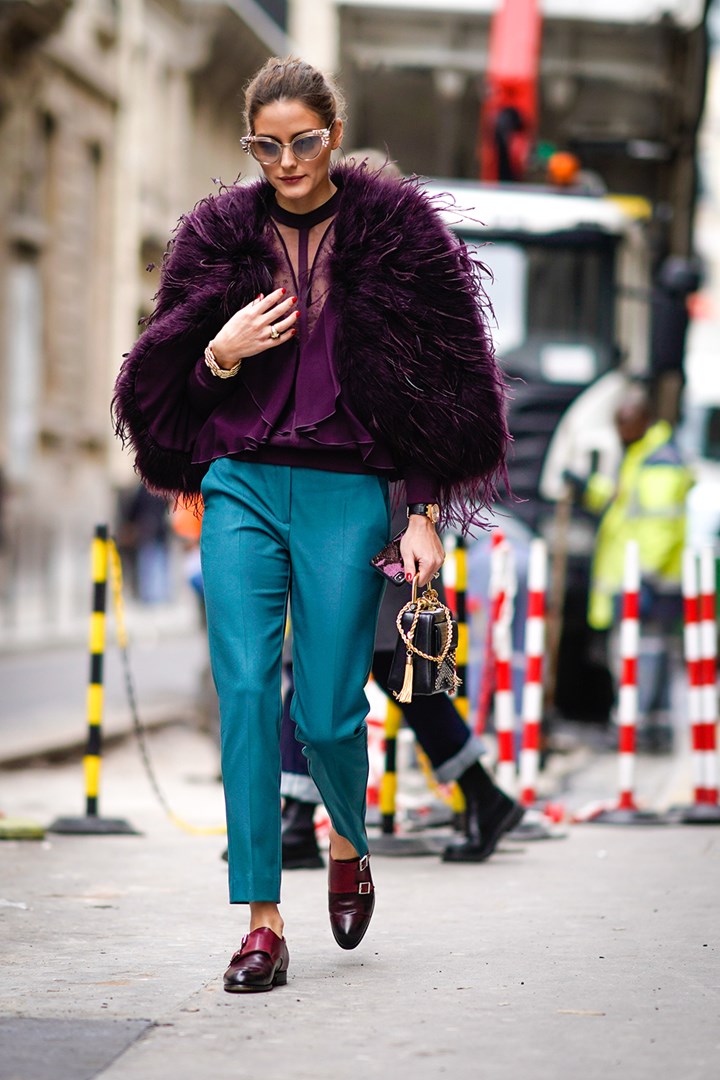 Photo credit to marieclaire.com.au
A pair of heels offers elegance with a great posture and a great behind but, women have things to do! One cannot simply run errands all over town in heels. Besides, no matter how much we say they are comfortable, nothing beats a pair of flats. You know the noise you make when you get home by taking them off? Well, that's exactly what we mean! And besides for many years now, they have come into being an indispensable fashion accessory for women. They are comfortable, make our spine that much straighter, and feel like walking on clouds. And, you can run in them! Women have been reinforcing their equal importance in the workplace and every life, and therefore require more mobility. So, flats it is. You will swear by them!