The beauty industry is growing day by day and new, better trends appear out all the time! There are many tricks and tips you can include in your beauty routine, so the visit in an expensive beauty salon is not a must anymore. With a little knowledge and the right steps you can do miracles for yourself in front of the mirror in the privacy of your home!
All around the web you can find thousand and thousand ways to improve your personal beauty, from hair and skin tricks to all kinds of makeup tips! Some of them are a little bit challenging, but all of you probably adore those that are easy and simple to make.
Did you know it that you can do wonders to your face by using a spoon from your kitchen?! Yes is true! Continue with reading below and find out 10 beauty tricks you can make with a spoon! They're all a little miracle for every lady!
1. Cat Eye Look Tutorial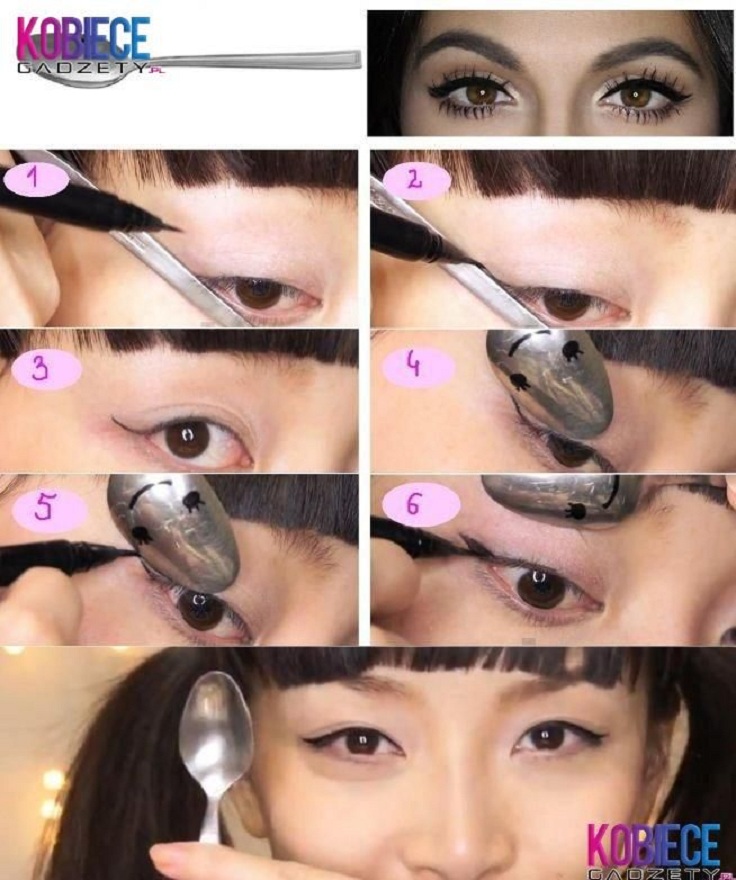 Get seductive, cat eyes in just a minute by using a small spoon which will help you to apply the eyeliner without any mistake! Just follow all the steps and you'll have gorgeous eyes for a night out or for casual coffee with friends! It's an awesome technique!
2. DIY Lash Curling with a Spoon

The second tutorial on the list, but this one will teach you how you can curl your eyelashes with a spoon in just a few seconds! It's totally easy and the good thing is that you can't lose your lashes as it's possible with some other methods!
3. DIY Lip Balm in a Spoon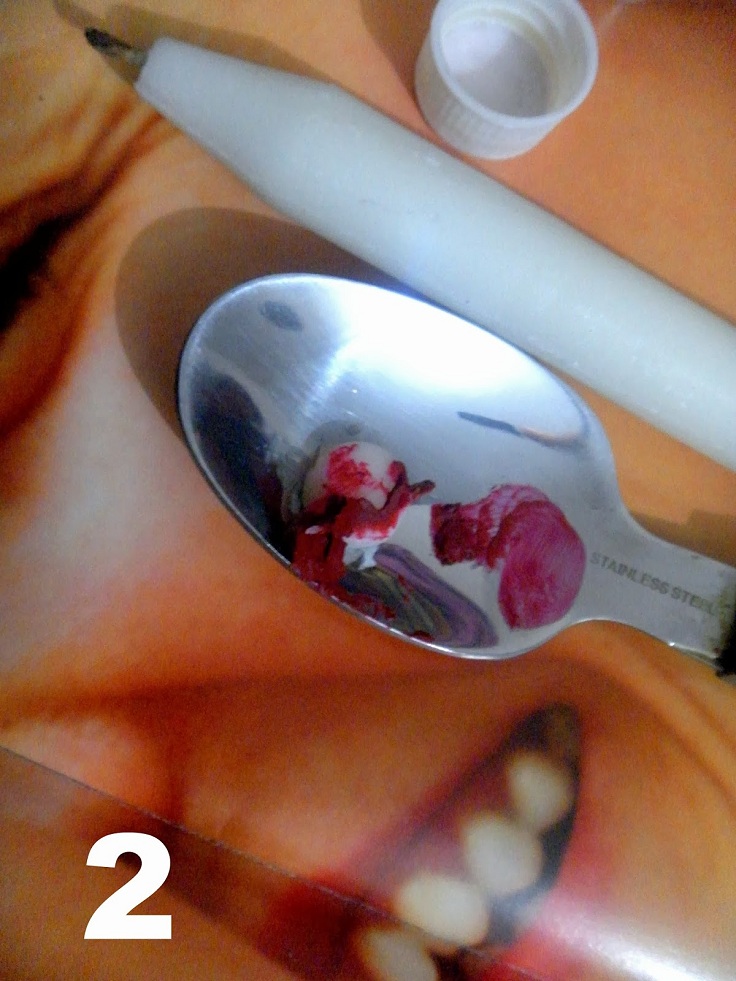 via nishizzz.blogspot.com
Tinted lip balm is something you don't have to buy anymore, because you can make one on your own! You'll need just a couple of ingredients and a spoon. The end result is a wonderful lipstick you can make in any color you want and need!
4. Use the Spoon to Avoid Mascara Marks on Your Upper Eyelid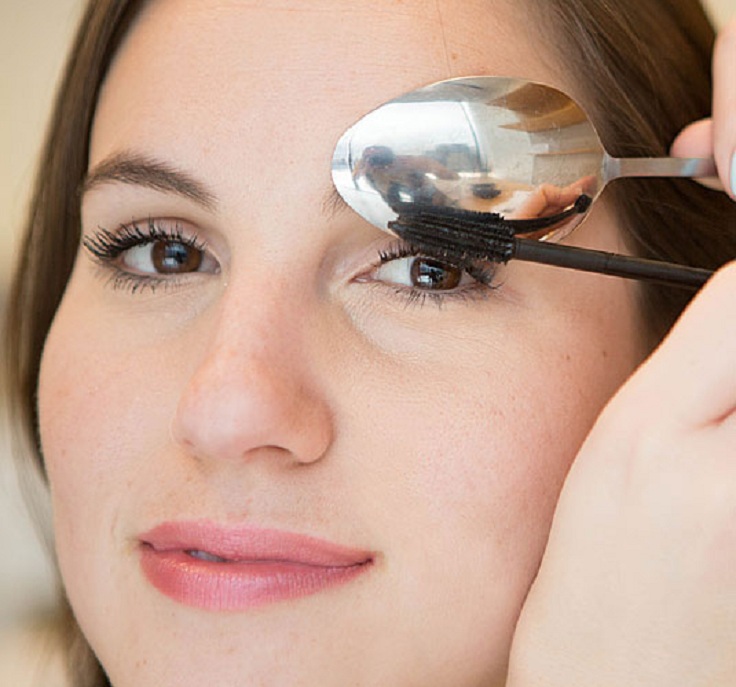 via cosmopolitan.com
In our opinion, this is a marvelous trick that will satisfy women's needs! We know how terrifying could be when you are creating the perfect eye look and then everything is ruined when you apply a mascara! That won't be a problem anymore if you hold your spoon on your eye, like it's shown in the picture above!
5. DIY Manicure with a Spoon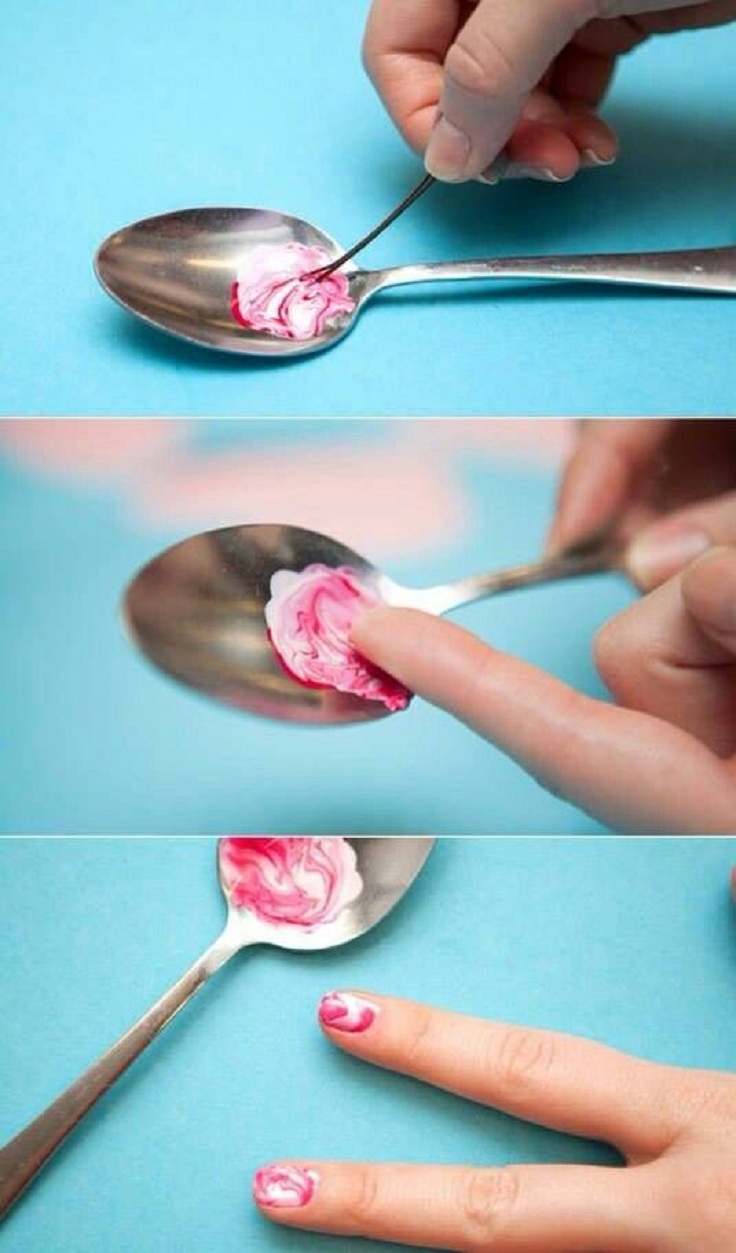 via pinterest.com
Spring is a perfect season for nail experiments and you can have a wonderful manicure in two shades if you mix two colors you like in a spoon! Apply the mix on your nails and everyone will be satisfied with your out of the ordinary nail design!
6. Puffy Eye Remedy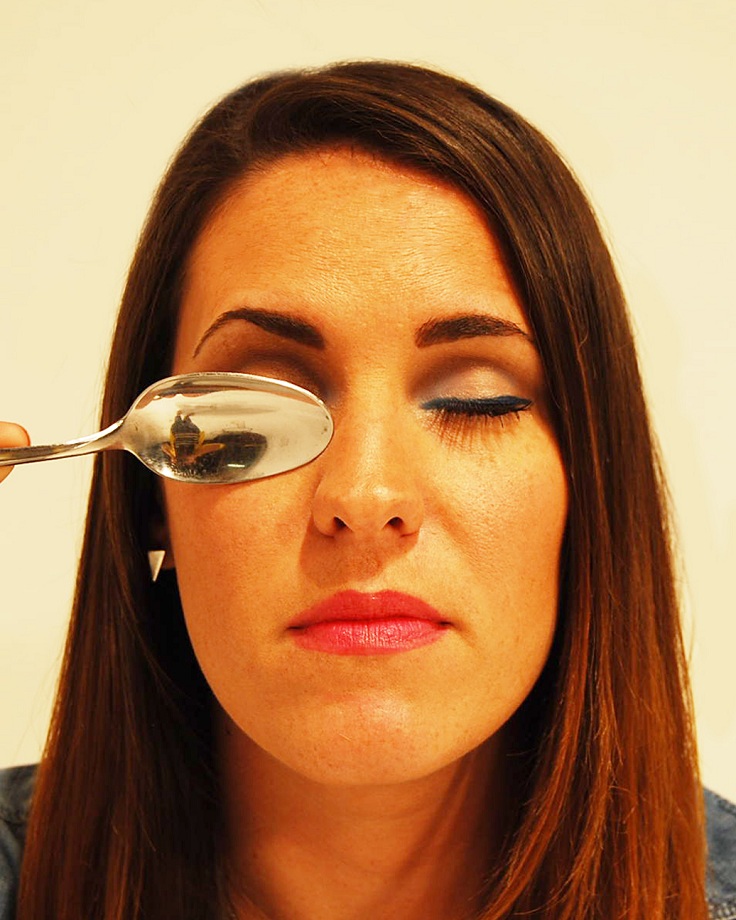 Say goodbye to puffy eyes and dark under-eye circles and start using a cool spoon in the critical area. All you have to do is to put a spoon in the freezer for 10 to 15 minutes and after hold it on your eyes until the spoon becomes warm again! Totally easy!
7. Spoon as an acne remedy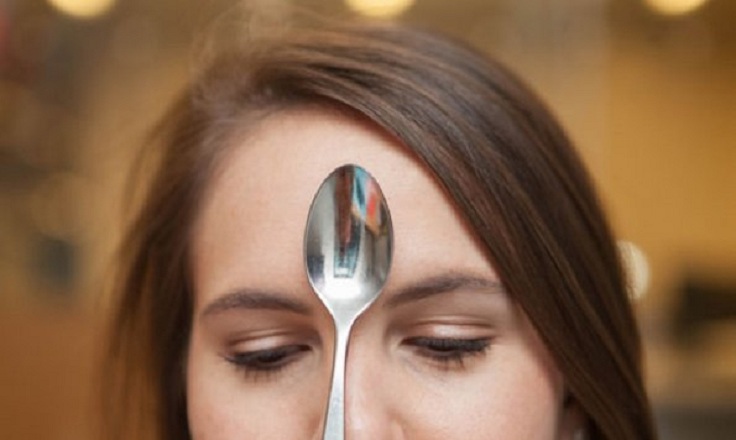 via kfetele.ro
Get rid of annoying pimples thanks to a big spoon! Put the spoon in the hot water and then apply it in the critical area. Follow the picture above and take care that spoon is not too hot! Hold it till is still warm and you'll see that the giant pimple is not so big anymore!
8. Homemade Lip Gloss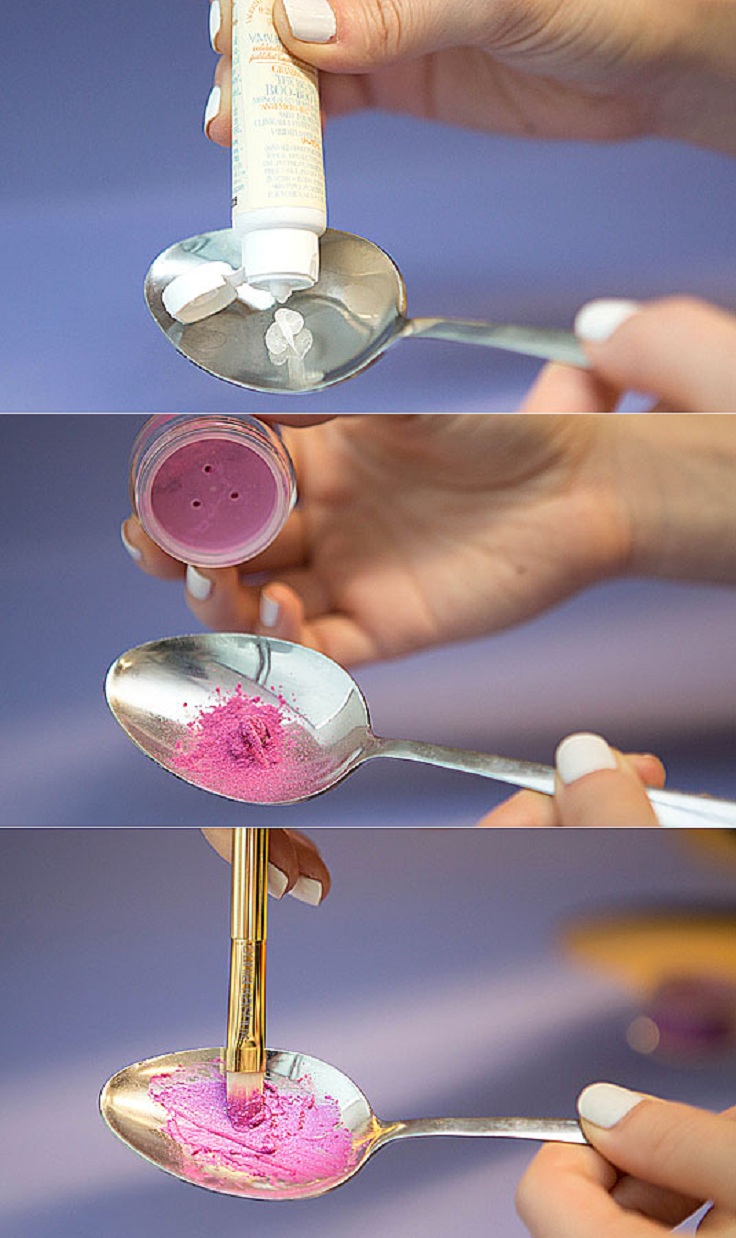 via cosmopolitan.com
If you have some eye shadow that you like it so much and you would like to wear it as a lipstick, then put it in the spoon and blend it with a little bit of a slave! You're done and now you have a perfect lip gloss for any occasion! Voilà!
9. Spoon for Blush Application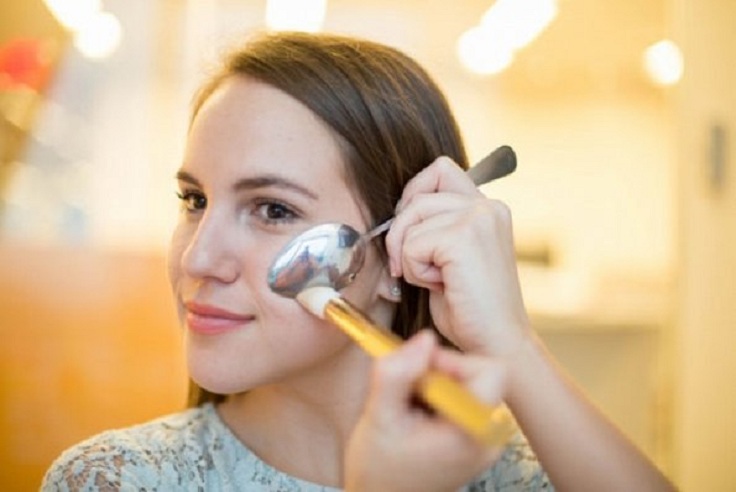 Blush application can be pretty difficult, but not if you make the procedure with the spoon! Place the spoon on your cheeks and apply the blush around the spoon and in the place where you've been holding the spoon. By following this step you'll do the right face contouring, like an expert!
10. Perfect Winged Eyeliner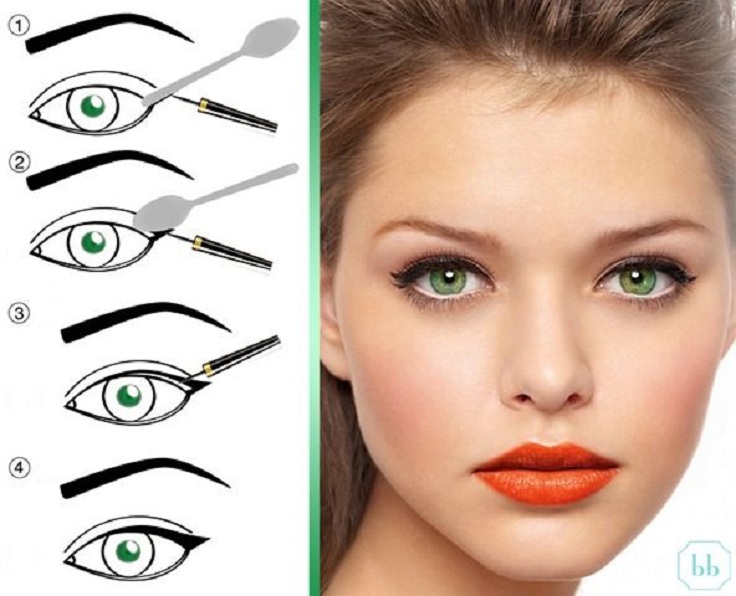 via trusper.com
One more tutorial that will show you how to use a spoon when you apply an eyeliner, but this one is different from the previous, because it'll help you to get the winged eyeliner look which is ultra popular right now. Follow the steps and you can't go wrong!