Whether it is a solo escape or a getaway with your partner, perhaps a girl's holiday, spa resorts provide the ultimate relaxation and rejuvenation you need. Imagine not having to worry about anything, getting a massage every day, swimming in the infinity pool, enjoying gourmet cuisine, and taking long walks in nature. We all deserve it and need it once in a while to recharge our energies and to reconnect with each other.
We have selected some of the most luxurious spas in the US where you can indulge yourself in a getaway that soothes the body and mind.
Remede Spa, St. Regis Aspen Resort, Colorado

The Remede Spa of St. Regis – one of Aspen's most luxurious properties – has been voted as the number 1 spa in the world by Travel + Leisure and received a 4-star award from Forbes. Creating an exceptional experience for each guest, you can be sure that in Remede Spa, you'll receive the best quality of everything.  All expectations are met within this sanctuary of indulgence and relaxation, from champagne and chocolate to luxurious throws and customized treatments.
More information: St.Regis
Follow on Facebook
Cavallo Point Lodge, Sausalito, California

In the Golden Gate National Recreation Area, the Cavallo Point Lodge, located in the Golden Gate Bridge's vicinity, is hard to beat the location. The lodge has a Healing Arts Center & Spa offering various treatments – massage, aromatherapy, body treatments, water therapies, acupuncture, and a heated outdoor meditation pool beneath the pines. Moreover, there is an Organic Tea Bar, culinary arts program, yoga classes, and one of the most dramatic world-famous bridge views!
More information: Cavallo Point
Follow on Facebook
Rancho Valencia Resort & Spa, San Diego, California
The Rancho Valencia Resort is one of the most sought-after five-star resorts; it also has been rated as Southern California's No. 1 tennis resort. Situated on 45 acres of lush gardens and olive groves, this Mediterranean-inspired hidden gem has much to offer for the visitors. The spa prepares freshly-made organic fruit and vegetable juices, has a palm-shaded Yoga Pavilion, Pilates studio, advanced exercise programs, and fitness sessions hosted by highly qualified wellness professionals. Hit the tennis courts or discover the area by resort bicycles.
More information Rancho Valencia Resort
Follow on Facebook
Spa Montage Deer Valley, Park City, Utah

This beautiful alpine oasis in Utah is located in beautiful surroundings, offers new heights of relaxation, beauty, and wellness year-round. The 35,000 square-foot spas, with beautifully appointed treatment rooms, indoor mosaic lap pool with breathtaking views, relaxation rooms, meditation areas warmed by the fire, extensive fitness facilities, yoga studio, and wellness counseling, surely will bring all aspects of your life into artful balance.
More information: Montage Deer Valley
Follow on Facebook
Well & Being Spa, The Fairmont, Scottsdale, Arizona

The Fairmont Scottsdale Princess is home to a wonderful spa and wellness fusion, the Well & Being Spa. This unique spa offers personalized programs that infuse life with a greater sense of vitality. Plunge into the open-air rooftop pool, try the aerial hammock yoga or other fitness classes, then chill out in the steam rooms, saunas, Swiss showers, aromatherapy rooms, hot and cold plunge pools, waterfall treatment pool, and women's lounges. Scottsdale is also a perfect location for desert hiking and to get a taste of the Sonoran Desert.
More information: Fairmont Scottsdale Princess
Follow on Facebook
Calistoga Ranch Resort, Napa Valley, California

Calistoga Ranch is an amazing luxury resort nestled in a secluded Upper Napa Valley canyon. Laying on 157 acres, it is a unique retreat where visitors can reconnect with nature. Your stay here will be a culinary experience as well. Enjoy the private dining experience under the stars, participate in hands-on cooking classes or wine tasting. The cherry on the top is The Auberge Spa with its healing waters. Sink into the heated mineral pool and take in the sights and sounds of the surrounding woodlands and private Lake Lommel.
More information: Calistoga Ranch
Follow on Facebook
The Lodge, Sea Island, Georgia

More information: The Lodge
Follow on Facebook
Rated as one of the world's top resorts, Sea Island's Lodge is a golfer's paradise. The prestigious spa, Cloister, is a 65,000-square-foot sanctuary of elegance and serenity with an expert staff of therapists, consultants, and providers. The Georgian coastline offers great outdoor activities, fishing, boating, horseback riding, a shooting school, and more. There are excellent squash and tennis facilities as well.
Stowe Mountain Lodge, Stowe, Vermont

Relax in the midst of nature and the height of luxury at Stowe Mountain Lodge. The beautiful setting – lakes, rambling woodlands, and majestic peaks – offers various outdoor activities for the visitors, such as hiking, horse riding, skiing, and golf. The expansive 21,000 square-foot New England spa facility offers a full-service fitness center, outdoor swimming pool, Jacuzzis, a relaxation lounge, a hot/cold treatment facility in the Healing Lodge, and 18 private treatment rooms.
More information: Stowe Mountain Lodge
Follow on Facebook
Canyon Ranch, Lenox, Massachusetts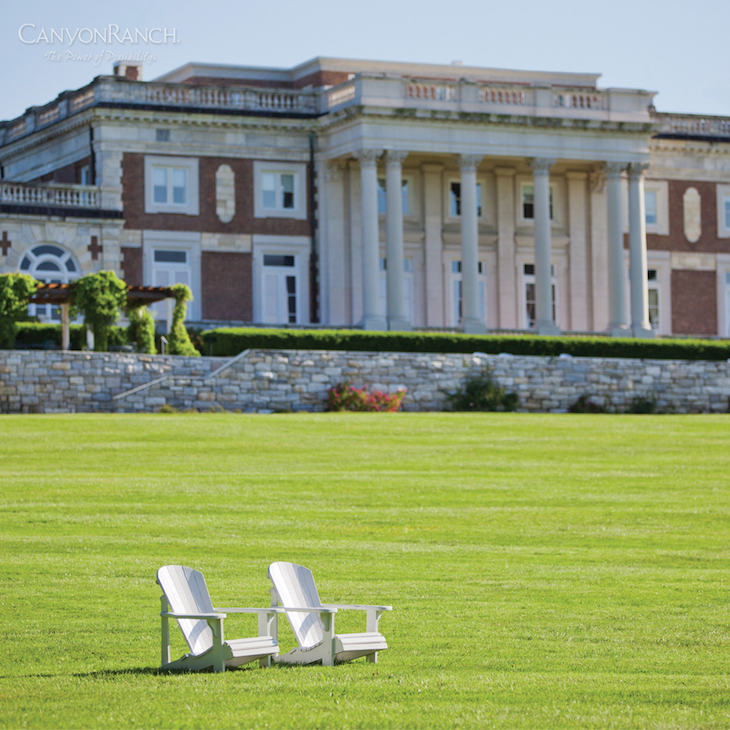 Canyon Ranch represents casual elegance with the century-old Bellefontaine mansion, its architectural centerpiece. Guests can choose from indoor and outdoor activities year-round, including dozens of daily fitness and mind-body classes, guided hikes and bike rides, indoor tennis, canoeing, stand-up paddleboard, cross-country skiing, snowshoeing, the High Ropes Course, croquet on the great lawn, and much more. The 100,000-square-foot Spa complex has everything one can wish for.
More information: Canyon Ranch
Follow on Facebook
Mohonk Mountain House, New Paltz, New York
Mohonk Mountain House is a Victorian castle rising above Lake Mohonk, surrounded by carefully landscaped gardens and pristine wilderness. Located only 90 miles north of New York City, the resort is an accessible getaway for anyone looking to relax. The endless number of activities, great cuisine, beautifully appointed rooms, and cozy interior will make you feel at home soon after you arrive. The award-winning spa creates a world of soothing tranquility, a wonderful place for relaxation and rejuvenation.
More information: Mohonk Mountain House
Follow on Facebook