Have you ever thought about adding some drama into your garden by adding plants with black foliage or black flowers?
All you need to do is google "black flowers or plants," and you will instantly fall in love with the uniqueness and beauty of these specific black or almost black plants. They are perfect for creating a striking contrast in your garden, paired with bright-colored plants. You can choose from many varieties, from annual flowers to perennials and succulents.
Take a look at these 10 black flowers and plants we have chosen as most suitable for adding a dark touch to your garden and choose your favorites. 
1. Black Velvet petunia
via davesgarden.com
The world's first black petunia is so mesmerizing you will instantly want to have it in your garden! It was introduced a few years ago by Ball Horticulture Co. and became one of the most wanted container plants. This velvety gorgeousness thrives in a sunny location and looks fabulous paired with some bright blooms, creating a perfect contrast.
2. Tulip 'Queen of Night.'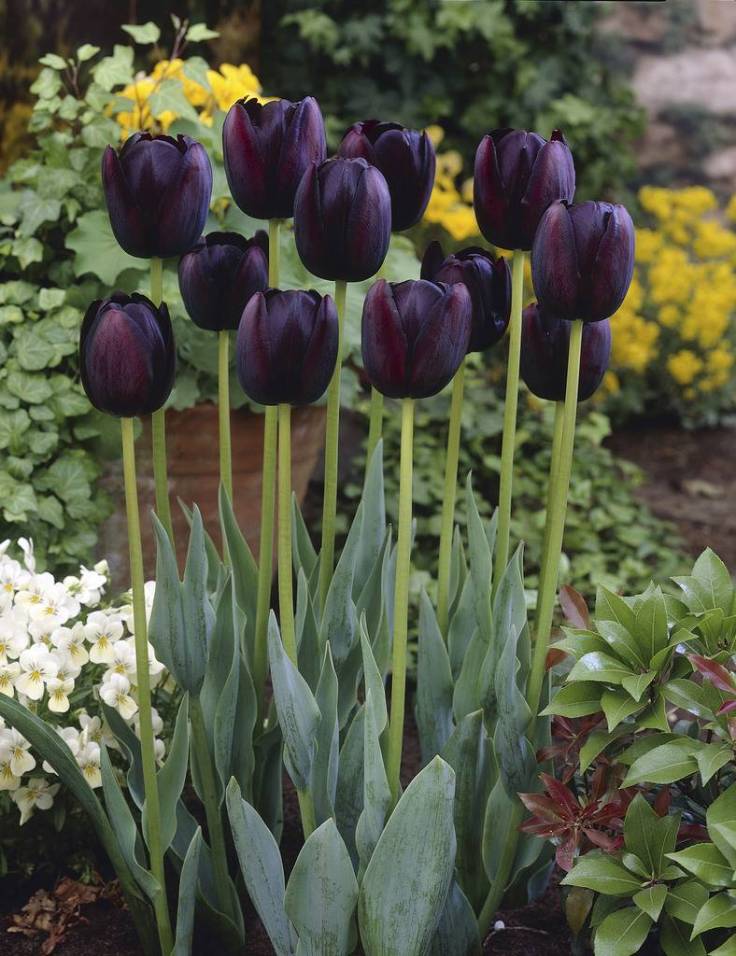 via tulipstore.eu
This dramatic tulip is true "almost" black. Its deep maroon color will make a beautiful addition to your garden. As with any tulip, it is very easy to grow and very low maintenance, so don't be afraid to grow it even if you are a beginner. It is a cold-hardy plant that blooms in mid or late spring under USDA Zones 3 to 8. Pair it with some white tulips for an astonishing view.
3. Aeonium 'Zwartkop'
via florafinder.com
Look at this impressive succulent! The black rose aeonium has the most beautiful dark reddish-purple rosettes with a green center and looks absolutely amazing paired with bright yellow flowers. Make sure you place it in a location that has at least half-day of full sun. It grows up to 12 inches tall and tolerates drought and poor soil. If you live in a colder climate, you will need to protect the plant over winter. 
4. Coleus 'Black Prince'
via pinterest.com
If you want to add some striking foliage into your garden, then choose this gorgeous coleus rightfully named the "Black Prince." It can be grown as a perennial in warm climates or as an annual in colder climates. You can plant it in containers paired with other plants or create a dramatic "black" border in your garden.
5. Sorbet Black Delight Viola
via mullerseeds.com
This magnificent viola doesn't only have a beautiful dark color but is also fragrant and very low maintenance. It tolerates sun as well as partial shade and blooms in cool weather. You can plant it in your garden even before the chance of frost is gone. Your containers will look fabulous all winter long!
6. Tropicanna Black canna
via monrovia.com
Bring a touch of the tropics into your garden with this dramatic black canna variety. It grows magnificent 6 feet tall and will surprise you with beautiful bright scarlet blooms. You will need to plant rhizomes every spring. This canna needs at least 6 hours of sun a day but will tolerate a little shade as well.
7. Hollyhock 'Nigra'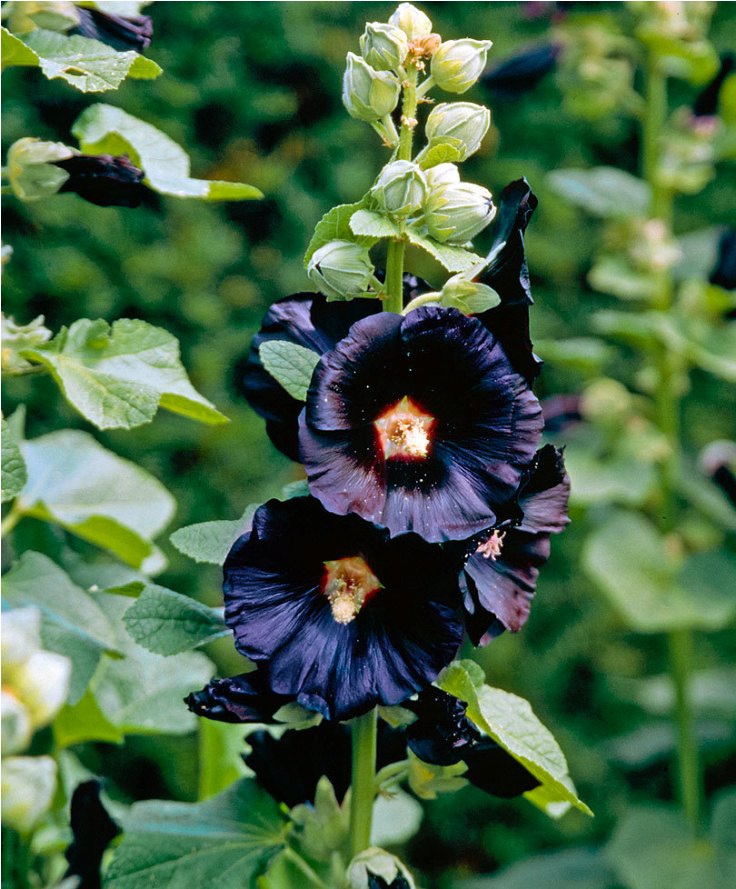 via bakker.com
Just take a look at this black hollyhock – it is an exceptional plant! This variety is striking with its chocolate maroon flowers that look almost black towards the center and long bright green stems. Like all hollyhocks, this variety is easy to grow and will thrive in cold and warm climates. 
8. Calla Lily 'Black Star.'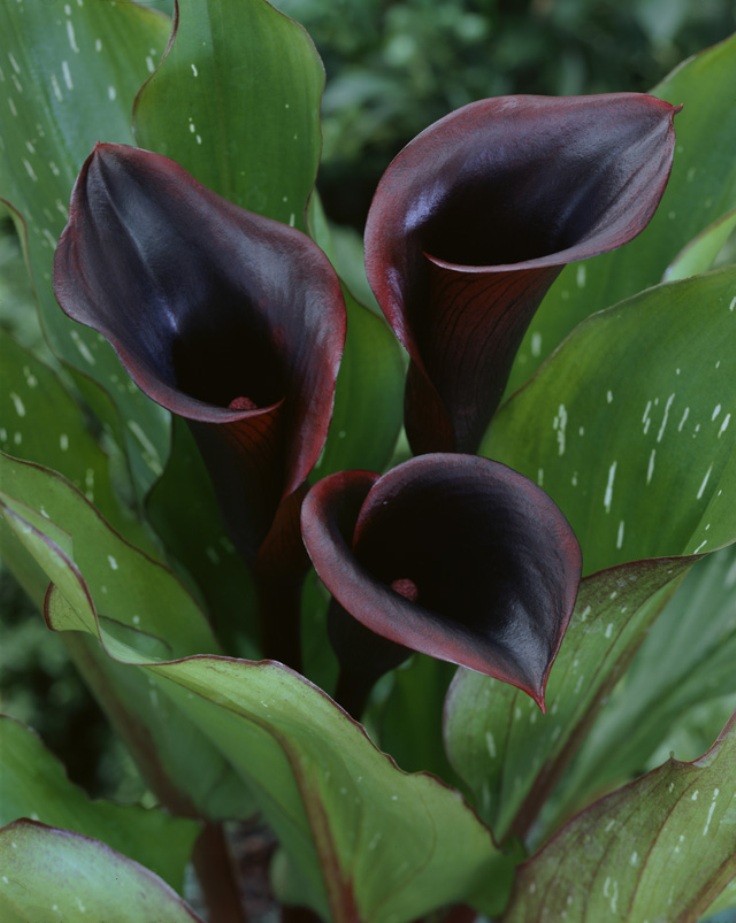 This calla is one of the most decorative, almost black flowers you can use for a dramatic touch in your garden. It brings a gorgeous contrast to your garden with its deep purple flowers and light green foliage. You can plant the "Black Star" calla lily in containers or as part of your garden border.
9. Black Mondo Grass
via bordines.com
What a beauty! This gorgeous black-grass is perfect for containers, borders, or rock gardens. It grows up to 12 inches tall and 6-12 inches wide. The plant has the most intensive black foliage in early spring and then changes into a dark purple in the summer. In mid-summer, tiny white flowers appear, followed by small black seeds.
10. Midnight Ruffles hellebore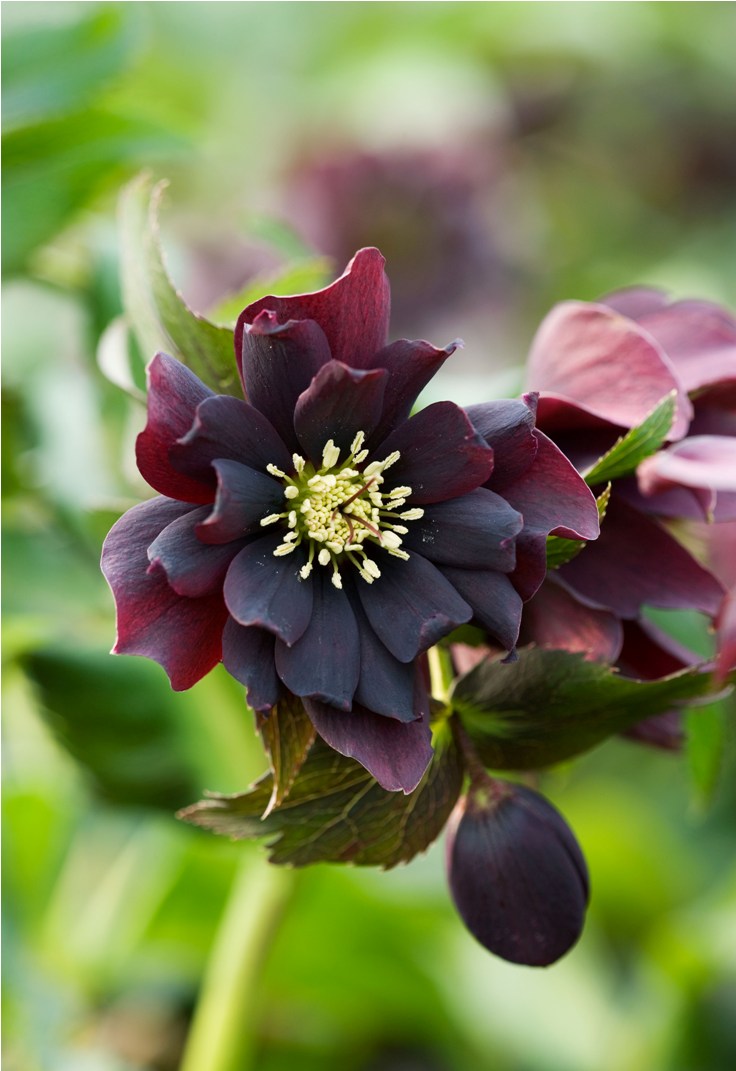 This striking variety has three times more petals than the regular hellebore. We love the velvety look of the petals and the dark color. It starts flowering in late winter, with the flowers lasting for a couple of weeks. The midnight ruffle hellebore can get up to 24 inches tall and wide and is perfect for shade.