For many people, their wedding is the most important day of their life. Because of that, they want everything to be in the right order and be as perfect as possible! This means spending so much time on organizing and decision-making, just so that one day will be remembered in the best light.
For brides, it can be hard to decide for many things – the dress, the cake, the hairstyle, the makeup and even the bouquet. There are so many options – flowers, colors, textures! In order to get an idea of what you would like, we picked ten of our favorite bridal bouquets (out of many more). Scroll along and see which one you would like to hold on your wedding day!
1. Pink Peonies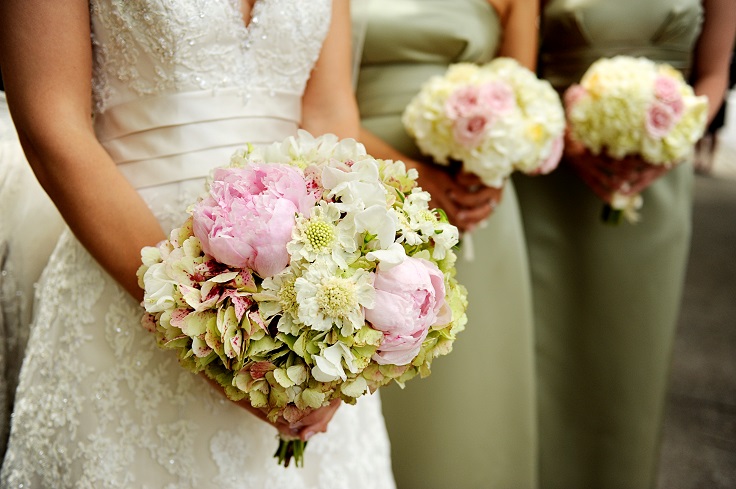 According to a Greek legend, there was a student named Paeon whose teacher was the God of medicine. When Paeon showed more promise when his teacher, Zeus transformed him into a beautiful flower and incurred his wrath. That's how this flower got its name and today the peonies represent honor, wealth, romance, beauty, bashfulness and shame. There are so many bouquet ideas with peonies – you can pick just them or you can combine them with other florals and greens, such as in this photo. Either way it's so lovely!
2. Orchid, Snapdragon and Ranunculus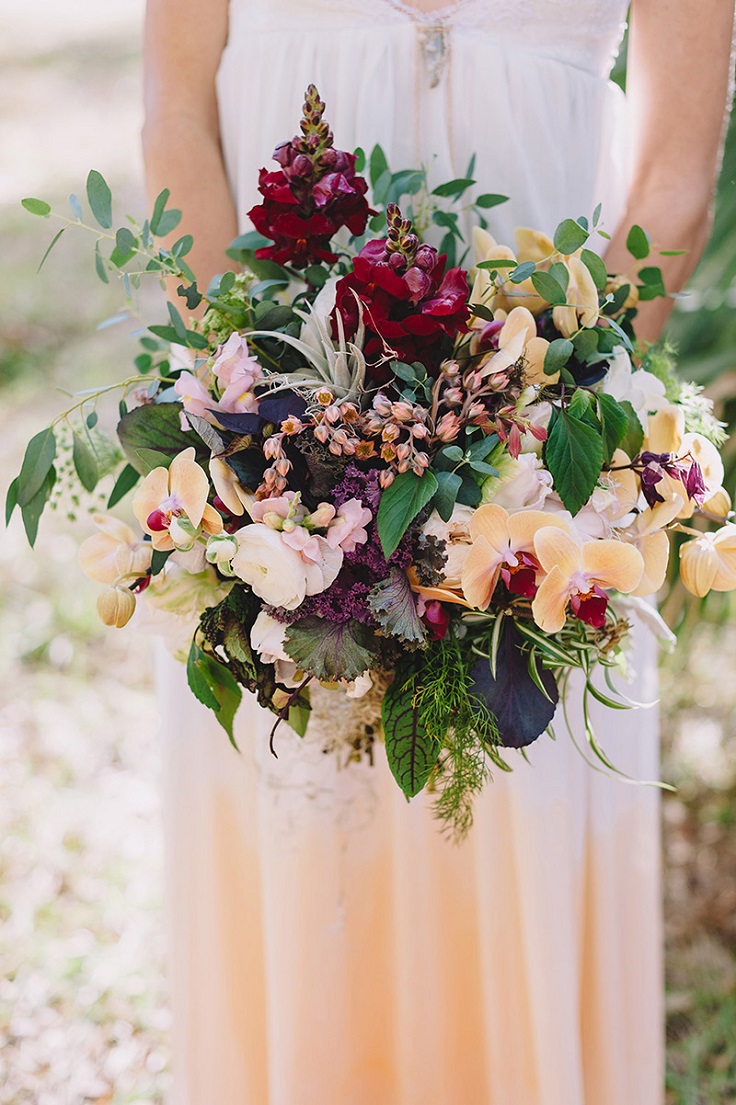 So many beautiful flowers in one bouquet! The snapdragon is a symbol for deception and graciousness and according to European folklore, if you step on a snapdragon you can break a black magic spell. On the other hand, the ranunculus means radiant charm and attractiveness and it is also known as Coyote Eyes. These two go very well together, especially if you add few more flowers to join them, like orchid, bell flower, succulents or greens.
3. White Orchid
via enchantedfloristtn.wordpress.com
The orchid was highly valued since ancient times. It symbolizes love, beauty, fertility, refinement, thoughtfulness and charm.The ancient Greeks believed so much that orchids have a connection with fertility, that they thought that orchids with large tuberous roots symbolized a male child, while orchids with small tubers symbolized a female child. Today, the orchid is a popular choice for a bridal bouquet and houseplant. Depending on the color, it can symbolize different things, for example the white orchid represent reverence and humility, innocence and purity, and elegance and beauty.
4. Dahlias and Succulents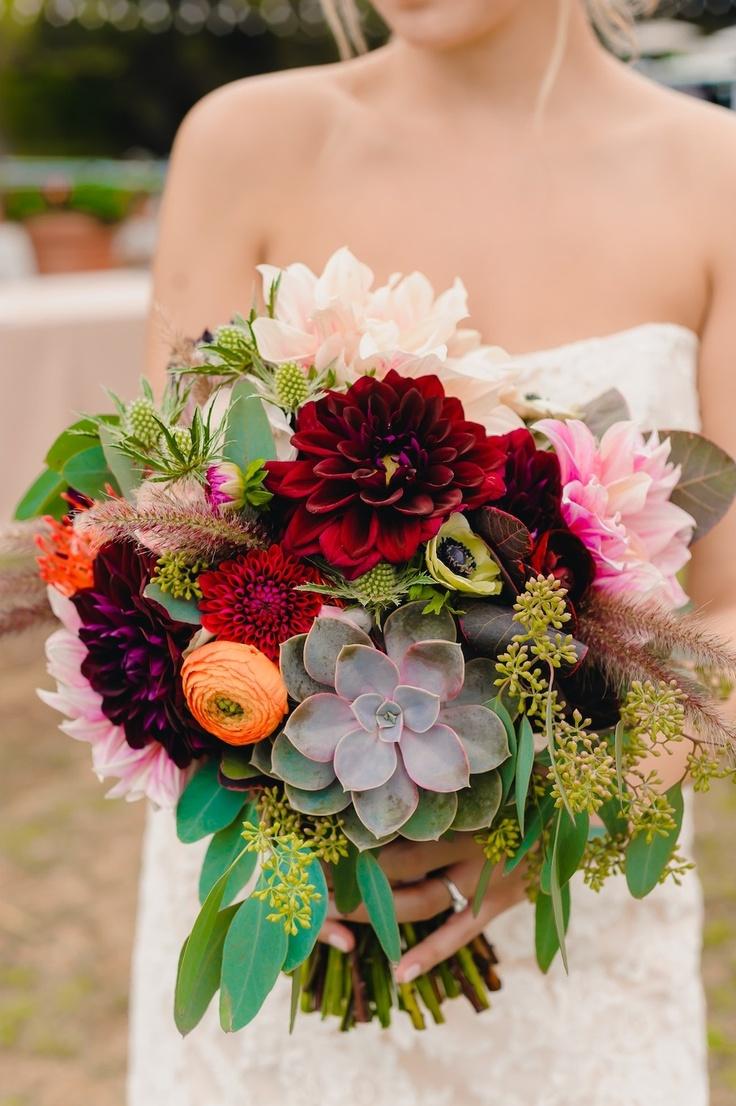 via weddbook.com
The dahlia is one of the most popular choices when it comes to a bridal bouquet and we can see why – it has multi-layered petals and it comes in so beautiful colors. You can choose bold colors, such as red dahlia which conveys power and strength, or for example white which means staying focused and pure. Unlike the dahlia, the succulents don't have any special meaning, but they're so often added to a bouquet because they make nice contrast and look so pretty as well, even though they don't have those silky petals!
5. Cascading Florals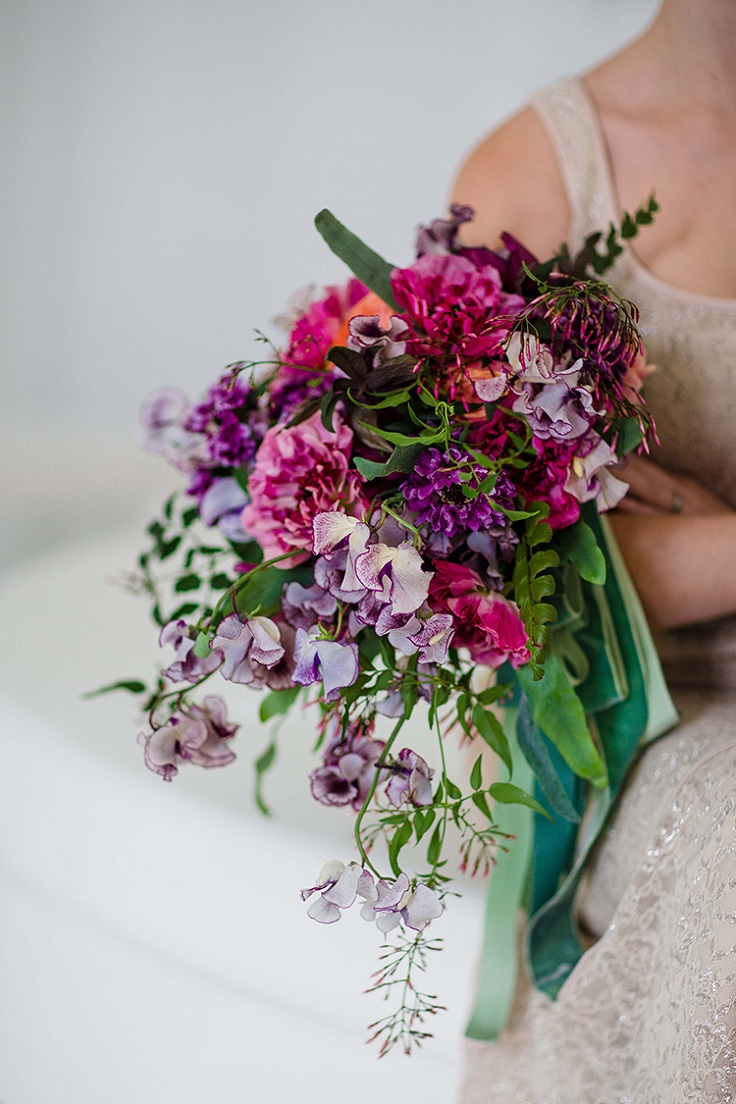 via floralverde.com
The cascading bouquet is ideal for everyone who wants so many flowers into one bouquet. There are so many flowers that you can pick and we simple fell in love with this pink and purple bouquet. It has purple scabiosa, hellebores, sweet pea, Charlotte ranunculus, peach ranunculus, jasmine vine, fern, and vintage ribbons. It looks so adorable and oh-so-perfect that makes us wish we are there and catch it!
6. White Hydrangea and Lavender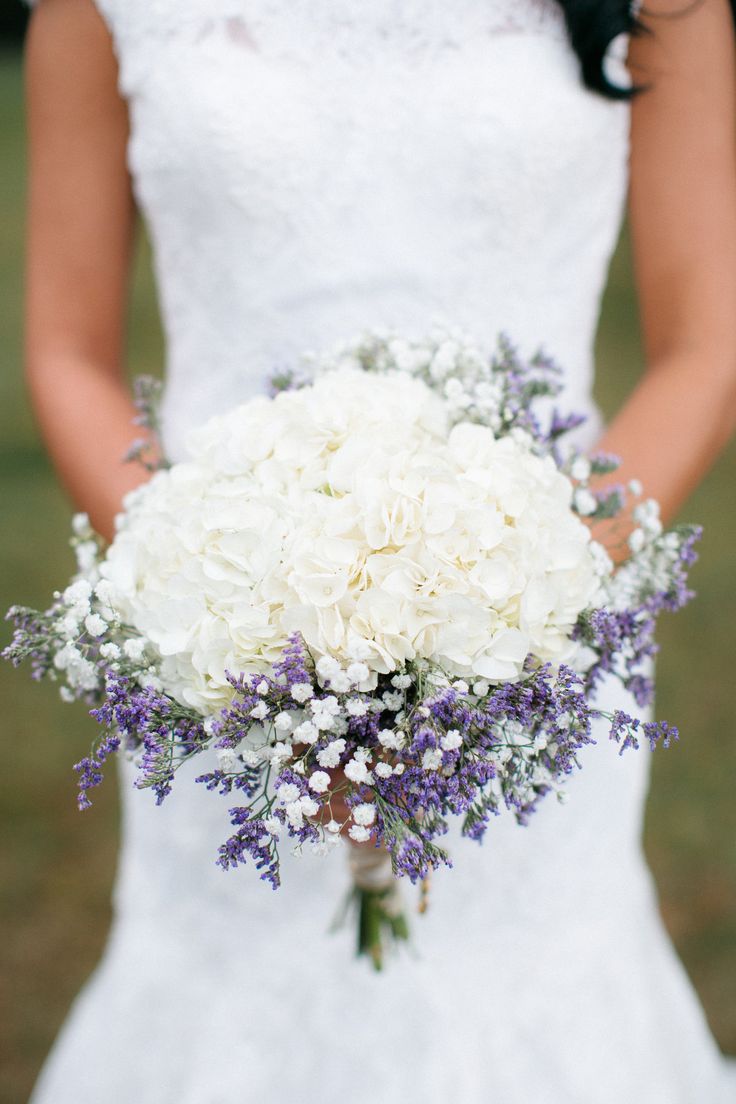 The hydrangea is also a very popular choice for bridal bouquets because it's very gentle and lovely flower. Depending on the color, the hydrangea can symbolize different things. For example, white hydrangea symbolizes purity, grace, abundance, and bragging or boasting, while the pink one symbolizes romance, heartfelt emotions, love, weddings, and marriage. That's why, when you combine it with baby's breath, which symbolizes everlasting and undying love, pureness and family, you get a bouquet this amazing!
7. Succulents and Astrantia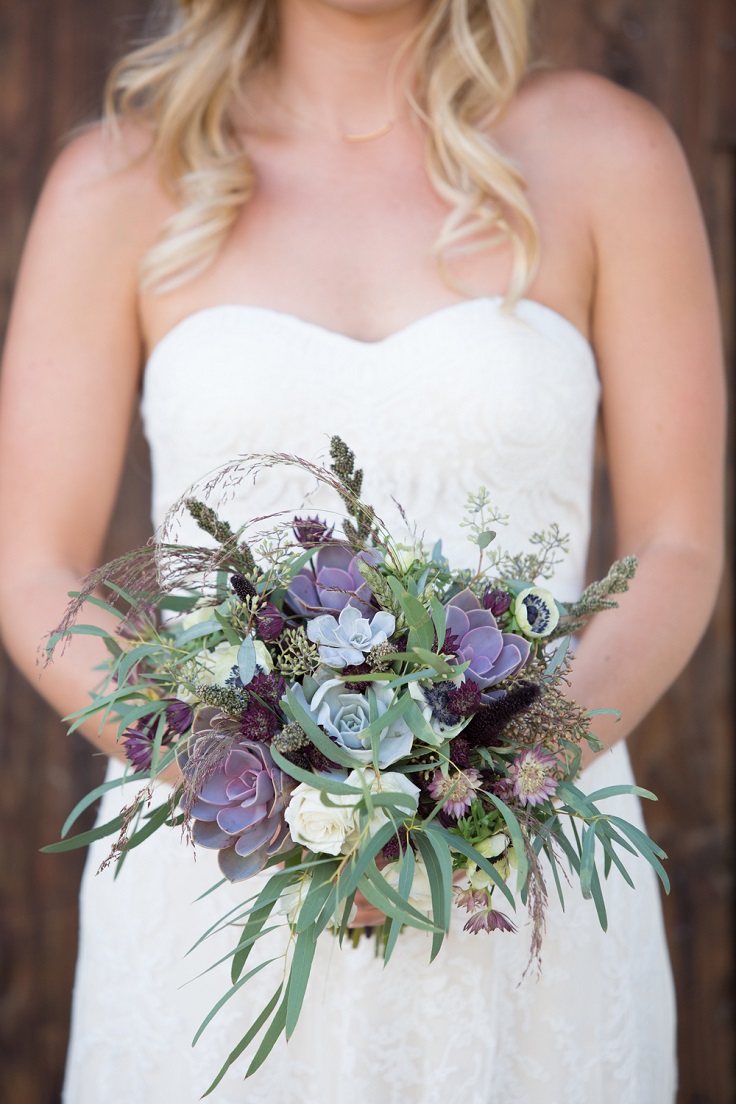 The astrantia represents and symbolizes strength, courage, and protection. It got its name from the Latin word "aster" which means star, because the flower has open star-shaped floral bracts. The astrantia looks so good when mixed with lilac succulents, anemones and greens. Plus, the contrast that all these flowers have make the bouquet even more beautiful.
8. Peonies, White Roses, Berries and Greens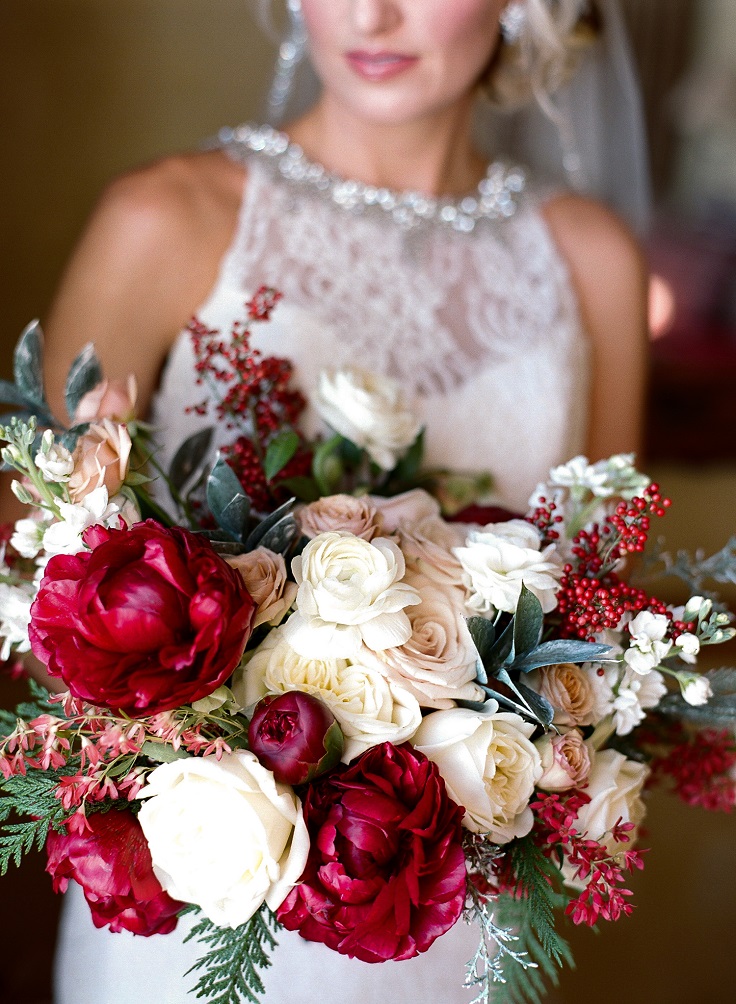 This kind of bridal bouquet is perfect for everyone who like their bouquet to be rich with both colors and flowers. For example, this bouquet here has bold colors that make the flowers hard not to be noticed, and the contrast of dark red  peonies and white roses makes it irresistible. You can add few details, such as red berries and some greens to make it more complete.
9. Garden Roses and Baby's Breath
Roses are highly-valued flowers since forever! They symbolize so much, starting from love, passion, sensuality, devotion, to wisdom, faith and honor. The rose is present in art, literature, mythology, religion, in almost every sphere or our lives. For example, in the classical era the rose was sacred to few goddesses, in Christianity the rose is considered as a symbol of the blood of the Christian martyrs, or today it is the state flower of four American states. Besides all these, thanks to the powerful symbol of love, the rose is often given as gift to a beloved one and as bridal bouquet.
10. Sunflowers, Succulent and Daisy
via theknot.com
So far we have shown you pastel-colored bouquets, or with bold colors such as dark red or dark purple. However, if you are looking for a bouquet with eye pop colors, such as yellow, then consider getting sunflowers and daises. The sunflower, which is native to North America, symbolizes warm, positivity, happiness, strength and power. On the other hand, daises represent true love, purity and innocence. Combine these two, add some succulents and you got yourself an amazing bridal bouquet!