Pancakes may be served with various toppings or fillings, including jam, fruit, syrup, chocolate chips, or meat. In America, they are typically considered to be breakfast food. In Britain and the Commonwealth, they are associated with Shrove Tuesday, commonly known as Pancake Day, when perishable ingredients had to be used up before Lent's fasting period began.
These thick, spongy American pancakes are often eaten with warm maple syrup and crisp fried bacon. We love them with the syrup alone, but we think streaky is best if you do want bacon. You can quickly cook these pancakes by dolloping the batter onto a hot griddle (smooth, ridged, side) or heavy-based pan.
These recipes are our top 10 that we like to make them for breakfast. All of them are different, with various toppings and taste. In combination with a cup of coffee, tea or glass of freshly squeezed juice, they create your perfect breakfast. Which one is your favourite?
Cinnamon Whole Grain Power Pancakes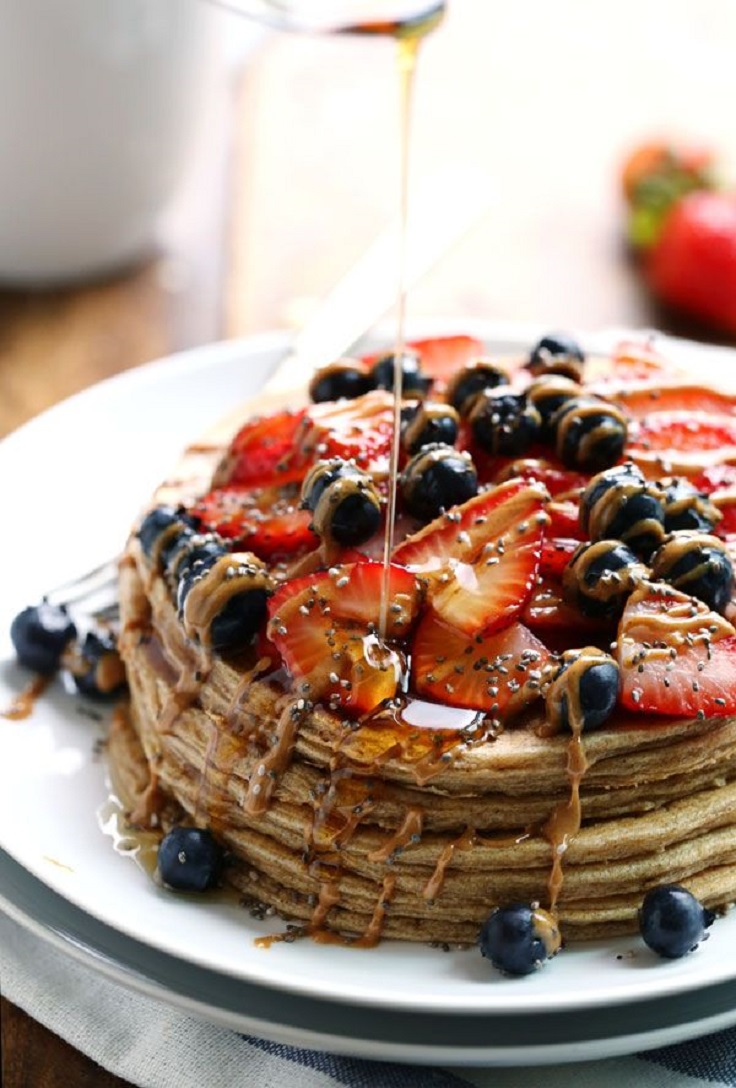 via pinchofyum.com
When you make these and put unique toppings combos on them, we are sure you will enjoy this meal. We get obsessed with strawberries and blueberries, and if we are going to be eating these for the rest of all time, we'd like to try yer new ideas, too.
Sweet Potato Pancake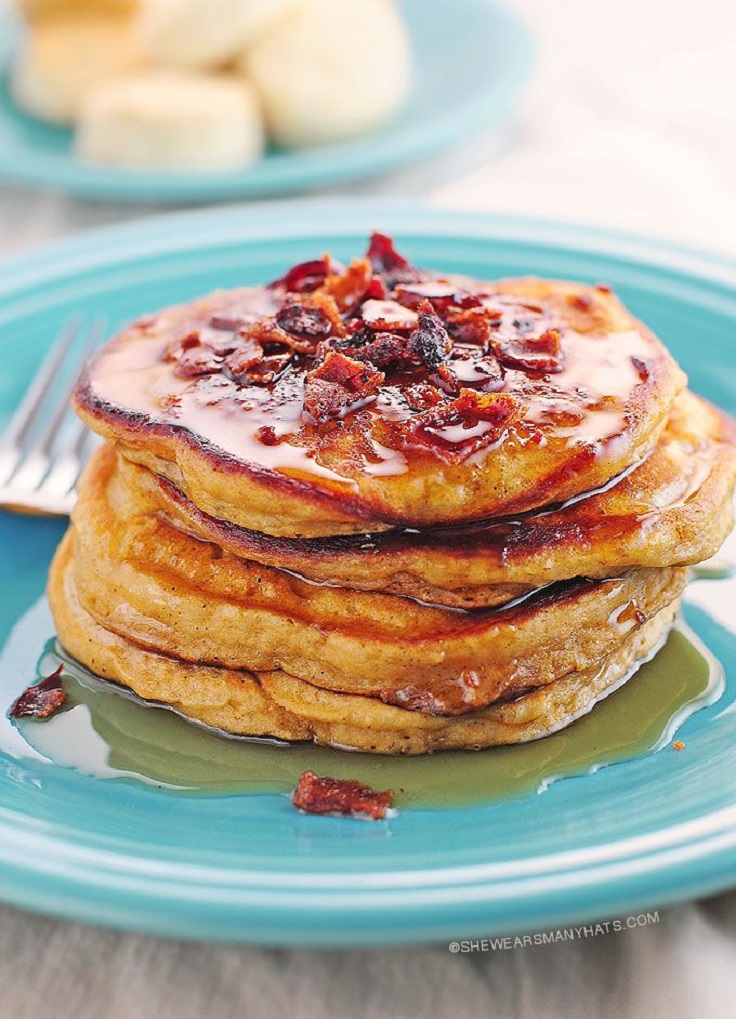 If you're looking for a good—scratch that—a great pancake, you're in luck. These Sweet Potato Pancakes leave those rubbery, tasteless pancakes desperate to be drowned beneath butter and syrup in the dust. Does this recipe produce the perfect textured pancake, dense yet somehow fluffy at the same time, full of fabulous flavour with still a bit of flavour-room left for a touch of honey or syrup, or perhaps a sprinkling of crunchy Candied Bacon?
Banana Bread Pancakes with Nutella Maple Syrup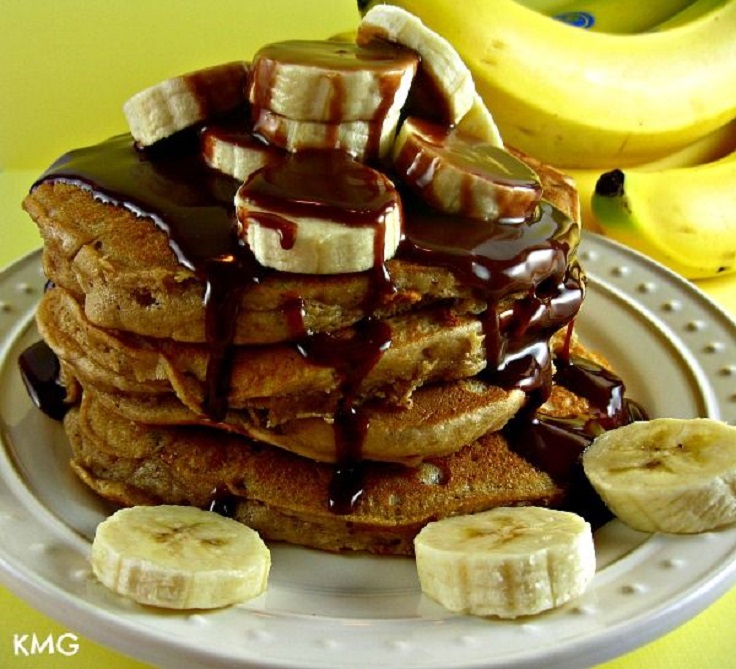 Look, we know banana pancakes are not exactly a new thing.  But banana bread is one of our all-time favourite things, so we are usually trying to figure out a way to work it into our meal plan in some form or another.
Lemon Ricotta Poppy Seed Pancakes with Blueberry Sauce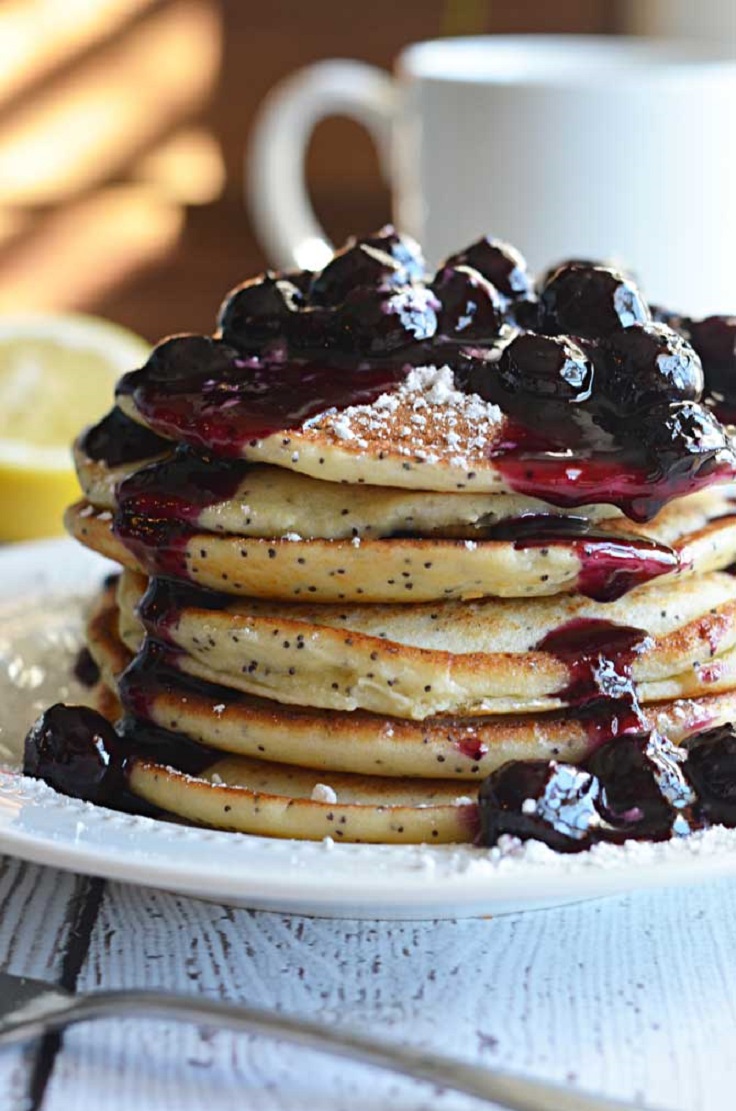 Well, everyone loves breakfast in bed, don't they?  There's nothing like showing someone how much you care by starting their day with a big, beautiful stack of 'cakes. Especially if those 'cakes happen to be incredibly light from ricotta, and vibrantly flavoured from lemon juice and fresh blueberry sauce. Oh, and if they're studded with poppy seeds? We're talking pure breakfast bliss.
Roasted Strawberry and Coconut Cream Pancakes
They may look like ordinary pancakes but don't let that golden brown hue fool you. Just because you can't see the roasted strawberries doesn't mean they're not there. Take a look at the recipe, and you will see what are we talking about.
Praline Peach Pancakes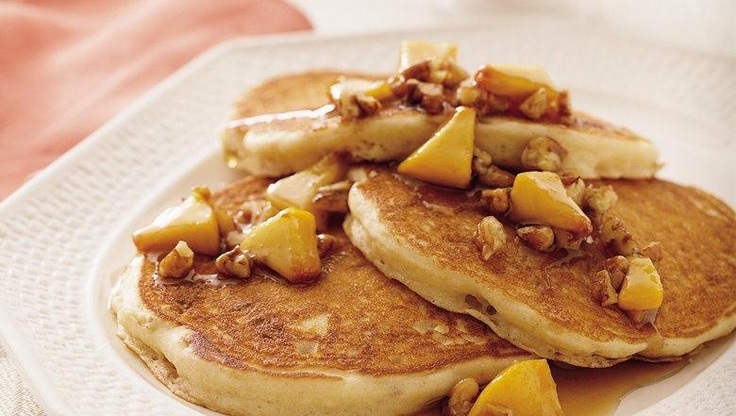 via livebetteramerica.com
Peach yoghurt, brown sugar and pecans create the wow in yummy pancakes with a matching syrup. You can make pancakes, stack them between waxed paper sheets, and then freeze in a plastic bag or container. Pop them into your toaster or toaster oven, like commercially frozen pancakes or waffles, for piping-hot pancakes in minutes. You can also use nectarines–and there's no need to peel them!
Asian Quinoa Pancakes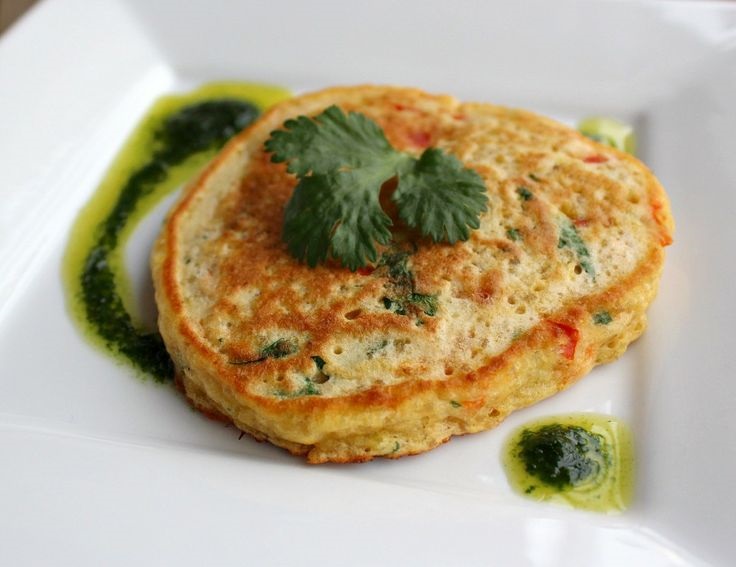 via rachelcooks.com
One of our favourites uses for quinoa is these pancakes. We love to make a whole bunch of them, pop them in the freezer, and then reheat them in the toaster. Perfection. This recipe is a spin-off of those pancakes. The olive oil pairing that California Olive Ranch suggested was for Arbosana Olive Oil. They describe it as "a complex oil with flavours of fresh tomato and almonds".
Cottage Cheese Pancakes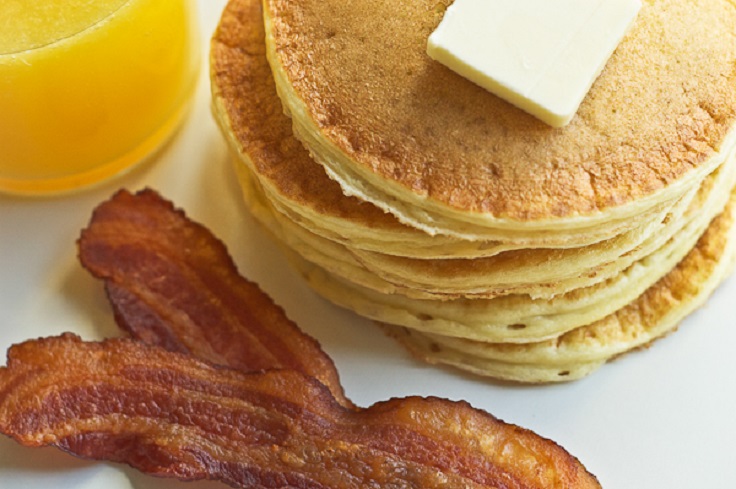 via dixiecaviar.com
This recipe easily doubles to feed a crowd. We use light sour cream and low-fat cottage cheese to delicious results, but we're sure full-fat would work just fine.
Mini Apple Pie Pancake Kabobs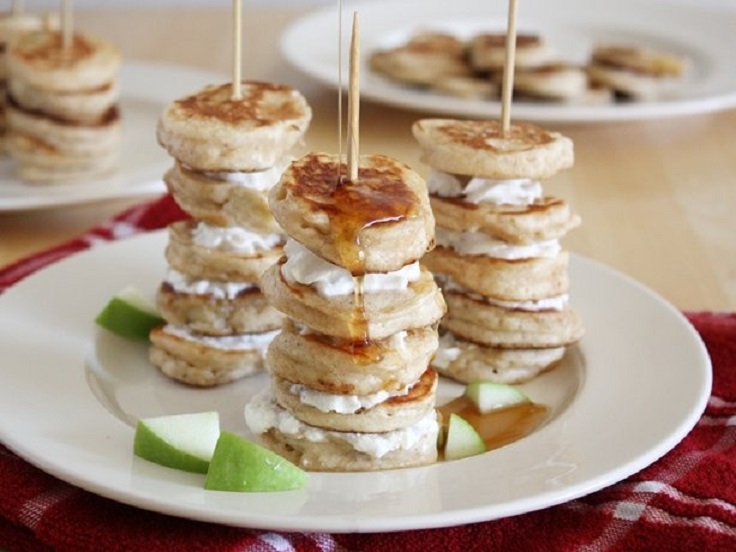 via bettycrocker.com
Alternate pancakes with pieces of apple instead of whipped cream for a more transportable version of this recipe. Serve pancake kabobs with fruit on a stick and sausage on a stick for a full kabob-style breakfast.
Double Chocolate Pancakes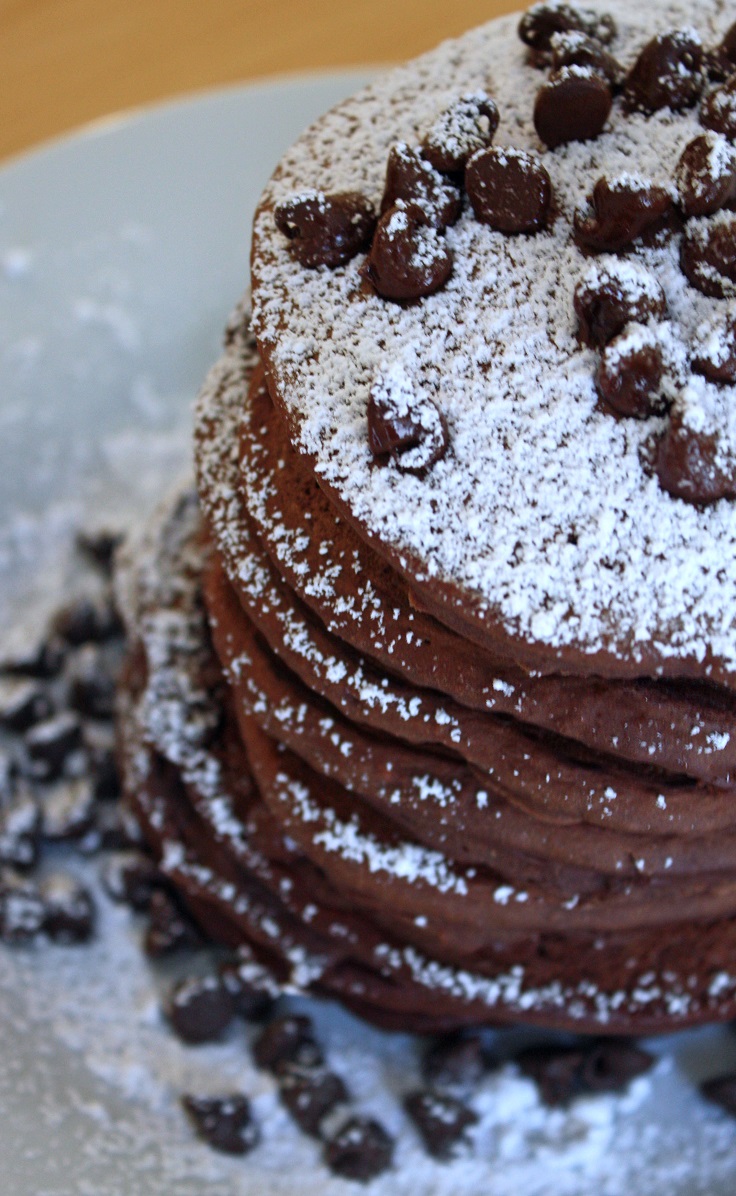 Taste great by itself, but our audience likes it topped with powder sugar, additional chocolate chips, syrup and whip cream. Tip: Once you see little bubbles and steam rising on the batter, it's time to flip. Makes about 8 "normal" size pancakes.