Nature is wonderful thing, really. There isn't a man made thing that can compare to the beauty of the nature. In this article we picked ten natural pools where you would love to dive in. The salty, clear water will invite you to experience great summer adventures, and the surroundings will leave you breathless. Some of these pools are located near sea or ocean, while others are literally in a hole. But, for sure, we recommend visiting some of these natural pools if you can, and if not, better start saving! Enjoy the pictures.
1. Havasu Falls, Arizona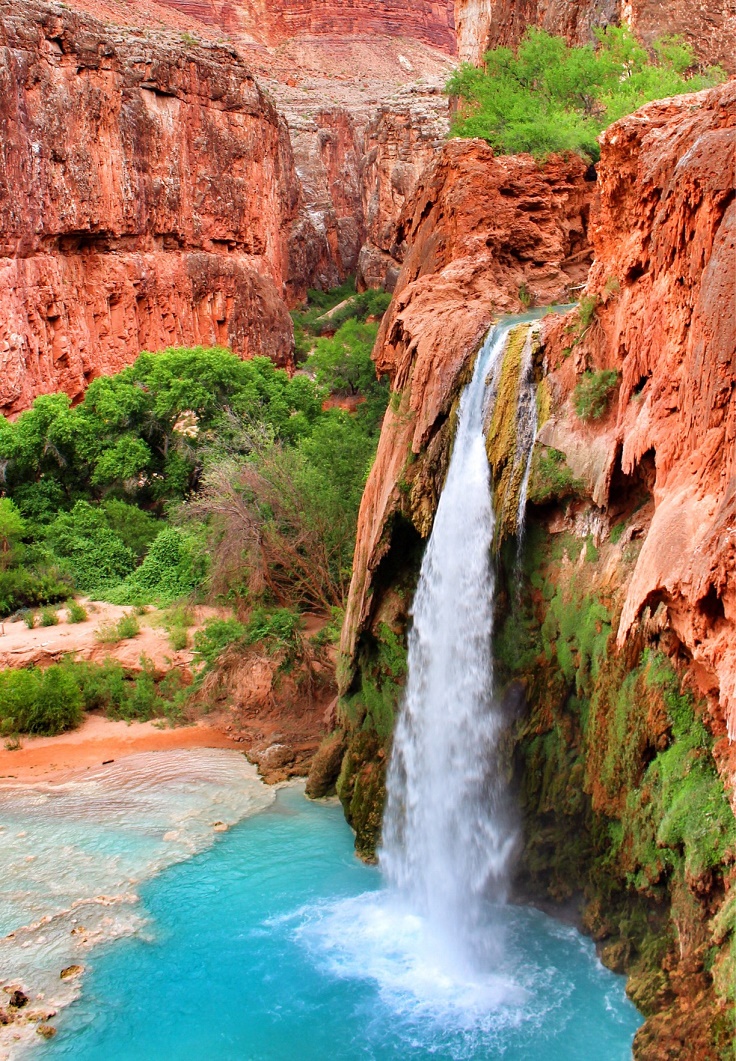 via trover.com
Thanks to the magnesium in the water, the Havasu Falls have such an amazing blue color, that makes a great view together with the red and brown rocks of the Grand Canyon in Arizona. The falls form a nice pool where you would love to swim. The blue color is mesmerizing, it just makes you want to swim the moment you see the whole place.
2. Ik Kil Cenote, Mexico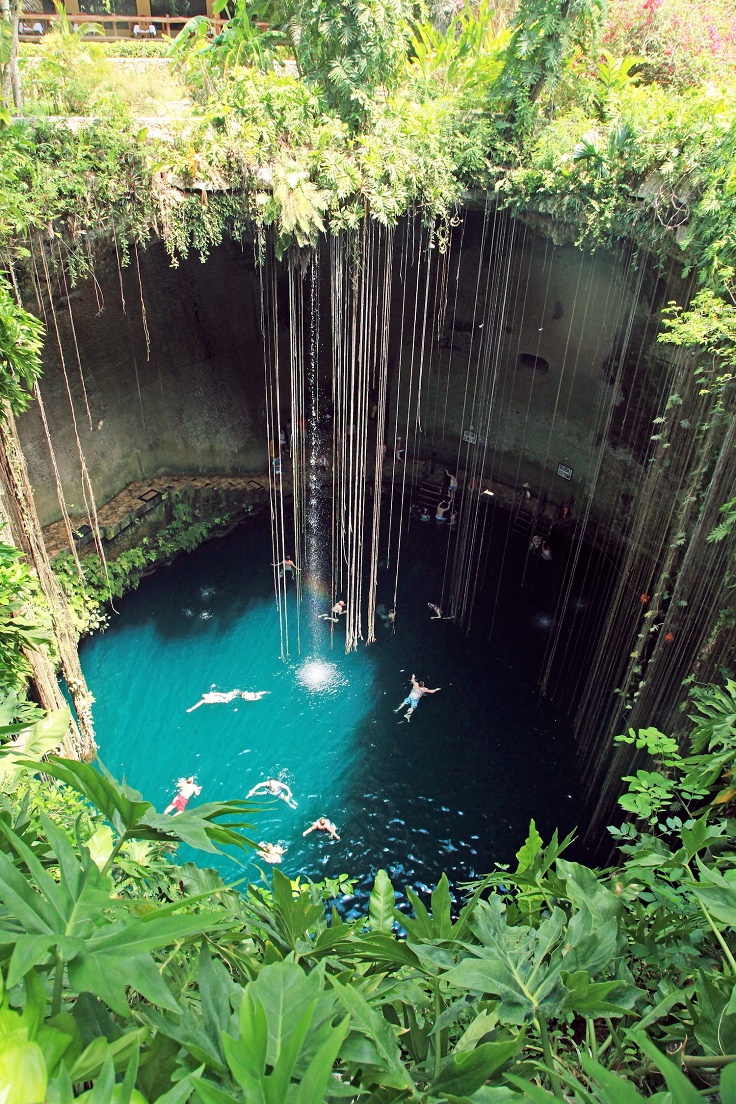 via tuulavintage.com
This beautiful pool is located in the Yucatan Peninsula in Mexico. Centuries ago, the Mayans used it for rest and relaxation, and that's the purpose of it even today. Many tourists come here to take a bath in the pool. It's about 40 meters deep and 60 meters in diameter. There is also a restaurant, changing rooms and cottages for rent near by, and if by any chance you like history, there is also Mayan ruin to visit.
3. To Sua Ocean Trench, Samoa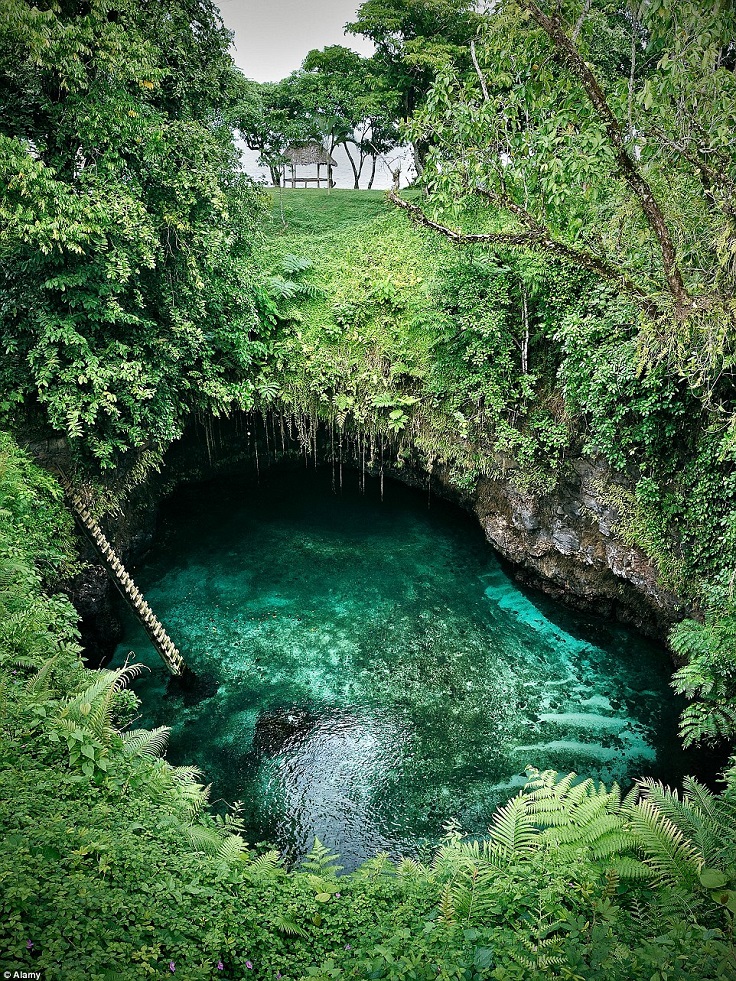 via dailymail.co.uk
To Sua Ocean Trench is a popular attraction on the main south coast road in Samoa. The crystal blue water and the green, tropical surroundings will leave you breathless. To Sua, or translated as the "big hole", is a very quiet place as well, which makes it perfect for relaxation. In order for the beauty of the place to remain "untouched", there's a charge for swimming in.
4. Giola, Thassos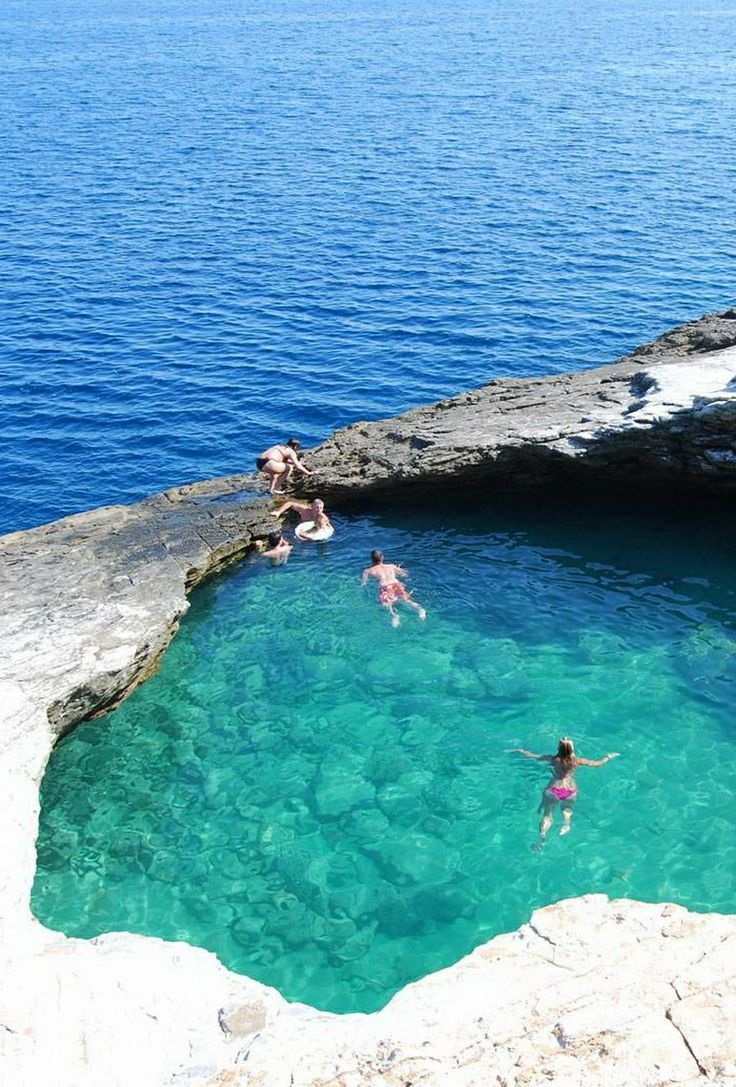 via holidayfeed.com
Located on the Greek island of Thassos, Giola is the natural lagoon that you definitely would like to visit if you are near by. With such a great, blue view, you will never want to get out of this rocky pool. Giola is located in the region of Astris and if you have the chance to visit it, just say yes.
5. Hamilton Pool, Texas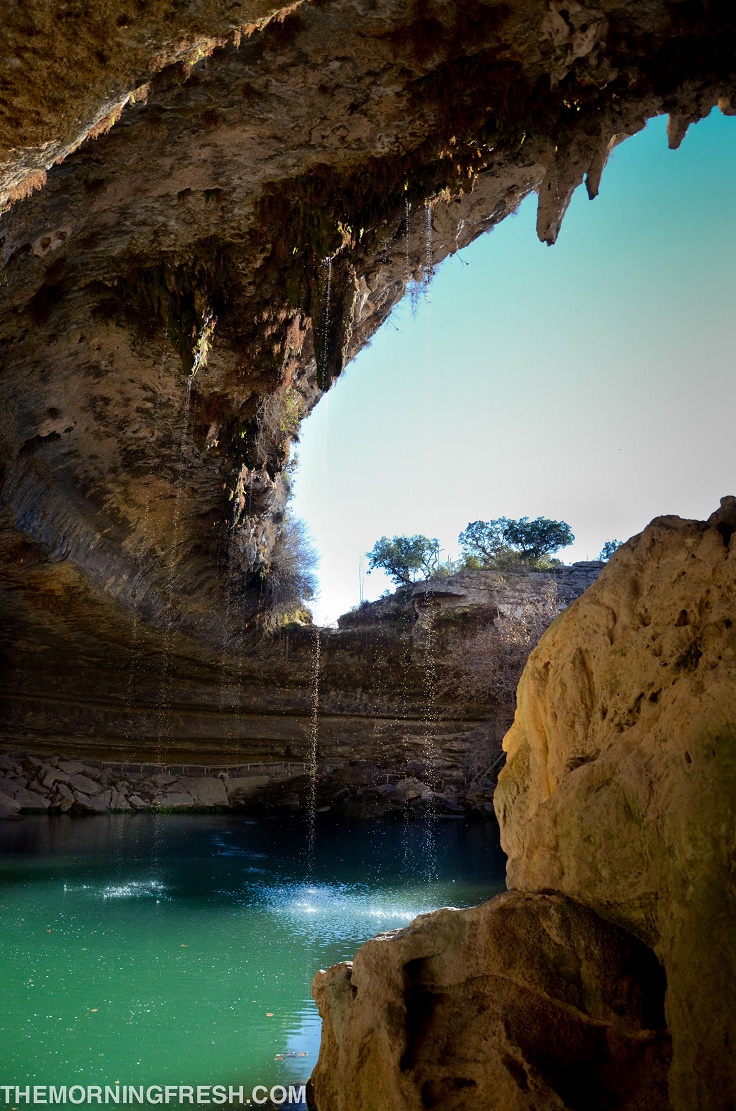 via themorningfresh.com
The Hamilton Pool is located in Texas, about 30 miles west of Austin. Even though it's fun and worth to visit, note that it isn't always allowed to swim in. It is only allowed when the water reaches the needed criteria for safe swimming place. There is also an entrance fee and pets aren't allowed. The area also offers recreational activities as well, such as hiking and swimming.
6. Playa de Gulpiyuri, Spain
via panoramio.com
There is always something unusual and beautiful to visit in Spain. It's one of the best experiences you can get there. Not because it's something you haven't seen before, but because hey, how often do you find a hidden beach with crystal clear water next to rocks? Playa de Gulpiyuri is located near the town of Llanes in Northern Spain and it might be hard to find, so you might need directions from locals.
7. Rocca Vechia, Italy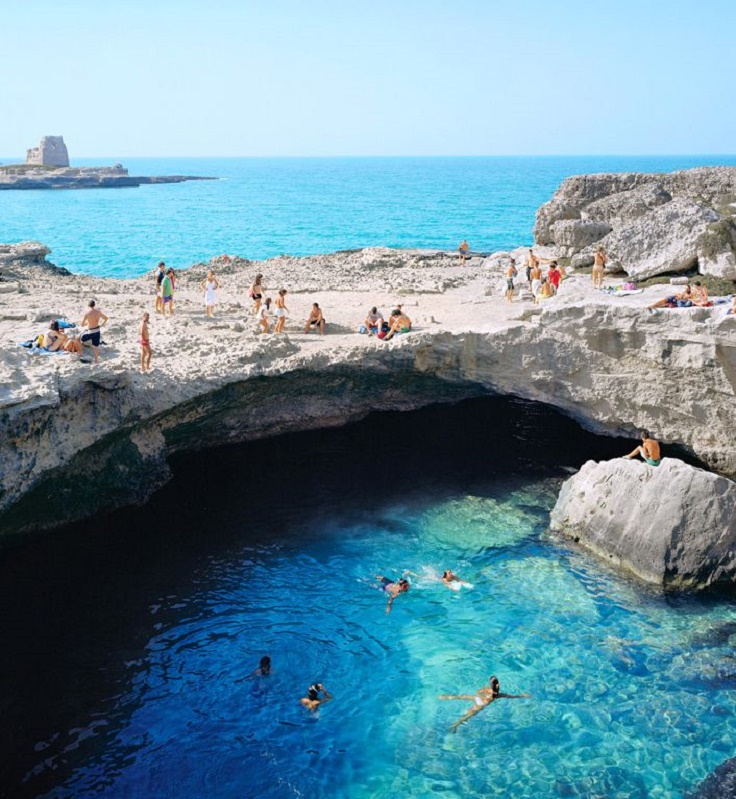 via apartmenttherapy.com
Surrounded with the Adriatic Sea, taking a swim in the natural pool of Rocca Vecchia can be one of the best swimming experiences you ever had. You can switch in just few minutes from swimming in the natural hole, and then in the sea. It is located in Salento Puglia and you can have the whole day here. There are restaurants and changing rooms, everything you would need for spending a day at the beach.
8. Safari, Aruba
via forums.steves-digicams.com
The natural pool in Aruba is located in the national park Arikok. It has a unique rocky surroundings, but because of that it's hard to reach it by car. You can either get there by jeep, foot or horseback. You will have great time there, swimming in the clear, blue water, snorkeling and relaxing, but be careful – don't swim in if the waves are high, it can be dangerous.
9. Hidden Beach, Mexico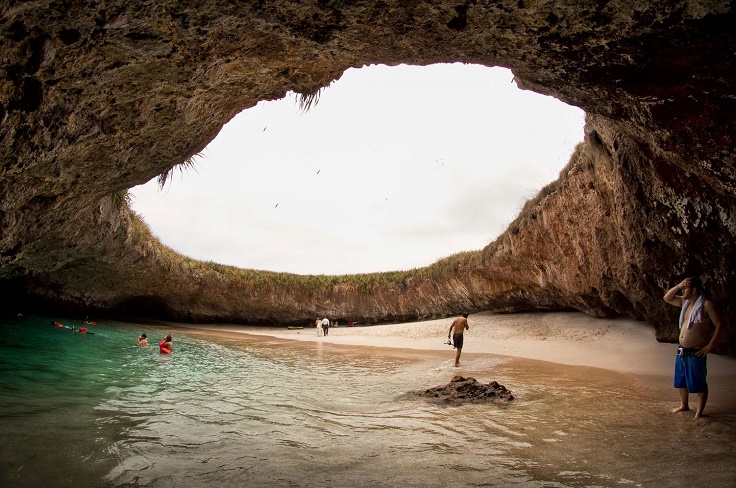 via depotekk.com
The Hidden Beach, or also called Playa de Amor, is located in the Marieta Islands in Mexico and it was formed many years ago on accident by the Mexican government, during their target practice. Even though the Marieta Islands are a famous attraction in the country, the hidden beach got successful thanks to the social media. What can we say except that the picture says all? Coming to this beach and taking a bath in the water would be an experience that everyone would love to hear about.
10. Pamukkale, Turkey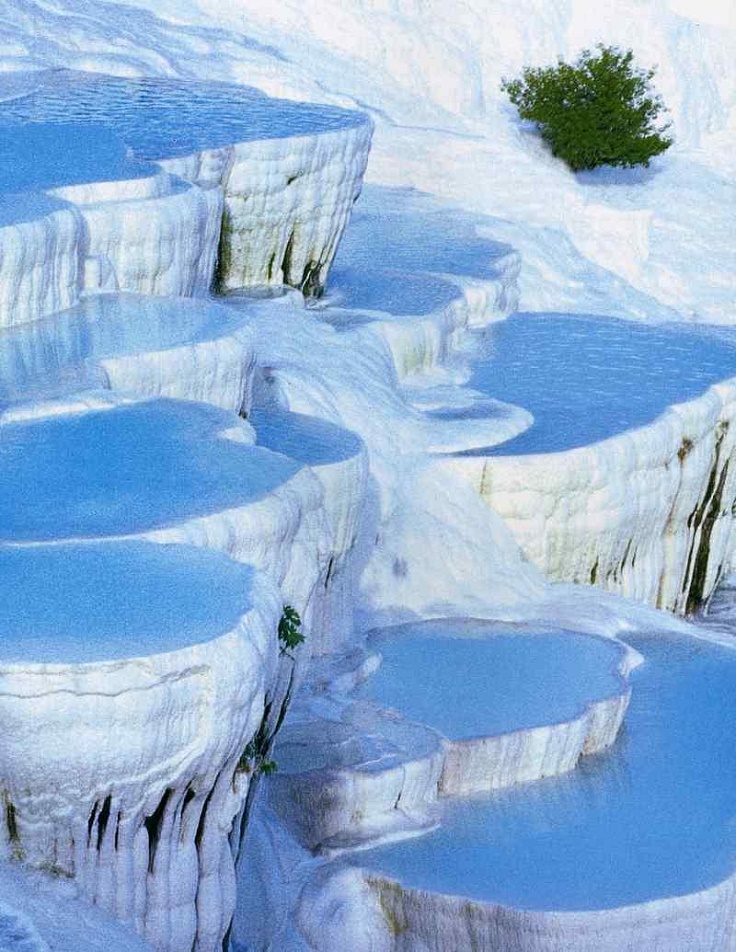 via beautyworld85.blogspot.mk
Pamukkale, or translated as Cotton Fortress, is a place in Turkey with many small natural pools of mineral soak spa. The pools are actually formed by cooled – off calcium, which gives them the white color and the shape of a small pool. The Cotton Fortress has been here since the Roman times. They also built here a "Sacred Pool", which was considered as a sacred, warm water spring. You can take a swim in the Sacred Pool, but there's a fee for this.