Your wedding day is knocking on the door, and you haven't chosen dresses for your bridesmaids yet? Or maybe you are a bridesmaid, and you don't know what to wear? Well, don't worry because here are some great ideas for bridesmaids' dresses.
Because it's autumn, we recommend something from the palette of colors of this wonderful season. They will perfectly match with nature, the colors of the wind, and with the happiest moments of your life.
Depending on your taste, you can choose from various dresses and which kind satisfies your ideas the most. Of course, you can improvise and decorate in your own view.
We would like to know if you chose something and we'll be happy if you tell us what you chose. I hope you'll enjoy it, have plenty of fun at the wedding!
 Chocolate Brown Below the Knee Bridesmaid Dresses
via bridesmsses.com
You won't make a mistake if you choose chocolate brown dresses for your bridesmaids. It is the color of autumn, and it will beautifully match the white bridal dress. There will be an excellent contrast and also an intense touch of nature!
Olive Green Bridesmaid Dresses
via howtobestunning.blogspot.com
Olive green is the perfect color for an autumn wedding. Your bridesmaids or you as a bridesmaid will look stunning wearing this color. Gentle and natural, this kind of dress will certainly give you an idea of what to choose. Try it out!
Long, Wine Colored Autumn Bridesmaid Dresses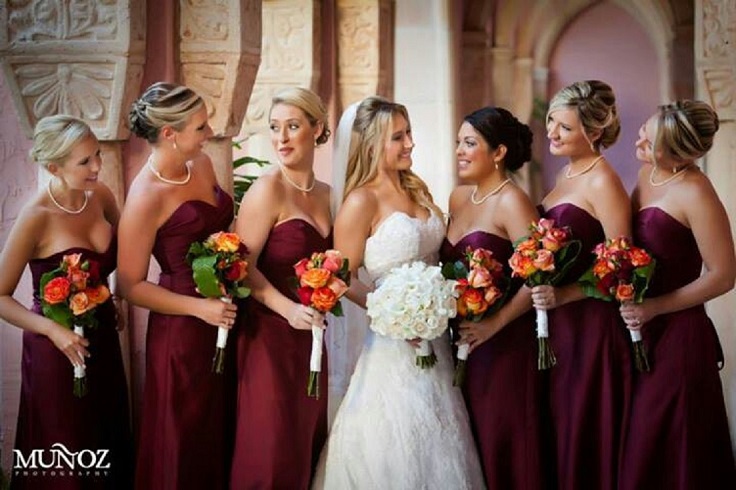 When it comes to autumn weddings, the first thing on your mind will probably be, "how am I going to match with my bridesmaids?"Well, if you're asking us, this is what you need for your bridesmaids. The color of wine would greatly blend with the white dress of the bride. Also, it will go excellent with roses. This is probably what you've been looking for!
Long Mismatched Baby Pink and Coral Bridesmaid Dresses
via howtobestunning.blogspot.com
Baby pink and coral go superb together and also match the wedding dress very nicely. Long or short, it is all so amazingly assembled that no woman can resist. These two colors combined give a soft touch to the bride, and that is what the bridesmaids are supposed to do, aren't they?
Brown Lace Bridesmaid Dresses
Lace dress! Such a fantastic way of accompanying the bridal dress. And even when it's light brown, it is a winning combination. Definitely an astonishing piece of clothing because lace itself is beautiful. You won't make a mistake if you choose this kind of dress!
Mismatched Champagne Bridesmaid Dresses
via weddingmeyou.com
Mismatched bridesmaid dresses-winning combination. Champagne is the color of the wind if you're asking us, so this is a perfect choice for a bridesmaid dress. You can combine it with any other color because it is a neutral color. Plus, it will nicely go with the bridal dress!
Pale Yellow Bridesmaid Dresses
via styleinspirationanddesign.com
Wedding in autumn? A long pale yellow dress with one shoulder-strap is absolutely a great choice for bridesmaids. The color itself is soft and gentle, and it matches beautifully with nature. This kind of dress might be what you are searching for, what do you say?
Ombre Wedding Bridesmaid Dresses
via blog.weddingpaperdivas.com
Modern, fashionable, and unique. Ombre dresses with autumn colors are an amazing choice for bridesmaids. They go perfectly with white and give playfulness, just like the falling leaves from the trees. Long or short, sleeveless or not, they will take your breath away anyway!
Acai Colored Knee Bridesmaid Dresses
Dark purple or acai color gives an intense touch to the light bridal dress. The contrast between these colors looks astonishing. These dresses can be combined with yellow and white flowers, and you can improvise in your own view. Absolutely amazing!
Mismatched Coral Knee Bridesmaid Dresses
via coolingerie.com
Looking for a lively touch of nature? Coral nuances may be what you are looking for. Coral dresses will playfully fulfill the whiteness and brightness of the wedding, give an intense touch of nature in autumn and satisfy your desire for happiness and liveliness!