It is already November, so we can take off the Halloween decorations and replace them with something wintry. If you haven't started thinking about decorating ideas yet, we have selected ten different cheap and easy ways to dress your home according to the season. Some of them are perfect kids' crafts as well that you can make on a rainy afternoon.
Don't wait any longer; pop into the craft store on your way home to buy things you will need for the window decorating project! Here are ten inexpensive and chic ideas for your windows.
1. DIY Snowflake Pom Pom Window Display
via thislittlespaceofmine.co.uk
If you knit regularly, you probably have some leftover yarns, enough to create this cute Snowflake Pom Pom Garlands. This is such an easy Christmas decoration that you can do it with smaller kids as well. The best thing about the garlands is that you can use them every year!
2. DIY 3D Snowflakes
Snowflakes make great decor all winter long, and these 3D ones look very special. With only a few things, you can easily create a whole garland of them. Probably you already have all the supplies at home – white printer paper, scissors, glue, stapler, and a hole punch. Spray them with gold or silver paint spray for an even more special look.
3. Glittery Gold Angel Feathers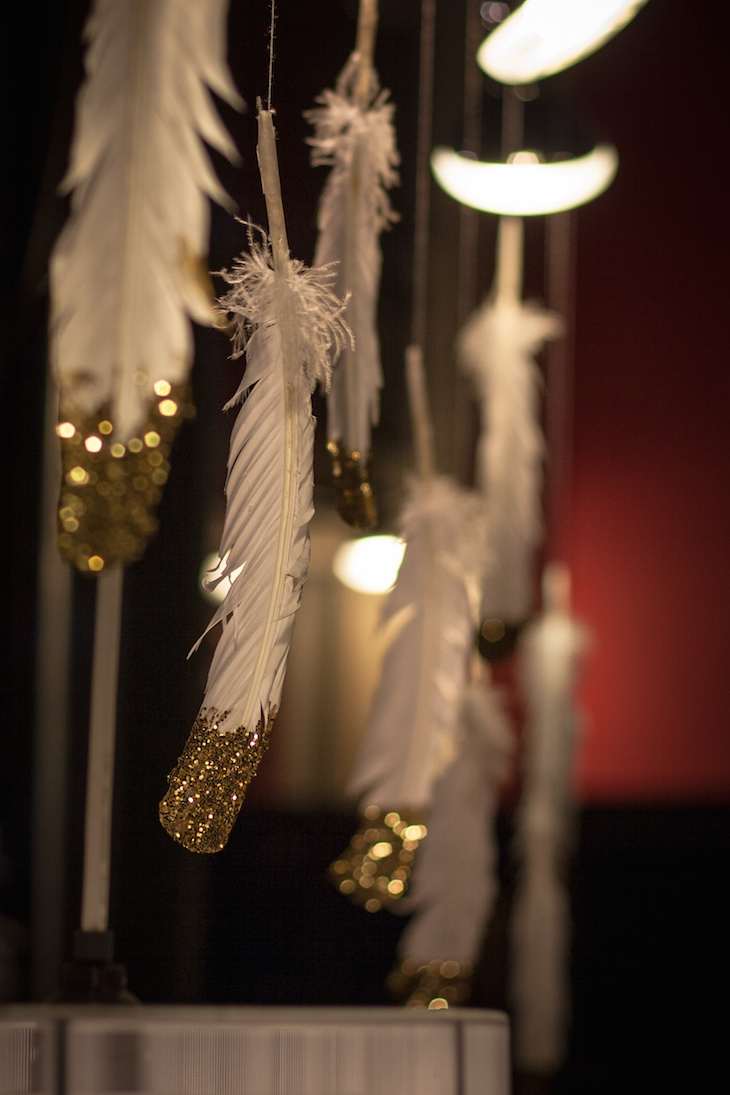 via mycommonera.com
These delicate white and gold feathers will look super pretty if you hang them on your window. Dip the feathers in metallic gold paint and finish them off with glitter. You can hang them together with some golden Christmas tree globes for an even more festive look.
4. Simple DIY Garland
Hang beeswax hearts, pine cones, and acorns on a green string, and you have a simple and cute window decoration. If you are expecting Christmas cards from friends and family, leave some space between them so that you can also display the nicest cards.
5. DIY Pinecone Garland
You will need quite a few pine cones to make a nice garland, so keep an eye out for them on your next forest walk. This beautiful piece adds the natural warmth and texture of the season, and if you want, you can add some fresh greenery or red ribbon to it just before Christmas.
6. Simple Evergreen Wreaths
via www.digsdigs.com
To make simple evergreen wreaths, you will need some wire as a base – wire coat hangers will do the job and several 8″ to 10″ long greenery branches (redwood, pine, and douglas fir, etc.). Using floral wire or just some thin green yarn, secure the branches to the wreath base. Make sure to overlap the stems and keep adding stems until the wreath base is fully covered. Add red ribbon and hang them evenly.
7. Pinecone in Rustic Pots
via www.homedit.com
This is a super simple and cheap way to decorate your window sill. Select some rustic pots depending on how wide is the window you will decorate, add some soil, a pine cone, and faux moss on top. Wrap some jute or ribbon around the pots, and your decoration is done.
8. DIY Paper Snowflakes Window Curtain
via inmyownstyle.com
This is an old classic, the paper snowflakes. They are easy to make, and the kids love them! Instead of adjusting them to the glass, create a snowflake garland. It looks much nicer and this way you can use them again next year!
9. DIY Snowflake Window Clings
Here is a great tutorial that will show you how to do these pretty snowflake window clings. It also includes patterns for each shape that you can print out and put under the cling wrap. You just have to use your puff paint to trace the shapes, wait until it dries, and then stick it on the glass.
10. Chocolate Wafer Cookies For The Windowsill
via designdininganddiapers.com
This one is a delicious-looking winter decoration that you can prepare in less than ten minutes. You will need a few boxes of rolled chocolate wafers, some cylinder vases, disk-shaped candles, and jute ropes. It will look pretty on your window sill or also as a centerpiece on the dining table. Just make sure to top it up whenever some wafers go missing.