No matter if you need a recipe to prepare for the holidays, for the regular Sunday lunch or for your guests, it's always a good idea to have at least one recipe that you mastered and can make it anytime. When it comes to desserts, the cheesecake is one of those options that never really go out of style.
Classic or modified, the cheesecake means experiment with lot of ingredients and being vegan doesn't mean eating less delicious. Check out these ten amazing cheesecake recipes and find which one is your favorite!
1. White Chocolate Lemon Cheesecake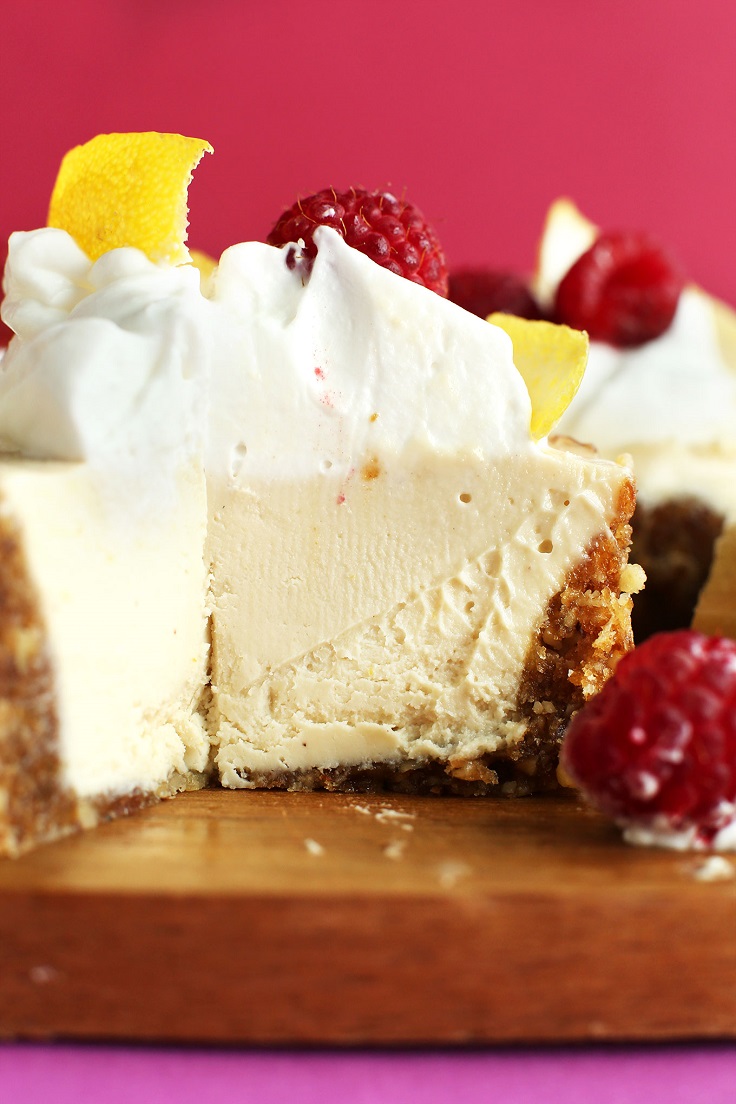 White chocolate isn't a choice as popular as its darker version, but it isn't less delicious. If you combine it with other tasty ingredients, you can come up with one of the best chocolate cheesecakes you'll ever try in your life! This one has such perfect, creamy mixture of nuts such as cashews and walnuts, lemons and maple syrup, all which are going to make you crave for another piece as soon as possible!
2. Strawberry Vanilla Bean Raw Vegan Cheesecake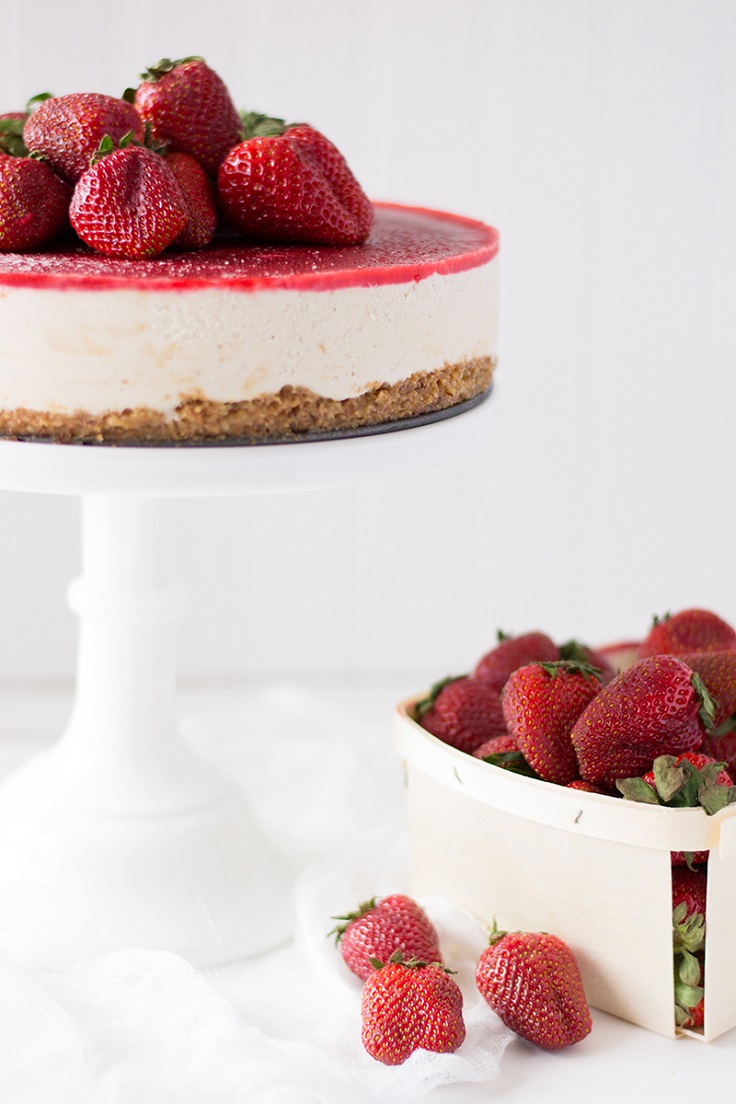 via siftandwhisk.com
Sweet, creamy with summer-y vibes, this cheesecake is a great choice for those who appreciate more fruity flavor than anything else. Filled with strawberries, the cheesecake also has the best vanilla flavor! To prepare the crust, you need 1½ cups pitted Medjool dates and 1½ cups raw almonds, while for the cheesecake layer you need 3 cups raw cashew pieces, juice of 2 lemons , ⅔ cup coconut oil, 1¼ cup full-fat coconut milk, 1 cup, agave nectar and 1 vanilla bean. The cheesecake is ready in 5 hours.
3. Raw Snickers Cheesecake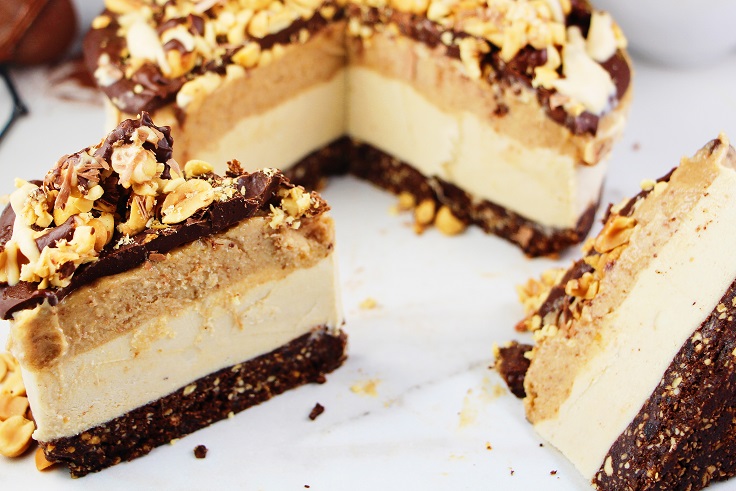 Peanuts and chocolate make one of a hell combination, even when it comes to a vegan version of the mixture. To prepare this amazing cheesecake, you need 1 cup peanuts, ½ dates, ¼ cacao powder, 1 tbsp honey or maple syrup, 1 + ½ cup cashews, 3 tbsp peanut butter, 3 tbsp raw honey or maple syrup, 5 tbsp unsweetened almond milk, 1 + ½ cup dates, ¼ cup water, 1 tsp vanilla, pinch salt, 2 tbsp peanut butter, 200g sugar free dark chocolate and peanuts for topping.
4. New York-Style Cheesecake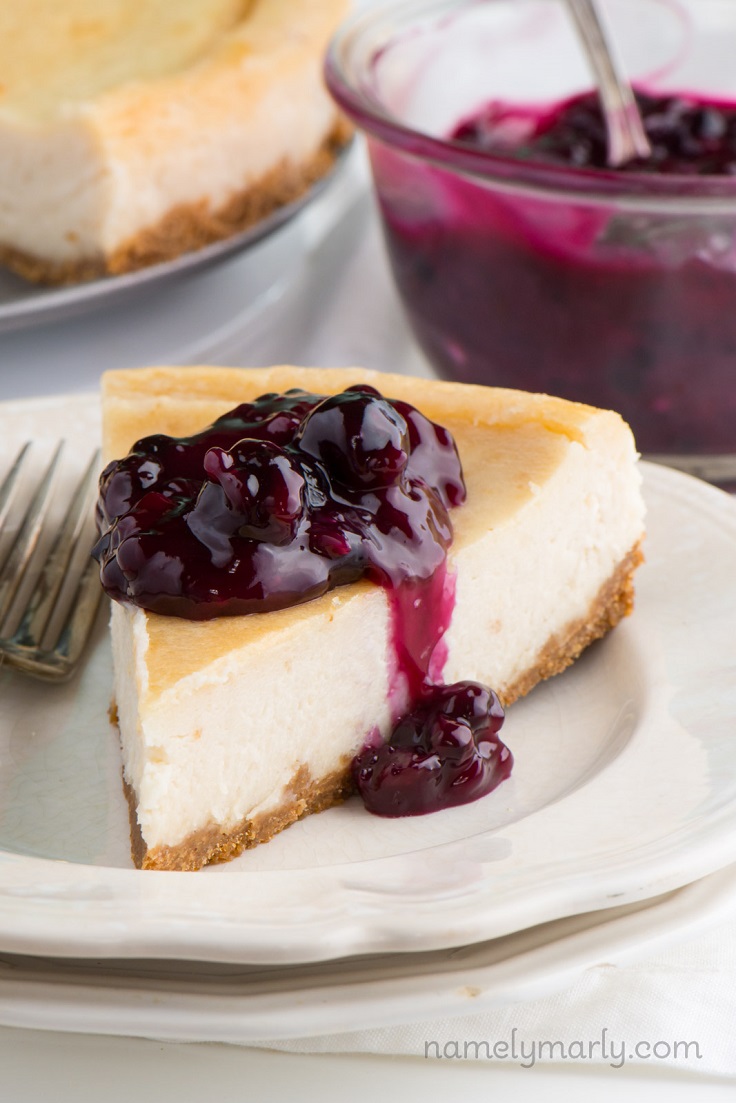 via namelymarly.com
With blueberry topping and crust made out of graham crackers and coconut oil, this cheesecake is going to win over your sweet tooth with its creamy and rich taste. This New York-style cheesecake is going to be ready in just one hour and to prepare the cheesecake filling make sure you have these ingredients – ½ cup raw cashews, 15 oz can full fat coconut milk, 2 packages of vegan cream cheese, 1 cup sugar, 2 tablespoons corn starch, ¼ cup all-purpose flour and 1 tablespoon vanilla.
5. Blueberry and Acai Berry Cheesecake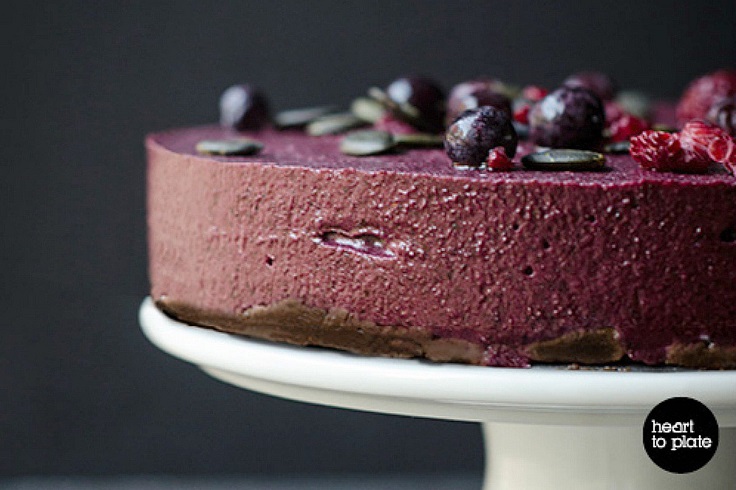 Here's another recipe for those who love blueberries in their dessert. This cheesecake also contains acai powder, that together with the blueberries not only make a delicious fruity combination, but they're very healthy as well! For the cheesecake's crust, you need 2/3 cup cacao nibs, 1/2 cup raw walnuts, 5-10 dates and 1 tsp vanilla essence; for the filling you need 1 cup raw cashews, juice of one lemon, 1/3 cup coconut oil, 1 tbsp tahini, 1 tsp vanilla essence, 5-10 dates, 1/2 cup mashed banana, 2 cups fresh blueberries and 1/3 cup acai powder.
6. Chocolate Peanut Butter Swirl Cheesecake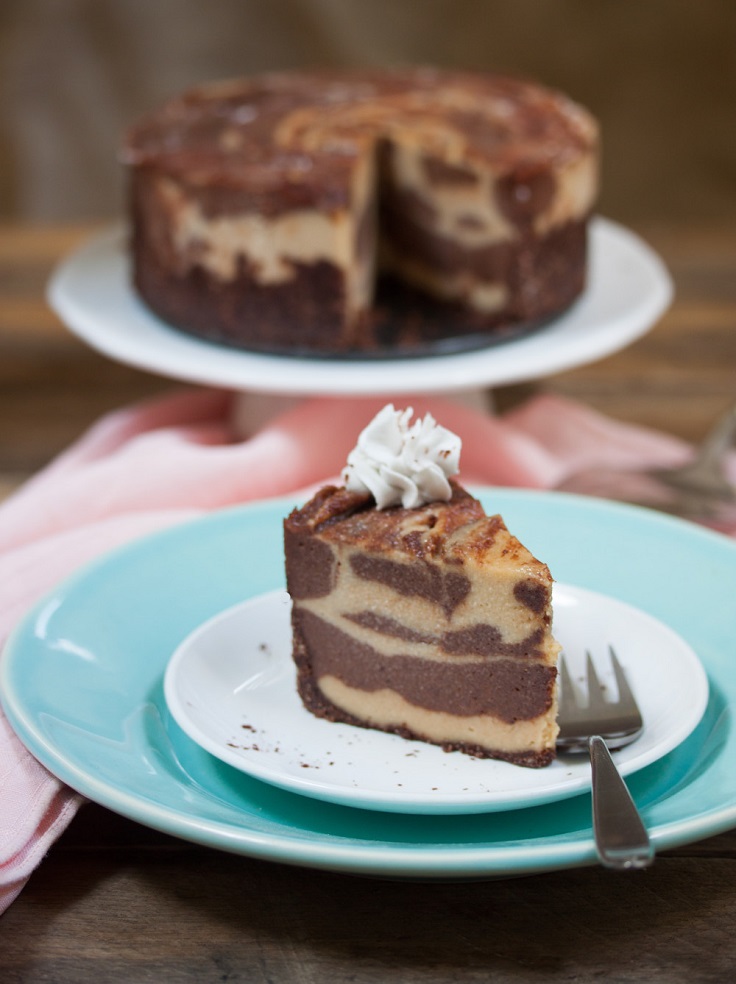 Perfect for chocolate peanut butter fans, this amazing cheesecake is going to satisfy all of your sweet tooth's cravings! To prepare the crust, you need 2/3 cup almond meal, 1 tablespoon cocoa powder, 3 Medjool dates and 1/4 teaspoon salt. For the cheesecake's filling, you need 3 cups raw cashews, 1/2 cup smooth peanut butter, 1/2 cup maple sugar, 1/4 cup agave, 2/3 cup coconut oil, 1/2 teaspoon salt, 1/3 cup nondairy milk and 2 1/2 tablespoons cocoa powder
7. Pistachio Matcha Cheesecake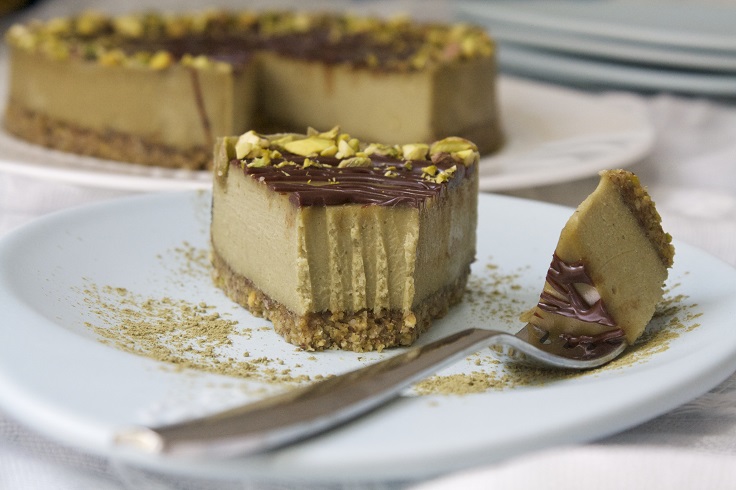 via sweetlyraw.com
Unlike the rest of the nuts, the pistachios are lowest in calories. They provide us with 25% of the daily value for vitamin B6 and 1 ounce of pistachios contains 3 grams fiber, 15 grams fat and 2 grams saturated fat. Including these in your dessert will make it at least a little bit healthier, so definitely give it a try!
8. Forest Chocolate Cheesecake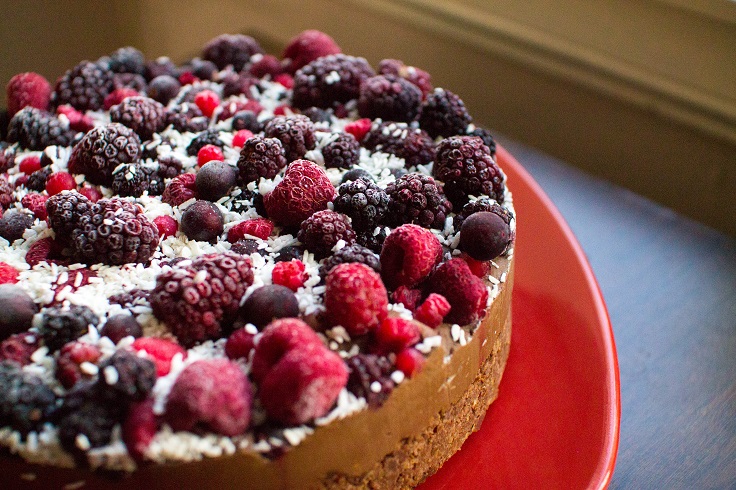 This cheesecake is going to be the perfect choice for anyone in love with berries – they are literally all over the cheesecake, giving it a fresh, juicy taste. For the crust you need 1 cup rolled oats, 1/2 cup wholemeal flour, 1/2 cup, walnuts, 2 tablespoons cocoa powder, 5 tablespoons dark brown sugar, 2 tablespoons dark rum, 5 tablespoons coconut oil and zest of 1 lime. For the filling, you need 4 ripe avocados, 2 ripe bananas, 3 tablespoons of agave syrup, 200g dark chocolate, juice of 1 lime and a pinch of salt.
9. Blackberry Coconut Cheesecake
via healthyeah.co.nz
Don't you just wish to have one piece of this cheesecake just by looking at it? It looks amazing, and we're sure it tastes just as much as well. To prepare the coconut cheesecake filling, you need 3 cups cashews, 1/4 teaspoon sea salt, 2/3 cup melted coconut oil, 1/2 cup coconut cream, 1 tbsp melted cacao butter, 1/2 cup honey (or maple syrup to be truly vegan), 1/2 cup lemon juice and 1 vanilla bean with the beans scrapped out.
10. Luscious Chocolate Cheesecake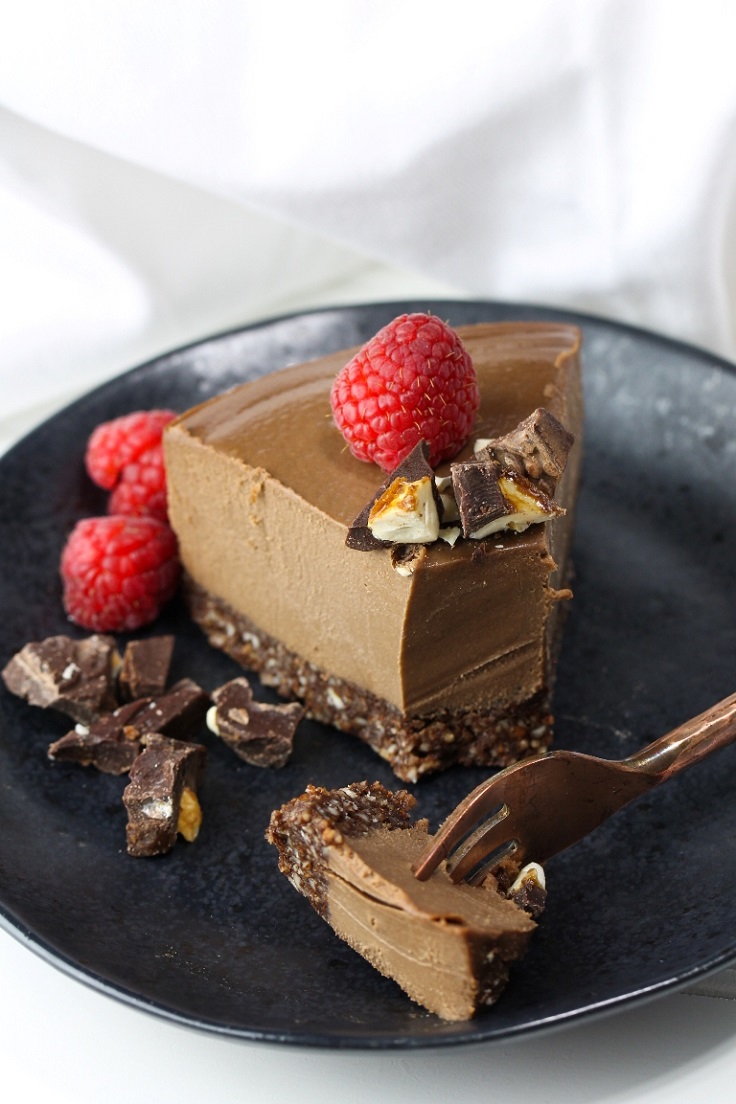 via thevegan8.com
And last but not least, we have the ultimate chocolate experience! To prepare the crust, make sure you have 1 cup raw whole almonds, 2 tablespoons raw cacao powder or cocoa powder, 1 teaspoon coconut sugar, pinch fine sea salt, 2 tablespoons pure maple syrup and 1/4 teaspoon vanilla extract. For the chocolate filling, you need 1 1/2 cups raw cashews, 1/4 cup + 2 tablespoons water, 1 tablespoon fresh lemon juice, 1/4 cup + 1 tablespoon pure maple syrup, 1/2 tablespoon vanilla extract, 1/4 teaspoon fine sea salt, 2 tablespoons coconut sugar, 1/4 cup raw cacao powder or cocoa powder and 90 g raw cocoa butter.