In one of our previous articles, we have shown you ten beautiful examples of bedrooms inspired by the Scandinavian interior, so we thought it would be great if we show you another article related to this amazing Nordic design. Ahead you will find living rooms' ideas and a brief explanation on how you can achieve that look.
The Scandinavian interior is all about simplicity, functionality, and usage of few colors that go very well together. This leaves a lot of space for experiment with colors, shapes, and textures, and you don't have to spend so much to achieve a certain look. Read below and get inspired by these ten beautiful examples of living rooms.
1. Light as Focal Point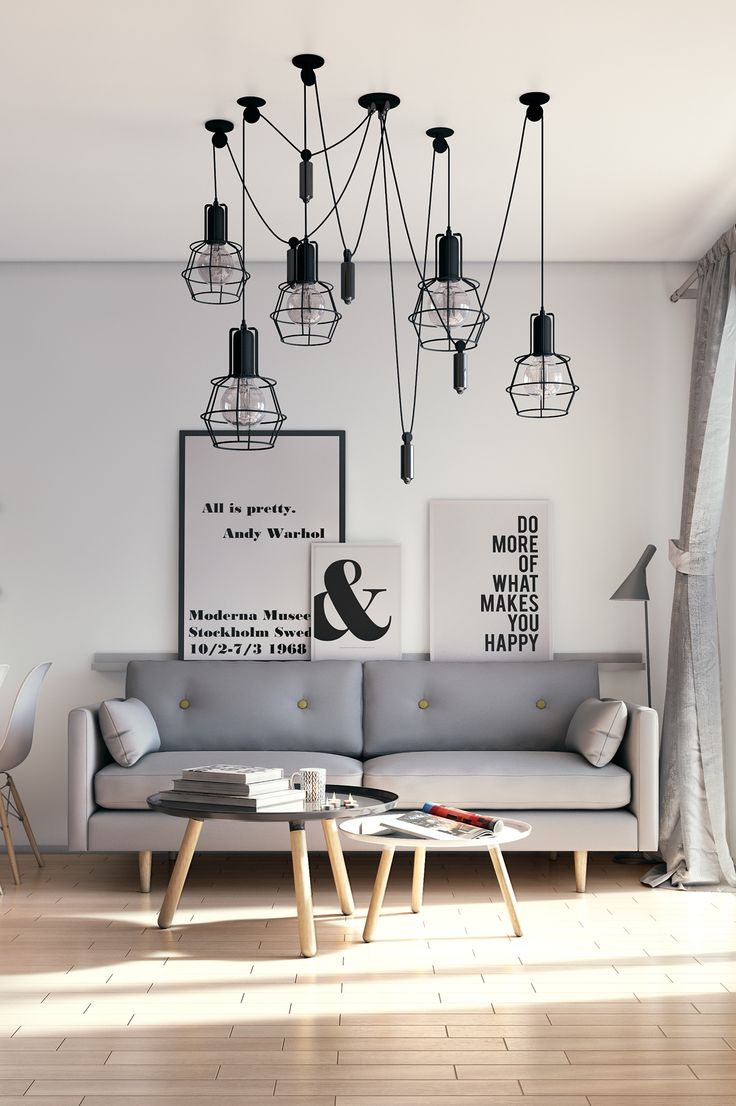 via behance.net
The light is very important when it comes to the Scandinavian interior. You will see lampshades and chandeliers in so many shapes, making it so interesting to see how designers are playing with the art element of line. A focal detail in the room can be anything – a color, a carpet, and in this case, the chandelier. Take a look at this picture; it's impossible not to admire it, isn't it?
2. Velvet Trend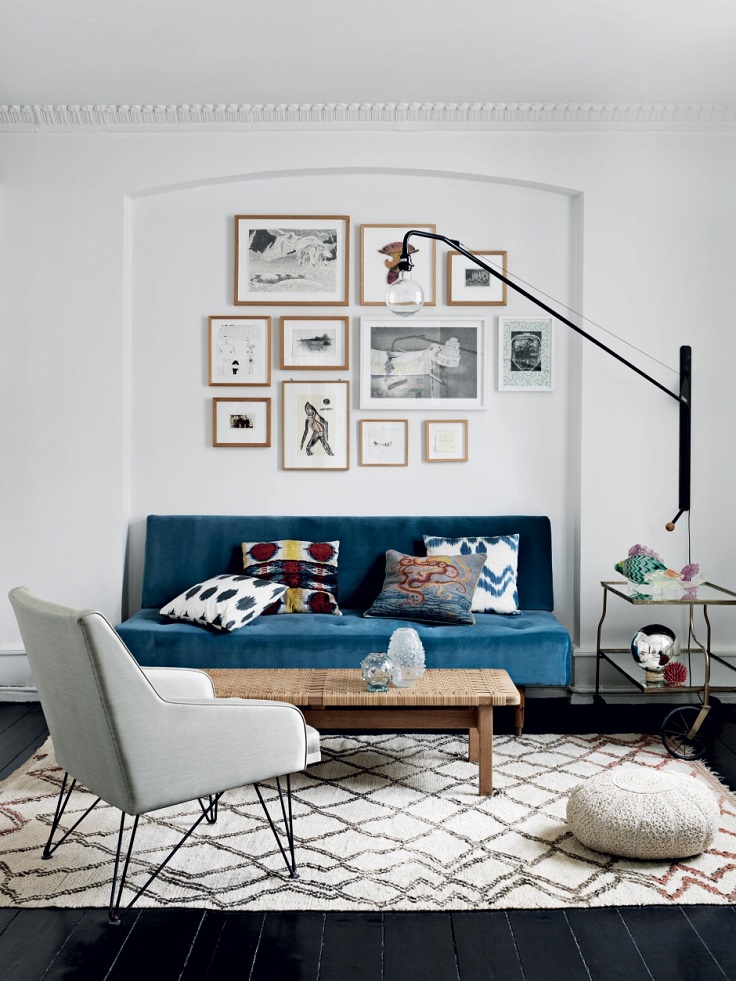 In the past few seasons, we saw how velvet is coming back as a fashion trend, but the furniture wasn't an exception to this. It fits the Scandinavian design perfectly because here, playing with textures is very present and makes everything much more charming. So, if you were willing to buy some new furniture, how about a velvet couch in a dark color, such as emerald green or in a shade of blue?
3. Cozy Atmosphere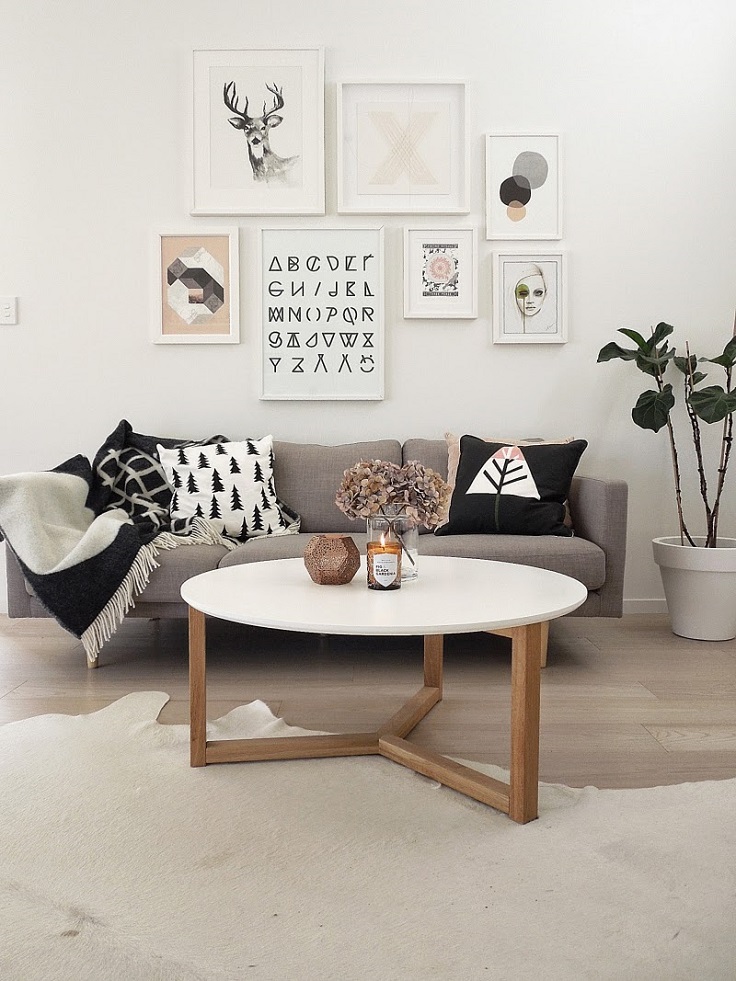 via tinyme.com
The Scandinavian interior is all about simplicity in shapes and colors, while you can still enjoy and feel comfortable in your own home. While browsing for ideas, it was impossible not to notice that there is one detail in almost every living room – a blanket. No matter if it is a simple, one-colored blanket or it has some interesting print on it, the blanket will not only serve you during cold times, but it can be a simple detail that adds more charm to this interior style.
4. Use Pastels
As we previously mentioned, Scandinavian design means usage of clean, calm colors, and most often, you won't find too many colors in one room and those who are present; they are very well synchronized. For example, if you like pastel colors, you can use them – see how this room from the photo is mostly pink, with a blue and grey touch, but it doesn't ruin the pastel atmosphere. Rose quartz and serenity blue were the Pantone colors of 2016, and this is an amazing example of how they fit not only fashion but also the home interior.
5. All White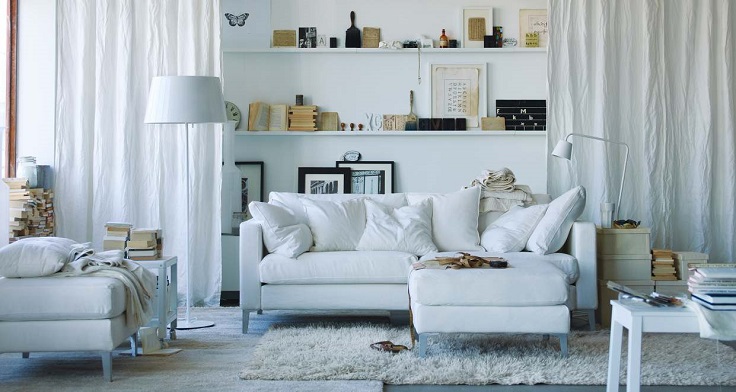 White is definitely the most important color when it comes to this interior style. You will see it all the time, and mostly the walls of the room are always painted white. It's a simple, clean color that doesn't tire the human eye and leaves more space for experimenting with other colors. If having white walls isn't enough for you, take a look at this room for example – everything is white, except the books and the pictures' frames. For some, this can be too much white; for some, it's perfect.
6. Contrast
You will see so often how the Scandinavian interior plays with contrast, mostly black and white. This is a very chic combination that will make your room look as if it is from some magazine! Many designers go for this look because it's extremely elegant and not hard to achieve. You don't get to play a lot with colors, but you can play with textures, which is also very interesting!
7. Grey Tones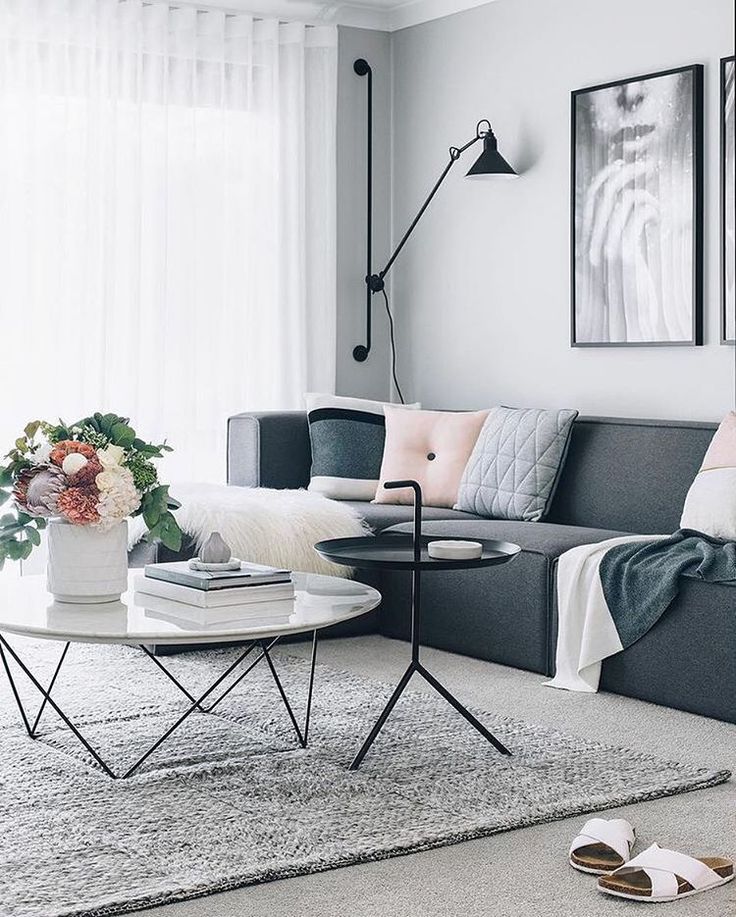 After the contrast situation with black and white, one of the most popular colors in the Scandinavian design is the grey tones. Like white, grey is a neutral color that doesn't tire the eye and leaves space for plenty of color experimenting. You can choose bold colors (we'll show you an example for this soon), or you can stick to pastels like on these pictures and create a calming, very well synchronized atmosphere when it comes to the colors in the room.
8. Art, Art, Art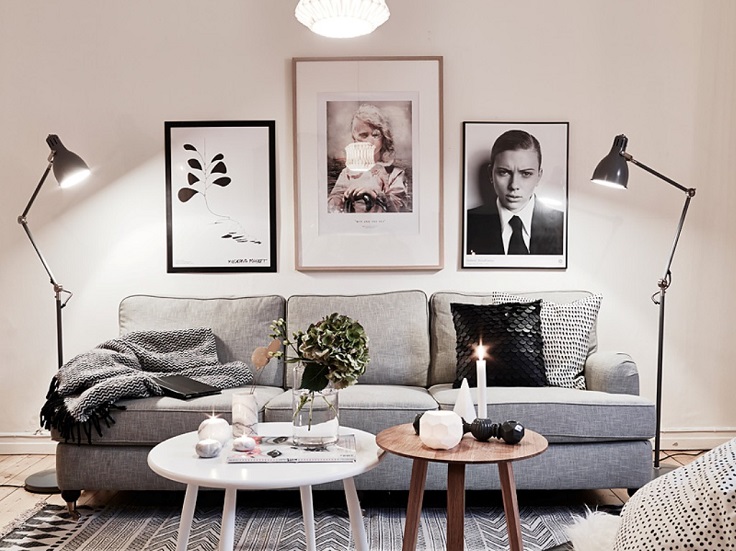 via homedit.com
When it comes to the Scandinavian interior, one thing is for sure: art is essential. If you go back and see the photos that we have already shown you, you will see that there what they all have in common is exactly the art. There is always at least one painting on a wall, but mostly there are more symmetrically organized or placed in a rather "chaotic" way. It doesn't have to be an expensive painting; it can be a simple, framed, and printed picture. Or, if you feel brave enough, how about try painting by yourself?
9. Color Pop
 
via decoist.com
As we previously mentioned, very often, you can see a color pop in the Scandinavian design. But, to include a bold color in an interior style that requires calm and clean colors, first, you must make the most of the room in a way that allows experimenting with bold colors, and this is something you achieve with having your whole room in one or two neutral colors. Take this picture, for example – it has the contrast and the focal detail it's exactly the gold color, present only in few elements of the room.
10. Earth Tones
And last, here's an example that shows how you can incorporate Earth tone colors in your living room. We're talking about shades of blue, green, and brown, and there are so many ways that you can include them. Take a look at the carpet – it has them all, including white. Thanks to the colors and the way they're organized, the carpet is the focal detail in the room, and the rest includes everything that we previously showed you. There are so many things that make Scandinavian design irresistible for many people worldwide, and we hope this article was an inspiration for you.