Everyone loves grilled skewers, and made from chicken are always a big hit. There are so many different varieties of how to prepare them, marinated, glazed, or simply grilled with a delicious sauce as a dip. An interesting fact is that chicken is really versatile meat and goes well with almost everything, from different sauces and dips to healthy veggies and fruits.
So, we have created the top 10 best and most flavorful chicken skewers ideas and recipes that you might want to prepare for your next big family gathering. Scroll down, pick one of these tasty ideas and satisfy everyone with your original chicken specialty!
1. Marinated Greek Chicken Skewers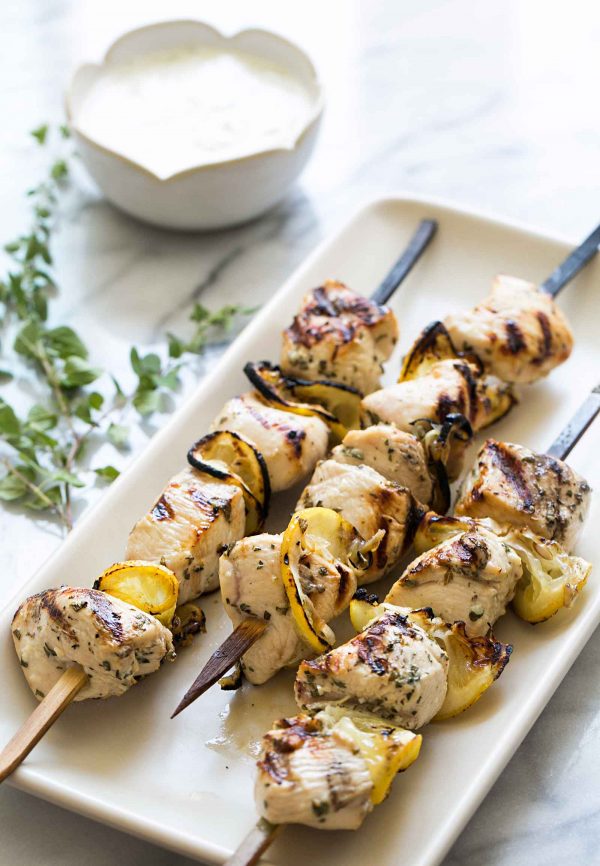 Recipe via simplyrecipes.com
We tend to love greek food for its lightness, often bbq flavors, ease of producing, and of course, the ever so refreshing, tzatziki. This recipe flies you to the Mediterranean and if you close your eyes you can almost imagine the white, sandwiched houses on top of the hill overlooking the emerald blue sea. Chicken breast is used in this recipe but try chicken thighs for an even greater flavor profile. Works a treat too and will have even fewer chances of leaving you with dry pieces of chicken. You can marinate overnight if this is possible for you to do so making the chicken even more tender. 
2. Peri Peri Marinated Chicken Skewers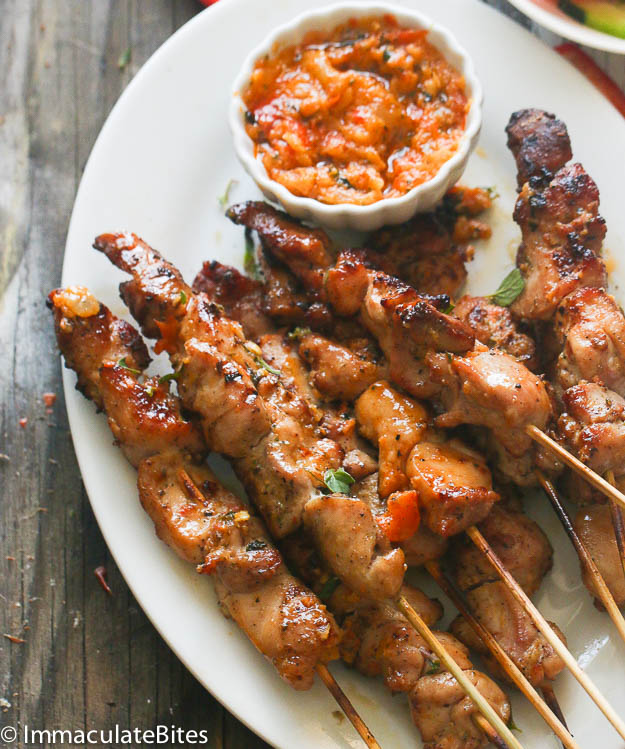 Recipe via africanbites.com
A little something African, boasting so many different layers of complexity and flavors. Something one might want to eat 3 times a day. Literally. This recipe has such a good ending for a real skewer lover looking for a little kick during his or her dining experience. Made out of three peppers, jalapenos, red pepper, and chili pepper, what neutralizes the heat is to perfectly balance all the flavors in harmony with the coconut milk. Marinating overnight would be our suggestion to truly get the flavor coming through on the bbq and tenderizing the chicken. Add more chili for more heat if that's your thing.  
3. Thai Chicken Satay With Peanut Sauce
Recipe via recipetineats.com
Put your hands up if you have never tried, during a meal at a Thai restaurant, chicken Satays as a meat-eater? How about recreating your love and passion for them in the comfort of your home. Having a dinner party or wish to do something different with the chicken, this recipe does not demand too much from you in terms of skills needed in the kitchen, but yet so flavorful. It's a crowd pleasure for all ages which is great. Family or friends, perfect as a starter or part of a grilling night event.
4. Rosemary & Garlic Chicken Skewers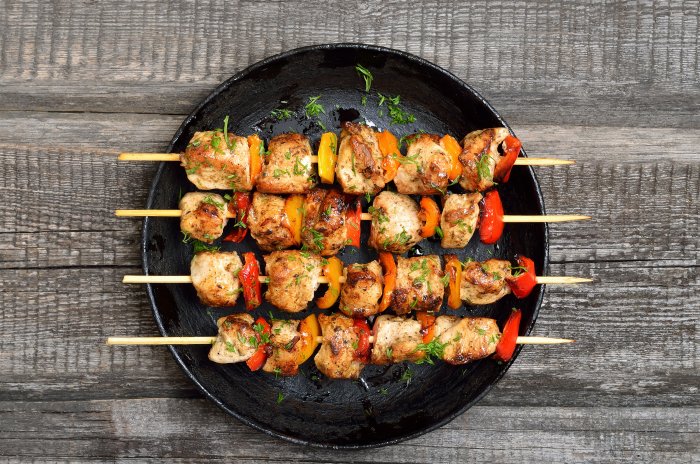 Recipe via baronsspecialtyfoods.com
Sunshine on a skewer. Simple ingredients with bags full of flavors. Overnight marination is recommended for extra tenderness and flavor, but a couple of hours will do the trick. Grilling vegetables is so underrated and yet so powerfully delicious. Can be drizzled with a flavor olive oil such as garlic and rosemary adding layers of complexity and deliciousness? Tofu has the consistency of meat and leaves you happily content after. A lovely and simple recipe to reproduce and with fun in the process. Add a couple of cheeky pineapple chunks to your skewer for extra surprise juiciness. 
5. Chicken Tikka Masala Skewers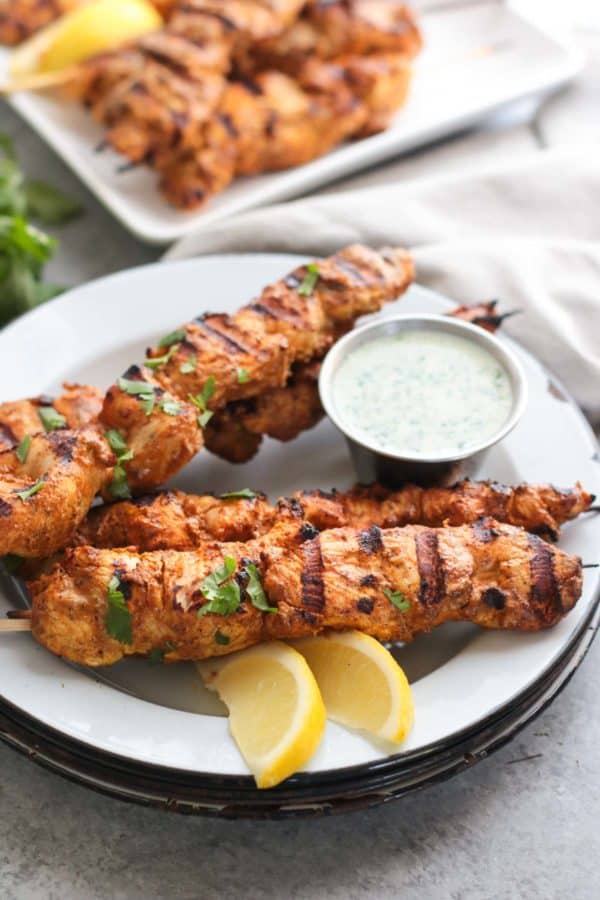 Recipe via therealfoodrds.com
We like a little tandoori flavor on our skewers. One can replace the chicken with the likes of cauliflower, tofu, prawn, beef, lamb, or mixed vegetables. The most important thing to get right naturally is masala yogurt marination. Very simple to do and ever so scrumptious. The level of spiciness can be altered depending on how spicy you wish to have them in the first place. Simply grill and enjoy with a mint yogurt dip, homemade naan bread, saffron rice, or/and a lemony mixed green salad full of fresh garden herbs. 
6. BBQ Glazed Chicken Skewers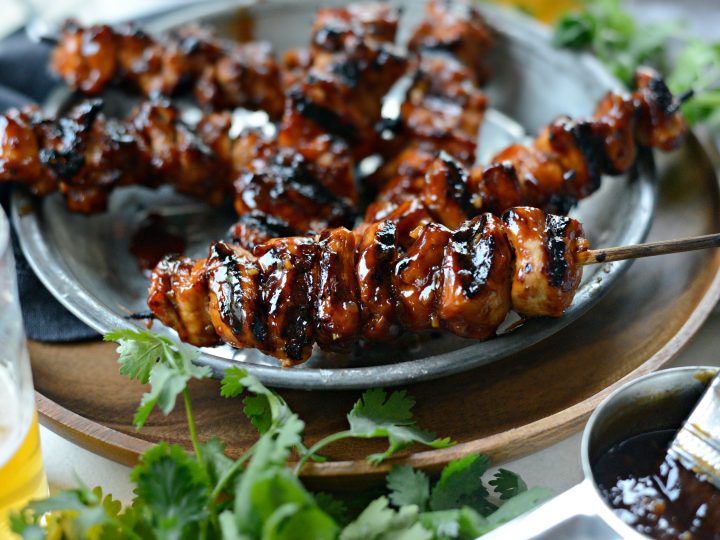 Recipe via tasty.co
Mouthwatering! Messy and a little sticky that is bound to leave a nice mark. These glazed wonders will look absolutely fantastic on a skewer for your guests to enjoy. Kids love them, adults love them, we all love them. And this recipe focuses on mainly Asian ingredients adding wonderful flavors. Serve this with a vegetable egg fried rice for the ultimate Asian experience in the heart of your home. 
7. Peruvian Grilled Chicken Skewers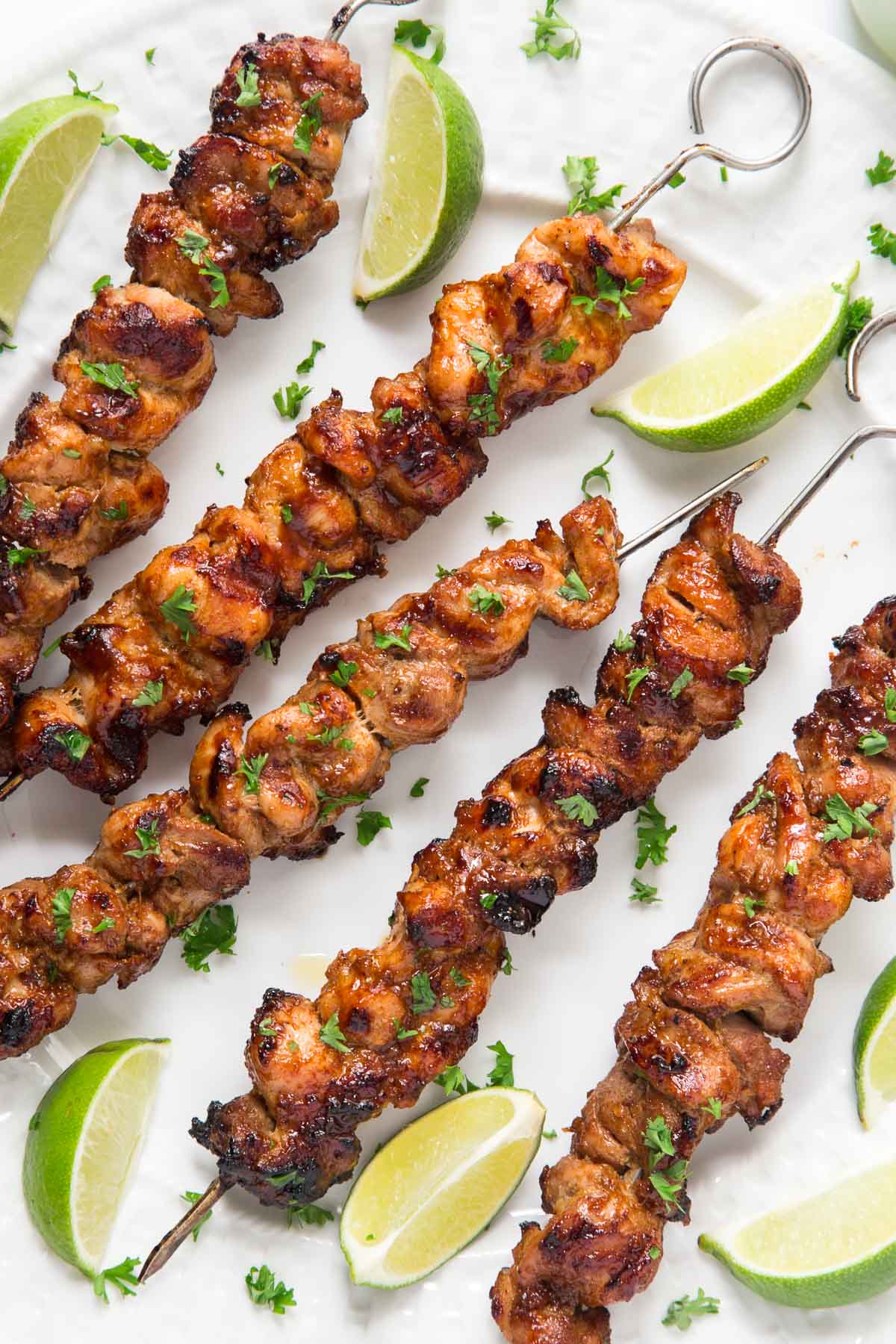 Recipe via thecafesucrefarine.com
Wish to treat your friends and family for something very different and unexpected? Love South American food culture? What makes this dish in fact and equally as important is the Peruvian green sauce better known as Aji Verde made from jalapenos, parmesan, coriander, and Amarillo Paste. In Latin America, chicken thighs tend to be preferred over the common breast of the chicken as they are so much juicier and flavorsome. Naturally, chicken breast can be used without alternating the dish. In the end, it'll be absolutely brilliant. Add a squeeze of fresh lime juice once the grilling has finished and enjoy. 
8. Paprika Chicken Skewers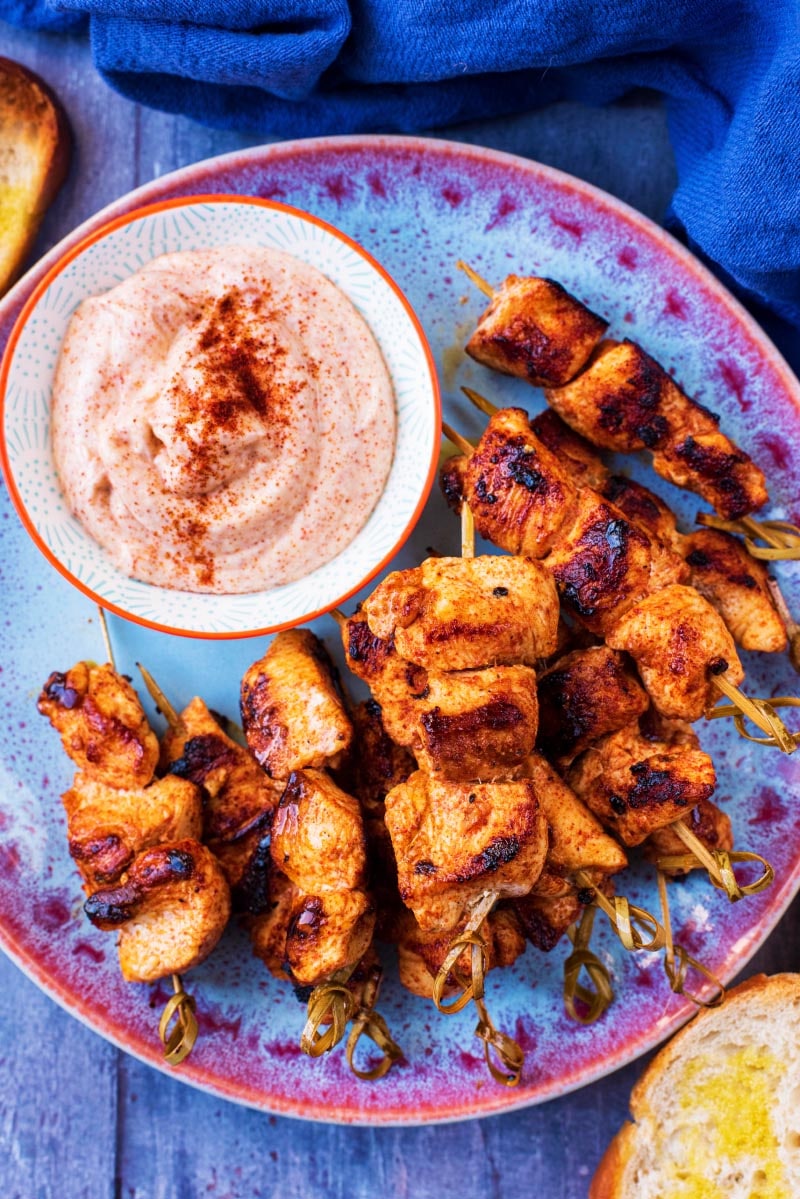 Recipe via hungryhealthyhappy.com
If you don't have a bbq handy or simply live in an apartment but wish to have the bbq flavor come through, then smoked paprika is your best friend. These Spanish style chicken skewers are great alongside a fresh and smoked aioli dip and can be done in no time. Low in calories, a very attractive option for those on a daily calorie count or simply those seeking high protein goodness. Serve with smoked paprika and honey-sweet potato fries for that little extra indulgence. The perfect "indoor barbecue feeling". 
9. Grilled Chimichurri Chicken Skewers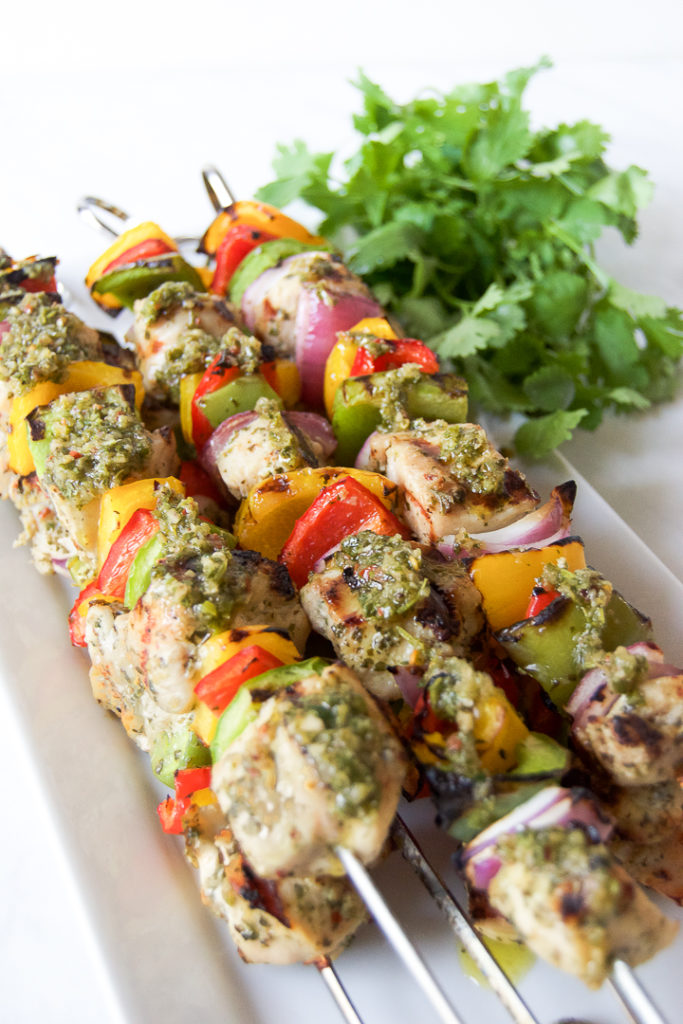 Recipe via braziliankitchenabroad.com
Brazil. When we think of this country we think of the hundreds of colors, the carnivals, dancing, and the beautiful sceneries. And these skewers will combine all of the above mentioned into one bite. They are so good. Your amigos will love these unpretentious bites, food on a stick kinda food but so will the entire family around the table or in the garden enjoying the sunshine during the summer.  
10. Chicken Skewers with Mole Sauce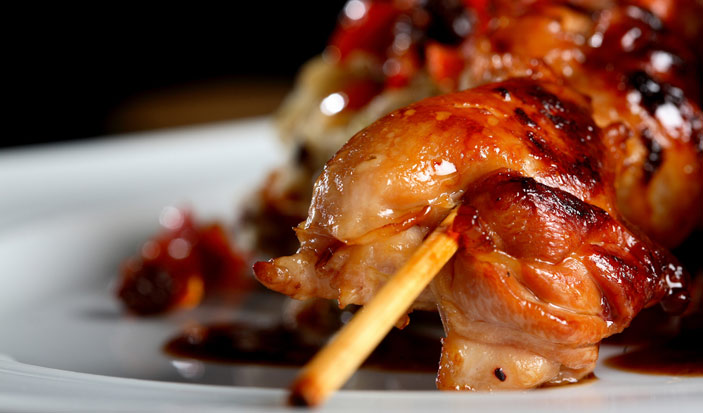 Recipe via expressoshow.com
This Central American inspired dish gets away with dark chocolate Mole sauce. Unmistakably delightful, these Brazilian chicken skewers will make your friends talk about their experience for months to come. Rather easy to do and something that truly is different adding so much richness to your chicken. Preferably use good, dark chocolate between 65% to 85% and combine this with the heat from the chili, this will surprise you and challenge a lot of what you consider cooking shortly. Great fun!