We picked ten Christmas Cheesecake recipes, all decorated in the Festive spirit and very easy to prepare.
In this article, we share with you ten cheesecake recipes that taste oh-so-well and look very festive! Just scroll below and check them out – let us know which one is your favorite.
1. Christmas Cheesecake Recipe with Sprinkles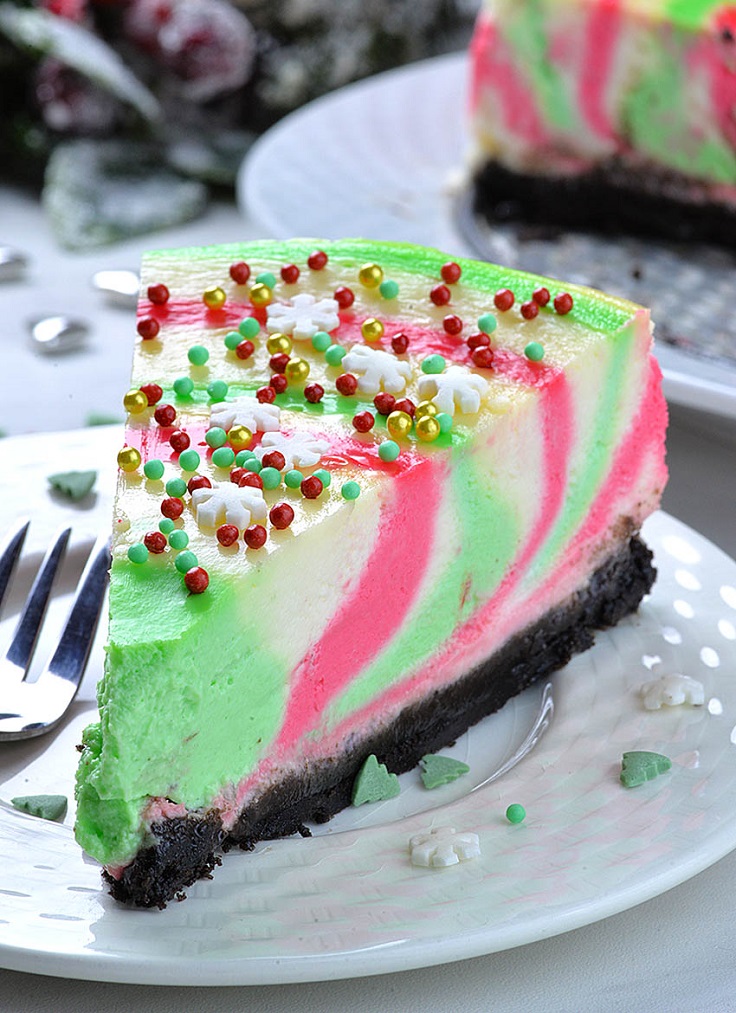 This surely looks like one of the best festive cheesecakes you'll see around! Not only are there Christmas – inspired sprinkles on top, but the whole cheesecake is swirled with red and green food coloring. Aside from the festive decoration, you're going to love the cake because of the taste as well – who can say "no" to Oreo, right? If you want to make an interesting mix in the taste, you can also add peppermint extract.
2. Red Velvet White Chocolate Cheesecake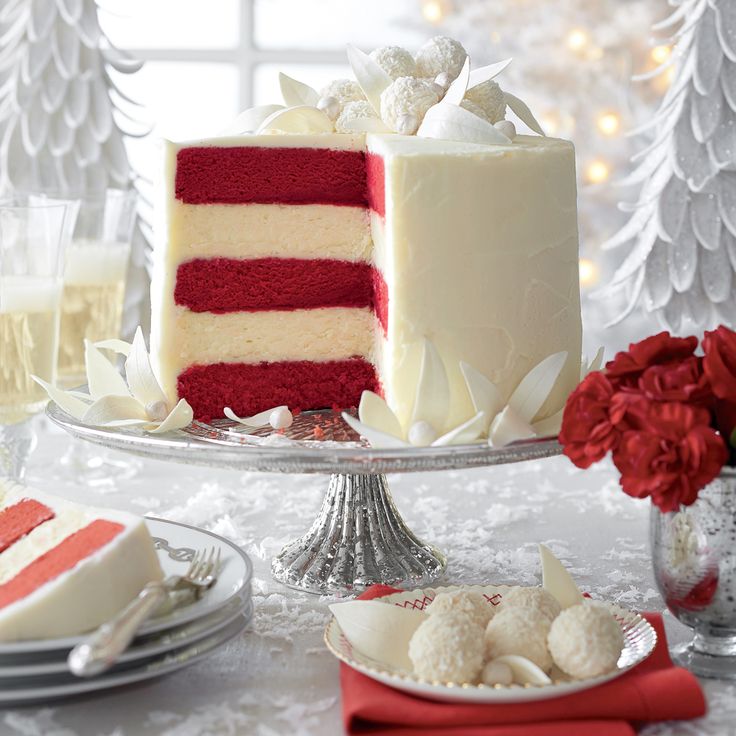 via myrecipes.com
A red velvet recipe is a must for Christmas. There's something so irresistible about these desserts – both the way they taste and the way they look! There are many recipes that you can try, and one of them is the red velvet cheesecake. It's a mixture of two tastes – a spongy, moist red velvet layers and creamy white chocolate cheesecake filling in between. The cake is easy to prepare, but it needs few hours to chill before serving.
3. Santa Hat Cheesecake Bites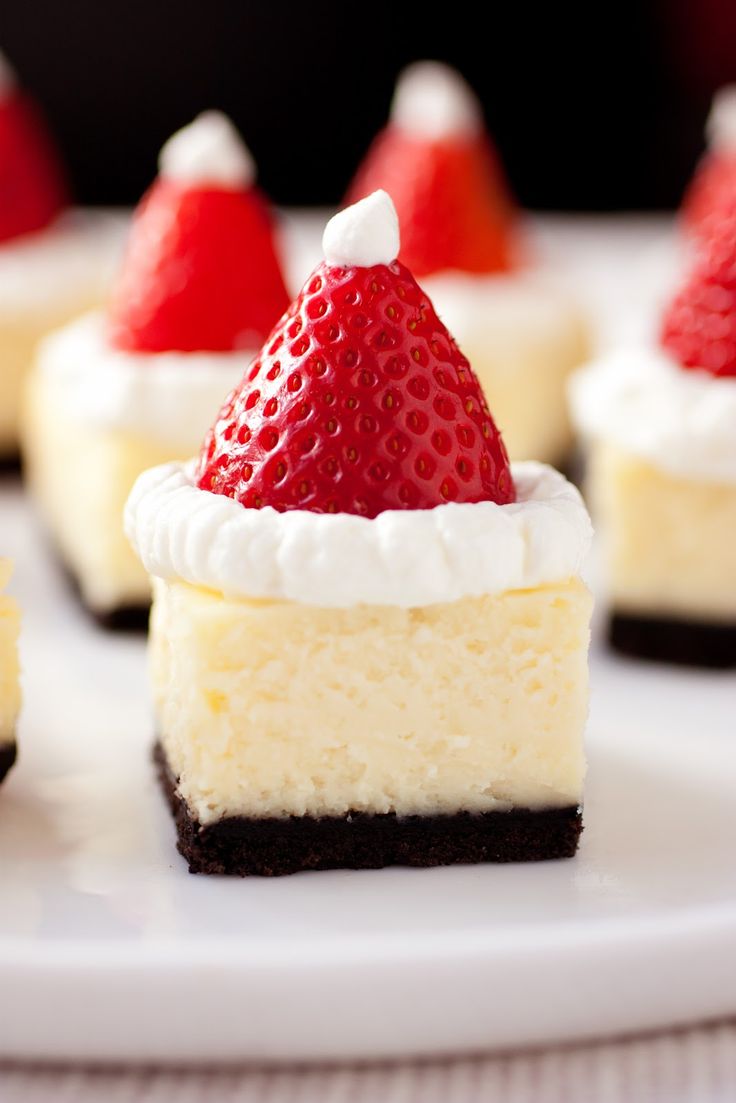 Instead of preparing cheesecake the traditional way as cake, you can experiment a little bit and make your own Santa hat cheesecake bites. This is a great idea for party finger food, and we must admit that the strawberry hat makes it look so tempting that it's impossible not to try at least one of these bites. The cheesecake base is made with Oreos, while you can pick your favorite cheesecake recipe and have fun with the strawberry hats!
4. Gingerbread Cheesecake
via taste.com.au
What's a Christmas without a gingerbread man?! Except that this time, instead of serving the gingerbread men just as cookies, you can use them as your cheesecake topping along with candy canes. This is really going to be one of the most adorable Christmas cheesecakes you will ever see! When it comes to its taste, you're going to love it – it's an amazing combination of biscuits, gingerbread biscuits, caramel, and cream.
5. Mary's White Chocolate & Ginger Cheesecake
via pbs.org
As creamy as it can get, you're going to be asking for another piece of this cheesecake, especially if you're a chocolate lover. This cheesecake has a dark chocolate base and white chocolate cheesecake filling. As if that's not chocolatey enough, even the decorations are made out of white chocolate! However, what makes this cheesecake unique is exactly the decoration – besides the white chocolate, it contains marzipan as well – if you're a fan, you already love it!
6. Peppermint Cheesecake Brownies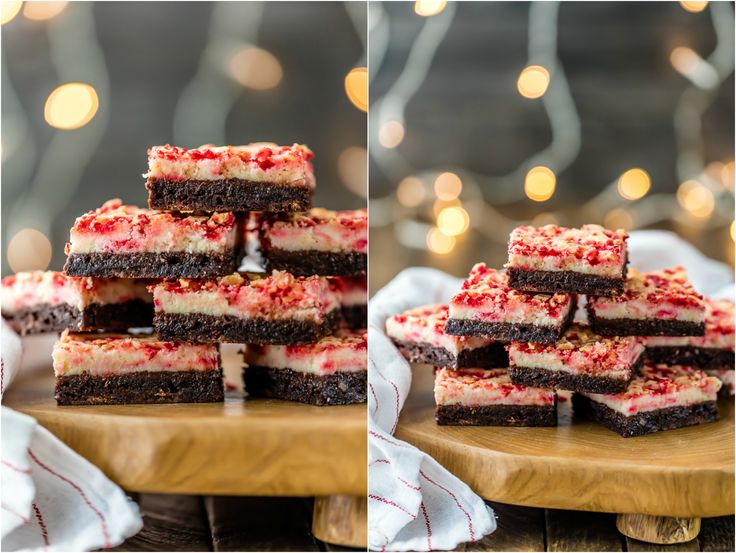 Brownie lovers, this one is for you. So far, we had cheesecake with a base made out of Oreo or other biscuits, but this time our base is a chewy, chocolate brownie! For this, you can use a boxed brownie mix or prepare your favorite recipe. The cheesecake is easy to prepare and so delicious with a Christmas scent – it has peppermint extract and peppermint crunch baking chips. You can use crushed candy cane instead of chips – either way, you did well.
7. Chocolate Peppermint Cheesecake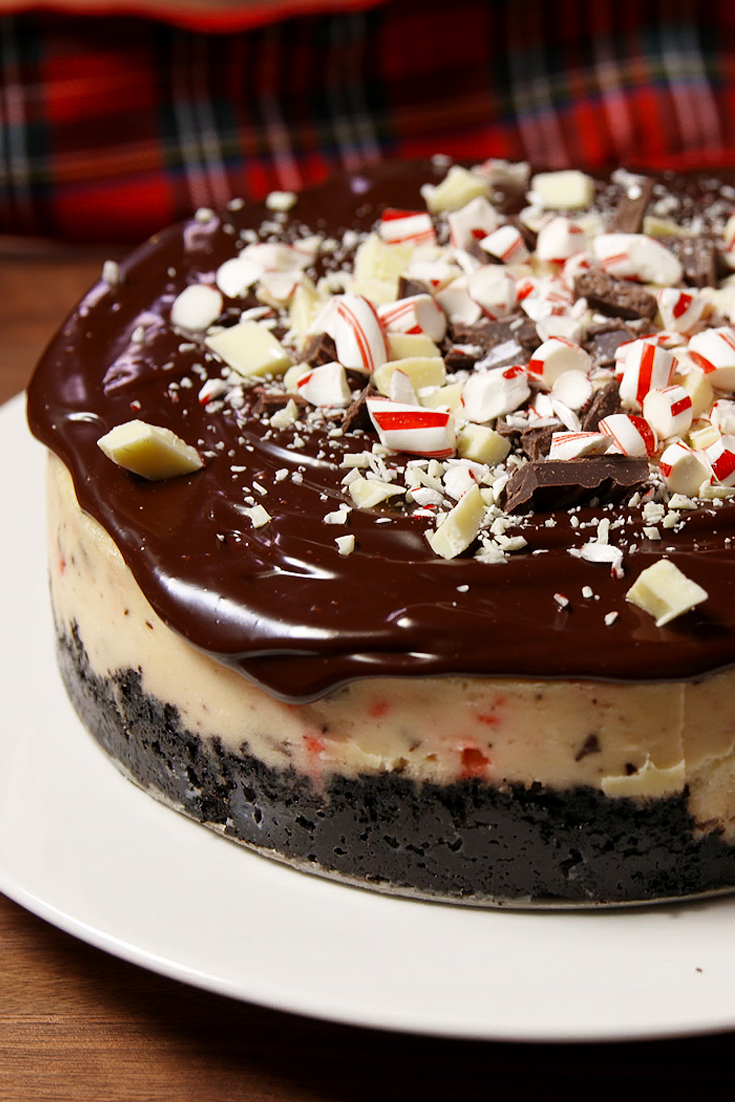 via delish.com
Since we're talking about peppermint, we would like to share another great recipe with you. This is such a rich cheesecake, as it contains all the dessert flavors you could possibly ask for in a cheesecake. It has an Oreo crust base, creamy cheesecake layer with chopped pieces of dark (or milk) chocolate, white chocolate, and candy canes. On top of it all, you have the most delicious chocolate ganache topped with the remaining chopped pieces of chocolate and candy cane.
8. Chocolate Candy Cane Cheesecake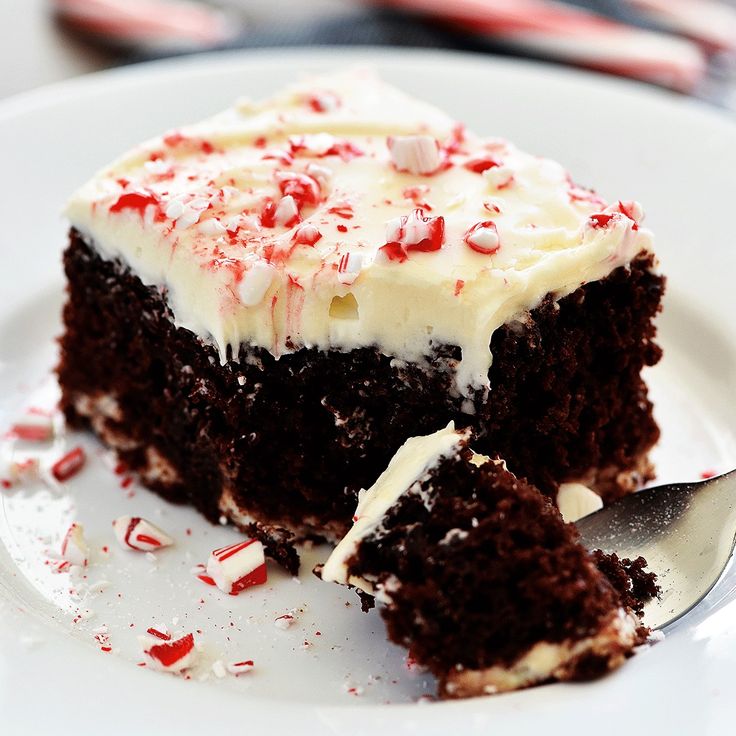 Easy to prepare and even easier to eat it whole, the chocolate candy cane cheesecake is going to be one of your most cherished recipes. It's creamy with lots of chocolate – who can say "no" to that? To prepare the cake, you need the following ingredients – chocolate cake mix including the required ingredients to prepare it, cream cheese, sugar, and egg white. You will also need cream cheese, butter, powdered sugar, pure vanilla, milk, and a candy cane for the frosting.
9.  Peppermint Patty Cheesecake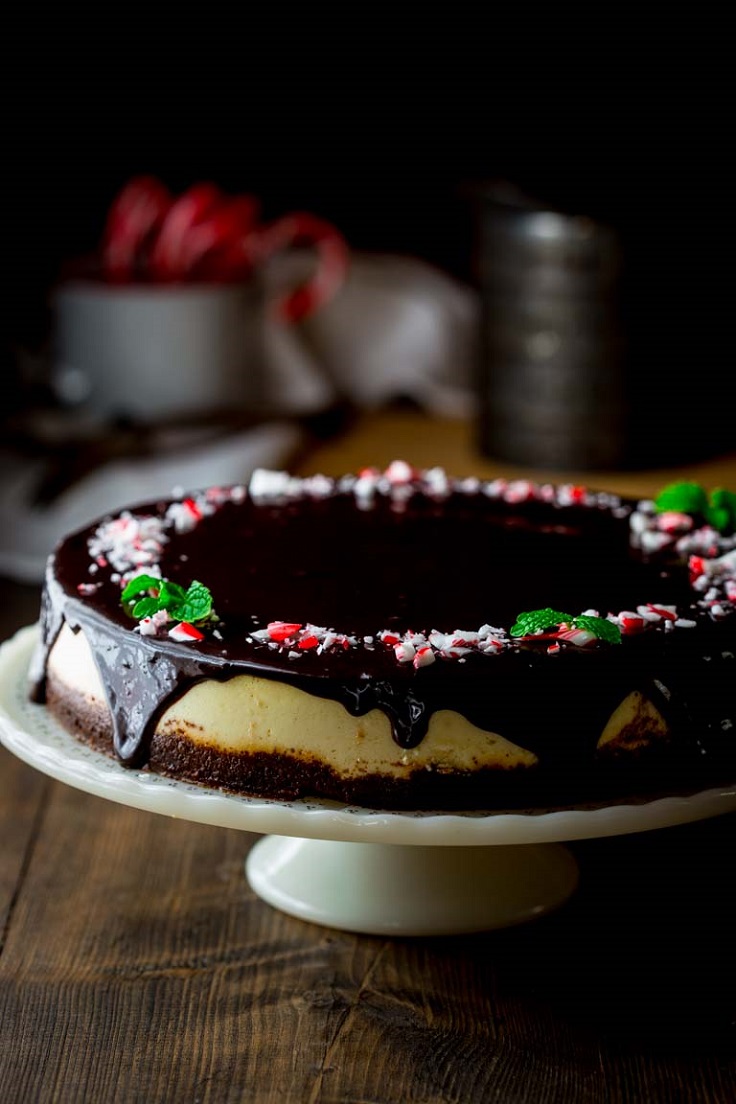 via healthyseasonalrecipes.com
Unlike many cheesecake recipes, this one includes pureed cottage cheese which will make this dessert less guilty – a pound of cottage cheese contains 1320 fewer calories than the same amount of regular full-fat cream cheese. If this doesn't convince you to try it, then we're sure that its smooth, soft taste of mixed chocolate and peppermint will.
10. Raspberry White Chocolate Cheesecake Pie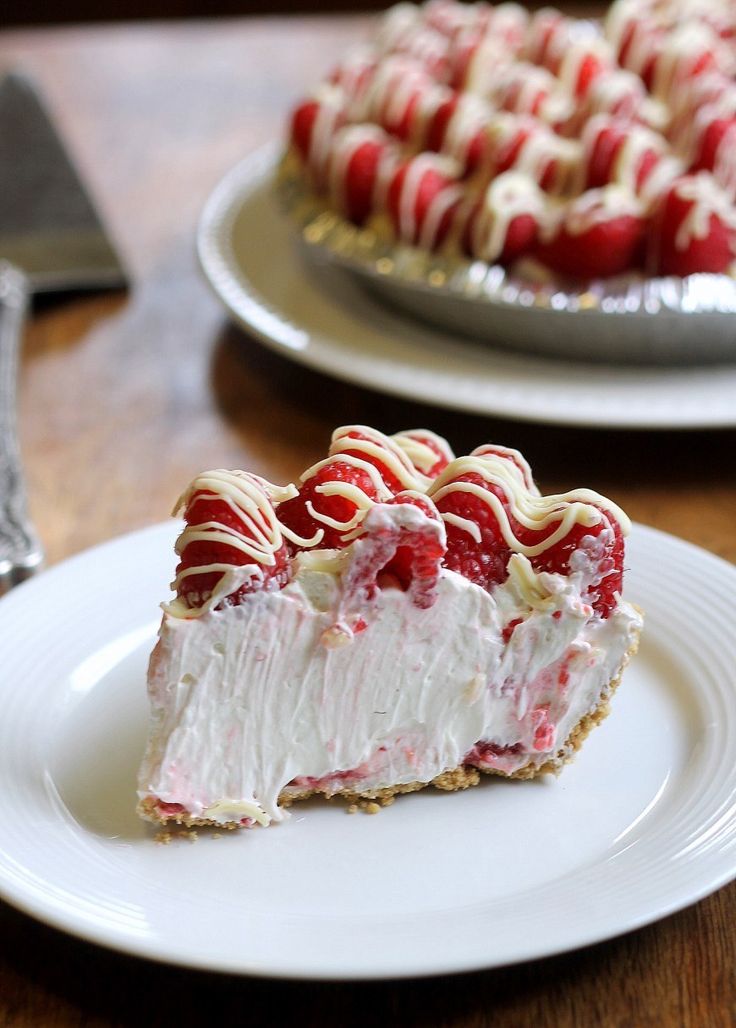 via bakerita.com
Super creamy with plenty of raspberries on top, this white chocolate cheesecake is the perfect dessert for Christmas – not only because of the taste but because of how festive it looks as well! You need few ingredients to prepare it- graham crackers for the crust, cream cheese, white chocolate, powdered sugar, cool whip, and fresh raspberries.
Need more Christmas Cheesecakes? If yes, check out this video by CupcakeJemma
Christmas is coming next month, and as always, we are delighted to share delicious recipes with you, no matter if it's breakfast, lunch, brunch, or dinner!
Every year there and more and more recipes, from gluten-free, vegan, vegetarian, pescatarian, raw, that you can try, and it's our pleasure to give you an idea of what to cook this time.
Follow our Christmas Pinterest board and get super excited with hundreds of ideas stored for you in this little folder.