Probably, everyone has some old, ugly sweater that is gathering dust in the closet. If you're the owner of this kind of sweater, then instead of throwing it out or throwing it to the moths, you can use it for making home decorations.
It's kind of crazy the things you can do with old sweaters. You can cover different objects with sweaters: vases, bottles, wreaths, pillows, candle holders, lampshades, cups, or trees. The possibilities are endless, from ornaments to toys and furniture.
Since the holiday season is just around the corner, we've gathered these DIY projects for recycling old sweaters to have the perfect Christmas ever. Check out the ideas below and let us know which project will be yours!
DIY Sweater Ornaments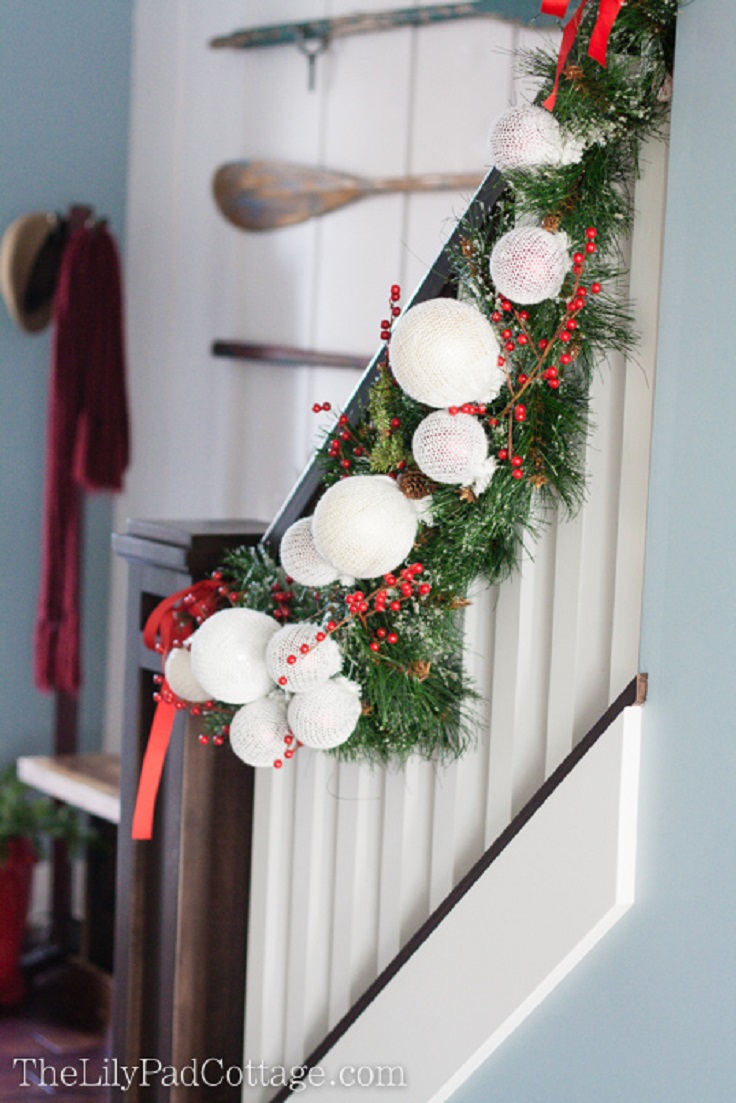 Have you ever thought of a snowball garland? It's impossible to find an affordable one. Well, think again. Here is an idea of how to make one yourself without spending a dime. You certainly have plain colored ornaments in your Christmas box. Simply wrap them up in pieces of an old white sweater, attach some red bobbies to them and arrange them on your old plain garland. There, you have a brand new garland you can use for many years.
Red Sweater Ornament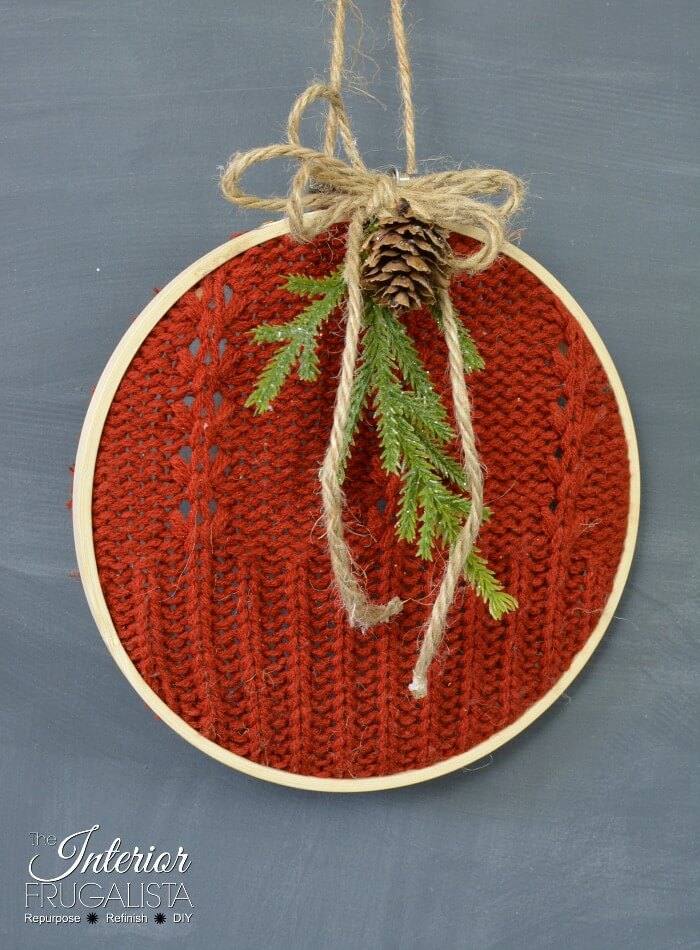 Tutorial: interiorfrugalista.comIf you're tired of keeping those old worn-out sweaters to turn them into pillows, here is an idea for you. These red sweater ornaments are easy to make and very cool and decorative. Plus, you still have a lot left to make a pillow. All you need is an old red sweater, an embroidery hoop, and some decorative beads or wool. Make sure the sweater piece is tightened around the embroidery hoop, and the decorations are in the right place for a perfect old, but new ornament for your lovely tree.
DIY Sweater Pillow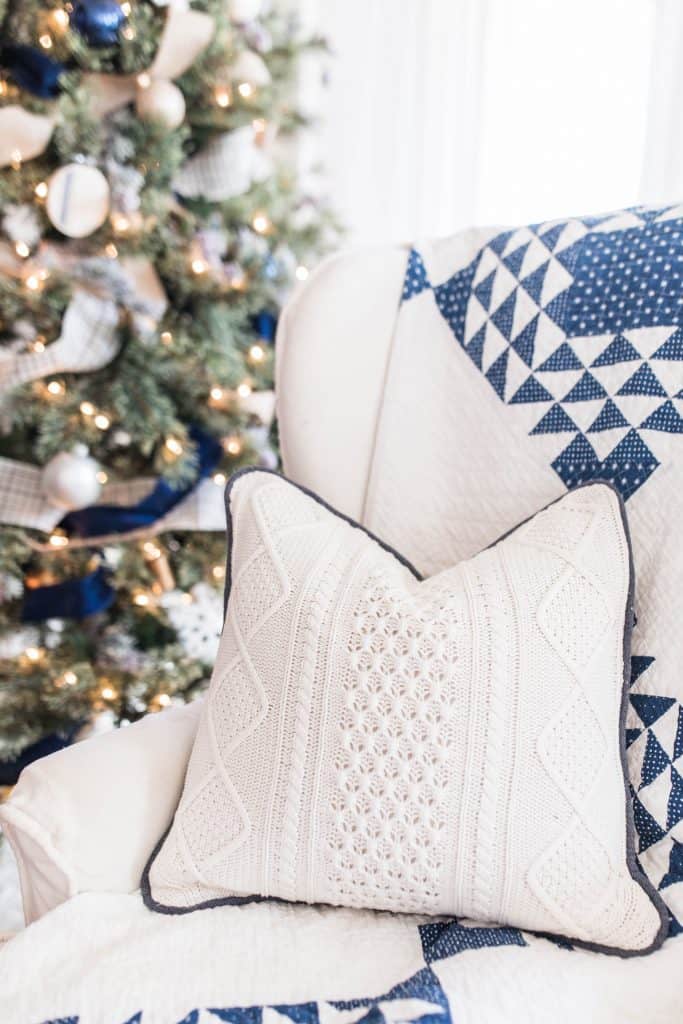 This elegant pillow takes a bit more skills than the other crafts made of old sweaters. You need to sew it to the backcloth of the pillow, to make a good edge and enjoy what's called a cottage house Christmas pillow. It is sweet and elegant, and the warmth of the old sweater gives a cozy feeling to your favorite armchair in your favorite house. Enjoy your holidays.
DIY Holiday Sweater Stocking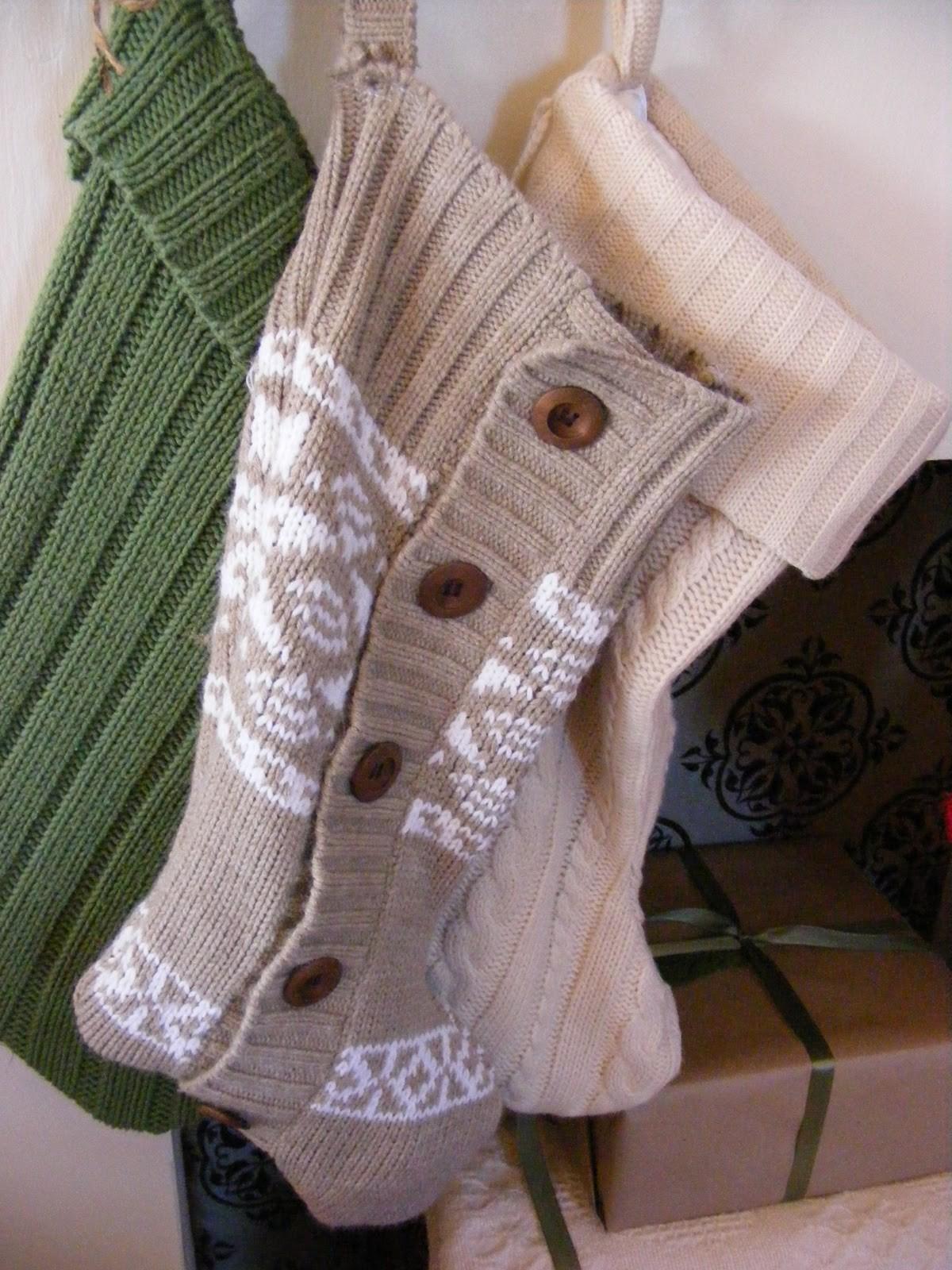 Christmas stockings are a must-have for the holidays. There is plenty to buy out there, but the best ones are those you make yourself. These stockings were made by old sweaters we all have at home, or we can easily buy at any thrift store. Simply use your old stocking as a pattern, draw around it on the fabric, sew, cut, turn, and there you have it. Now, fill it with gifts and enjoy your holidays.
Sweater Presents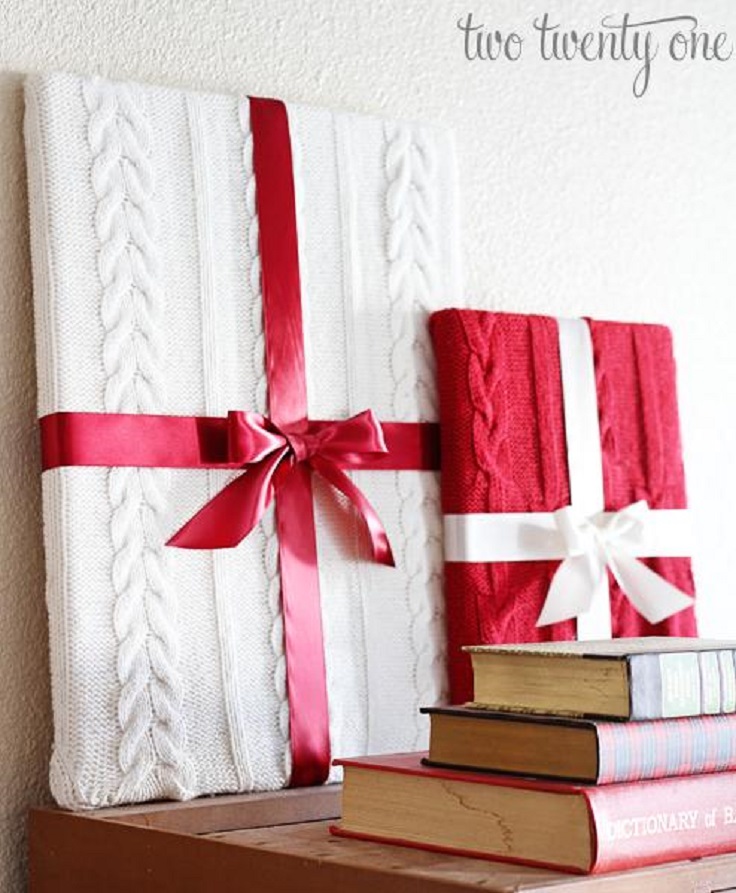 For all of you who have an old knit sweater that you are too attached to and don't feel like throwing it away, yet it's too old to wear it, you can upcycle it into these lovely Christmas present ornaments. Take an old photo frame, cut the front or the back of the sweater and wrap it around the frame. Put some bows in red and white, and you're all set. Set behind the books in the corner shelf, they bring such a great soft cozy texture to your holiday decor.
DIY Sweater Ornaments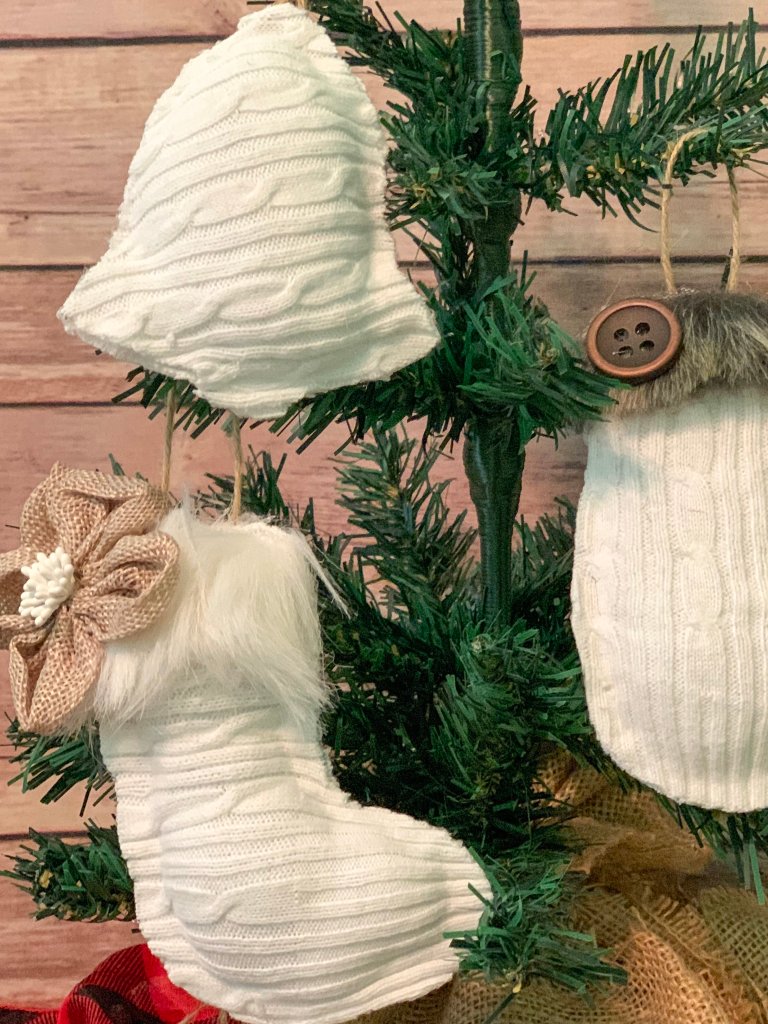 These sweet ornaments were made out of an old sweater that is too worn out to wear again. Unlike the other we have shown here, this idea will let you make several ornaments from one sweater because they are all tiny and sweet. Their inside-out edge makes them quirky and unique, plus a lot easier to make. Fill them with cotton, or an old nylon hose to make them soft and fluffy. Decorate them with some cute buttons and show them off as your greatest and easiest creation.
 Sweaters into Pillows
Remember those old Bridget Jones-like sweaters we all hate when we grow up? Well, everyone has them at home in some corner of the wardrobe. Here is an idea on how to use them cleverly and not regret it. In this tutorial, you will learn how to make good Christmas pillows that you will use for ages. And, surely everyone will love them, without even noticing that they were sweaters before they became pillows.
DIY: Sweater Stocking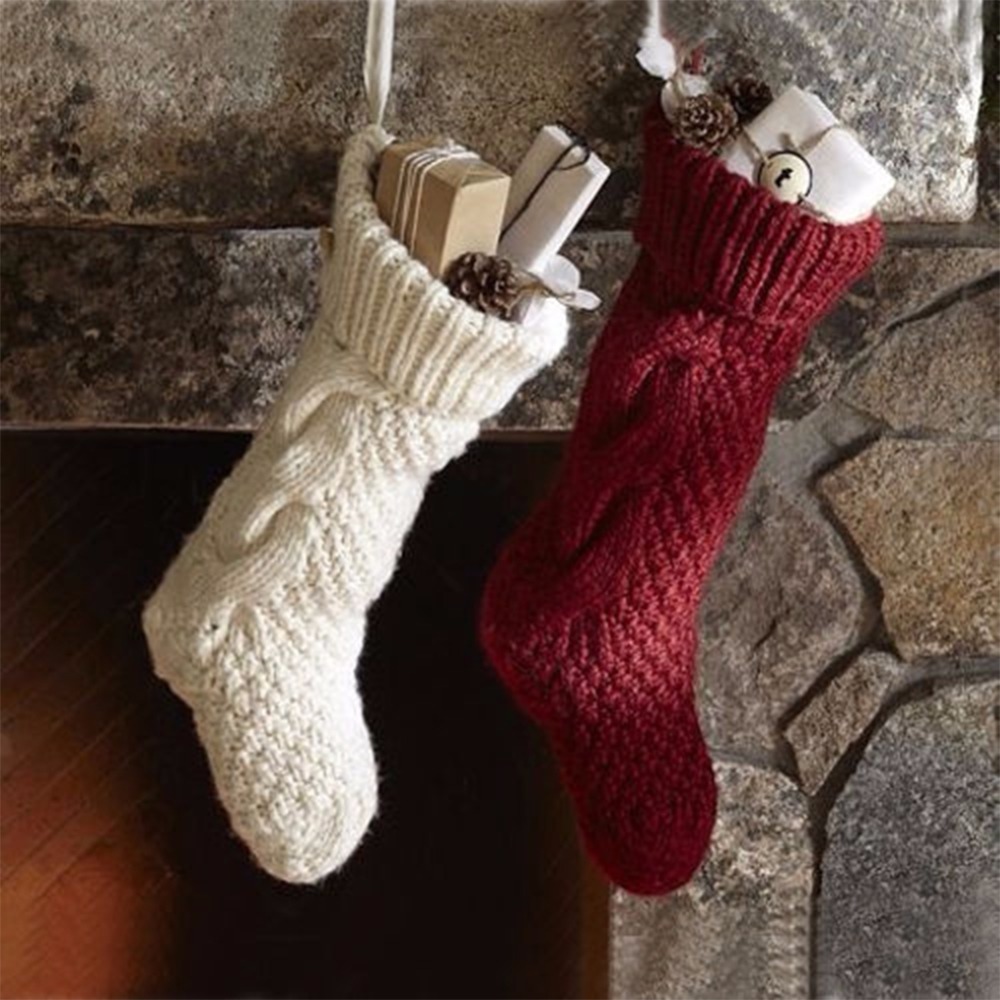 The pillows that you made in some of the previous ideas have certainly left you with a handful of scraps. Turn these scraps into gorgeous Christmas stockings for your favorite family members. Cut them out with a pattern from your old stockings, sew them together, decorate them with buttons or other decorations as you wish, and hang them on the fireplace to make your home festive and cozy. Fill them up with tiny gifts and enjoy the holiday.
Sweater Christmas Trees Tutorial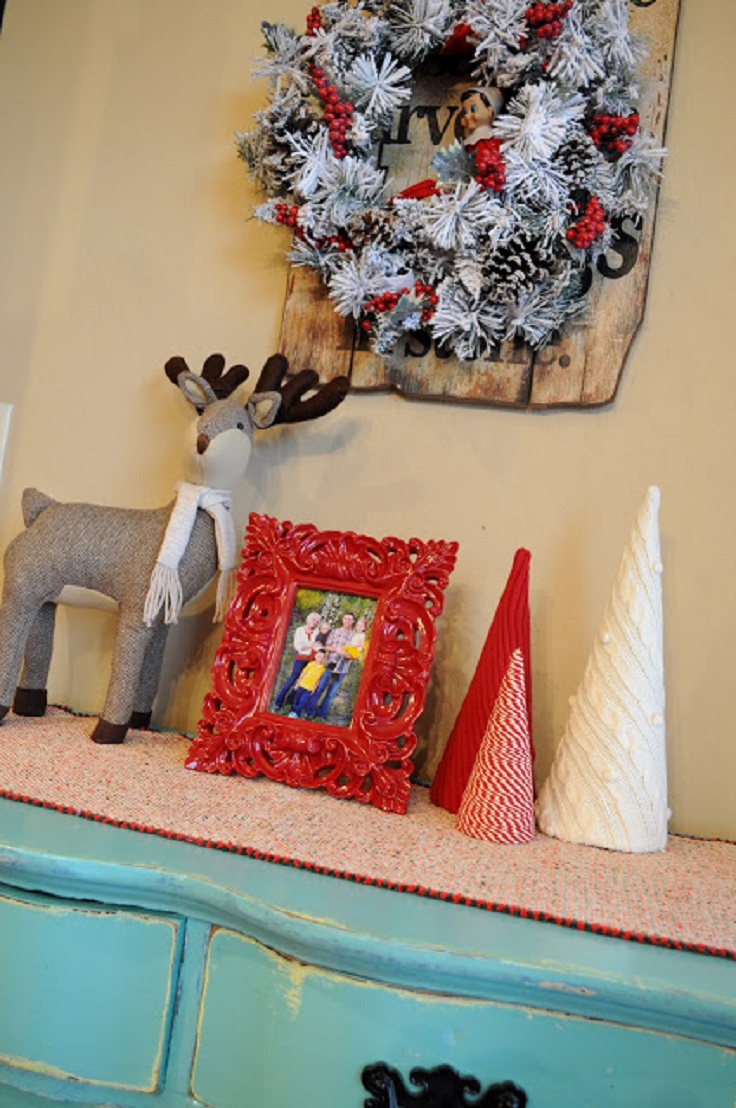 Are these Christmas trees ornaments cute or what? Use that old sweater with little balls that has gone out of style since the 1990s and turn it into a lovely Christmas tree cone. It will look like a Christmas tree covered with snow, and paired with smaller red-ish Christmas tree cones made in the same way, it will become the perfect Christmas tree for the entrance of your new home, or that cozy little place you love the most. Or, maybe, it will just complete the master Christmas tree in your living room. Who knows?
DIY Sweater Ornaments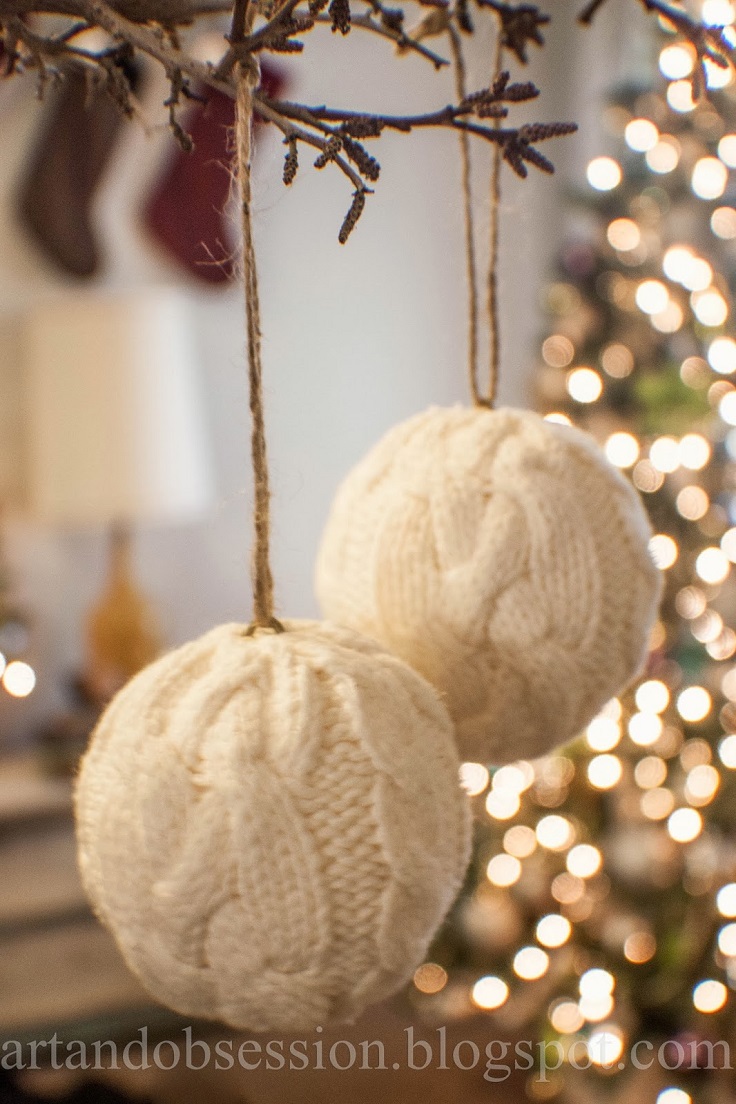 This idea has arisen from all those scraps you have left from other projects. So, don't just throw them away. Use them to refurbish those old Christmas tree balls you had in your box of ornaments. Simply, scrape off whatever it is that remained on the ball, and wrap it in the sweater scraps. Glue the ends with a hot glue gun and add a string to turn it into a perfect Christmas ornament to refresh your Christmas tree.
These were the ideas we chose for you. Now get crafting and start creating. And don't forget to share your ideas and creations with us in the comments below.