When it comes to women, manicured nails are a big advantage. Don't you just love how perfect they look when they're nice and with good nail art? Get into the holiday spirit and get your nails done for the upcoming holidays by choosing one of these wonderful ideas for nail art.
Glitter for Christmas is never too much! It will look amazing no matter if you put a bit more of it. It's the most Christmas-like decorating thing you can use, so it's definitely not to throw off. Also, Christmas colors like red, green, gold, white, each of them combined well with one another are something that will make your nails look wonderful. Check out latest mother's ring.
If you don't have any idea of how to manicure your nails this Christmas or you just want some new ones, you're in the right place. Decide which one of these beautiful ideas will match your style most and have fun realizing them!
Gold, Red, Green Christmas Nail Art
via sonailicious.com
This is an incredible, creative, and beautiful idea for Christmas nail art. It's very simple to do and also very fun. You can make it differently, of course, according to your taste, but you won't make a mistake if you try this amazing nail art idea. Pretty!
Easy Christmas Trees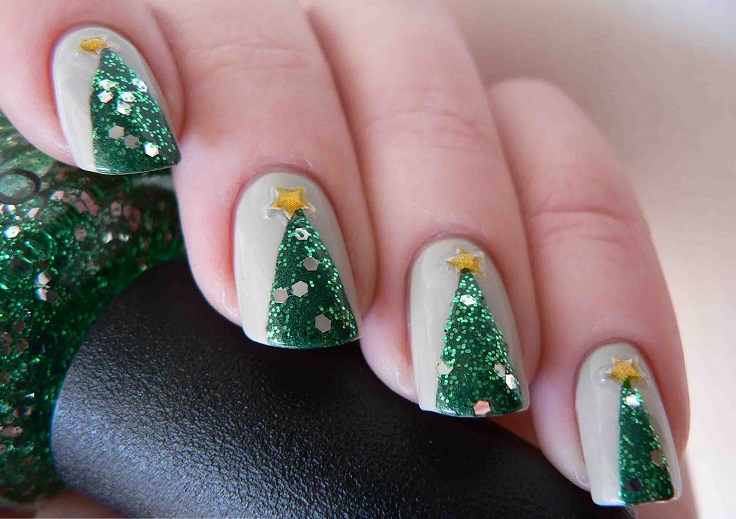 via bluetapeandnails.blogspot.com
Truly outstanding nail art idea. The little glittering Christmas trees look so cute and add a holiday spirit to your style. This is very easy to do and very interesting too. You will undoubtedly love these nails. Wonderful!
Snowy Glitter Nails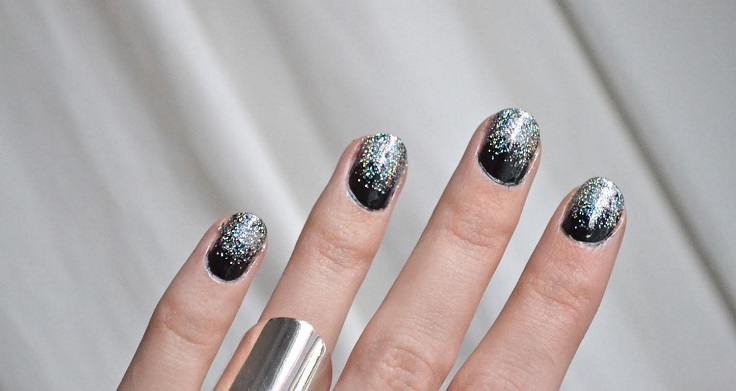 via en.paperblog.com
Glitter is the most joyful and Christmas-like thing that you can apply to everything so that it looks perfect. This idea for nails is definitely amazing. It will look beautiful with everything you decide to wear. It's amazing how the snow is replaced with glitter. It's just lovely!
Gift Box Nail Art
via sylandsam.com
Cute and interesting, this would make a perfect nail design for the upcoming holidays. You can use different colors and improvise in your own way: add some glitter, draw something extra or just do it as it's above. Anyway, you won't make a mistake if you try this cool idea.
Christmas Pudding Nails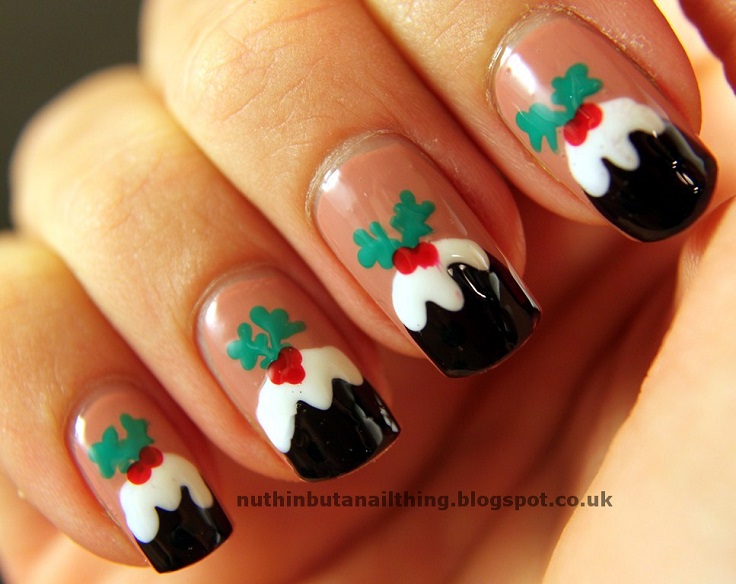 These will look rather delicious and amazing at the same time. Simple, easy, and very interesting nail art idea which you should definitely try. Improvising it's always something you can do, it depends on you. Just indulge in your creativity and start creating!
Santa's Suit Nail Art
Very cool and holiday-like, you will absolutely love these nails. It's very easy to make them, you just need some time and motivation, creativity and you'll be ready for Christmas!
Candy Cane Nail Art
via didmynails.com
Sweet and lady-like. Red and white are a perfect combination when you want to get your nails done, especially for an occasion like Christmas. You can add some glitter too, it will be just perfect!
Cute Dotted Nails
This is an amazing idea of the nail art design, very simple and cute. You can use different colors, but your nails will look beautiful if you choose this nail art anyway. So, try this interesting idea and enjoy the holidays!
Snowman Nail Art
Another easy way to decorate your nails without a need to buy anything for it. The snowman looks super cute and it's very easy to draw it. If you want your nails to be nice and good-looking, this is an interesting idea for that.
Sparkling Snowflakes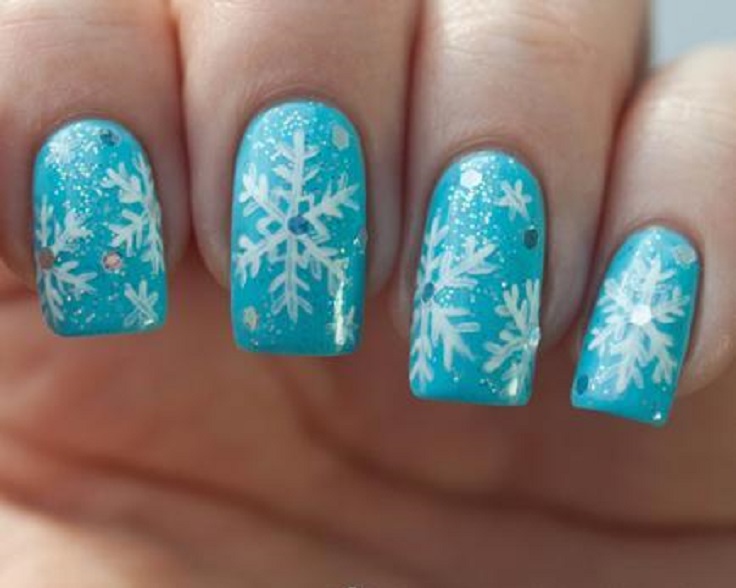 via nailitmag.com
Snowflakes are so wonderful that it's impossible not to love them. They look so amazing on everything and will look so on your nails. You definitely won't make a mistake if you try this nail art idea because it's wonderful!