Hosting Christmas parties means plenty of food to serve on the table! This isn't an easy task, especially when it means cooking for more people. If you have no idea about what to prepare this year, then we got it covered for you.
In this article, you can see ten amazing appetizers to serve – they're all easy to prepare, and some of them can be ready in a short time as well.
These ten recipes are all about savory food ideas – the Christmas dessert appetizers will come soon!
1. Mini Cheese Ball Bites
via tastesbetterfromscratch.com
For every cheese fan out there – festive cheese balls are something you should definitely try out this Christmas. They are a bite-size-finger food idea that not only tastes good but looks good as well! When you have your cheese balls already, roll them in different toppings, such as dried cranberries and crushed nuts. Make sure to place a pretzel stick inside to make eating it easier.
2. Festive Guacamole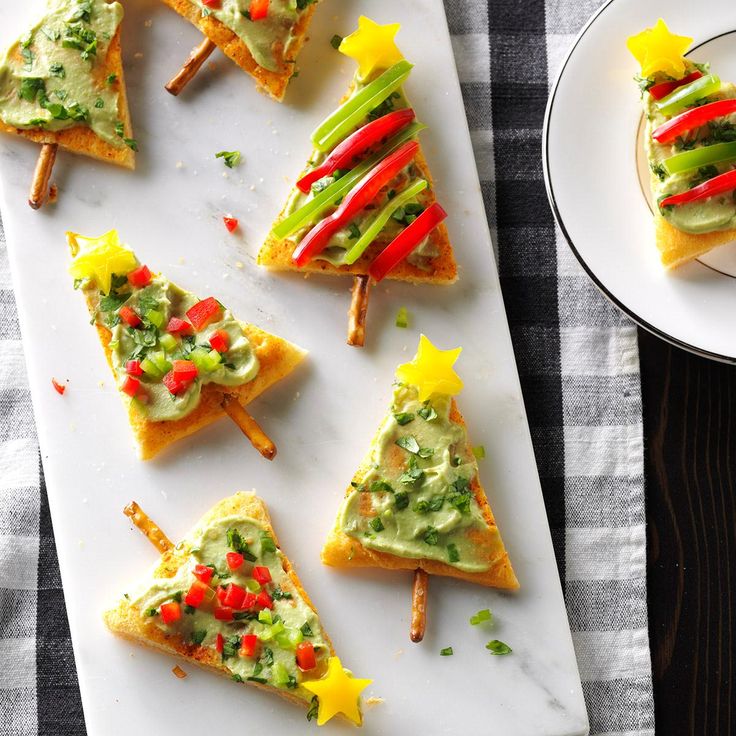 via tasteofhome.com
Guacamole is literally always a good idea, no matter what! It's delicious, easy to prepare, and you can use it in many recipes. When it comes to Christmas, one of the ways you can do so is to bake dough triangles and add guacamole on top and other toppings, such as pepper pieces and cilantro. You can add other ingredients – whatever you like.
3. Cranberry Feta Pinwheels
via the-girl-who-ate-everything.com
Every recipe that includes tortillas is delicious! This one contains spinach tortillas that contribute to the festive look in general, but you can use different ones if you prefer. The filling inside is creamy feta with dried sweetened cranberries, cream cheese, and green onion. Refrigerate at least one hour before serving for the best results.
4. Coconut Shrimp Lettuce Wraps
via pizzazzerie.com
Simple and very delicious, this recipe will add a change to your usual Christmas menu, and you're going to love it – especially if you like shrimp. All you need to do is bake the coconut shrimp, make the lettuce wraps and later fill them with the shrimps. You can add bell peppers, and you're done. Serve the lettuce shrimps with orange glaze or drizzle it on top.
5. Bacon and Cranberry Goat Cheese Crostini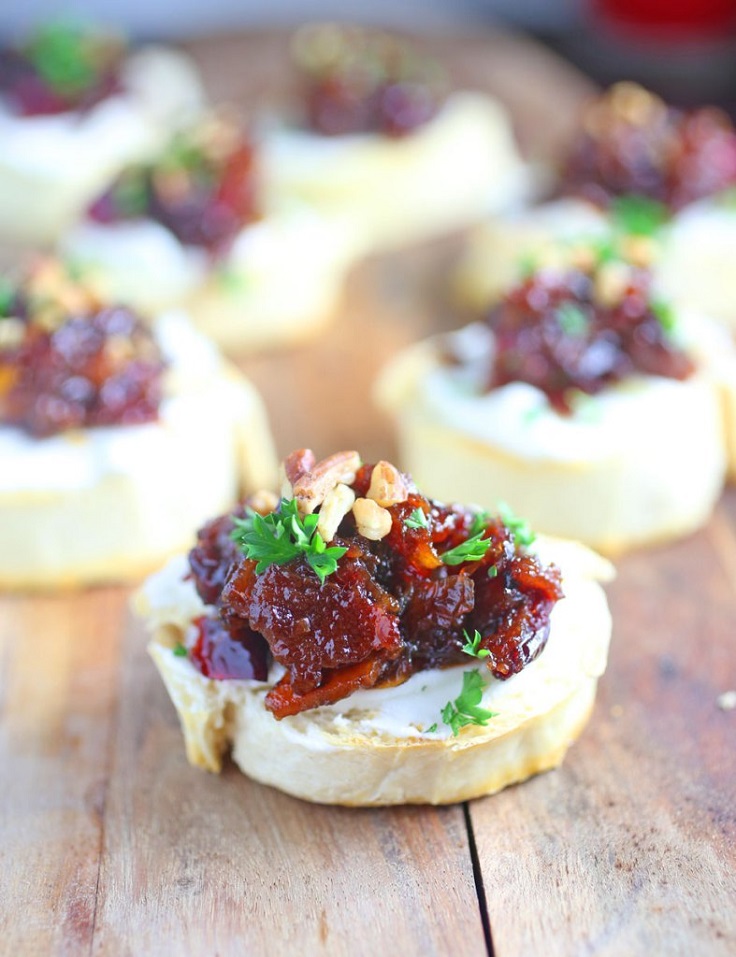 via bsugarmama.com
These crostinis are a mixture of a few tastes – creamy goat cheese, sweetened dried and fresh cranberries, and smoked bacon. The crostini is amazing party food, and it looks so good that everyone would like to try one. Besides the main ingredients, you'll need a few more for the best results, but it is still a budget-friendly recipe that you prepare this Christmas.
6. Shrimp Taco Bites
We're back at the shrimp, and this time it's a taco recipe we're talking about. This recipe is very easy to prepare. However, it won't be ready quickly, as you'll need the shrimp to marinate for at least an hour. After that, you should fry the shrimp and mix each with a scoop of the pre-made tortilla chip. Top it with one teaspoon of each – avocado and sour cream.
7. Roasted Cashews
If you don't want crostini, tortilla, taco, or whatever simple to that, but something more of a snack, then you should definitely prepare roasted cashews. They are the easiest a most budget-friendly recipe that is ready in no time. You need the following ingredients – cashews, butter, brown sugar, rosemary, cayenne pepper, and Kosher salt (if the cashews aren't salted already).
8. Pull-Apart Christmas Tree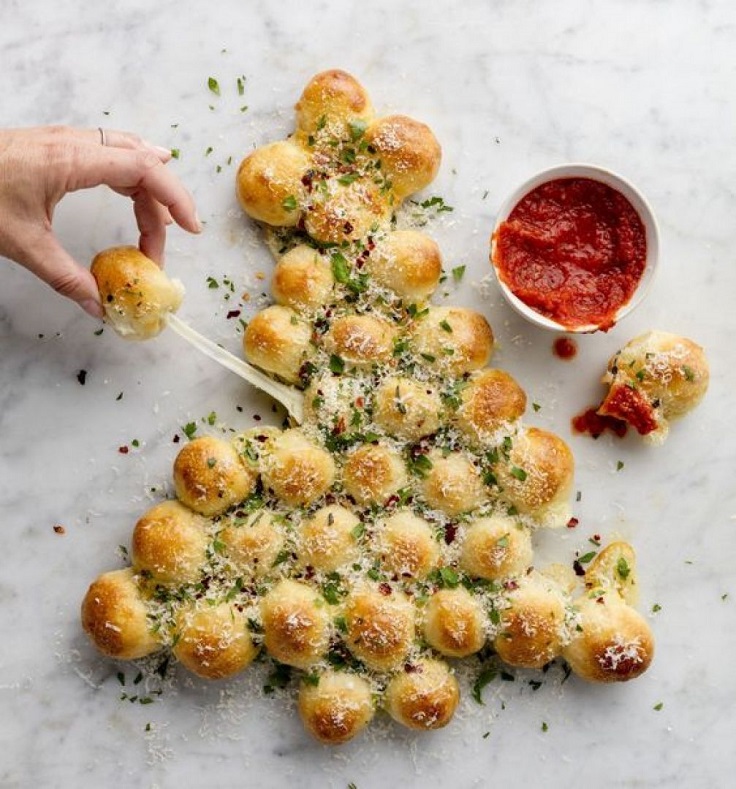 via delish.com
Prepare this Christmas tree for your guests, and you can rest sure that it will be the best thing you ate this Christmas. It looks so good that you will be tempted to pull one cheesy dough ball of the tree. Add parmesan and spice or herb you like on top, and you're ready to serve it! If you prefer, you can serve it alongside with tomato or other sauce.
9. Baked Camembert Bread Wreath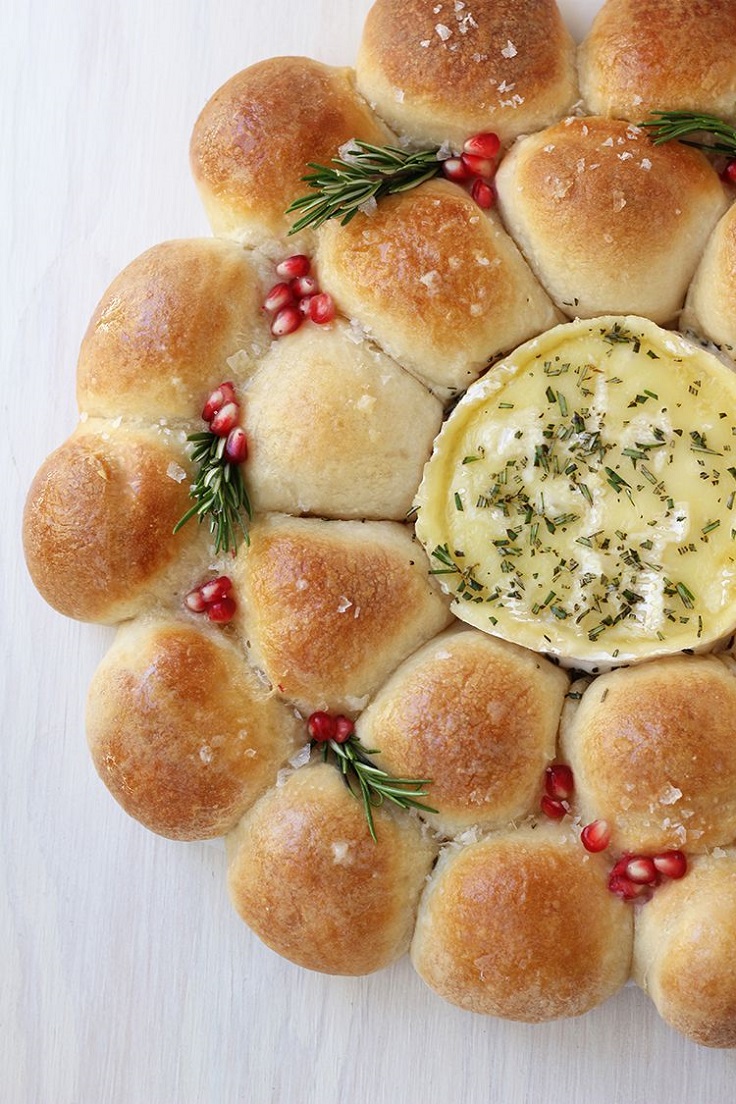 via freutcake.com
Similar to the previous recipe, we again have cheesy dough balls, except that this time they're not arranged into a Christmas tree but a wreath. You can garnish it with pomegranate seeds and rosemary to give it a festive look, and then serve it with melted cheese for dipping. This one is also going to be a huge hit!
10. Sundried Tomato Sweet Potato Bites
If you're looking for a healthier appetizer that's also gluten-free, then we recommend you this one – sweet potatoes with cashews cream on top. It's an interesting mixture of tastes, and it's very delicious! You can also add sundried tomatoes on top of the cashew cream and garnish it with basil leaves. Bite-sized appetizers that won't make any food mess!