What's better than decorating your home with fresh flowers? We all love having them in our home because they bring new life, smell lovely, and look beautiful. A bouquet of flowers brightens our home and has been shown to stimulate creativity while promoting concentration.
Some flowers are considered the symbol of the festive Christmas season, such as Poinsettia, Christmas cactus, holly, Christmas rose, ivy, and mistletoe. Apart from them, many other flowers make perfect decoration with their color or appearance.
We have collected ten quick, easy, and festive vase arrangements that will look beautiful in your home.
Amaryllis with Red Christmas Globes
via www.ducrx.com
With their beautiful trumpet-shaped flowers, Amaryllis is one of the most decorative plants you can use for Christmas. There are white, red, pink varieties and their combinations available, and if you care for the bulbs, you will have beautiful blooming flowers in the festive season. It looks absolutely gorgeous with the red Christmas globes.
Double Vase Arrangement With Poinsettia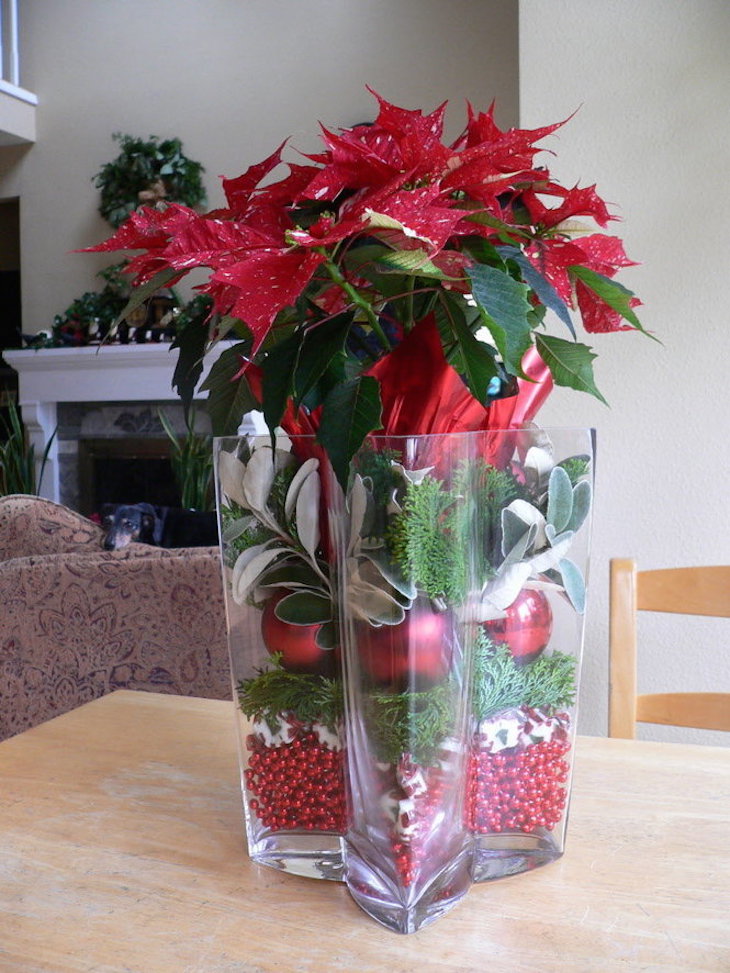 via photos.oregonlive.com
Poinsettias are traditional Christmas flowering plants that will last throughout the festive season. They come in white, pink, and red varieties, and they look pretty on their own but even nicer if you create an arrangement like this one. Use cypress, glass Christmas balls, peppermint taffy, and red beaded Christmas garlands.
Red Berries with White Ranunculus
via chantiki.com
Ranunculus are prized for their heavily ruffled flowers. The numerous petals give these plants a delicate appearance that is perfect for every occasion, including Christmas. You only need a square glass vase, cranberries, and a bouquet of white Ranunculus to make this inexpensive, fast, and pretty decoration.
Hyacinth with Pine Cones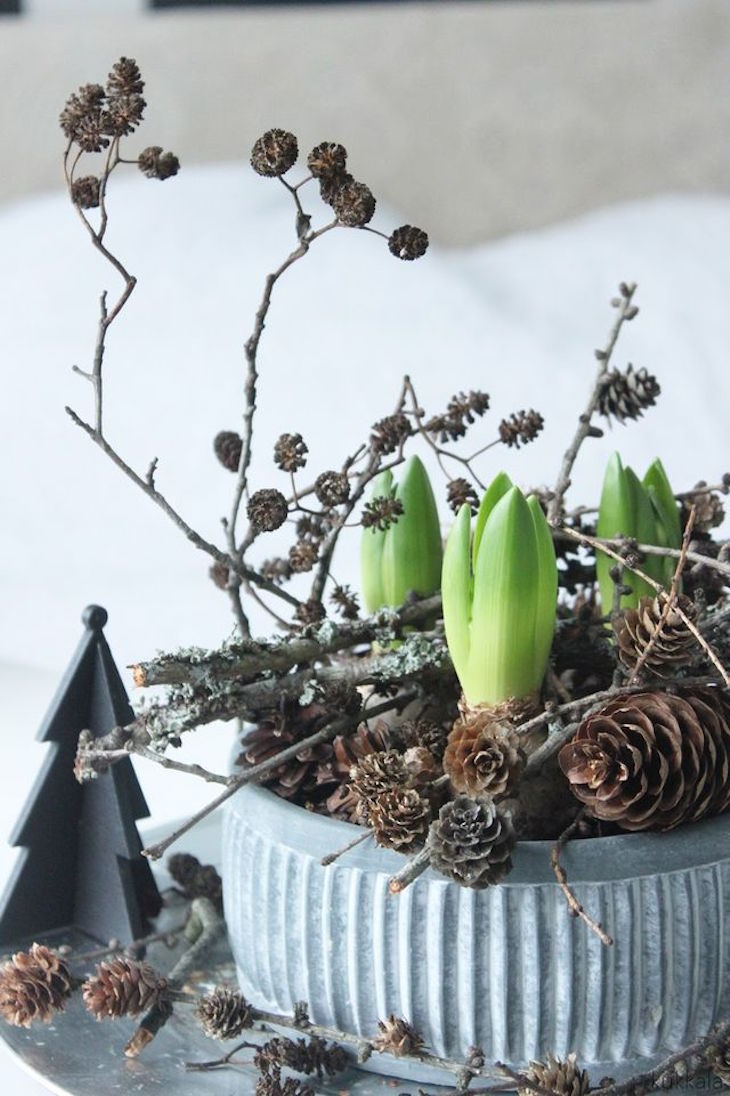 If you prefer a rustic look and minimalist design, here is an idea for you. Fill a tiny pot or a faux metal pot with soil, plant Hyacinth bulbs, and cover it with twigs and pine cones. You could add some red berry twigs as well for a more playful effect.
White Lilies and Greenery Sprigs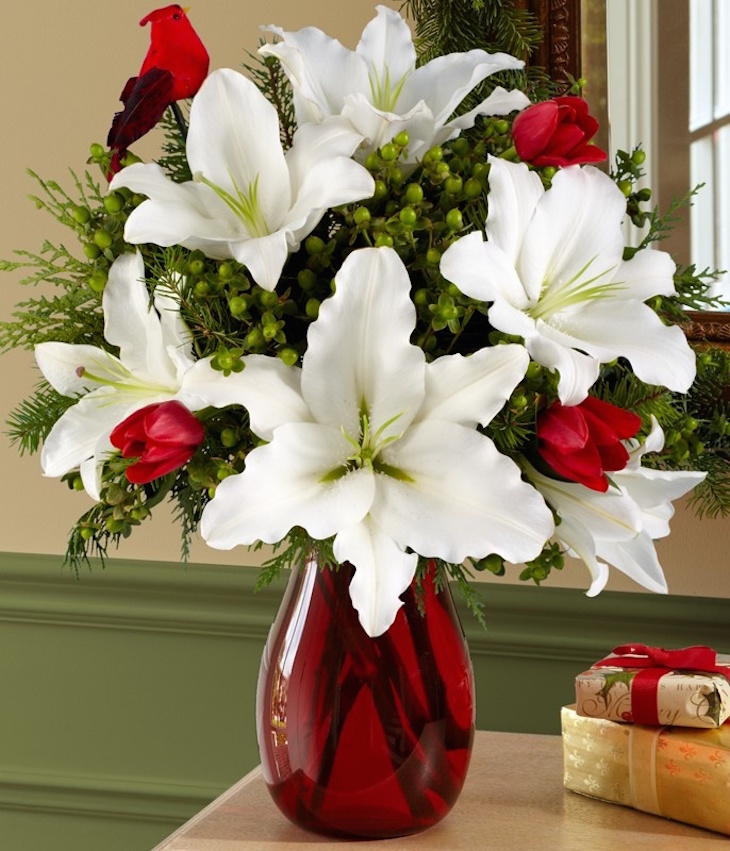 White lilies are one of the most elegant and delicate flowers. Placed in a red vase, surrounded with greenery twigs, you can create a festive decoration in a second. Change the water regularly, and they will keep it for weeks!
Clamp Lid Jars with White Flowers
via chantiki.com
If you prefer the simple and clean Scandinavian style, here is an idea for you. Use clamp lid jars and bottles as vases. Choose simple white flowers like the ones in the photo, or you can go for mistletoe and ivy combination as well. It looks really beautiful with the traditional linen runner.
Ornamental Kale and Cranberries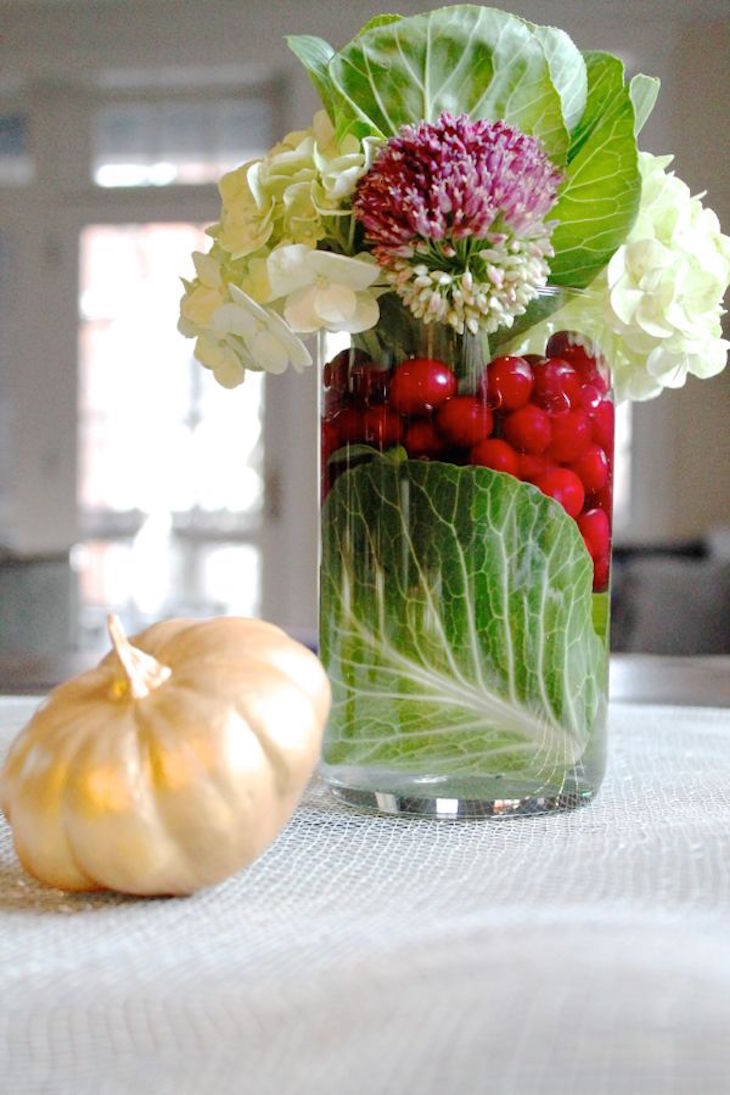 via thekittchen.com
This one is a really unusual way to fill your vases. The red, green, white colors are Christmassy, but everything else is unique and very different from what we are used to. It can also be a perfect Thanksgiving dinner table centerpiece.
Glittery Cylinder Vases and White Roses
Beautiful white roses placed into glittery gold decor vases are so elegant and bring a festive look to your empty dresser. Pick up some simple cylinder vases from the nearest hobby store and glue gold glitter and them. It will also look nice with red roses only or combine the two colors as you like.
Red Berry Twigs in Winter Vases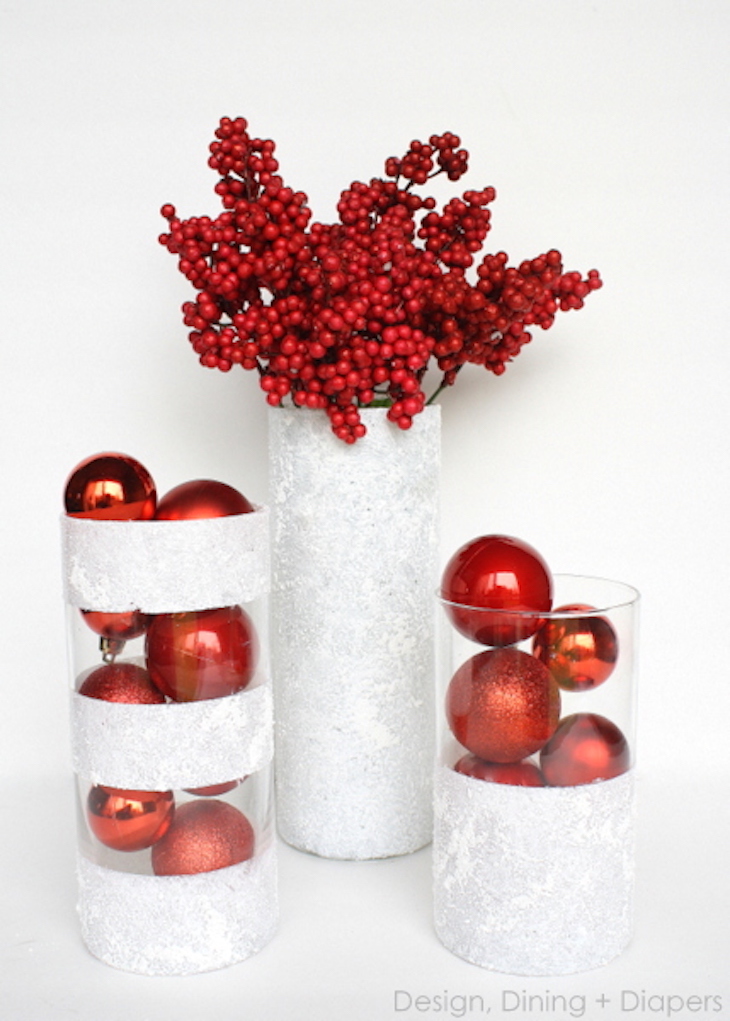 via www.infarrantlycreative.net
This is another way to decorate glass vases. You can make this DIY Snow Texture if you follow the tutorial by clicking on the link. The white snow effect against the clear vase allows you to pair them with any colors or texture. Try with simple twigs and pine cones or fresh flowers!
Floating Candles and Submerged Branches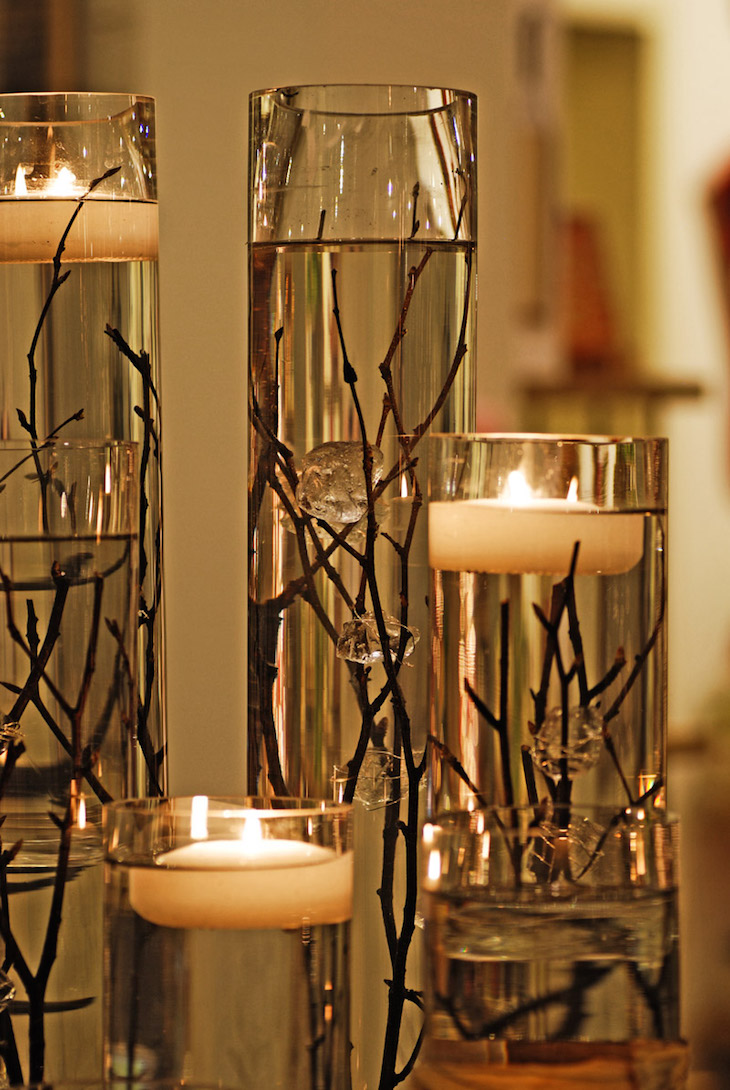 Gather some twigs from the wild and cut them to the height desired to fit within the vases. Tie pieces of tumbled glass or rocks to the twigs using metallic craft wire. Fill it up with water and place a floating candle on top. Enjoy!