Cobbler is a really famous dessert, especially in the USA and the United Kingdom. This well-known classic is made from fruit or savory filling which is poured into a baking dish and covered with a batter, biscuit, or pie crust.
Cobbler is a super-delicious dessert and you can make various types of it with almost all kinds of fruits that you like, there are too many recipes and sometimes it can be really hard to choose. Because of that, we have made a superb list of the ten best cobbler recipes, especially for you to try and make some in your own kitchen. Everybody will be delighted, we promise you!
Rhubarb, Strawberry & Ginger Cobbler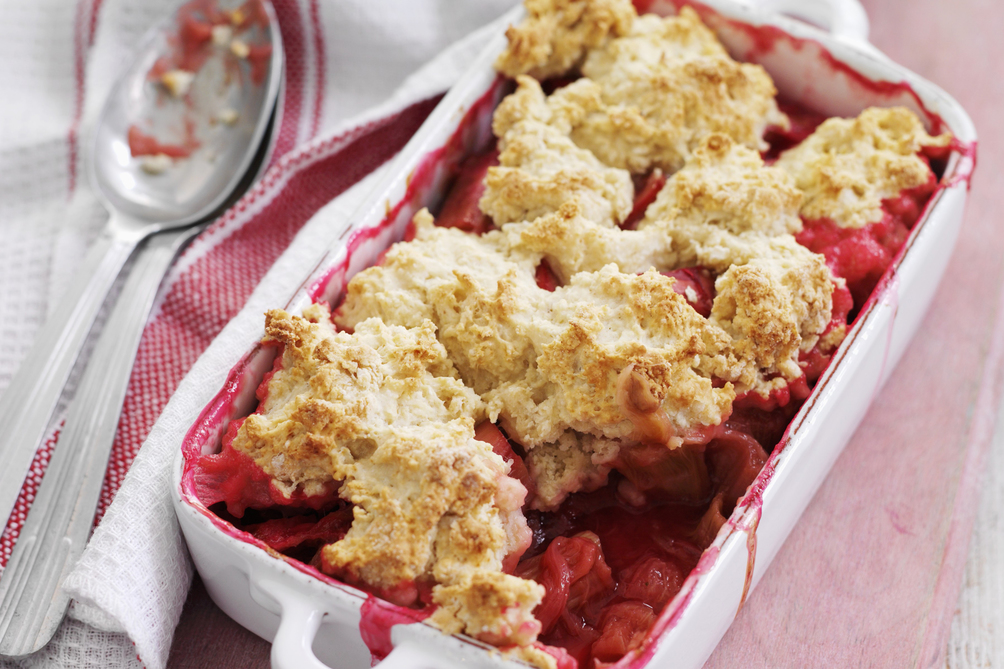 Recipe via kraftwhatscooking.ca
Rhubarb is best in season from April to June after the colder winter, and before the hot days to come. You can get them off-season, but best if you follow religiously springtime! The Balance of the tartness from the rhubarb, balanced with the sweetness of the strawberry and the hot aspect of the ginger giving it a bite is an absolute delight. Layers and layers of complexity make this one of the best ever cobbler. Add a little whipped cream with dehydrated strawberries..oh my!
Cranberry Apple Cobbler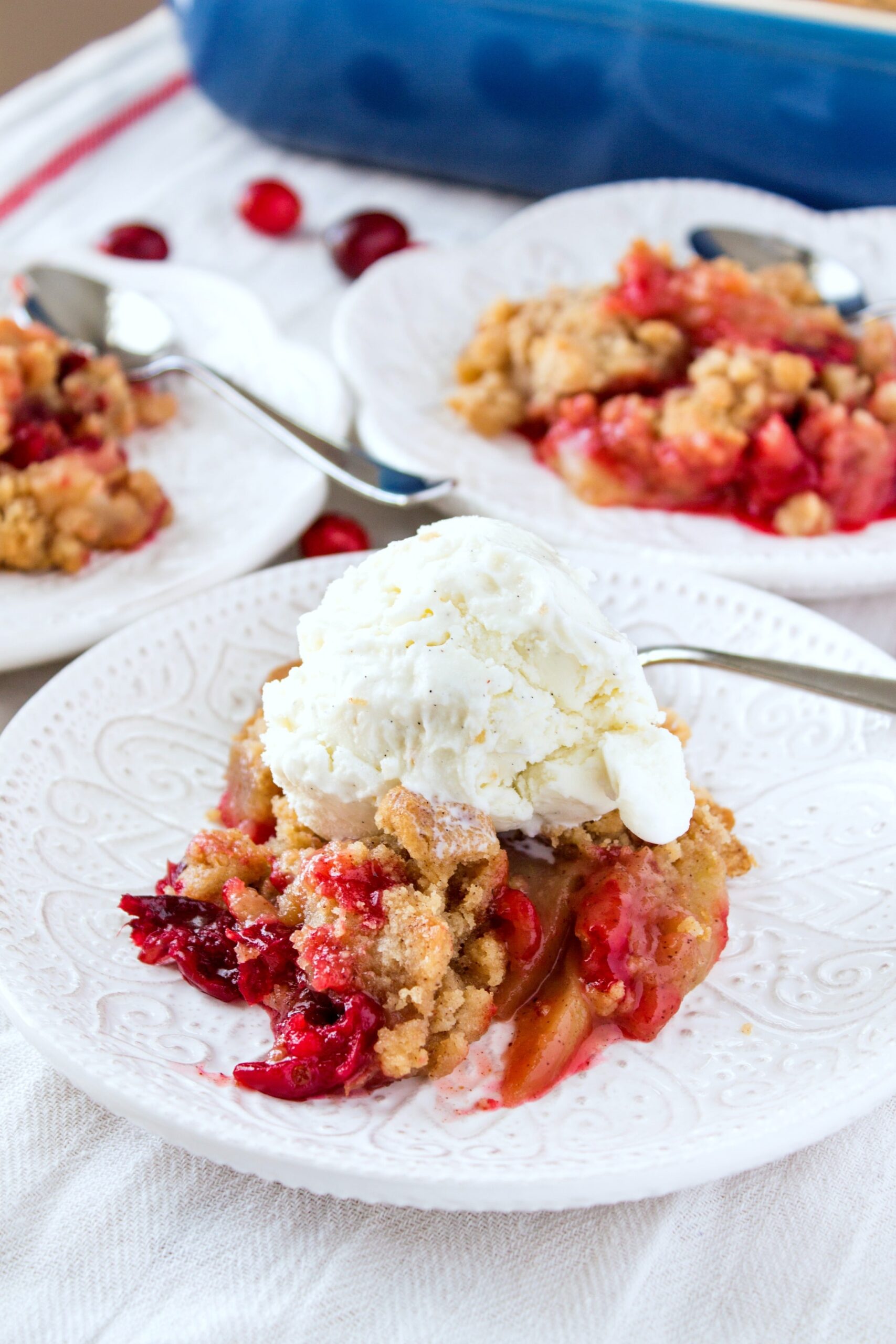 Recipe via certifiedpastryaficionado.com
Every autumn comes the most distinctive of red fruits of all fruits. The one that makes your mouth turn inside out yet, always wishing for more! The tart flavors are totally out of this world and mixed with a super sweet apple creates something a little magical. Highly recommended with a big dollop of cream. A little cheeky heaven, perfect with a nice glass of German sweet Riesling.
Pineapple Cobbler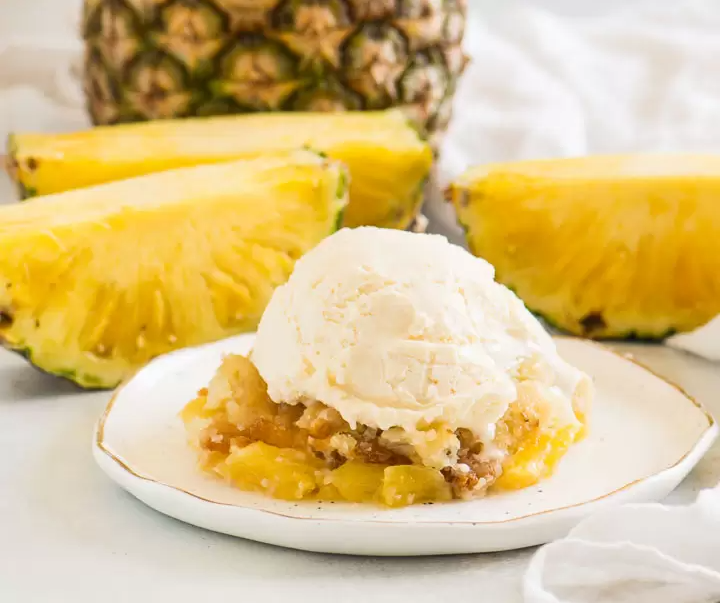 Recipe via itsybitsykitchen.com
Something for the tropics that would be very much a comeback dessert, perfect for entertaining guests. This recipe can be flexible, especially while using passion fruit, dragon fruit, and even litchis as a little extra twist adding flavor and textures – which is never a bad thing. Serve with coconut ice cream. Divine and refreshing!
Raspberry Cobbler
Recipe via marthastewart.com
The best raspberries are found during the June through October period. It is a delicious fruit that many of us love and adore. But at times we wonder what to do with it apart from a yogurt and muesli breakfast. Talking breakfast, it will be perfect to serve it, or if you are having a late lunch with a bunch of friends. It will bring summer to the household that is for certain. Serve with a raspberry sorbet with a fresh mint leaf or two.
Fresh Plum Cobbler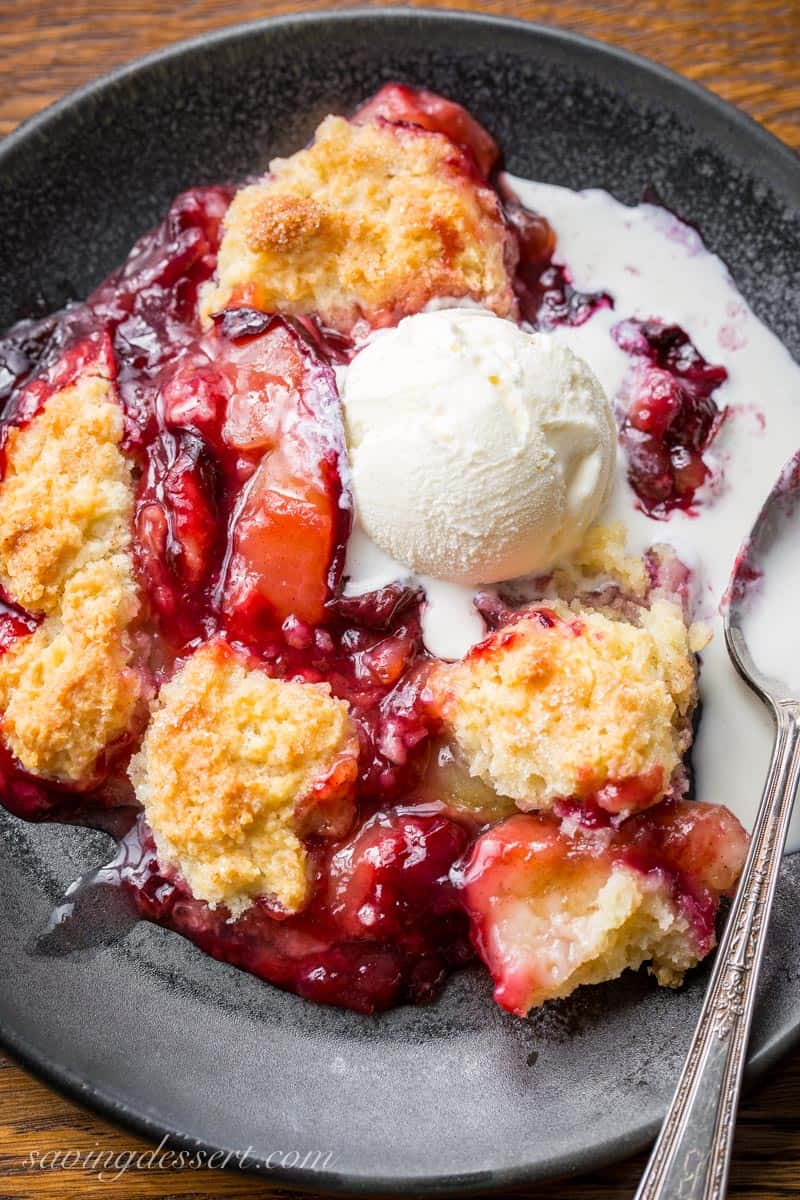 Recipe via savingdessert.com
May through to early October brings amazing fruits that we believe aren't enough in people's homes. A good plum is so satisfyingly brilliant. They are equally fantastic raw or indeed warmed up into an almost jammy consistency. Surprisingly, there are over 2000 different types of plums in the world so get to it. Best served on a large white plate for a dramatic entrance to your family and guests alike. You'll definitely wow the crowd.
Peaches n' Cream Cobbler Pie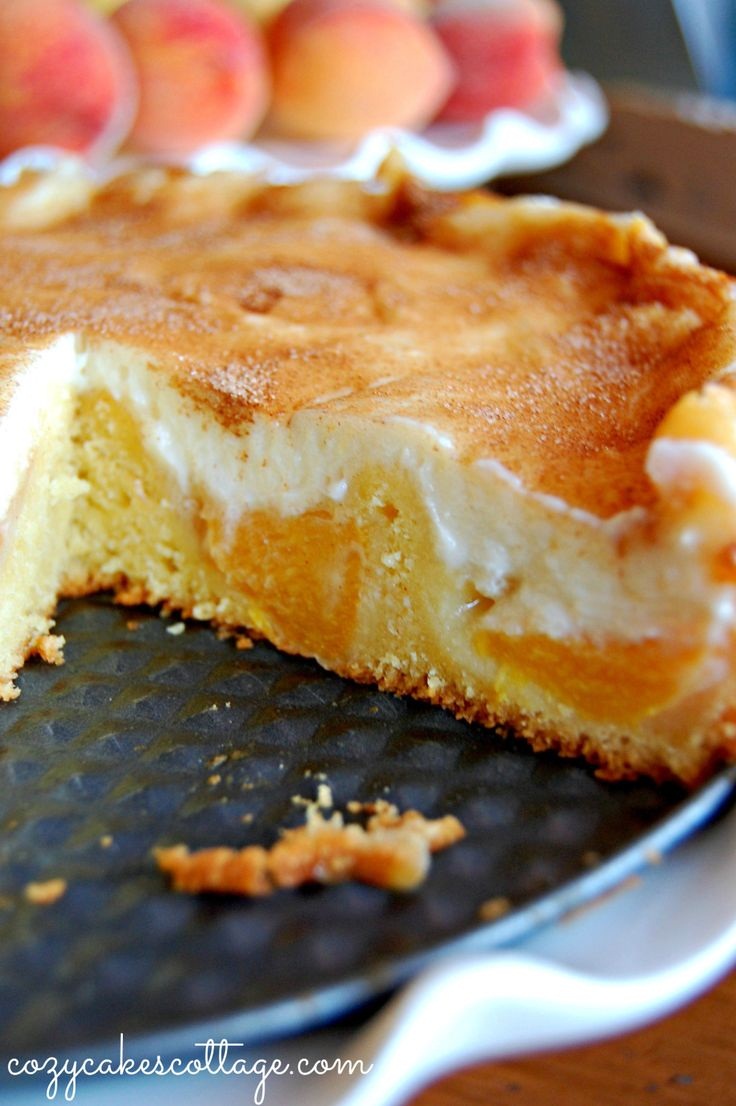 Recipe via cozycakescottage.com
Cream cheese – If we could we would put it on everything. Makes fantastic Tiramisu but also perfect cobblers. We will not lie, this dessert brings a little decadence and is towards the heavier side, but one can only have a small sample, making your pie last for up to 3 days. Canned peaches work just fine, but if you are able to get to your closest fruit and veggies marketplace, it would be even better, Make sure if fresh, to leave them until very ripe to get the best juice and flavor from them. Serve with a little sour cream on the side to balance the sweetness.
Apricot-Blueberry Cobbler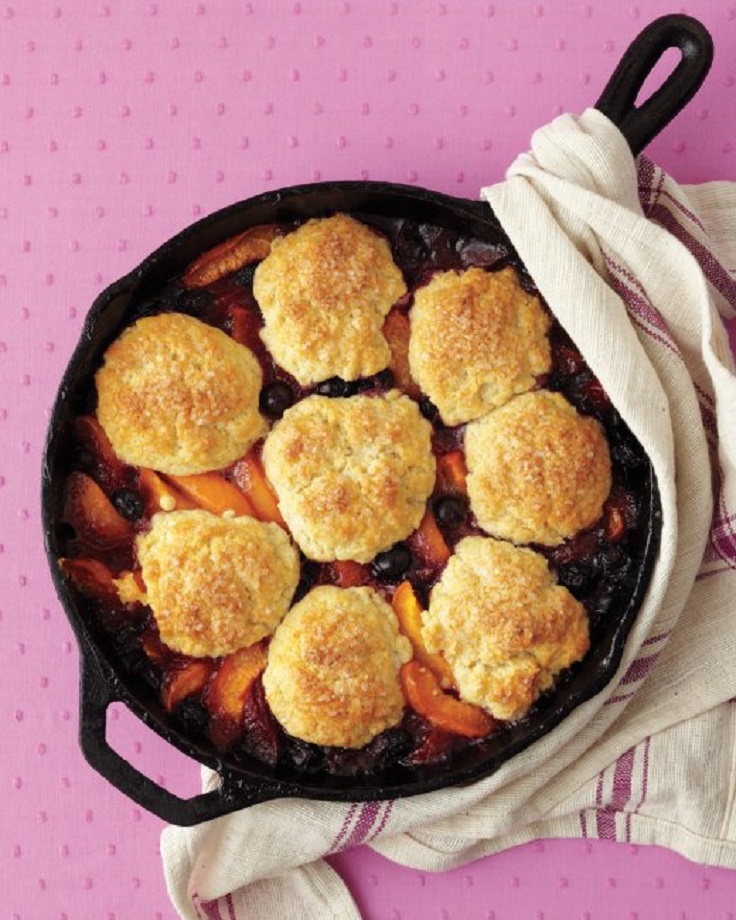 Recipe via marthastewart.com
Those small and super mega sweet apricots are terrific once in a season. They are so sweet when during the peak of their time during the May to July months. The blueberry being a super fruit means that you will get great nutrition values without regretting having eaten a couple of slices the same day. Serve with a blueberry yogurt adding extra drama to the dessert.
Strawberry Cream Cheese Cobbler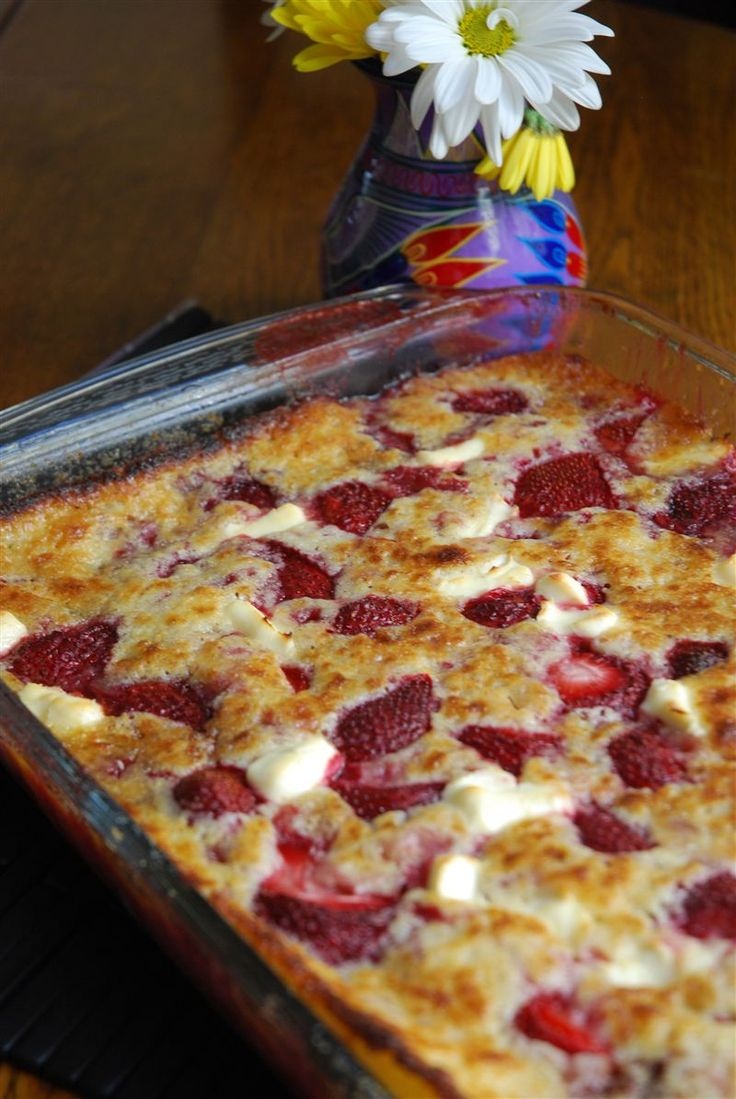 Recipe via justapinch.com
Some are swearing by strawberries and some others will swear by raspberries. Well, we thought of both spectrums. Strawberries are terrific but are also a little tricky to find, and by that we mean, to find sweet and juicy ones. Unless you grow them yourself or have found a strawberry farm nearby. Lucky you if so! If you are not lucky enough to find dark, bloody red strawberries once cut in the middle, and they look rather white and unhappy, then we would recommend cooking them on low heat with a little sugar and fresh lemon juice prior to 5 minutes tops.
Cherry Cobbler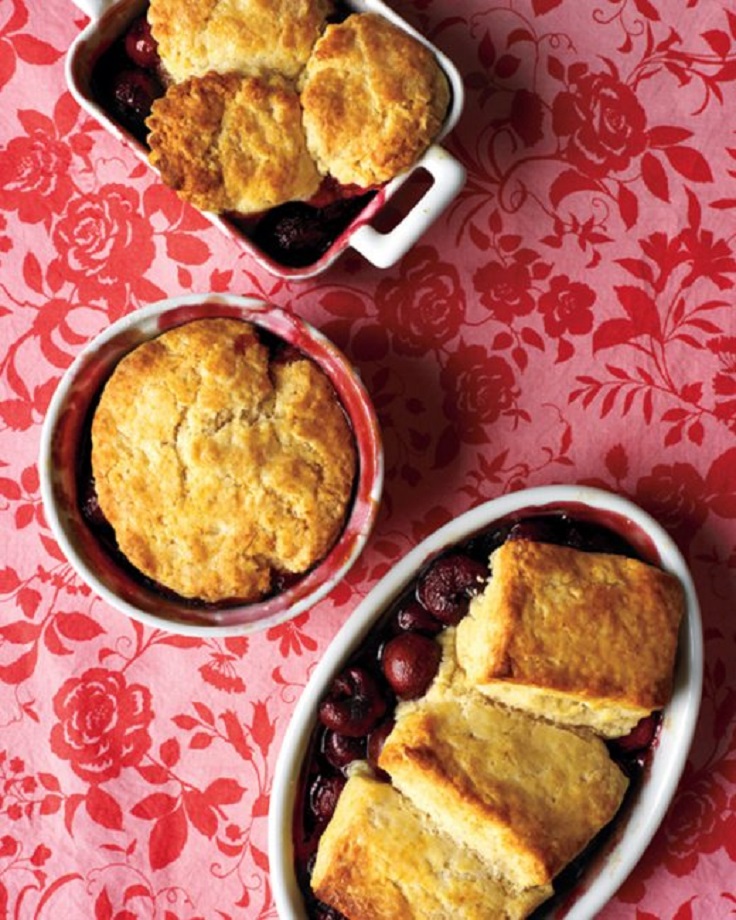 Recipe via marthastewart.com
As kids, we would know someone with a cherry tree in their garden or on their land and wait until the season hits before sneaking up that tree! Maybe it was the neighbor who knows, but cherries are some of the most satisfying fruits known to man. Juicy, bloody, sweet…the cherry makes anything delicious. So naturally, this recipe was too good to let it pass by.
Tropical Peach Cobbler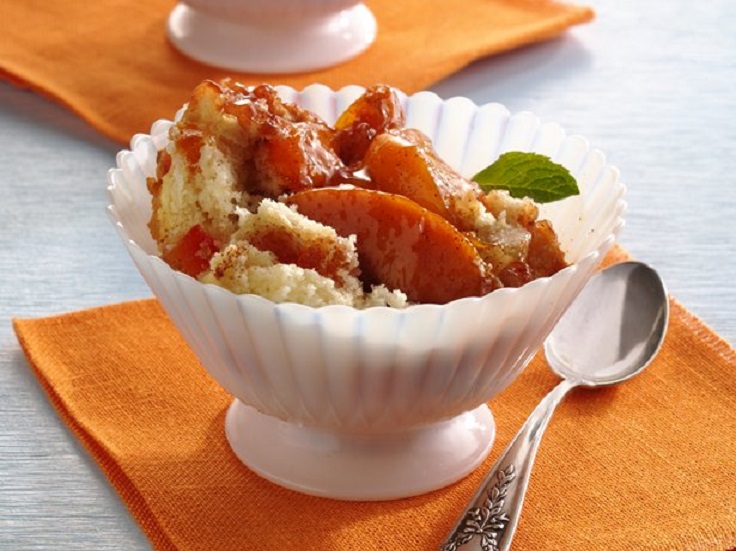 Recipe via bettycrocker.com
Very different to the pie and very much less, carb happy! Still fabulous to indulge in during the weekend with all the kids around. A lovely recipe adding a pinch or two of cinnamon and you could, if you'd wish, and feel adventurous. Tiny slithers of red chilis spicing things up a bit. Lovely served on its own or with a fresh Chantilly cream flavored with vanilla pods. Adding fresh mangos and/or passion fruits will double the experience.