Can you believe the spring is already here? And who doesn't love spring? Nature is waking from her winter sleep, and she's starting to show all of her beauty through colorful flowers, green trees, singing birds…
Spring is to be celebrated. And you can do that by doing some spring-themed crafts, which is also a great way to spend some quality time with your kids. You will not only boost their creativity, but you can teach them so many things about spring through fun activities.
So, now it's the perfect time to find some ideas on what spring projects will be fun to make with your kids. We are sure our list of spring kids' crafts will help you in the process.
Bird Mobile Craft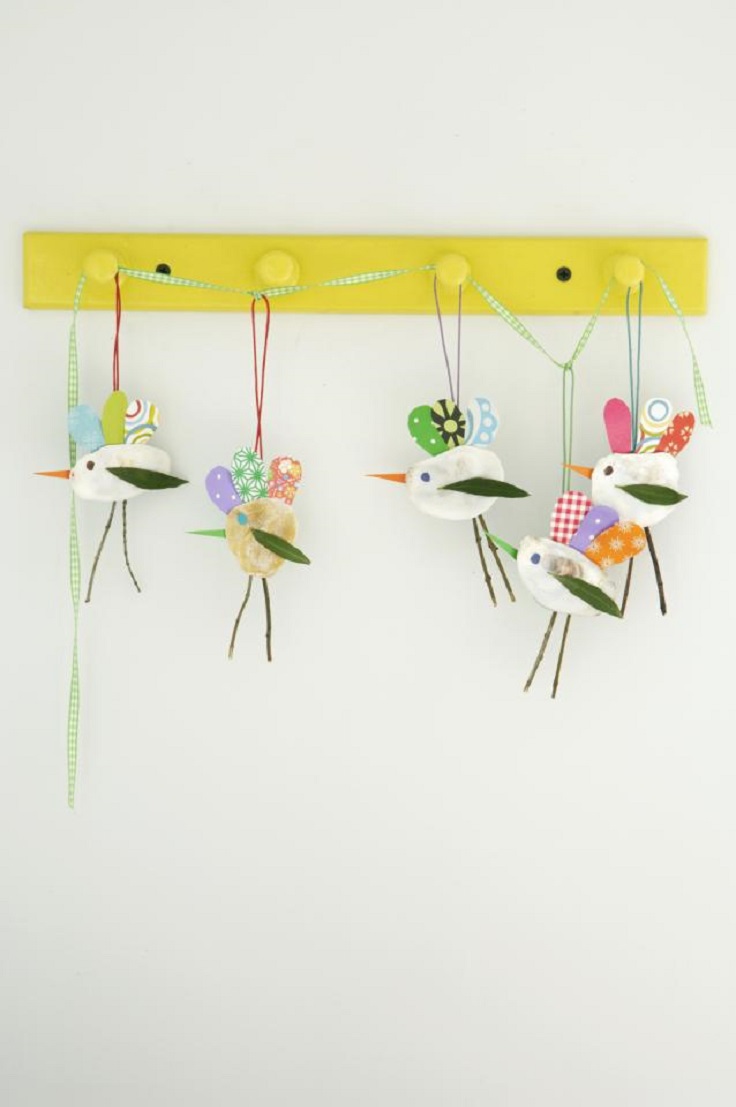 via parenting.com
These cute birds are made with colored paper, shells, leaves, and twigs. They are perfect for making with your kids to celebrate spring. The tutorial is detailed with step-by-step photos that will make this project very easy to follow. When done, you can hang them individually or make a fun mobile.
Acorn Flower Craft for Kids
These acorn flowers are super cute and very easy to make. Your kids will love making them. All you'll need to make them are acorns, acrylic paint, a paintbrush, scissors, green construction paper, and glue. When done, put them on a homemade card or whatever else you'd like.
Yarn Butterflies Spring Craft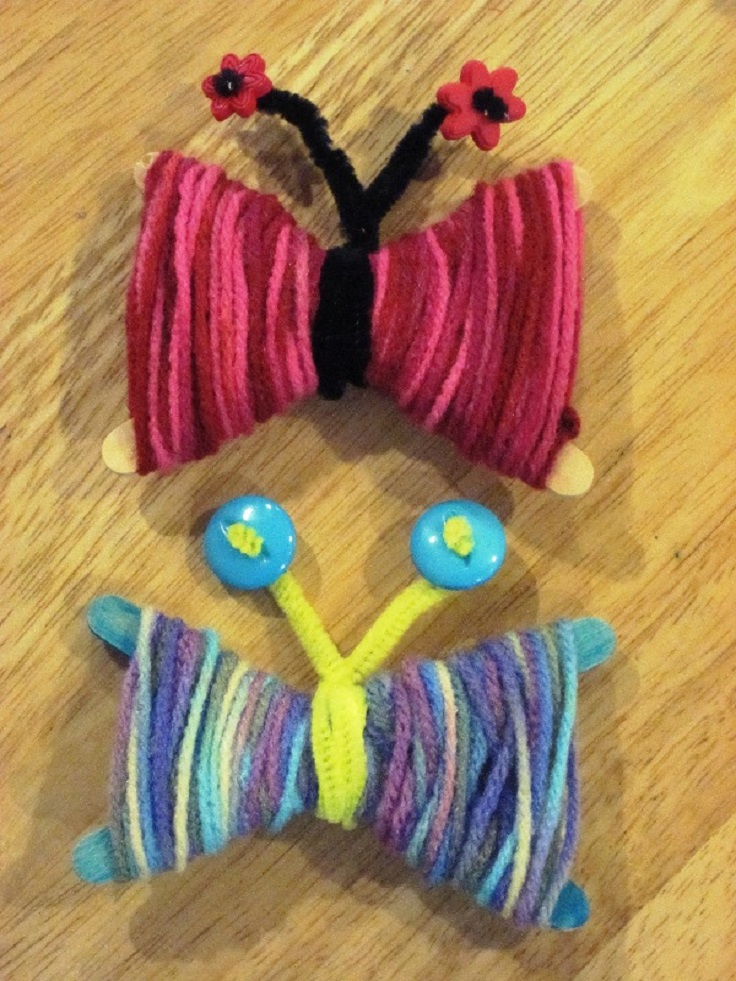 This is a great project for kids ages 3 years and up. It will take around 30 minutes to create these beautiful butterflies. You will find a detailed step-by-step explained tutorial on making amazing butterflies made of yarn on the link above. Check it out and tell us what you think – would you try and make them with your kids?
Spring Flower Paper Craft
via easycraftsforchildren.wordpress.com
What says spring better than flowers? Making some paper flowers is such a great kids' craft for spring. This project is so easy and kids friendly we just had to share it. All you need is some straws, colored paper, scissors, flower cutter, hole punch. Skip over to the blog to check the step-by-step instructions.
Styrofoam Cup Mini Spring Flower Pots
Amanda Formaro has some of the best kids' crafts ever on her blog. You can always find a great project to do with your kids here. That's the case with these mini spring flower pots made out of styrofoam. We are loving the idea and appreciating the detailed instruction. They are so cute, aren't they?
How to Make a Paper Spring Flower Collage
via momitforward.com
Making a flower collage is so inexpensive yet creative. All you need are some stickers and flowers in a bright color for an awesome spring-themed craft for you and your kids. We've found this idea, and we instantly wanted to share it with you. Go and check out the full instructions on the link below the photo…
Stained Glass Rainbows
via momontimeout.com
Every kid will enjoy making a stained glass rainbow as it is such an easy project, yet the process is fun, and the result is amazing. This is a great idea on how to make stained glass rainbows with the help of your kids. All you need to make the rainbows is colored tissue paper, glue, and waxed paper. We love it!
DIY Paper Kite
You and your kid can have so much fun flying kites when spring comes, so why not and do one together? With this helpful tutorial, you can easily make a paper kite with the help of your kid. You can leave the design part to your kid – it will boost its creativity and give the kite a personal meaning.
Kids Craft: Button Art
We love this wall art made with buttons because it is so creative and fun, and it can make a great decoration. Children of all ages will find this project fun, and they'll be more than willing to help. Just draw a tree and glue various buttons instead of leaves. It will look perfect! Take a look at what we are talking about at the link below the photo.
Diy Clothespin Airplanes Tutorials
Your boys will love making these cute airplanes. They are so easy to make and so much fun. All you need for this craft are wooden clothespins, skinny popsicle sticks, paint, brushes, and glue. First, paint the pins and sticks in your kids' favorite colors, and once the paint is dry, assemble the plains with your kids. Fun and easy!