If you're not new in the craft world, then you're probably aware of the fact that actually, the most popular DIY projects are those that are made from junk materials. There is really something special in those moments when you're transforming some old and useless items into whole new things, which will be the perfect decor for your home.
We're always doing our best to give you what you need and this time we've made a list of Top 10 Crafts Made of Junk. All these projects are unique and outstanding in their own way! So, use your free time to express your creativity and make some of these great ideas. Happy crafting!
DIY Jar Organization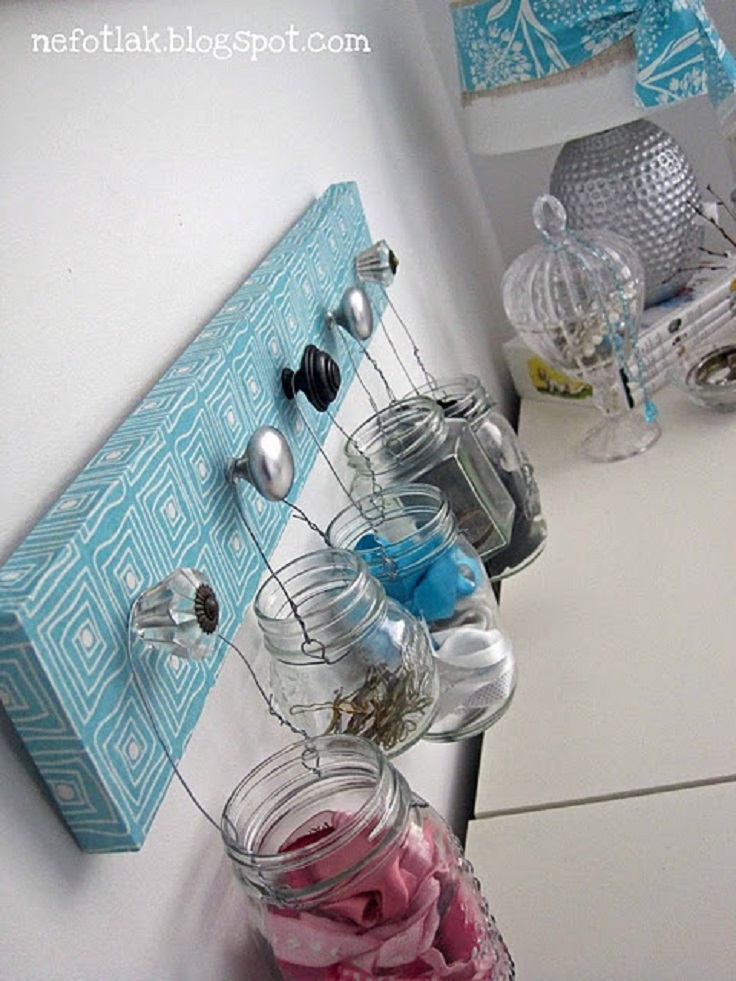 DIY Tutorial via nefotlak.blogspot.com
We're all using mason jars as organizers for our personal stuff, like jewelry, hair accessories, kitchen ingredients, and many more. So, instead of leaving them all over the house, you can hang them on a rack to keep them organized and under control. Make this project and we hope that you'll be happy with the end result!
Junk Bottles Transformed into Bracelet Holders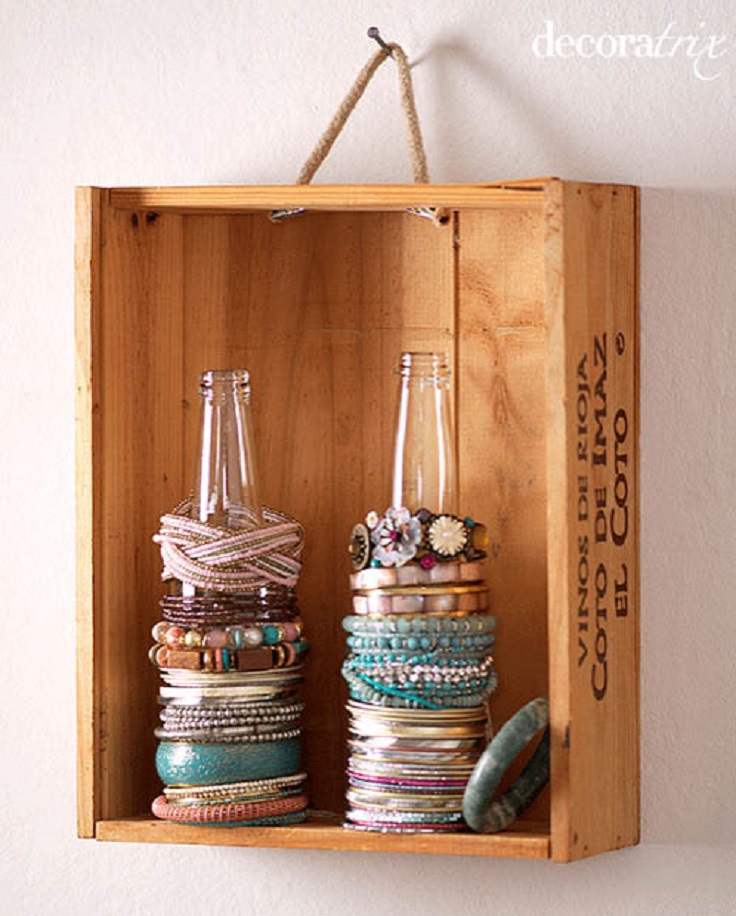 DIY Tutorial via etceteraecasa.com
Every girl and woman is some kind of a jewelry maniac…let's be honest, we are all obsessed with buying new bracelets, necklaces and rings, so we don't have enough space anymore to keep them well regulated. Here is a wonderful idea of how to recycle some old bottles (which you've probably wanted to throw away) into bracelet holders! You'll love it!
Turn an Old Tire into a Rope Ottoman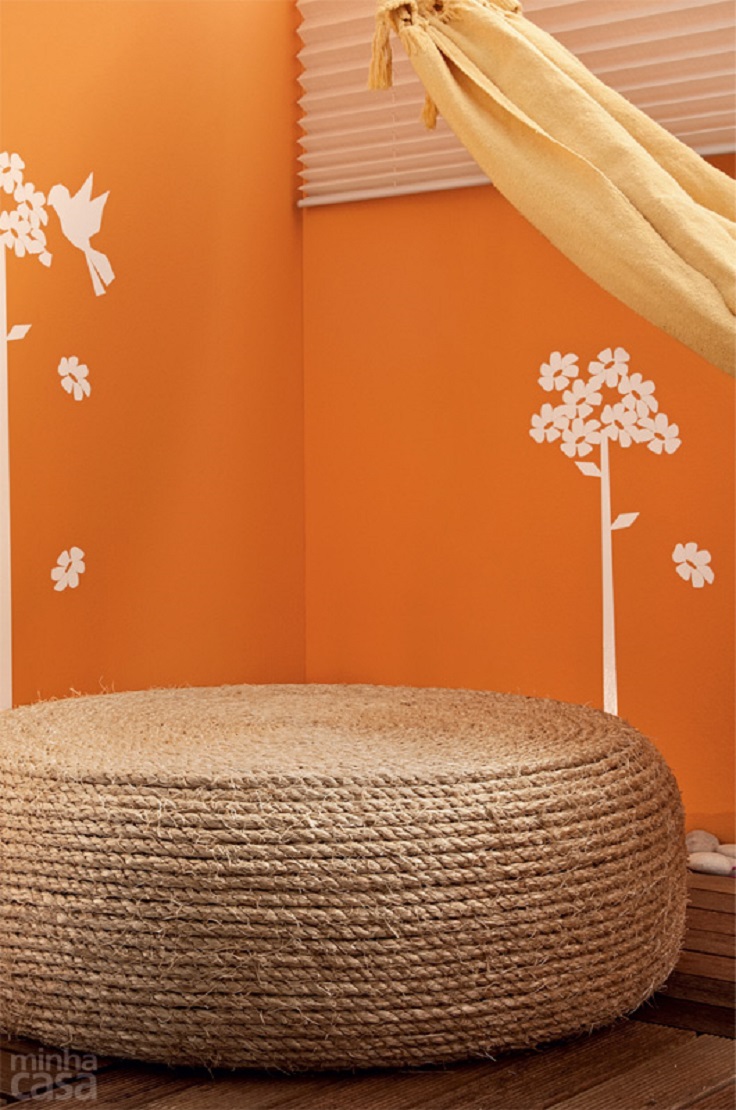 DIY Tutorial via handimania.com
This rope ottoman is really unique and cozy, but could you believe it that is made from an old tire? Yes, it's true! So, the next time when you'll change your old tires with new ones, don't think about throwing them, because this is an amazing way to make new home furniture you'll be proud of! Get crafty!
Bottle Vases as a Window Decor

DIY Tutorial via duitang.com
Recycle your beer bottles in useful flower vases, which will be a cute decoration for your windows and will keep your plants dry all the time. If you're not satisfied with these brown bottles you can use some colorful bottles or you can paint them in the way you want!
DIY Wind Chimes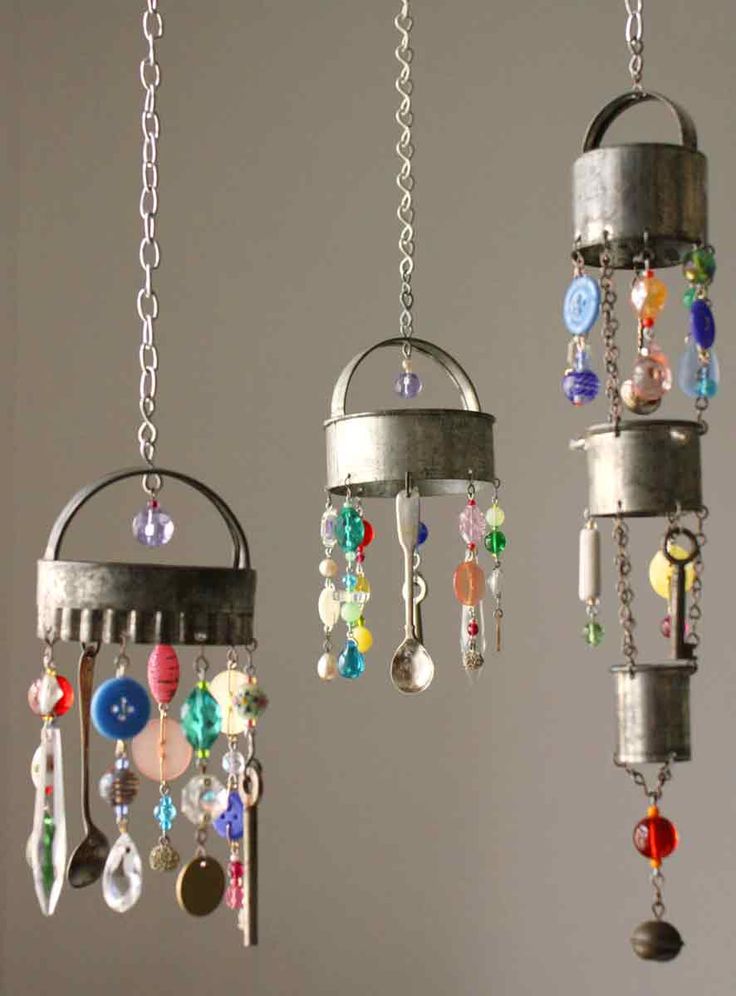 DIY Tutorial via blogesteix-chandeliers.blogspot.com
Do you have some old cookie cutters, plastic beads, buttons, and teaspoons at home? If the answer is yes and you're without an idea what to do with them, here is a project which will help you to use all these items for making wind chimes. It will be fun, we promise you!
Hanging Lightbulb Vases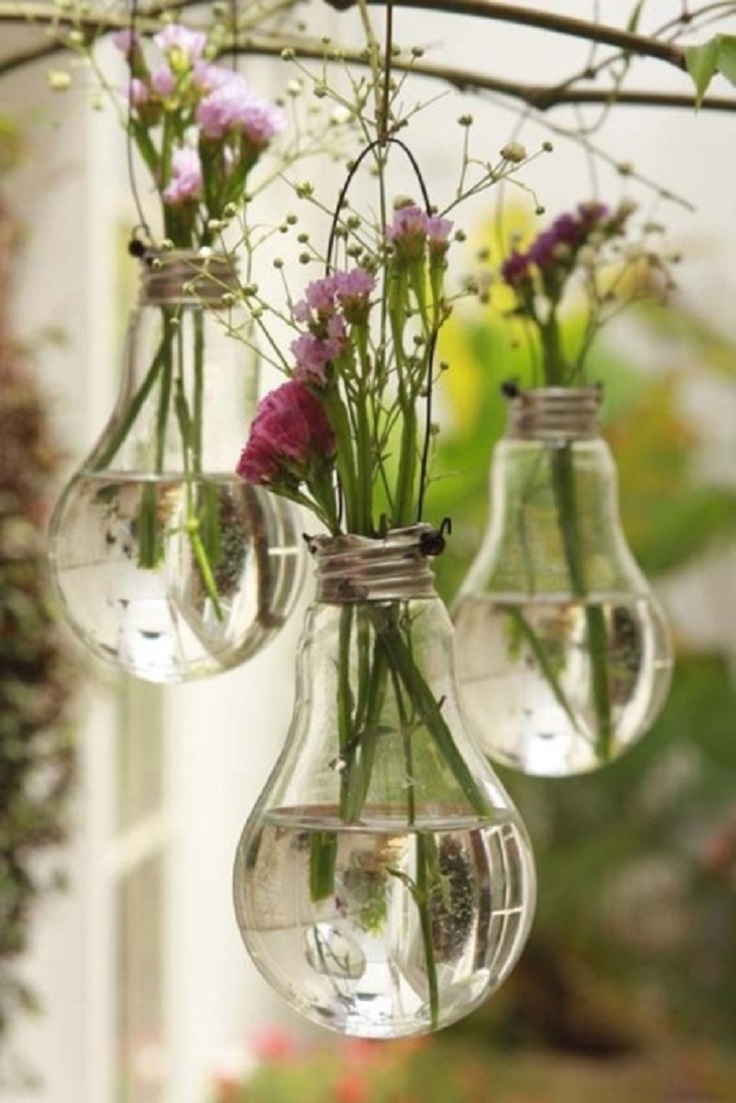 DIY Tutorial via shopruche.blogspot.com
You already know, this is the cutest craft on this list! It lefts us speechless…it's beautiful, unique, decorative and the most important: it's really simple to make! All you need is an old light bulbs and some pink flowers from your garden…you can try to make it even today!
Dresser Drawers Upcycled into Wall Hangers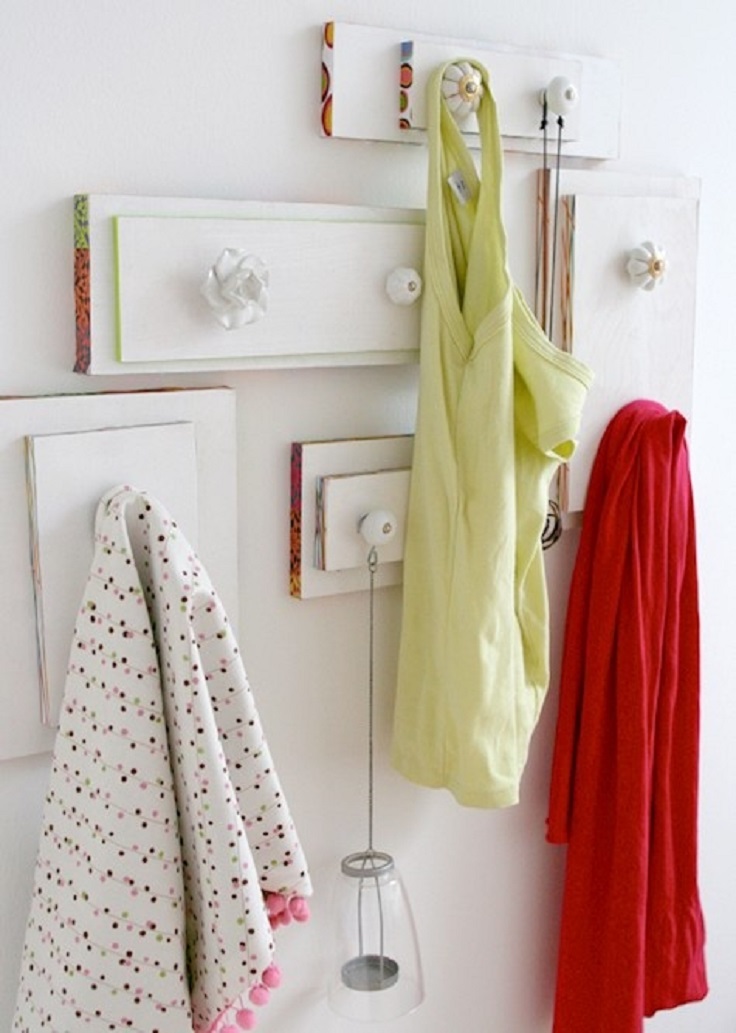 DIY Tutorial via brightnest.com
Upcycle your old dresser drawers into something more functional and practical, like a wall hanger. This is a nice project which will keep your room or bathroom well-organized all the time! Give it a try!
Junky Lamp Transformation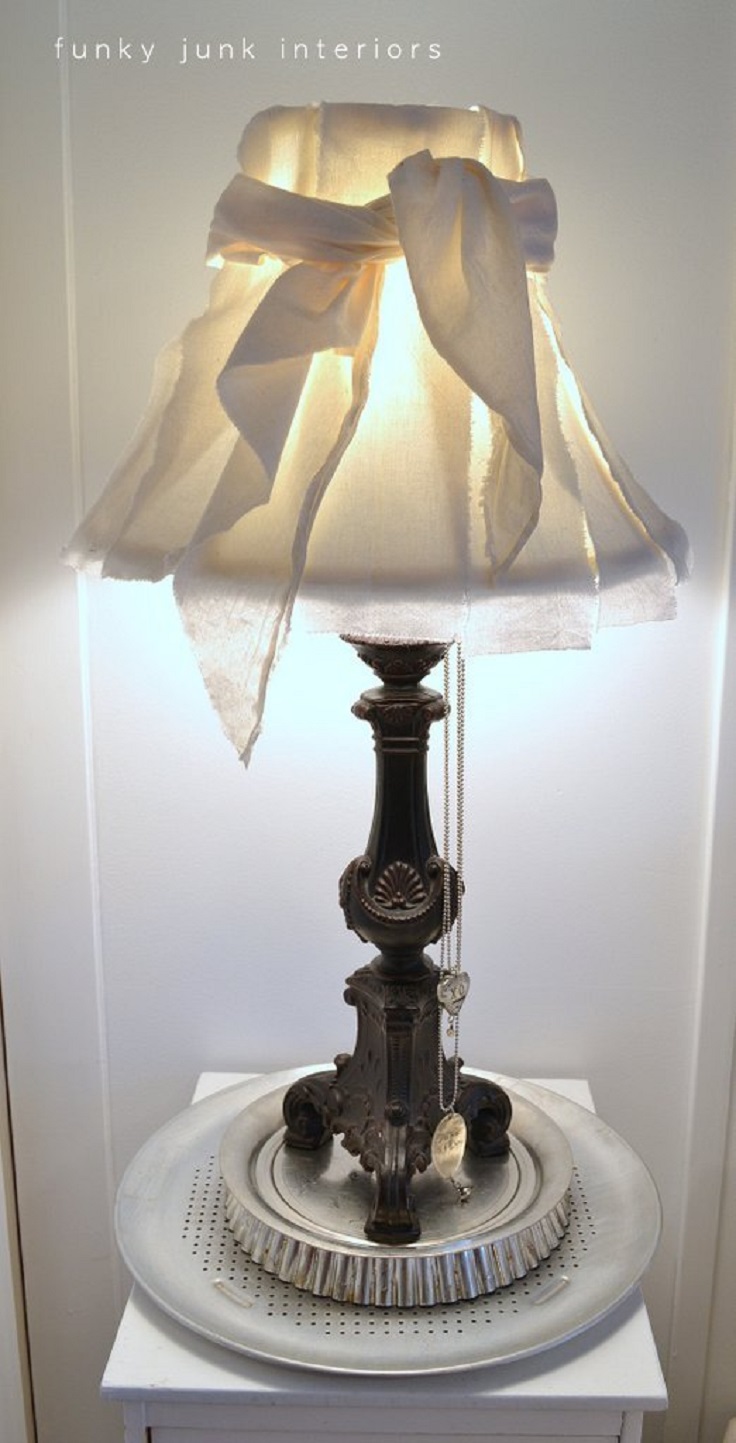 DIY Tutorial via funkyjunkinteriors.net
The first craft rule says:,, Never throw away your vintage, junky lamp!"…you can always reuse it and transform it to look anew. Here is a DIY project which will show you how to do that! Good luck!
Stamped Silver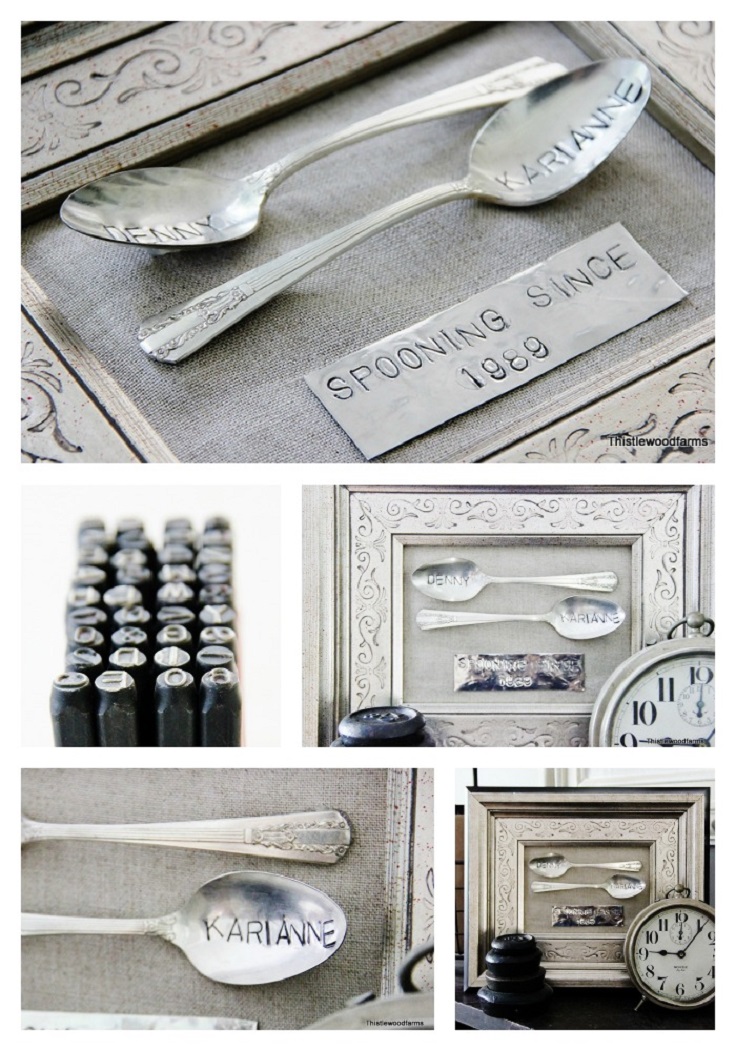 DIY Tutorial via thistlewoodfarms.com
If you're an owner of some old spoons, which were a gift and remind you of some of your grandmothers, and you don't want to leave them in the basement, then you should frame them, so they will be always close to you and your heart!
Distressing Shutters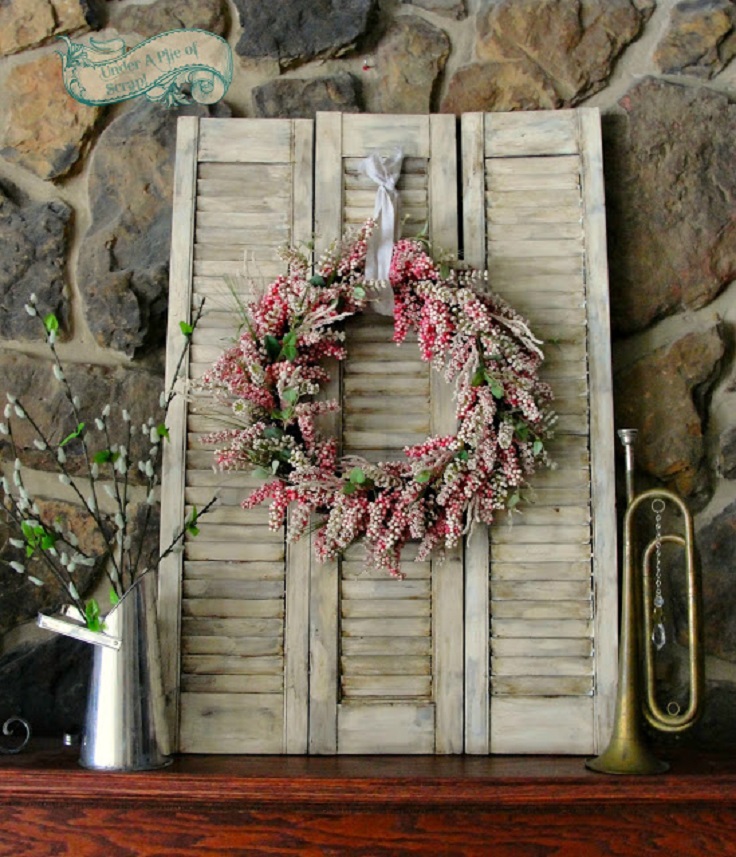 DIY Tutorial via kabamfamily.blogspot.ca
For some of you may be your old-fashioned shutters are just dust-collectors, but if you turn on your creativity then you'll find out that you can upcycle them into wonderful home decoration. On the link below you'll find a DIY project with instructions on how to do it! What do you think? Let us know in the comments below!