With the right lighting in your home, you can change the atmosphere, bring instant character into the room and change the perceived size. It is important to place lamps, what type of lighting you use, and the lampshade plays a crucial role.
A pretty lampshade can completely warm up your home. While the designer lighting can be quite costly, with some creativity and different materials, you can dress up your old lampshades or build one from scratch. Make yourself a stylish and original lamp with the help of any of these fantastic DIY projects!
Yarn Lampshade
If you need a new and unique lampshade, a simple project is super easy and inexpensive to make. You can use any type of yarn or even hemp for a natural look. With a last decorative touch, you can get the perfect shade that suits your apartment best. It is also a fun kids projects for the weekend!
Crocheted Doily Lampshade
via serenitytimes3.hubpages.com
Instead of using yarn, get some crocheted doilies from your grandmother's house or from an antique shop. All you need is glue (anything that dries clean), a balloon, wax (or petroleum jelly), and doilies. With the same method as the Yarn Lampshade one, you can make this beautiful lace lampshade for a romantic and elegant look.
Concrete Pendant Lamp
via www.brit.co
Concrete material is one of the latest trends in interior decor. Many designers are now using concrete in unexpected and unusual ways. Just like this stylish concrete pendant light. You will need a bag of concrete mix, some old plastic bottles, and some DIY skills. Concrete is affordable, modern, and fits perfectly in rustic homes.
Vintage Map Lampshade
With vintage maps, you can create a unique decoration and also a statement that shows your passion for traveling and exploring. If you have an old shabby lampshade, this is a simple way of creating something exciting. It is easier if the shade is a perfect cylinder, but you won't have problems following the tutorial even if you have a cone-shaped shade.
Geometric Origami Lampshade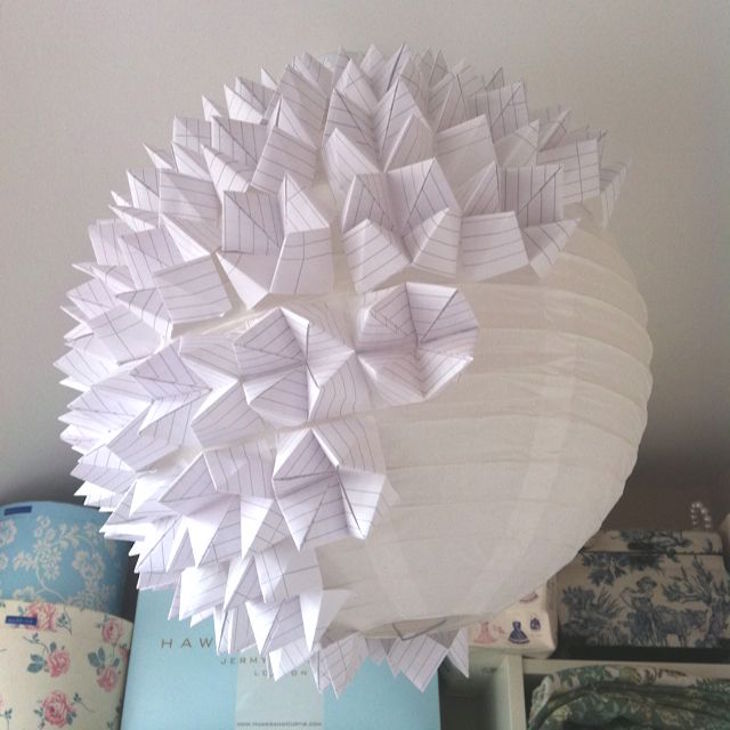 With only two basic things, a plain paper lampshade from IKEA and around 50 Fortune Tellers, you can make this creative origami lampshade. The photo is just to give you a basic idea, and by following the tutorial, you can easily make your own design. Experiment with colors and shapes; use colorful paper or just plain white for a cool look.
Globe Pendant from Salad Bowls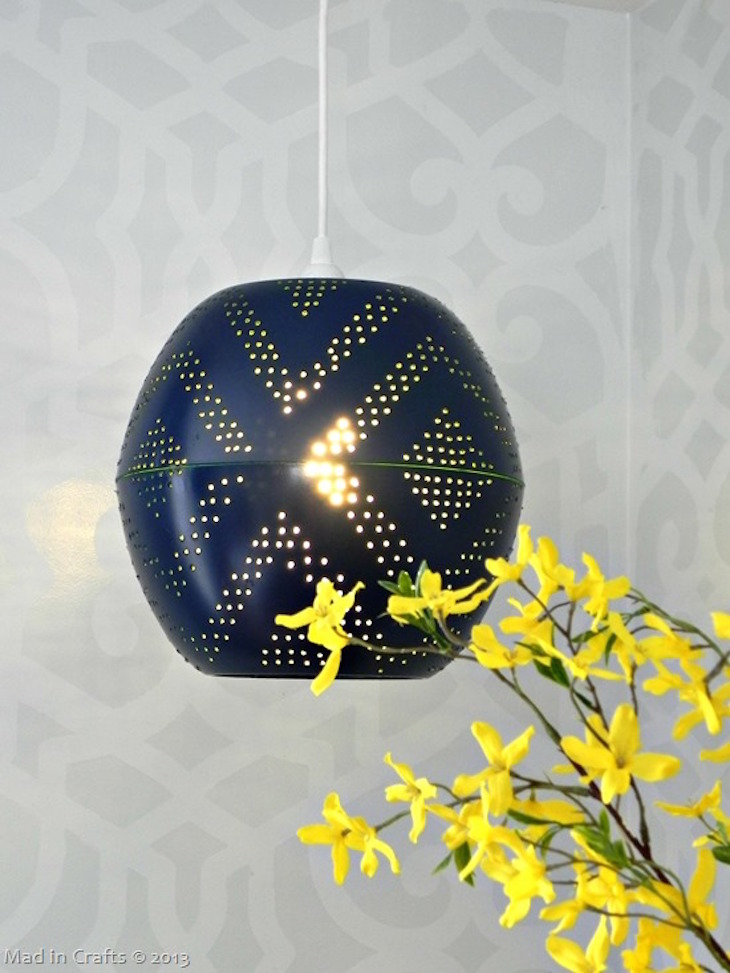 via madincrafts.com
Would you have guessed that this stylish lampshade is made with two salad bowls? It takes a bit more time to build, but you can quickly get this project done by following this excellent step-by-step tutorial. Make sure to use plastic salad bowls plastic that is more rigid, not rubbery, because it will be easier  to work with.
DIY Lampshade from Scratch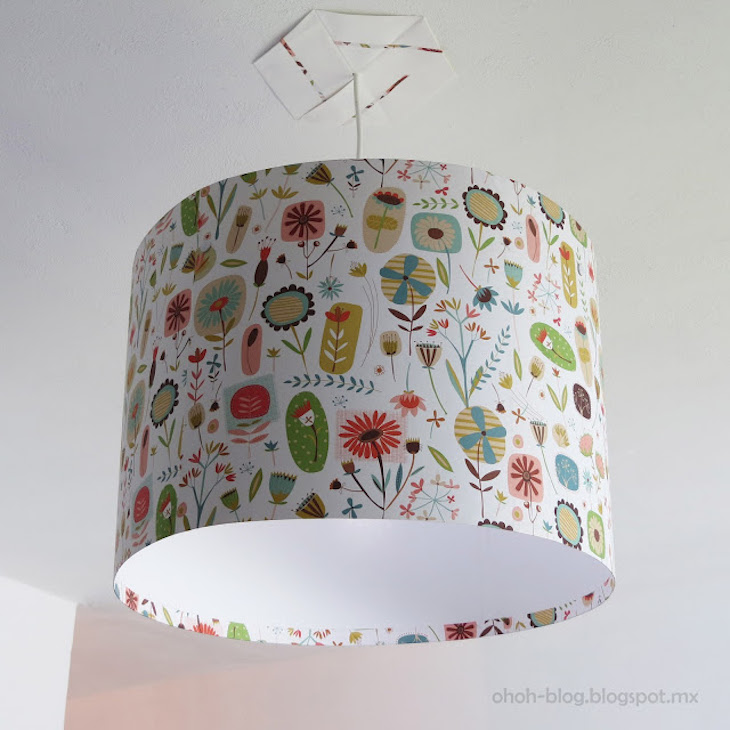 via www.ohohblog.com
Most of the big lampshades are quite pricey to buy but to build them from scratch is simple and inexpensive. Pick any paper you like and that suits your space to create a modern look. You will only need some cardboard, wood sticks and a plastic bottle. If you paint the inner part gold or make it glittery, you can create an extra warm effect.
Pendant Lamp of Enameled Colander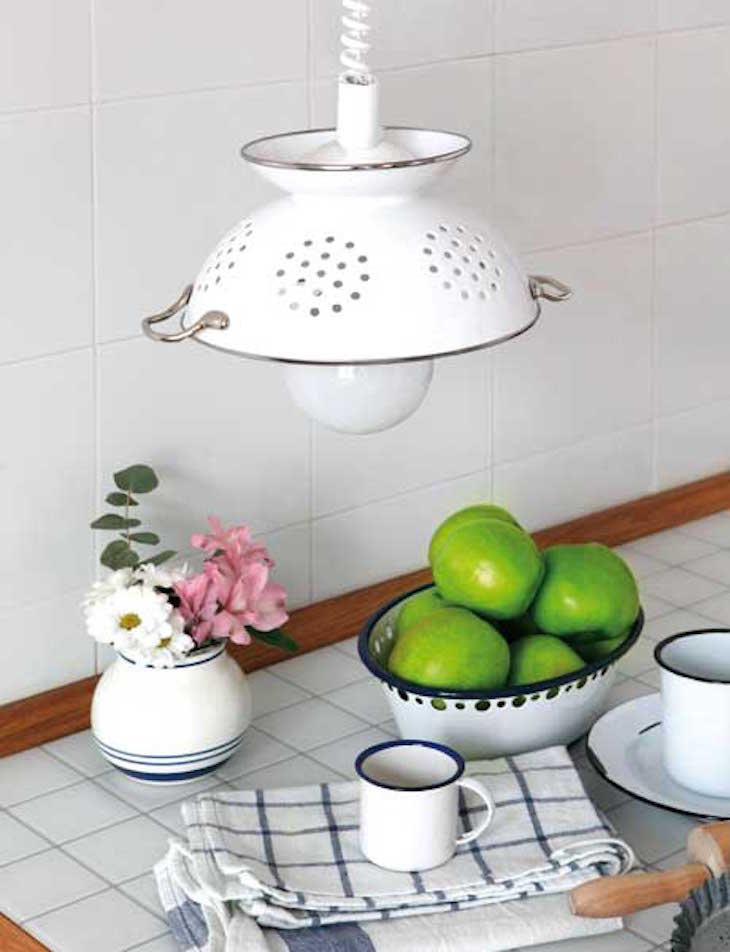 We love this idea of using enameled colander as a lampshade in the kitchen! It gives the room a rustic look; it is simple and yet very creative. It does not require any preparation, just drill a hole in the bottom for the wire and insert it. Then attach a light bulb socket inside of it, hang the lamp, and you have a beautiful new design.
Crocheted Lampshade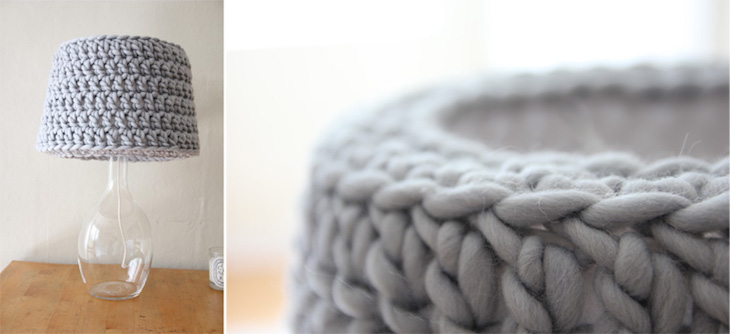 via www.pickles.no
Here is a project for the ones who love crocheting. Instead of leaving the JÄRA lamp's lampshade, you can purchase it from IKEA; why not dress it up, creating winterish style. Use thick yarn in any color to your preference. It will look cozy and cool in your bedroom.
Pin Poked Lampshade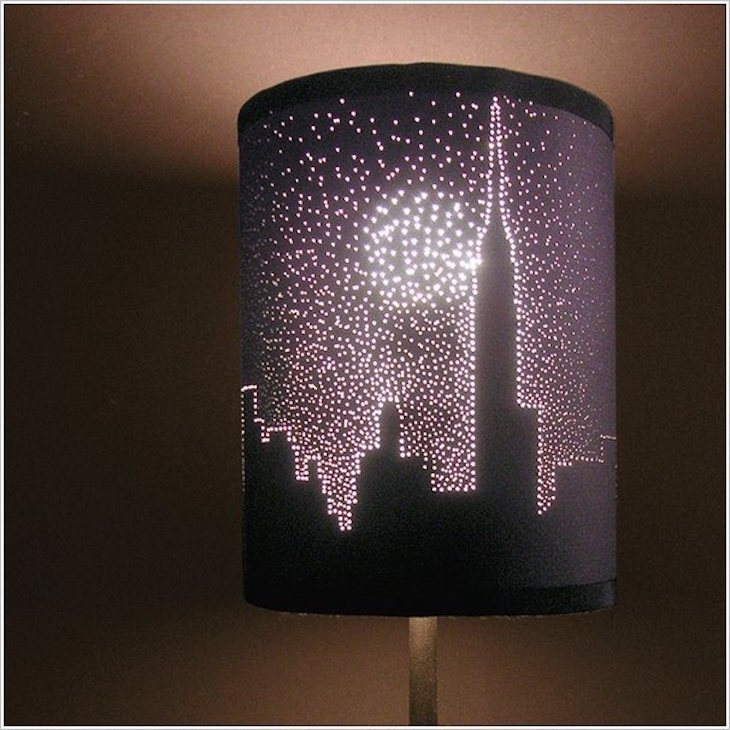 If you have a simple dark-shaded lampshade, you can simply turn it into an amazing piece of art. Draw a skyline silhouette or star constellation on a piece of paper first and fix it on the lampshade with tape. After that, using common pins make holes in the lampshade along the lines of the silhouette. You can easily turn a light color lampshade into the dark with textile paint.