Mother's love is like nothing else in the world… The more we grow up the more we realize our moms are our best friends. Every day should be Mother's Day, but there is an official holiday dedicated to celebrating all the mothers out there. May 10 is almost here and we are all thinking about sweet ways to surprise our mothers/grandmothers with a thoughtful gift. And the best gift to a mother is one that is made by her children. Instead of buying something, this Mother's Day opt for a handmade gift. Try making a creative craft with your kids, something personalized. something special with their own touch to it. Just to boost your creativity we are offering 10 fantastic ideas on what to make for this beautiful occasion. Here are 10 creative kid crafts that are easy, affordable, unique and creative. Check them out and choose your favorite.
DIY Crepe Paper Flower Bouquet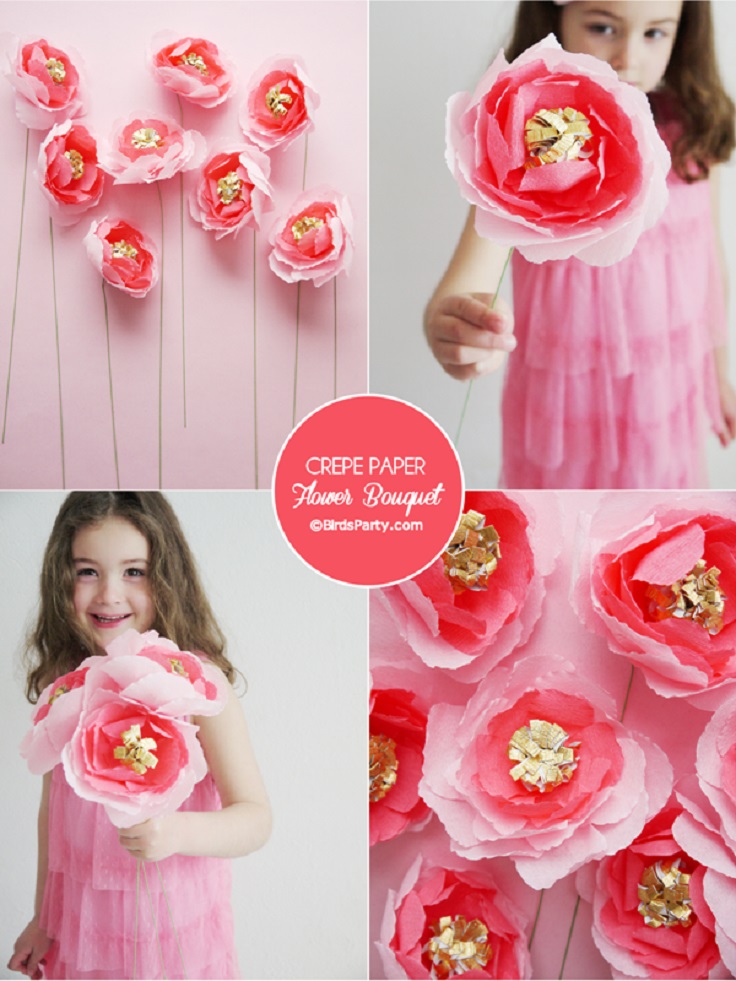 Creating flowers out of paper is so fun and creative. You can make different varieties, different sizes and different colors. Paper flowers are not only easy to be made but also long lasting and a great gift. This is why we chose beautiful bouquet made with crepe paper flowers as a fun craft kids can make for Mother's day. We love the shape and the pretty colors that are used.
Mother's Day Plaque Home Decor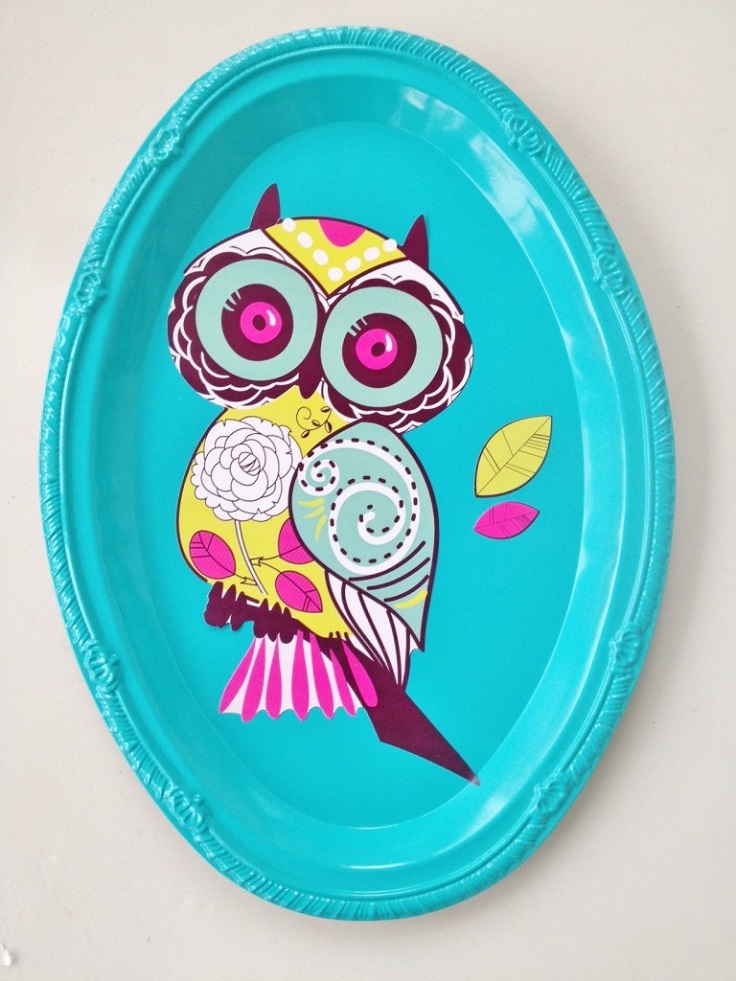 via survivingateacherssalary.com
Make a stunning wall decor for Mother's day that will cost you under $10! This is such a great idea and we love the little owl. It is a great project to involve your kids in. To make it you will need spray paint, peel and stick wall decals, faux silver serving trays, old newspaper, clear varnish or sealant. You can be as creative as you wish and choose different colors and peel and stick wall decals
Mason Jar Vase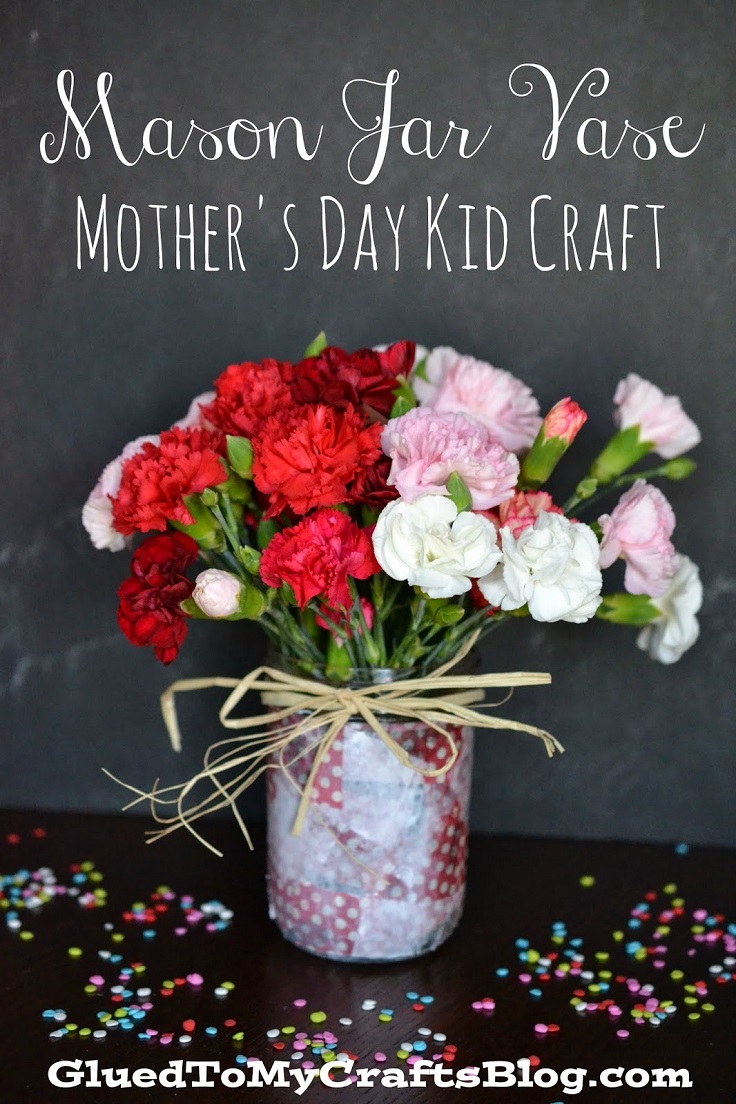 How cute is this simple mason jar turned into a beautiful, one-of-a-kind vase? It is definitely a craft your kids could get involved in. You will need the following supplies: mason jar – lid removed, tissue paper, scissors, mod podge, paint brush, decorative twine or ribbon. When done, just fill it with some beautiful fresh flowers and you get a perfect Mother's day gift.
Smile Blossoms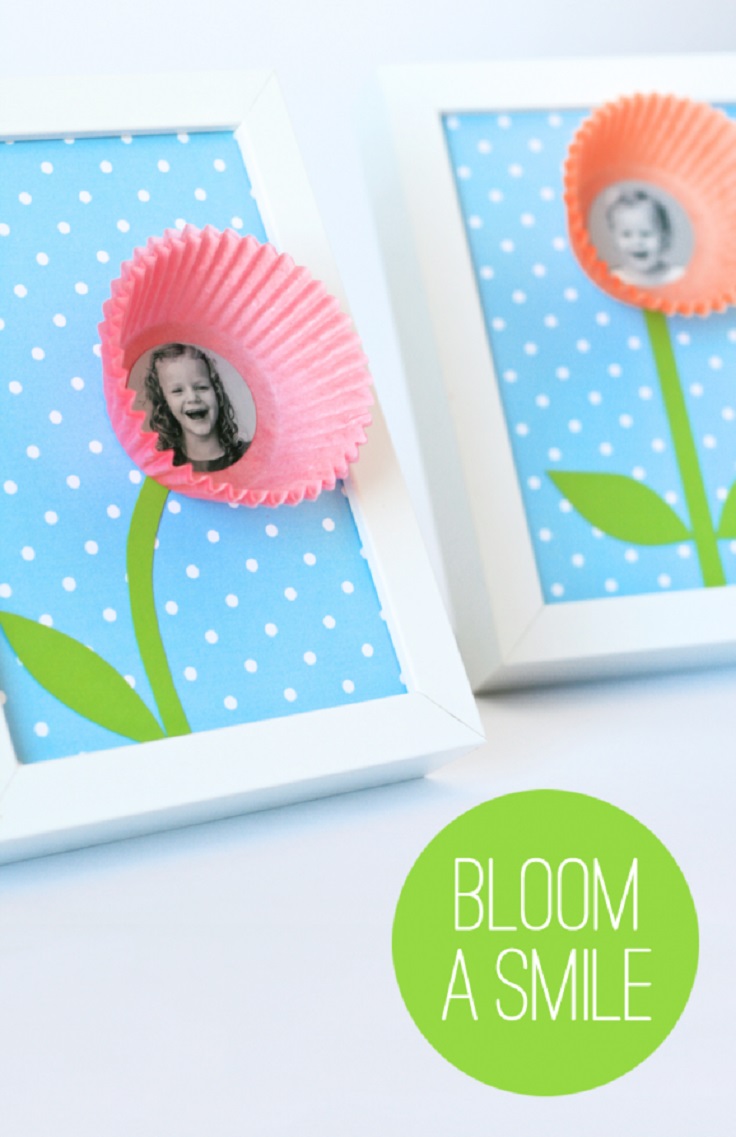 Such a great and easy craft for Mother's day you can do with your kids! It is creative and can be done in minutes. To make them you can use any kind of cupcake liner and you can download the free printable blue polka dot background. Glue tw, solid-colored cupcake liners to a 5×7-inch piece of blue paper.  Add a stem and leaves cut from green paper. You can present them as a card or in a picture frame with glass removed.
Turtle Themed Mother's Day Card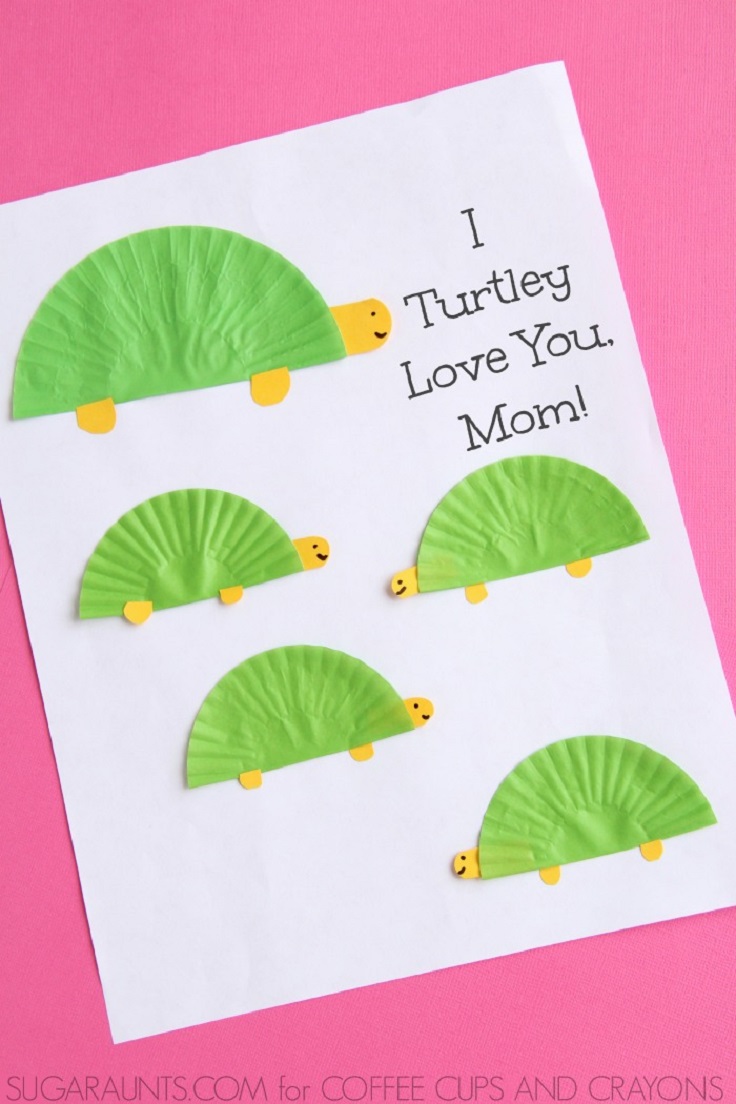 Here is another craft with cupcake liners. Make this  "turtley cute" card for Mother's Day with the help of your kids. You will need two different sized green cupcake liners, some glue and yellow card stock for the heads and feet. Glue the turtles as shown in the tutorial, draw cute little eyes and mouths and write "I Turtley Love You, Mom!" for cutest ever Mother's Day card!
Grandma's Flowerpot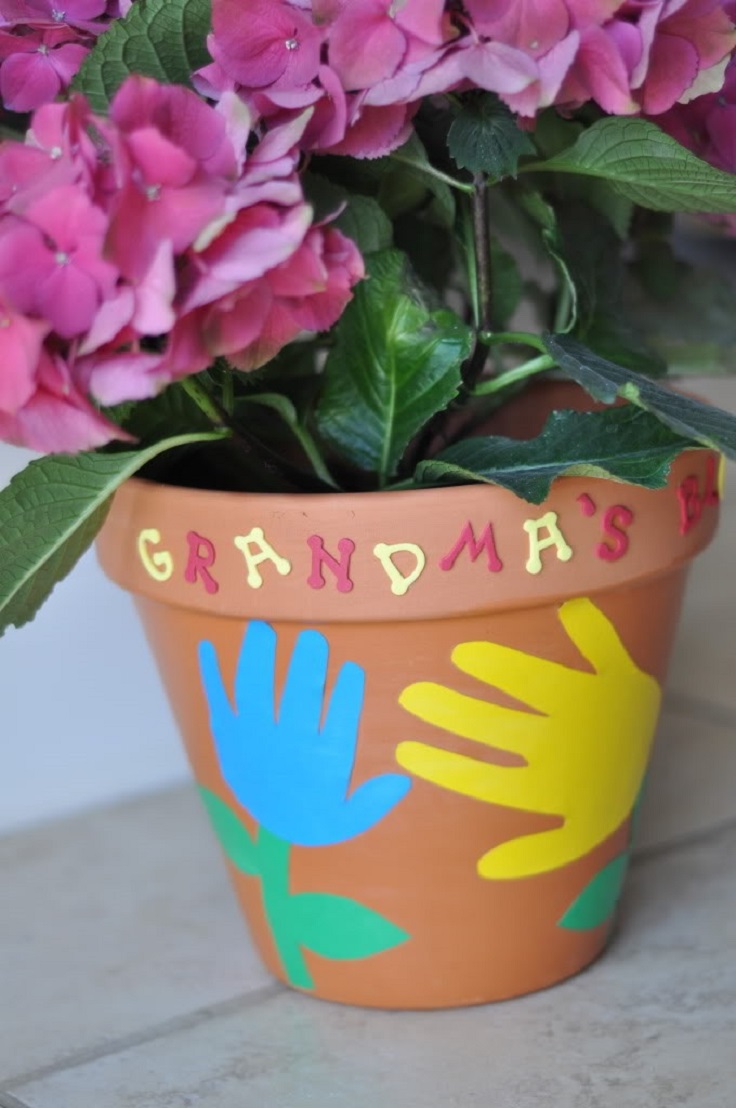 via whattoexpect.com
Use your kids' help to make this beautiful flower pot for grandma. It is such a special gift, with the beautiful colors and their little hands on it. If this flowerpot is your choice for a Mother's day gift you will need to prepare card stock (green for stems, plus whatever colors of flowers you want, mod podge, terra cotta flower po, adhesive foam letters. When all done choose a sweet personalized message to finish it.
Little Paper Doilies Flowers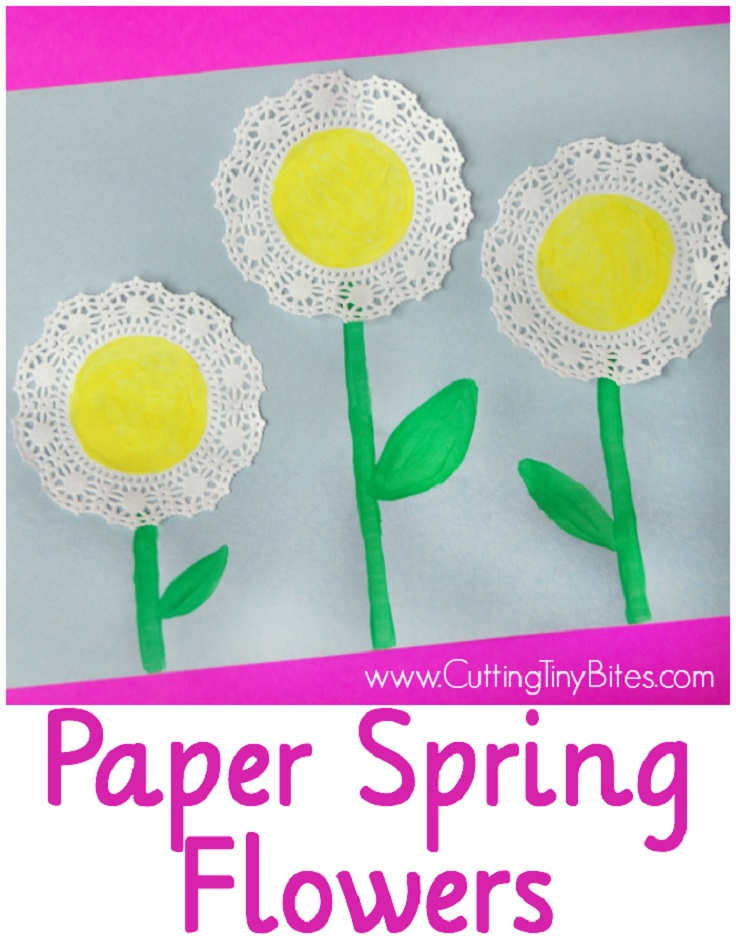 An easy preschool or toddler craft with a beautiful result! These cute little paper flowers are made with paper doilies and they make a beautiful Mother's Day gift. To make them you'll need construction paper for the background, green and yellow paint, a glue stick, paintbrushes, and tiny little paper doilies. Use your kid's imagination and create cards, wall art or a simple spring painting.
Make a "Mom" Banner for Mother's Day

via hgtv.com
Look at those beautiful pastel colors! This "Mom" banner make such a beautiful surprise for every mom and is so perfect for spring. The glitter chipboard letters are so unique and look fabulous on the banner. You can definitely make the banner with the help of your kids' little hands. They will enjoy the process and will be so proud of the final result.  The tutorial is very detailed and there are step-by-step photos.
Photo Garden Spring Craft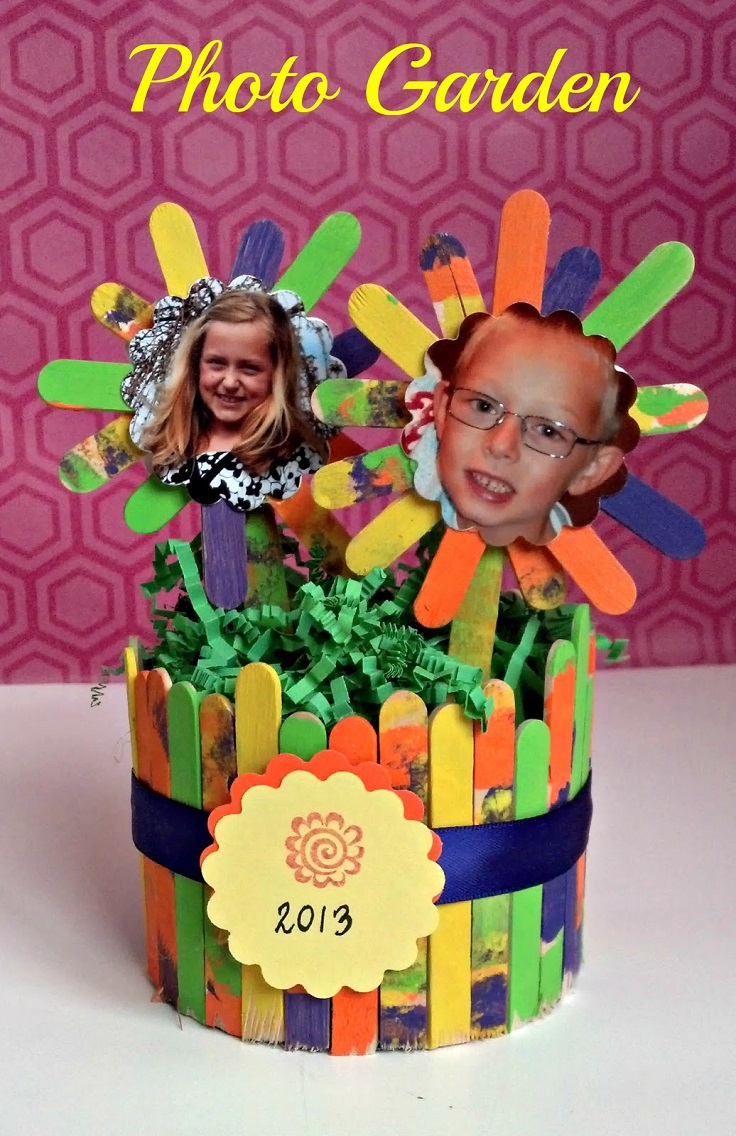 via crazyloucreations.blogspot.com
This Mother's Day create a beautiful, unique photo garden with the help of your kids. It is an easy but fun project with an original and pretty final result. To make it you will need  a sytrofoam circle, craft sticks, craft paint, pictures of your kids, craft punch or scissors, hot glue gun, ribbon and tag. It will cost you less then $5.
Cala Lilies, Easy Mother's Day Craft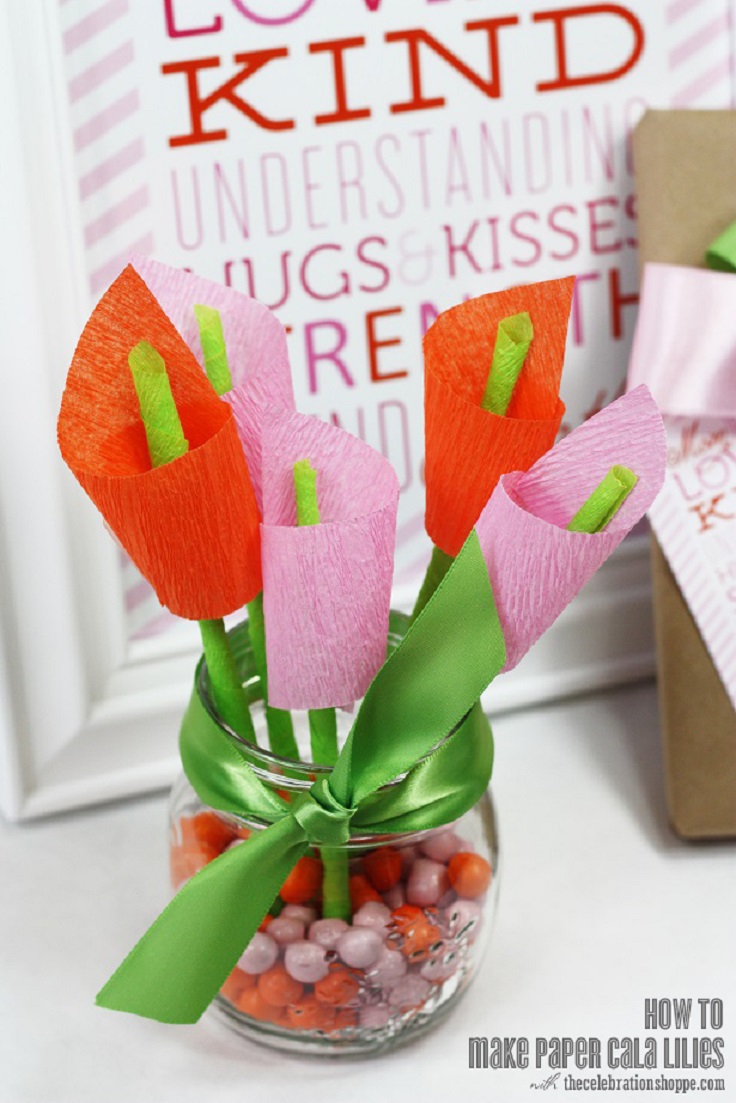 via blog.thecelebrationshoppe.com
Who doesn't love cala lilies? They are so elegant and beautiful. So why not make some paper cala lilies with crepe paper? Their shape is easy to imitate so even kids can do this craft. Get some crepe paper in colors you love and make these adorable cala lilies. When done arrange them in a mason jar and don't forget to add a cute ribbon. Such a beautiful and budget friendly gift!