The first thing that pops into our heads when we think of croissants is the plain or chocolate-filled ones that we normally have a whole, with a cup of espresso, preferably in a café somewhere in Paris. What will rarely or hardly come to mind is that these amazing breakfast bites can turn into filling sandwich-like dishes once we cut them in half.
From poached egg and baked cheese and ham croissant sandwiches for breakfast to rich veggie and meat/seafood ones for lunch and dinner, you can hardly avoid this mouth-watering selection of dishes when debating what to make for yourself and your loved ones. Your minds will be amazed and your hunger satisfied.
Read on to find out what we've chosen to brighten up your day!
These are some of the croissants we know and love, turned into something we'll never forget.
Chicken Louis Croissant Sandwiches
img class="" src="https://www.topinspired.com/wp-content/uploads/2014/01/Chicken-Louis-Sandwiches.jpg" alt="Croissant Sandwiches" width="1338″ height="1002″ />
Recipe via bettycrocker.com
With both light and spicy ingredients sandwiched into a well-baked croissant, this incredibly easy, sea-inspired recipe will certainly be a refreshing addition to your everyday diet. Simply cook some chicken breasts, mix all the ingredients into one bowl, and cut a croissant in half to create your new masterpiece.
Poached Eggs and Avocado on a Croissant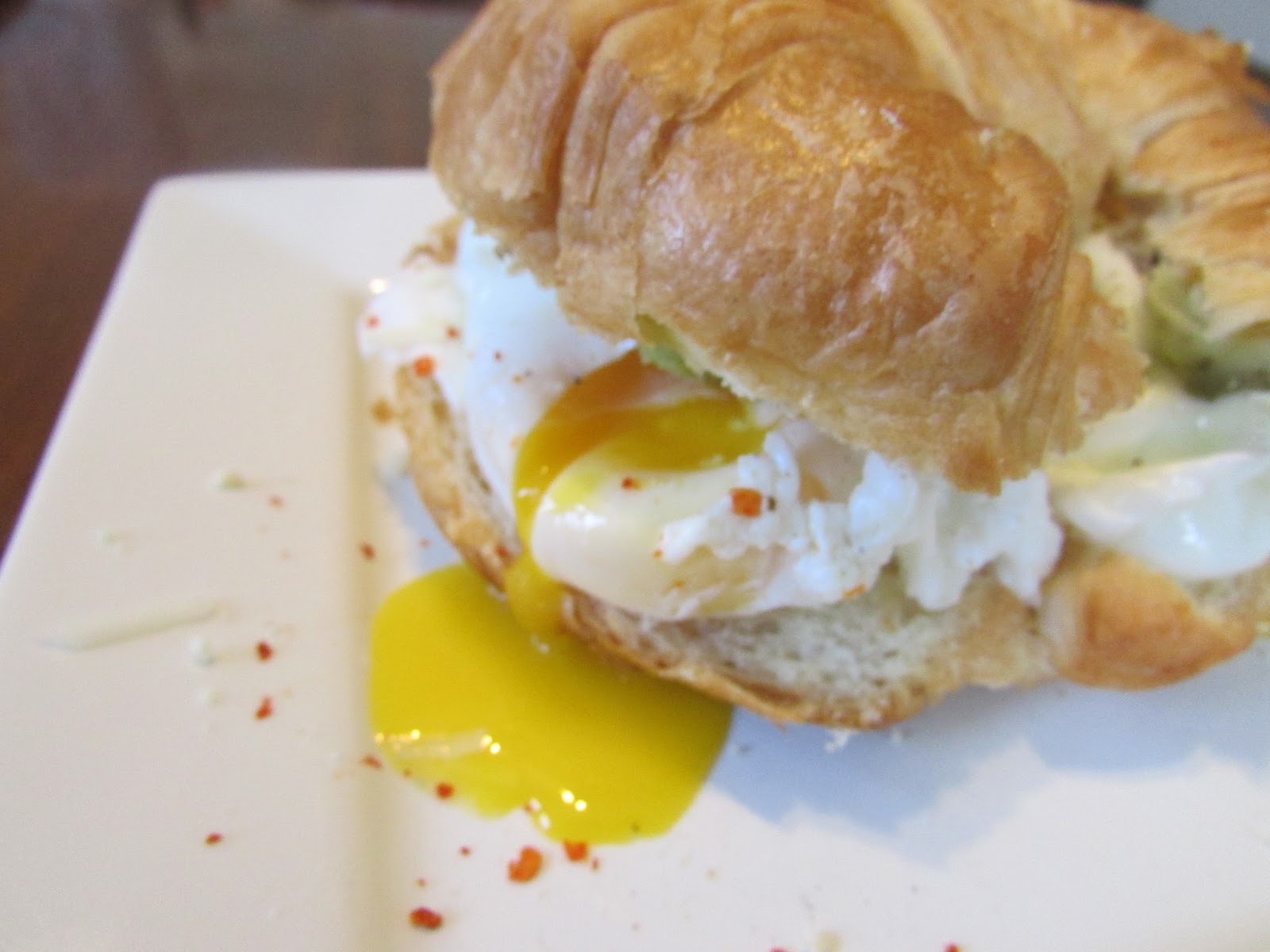 Recipe via vegetarianandcooking.com
We always take the first thing out of the fridge when we're in a hurry. This time, instead of a sandwich made of two pieces of toasts, go for an egg-and-avocado sandwich made of two halves of a croissant. Fried, scrambled, poached, or sunny-side up – whatever your preference, this satisfying breakfast will make sure you have a productive day without making you late for work.
Ham and Cheese Croissant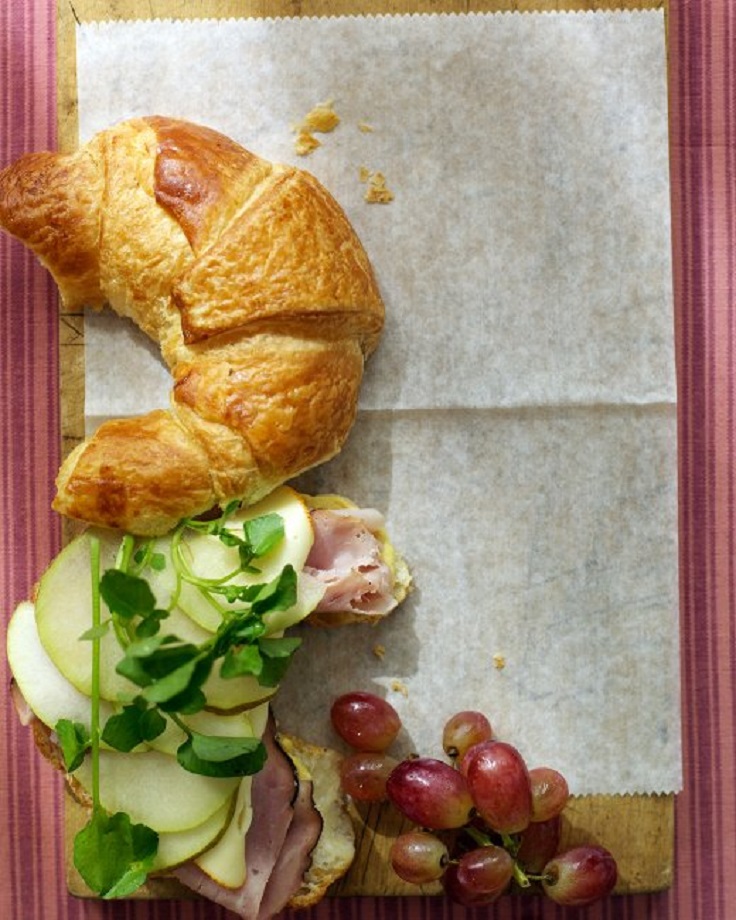 Recipe via marthastewart.com
Depending on where you live and your eating habits, you'll probably use different types of ham and cheese for this croissant sandwich. This rather unusual recipe contains a deli ham and Muenster cheese, some watercress to ensure your greens intake, and a sliced pear for added vitamins. Just spread some mustard on the sides of the croissants and layer the bottom one with the needed ingredients before you top them on the upper side of the croissant.
Blueberry BBQ Roast Chicken & Blueberry Corn Salsa Croissants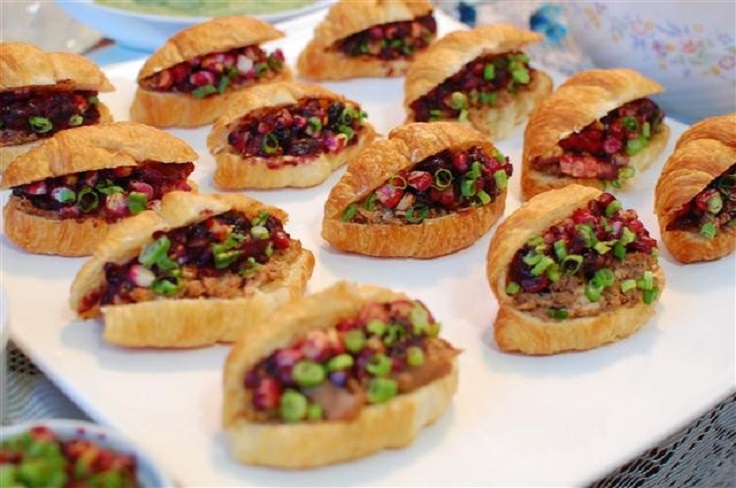 Recipe via followmefoodie.com
This is a colorful culinary creation fit for social events or home gatherings. While the creation itself is not that time-consuming, the preparation of the necessary blueberry BBQ sauce will take about an hour until it's made, chilled, and ready to use. What you also needed for this recipe is some salsa with canned corn for added color and some roast chicken, previously marinated in the blueberry BBQ sauce. After you have buttered the croissants and layered the chicken, just add the salsa mix and some chopped green onion on top.
Croque Monsieur Croissant Breakfast Sandwiches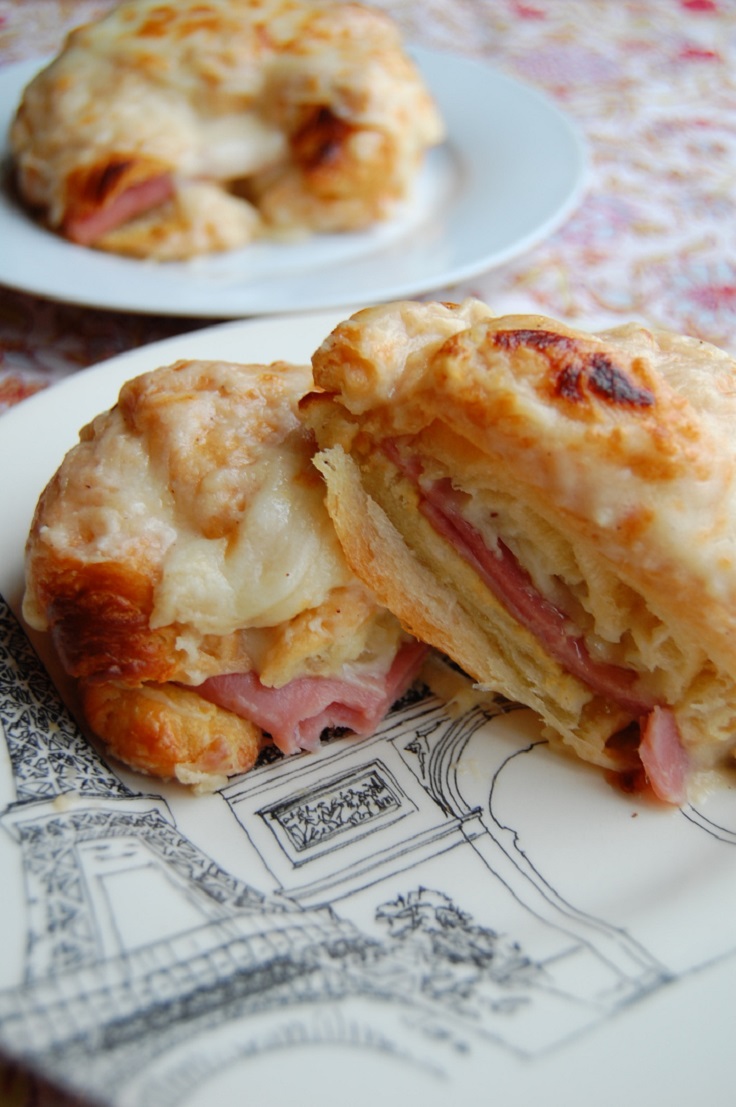 savuryandsweet.com<
Ready for some grilled-cheese sandwich, French style? This Croque monsieur sandwich is the perfect substitute for your usual grilled-cheese sandwich on your cheat day. After preheating the oven to 400 deg. F, prepare the Gruyere cheese sauce, toast the croissant halves, and lightly spread them with mustard. Then, add some ham and layers of grated and sauce Gruyere once you've topped your sandwich and bake it and broil it until the topping gets a light brown color. Voila!
Chicken Salad Croissant Breakfast Sandwiches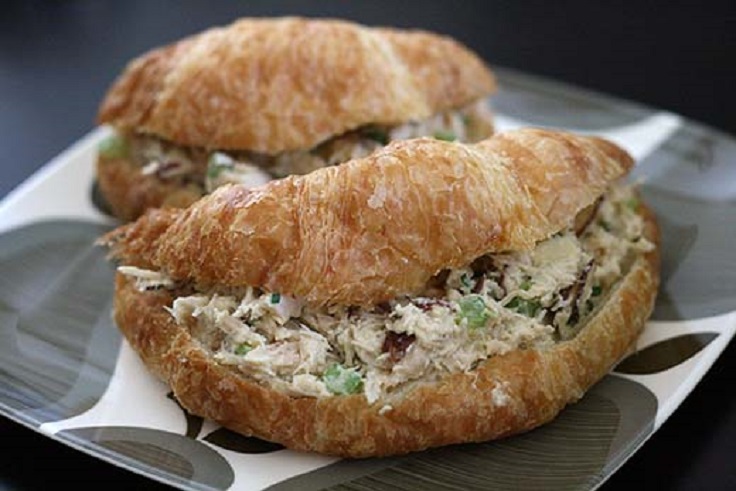 Recipe via caitlyncrafts.wordpress.com
Having guests over for a potluck dinner and you have no idea what to bring to the table? Just put together that chicken salad you've been meaning to make for lunch and stuff a few croissants with the necessary mixed and cooled ingredients from this recipe. And if you feel like making your creation a little bit special, don't hesitate to add some sliced red grapes, toasted almonds, and some chopped green onions. That's it!
Smoked Salmon & Avocado Cheesy Croissanwich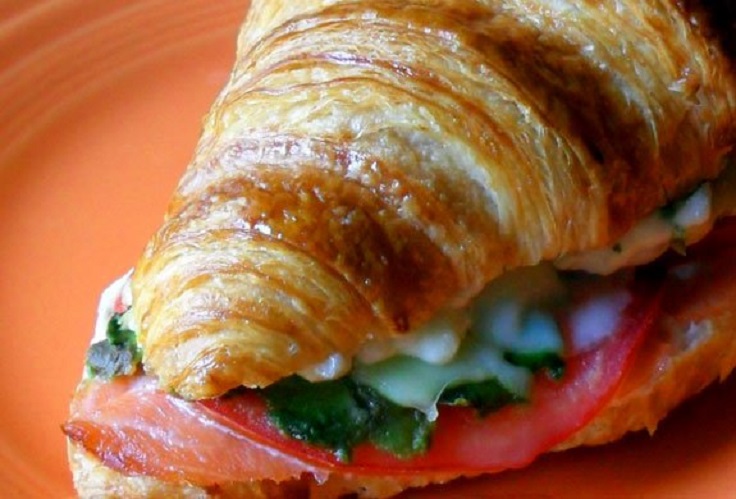 Recipe via eclecticfaerie.wordpress.com
An exceptional culinary, as well as a grammatical blend, this croissanwich is the perfect dish if you're looking for something quick and filling.
Unlike the previous recipes, this one doesn't require much time for preparation. All you need is a Boursin cheese and a mayo mixture spread on both croissant halves. Then, simply add the rest of the already prepared ingredients. As for the croissant, you can have it fresh or baked.
Tip: Of course baked is always better 🙂
Shrimp BLT Croissant Sandwich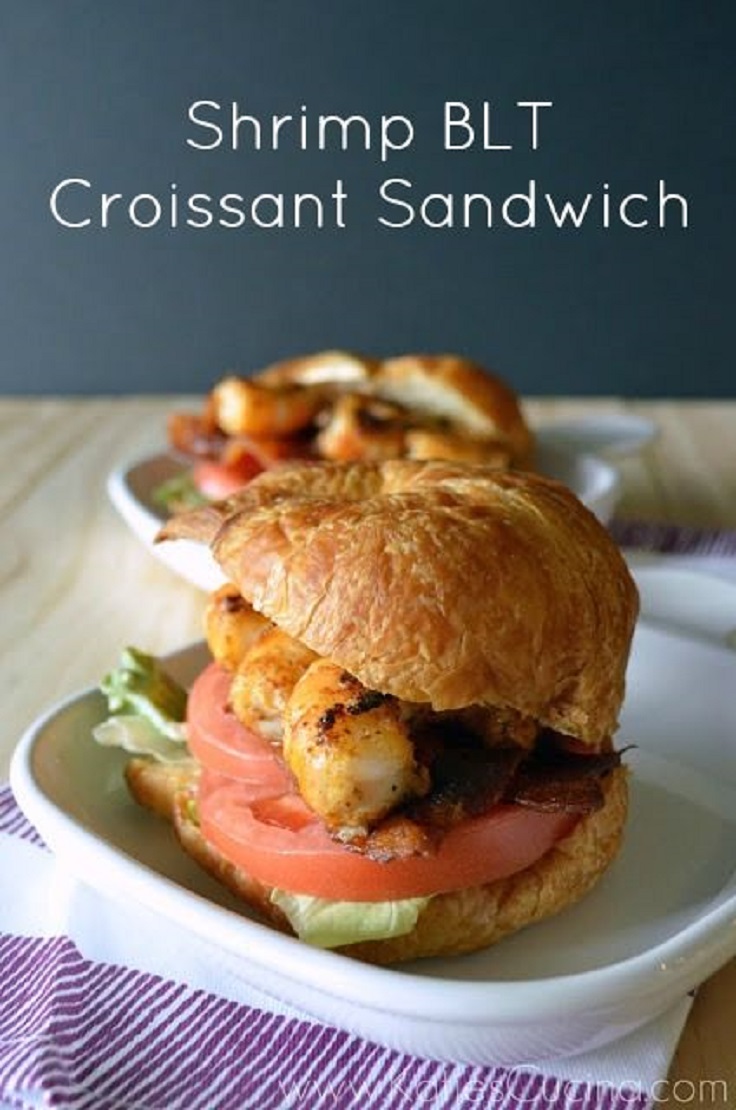 Recipe via katiescucina.com
So far, we've seen a number of ways we can replace bread with croissant halves to make the well-known sandwiches. This time, we're adding a marine touch to our everyday BLT sandwich – some Old Bay seasoned shrimps that you can fry for 3 minutes before placing them in your new BLT Croissant Sandwich. The sky's the limit, really!
Parisian Steak and Cheese Croissant Sandwiches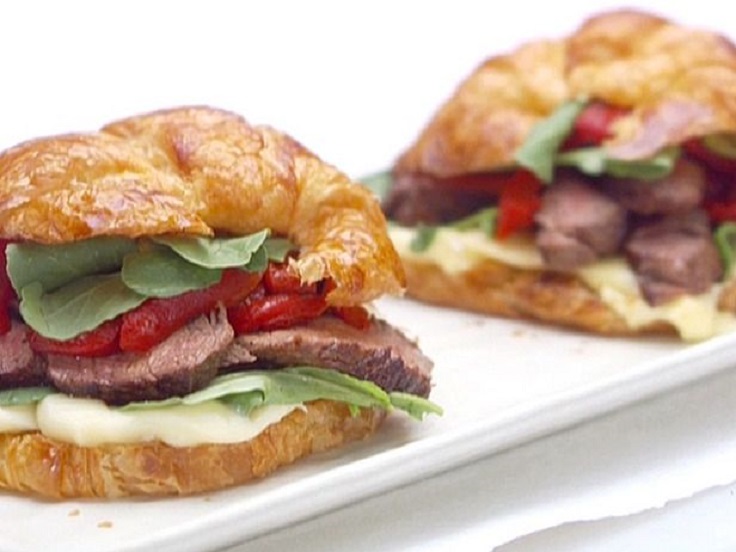 Recipe via foodnetwork.com
Yet another French croissant recipe that you can prepare in a little over 30 minutes and serve immediately. What makes this one special is the beef fillet steaks, the kosher salt, the freshly ground pepper, some Brie cheese, and some arugula among the rest. Just toast the croissant halves, layer the cheese and some of the arugula, and add the medium-rare steaks between the red bell pepper slices and the rest of the arugula.
Baked Ham Prosciutto Camembert Croissant Breakfast Sandwiches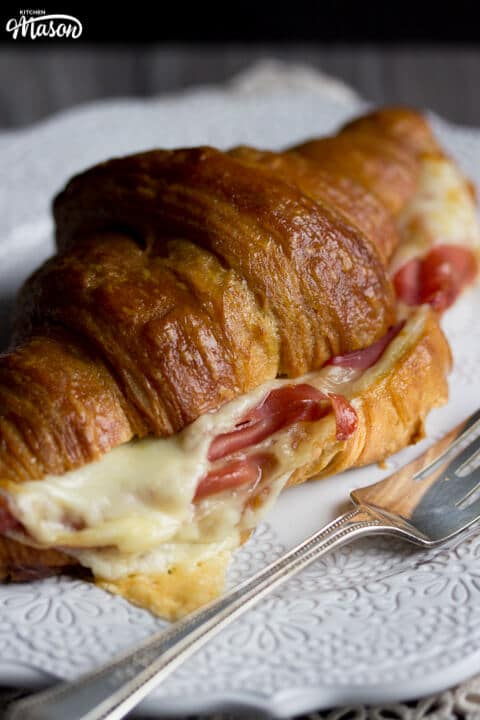 Recipe via kitchenmason.com
If there is something bound to tickle your taste buds, then this cheese and prosciutto croissant sandwich glazed with honey mustard are definitely it. After preheating the oven to 190°C/Fan 180°C and cutting the croissant in half, simply add as many layers of Camembert cheese and prosciutto as you like and glaze the croissant halves with a generous amount of olive oil and honey mustard mixture. All you need to do then is bake it for 6 minutes and eat it while it's still warm.
Tip: for a Camembert cheese substitute, use one that doesn't spread as much if you're not too keen on picking up cheese off the floor as you eat.
Thank you for reading our article on our Top 10 Ideas for Amazing Croissant Sandwiches! We hope you weren't able to resist them and that you'll find them even more irresistible once you've made them yourselves. And then, tell us what you thought about them in the comment section below. Have a great cooking session!