Living life without milk, cheese, butter, or tasting different ice cream flavors can be hard for dairy lovers. Living a more plant-based diet doesn't have to mean that what you eat is less good.
In fact, this way or another, there is always something delicious to eat. No matter if you are lactose intolerant, you lack the enzyme lactase, or simply want to eat less dairy and more plant, these ten amazing recipes can make breakfast your favorite part of the day.
They all are easy to make and won't take much of your time. So, get the needed ingredients and start your dairy-free food adventures in the kitchen!
1. Smoothie Bowl Breakfast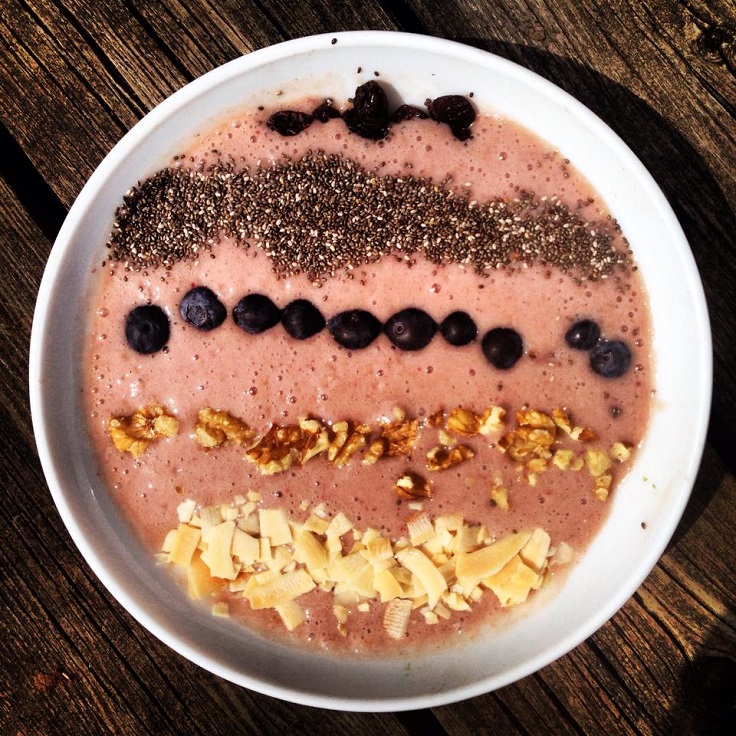 via carrotsforlunch.com
We all have those mornings when we barely have the time to brush our teeth. This is the breakfast you can have on those kinds of days. It will take you only 10 minutes to prepare it. It's very healthy and delicious, so you should consider consuming it more often. The main ingredients are almond milk and protein powder, while with the rest, you can experiment. According to this recipe, you need chia seeds, strawberries, frozen bananas, coconut flakes, blueberries, raisins, and raw walnuts.
2. Poppy Seed and Lemon Breakfast Muffins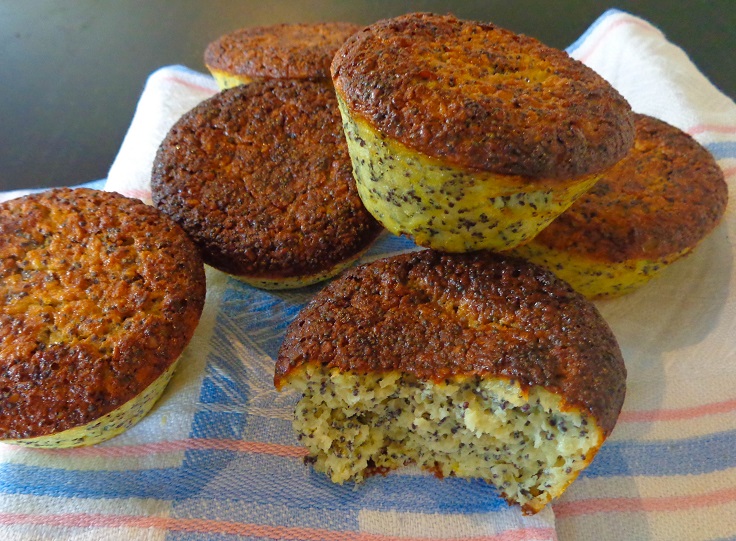 via happysardine.com
To be delicious, muffins don't need to be chocolate, vanilla, or creamy toppings. These poppy seeds lemon muffins are a great dairy-free breakfast you can have and make it yourself in less than 30 minutes. In a bowl, you mix coconut flour, sunflower seeds flour, baking soda, and salt. Add eggs, lemon juice and lemon zest, poppy seeds, vanilla extract, honey, and coconut oil, and put the mixture in muffin cups. Bake the muffins for about 10 minutes.
3. Spaghetti Squash Broccoli Casserole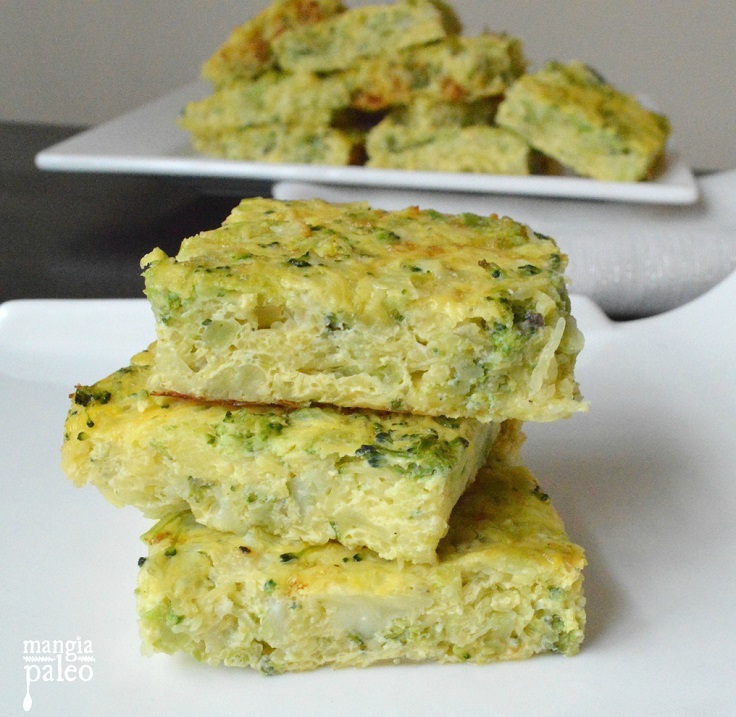 via mangiapaleo.com
You can prepare this breakfast casserole in four steps. First, bake the spaghetti squash and then leave them to cool. After that, scrape out the spaghetti squash flesh with a fork, squeeze out the moisture and set it aside. The next step is to defrost the broccoli and, again, squeeze out the moisture. Then, scramble the eggs with parsley, herbs, basil, salt, and pepper and combine them in a bowl with the spaghetti squash, the broccoli, with garlic and onion. Pout the mixture in a casserole pan and bake it until it gets the brown color.
4. Bread Puddings with Pear and Sausage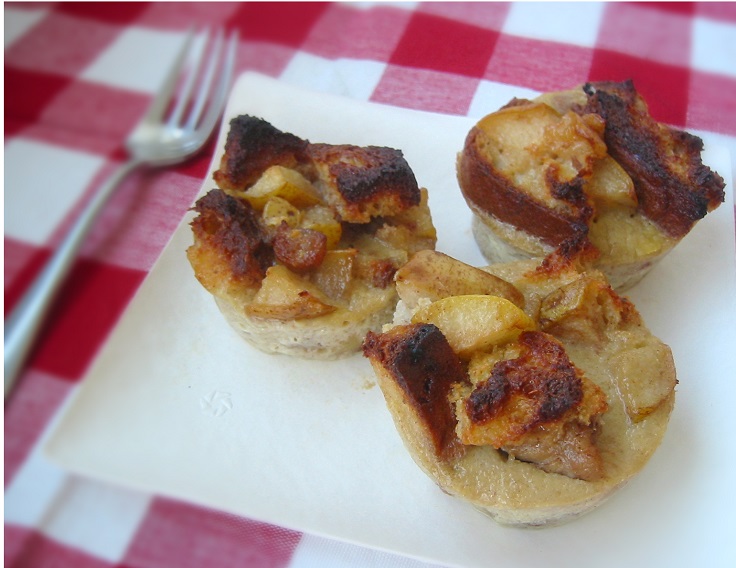 via architectskitchen.wordpress.com
These mini breakfast bread puddings are an interesting mix of flavors: sausage and pear together. You may see it as a weird combination, but it is worth trying. The breakfast will be ready in less than an hour. You bake the bread puddings for about 30 minutes, and after that, you leave them to cool at least for another 10 minutes. With this recipe, you will get 12  14 mini bread puddings. Not only are these lactose-free, but they are also refined sugar and gluten-free.
5. Eggs Florentine with Crispy Polenta Squares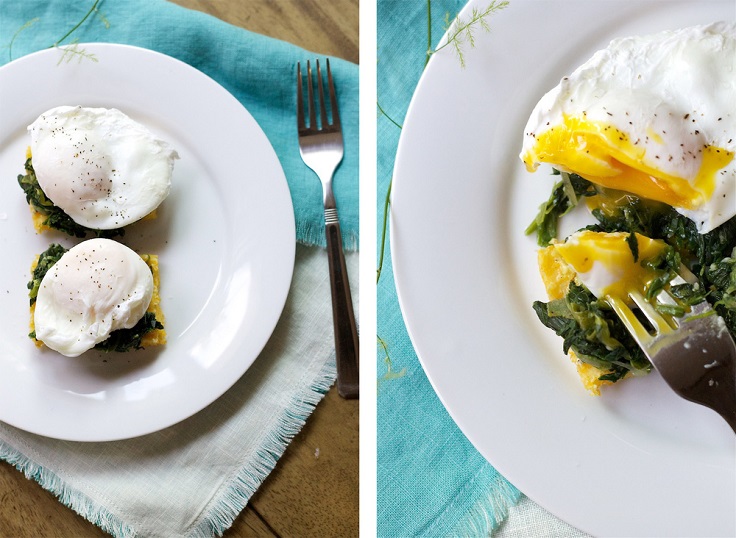 via foodbymars.com
This breakfast idea is an amazingly healthy and super tasty combination of polenta, spinach, and eggs. Besides being lactose-free, it is also gluten-free. First, you work on the polenta until it is baked enough until it gets crispy on the outside. The next step is defrosting the spinach, cooking it with the given ingredients, and cooking the eggs. When everything is done, place the polenta squares on a plate, top with spinach and then crack the egg.
6. Oat Pancakes with Lemony Apples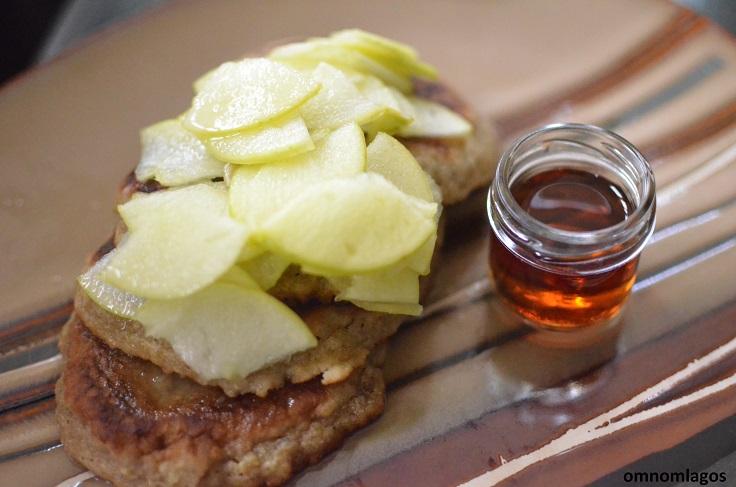 via omnomlagos.com
The breakfast pancakes in a not so traditional way. These contain oats and instead of the milk, you use any dairy substitute, such as soy, rice, or almond milk. As with every other pancake, this one also has an amazing topping. To make it, you need slices of apple, 2 – 3 juiced limes, sugar, and maple syrup to serve separately. First, sprinkle sugar over the apples, pour over the lime juice and mix in a bowl. Could you leave it to marinade and set it aside?
7. Ham and Veggie Casserole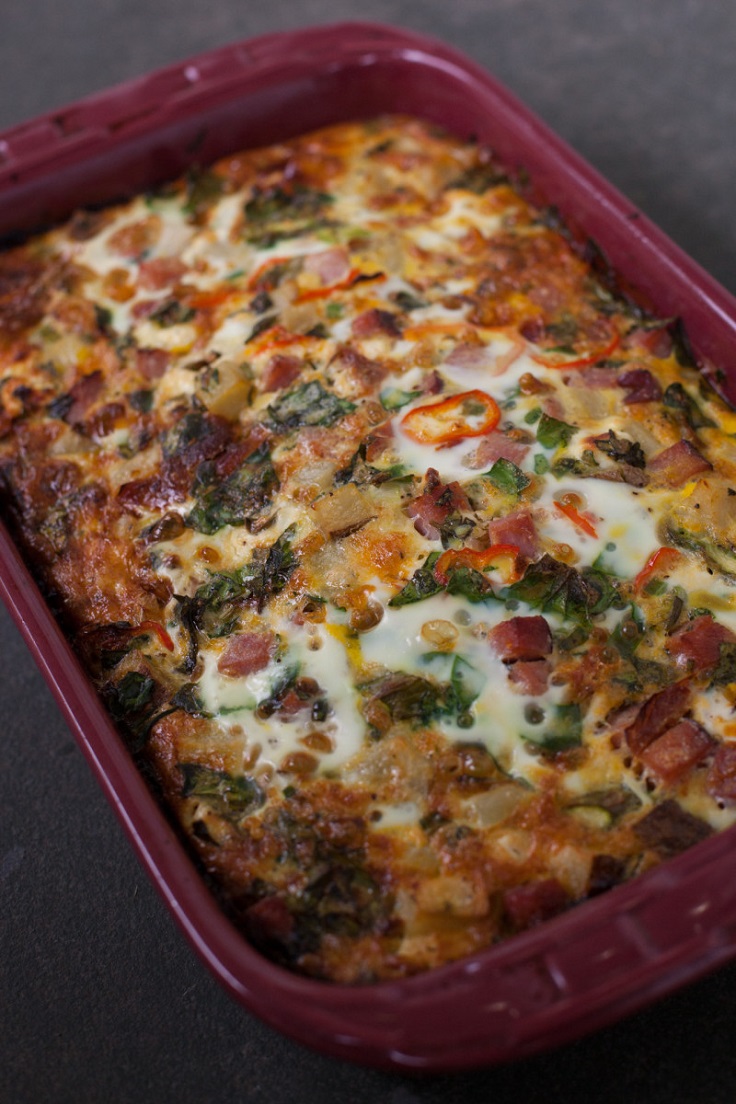 via eatingrichly.com
This casserole is a good breakfast idea because it is money-saving, it's healthy, and delicious. It's a great combination of potatoes, asparagus, spinach, ham, tomatoes, and herbs. Even though the recipe includes goat cheese, you can leave that one out and get the dairy-free version of it. The casserole takes some time to be done because you should bake it for about an hour until it gets golden brown.
8. Tandoori Chicken Salad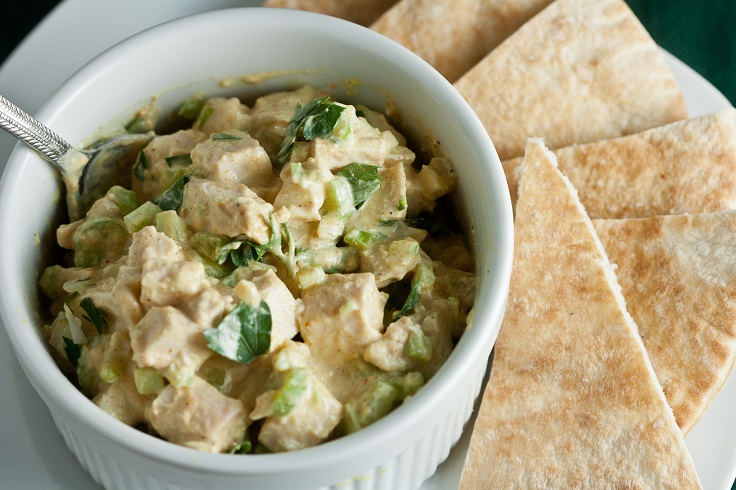 The tandoori chicken salad takes 30 minutes to be ready, and it's a delicious mix of chicken breast, lactose-free peach yogurt, curry powder, cumin, garlic, coriander, paprika, and so on. You can add other spices as well. The salad is great even if you eat it just like that, but if you prefer to eat it with something else, then know that it goes great with pita wedges.
9. Zucchini and Green Onions Frittatas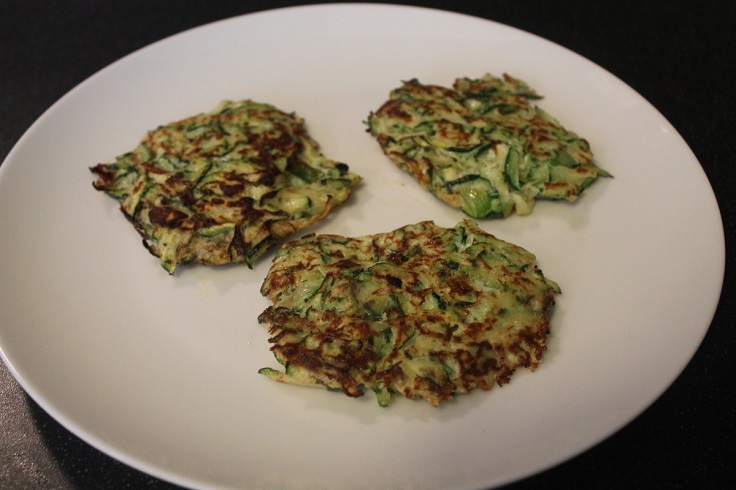 via coconutcooks.com
Another breakfast in which you can experiment with the spices. You can put any spice you want, but basil and thyme go the best with these frittatas. You need medium-sized zucchini, eggs, green onions, lemon juice, black pepper, Himalayan salt, fresh or dried parsley, and coconut oil. These frittatas are also a good choice for lunch as well, so don't hesitate to make more for breakfast to have some for lunch.
10. Apple Streusel Breakfast Pizza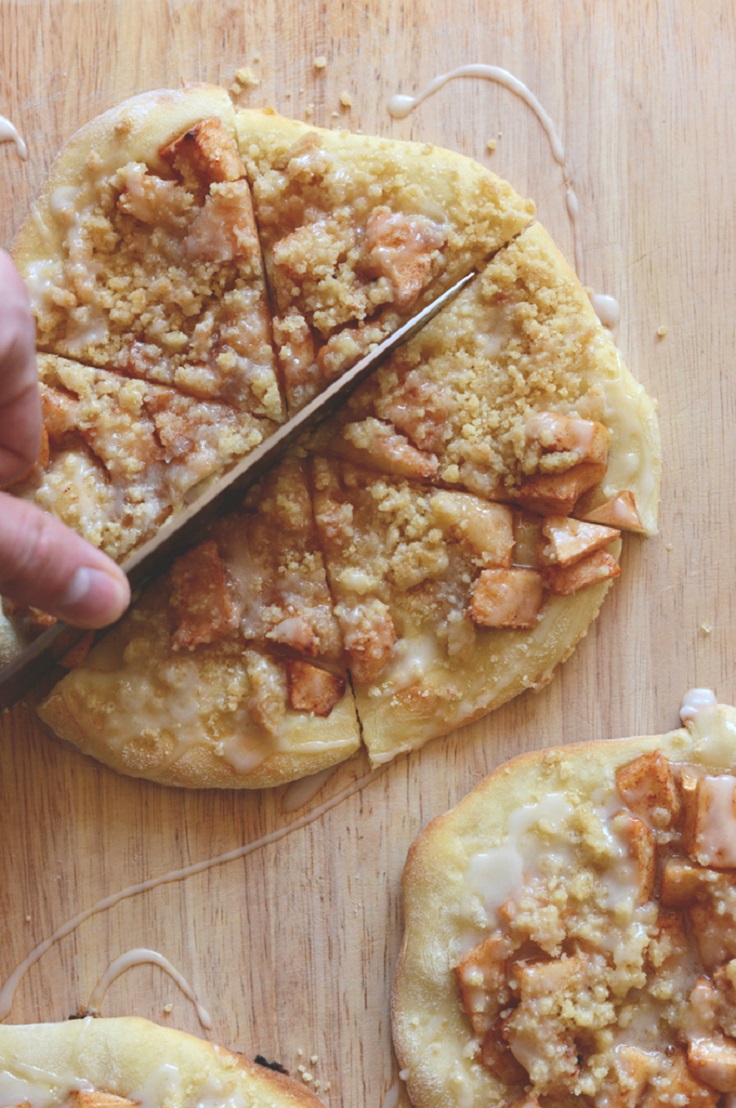 If you prefer something sweet for breakfast, then you should give this apple streusel pizza a try. It's ready in 35 minutes, and you can make enough for the whole day. These pizzas are the perfect combination of pizza dough, apples, cinnamon, vanilla extract, soy milk, nondairy butter, corn starch, brown sugar, and other ingredients. You can eat the pizzas not only for breakfast but for lunch, dinner, or as dessert as well.