No cheese. No milk. No butter. No ice cream. No anything dairy because whatever the reason is: lactose intolerance, lack of enzyme lactase or just simply moved to the plant – based diet side. Is it less delicious? Not at all. To some it might sound as scary thing to go through because you are missing out one of the most delicious food on Earth (read: cheese), but really, not being able to eat dairy is not a big problem at all. There are still tons of recipes that you can try and a lot of food you can eat. After the article about breakfast recipes that are dairy free, here's one meant for the lunch. All of these ten tasty recipes are going to prove you that life can still taste good without dairy products.
1. Curried Sweet Potato Salad
via slenderkitchen.com
For this recipe, you only need few ingredients: sweet potatoes, red curry paste, tahini, avocado, roasted red peppers, lime juice and cilantro. First you prepare the potatoes in any way you want them, boiled, roasted or grilled. Next step, put the other ingredients, except the cilantro, in a food processor until they form a smooth paste. Then mix the paste with the potatoes and add the cilantro. Put them in a bowl and leave it in the fridge to cool. The salad contains only 146 calories and the recipes makes enough for 8 servings.
2. Paleo Swedish Meatballs in Mushroom Gravy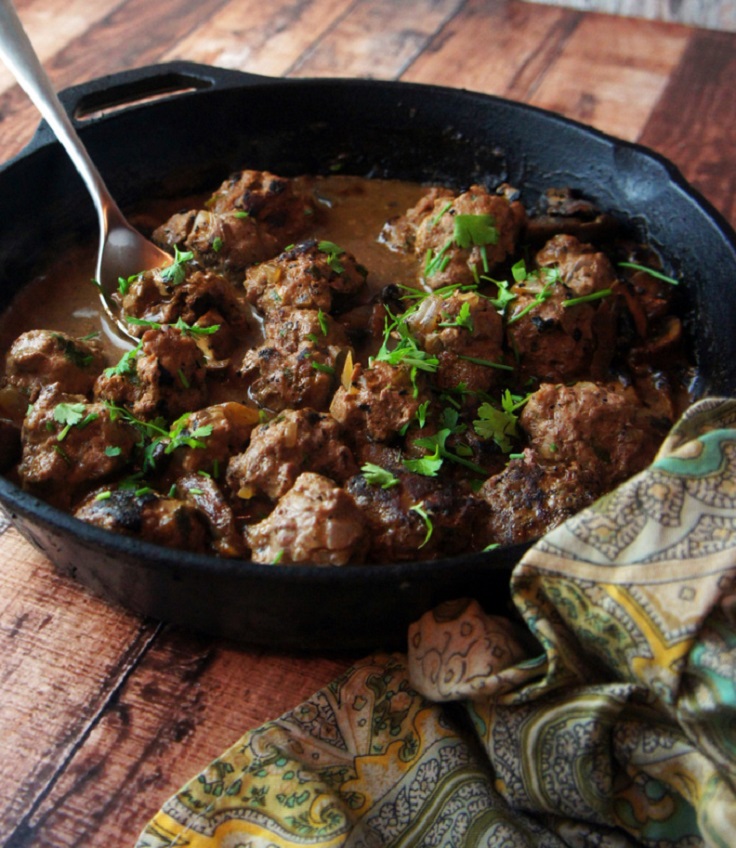 via forageddish.com
The famous Swedish meatballs in a mushroom gravy! This is a must. Especially that it takes only 30 minutes to be done. For the meatballs you mix ground beef, white onion, parsley, clove and egg and you mix until the ingredients are fully combined. Cook the meatballs in a hot skillet and remove them from it when they get the brown color. For the gravy, in the same skillet sauteé the mushrooms. The other the steps are really easy and will get you the a delicious mushrooms gravy which goes perfectly with the Swedish meatballs. Also, you can combine them with steamed kale, sweet potatoes or cauliflower mashers.
3. Red Curry Salmon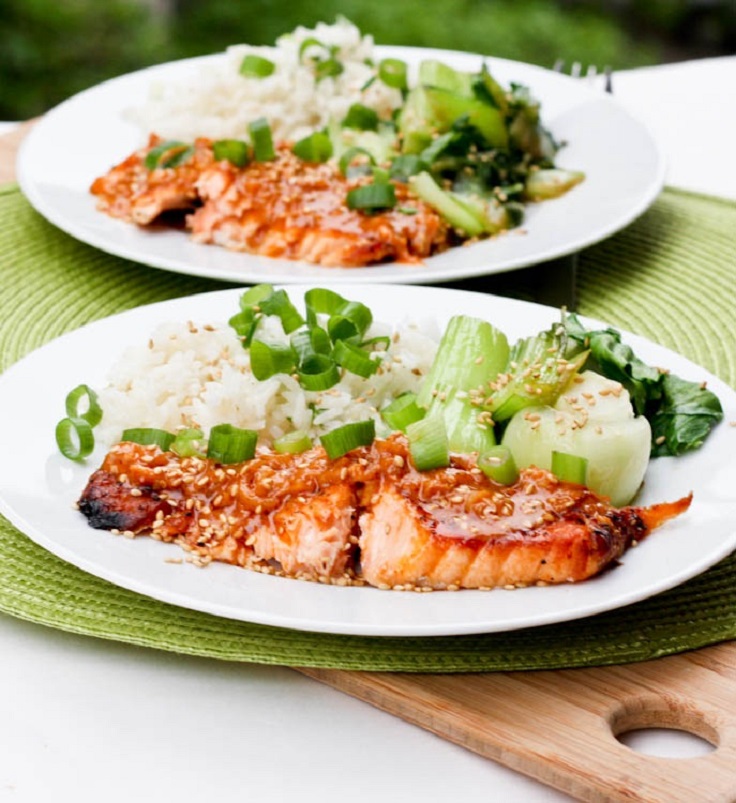 via avocadopesto.com
The broiled salmon with coconut red curry sauce and lime scallion rice is a 30 minute meal that will prove you that there's no need to cry over cheese or milk. You can choose other fish if you want, but for the recipe salmon is the best. It has an amazing sauce made of red curry paste, ginger, lemongrass, coconut milk, fish sauce and lime juice. When you spoon over the sauce over the fish, add scallions and sesame seeds. This meal is perfect for busy days, when you're expecting guests, or for lovely lunch times during the weekends with the family.
4. Creamy Vegan Fettuccine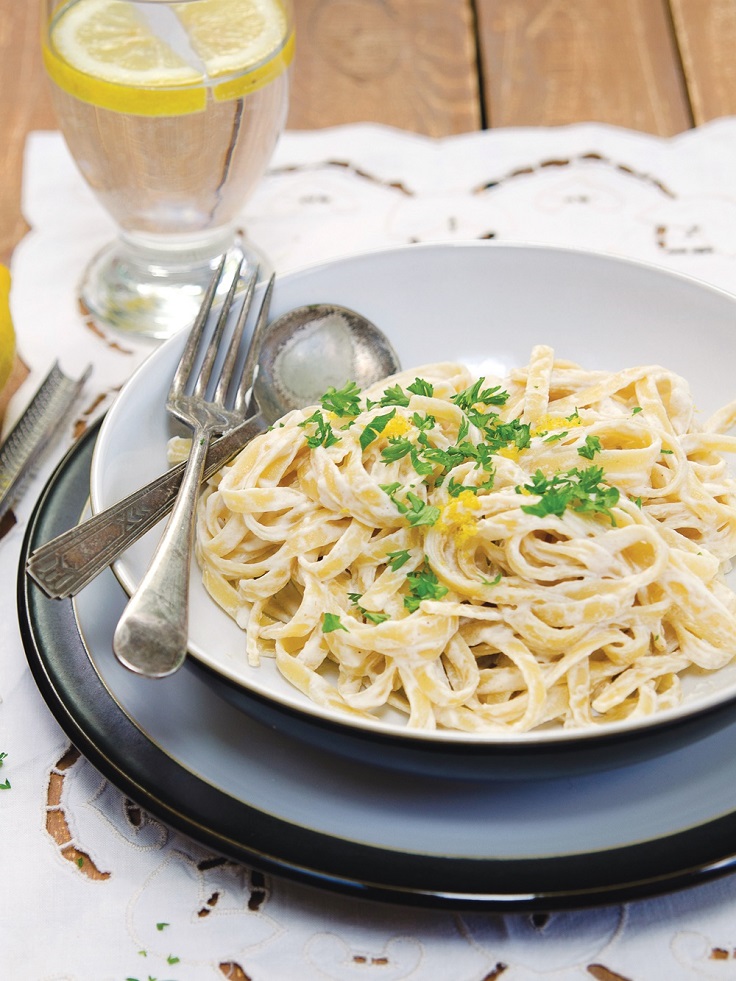 via godairyfree.org
Yes, there always has to be a recipe that includes pasta! In this one you are dealing with fettuccine and a creamy sauce. Prepare the pasta according to the given instructions on the back of it's package. Meanwhile you can prepare the creamy vegan sauce. Puree cashews, almonds, garlic, mustard, miso, sea salt, onion powder, dairy free milk beverage and lemon juice in a blender, and take them out when a smooth sauce is formed. Let the sauce thicken, and when the pasta is done, combine them together.
5. Balsamic Grilled Chicken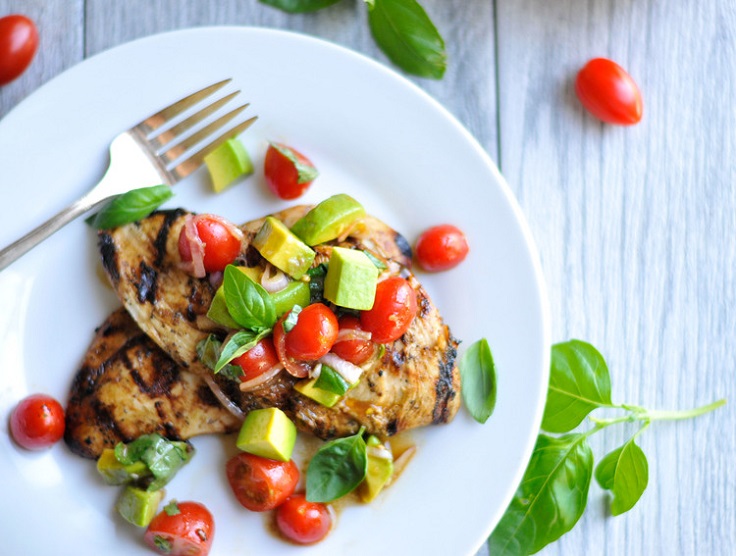 When you don't want to deal with heat, skillets, ovens and too many cooking instructions, you really need to make this balsamic grilled chicken with avocado, cherry tomato salad. Prepare a marinade for the chicken, place it in and leave it in the fridge to marinate for 30 minutes up to 8 hours. After that, grill the chicken and prepare the salad by combining tomatoes, avocado, shallot, garlic clove, balsamic vinegar, olive oil, basil and pepper. When the chicken is well grilled, serve it with the salad on top of the chicken or alongside.
6. Creamy Cauliflower Soup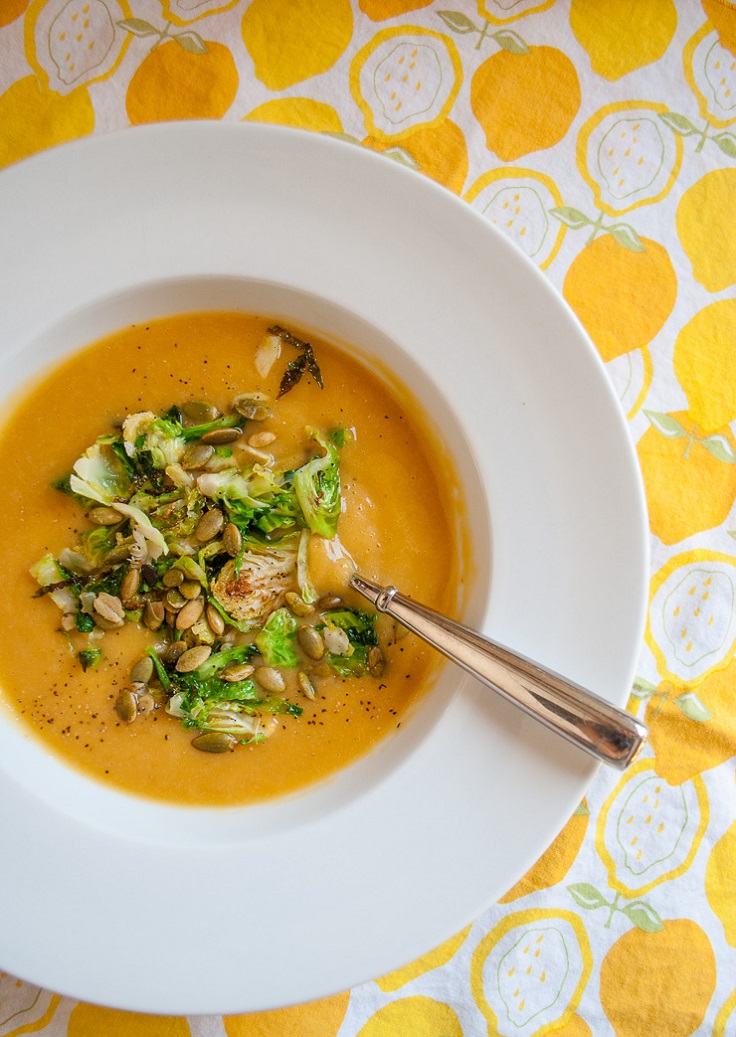 via merrimentdesign.com
And now it's time to pay a little attention to soups. This cauliflower soup is combined with brussel sprouts. To prepare it, you need cauliflower, vegetable broth, kosher salt, brussel sprouts, olive oil, roasted dried pepitas (pumpkin seeds) and ground pepper. Boil the cauliflower until it gets tender when you stick it with a fork. Put the cauliflower in a blender until the soup is smooth and next prepare the topping. Cook the sprouts until they are browned and caramelized and sprinkle them with pumpkin seeds and black pepper.
7. Quinoa Fritters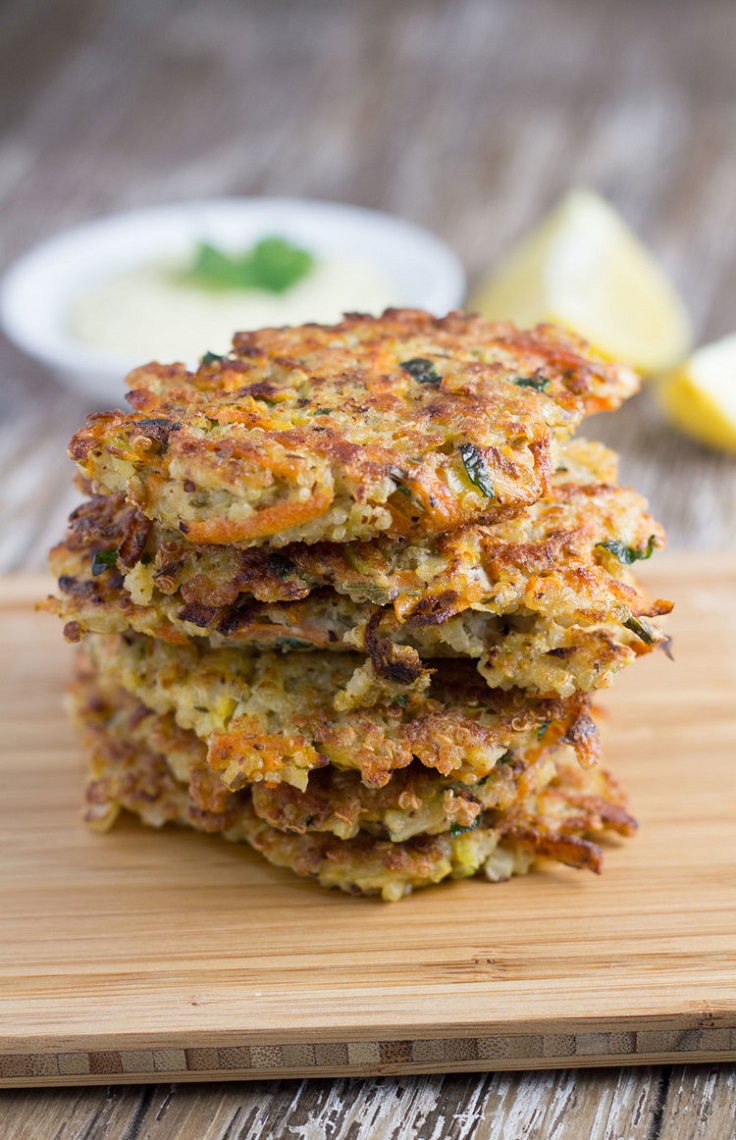 via becomingness.com.au
The quinoa fritters are not only good for lunch, but for breakfast too. To prepare the fritters, mix the needed fritter ingredients in a bowl and add some coconut oil to a medium fry pan on moderate heat. Scoop out some of the fritter mixture, place it in the pan and cook it on both sides until the fritter is brown and then drain on paper towel. For the garlic aioli sauce, blend the ingredients until they are fully combined and what you'll get is a creamy dipping sauce.
8. Seafood Paella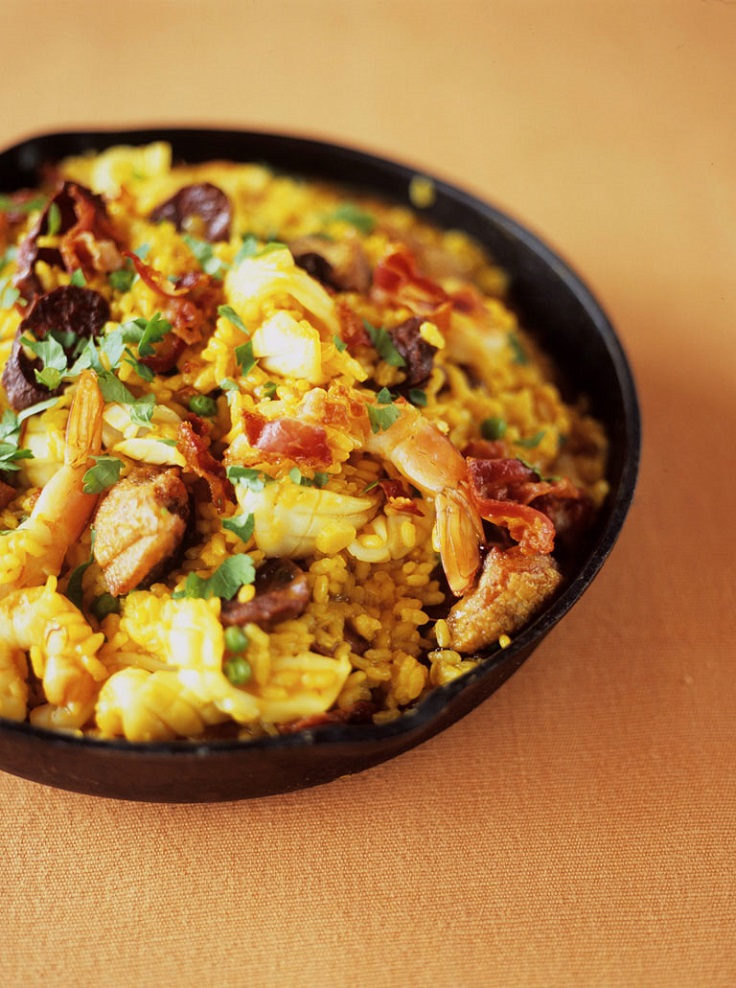 via jamieoliver.com
Eating seafood is always a good idea, especially if it includes prawns with chicken, chorizo and mussels. The meal is easy to prepare, but it will take time to be done, 1h and 25m to be precise, so it is the best to prepare this when you have more free time. The prawns and the chicken go really well with the rice and adding spice is not a bad thing to do, so choose the one you want and add it. Curry would fit fine. Also, parsley, rosemary and thyme are always good idea.
9. Avocado Tuna Boats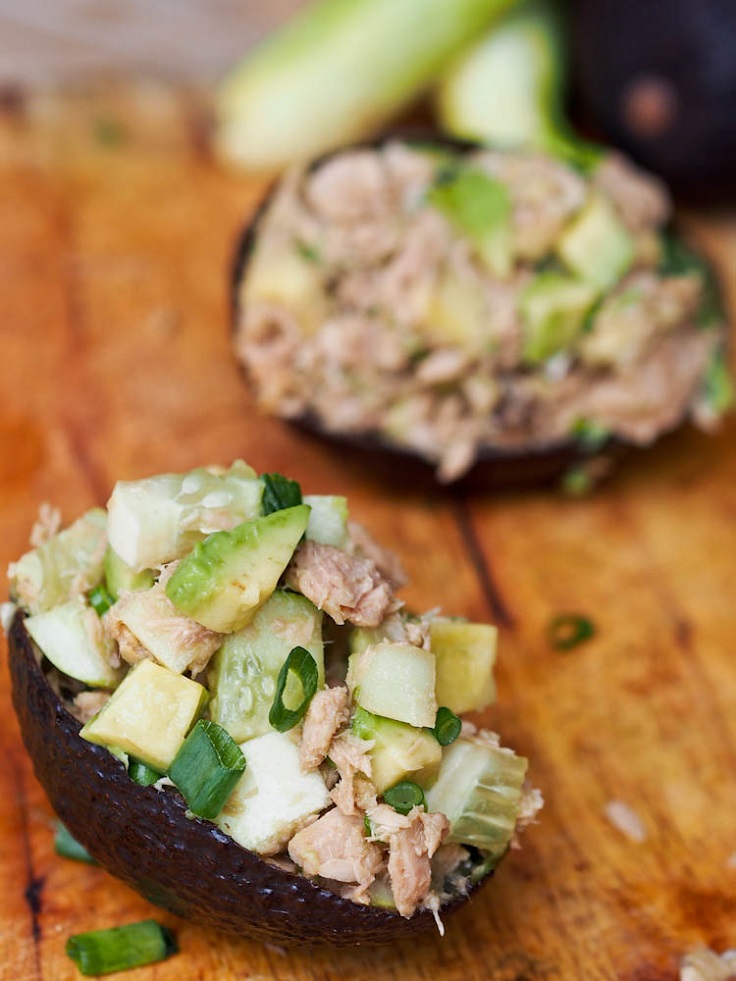 via avocadopesto.com
This gluten free and dairy free lunch meal is a good choice if you don't want to anything heave or something that takes a lot to prepare. These avocado tuna boats are done in 10 minutes. The recipe has a super tasty dressing. Mix and combine garlic, ginger, tamari, sesame oil, olive oil, and lime juice until the mixture is smooth, while in a bowl combine tuna, avocado, cucumber and green onions. Place the mixture on the avocado tuna boats and serve them.
10. Grilled Orange Chicken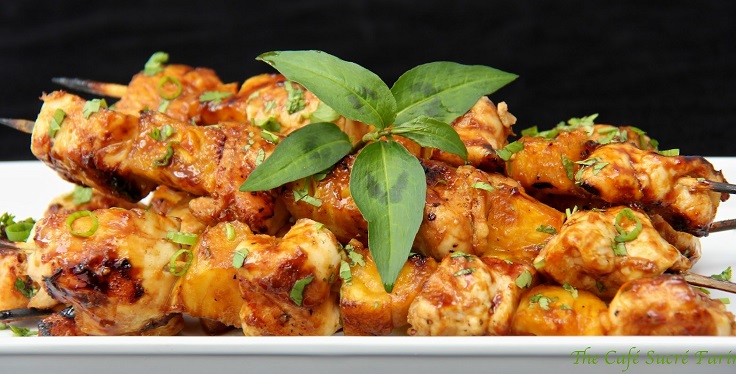 via rivertea.com
Only four ingredients are needed for the grilled orange chicken: chicken thighs, orange juice, sesame seeds, honey. For the sauce, mix well the orange juice, the sesame seeds and the honey and add the chicken pieces in the sauce to marinate for 20 minutes. Meanwhile, preheat grill to medium – high and when the chicken is ready, divide it onto skewers. Grill them on each side until the chicken is well grilled and serve them like that, or you can add potatoes, rice or salad alongside.