Living in an apartment is lovely, and it has many own advantages. Still, one disadvantage makes people live there to dream about a new house – a garden, a miraculous place, perfect for spending free time for relaxation or having a barbecue with friends!
But it's not all lost when you live in an apartment, because the terrace is an outdoor space you can decorate in the way you want. Even if it's small, you can always transform it into your little personal haven to read books, drink coffee, or spend time with your loved ones.
For all of you who live in a small apartment with even smaller balconies, we've created a great list with ten inspiring decor ideas that will make your tiny outdoor space a comfortable area you'll adore. Check out our suggestion and find your inspiration here!
A Little Piece of Heaven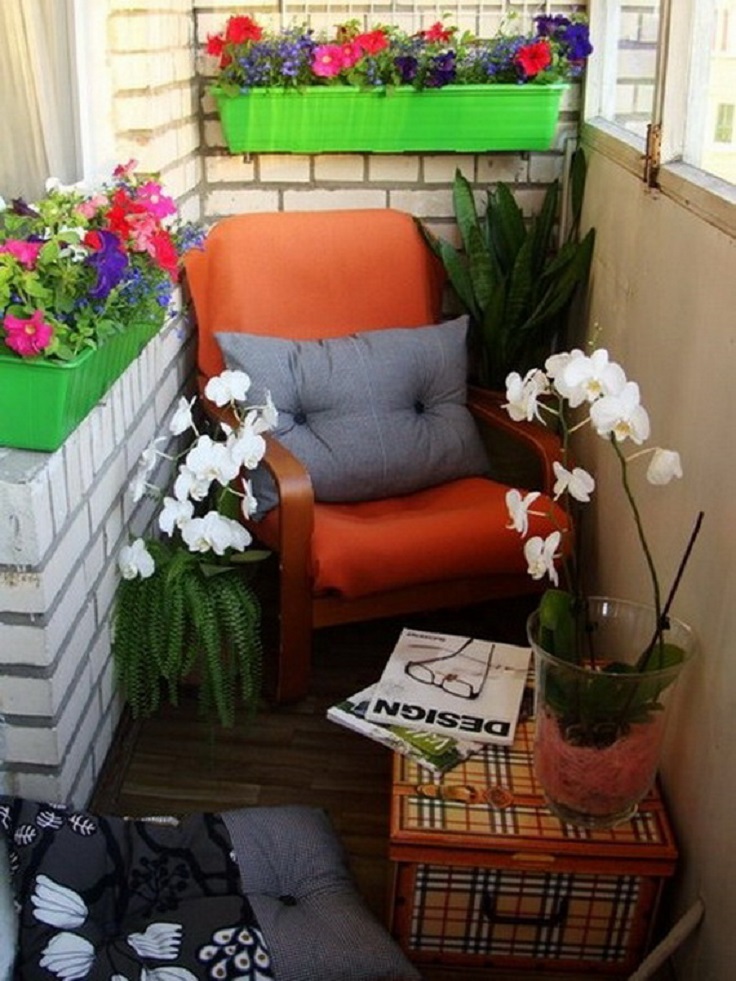 via stylisheve.com
We're starting the countdown with a real piece of heaven. Look at that cute balcony where every item has its place, and all the colors are successfully incorporated into space. To get this homey look use some old piece of furniture from your home and make a little makeover if needed. A dose of flowers is always welcomed!
An Intimate Nook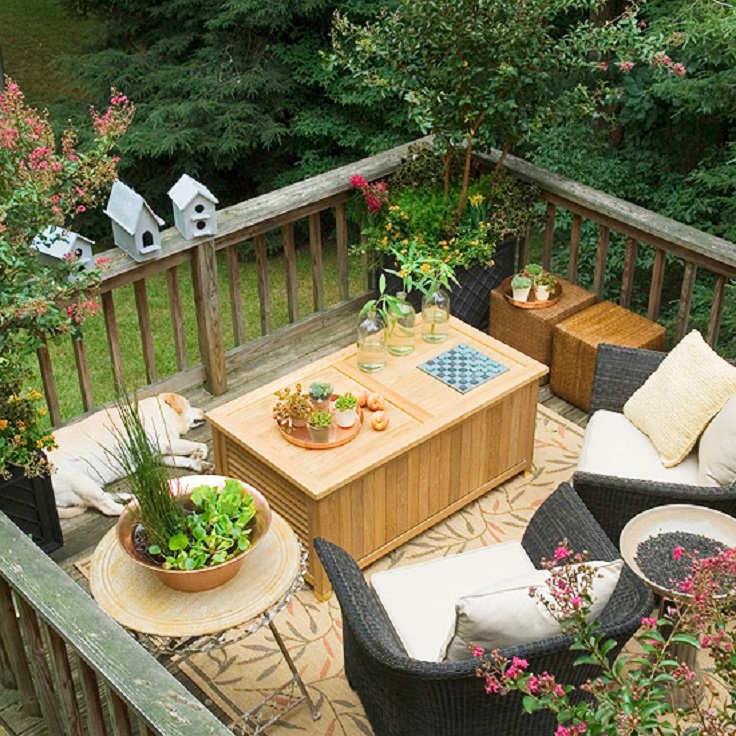 via bhg.com
The second idea is elegant, and it's real proof that wood is always a good choice for any decor. This time it's used for a small balcony that looks elegant and sophisticated. If your balcony is smaller than the one from the picture above, use just a few furniture pieces that will be perfectly adapted in the spice!
A Flower – Power Decor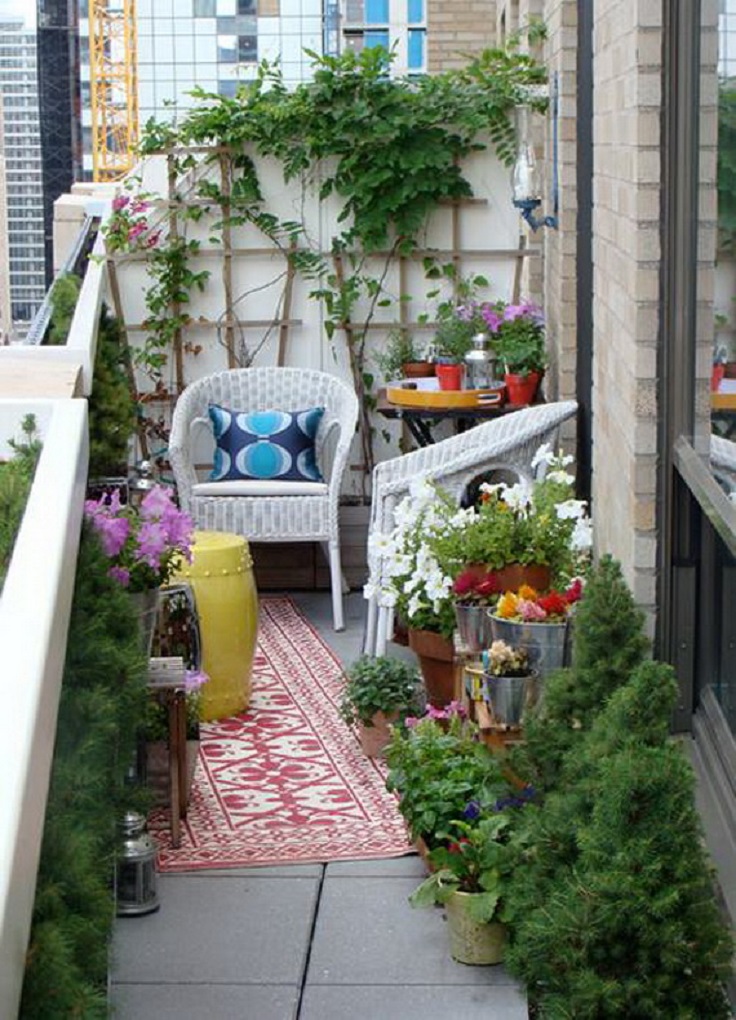 via stylisheve.com
Flowers are a powerful weapon that gives life even to the smallest of places, and home designers know how to use them! This balcony is little and tiny, but you can't notice that because there are flowers everywhere, even to the impossible locations!
Quaint and Cozy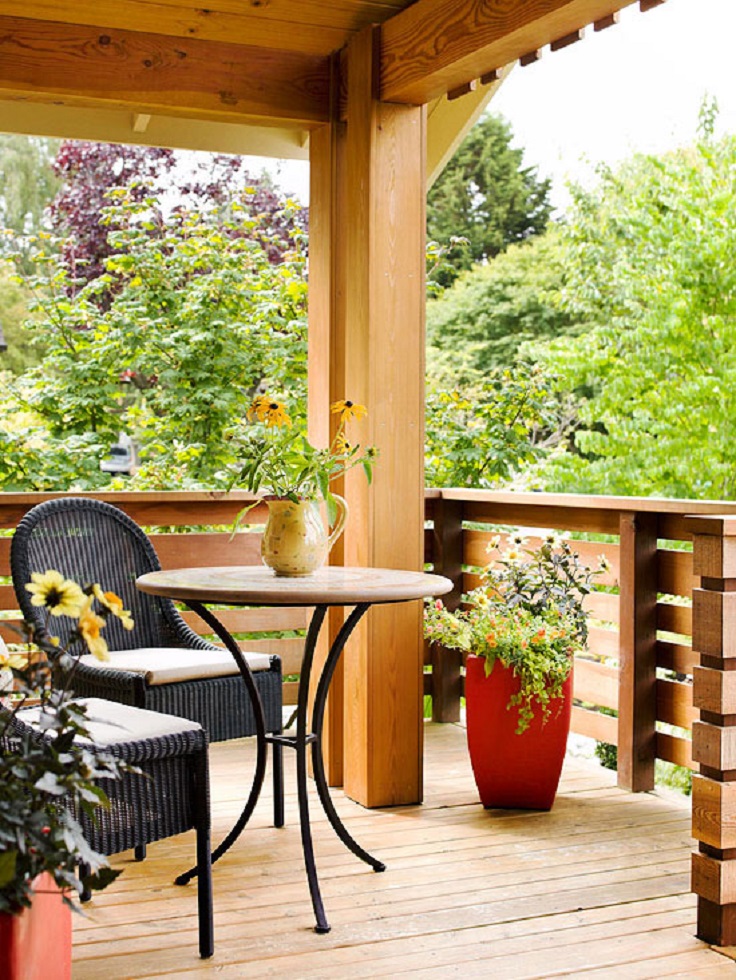 via bhg.com
When you have a miniature balcony, and you want to use it well, then all you need is a small table and a few chairs where you can enjoy your meals with people you love and care or you can relax with a cup of tea!
Slim Style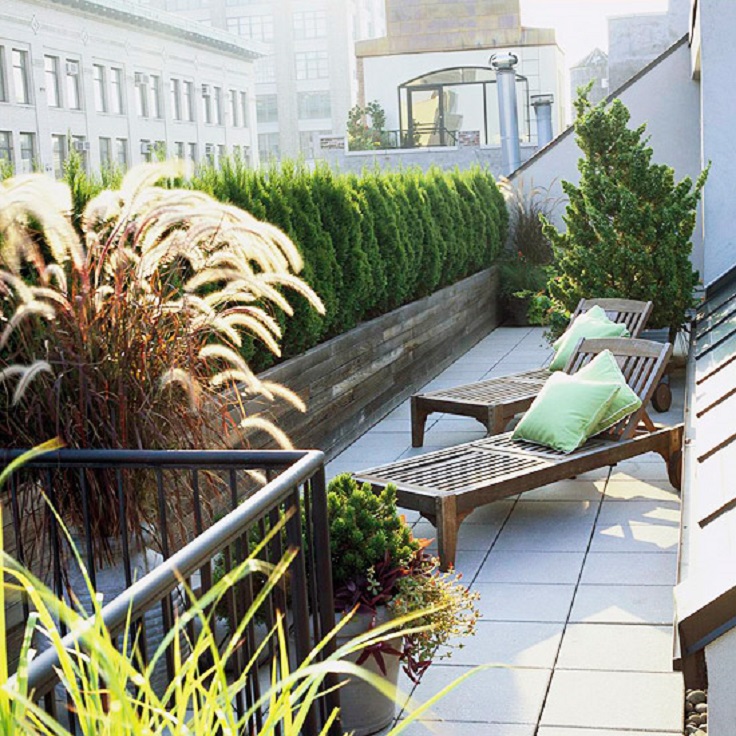 via bhg.com
If you have a terrace in a slim style long, but big you can use the whole space by placing some sunbeds where you'll lie in the sun for the whole day while reading a great magazine. You can make your terrace more private by using some tall green plants!
Tidy and Cute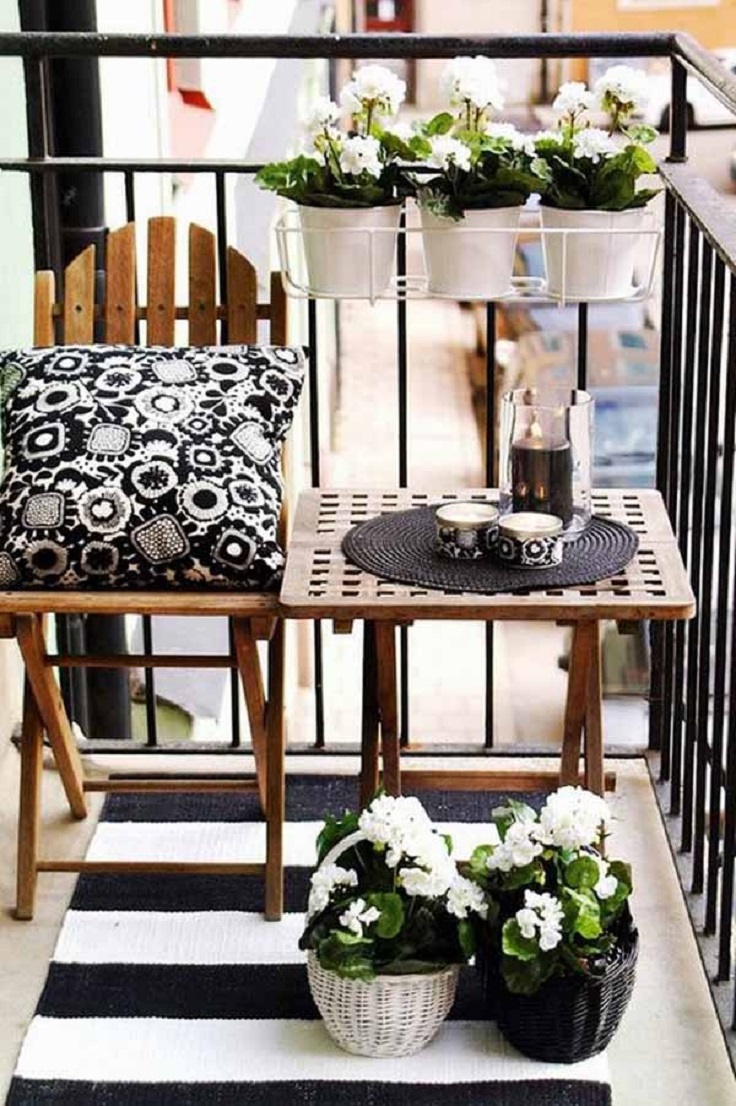 When you have a compact terrace, try not to create a mess there; keep it tidy and clean, like the idea from the picture above. The colors are greatly combined and create a beautiful outdoor, and you'll enjoy spending your days there!
Colorful Outdoor Decor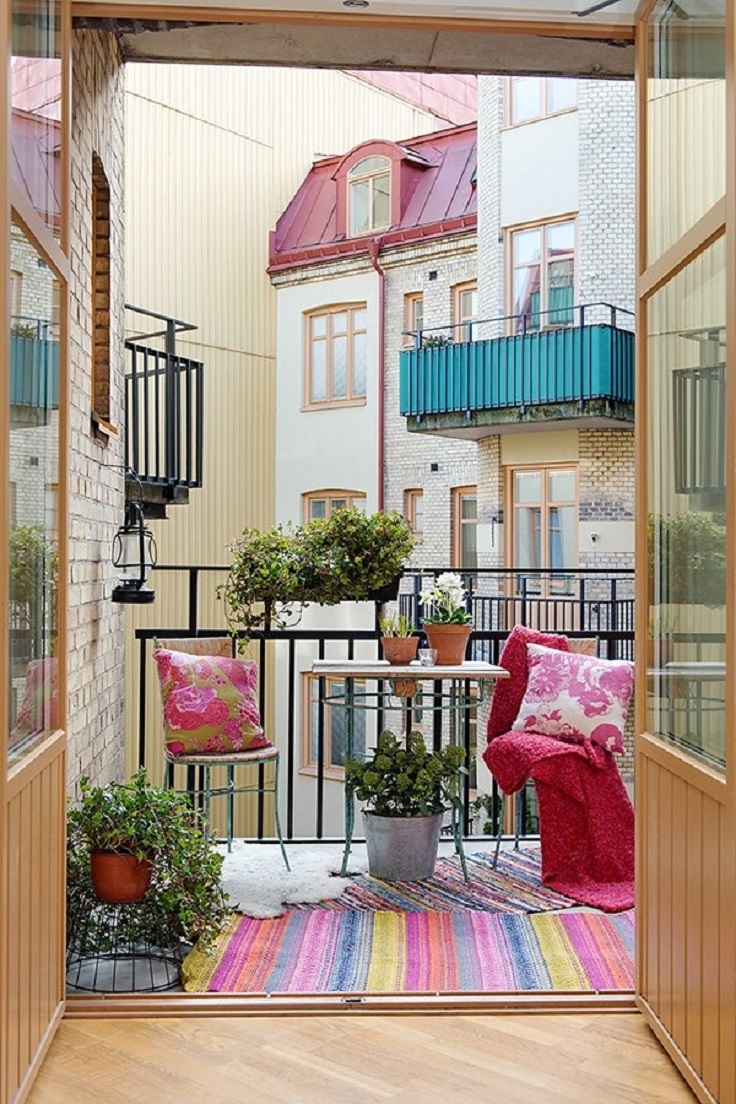 via onekindesign.com
Add a lot of colors and shades on your balcony, so no one will see that actually, your balcony is one cute small box! Decorate it with pillows and blankets in pink, purple and blue colors! The result is dangerously pretty outdoor!
Compact Terrace Decor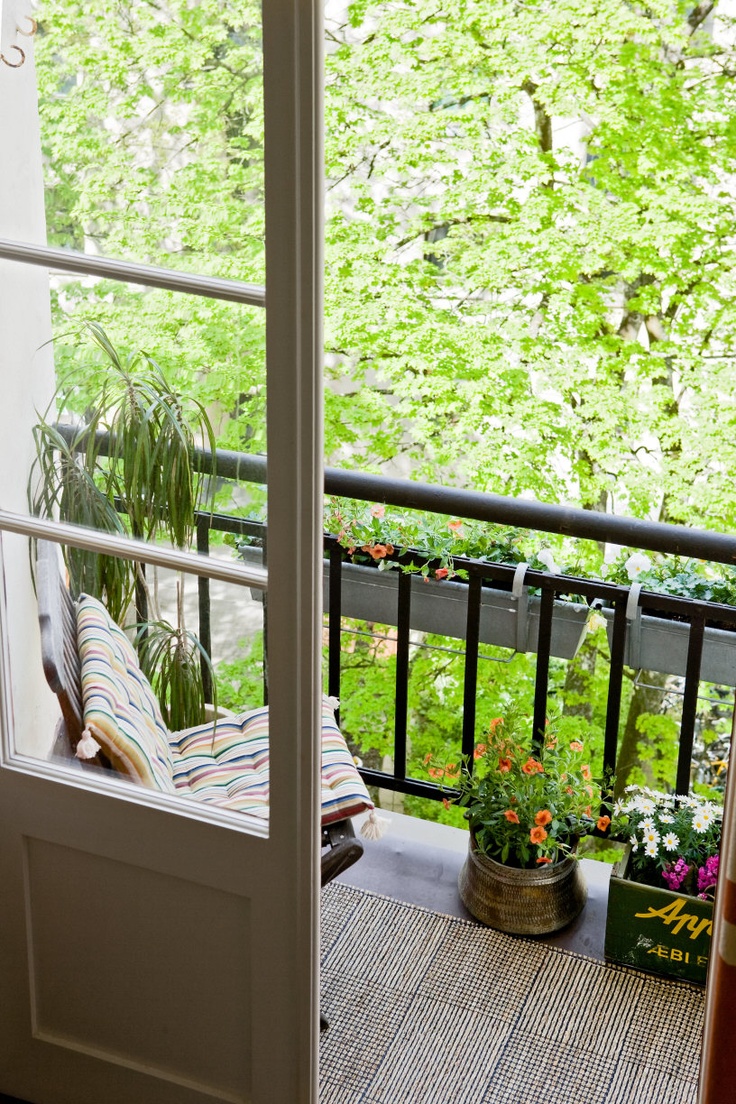 via decophotoblog.blogspot.com.ar
Is this the smallest terrace in the world?! It probably is, but it's nicely embellished, and it has just enough space for one chair, few planter boxes, and sometimes that's all you need! However, you'll love it!
Miniature, but Perfect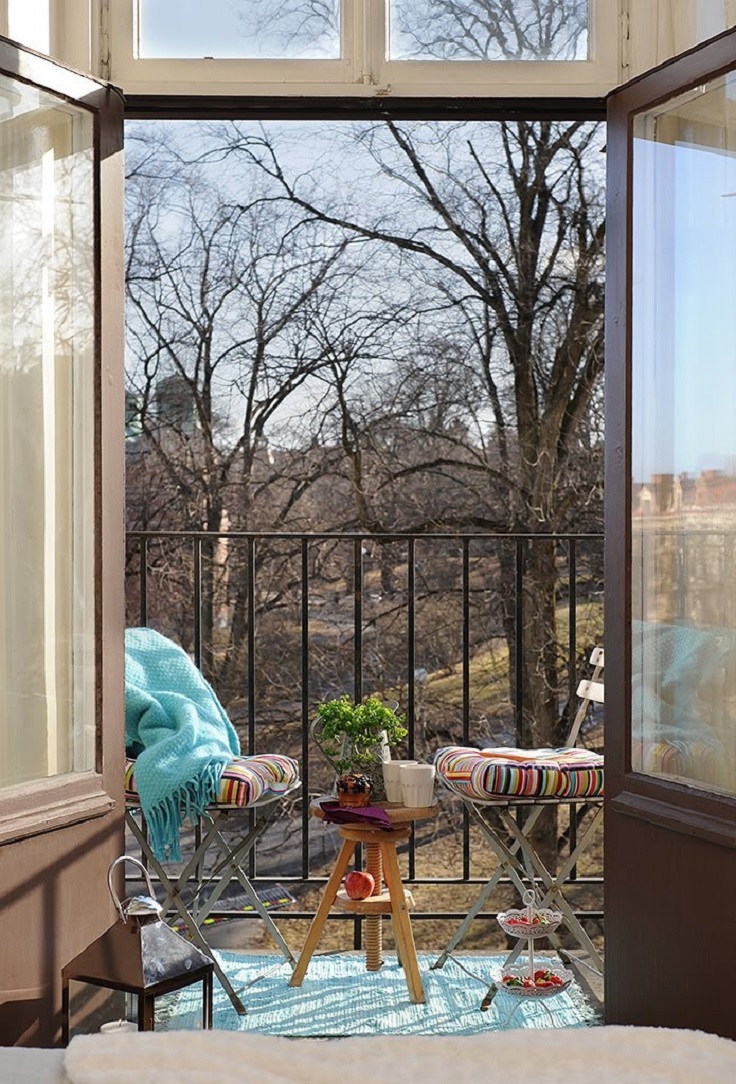 via pinterest.com
There are many reasons why this balcony is so wonderful. First, chairs are just the right thing for any terrace. Second, that small table is actually a chair, which is just enough for few cups of coffee or tea, and third, the blue blanket and carpet are adding a great dose of cosines and perfection!
Romantic Balcony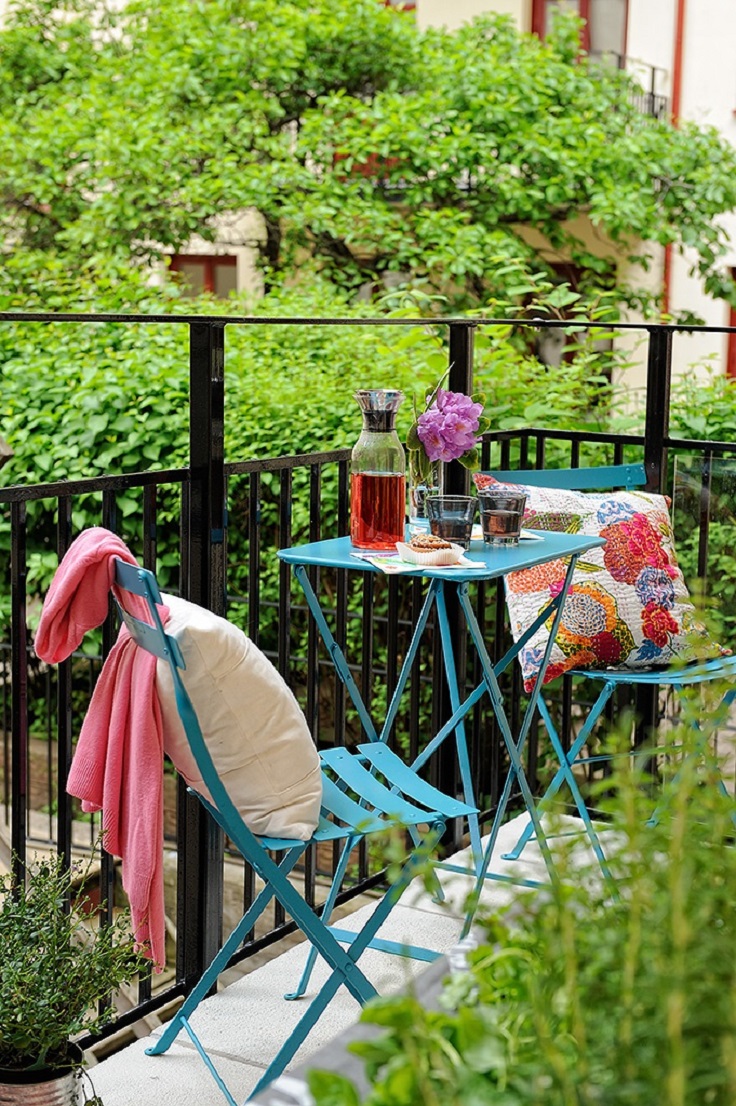 via aleshkak.com
This balcony speaks with romance and is just the perfect place for dating with your other half. A few candles and a bottle of great red wine will create a lovely atmosphere during the night!