Kilims are flat-woven carpets or rugs produced from the Balkans to Pakistan. They are handmade with naturally dyed wool, and making a kilim is a highly regarded folk art.
These rugs have recently become very popular and trendy in Western home decor. They add contrast and definition to the spaces with their beautiful, unique pattern and bright color. That explains why they are making a huge comeback lately. By adding a kilim rug or a kilim pillow to the interior, you can completely change a room's character, creating a central focus and bringing a space together.
If you're looking for something with rich color and pattern, look no further than these beautiful hand-woven kilim rugs.
We have selected some beautiful examples that will surely inspire you and make you fall in love with kilim rugs.
1. Kilim Rug in the Kitchen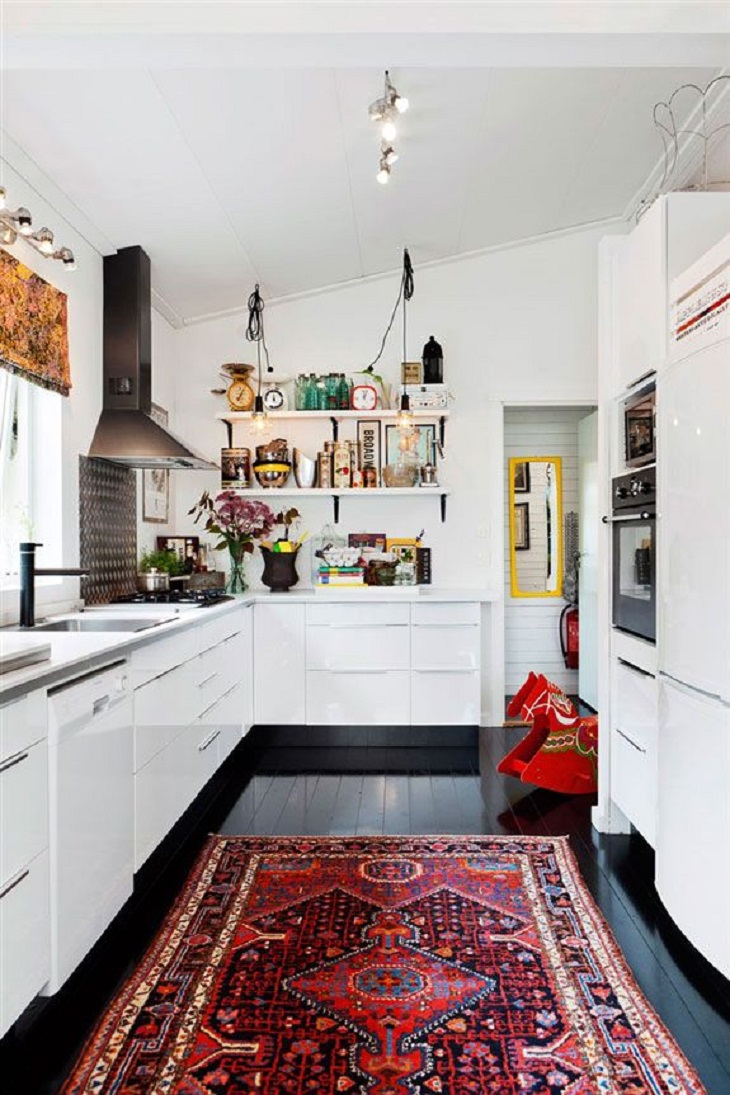 These beautiful kilim rugs add color to a rather neutral-toned kitchen. Besides, they add a little cushioning in a space where you spend most of the time on your feet, and kitchen tiles can be cold as well. If you are concerned that it will be difficult to keep clean, choose a rug with a dark background, they are great at hiding spots.
2. Under The Coffee Table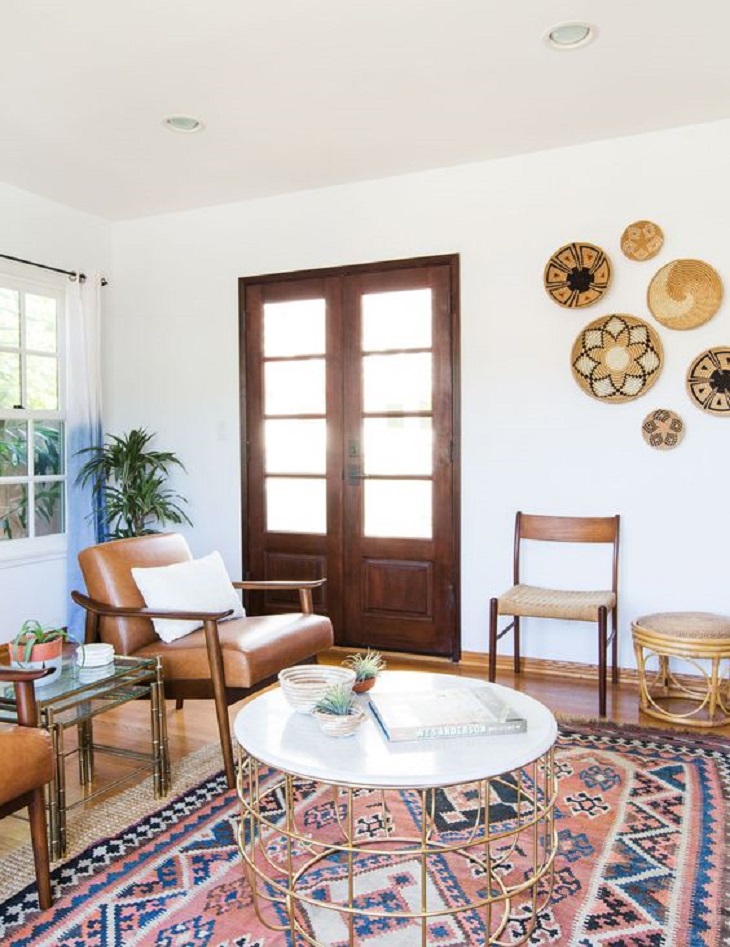 via www.ruemag.com
With a large kilim rug, you can make a statement under a coffee table. A well-chosen rug can make a huge difference to your living room's atmosphere, and it will make the space feel instantly complete. Alternatively, a jute rug can be placed underneath to fill in space. Add some accessories, like here the sisal baskets on the wall.
3. Layered Kilim Rugs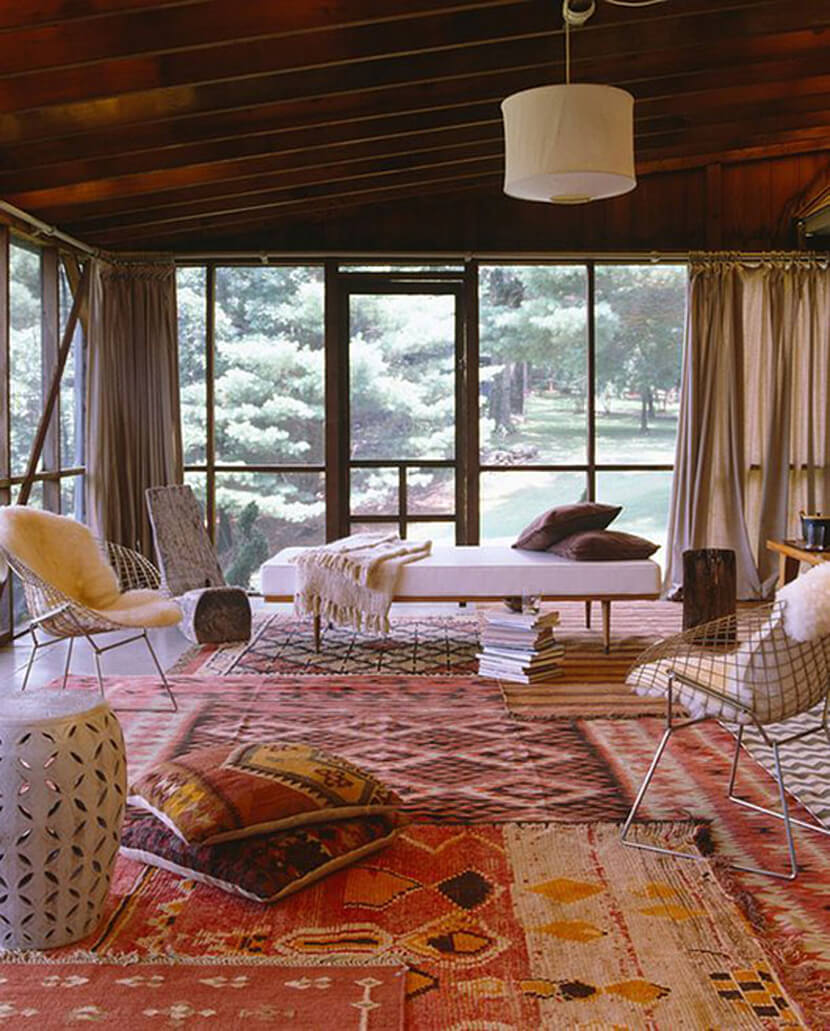 You can create a unique atmosphere in a living area by layering three, four kilim rugs. You can use it even more if you have a large space. The important rule is to use rugs that are in the same color family but have different patterns. All the kilim rugs should be visually similar in weight, and the styles of the rugs should also match.
4. Kilim for the Bathroom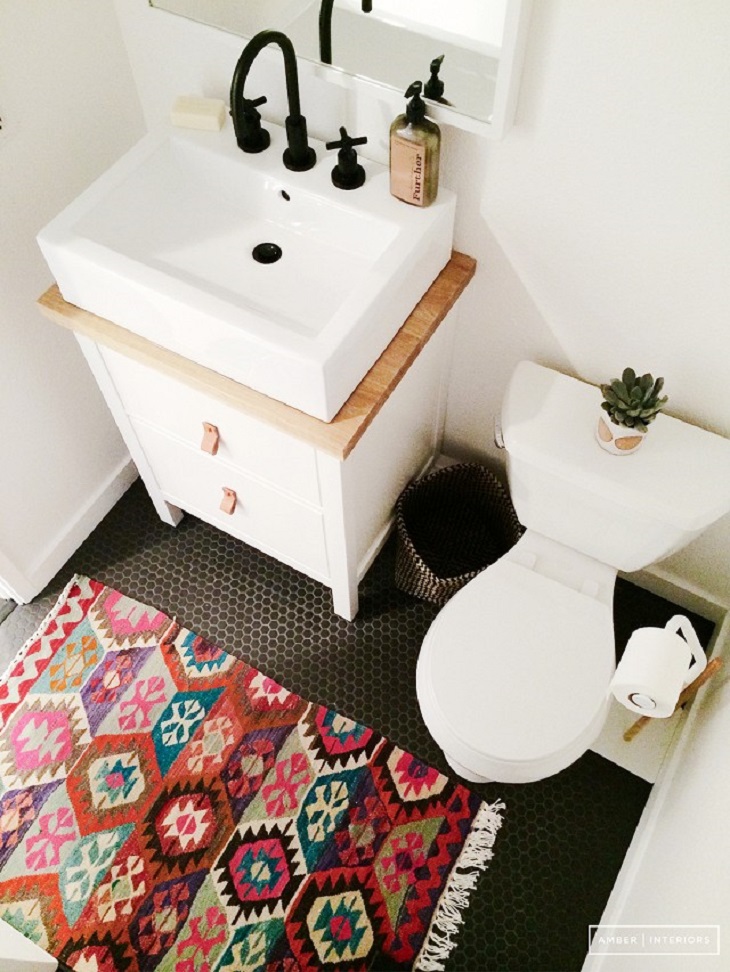 Small rooms are not easy to decorate because they feel cramped when filled with too many things. It is important to keep the space tidy and clutter-free. However, if you still want to decorate it, a vivid rug such as kilim can easily give personality even to a small space.
5. DIY Project – Kilim Bench
via www.ehow.com
Do you have an old bench that needs a little upgrade? Here is a fantastic DIY project that is quick and easy; you only have to pick a kilim rug with a pattern and colors that match your interior. The vibrant kilim fabric will definitely brighten up your space, whether it is the bedroom or living room. This bench will be a cool statement piece.
6. Hang a Kilim Rug on the Wall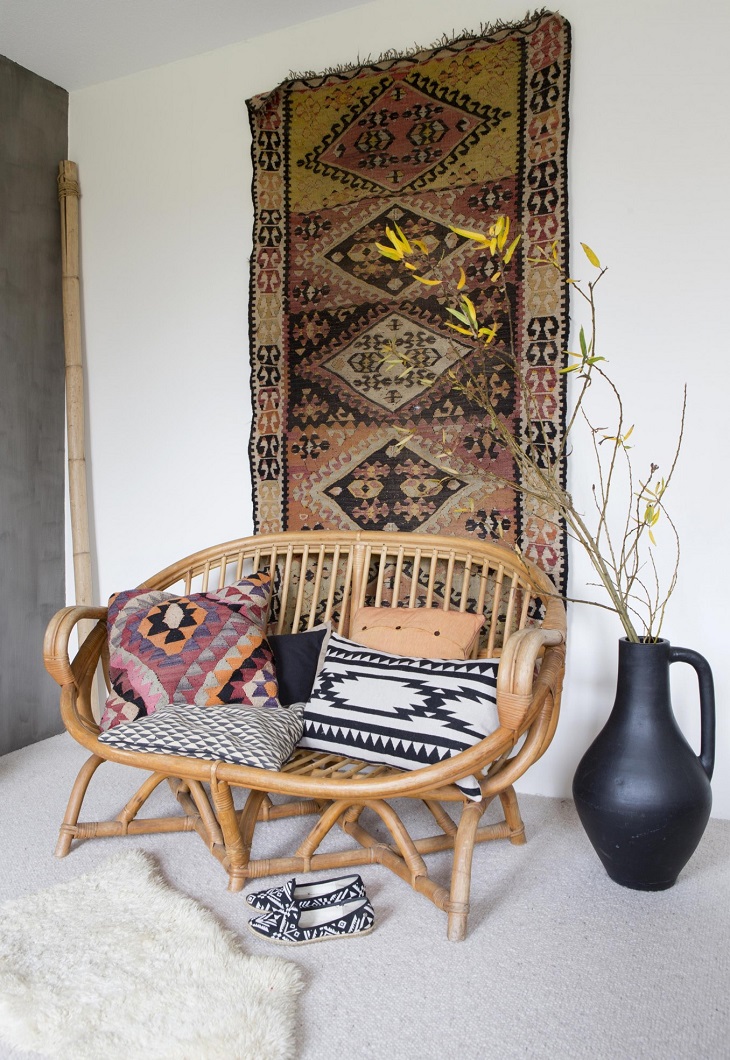 Kilim rugs make a beautiful wall decoration as well. The bright colors and handmade patterns look super stylish in a neutral environment. Hang a vintage kilim rug behind your bed to replace a headboard and bring the space together.
7. Dining Room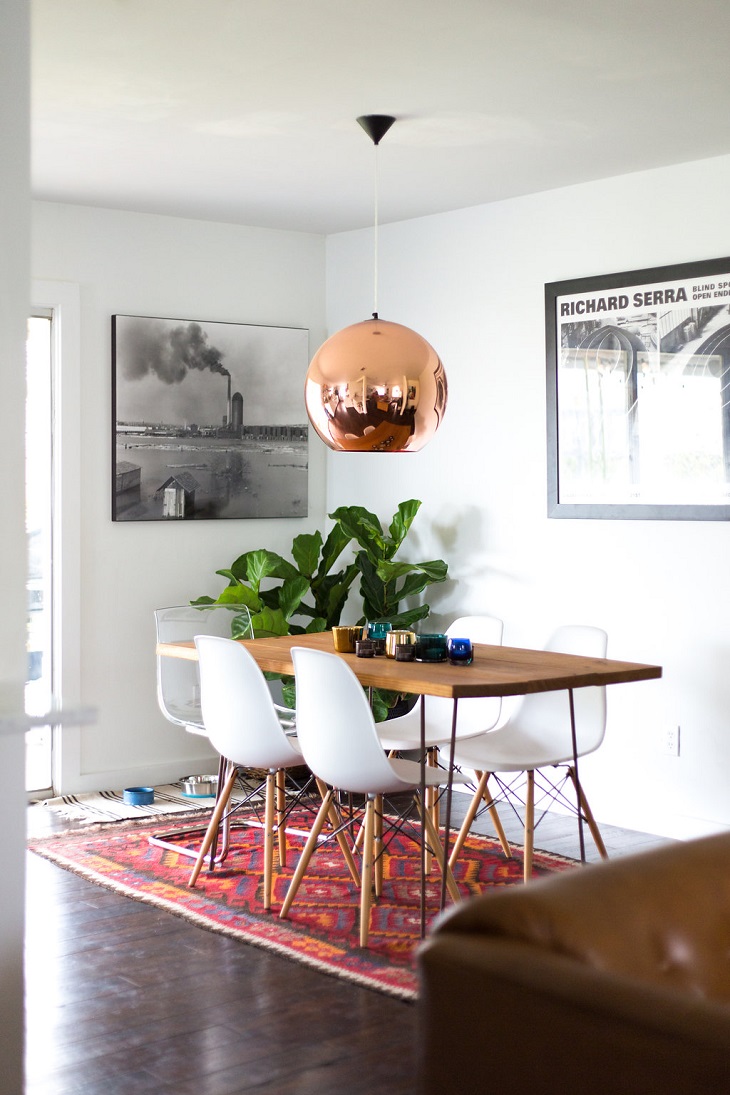 We totally fell in love with this jaw-dropping dining room look! The vivid red-orange kilim rug is in perfect contrast with the white chairs and the dark wooden floor. Check out that modern bronze copper shade pendant light! This contemporary piece adds style to the interior!
8. Kilim Floor Pillows
via honestlywtf.com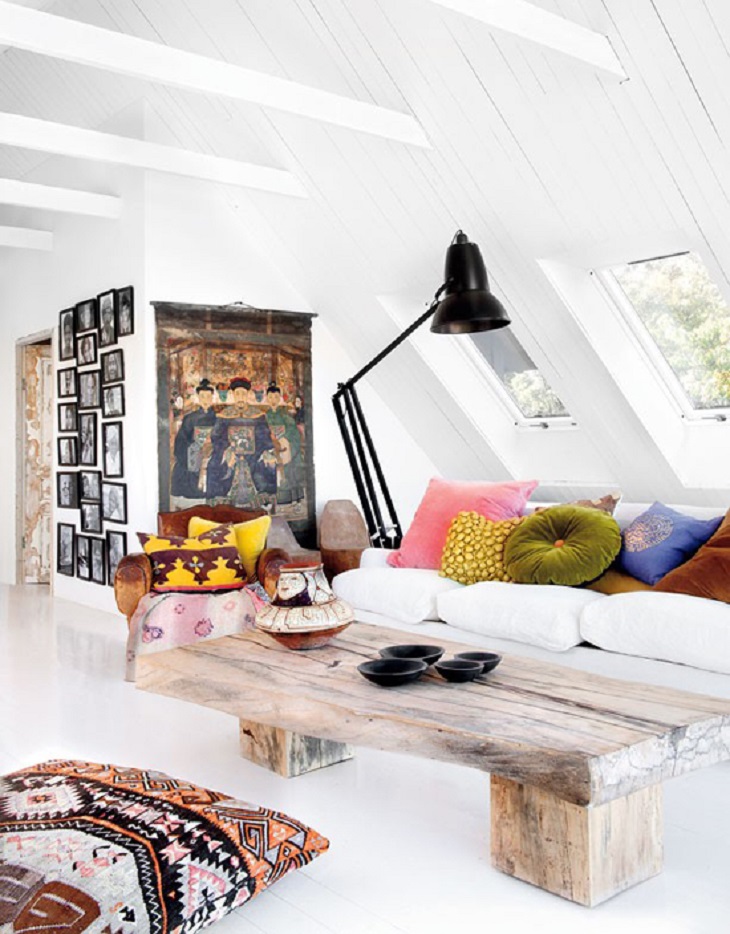 via www.themarionhousebook.com
Floor pillows make a living room more relaxed and intimate. They are inviting and provide great extra seating, plus you can easily move them around. Kilim pillows look beautiful on wooden floors and create a bohemian atmosphere.
9. Kilim for the Bedroom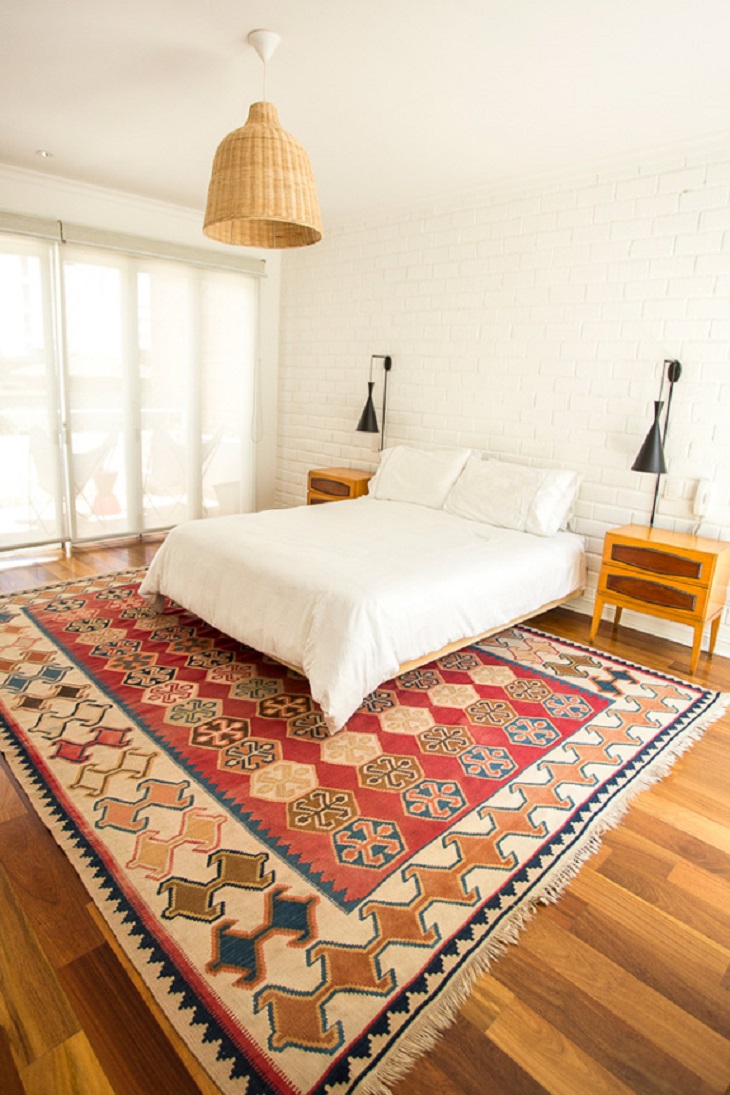 With a large kilim rug, you can completely change the character of your bedroom. This rug's beautiful color and pattern create a central focus and make the room warm and welcoming. You can experiment with a smaller rug spread in front of the bed if you have a smaller space.
10. Kilim Pillows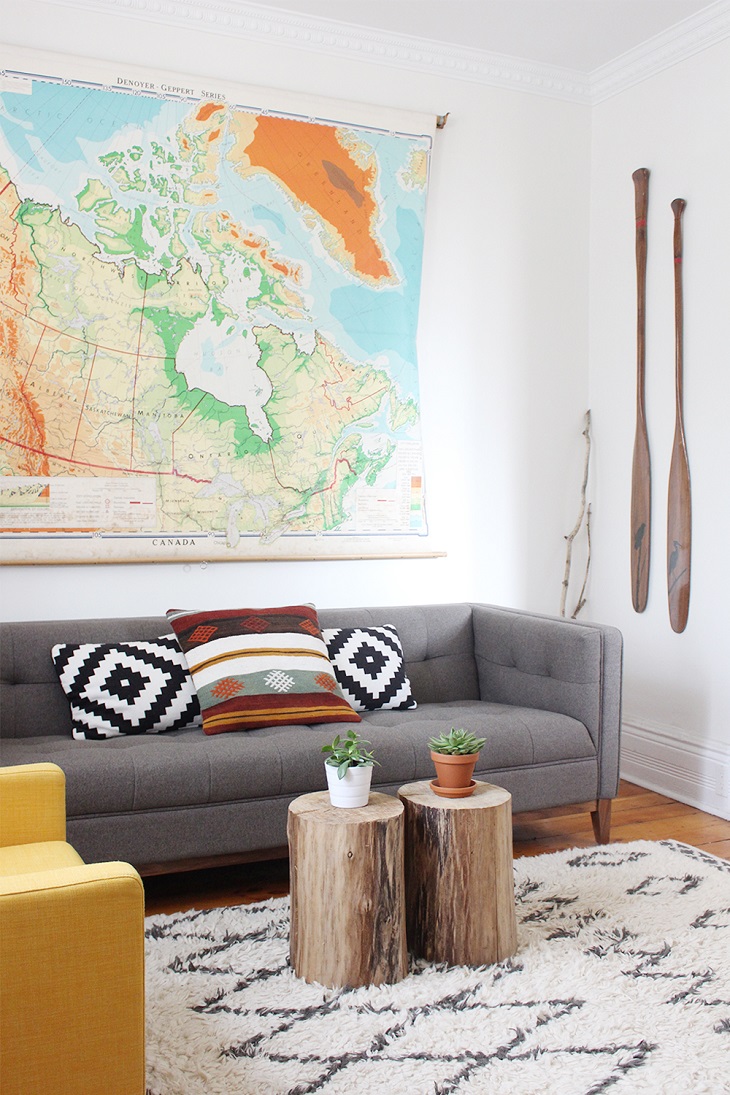 via www.stylebee.ca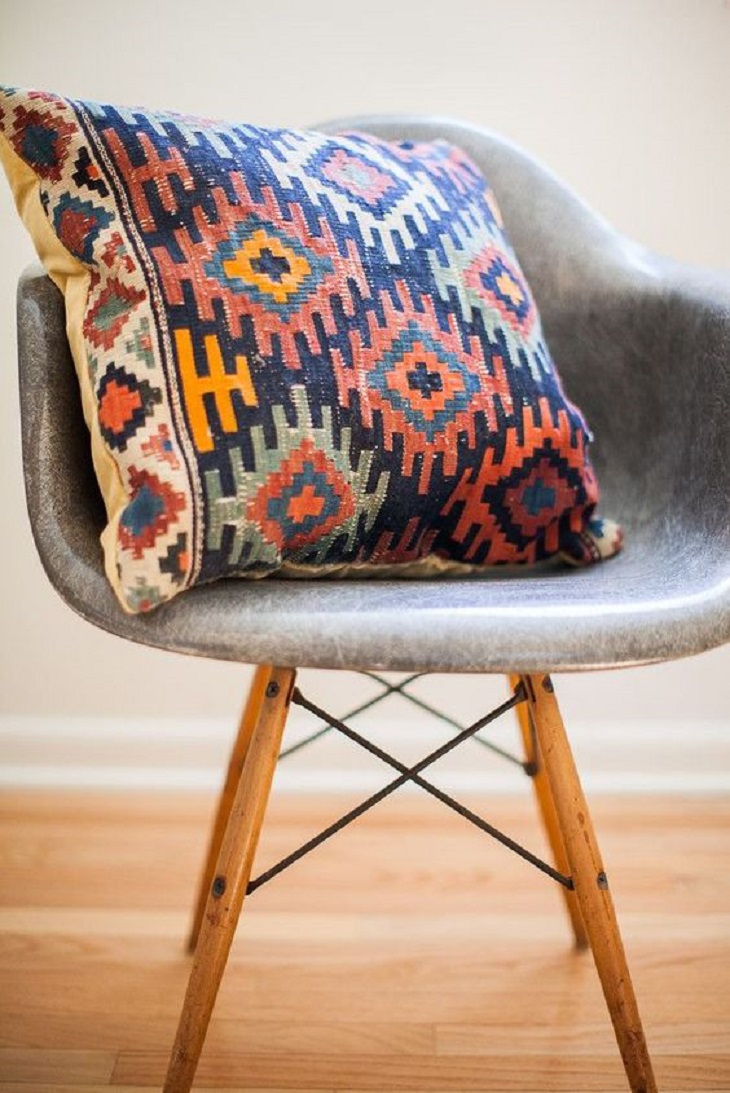 via oldnewhouse.com
With a few small details, you can make a big impact on a space. The colorful kilim pillows add a jolt of interest, especially when mixed with graphic prints. It gives depth and life to space. Add some plants, succulents, or cacti in pretty pots, and the room will feel complete.