Polaroids can serve more than just reminding us of certain memories. Displaying them can be quite creative, so if you consider yourself as the creative type of person, read along. In this article we present you how you can decorate your home with different kinds of photo display. Some of them you may have already seen, as the heart made of more Polaroid pictures, and some like the Polaroid clock may be new to you. So, go ahead and see what we have prepared for you. Choose your favorite, or even favorites, and refresh your home with new spring decorations.
1. Polaroid Heart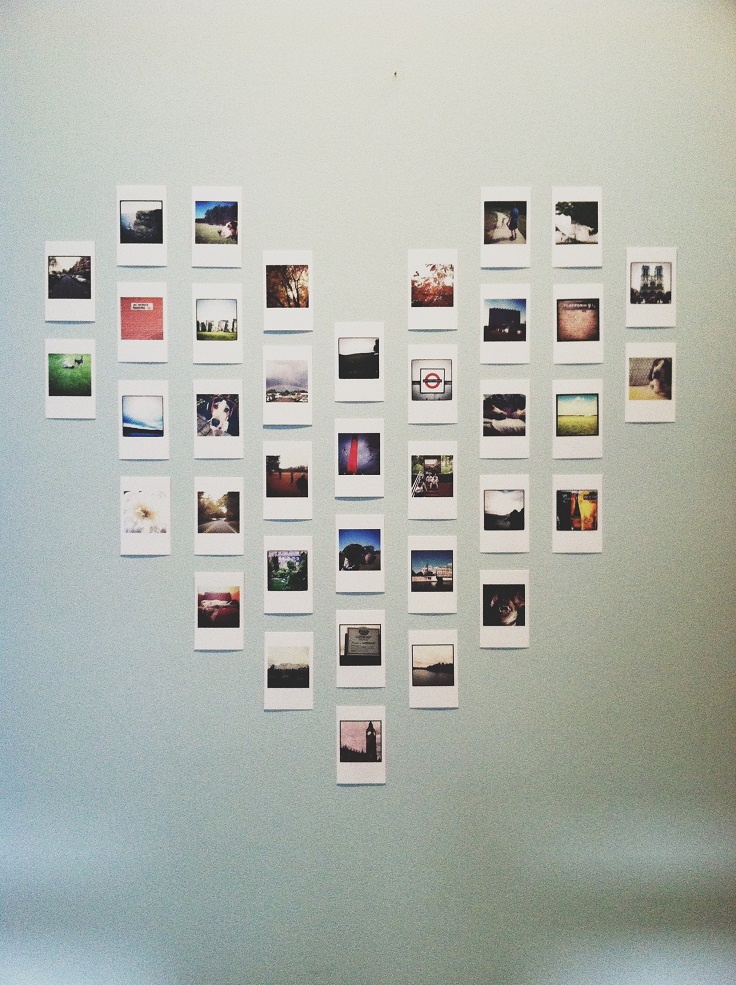 via ourearleylife.wordpress.com
You probably have seen this heart many times on social media, and no matter what, we can not argue – it's adorable. To make your own heart of memories, all you need is a painter's tape. Start with arranging the photos in the middle row first, and then move up. After few minutes and tens of picture, your result should look as the one on the picture. This is a really nice way to keep your dear memories close to you.
2. Polaroid Display Decor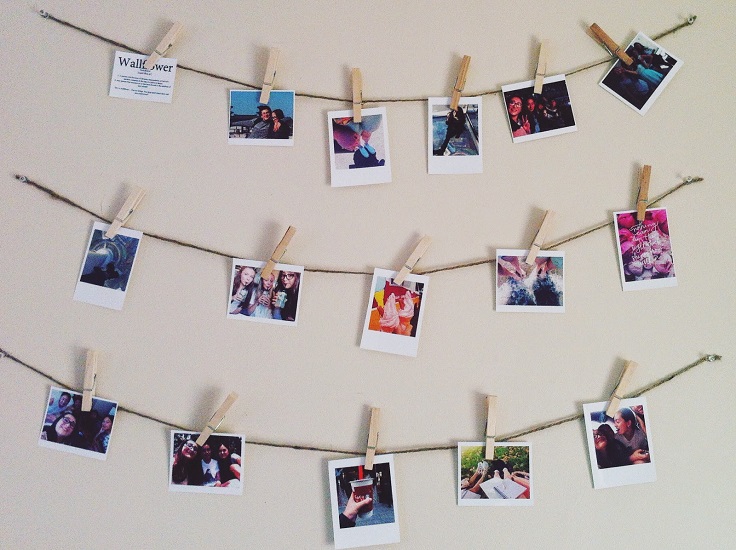 via cindyscraftycraves.blogspot.mk
Another photo display that has been present on social media too many times. No matter how simple it looks, it still has some charm in it. Besides the Polaroids, you need wooden clothes pegs, twine and thumb tacks. Measure the twine into three pieces with the same length and pin each side to the wall. Leave some slack, pin the other side and do this to all two pieces of string. Last step is to peg the polaroids onto the string and you're done.
3. Polaroid O'Clock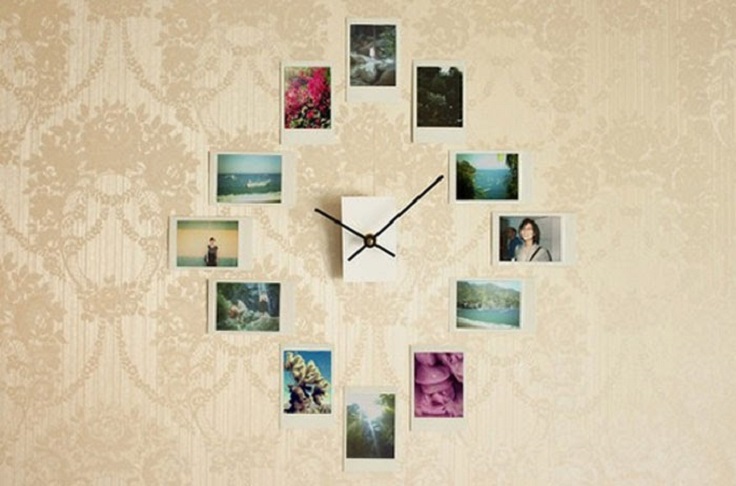 via content.photojojo.com
Nothing difficult, and yet so creative! For this project, you will need a clock similar to the one pictured. Use painter's tape to attach the polaroids on the wall, placing them around the clock. With photo display like this, not remembering the good times every time you look at the clock, will be impossible!
4. Pinterest-Inspired Project for Polaroid Style Picture Display
via callmekatie.com
Here's another idea on how to use your polaroids as wall decoration. You need washi tape in black, white and colorful (or whatever color that suits you), kitty tape dispenser, twine, mini clothes pegs and a frame. Start with the twine – tie it to the frame on the place where you want your polaroids, and also tie a little bit at the top, so that you can later hang it. Cover the frame with washi tape and pin the pictures to the twine.
5. Geometric Polaroid Display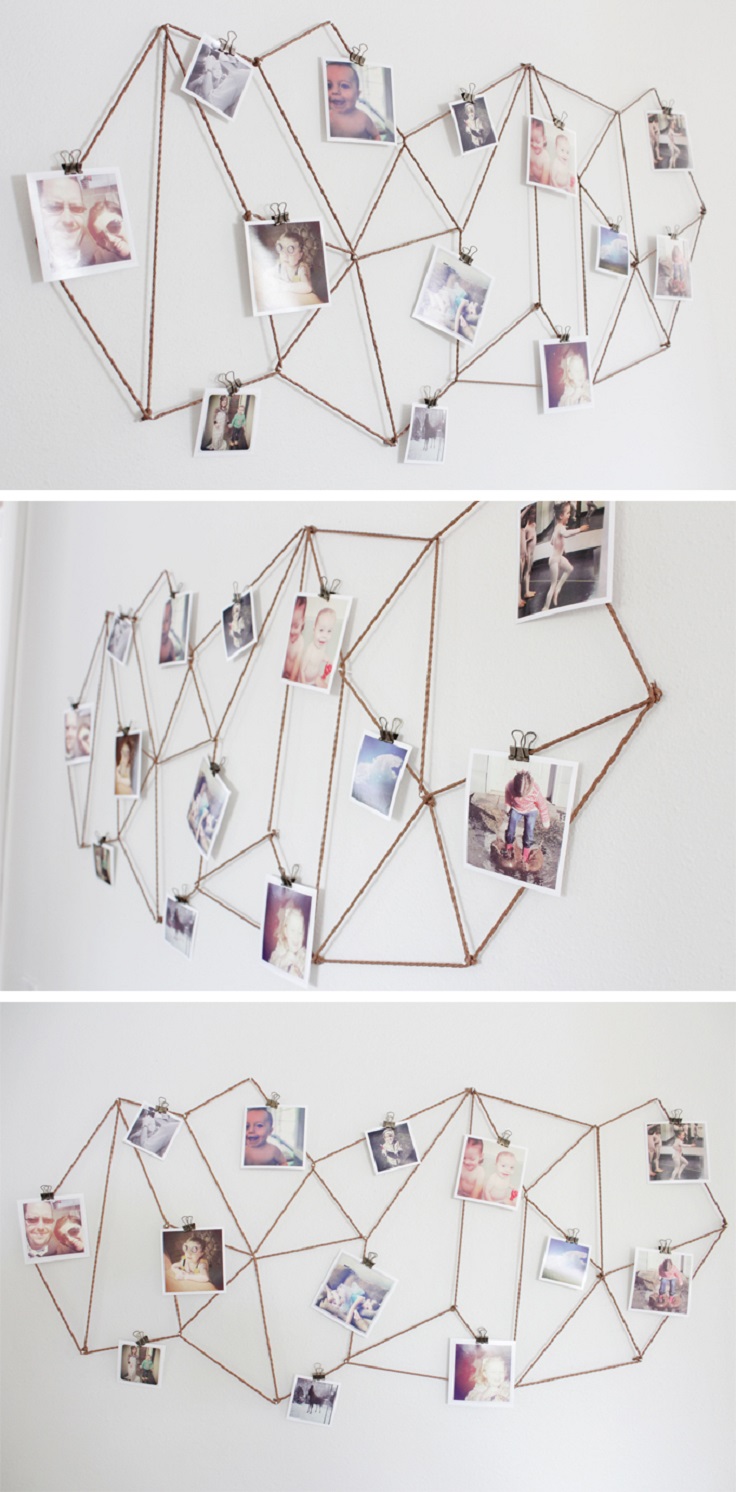 via thecaldwellproject.com
If you're feel like a little bit more experimenting with the DIY projects, here's an idea for you. It's really important that you make the right sketch for this holder. Find the place where you want it to be and put a nail everywhere where there is a turn or cross sections. Draw if you need to, and then erase. Plan carefully the directions and when you're done with that – action! Use braided rope or stretchy jewelry cord and put up each section. Use binder clips to attach the photos and you're done!
6. DIY Photo Holder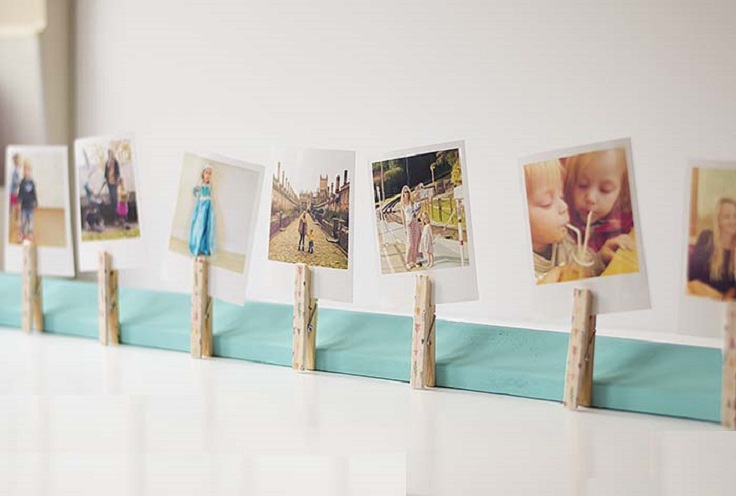 via letsdosomethingcrafty.com
For this lovely project you need washi tape, wooden pegs, piece of wood, glue gun and paint. Paint the piece of wood with paint and let it dry. In the meantime, cover the wooden pegs with washi tape and when the piece of wooden is all dried up, attach the pegs to it with glue. You can go on and decorate the wood more if you like to, or you can just keep it simple and attach the polaroids.
7. Arrow Picture Mobile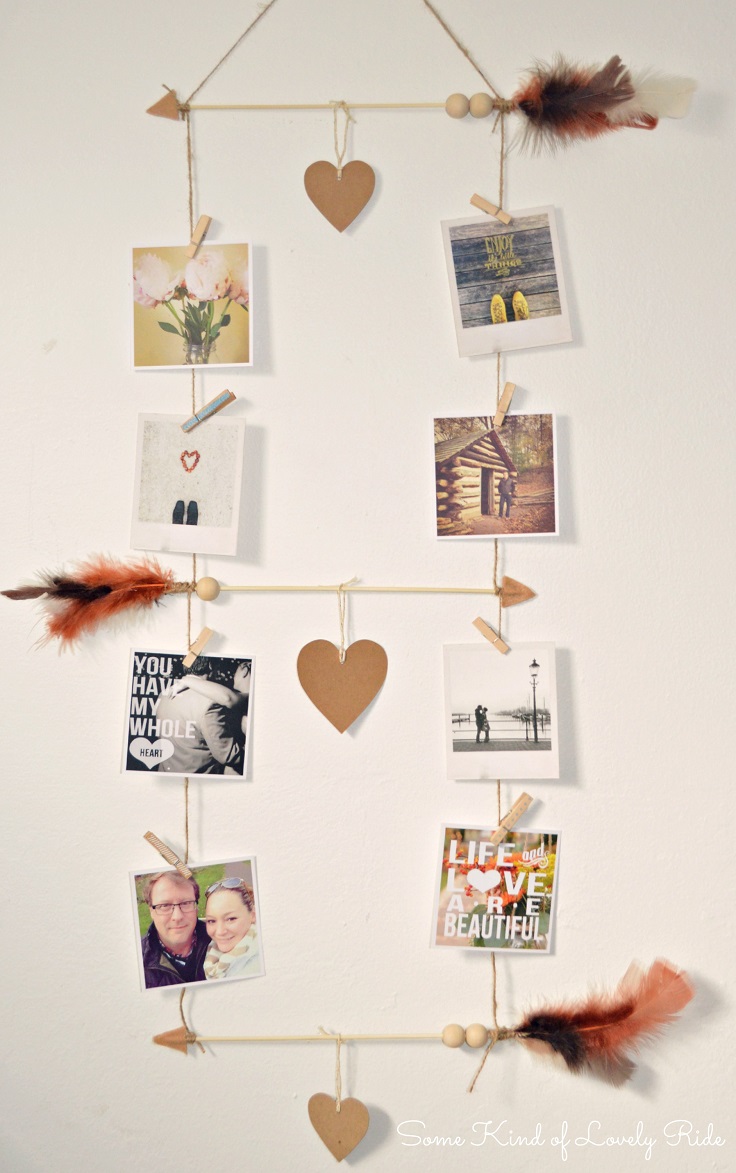 via somekindoflovelyride.com
How creative is this project? We absolutely loved it! You need wooden skewers, feathers, twine, felt, wooden beads and kraft paper heart gift tags. To make an arrow, tie three feathers on one end of the skewers with twine. Thread beads onto the dowel and glue felt triangles to the other side of the skewer. Make three arrows and connect them with long pieces of twine. After this, you can use clippers to attach the photos and tie the heart tags.
8. Easy Polaroid Display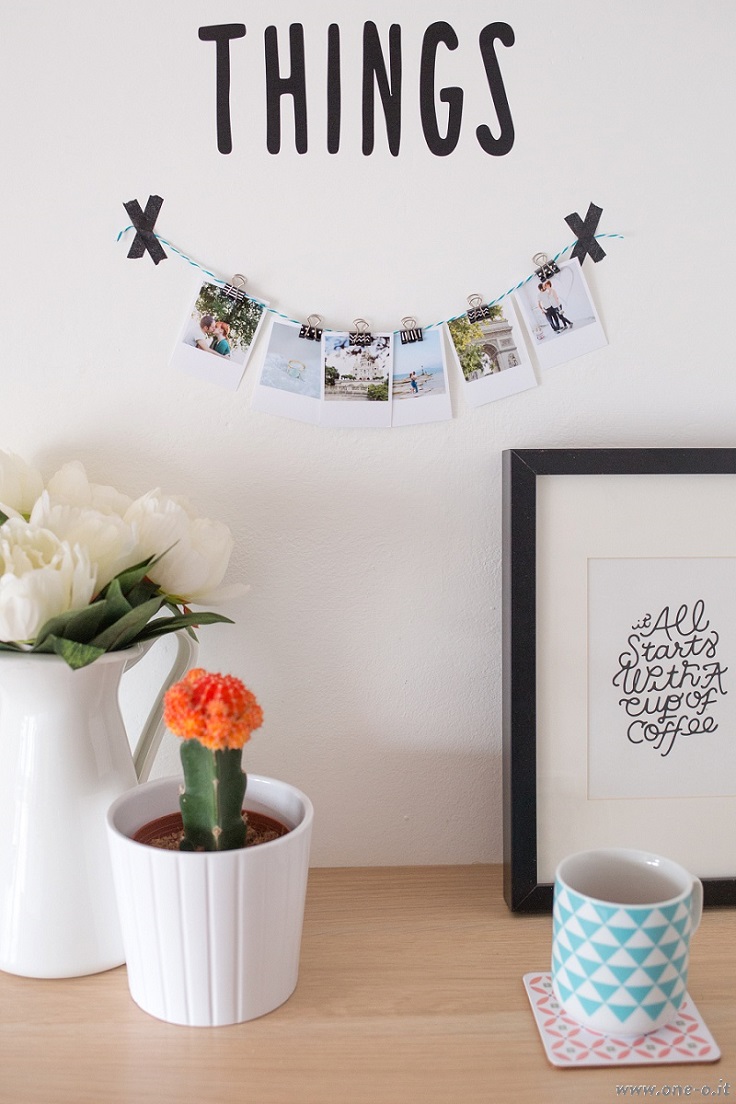 via one-o.it
In this project, it's all about the binder clips. You can keep them simple as they are, or you can use white sharpie and decorate them a bit. After you finish your decorating, cut a piece of baker's twine and tape it to the wall. You can tape it with X as pictured. Next step is attaching the polaroids with the binder clips and cut off the remaining twine.
9. Bohemian-Inspired Branch Picture Hanger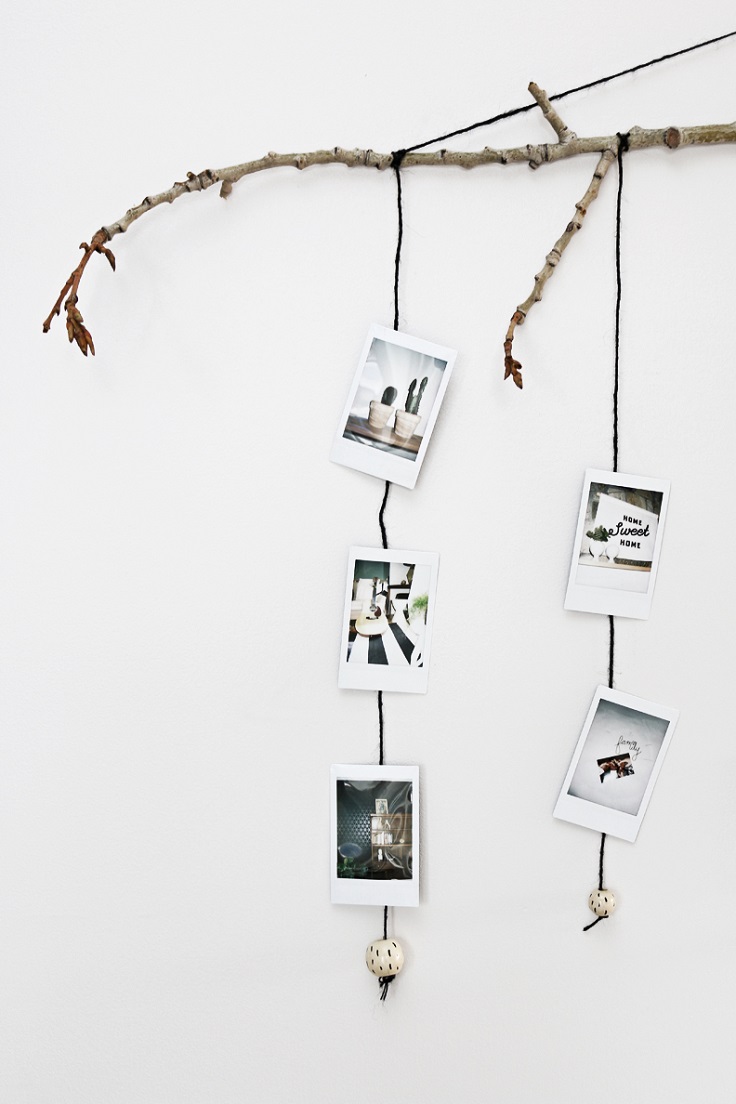 via hellolidy.com
Boho decorations always have something in themselves that make us want to re – organize our house in all things boho! For this project, you need twine, branch, tape and scissors. Tie the twine from one end of the branch to the other, so that you can hang it later. Cut four as pictures or as many you want lengths of twine to hang freely from the branch and there attach your photos. Another way to decorate more is by adding beads on the ends of the hanging twines and paint them.
10. Fringe Photo Garland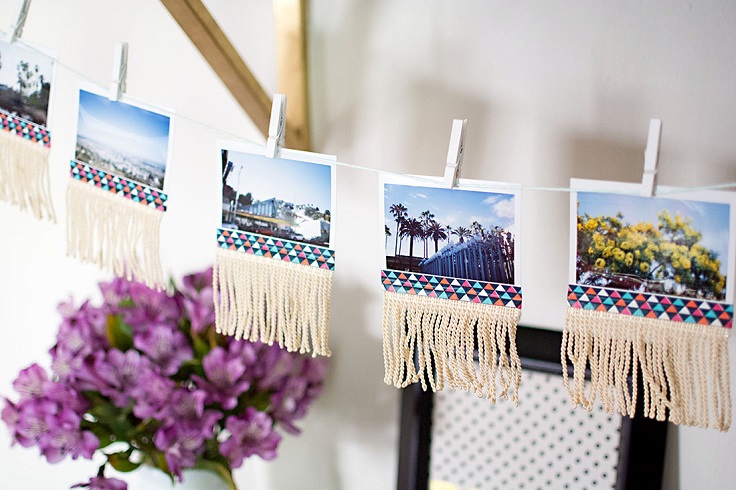 via blog.potterybarn.com
Yes, you can use fringe as your photo display decoration! It makes it even more creative and fun to have around. You need fringe trim, scissors, washi tape, yarn and clothespins. Measure the width of your polaroids and cut the fringe trim according to the measurement. Use washi tape to attach the fringe to the photos and then all you have to do is attach the polaroids with clothespins onto a long strand of yarn. Voila!