There is nothing that can compare to how chocolate can feel that delicious. Milk, dark, white, few bites or the whole row, no matter what kind or how much of a chocolate we are talking, a little indulgence is always welcomed! You can find thousands of recipes of cakes, tarts, pies, cookies and what not, but this time we offer you bars recipes. Most of them require the same ingredients: chocolate, caramel and peanuts, so if you love any of these, then you will certainly love the recipes as well. Bon appetit! 
1. No Bake Peanut Butter S'mores Bars
The good old S'mores combined with peanut butter and some chocolate topping! For the topping you need chocolate chips, butter, peanut butter, mini marshmallows, coarsely crushed whole sheet of Graham crackers and marshmallow bites. Melt chocolate chips and butter and add in the peanut butter. Add the chocolate mixture to the peanut butter crackers mixture you should previously make and sprinkle with marshmallow bites and graham crackers.
2. Chocolate Peanut Butter Bars
These bars are something similar to the previous S'mores post, just without the crackers and the marshmallows. What we really love about these bars (except that they are truly amazing) is that they are all ready in 15 minutes. Perfect for lazy, – I don't want to cook today – days, isn't? Oh, and you only need four ingredients: peanut butter, chocolate chips, butter and confectioner's sugar. It sounds and it really simple making these bars.
3. Seven Layer Oatmeal Chocolate Chip Cookie Bars
Yes, exactly – these bars include seven layers of delicious ingredients. First you make an oatmeal cookie crust, and then you begin the layering. Those layers are these, from the first one to start with up until the topping: shredded coconut, semi sweet chocolate chips, dark or milk chocolate chips, sweetened condensed milk, chopped cashews or peanuts and melted chocolate and butterscotch chips for drizzling.
4. Minty Chocolate Bars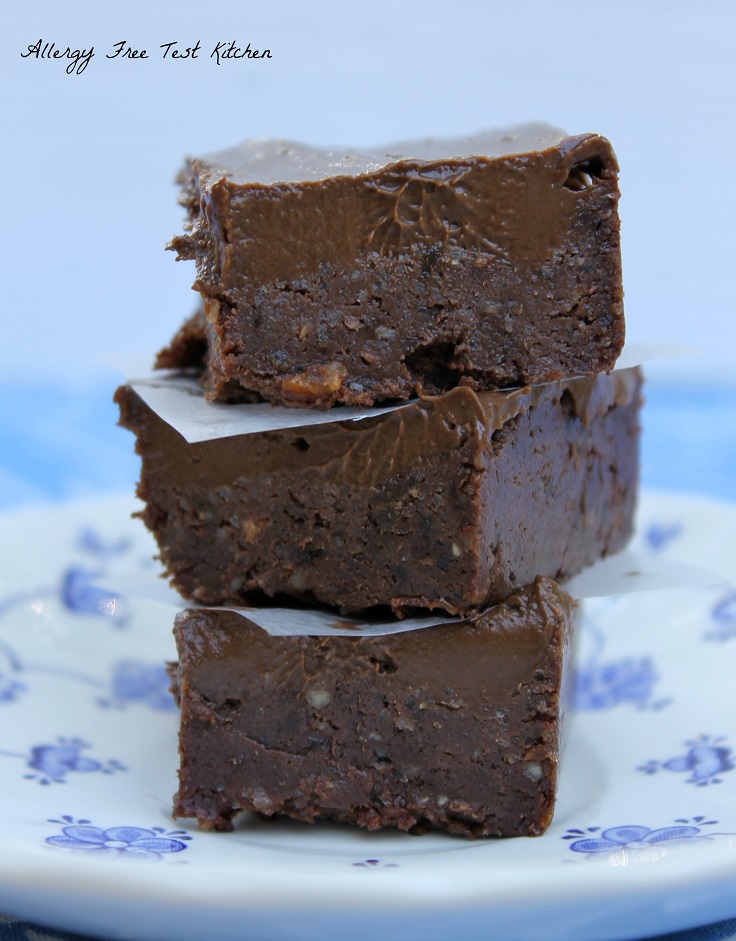 via allergyfreetestkitchen.com
To some this will be too much chocolate, but to others this is the ultimate chocolate experience. These bars taste something like fudge plus brownie combined. You need pecans or other nut, salt, dates, vanilla, avocados, cocoa powder, agave nectar and mint extract. When you'll be done with the cooking process, the bars should be in the fridge for three hours. After that, you can enjoy them as much as you want!
5. Nutella Ritz Bars
Nutella is truly one of the best dessert ingredients when it comes to chocolate desserts. In a blender, place the Ritz crackers (or any other by your choice) and pulse until they are well blended. Set them aside and melt butter in a microwave. Then, place the marshmallows in a microwave and coat with the melted butter. Stir both mixtures until the butter is fully incorporated. Next thing to add is Nutella, vanilla and milk, and stir until blended. Let the bars to cool for 2 – 4 hours.
6. S'Mores Bars
Again with the S'mores! It's not out fault is that delicious. In this recipe, the dough is made of mini marshmallows, semi – sweet chocolate chips, vanilla, brown sugar, butter, eggs, flour, baking powder and salt. For the topping you need milk chocolate candy bar, Graham cracker and marshmallows. The crust is really basic: just Graham crackers and butter. The preparing process is really simple!
7. Coconut Caramel Chocolate Bars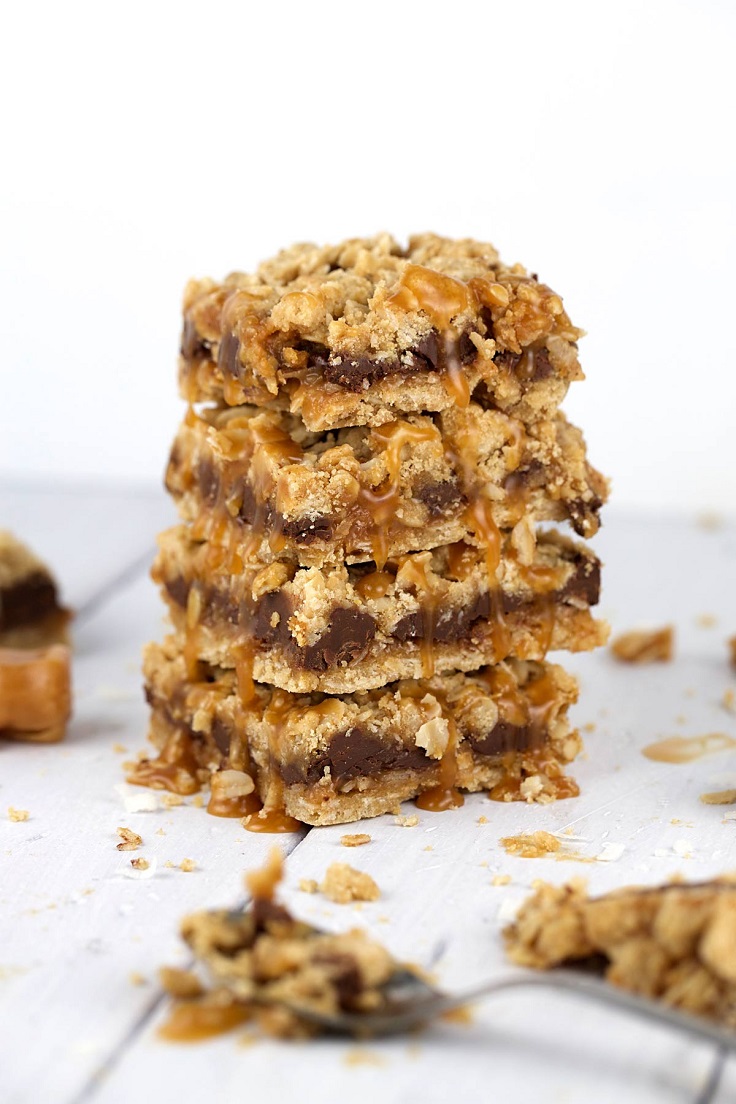 via jessicagavin.com
Chocolate, caramel, coconut! Isn't that enough to convince you to prepare these bars? Their have a crispy oatmeal cookie crust, a homemade caramel sauce, a generous amount of chocolate chips melted and sweetened coconut flakes that give out an amazing coconut aroma and taste. For topping, crumbled oatmeal brown sugar mixture. Once you'll try these bars, we doubt that you won't be in temptation to eat one more of them.
8. Cookie Bars
Another chewy, chocolate, awesome bars on this list that you need to try. Buy sweetened condensed milk, Graham crackers, butter, chocolate chips and butterscotch chips. When buying Graham crackers, you can buy pre – crushed cracker crumbs or the whole Graham crackers and then crush them by yourself. About the butterscotch chips – you can substitute them with peanut butter chips if you prefer.
9. Crispy Treat Dream Bars
Browned butter, a layer of peanut butter mousse, a layer of dark chocolate ganache and a sprinkling of sea salt crystals – does this sound enough delicious for you? If yes, then you might just found your dream bars. They are the perfect combination of crispiness and chewiness. The crust has crispy rice cereal and vanilla marshmallows; the mousse is made of peanut butter, milk and sugar, while the ganache is made of semi – sweet or dark chocolate, butter and kosher sea salt crystals.
10. No Bake Brownie Brittle Toffee Bars
Toffee taste, please! The Brownie Brittle Toffee Bars recipe is great because you don't need to bake, and this is an advantage because during summer, sometime it's really hard to handle the heat. For the bars, buy Toffee Crunch Brownie Brittle, chocolate candy coating, vanilla candy coating, cream cheese and toffee bits. The recipe makes 25 bars and they are all done in thirty minutes!