Figs are very healthy and delicious fruit! Most of the time, we're used to eating desserts with bananas, peaches, or berries, but fig desserts are as equally as delicious, and they're so many recipes out there to try out.
In this article, we share ten fig recipes, and there is something for everyone – from tarts and cakes to pavlova and parfaits; read below to find out your next cooking adventure!
1. Balsamic Berry & Fig Pavlova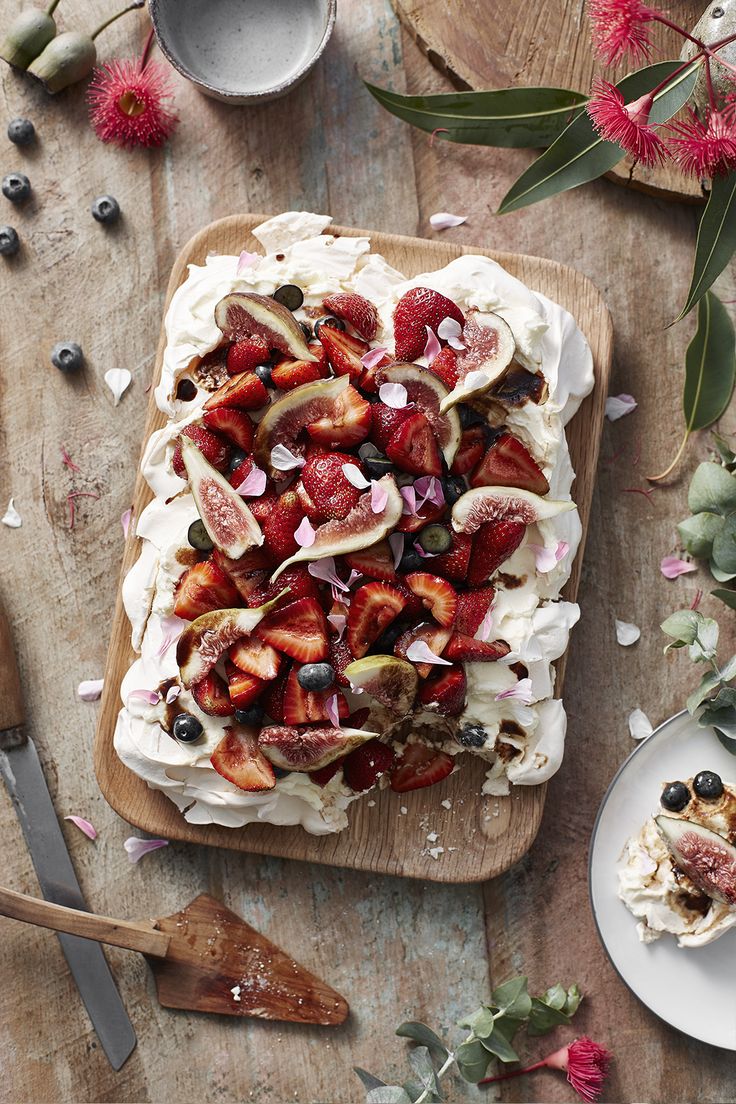 via blog.templeandwebster.com.au
Pavlova is one of the most popular meringue desserts! If you like the crispy, light taste of this dessert, you will definitely like how it is combined with balsamic fig syrup. In case you haven't prepared meringue before, you will need 6 egg whites and 1 ½ cup of caster sugar, while for the syrup, you need 5 dried figs, ¼ cup of balsamic vinegar, and 1 cup of water. Make sure to add some toppings, such as cream, strawberries, or any other fruit you like.
2. Italian Fig Cookies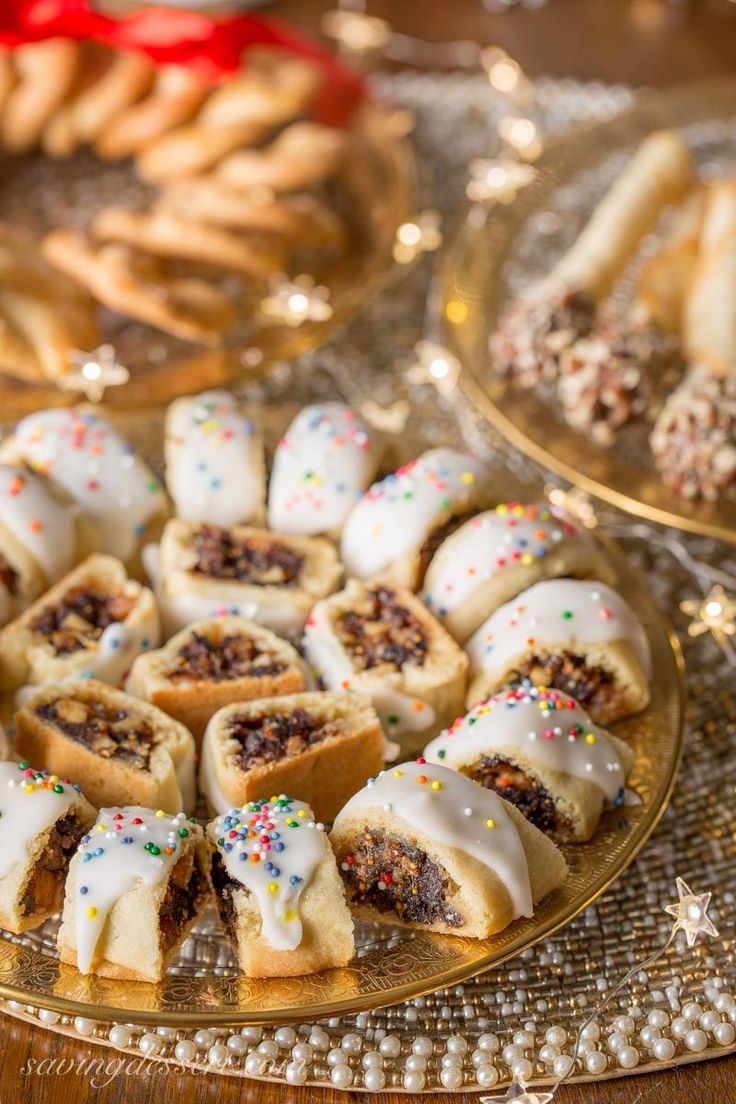 The Italian cuisine isn't all about pizza, pasta, and ice cream. It offers plenty of other recipes worth trying, including these fig cookies. These cookies are made of fig filling inside a dough, with lemon glaze on top. To prepare the filling, you need 1 cup dried diced figs, ½ cup dates, ½ cup orange juice, ⅓ cup candied orange peel, 2 tablespoons granulated sugar, 1 teaspoon lemon zest, ¼ teaspoon ground cinnamon, ⅓ cup blanched almonds, and 2 tablespoons dark spiced rum or orange liqueur.
3. Honey-Caramelized Figs with Yogurt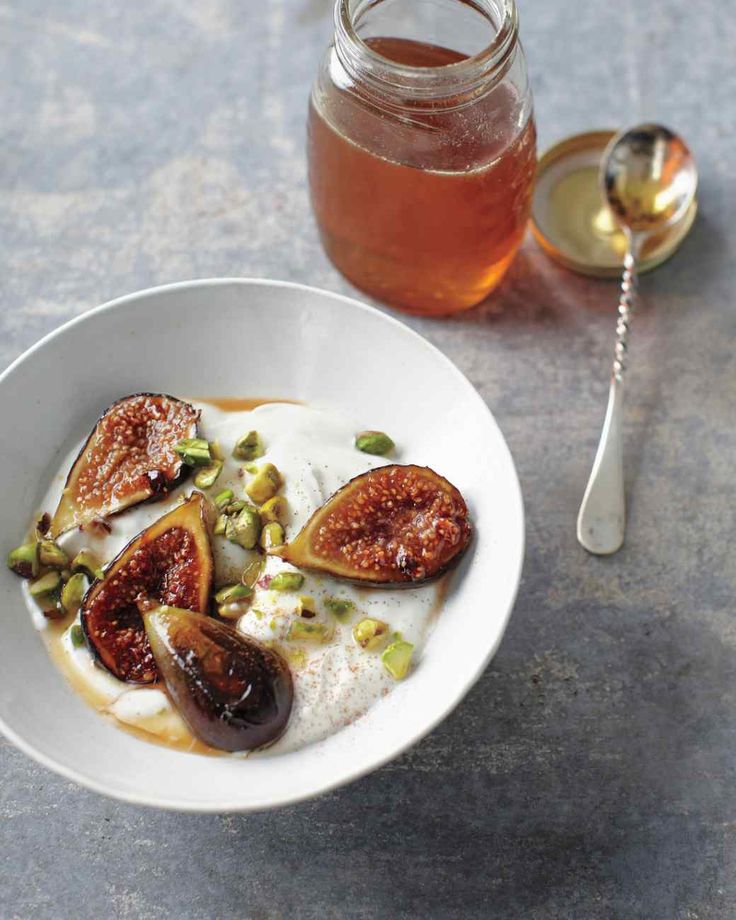 This is the kind of recipe you would wish to know during busy or lazy days. Not only it's super quick, but it's also very healthy. You definitely want to save this one if you're trying to lose some weight or maintain a healthy one. It's a budget-friendly recipe, as all you need are the following ingredients – 1 tablespoon honey, plus more for drizzling, 8 ounces fresh figs, 2 cups plain low-fat Greek yogurt, pinch ground cinnamon, and 1/4 cup chopped pistachios.
4. Chocolate Fig Squares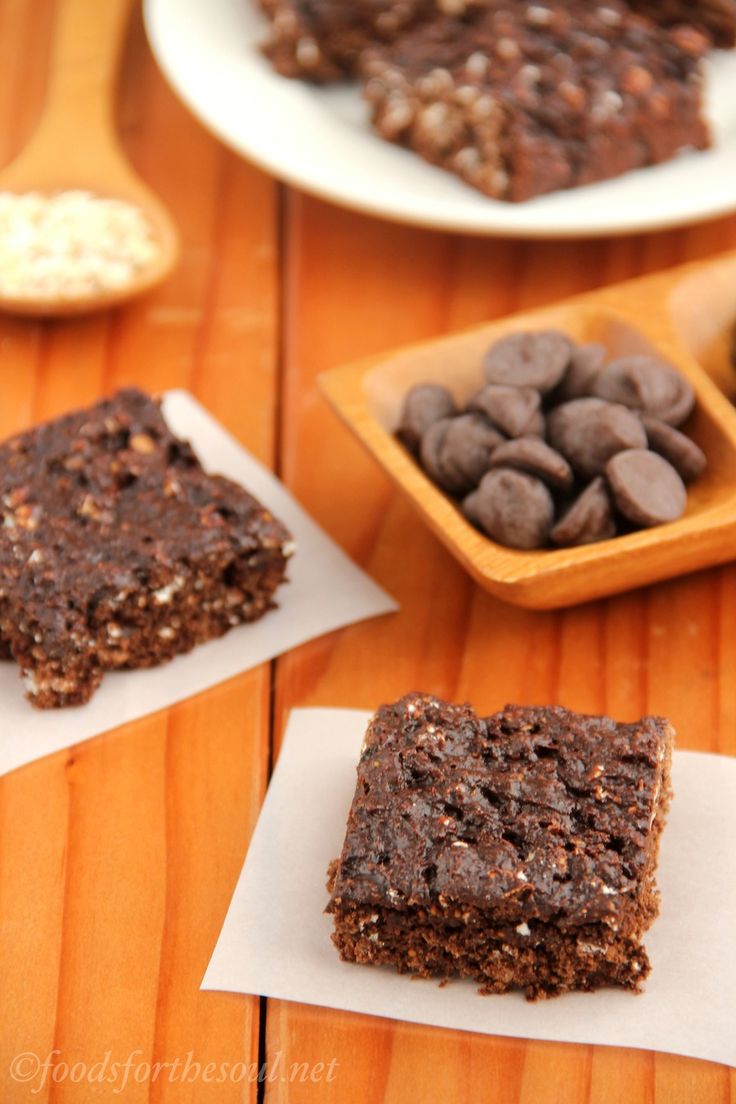 Of course, we can't talk about desserts and not mention at least once the majesty of chocolate! What you will like about these chocolate fig bars, besides being oh-so-tasty, is that they are low in calories, and that makes it another recipe for your weight loss plan. You need ½ c instant oats, ½ c whole wheat flour, ½ c unsweetened cocoa powder, 2 scoops of chocolate protein powder, 1 tbsp cornstarch, 1 ½ tsp baking powder, 1/8 tsp salt, 1 egg, ¼ c unsweetened applesauce, ¼ c honey, and ¼ c diced dried figs.
5. Fig and Almond Tart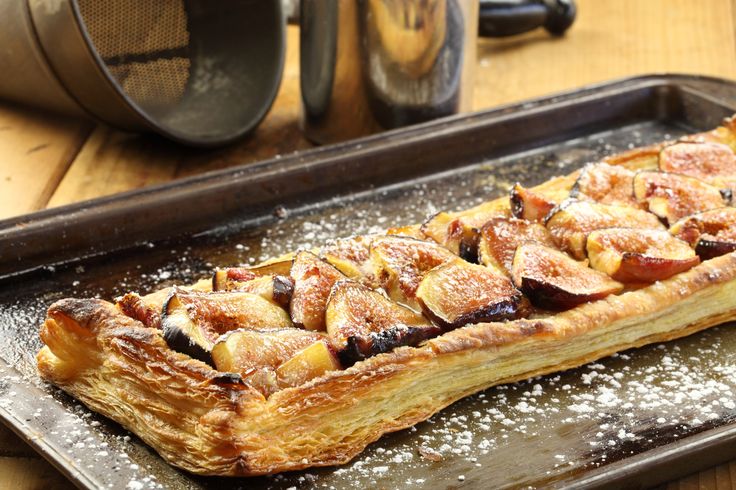 Puff pastry tarts are ideal for any part of the day, especially breakfast or dinner. These tarts are light but delicious enough to make your sweet tooth satisfied and full. You need your favorite puff pastry recipe or simply get a store-bought. The rest is about preparing the almond frangipane, for which you need 240g unsalted butter, 300g caster sugar, 4 eggs, 1/4 cup brandy, 40g flour, and 400g almond meal. The fig slices go on top with the glaze.
6. Fig Cheesecake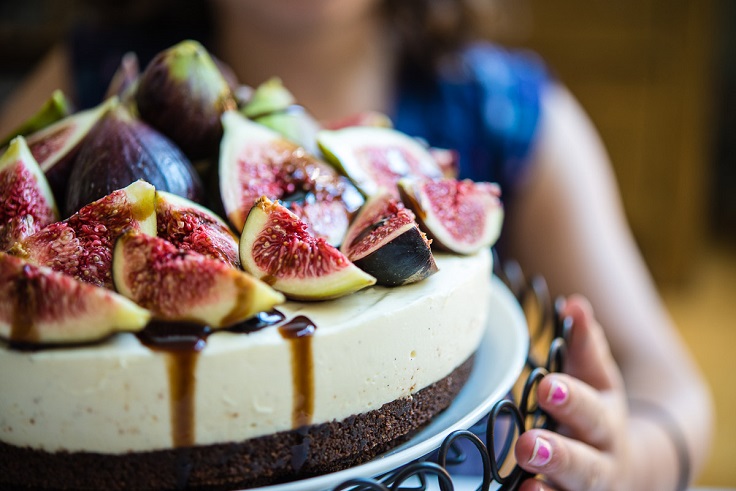 Nothing better than a creamy cheesecake… right? Especially when it contains figs! For this one, you need these ingredients – 250 grams chocolate biscuits, 80 grams butter or margarine, 500 grams cream cheese, 3/4 cup caster sugar, 1 cup cream, 1/4 cup lemon juice, 3 teaspoons gelatine powder dissolved in 1/4 cup boiling water, seeds from 1 vanilla bean pod or 1 teaspoon vanilla bean extract or essence, 8-10 ripe figs and 1 tablespoon balsamic vinegar glaze.
7. Fig & Walnut Orange Cinnamon Rolls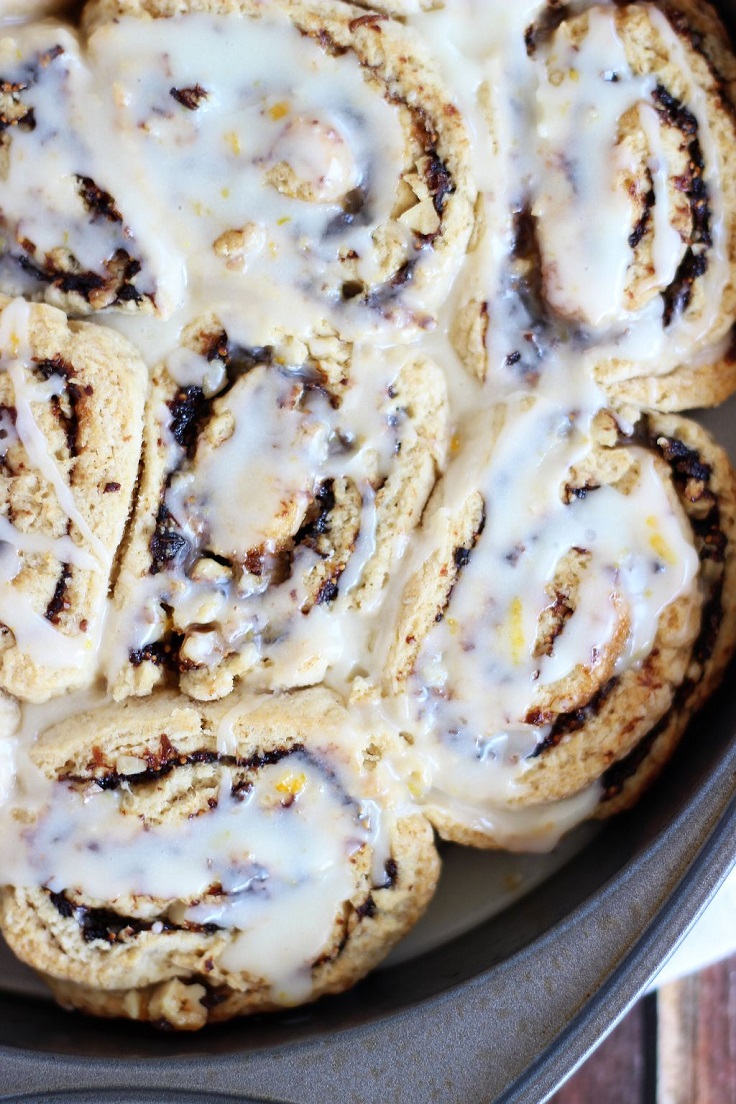 Ready in less than an hour, these cinnamon buns should include the fresh new recipe in your autumn cookbook. It contains all ingredients reminding us of autumn, such as cinnamon and walnuts. For the filling, you need 6 oz. dried figs and ¼ tsp. Cinnamon. It's optional, but you can also add ½ c. orange juice or enough to cover the figs in the pot and 3-4 orange slices. Add the orange glaze on top; it will surely add so much to the rolls' taste!
8. Fig, Rosemary, and Lemon Tart
This tart not only tastes amazing, but it looks just as good as well. It's ideal for hosting parties of any kind, especially family gatherings. We're pretty sure that is one really Instagrammable tart! To prepare this tart, you need to prepare a rosemary-brown sugar pastry and lemon cream. The figs are used for assembling, together with apricot jam, but that is optional. Make sure to serve the tart chilled!
9. Raspberry and Fig Cake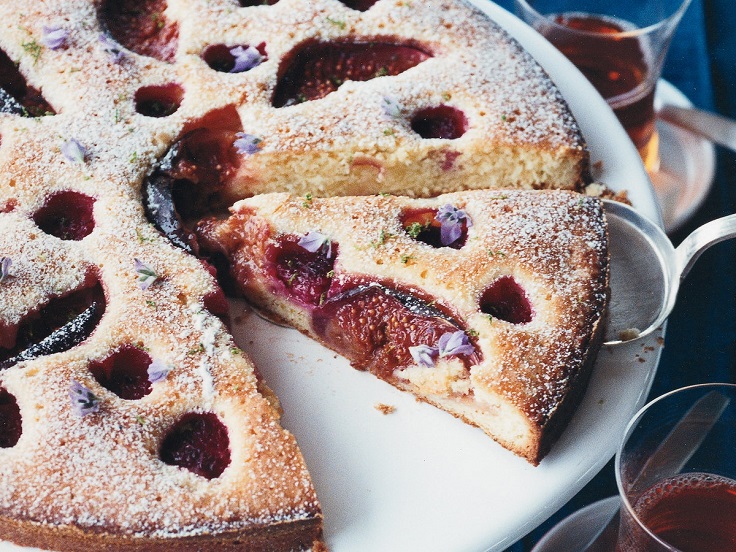 via foodandwine.com
We can already imagine the perfect morning coffee together with a slice of this cake. Every morning is going to be a great one if it starts like this! To prepare this cake, you need dry bread crumbs and confectioners' sugar for dusting, 1 1/2 cups granulated sugar, 3 large eggs, 1 stick unsalted butter, finely grated zest of 3 limes, 1 1/2 cups all-purpose flour, juice of 1 lime, 1/2 pint raspberries and 4 figs, cut into eighths, or additional 1/2 pint raspberries.
10. Fig & Almond Clafoutis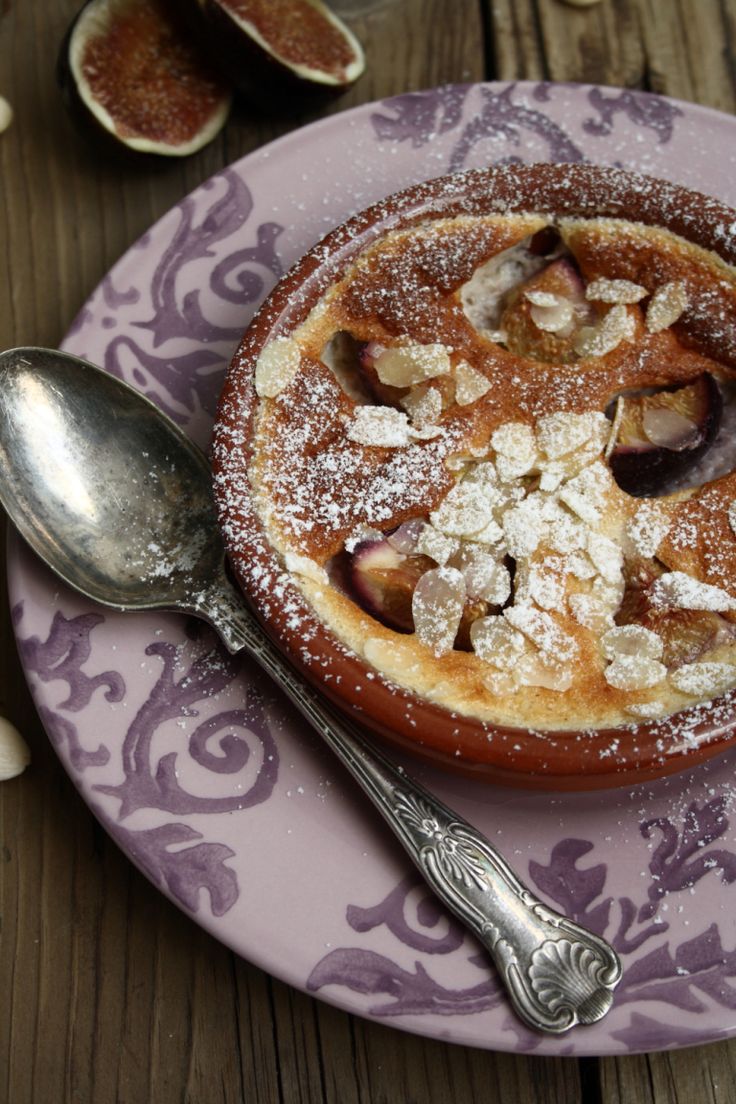 via foodblogandthedog.wordpress.com
Have you ever tried clafoutis? In case you haven't, it is a baked French dessert of fruit and is covered with a thick flan-like batter. The following ingredients will make up for three small individual clafoutis or one large – 2 large eggs, 4 tbsp honey, 1 tbsp wholemeal spelled flour, 1/2 tbsp ground almonds, 165 ml (3/4 cup) goat's (or Greek) yogurt, grated zest of 1/4 orange, a pinch of salt, 1 tsp vanilla extract, a few drops of almond essence, 2 tsp amaretto liqueur, 2 or 3 figs quartered and flaked almonds.