Muffins are one of those things that you can not refuse when offered. They come in so many favors: chocolate, peanut butter, cinnamon, vanilla… The list goes on and on. They are not an expensive treat, they are easy to find and the best part is, you can make them at home. All recipes presented below are easy to make and the needed ingredients can be found in the local supermarkets. You can eat them as dessert, but thanks to their deliciousness, you will want to eat them anytime you can, for sure. Also, muffins are a good choice for any occasion too. Birthdays, parties, gatherings, you name it, everyone would like to try some of the muffins on the table. So, don't overthink over muffins, just get the ingredients and make your sweet muffins.
1. Whole Wheat Peanut Butter Muffins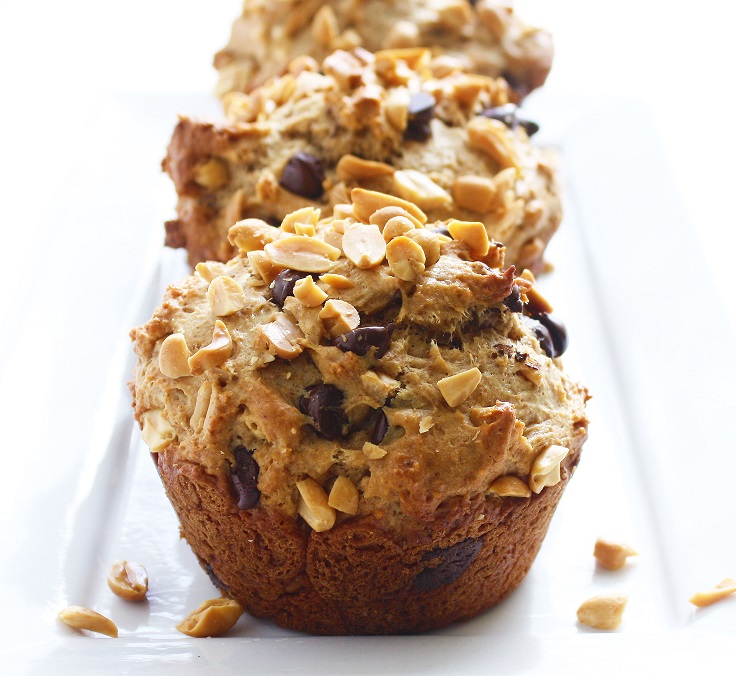 via culinaryadventuresinthekitchen.wordpress.com
These muffins are the perfect combination of peanut butter, peanuts and chocolate chips. Those of you who love peanut butter, you are going to love these muffins for sure. Preparing them is really easy. It is done in only few steps that include whisking, beating, adding and baking. Preparing the muffins takes about 10 minutes, the baking part 20-25 and you should also consider some time on leaving them to cool off.
2. White Chocolate and Raspberry Ripple Muffins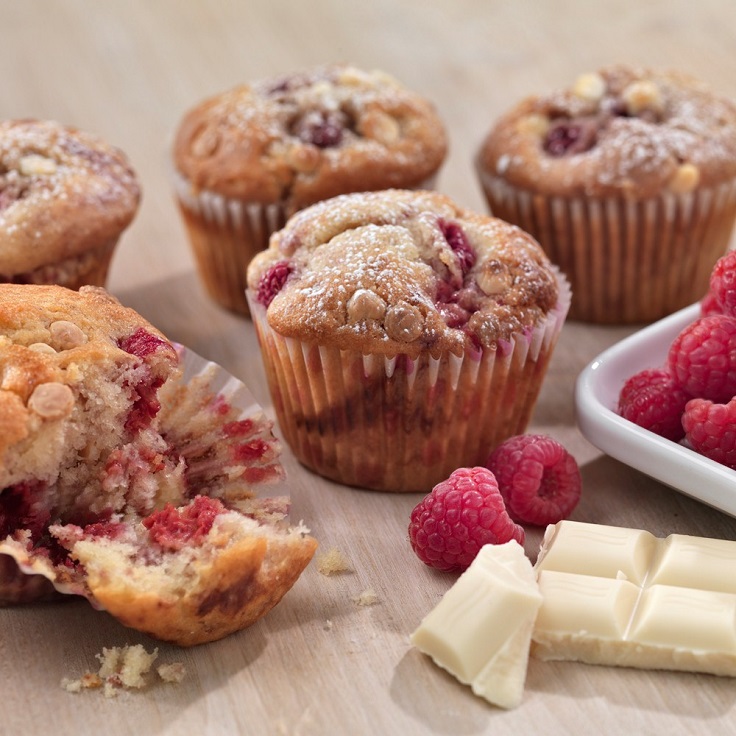 via bakingmad.com
Here's another combination worth trying: raspberries, raspberries puree and white chocolate chips, all together well combined in a muffin. The preparation process lasts for 20 minutes, baking the muffins another 25, so in less than hour you are going to have amazing muffins ready to be eaten. The recipe serves 12, so preparing them is also a great idea if you're expecting guests, or even if you feel like you love them so much than only one or two isn't enough!
3. Blueberry Streusel Muffins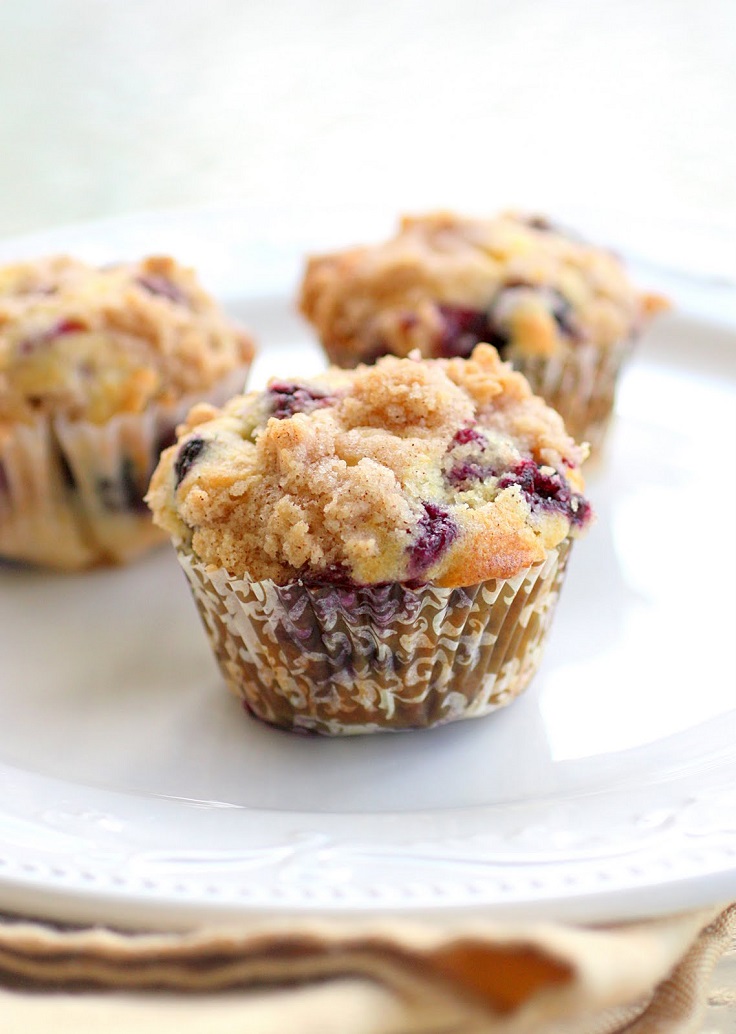 via the-girl-who-ate-everything.com
If you haven't tried anything streusel by now, you really should do that. To make the streusel topping, you need cinnamon, butter, sugar and flour. It's really simple, and adds so much to the taste. That's why the streusel is perfect as topping. For the muffins, in a small bowl whisk flour, baking powder and salt, and in a larger bowl beat sugar and butter, then add eggs, milk and vanilla. Combine the two mixtures in one, fold in the blueberries, pour it in muffin tins and bake them.
4. Chocolate Cherry Muffins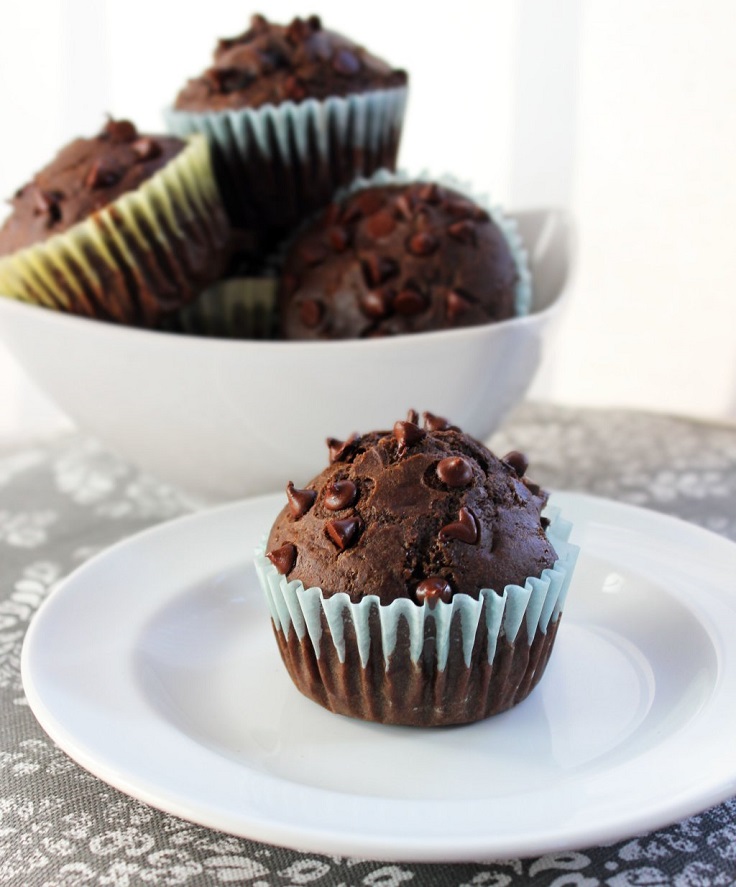 via ihearteating.com
There isn't a chance to talk about desserts and not mention anything that includes chocolate it in. These soft, moist muffins show how perfectly well go together chocolate, tart cherries and chocolate chips. There's no way you'd eat only of these! Thanks to the recipe that provides 12 of these. Unlike the rest of the muffins mentioned by now, when it comes to the baking these are ready for 15 minutes. We know that chocolate sounds too delicious to wait, but leave the muffins five or more minutes to cool off, and then serve them warm or on room temperature.
5. Banana Nut Muffins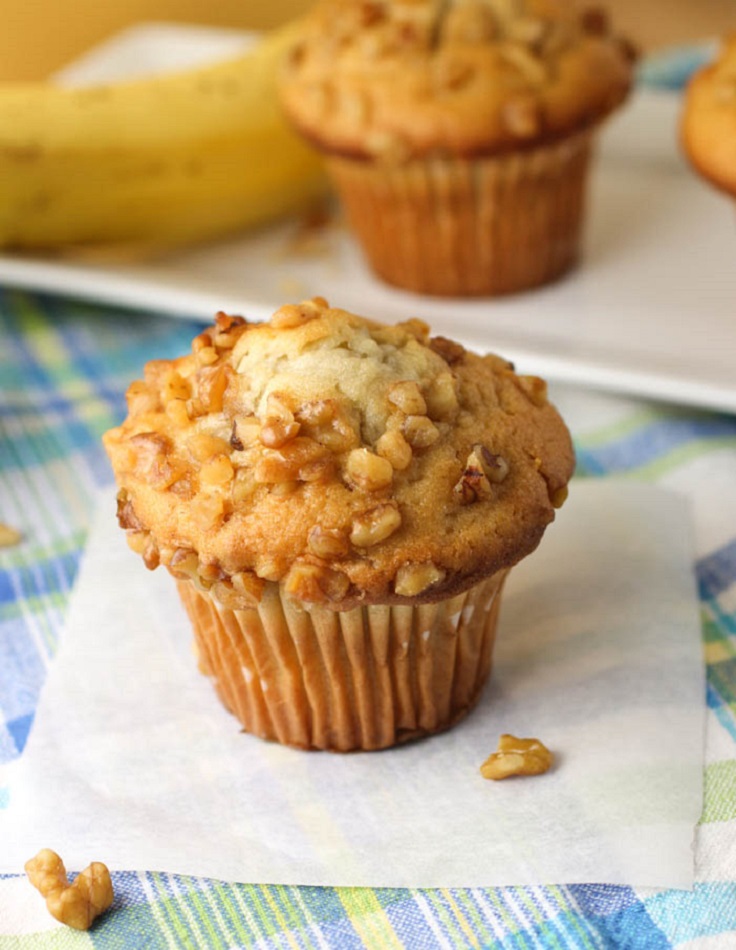 via citronlimette.com
The special thing about this fluffy, moist muffins is that they are filled with chopped nuts. You can combine few of them, or you can choose only one type, such as walnuts or almonds. Also, they also have streusel for topping, but this one has also oats in it. The muffins have an amazing taste that includes bananas and cinnamon as the main ingredients. These are the perfect sweet treat for breakfast or dinner too.
6. Mixed Berry Granola Muffins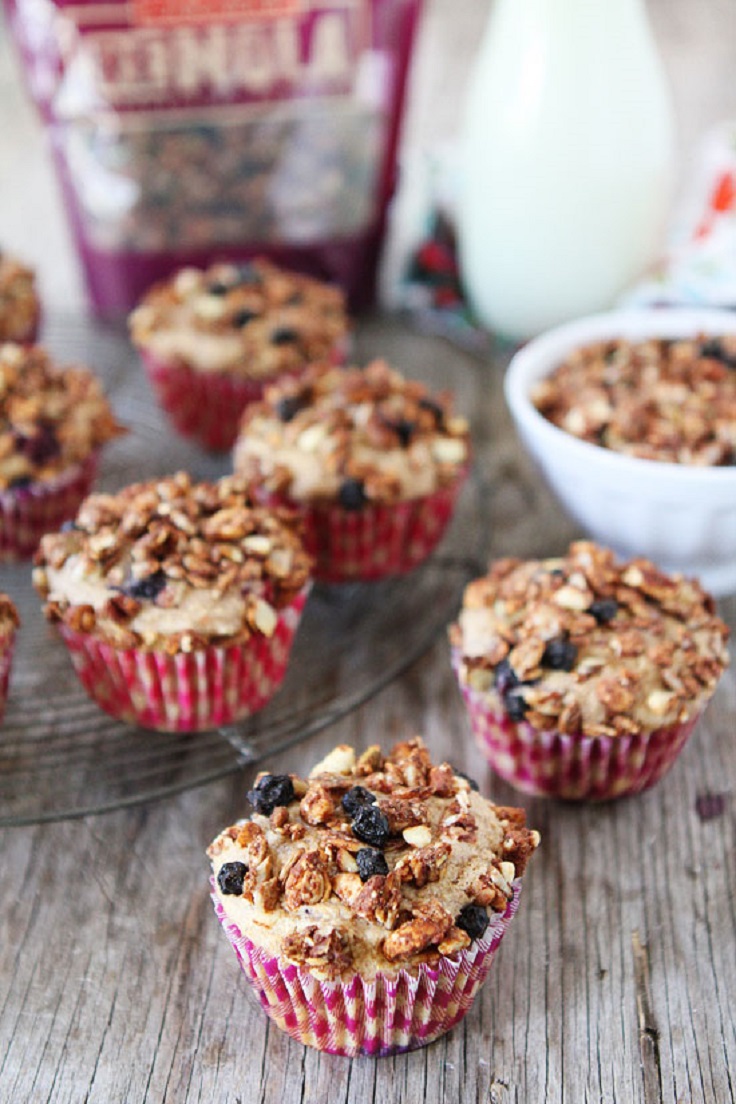 via twopeasandtheirpod.com
Done in only 30 minutes, these muffins are definitely worth all the effort in the kitchen. They include berries and you can combine the ones you like the most. In this case, that are raspberries, blackberries and blueberries. Mix them with granola (nuts, cinnamon, dried blueberries and molasses, or buy any package you want). This will get you to fruity, crunchy, whole wheat muffins. To prepare them, first whisk dry, then wet ingredients in separate bowls. Next step is to combine them and fold in the berries. Pour them in muffin tins and bake them.
7. Apple Cinnamon Muffins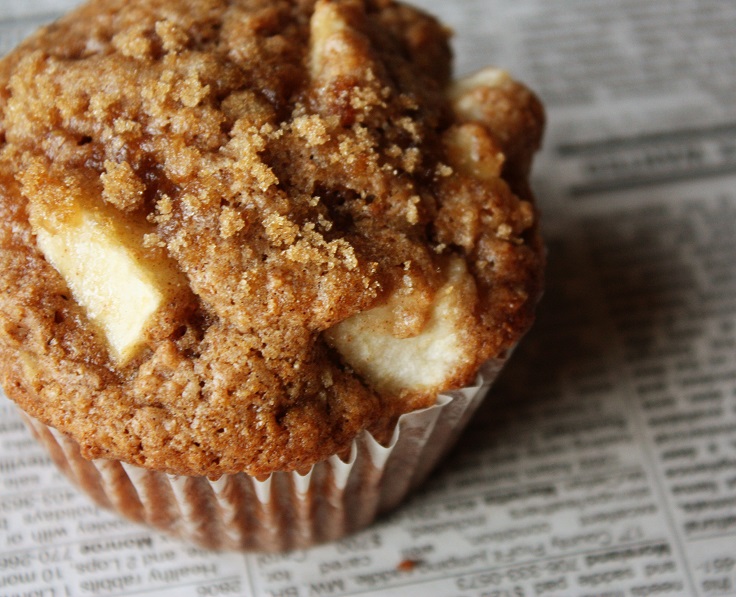 via thegranaryblog.wordpress.com
To prepare the apple cinnamon muffins, you need to sift together the dry ingredients and make the cream in another bowl, by adding the wet ingredients. In the dry ingredient's bowl, add the peeled and chopped apples. To add more taste, you can sprinkle brown sugar on top of the muffins. Add the mixture in a muffin tins. Bake them on high heat for 10 minutes, and then bake them for another 5 – 8 on lower heat.
8. Pumpkin Doughnut Muffins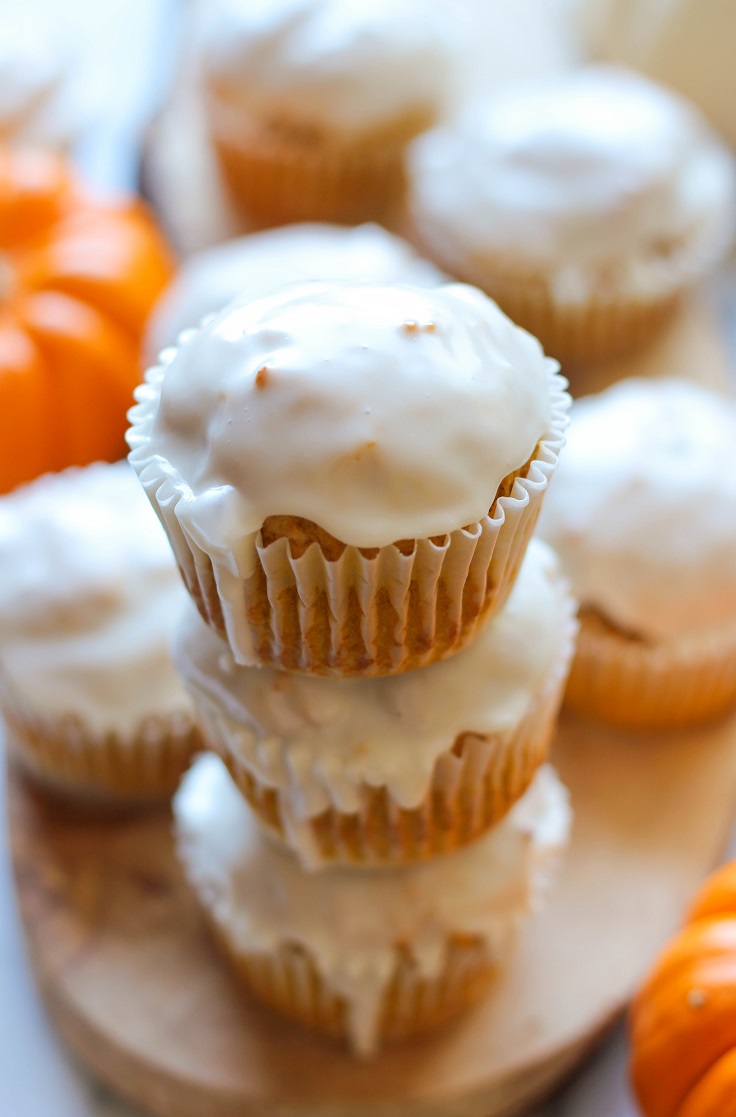 via damndelicious.net
While eating these muffins, you while notice the taste of pumpkin puree, Greek yogurt, cinnamon, nutmeg, ginger. On top of that muffin, imagine a nice, milky vanilla glaze. Yes, we're talking about pumpkin doughnut muffins that you can make in your home without having hard times and for less than hour. The glaze is really simple to make and you only need three ingredients for it. The good thing is that you can use it for other desserts, when you feel like they need something to add taste.
9. Orange Muffins with Coconut Streusel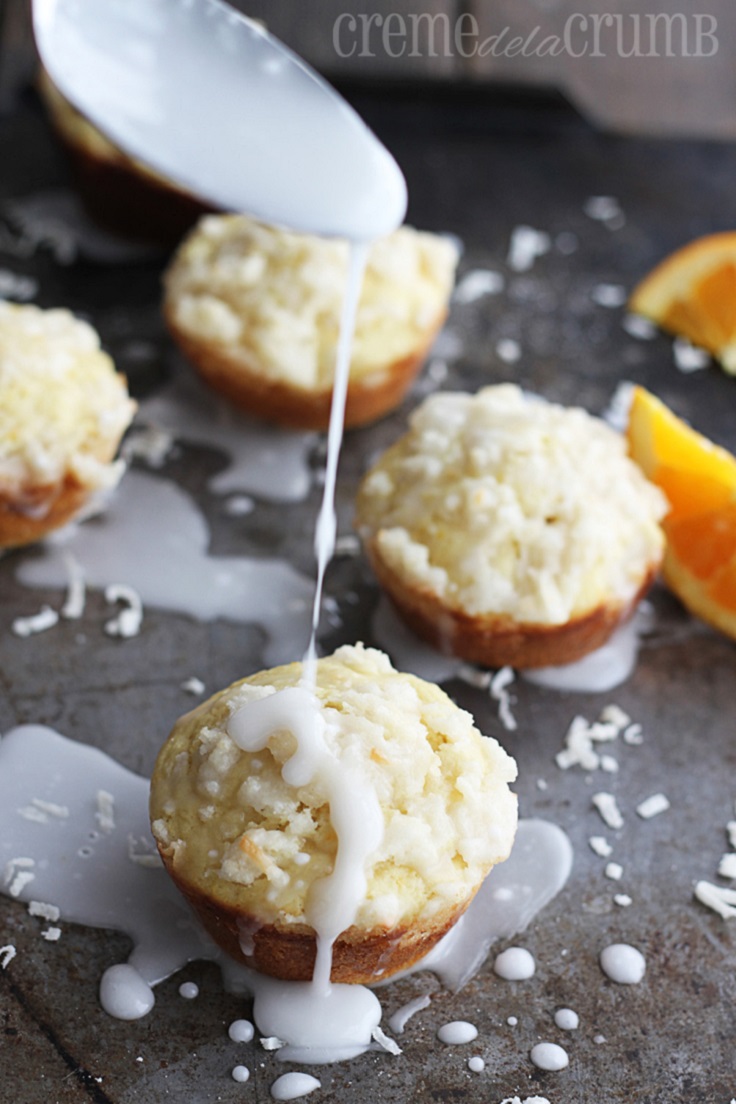 via lecremedelacrumb.com
Here's another muffin recipe that includes streusel and this one has some shredded coconut too! When you combine orange and coconut, you get a super tasty mixture. But, when you add all that in a muffin with a coconut glaze, now that's a sweet treat from the dreams. The recipe serves 16 and everything is done in 30 minutes. These muffins can be eaten not only as after lunch dessert, but they are a very good breakfast idea.
10. Bakery Style Chocolate Chip Muffins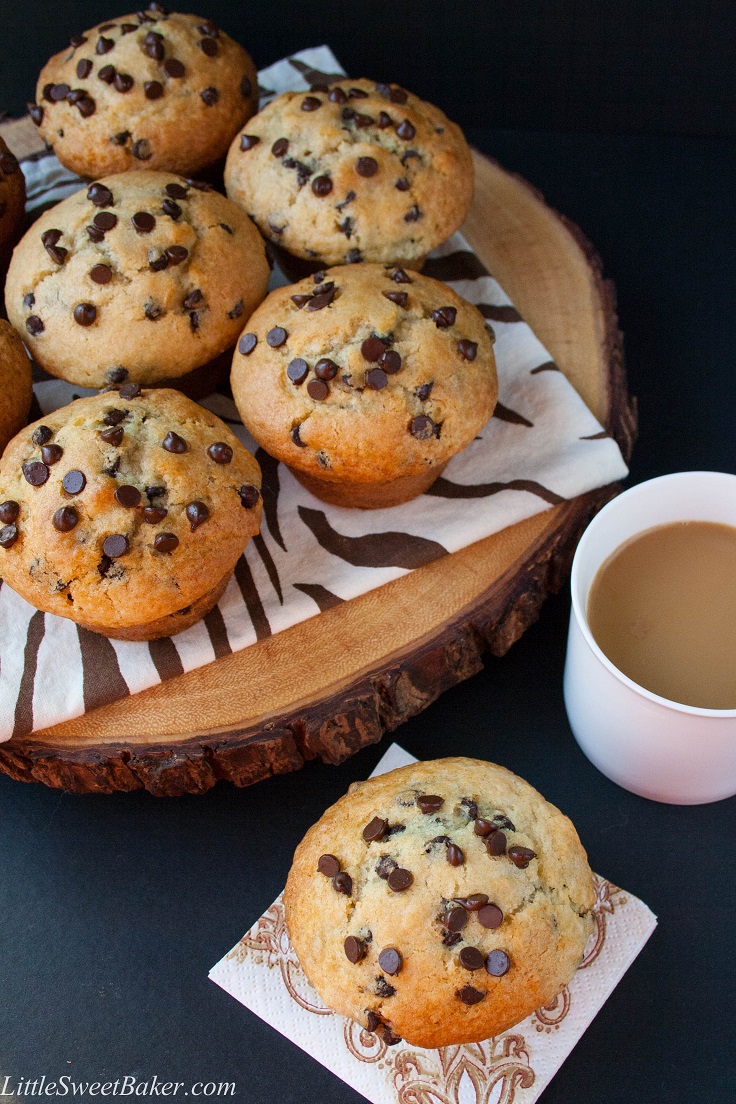 via littlesweetbaker.com
And the last on the list are the muffins made in bakery style. Those muffins you are used to see in the local bakery and every time you see them, you wish have dozens of the muffins at home. Yes, we're talking about those sweet, guilty pleasures. But, the good news is that there's an amazing recipe on how to make them yourself. Read the instructions and get the needed ingredients. When having them, enjoy the muffins over a cup of coffee in the morning.