The avocado is one of the superfoods you definitely need to include in your life. Thanks to its health properties, the good taste and amazing texture, the avocado is popular ingredient in many recipes, starting from breakfast meals to desserts and smoothies.
One of the tastiest recipes that include avocado (besides the guacamole!) is exactly the avocado smoothie. You can add so many different ingredients and each time come up with something new, tasty and healthy to try. We offer you ten recipes, all very easy to prepare and oh-so-tasty!
1. Raspberry Avocado Smoothie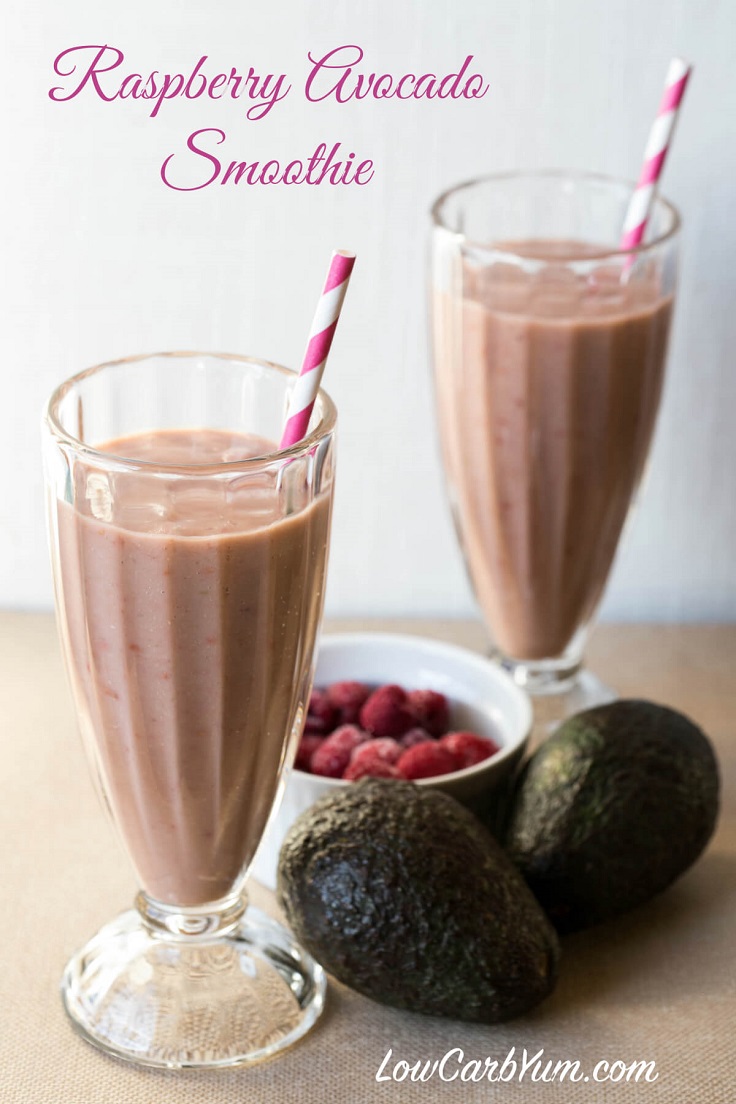 via lowcarbyum.com
The raspberries contain very powerful antioxidants such as vitamin C, that can have great impact on our health. Besides that, raspberries are avocados go very well together, so why not mix these two? You will need 1 ripe avocado, 1 1/3 cup water, 3 tablespoons lemon juice, 2 tbsp + 1 tsp sugar equivalent and 1/2 cup frozen unsweetened raspberries.
2. Mango Avocado Smoothie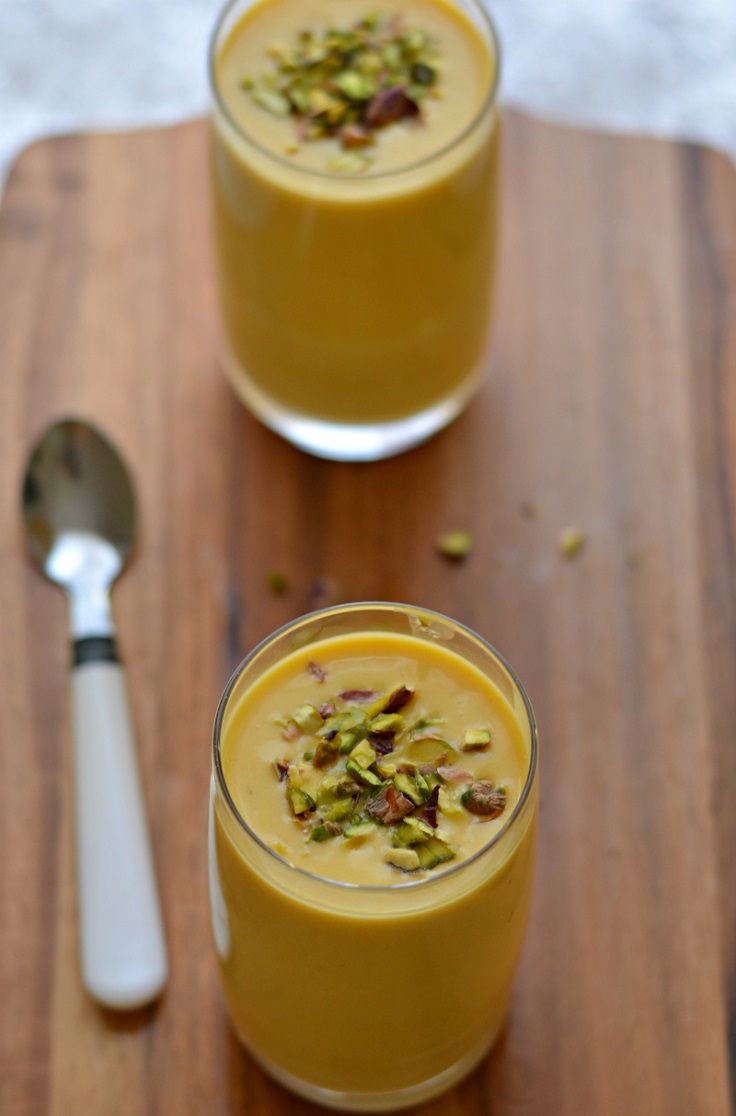 Mango can do wonders for us – they can protect us from cancer, lower the cholesterol, improve our eye health, clear our skin and improve our digestion, among other benefits. These two tropical fruits match very well, so if you want to make a smoothie with these two, you'll need 2 medium mangoes, ½ avocado, 2 cups almond milk or cashew milk and 2 tbsp chopped pistachios. The pistachios are very good choice for topping!
3. Paleo Key Lime Smoothie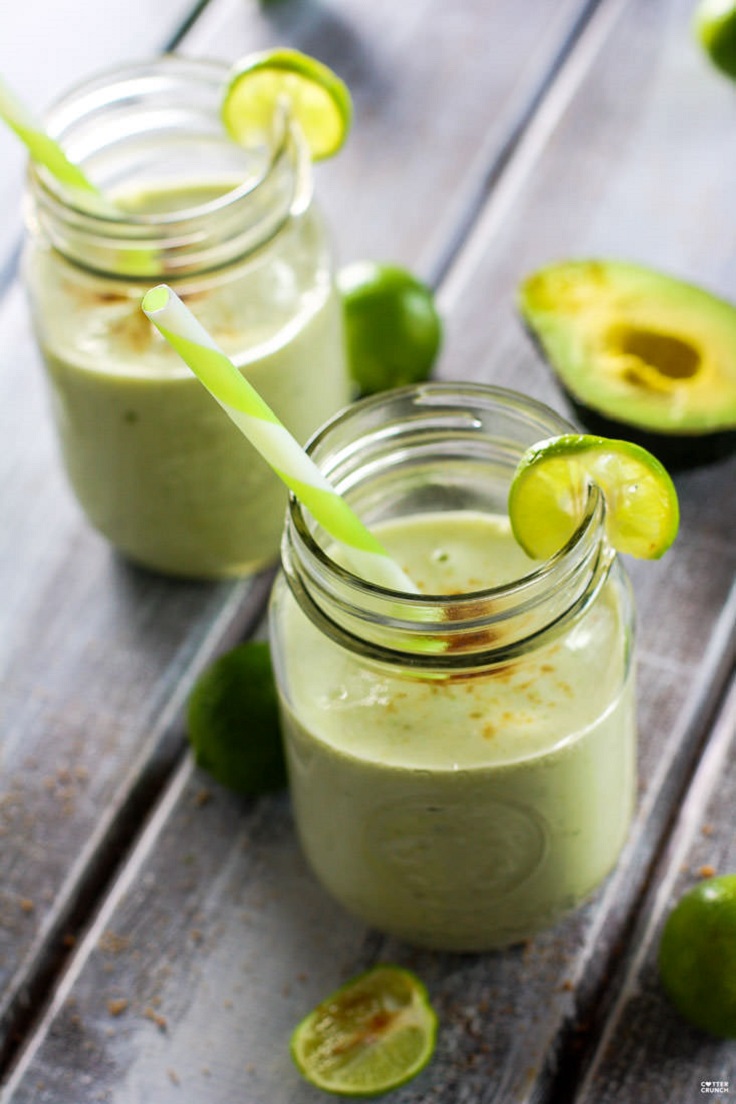 via cottercrunch.com
For  this smoothie you need 1 cup unsweetened dairy free milk (coconut milk or almond milk work best), 1-2 tbsp coconut oil or cream (for extra creaminess), 1/2 c to 1 cup ice, 1/2 avocado, 1/2 frozen banana, 2 tbsp of juice from key limes zest and juice of 2 limes, maple syrup, 1/2 tsp cinnamon, 1/4 tsp vanilla extract, dash of ginger root and vanilla protein add in. You can also add more greens, such as steamed kale or spinach and a dash of salt if you want it less sweet.
4. Kiwi & Avocado Green Smoothie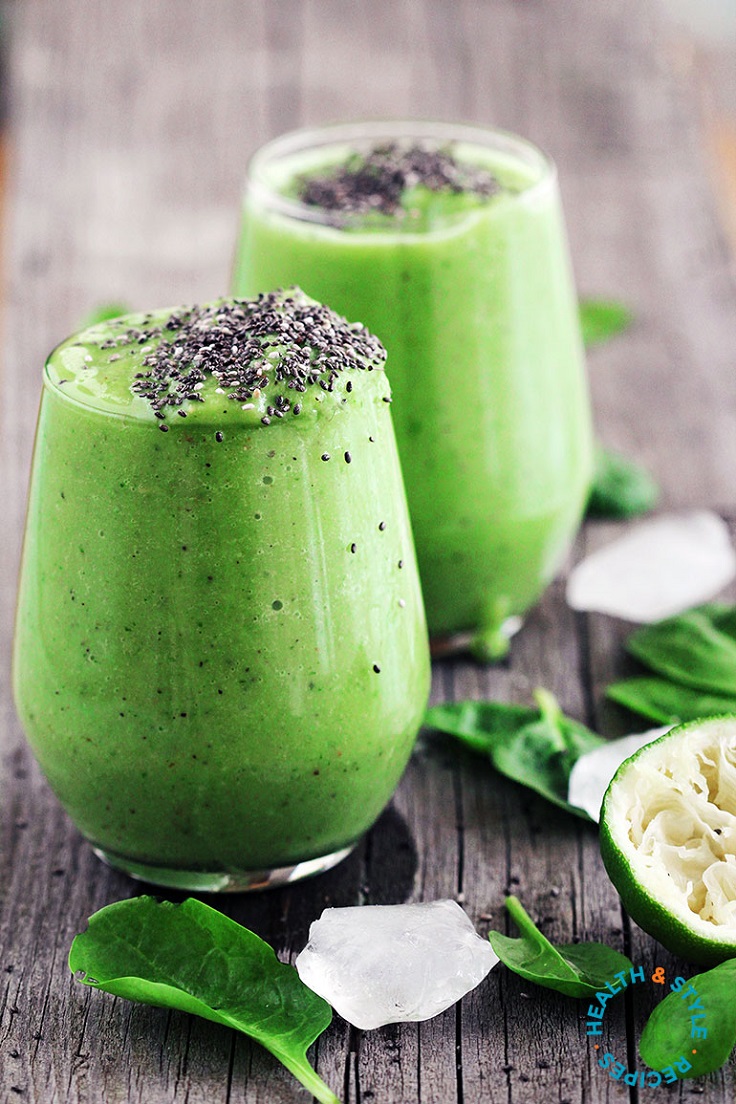 This is one super healthy smoothie right here! Being the super healthy fruit that it is, besides the avocado we have the spinach here that is very rich with powerful nutrients, such as protein, fiver and vitamins. Mix 1 ripe avocado, 2 kiwi fruits, 1 organic pear, 1 organic apple, 1/2 cup fresh spinach, the juice from 1 lime, 2 tblsp Chia seeds, 1 cup filtered water and 2-3 ice cubes. You will see how improved your health will be after some time!
5. Avocado Kale Superfood Smoothie
The kale is very low in calories and that's why many people eat it when they want to lose weight. However, this powerful green food is very healthy too because it is rich in vitamins, folate and magnesium. You can use kale and avocado to make a delicious smoothie, and for that you need 1 frozen banana, 1/2 cup blueberry yogurt, 1 cup kale (or spinach) leaves, 1/2 ripe avocado and 1/2 cup unsweetened almond milk.
6. Avocado Berries and Vegetable Smoothie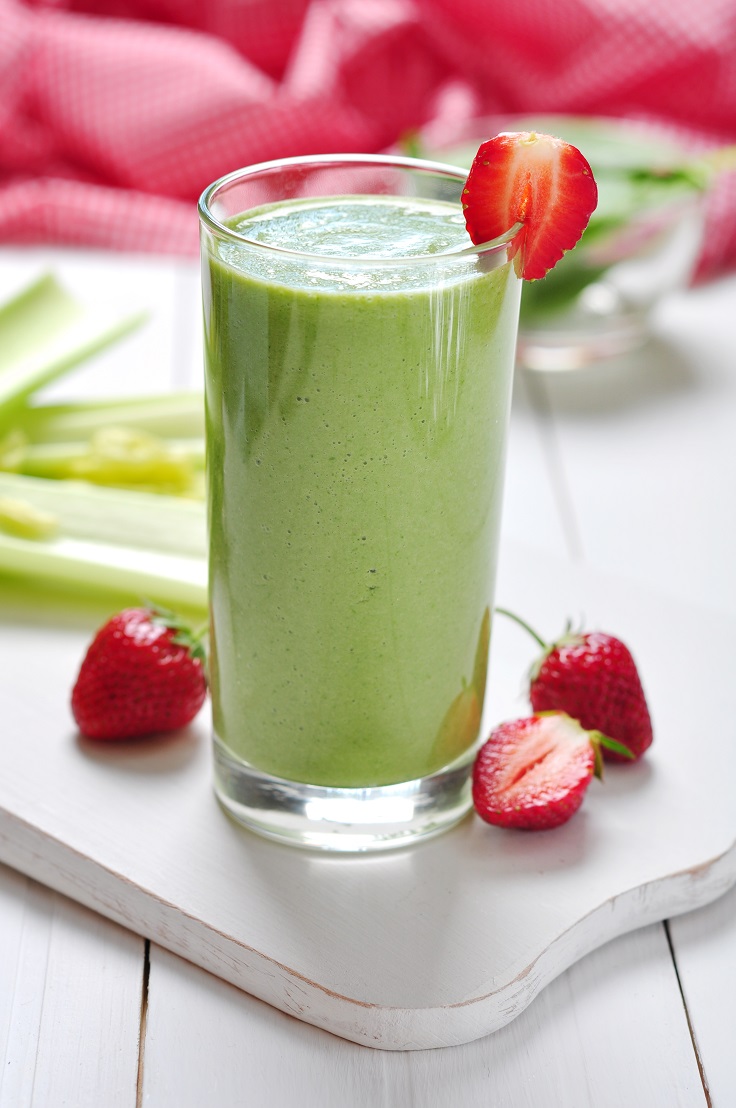 According to some, the goji berries are the healthiest of them all. They provide us with high levels of antioxidants and nutrients, they can also improve our immunity system, protect our skin, among many other benefits. For this smoothie, make sure you have 1 tsp olive oil, 1 tbsp goji berries, 10 raspberries, 10 seedless grapes, 2 small broccoli florets, ¼ small raw beet, ½ avocado, ½ cup Greek yogurt and water to fill line.
7. Blueberry Avocado Smoothie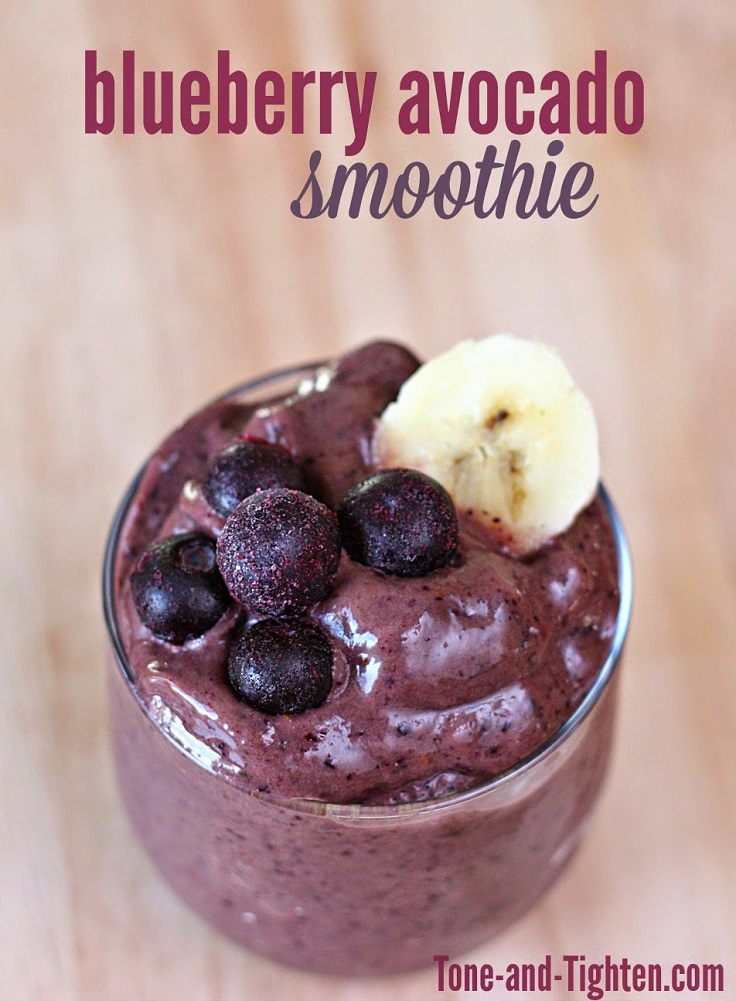 Just like the other berries, the blueberries are no exception to being very healthy and powerful when it comes to our health. Matching them with avocado will not only result as very healthy, but tasty as well! You will need ½
cup
fresh or frozen blueberries, ½ avocado, ½ large banana, 1 cup fresh baby spinach or kale, 1 teaspoon agave or honey, ½ cup water and ½ cup ice.
8. Avocado and Chocolate Smoothie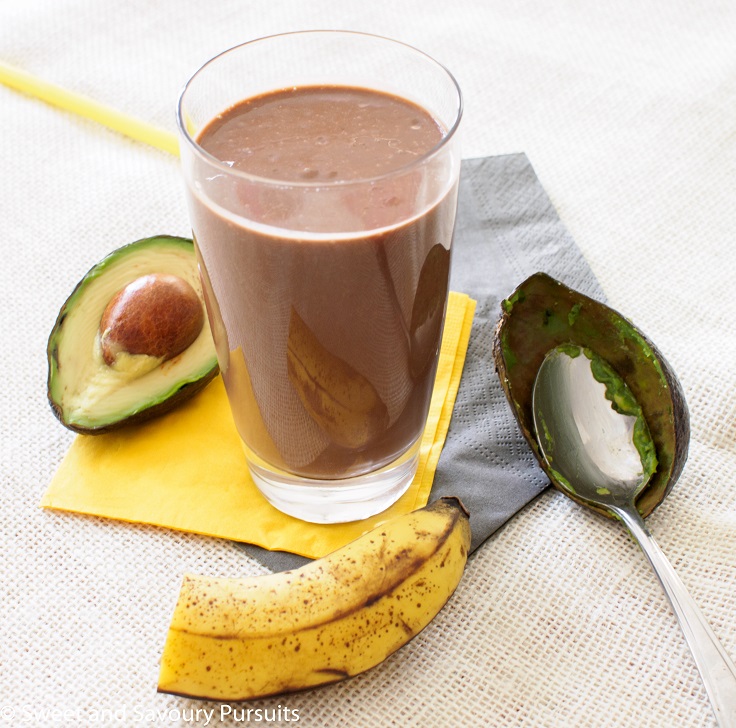 via sweetandsavourypursuits.com
Enough talking about fruits and veggies, let's talk about something that most of us here really love – chocolate. You can make your own avocado chocolate smoothie and trust us you're going to love it! You will need 1 cup vanilla flavoured almond milk (or your favourite milk), ½ ripe avocado, ½ ripe banana, 1½ Tbs cocoa powder, 2 tsp. honey and 1 cup of ice cubes. You can also use other sweetener if honey's not your thing.
9. Almond and Avocado Protein Smoothie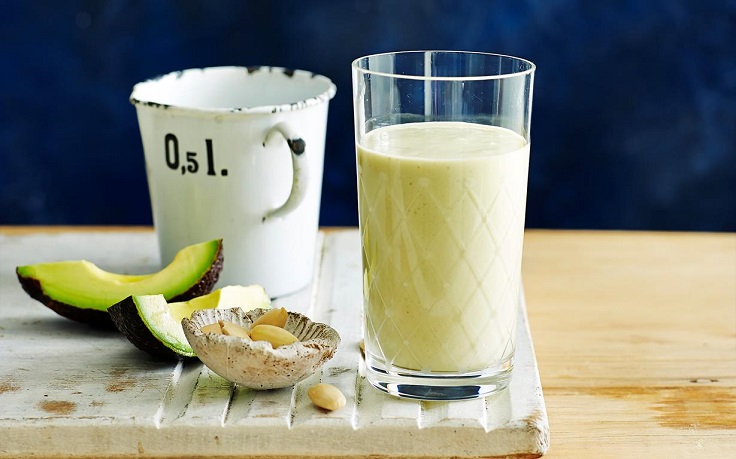 Many people who give up on the dairy products switch to almond  milk and there's a reason for that – this milk is a good alternative to the cow's milk and it also helps us to build strong muscles, maintain ideal blood pressure and it helps our kidney to function the right way. To prepare this smoothie, you need 1 cup unsweetened almond milk, 1 tbs  protein powder, vanilla flavour, 2 tbsp almond butter, 1/2 medium ripe avocado, 1 tbsp honey, 1/2 medium banana and 1 cup ice cubes.
10. Tropical Superfood Smoothie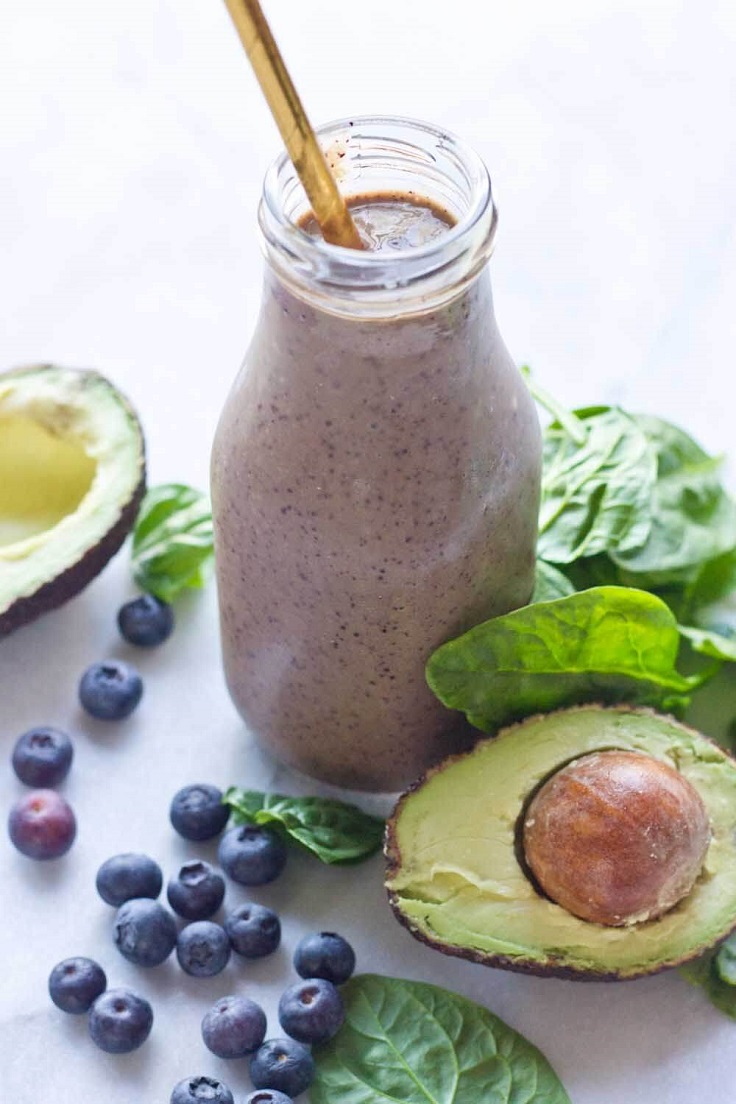 via loveandzest.com
For this recipe, you need 1 ½ cups baby spinach, 1 cup vanilla soy milk, 1 cup blueberries, ¼ avocado, 1 banana and ½ cup chopped pineapple. It is a perfect mixture of tropical fruits and trust us – you will want to drink this every morning! First blend the milk and the spinach, then add the other ingredients. Serve the smoothie in a chilled glass and serve with slice of pineapple.
SaveSave