Desserts are always welcomed, no matter if it is chocolate, vanilla, caramel, with gluten or vegan. They all taste amazing! In this article you can find ten amazing vegan cakes. It's so hard to pick only ten when there are so many worth trying. Choose your favorite out of these and prepare it. Share a piece of cake with your friends over a cup of coffee. Make sure you still have of the cake, because with delicious cakes such as these, we doubt that one piece will be enough!
1. Avocado Chocolate Mousse Cake with Goji Berries 
This creamy cake is made of walnuts and raisins for crust, avocados, coconut oil, cacao powder, maca powder, vanilla powder, coconut nectar or date paste, and a pinch of salt for the mousse cake. For the topping you need dried goji berries and a tablespoon of almond butter, cacao powder and coconut nectar. The goji berries aren't as famous as the other berries, but these also have their own benefits. They can protect our body from oxidative damage and are also rich in vitamin A. However, goji berries aren't recommended for everyone. Before eating them, talk with your doctor or a pharmacist.
2. Poppy Seed Amaranth Cake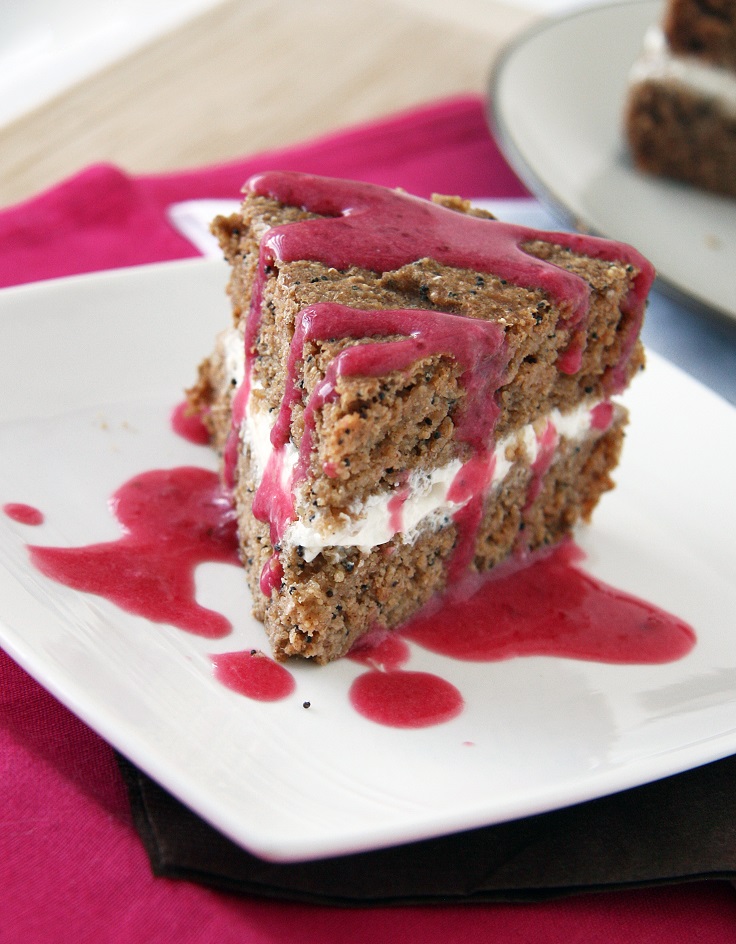 via naturalnoshing.wordpress.com
Made of buckwheat and amaranth flour, this cake is moist, healthy and delicious. It has also unsweetened apple sauce and cinnamon, and this combination says everything. Apples and cinnamon are really good together, so when both combined they do a pretty good dessert. Like this cake for example! Also, it has a cream cheese frosting which is made of softened vegan cream cheese, brown rice syrup, pure vanilla extract and a pinch of pure stevia extract. The topping is rasperry – beet coulis, and for this you need frozen raspberries, beet juice, non – dairy milk, liquid vanilla stevia or pure stevia extract to taste and a dash of sea salt.
3. Blueberry Lemon Cheesecake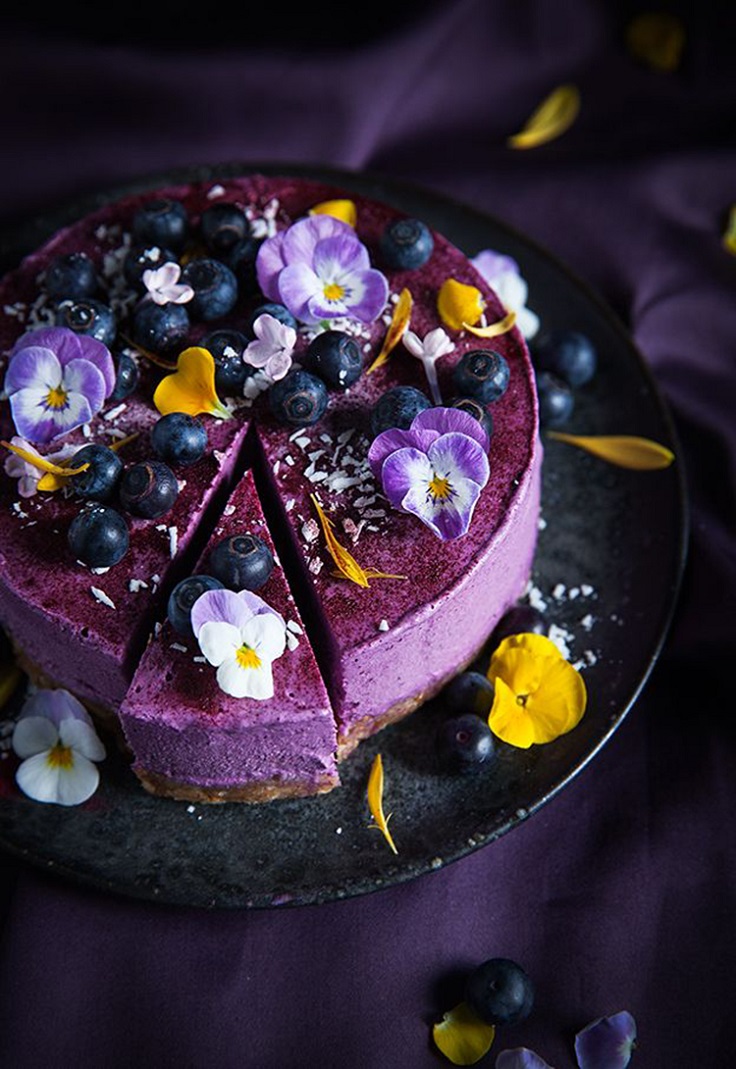 via call-me-cupcake.blogspot.se
This cake doesn't really just look good, but it's a whole food art thing as well! It simply looks amazing, and we are sure that it tastes the same (if not better!). The cake has a super tasty crust made of pitted dates, almonds and a pinch of salt, the filling is made of cashews, lemon juice, lemon, coconut oil, coconut milk, maple syrup, fresh or frozen blueberries. For the topping, you need freeze dried blueberry powder, fresh blueberries, shredded coconut and if you were wondering about the flowers – these are edible! That makes this super tasty and great looking cheesecake a gluten – free, dairy – free and egg- free.
4. Black Cocoa Cake
Another cake that proves cooking can turn out as a very artistic process! Who can resist this wonderful, cocoa cake? It looks so good that it makes you want to eat it right away! Only few ingredients are needed for this cake, and those are walnuts, almond flour, black onyx cocoa powder, finely ground black pepper, maple syrup and melted coconut oil. For the filling, make sure you have cashews, dates, non – dairy milk, raw cacao powder, maple syrup, coconut oil. What catches our attention when it comes to the cake is the decoration. You can use fresh or dried fruit slices, or raw chocolate.
5. Coconut Lemon Cake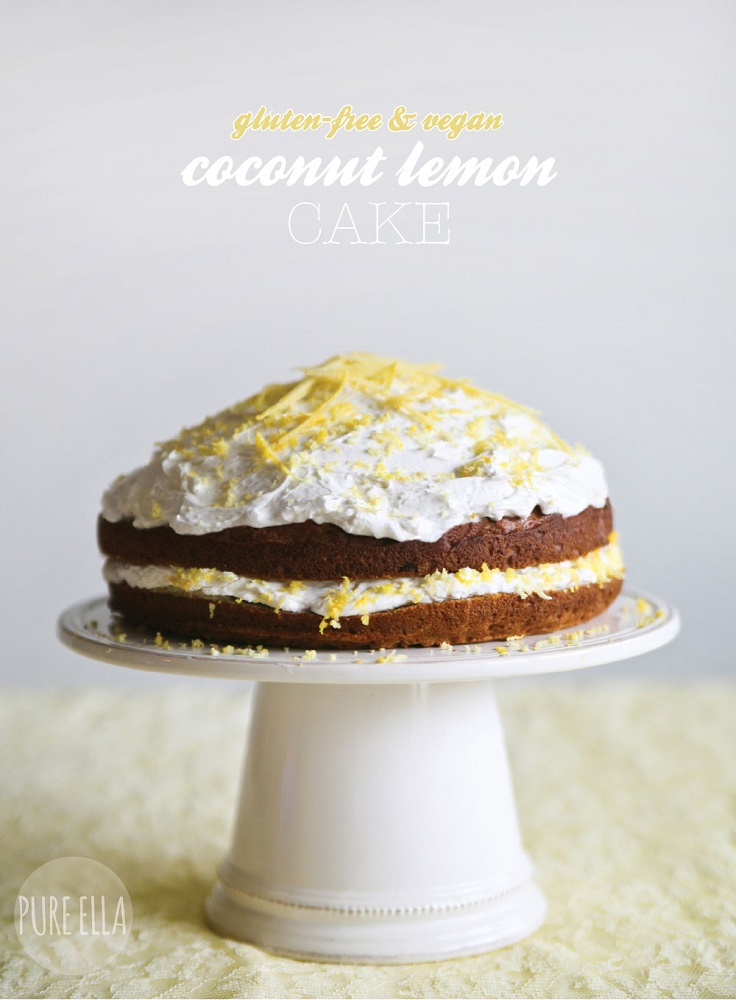 via pureella.com
Heavy desserts with lots of creams and toppings on them can be really delicious, but light ones can be as satisfying as these as well. The coconut lemon cake is moist, creamy, simple and yet so tasty. It goes perfectly great with a cup of coffee or tea. The combination of coconut with lemon do has it's very own sweet magic. If this is a combination you haven't tried before, don't hesitate to try it now. You are going to love it!
6. Chocolate Hazelnut Cake
Is there something telling you that just by looking at the picture, you know already that one piece of it just won't be enough? We think the same! Vegan or not, this cake with lots of hazelnuts is really something special and will certainly be loved by everyone. You will need more ingredients to make this super chocolate cake, but all the effort, time and money spent on her are going to be so worth it after tasting it. This cake really shows that sometimes desserts can really feel like being sent from heaven.
7. Coconut, Fig and Pistachio Cheese Cake
Not all people find the figs as the most delicious fruit around, but those who do should try this cake. Especially because it is combined with other tasty ingredients such as coconut and pistachios. The cake is really simple. It only has a crust and a filling. For the crust you need macadamia, pistachios, pitted dates, coconut oil and a pinch of salt. For the filling you need coconut oil as well, cashews, coconut cream, coconut yogurt, rice malt syrup, honey, vanilla powder and liquid stevia. So many tasty ingredients in one cake!
8. Spiced Apple Cake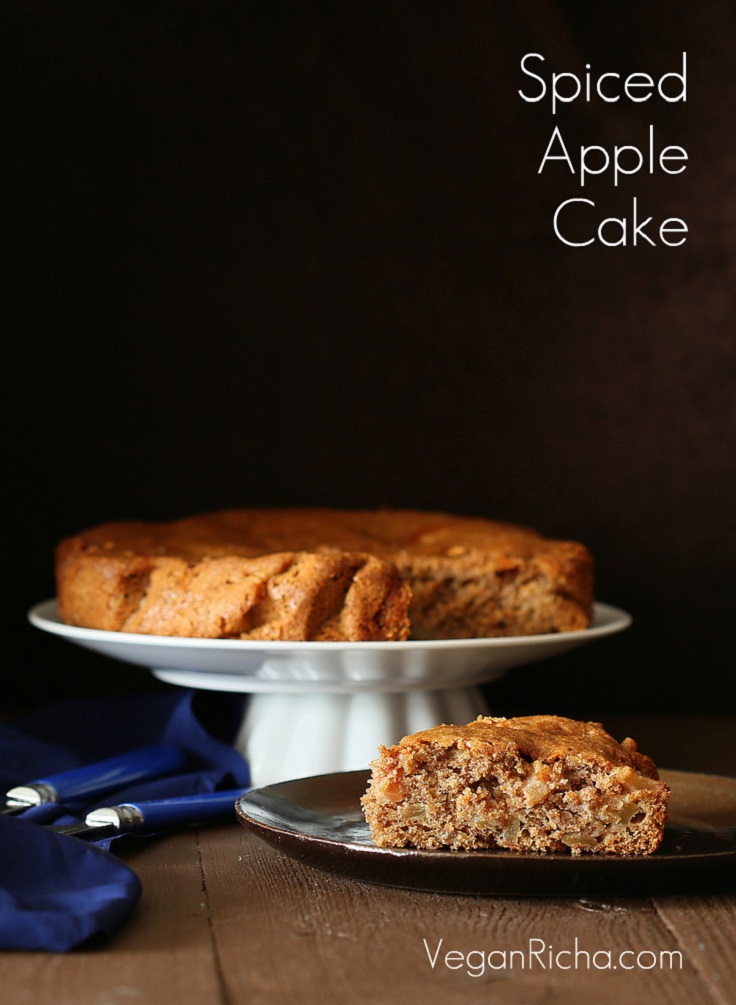 via veganricha.com
A moist cake with salted caramel topping. This one is perfect for Fall days, when you spend the cold times at home, enjoying the cozy home sweet home atmosphere with the lovely smell of an apple cinnamon cake. When shared with a dear one, this cake really gets a meaning! It's done in less than hour. Nuts go really good with the cake, so if you want to you can add chopped walnuts or/and pecans, or some crystallized ginger.
9. Carrot Cake
The carrot cake is a such a classic and it isn't that for no reason. This cake is just as the regular one, except that is vegan and some ingredients are adjusted to the vegan lifestyle. The vegan carrot cake is done in 45 minutes approximately and serves 10 – 12, which means it is a good choice if you are expecting guests, or when you simply want a dessert that will last for more than hour! Before serving, wait until the cake is cooled off and then you can even make the frosting, if you want one.
10. Ginger Pear Cake
Pears are not usually found in cakes and desserts in general, but when you see them as an ingredient, that thing deserves a try. This cake is done in hour and five minutes and it serves eight. It's moist, simple and with a little taste of cinnamon, vanilla, ginger and nutmeg. The pear is actually more as a decoration, than an ingredient, but you surely wouldn't want to miss it!