Dinner is essentially about sitting around the table with your family, sharing how each of your days went, and resting after a hard day of work. Unless you are one of those people who prefer the microwaved meal instead of a home-cooked one, then you're definitely faced with the problem of what is easy and quick to make but healthy at the same time, and you always run out of good recipes to try out.
And what about when you're cooking just for two? Preparing a meal for two people can often prove itself more difficult than cooking for a whole family. Couples that live together without children are used to preparing their meals just for the two of them, but how often do they resort to quick-fix dinners?
That's why we've prepared a list of our top 10 easy dinner meals that you can prepare for just you and your partner. Leave us a comment in the comment section down below; we would love to hear what your favorite recipes are.
1. Cordon Bleu
This is a very interesting and easy to make recipe. Just find some nice boneless chicken breast, some swiss cheese, ham of your choosing, and dijon mustard, and you're good to go. You definitely have the rest of the ingredients already in your kitchen. The good thing about this meal is that you can stuff the chicken breast with practically any kind of cheese and ham and whatever else you add-if anything-is at your own choosing. The chicken can be pre-stuffed from the night before, so all you need to do is cook it and enjoy it.
2. Lime Seasoned Chicken

Quick and easy, this meal can be prepared at any time and for any occasion. The ingredients consist of: chicken, extra virgin olive oil, cilantro, lime, 2 garlic cloves, chili powder, and/or paprika for sprinkling. This recipe is so good and so easy that the chicken tastes like it's been marinating overnight when in reality, it's been only cooking for 20 minutes tops. You need to cook the cut chicken on each side, squeeze the lime, sprinkle it with paprika/chili, and add the garlic. Yes…it is literally that easy.
3. Italian Sausage Bread Pizza
via bettycrocker.com
This is a nice take on the all-time favorite meal-pizza. It's easy to make and definitely healthier than the boxed up pizza you order on the phone. The good thing about this is that you can make it with any ingredient you want. You can even ditch the sausage and completely transform this into a tasty vegan pizza. You need to cook the Italian sausage in a pan and add the rest of the ingredients to it, like onion, garlic, pizza sauce, and pepper flakes. Then cut the bread in half length-wise before scooping out the center. Put the sausage mix from the pan onto the bread, sprinkle it with mozzarella and Parmesan cheese and bake in the oven until the cheese melts. Voila…you have an easy bread pizza for two.
4. Shitake Mushroom and Spinach Frittata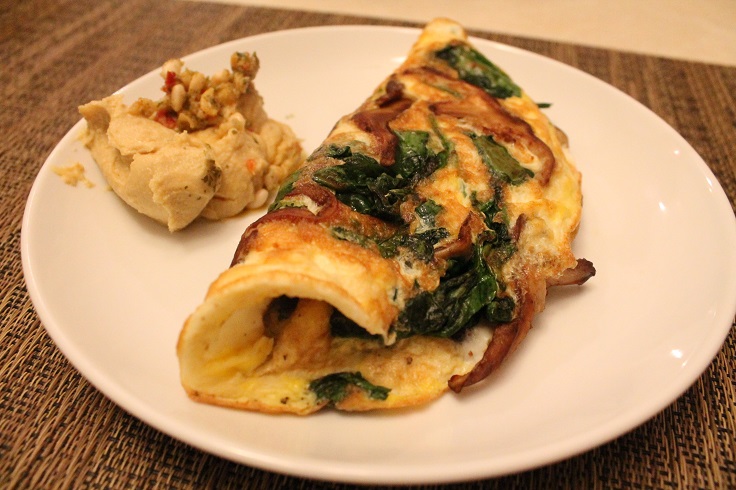 via sarasmiles.com
This is so simple to make that it won't even take more than 10 minutes of your time for both of your frittatas. All you need is some shitake mushrooms, a handful of spinach, coconut oil, 1 whole egg, and 2 egg whites. First, you have to sautee the mushrooms and then add the spinach, cooked until it gets wilted. Then beat the eggs and add them to the pan. Simple, quick, and easy… bonus: It's really, really healthy.
5. Spaghetti with Smoky Tomato and Seafood Sauce
via bbcgoodfood.com
Doesn't that sound delicious and mouthwatering? Seafood in tomato sauce with spaghetti. It's also very easy to make and takes away no time at all. What you need to do is sizzle the garlic, fennel seeds, and the seedless chili in a pan, then add the paprika, tomatoes, sugar, and seasoning and let it simmer while your pasta cooks. When the pasta is ready, together with the seafood, add it to the tomato sauce and enjoy your dinner with your loved one. Super easy, right?
6. Tuna and Potato Casserole

via cloverleaf.ca
Who doesn't like casserole? And as a bonus, this casserole has been thumbed up even by children. Tasty and super easy to make-just how you'd want a casserole to be. You just cut the potatoes into cubes, gently mix them with the tuna green onion, corn, and salsa. Grate a generous amount of cheese on top of it and bake it in the oven for 25 minutes. Serve with some sour cream for a bit of freshness, and you're good to go.
7. Pulled Pork Sandwiches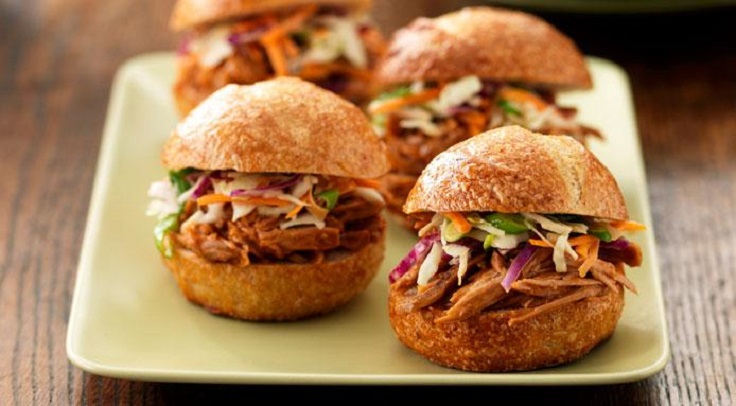 To make the pork for pulled pork sandwiches, it would take you 3 hours for the meat to cook to perfection but let's say you have some leftover pork in your fridge. You can toss it in a pan with some Worcestershire sauce, pull at it till it's in shreds, and mix some onion, cabbage, carrots, scallions, and some lemon juice. Spread some butter onto the bread rolls and then make sandwiches with the pork mix. It's delicious, it's easy, and it's the perfect dinner for two in front of the TV.
8. Caesar Salad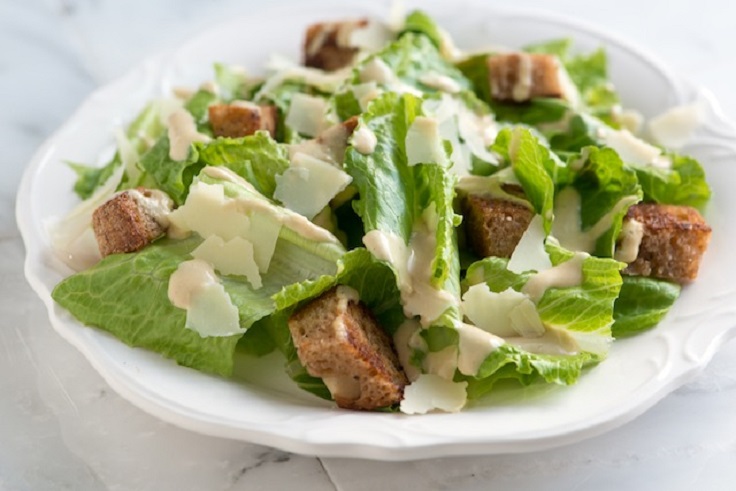 A salad is probably not on your dinner menu, but sometimes your body craves a lighter food, especially during the night. This is the easiest recipe to make your own Caesar salad with homemade croutons and sauce. It doesn't get any better than that. The croutons are made with just a bit of butter and old bread tossed in a pan. The sauce is made of parmesan cheese, minced garlic, lemon juice, Dijon mustard, anchovy paste, and Worcestershire sauce in a blender or food processor. Don't forget to put the finely grated Parmesan on the fresh lettuce and enjoy it!
9. Cajun Salmon Cakes
via wholeisticallyfit.com
Find yourself some tasty salmon fillets, and you can make these super easy Cajun Salmon cakes. What you need to do is shred the salmon with either forks or just your hands. In a bowl, put the thyme, parsley, Cajun seasoning, breadcrumbs, garlic, onion, hot sauce, salt, and pepper and mix them before adding some eggs and the shredded salmon into the mixture. Create patties about the size of your palm each and bake them for 12 to 15 minutes. Is that super easy or what?
10. Tuna Fettuccine Alfredo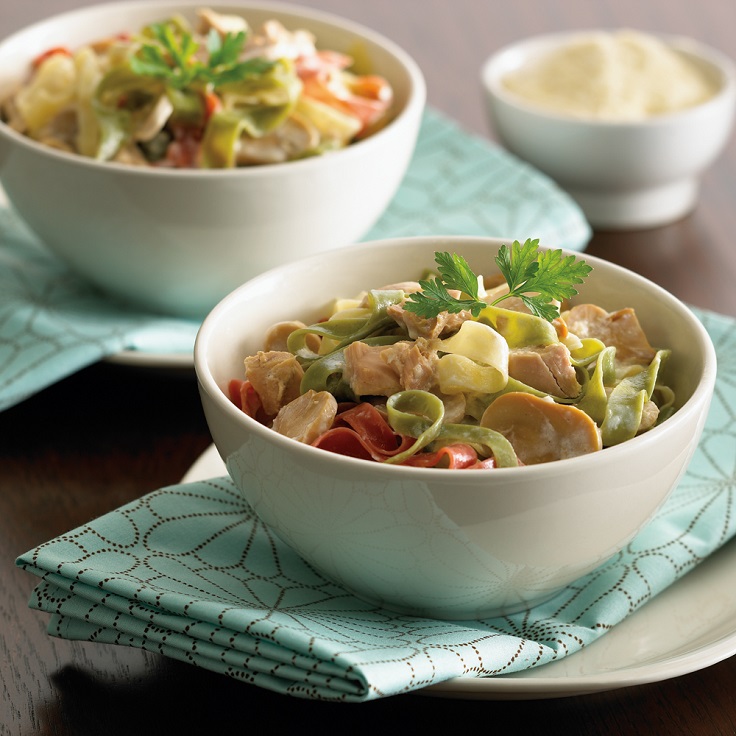 via easyfastdinnerrecipes.net
This is a literally 5-minute dish, and it's so tasty you're gonna eat it whole in less than that. The fettuccine takes only 4 minutes to cook, and in that one minute, you can prepare everything else. Saute the canned tuna in some olive oil, and then add the garlic, mushrooms, and cream. After the pasta is done, put in the pan and toss it around until it's covered completely. Serve immediately and enjoy a super easy, 5-minute meal.