You have made every possible thing out of wool and yarn, you've made your scarfs, you knitted sweatshirts and made baby clothes for all the neighbors and family but what's next to feed your addiction to this superb pass time? The answer is easy, we're heading towards home decor.
These are the top 10 DIY knitting ideas for Afghans, or in other words, blankets to dress a wall up, or keep you warm while you're watching a movie or simply reading your favorite book. Give your home a snuggly atmosphere.
Falling Leaves Afghan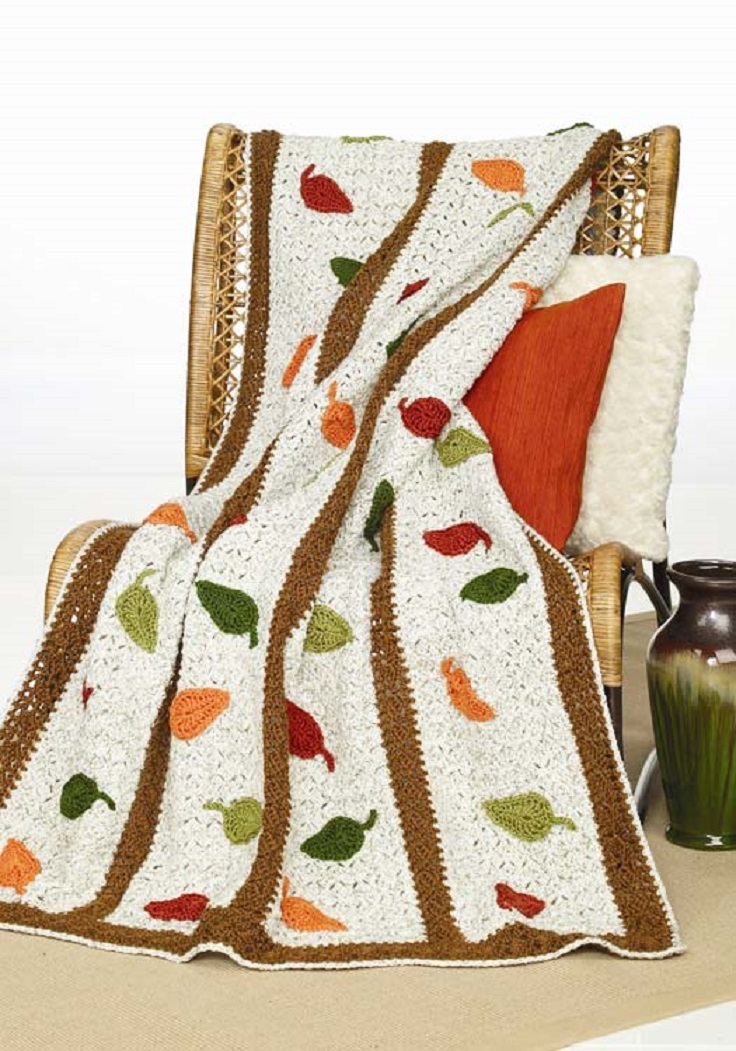 This makes it a perfect gift for an autumn wedding Afghan for the cold night both romantic newlyweds while relaxing together on the sofa doing what they do best. It could also be perfect for yourself so fear not! We are entering the summer months but never forget that time flies! This crochet afghan looks great with the fallen leaves and the super autumny colors. You get a true sense of warmth even if not worn! Why not decorate your tired-looking sofa and give it a new lifeline covering it up?
Bramble Cable Afghan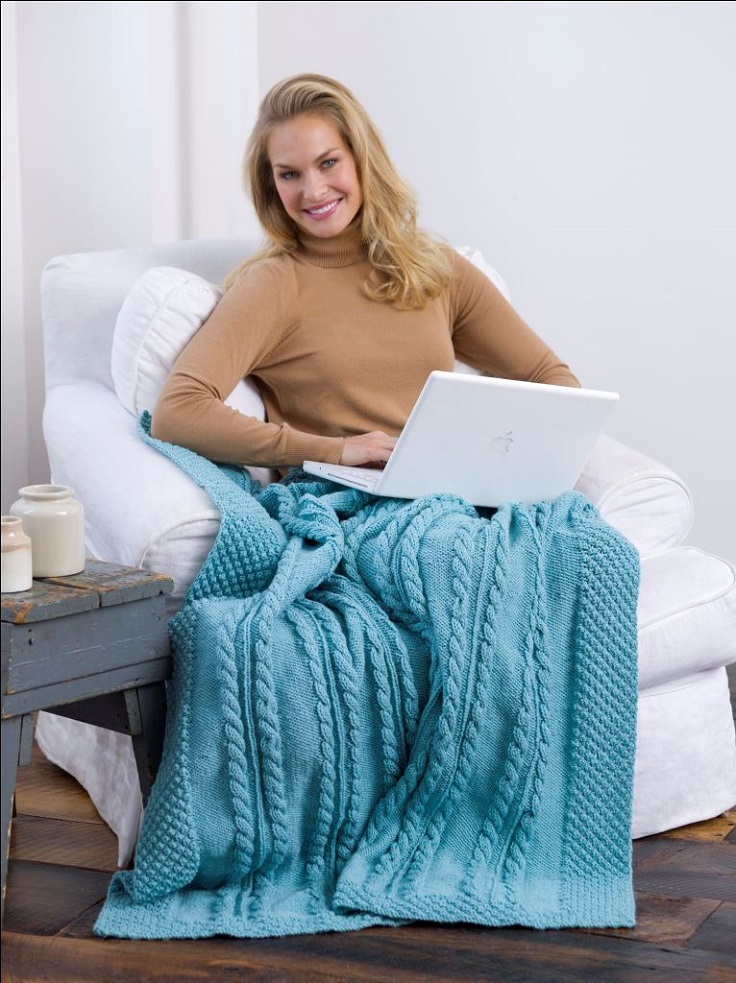 This could be a great DIY if you appear to be living next to the beach, or indeed have a nautilus theme within your home. Or simply, because you love the color turquoise in the first place! It will for sure accentuate your home if it is indeed white and in need of color. And what is great about this, is that you do not have to live with it all year round, changing somewhat your home as you fancy. Brighten up your mood with this striking colored afghan.
Southern Cross Afghan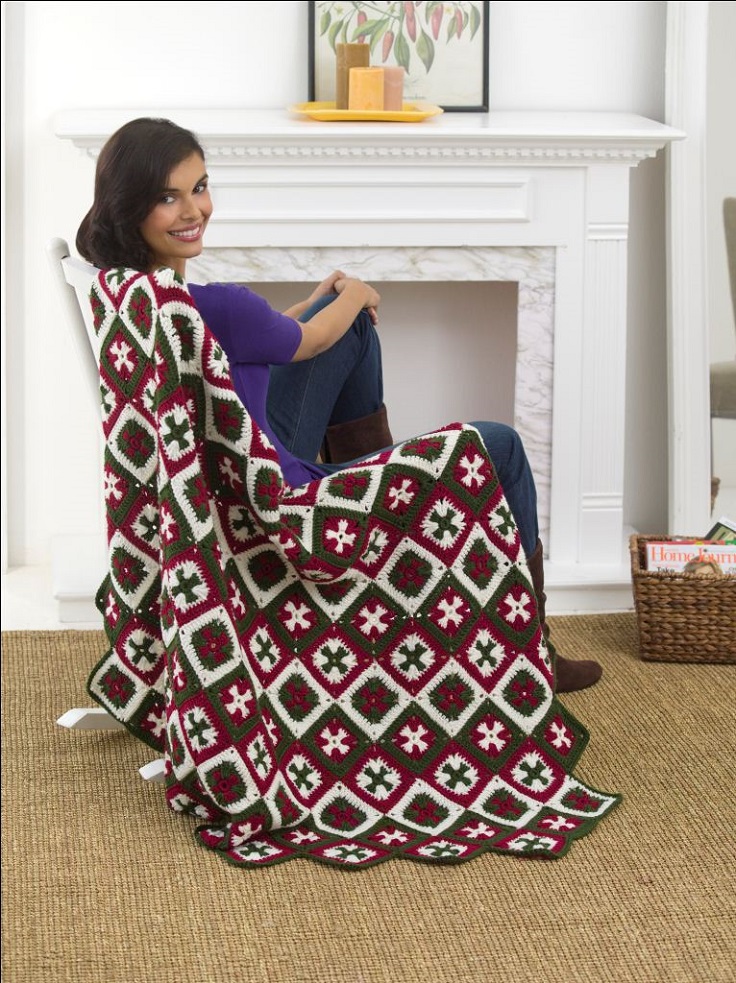 We are halfway through Christmas believe it or not! So, never too early for a DIY project that will make you celebrate the festive period like no other. Christmas can get pretty expensive, as we tend to wish to make it different year after year. So, start early instead of throwing your money all at once! After all, December is meant to be enjoyed not to be afraid of it! This afghan really does create that spirit we all need especially during the winter months. This has a vintage style to it and would fit either a modern home or a vintage one.
Aran Afghan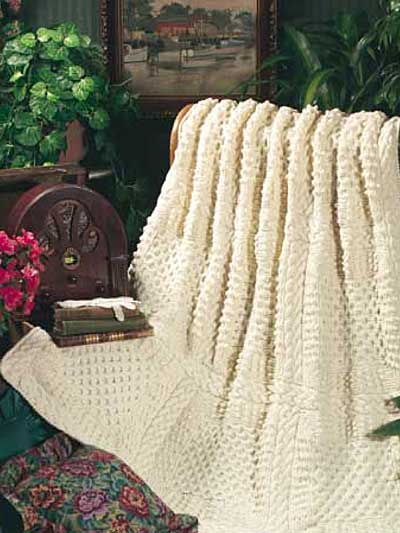 There is something extremely elegant about off-white. It is crazy to think that this color matches pretty much every interior and color combination. It has a sense of peace to it. Very Feng Shui! The pattern is beautiful and could be great for the baby crib, on top of a bed, or for snuggling up on cold days. The honeycomb and bobble pattern blocks are really smart in any home for any occasion as a gift or for yourself!
Lacy Web Throw
The lacy throw is great for decorating a piece of furniture such as the bed, the sofa, or the armchair and could help gather style within your home. Naturally, it is also perfect to wrap up, only without making you feel you're in a sauna in the making while still having enough air flowing through your body. As we know fall is around the corner and this will be perfect for those nights in and movie nights.
Earth Tone Knit Afghan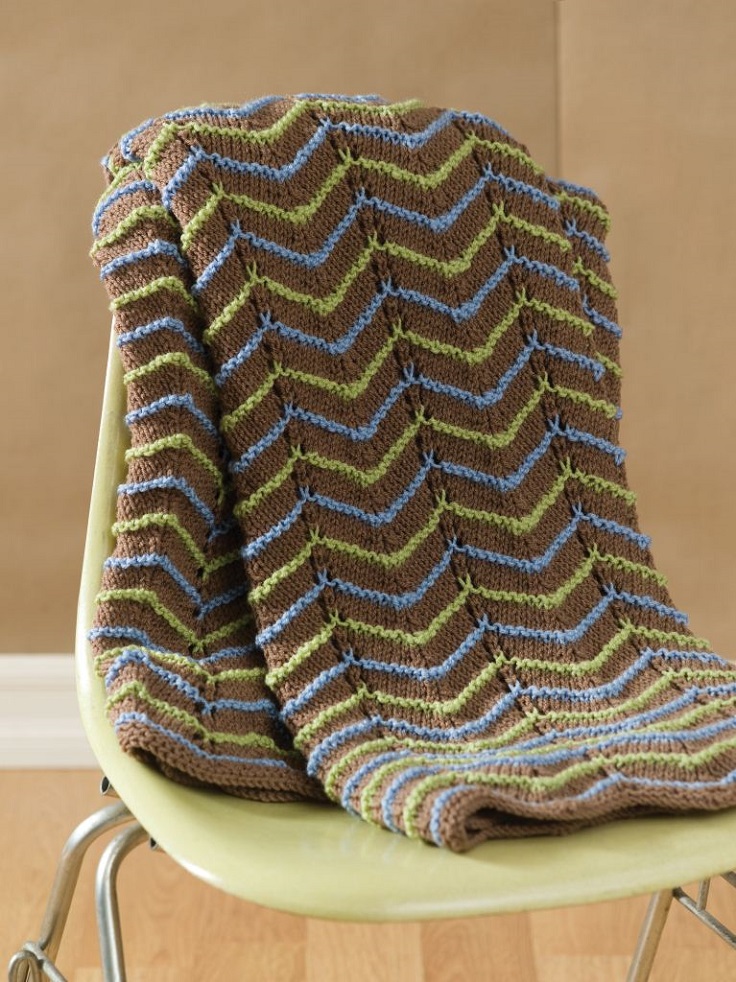 There is something magical about this afghan, making you resect the nature around you and perhaps even influencing you to become more eco friendly! Bring the outdoors to your indoor space and also gather around more greenery, as in-home plants to really go a step further creating a beautiful and natural surrounding, at peace. The pattern uses a circular knitting needle and could also be great as a gift to a nature lover.
Floral Bouquet Afghan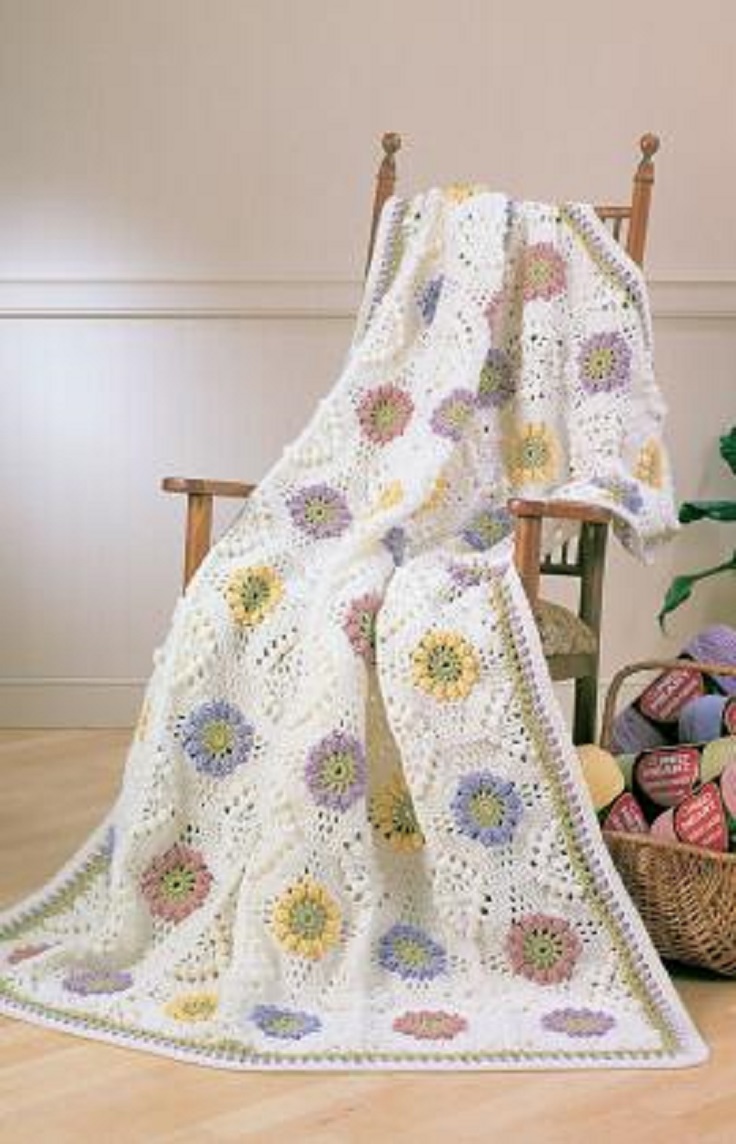 You love flowers and love to be offered them all year round? The very pretty floral designs are rather fun to make and when combined together, will make a really special afghan. Perfect for spring and the summer months if you live a little high in altitude, you would for sure know that evenings are still a little chilly! Bring some freshness and positivity to your home.
Ripple Throw Crochet Pattern
We love this little number. There is a true sense of Caribbean style to it so if you are into exoticism, this will make you throw yourself back to a previous fancy and tropical holiday or simply wish you were there. It is, as described, a pure fiesta of colors making you somewhat happy, all the time! And we are never too happy to get this done! Lovely if you wish to spruce up the home with more vibrant colors.
Lacy Lilac Blanket Crochet Pattern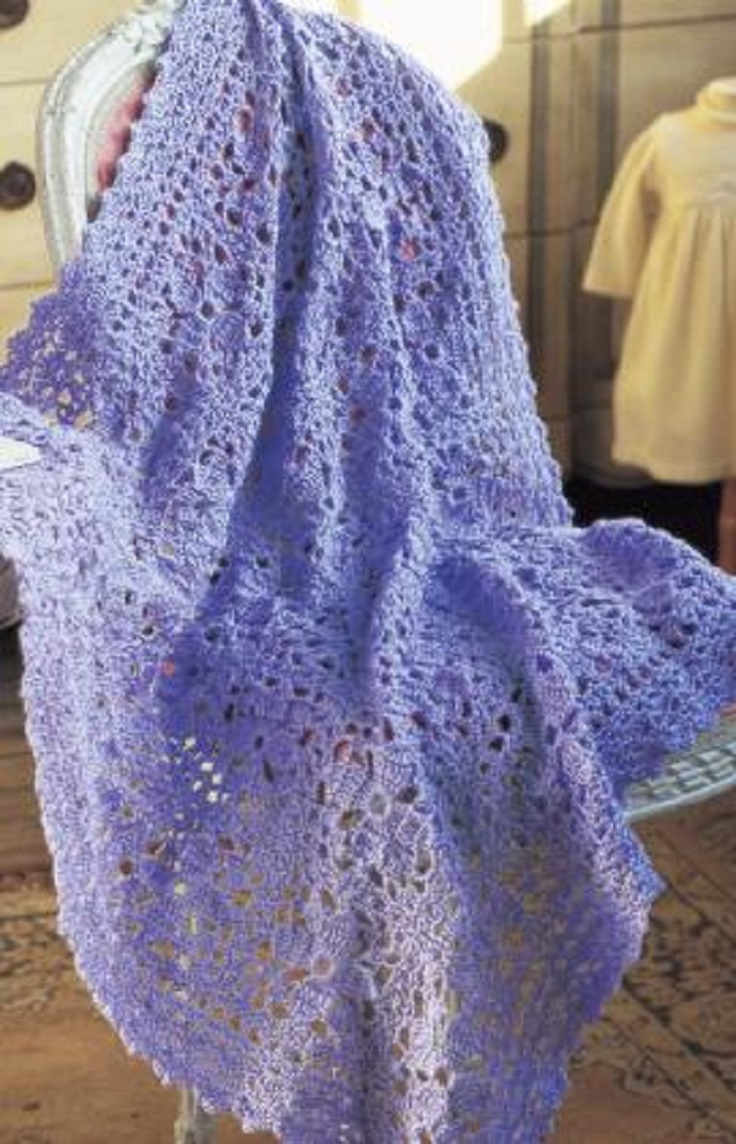 This next one within our Top 10 is reasonably simple to achieve if you have done a few in the past. But a great way to get your skills put forward into practice! It is a gentle lacework that will take some time to achieve and finalize, but one that you will look at and be very proud of yourself for having created something rather spectacular. Perfect for a baby shower if you can give it away that easily! Or simply tell them that they can borrow it for a couple of days!
Mitered Afghan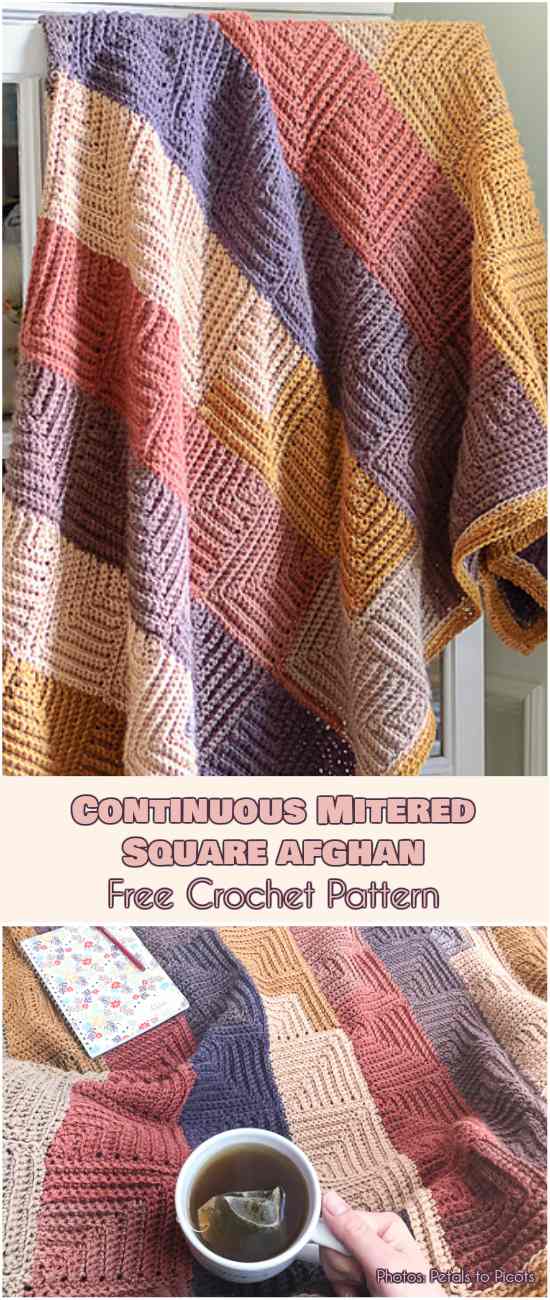 A very charming mitered afghan with minimal work involved. But the end results are terrific. It has a slight vintage look to it and will for sure become your best buddy when the nights are cool. Of course, feel free to use any colors you might fancy, but we are rather fond of this one making it somewhat easy on the eye and not wishing to dominate your home, but simply be part of it. Will look great as a throw too for the sofa or the bed enhancing the image of it all.