Instead of spending money on expensive air fresheners, candles and other scents, consider making your own. There are so many benefits of making your own freshener. It is very easy even for DIY beginners, it can be fun and creative, it is mostly a budget – friendly project and the best part of all is that your home will have an amazing scent.
The essential oils that are mostly used in the making have different purposes. For example, if you need an energizing scent you can use peppermint or citrus essential oil, or if you want a more relaxing scent, then definitely go for lavender. Wondering what and how to mix? Scroll along.
1. Essential Oil Reed Diffuser Air Fresheners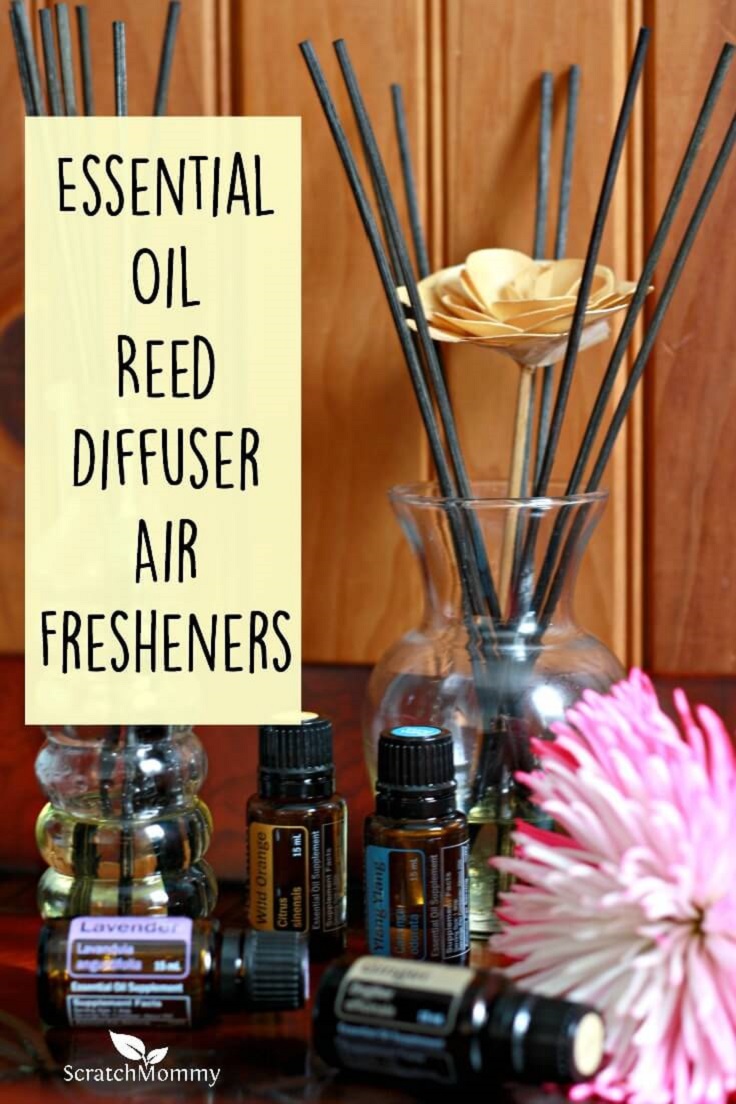 via scratchmommy.com
To make this air freshener, you need ¼ to ⅓ cup – this depends on the size of your container – of a very light carrier oil like sweet almond oil or fractionated coconut oil, 20 – 40 drops of one or few essential oil and rubbing alcohol and you need just few drops in order to help the carrier oil travel up through the reeds.
2. Floral + Beeswax Air Freshener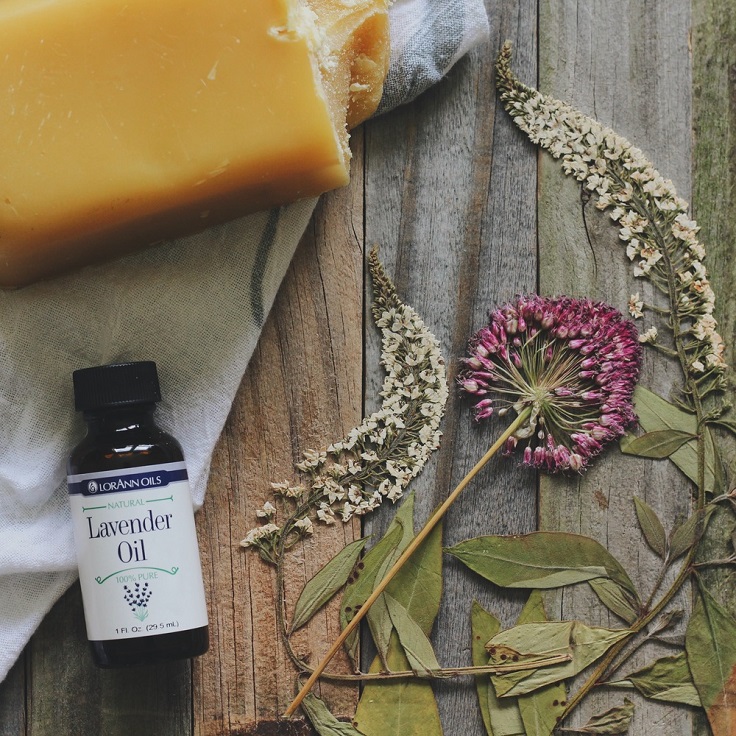 If you like your home to have a soft, floral scent, then this one is for you. You need dried or fresh flowers, beeswax, essential oil such as rose, lavender, or sandalwood oil, double boiler, wooden stick (for stirring), cookie cutters or soap molds, cookie sheet, wax paper and heavy twine. Before you start, make sure to press flowers into heavy items, such as books and leave them to dry.
3. Lavender Sachets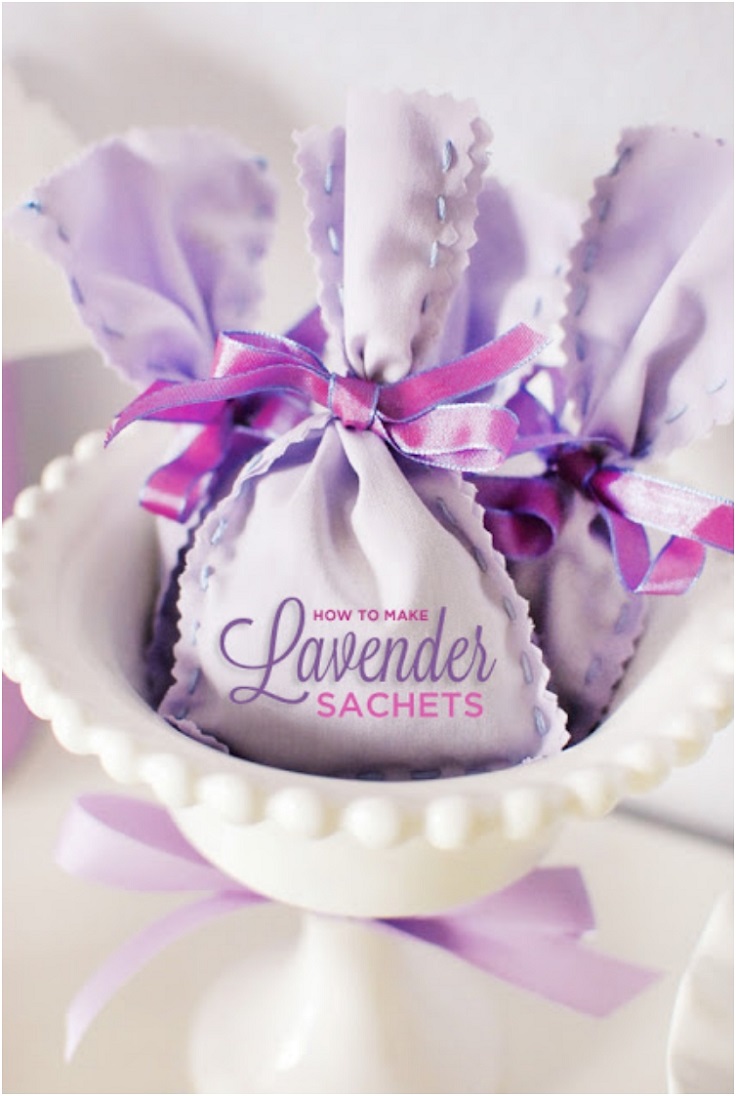 via annaandblue.blogspot.mk
Lavender freshener is perfect if you need something that will relax you. The lavender has a strong scent, so having a little bit of it will be enough. The perfect way to do that is to create a satchet and for that you need tray, dried lavender, pinking shears, scissors, fabric, embroidery thread, needle, spoon and ribbon. Also, for this project you'll need some basic sewing skills.
4. Holiday Air Freshener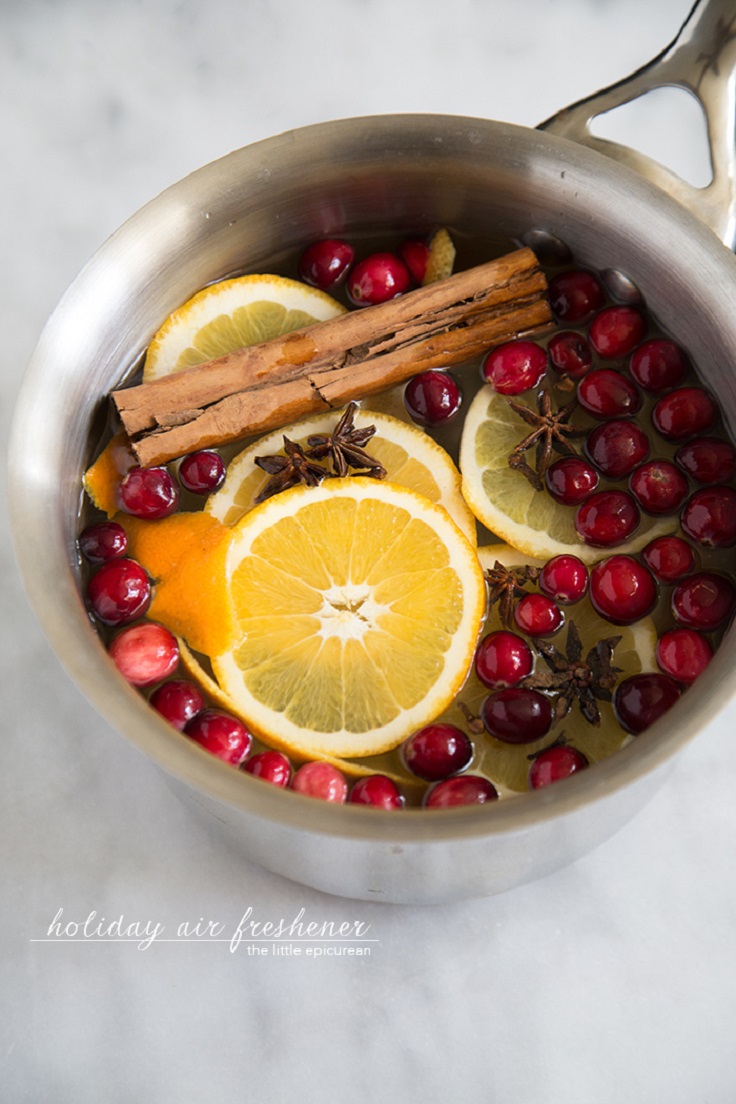 via thelittleepicurean.com
No matter what kind of freshener you use, but there will also always be few ingredients that will give your house the home-sweet-home atmosphere, especially during holidays. If you want to achieve this kind of scent, here's what you need – sliced orange, handful of orange peels, cinnamon sticks, handful of cranberries, cloves, star anise and water.
5. Kitchen Air Freshener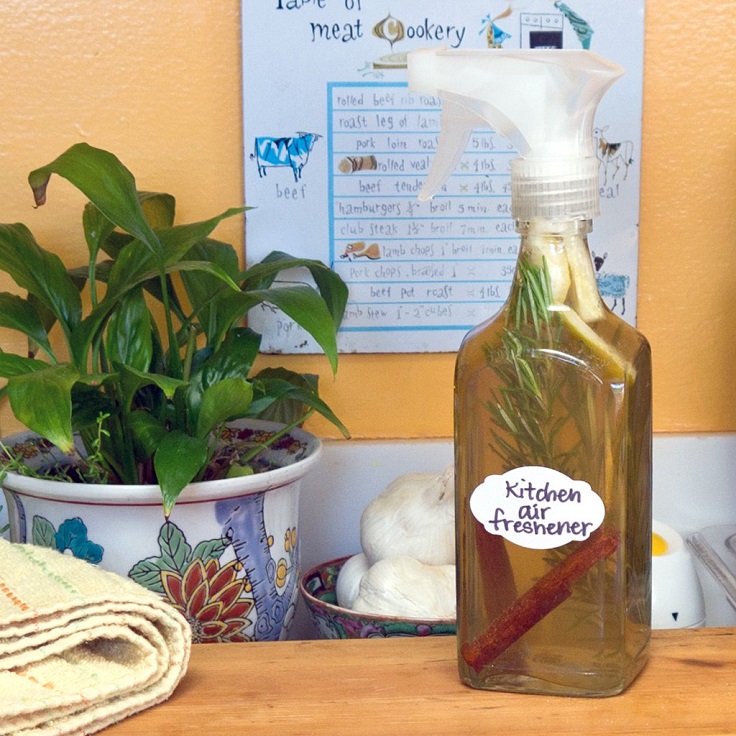 via popsugar.com
Sometimes all the cooking and baking can give the kitchen a bad smell. To avoid it, make sure to have a kitchen freshener! You can make your own with using just few ingredients, and those are vodka, vinegar, vanilla, lemon or orange peels, cinnamon sticks and spray bottle. You can also add rosemary sprigs, but this is optional.
6. Natural Air Freshener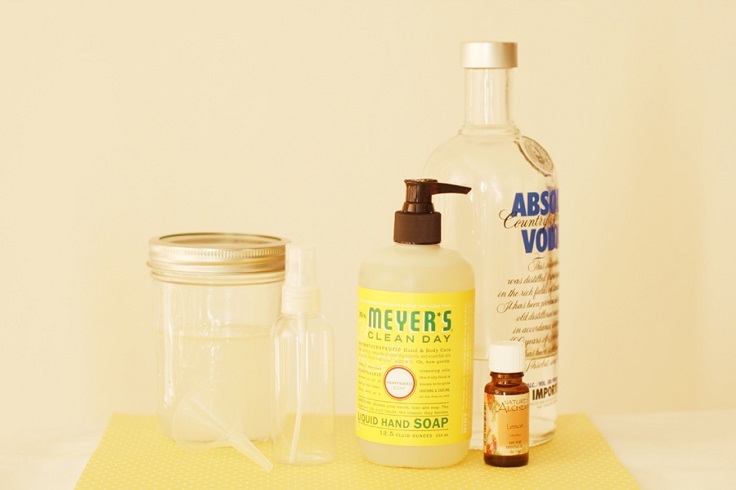 For this air freshener you need 1 cup water, preferably distilled water, 1 teaspoon vodka, 30 drops of essential oil by choice, 3 drops of hand soap or dish-washing liquid and a small spray bottle. If you've been wondering how can vodka contribute into making your home smell nice, here's the answer to your question – it is used as preservative to avoid the mixture from going bad.
7. Cinnamon Air Freshener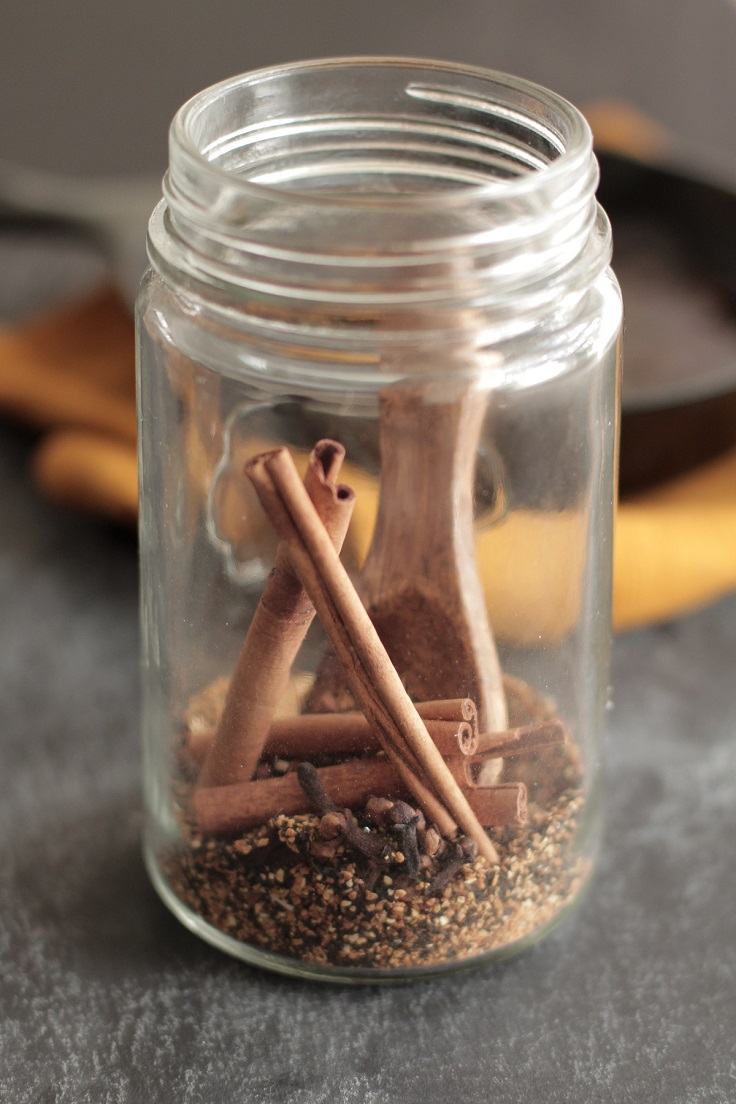 via livesimply.me
The rich, sweet scent of cinnamon is loved by so many people around the world! Not only cinammon gives drinks and desserts a better taste, but it can also serve as a good ingredient in an air freshener. You need ½ whole nutmeg, ¼ cup fresh ground cinnamon or 5-6 whole cinnamon sticks, ¼ cup pumpkin pie spice or apple pie spice, ⅛ cup cloves, 4 zested oranges or orange peel and 8 regular black tea bags.
8. Gel Air Freshener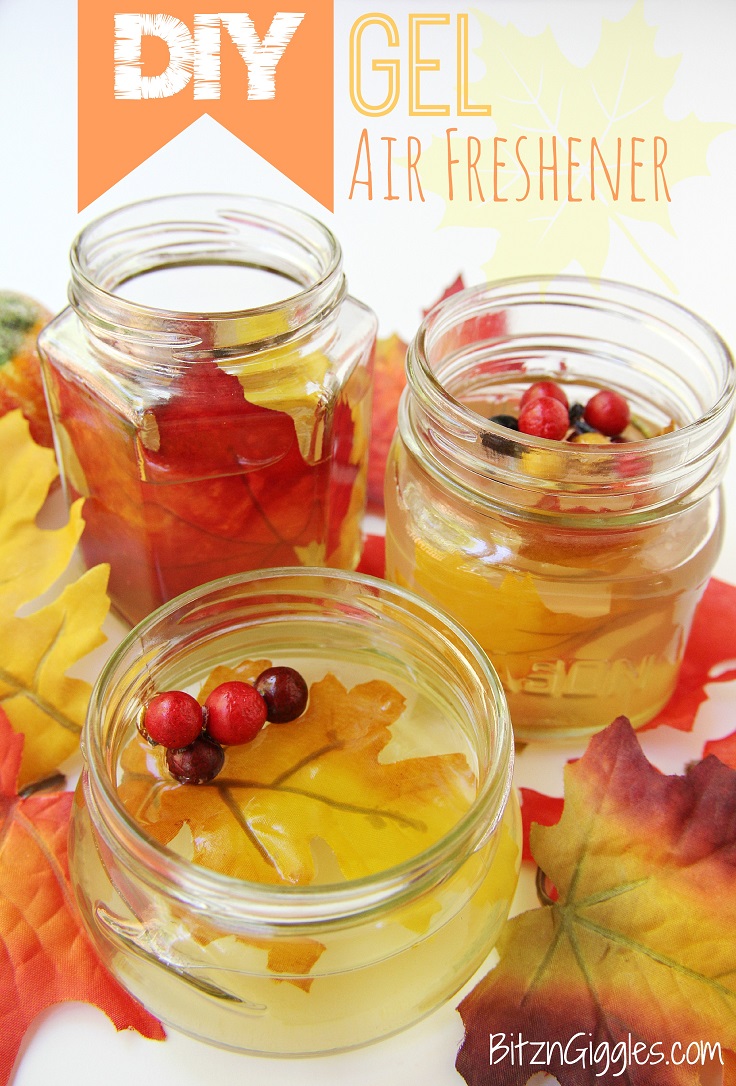 via bitzngiggles.com
Unlike the rest on this list, the gel air frsheners contain gelatin as their special ingedients. They are also easy to prepare and will make sure your home smells so nice! You need 2 cups distilled water, 1 oz. unflavored gelatin (equal to 4 envelopes), 1-2 tablespoons fragrance or essential oil, 2 tablespoons salt and 2-3 smaller glass jars. You can also add silk flowers or leaves to make it look more adorable!
9. Upcycled Spice Jar Air Freshener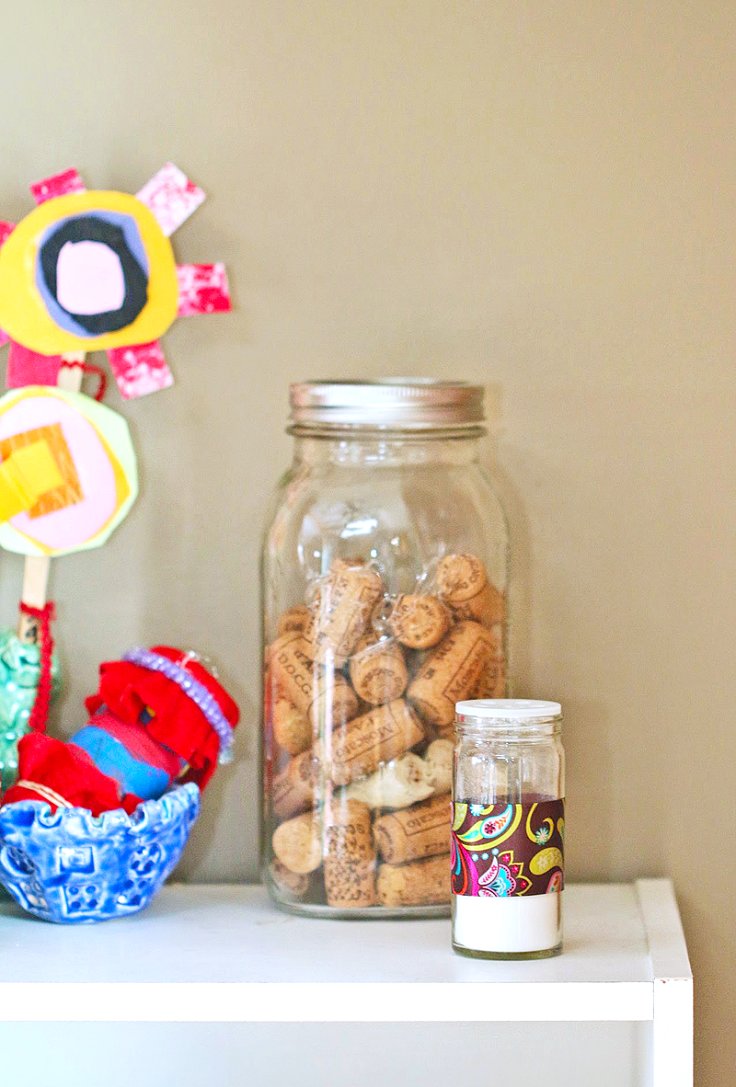 via theysmell.com
This is a super easy project and is great for anyone who would like to get rid of old jar. Besides the jar, you also need 1/4 cup of baking soda (it works as natural deodorant) and few drops of your favorite essential oil. Shake these two and voila, you have your own air freshener! If you want to, you can decorate the jars a little bit to make them appear prettier.
10. Citrus Air Freshener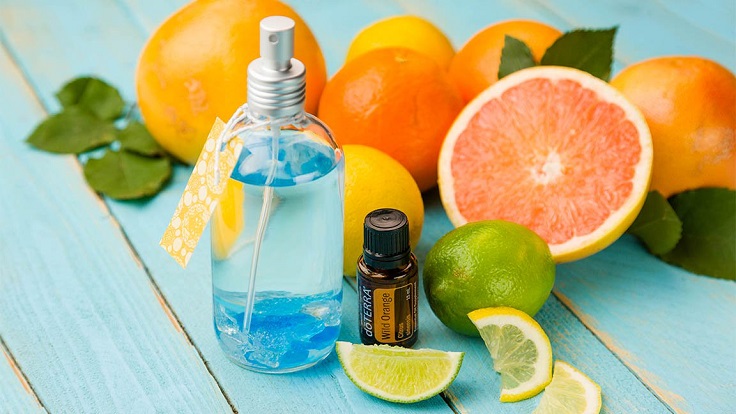 via doterra.com
There's something so refreshing about orange, citrus or lemon scent. They can be stronger than other scents, but are still definitely worth the try. For this air freshener, you need just three ingredients – 8-ounce glass spray bottle, 1/2 cup distilled water and 20 drops or citrus essential oil. Mix the two ingredients in the bottle, shake it well and your air freshener is ready.