No matter if you are hosting a baby shower or want to help out a friend or a relative, making the invitations by yourself can be quite a challenge. There are so many designs, colors, fonts, and decorations to be considered.
It might cost you a lot of money if you plan to buy the cards from a store, but if you want to save some money, then doing things on your own is always a good idea. Some of the tools you need you already have, but you'll have to buy some of them. Let your creativity out and create the perfect baby shower invitations from your dreams.
1. Owls and Trees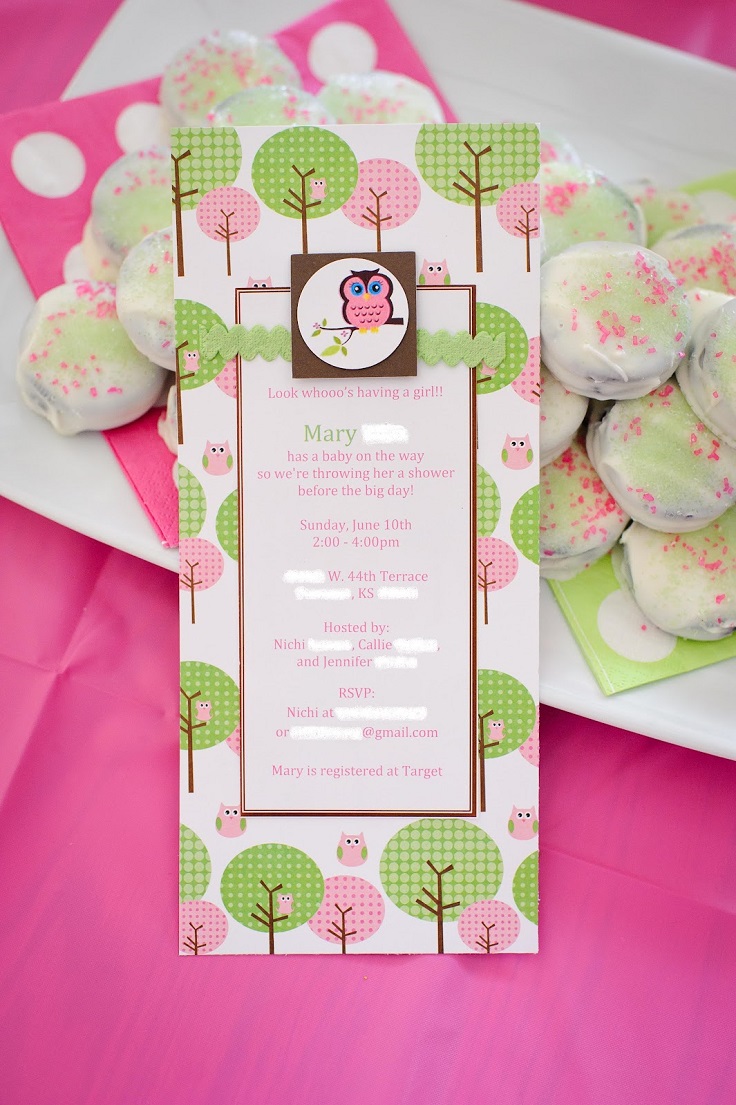 via justbakedlkn.com
This invitation is really cute, and you will love it, especially if you are an owl theme fan. It's very simple to make. The trees can be either drawn and painted by you or find similar to them and print. Add the owls to the invitation card, paint the background if you want to, write the text, and voila, you have invitations ready to be sent.
2. Baby Cradle Invitation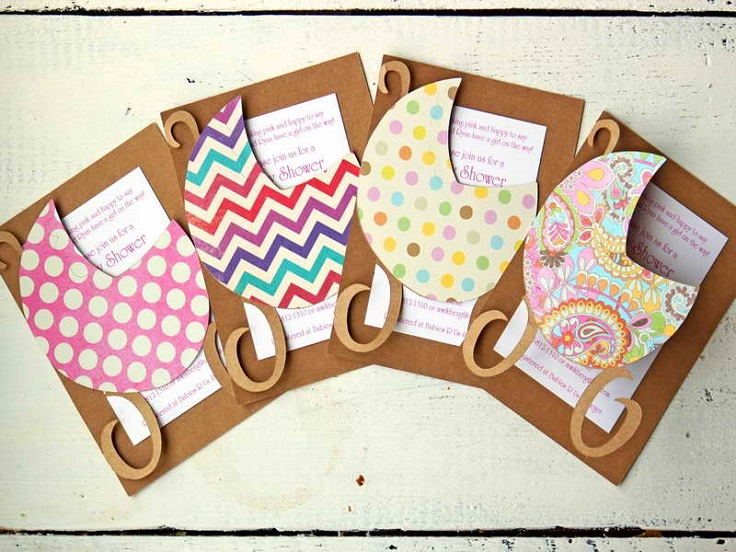 via playimmersion.com
It's all about the design. How the cradle looks like it's what makes this invitation interesting and creative. So, whether you decide to paint something on your own, print a design, or buy design papers from a store, try to pick different looks so that your invitations look all diverse and nice at the same time.
3. Oh, Boy!
via envytate.com
This is a very creative idea for a baby shower invitation, especially if it's a boy. The "oh boy" fits perfectly with the occasion. What you need to make these invitations is paper in different colors, text in some interesting font and for decoration, you can use ribbons, draw a mustache and so on.
4. The Owl Invitation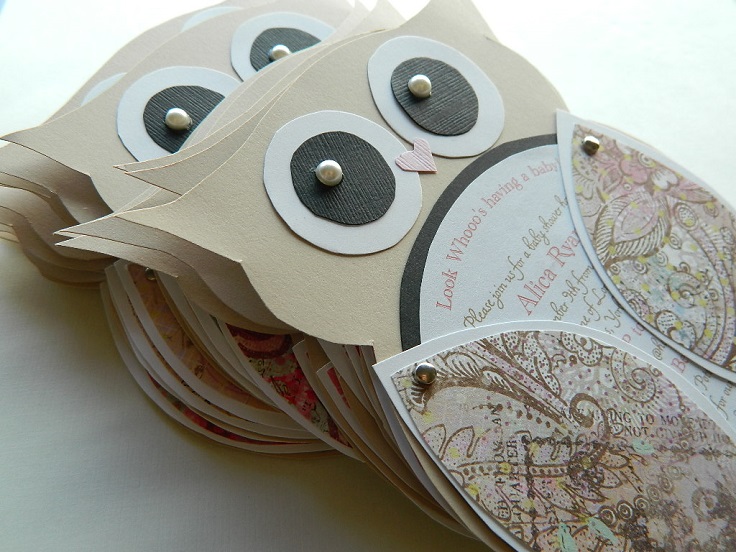 Here's another amazing invitation idea that will be loved not only by the owl theme fans but by everyone else as well because it simply looks adorable. It will take you some time to make them, especially if you invite more guests, but the effort will be worth it, because hey, cute invitations for a cute baby shower.
5. Lady Bug Invites You
If you are looking for a baby theme invitation that will be more creative than just the typical pastel baby colors, diapers, and all, you can try something like this. The ladybug invitation is easy to make, it has bold and interesting colors, and with the invitation text, it can be the perfect invitation card for you and your taste.
6. Diaper Baby Shower Invitation
via bitsofmimi.com
Well, at least this diaper doesn't stink! In fact, it's quite cute and can smell very nice if you decide to add a little bit of a scent to it. The instructions are easy, and if you are already a DIY fan, then it's likely that you'll have half the materials you need at home. You can make the diaper's design in only one color, but you can play with it and make every invitation unique.
7. The Diaper Invitation Pt.2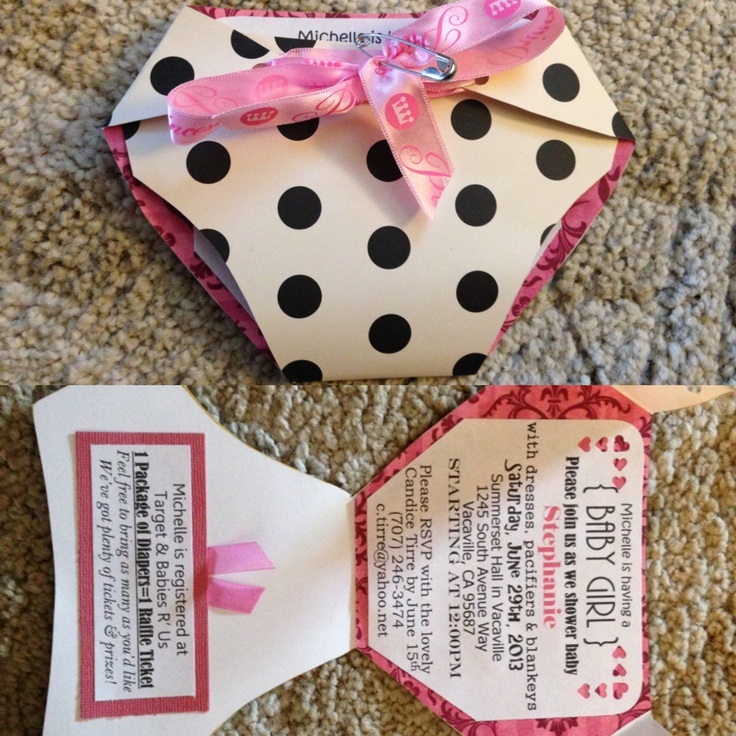 via pedalbound.com
Here's another idea for a diaper invitation. You might find it more suitable for a baby girl shower, but you can easily switch it for a boy by changing the colors. Besides the essential DIY tools such as scissors and glue, you'll need paper in any color you like, ribbon, and some interesting background design to make these invitation cards.
8. These Shoes Are Made For Inviting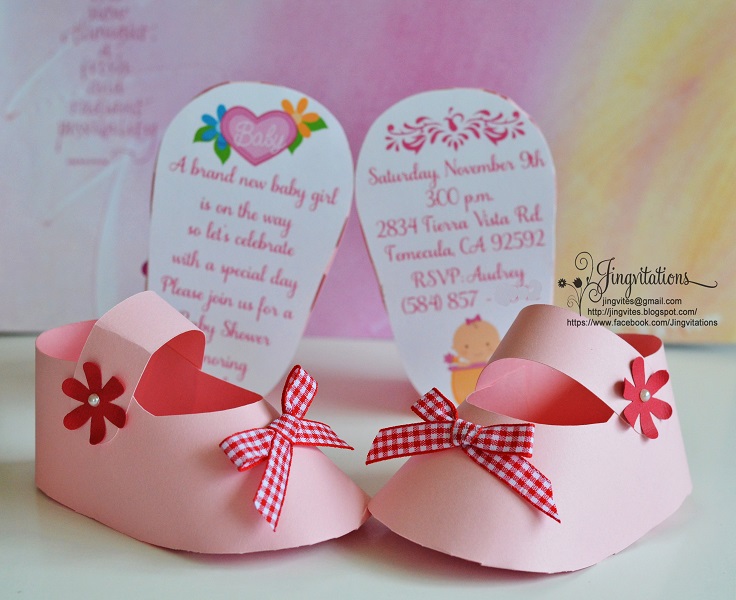 via babysshowerinvitation.blogspot.com
And they're definitely not the easiest shoes to be made, especially if you are new to the DIY lifestyle. But aren't they so adorable that the effort making them will be worth it? Every baby deserves creative and adorable baby shower invitations, and luckily there are so many items and tools to help you in that.
9. Onsie Invitation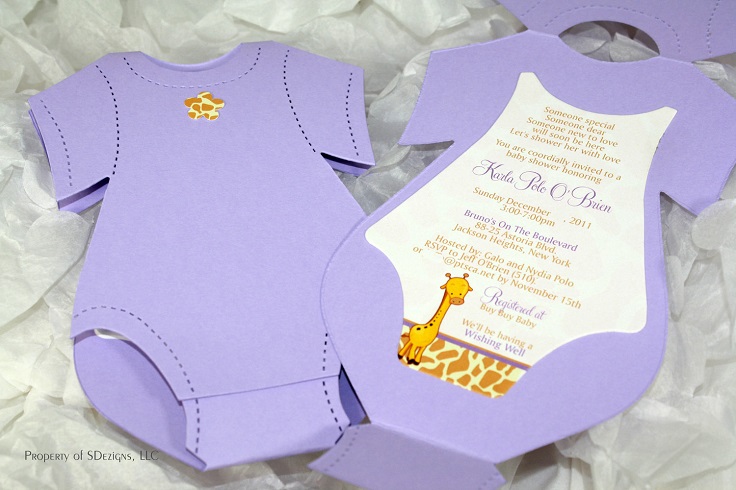 via invitationbank.com
Is it the color, the shape of it, or even the giraffe? But these are some of the cutest baby shower invitations you can make. It will take you some time to make all the invitations, especially if you are waiting for more guests. You can even make one for yourself to keep as a memory. You don't get to see that cute homemade invitation.
10. Pinwheels and Pearls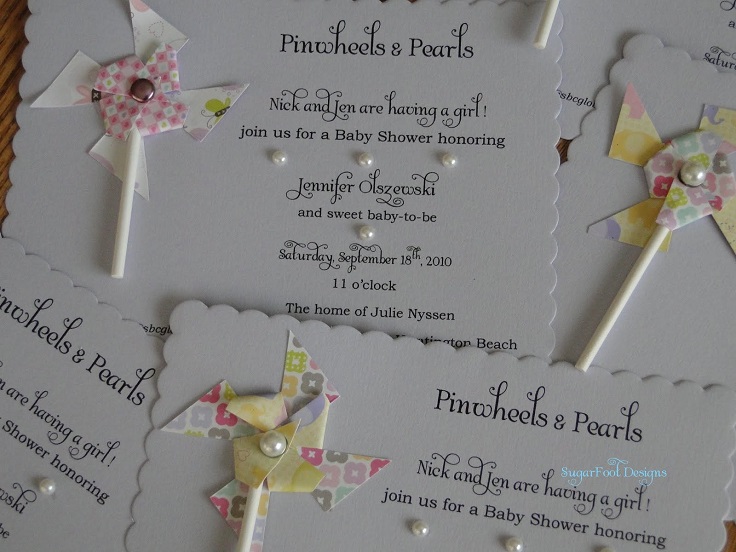 via sugarfootmomma.com
Who said that pearls are only good as necklaces? These invitations prove that even pearls fit into a baby shower theme. Together with the pinwheels, they sure make a duo of a fantastic invitation. Writing the text in some interesting font will also help in making the invitation card more unique.