With spring spreading its wings and summer being almost here, we are lucky enough to have the opportunity to spend more time outdoors. Those who are lucky enough to have a garden are slowly but surely replacing their living rooms with their backyards.
So why not make your backyard as comfortable as your living room? This means placing useful furniture, decorating it, and giving it a personal touch, of course. You will be enjoying spending time in it even more.
Relaxing, sipping wine in the evenings, having dinner, reading, hosting parties, or simply taking a much-needed nap – your backyard is the perfect place for all of these things. And the best part is that you don't have to buy new furniture as you can easily make it yourself.
Recycling, upcycling, repurposing… There are so many budget-friendly and eco-friendly ways to create backyard furniture. We will help you get inspired by sharing some DIY backyard furniture ideas we love. Take a look…
DIY Pallet Furniture Set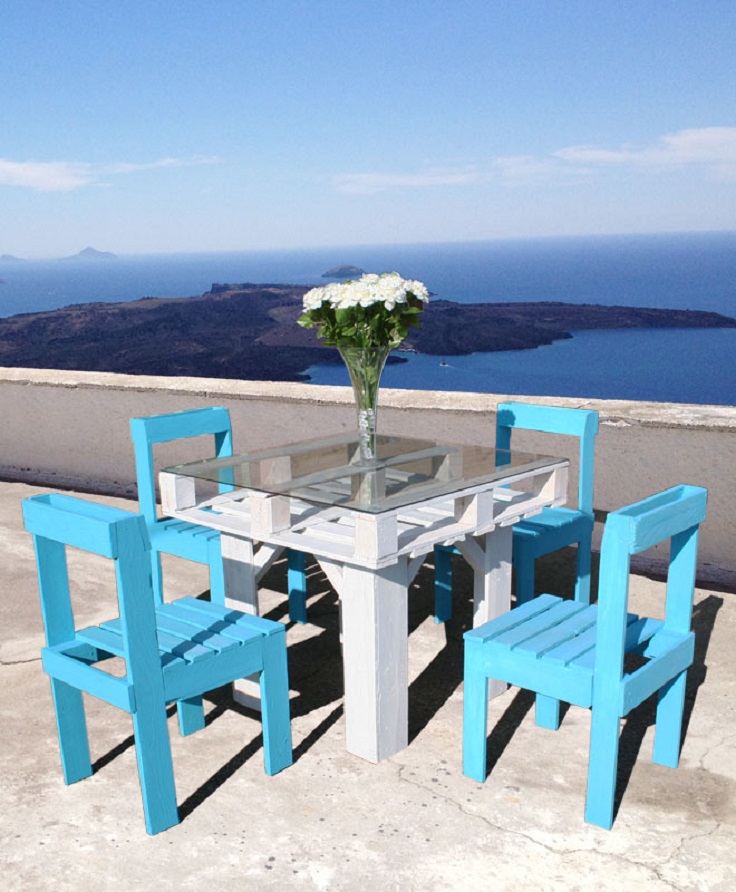 via bridgman.co.uk
This project proves once again that pallets are the ultimate item to use for creating amazing furniture – no matter if it is for the home or the garden. The particular set is perfect for your backyard and is easy to be made. You can check everything you need for the project on the link above. We love how detailed the tutorial is. The step-by-step photos sure help. And the final result is simply stunning.
Repurposed Wooden Shipping Crate Table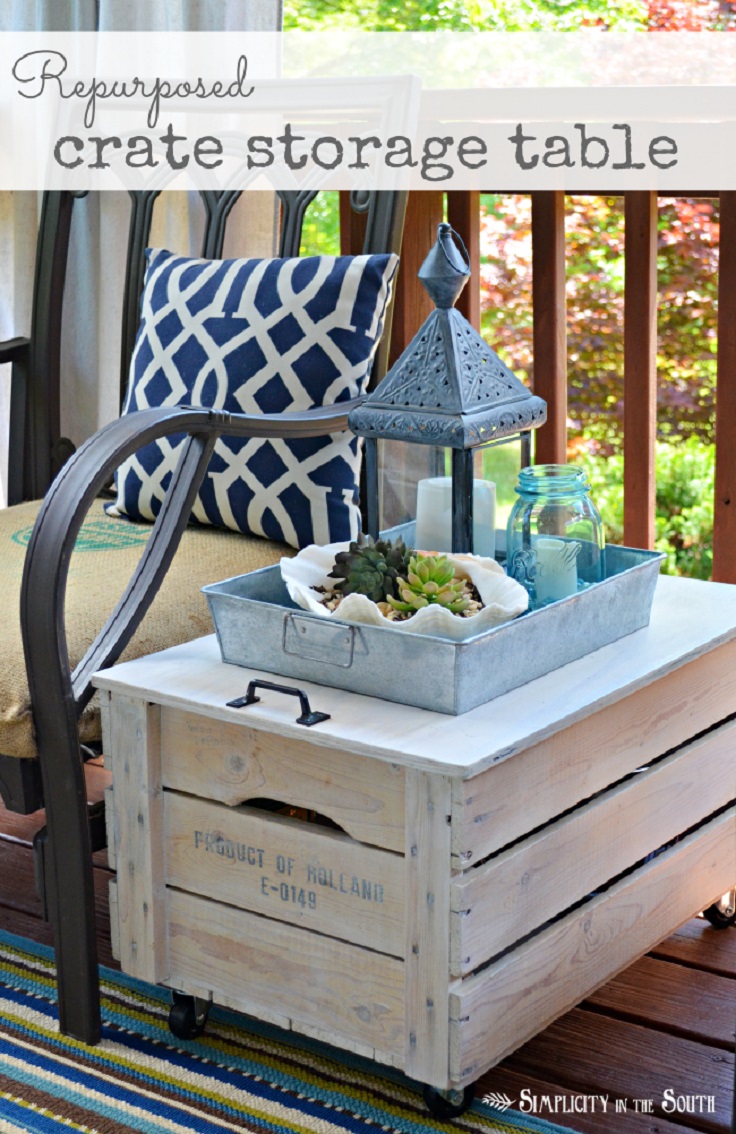 Repurposing is fun, eco-friendly, and inexpensive. We love giving new life to old things that would have probably end up in the garbage. Like wooden shipping crates – they can be reused in so many ways. All you need is a bit of creativity and a good idea like this one. Learn how to make a beautiful table by using wooden crates on the link above.
A Garden Armchair Made of Plastic Fruit Crate
It is not only wood crates you can use for making awesome garden furniture; plastic fruit crates are just as good! Take a look at these amazing armchairs made of the plastic crate that will make a nice addition to your backyard this spring. It is such a fun garden chair, comfortable and budget-friendly as well. All you need to do is throw some pillows, put them in the shade of a tree and enjoy!
A Garden Stool Made from Old Tire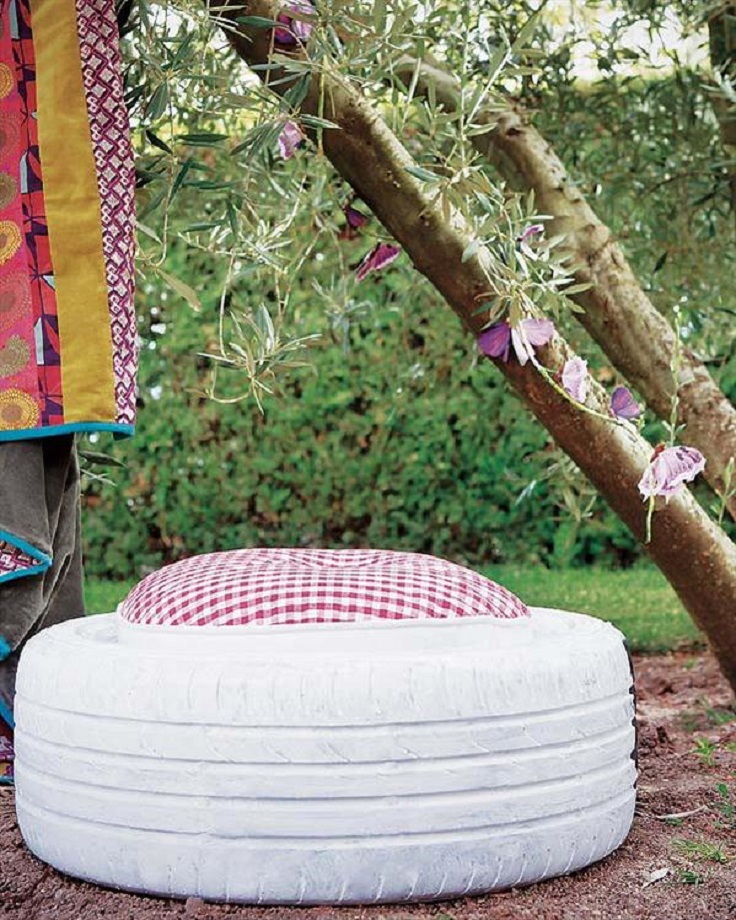 Don't you even think about throwing those old tires! We have such a great idea of how to reuse them. You will be thrilled by this garden stool made from an old tire. It is so easy to be made and so budget-friendly. And you are repurposing, which is also good for nature. To make this stool, you'll need an old tire. a wooden board, a jigsaw, acrylic paint, white gloves, sandpaper, brush, pencil, a tape measure, and a rope.
DIY Hanging Bench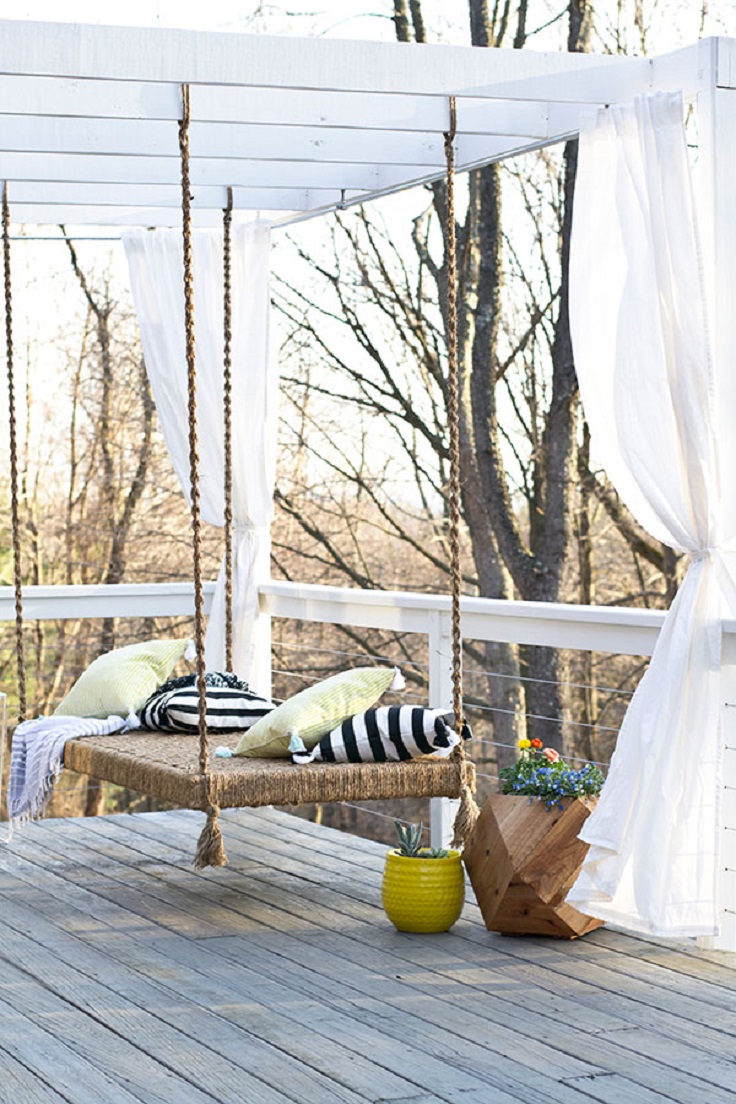 via ext.homedepot.com
This whole deck makeover you can see on the link above is totally amazing. The DIY hanging bench is our favorite as it is something you can make on your own (which means saving your budget), yet it looks stunning. It is actually a wooden bench is suspended from cables, and the rope is wrapped around the cable to match the bench. Doesn't it look oh so relaxing with all those comfy pillows on it?
DIY Rolling Cooler Ottoman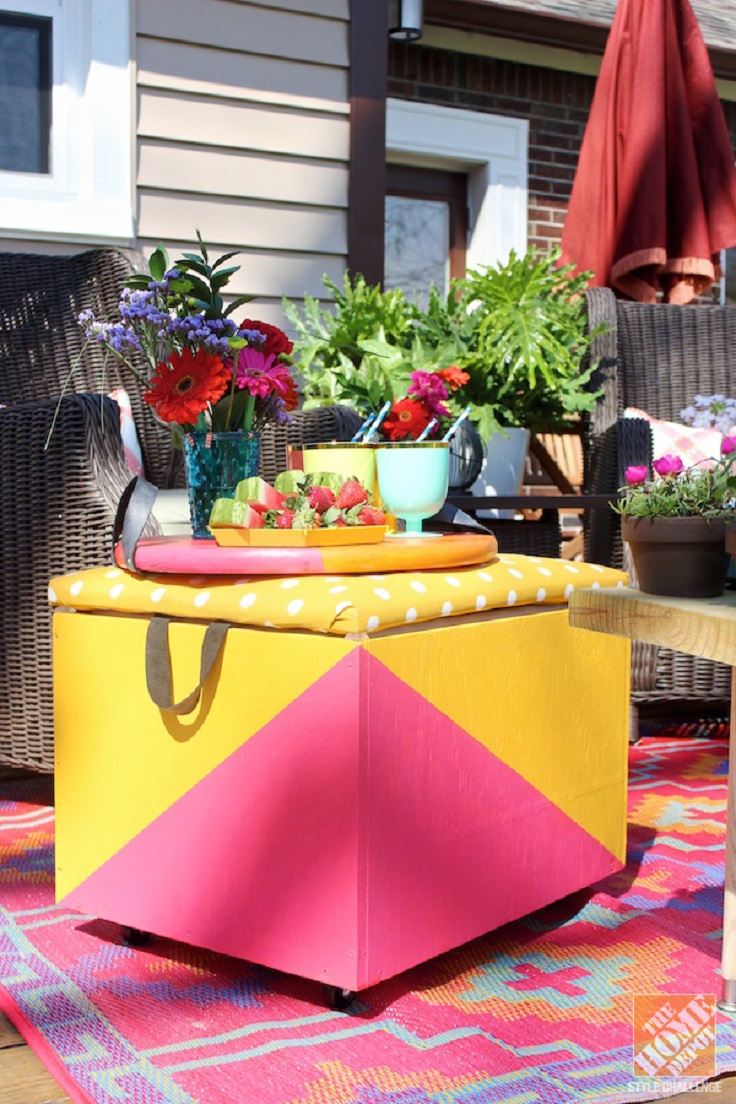 via ext.homedepot.com
How cool is this cooler ottoman? We love the idea! Such an awesome way to keep your drinks cool and on hand on a hot summer day spent in your backyard. To make this ottoman, you should first build a plywood box (don't forget to give it a vivid, bright paint job). Then upholster another piece of plywood for the lid, affix a couple of leather handles with screws, and attach the cooler's lid. Voila! And Cheers!
Day Bed Tutorial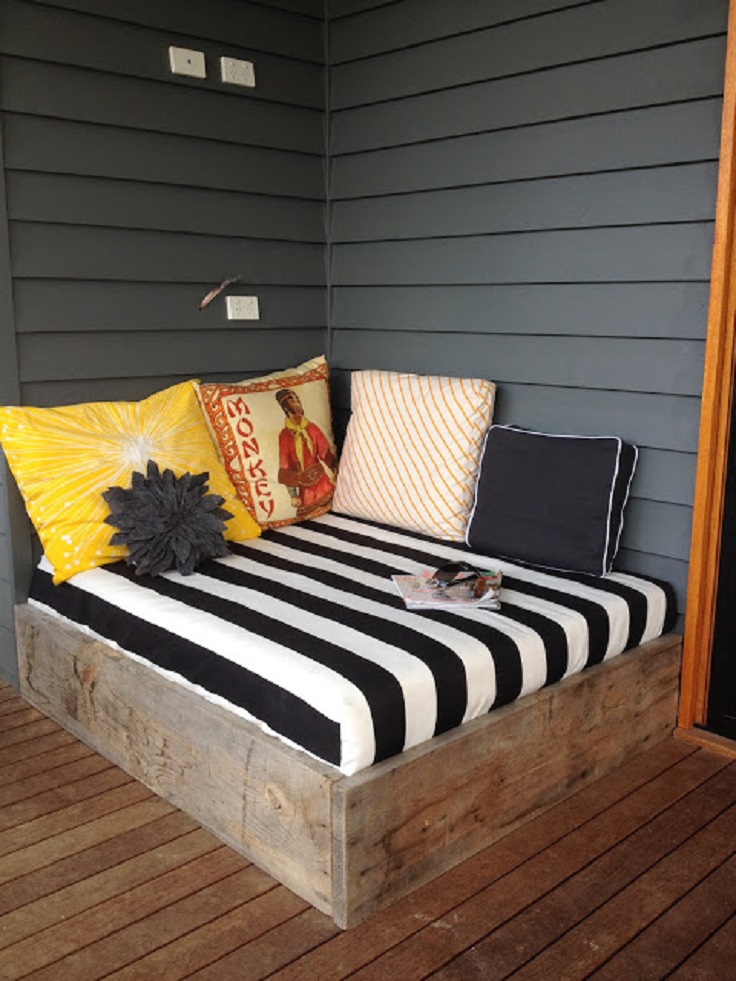 via apprenticeextrovert.blogspot.com
Turn an empty corner of your deck into a comfortable day bed made for relaxing. It is an easy project you can finish in no time, and the result is amazing! Start by building a frame for the bed, screw on your reclaimed hardwood to hide the frame, cut chipboard to fit on the top of the frame, attach the foam to the chipboard and upholster with an old sheet, and in the end, make a washable, removable slipcover in your chosen fabric. That's it.
Outdoor Side Table Turned Buffet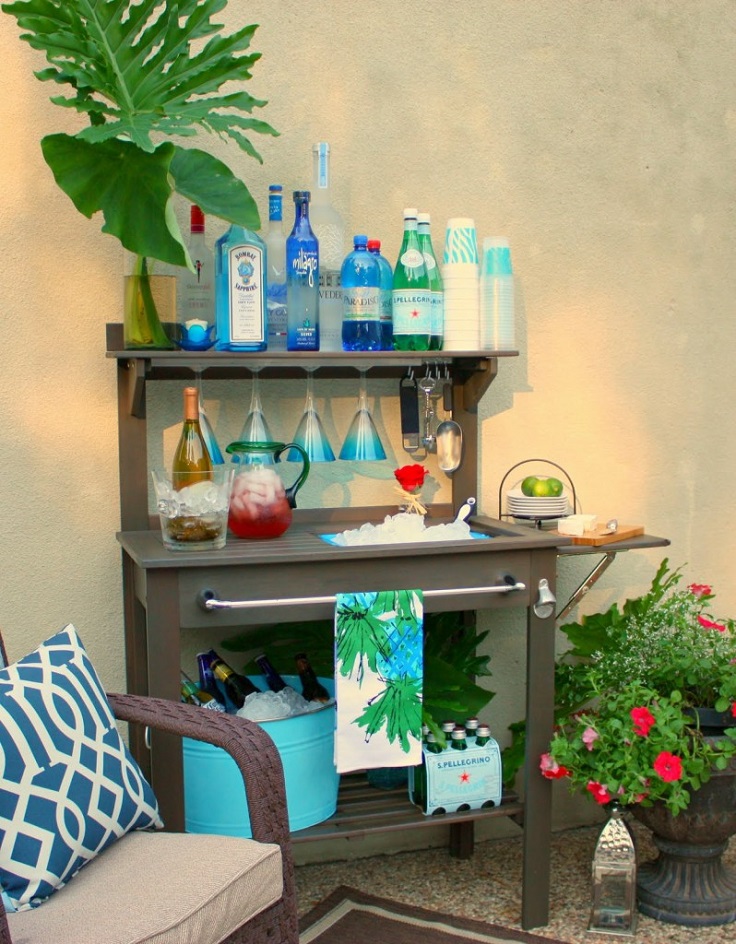 Find a small side table similar to this one and turn it into an amazing backyard buffet following this easy tutorial. It is an easy project, and you will love the final result. Use metal tiered serving pieces so you can stack multiply layers of plates to serve food. This buffet will really come in handy when you host a backyard party. Your guests will be stunned.
Recycled Rug Ottoman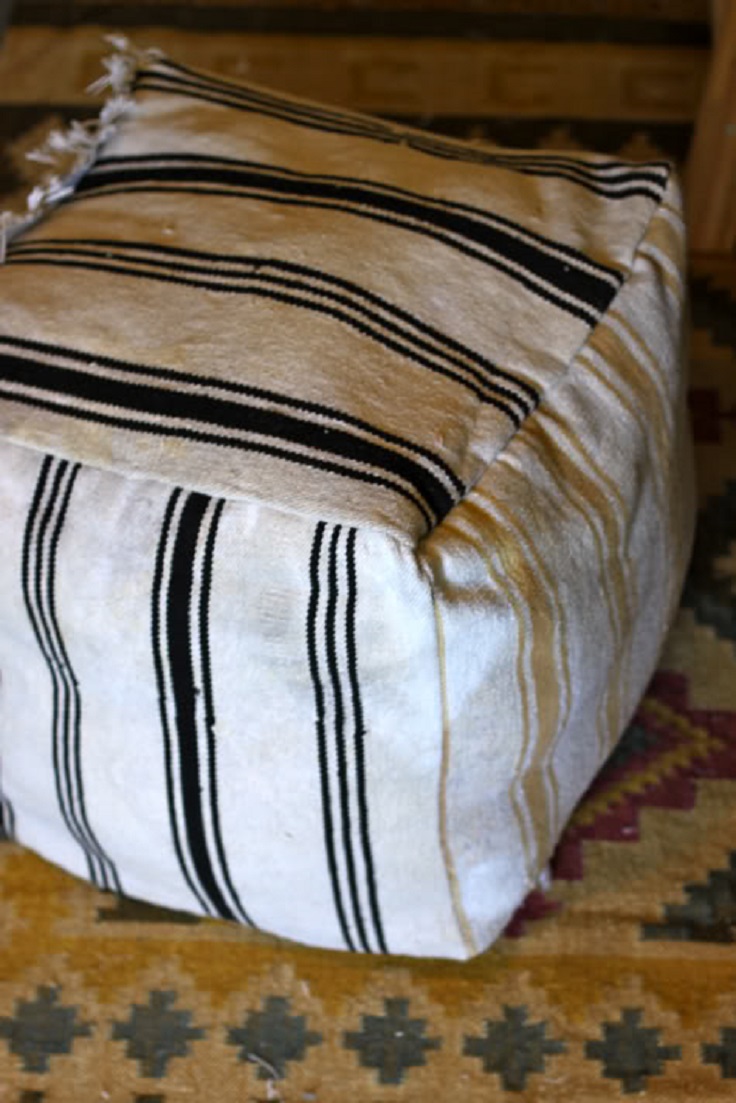 Recycling is important! We love projects that are using old things to turn them into something fabulous and totally usable. This pretty ottoman is made with five $2.99 Ikea flatwoven rugs and stuffed with whatever extra linens you have around your home, so it doesn't cost more than $15. We encourage you to use old rugs if you have any. This project requires machine sewing, but it is totally worth the effort.
Outdoor Day Bed with Canopy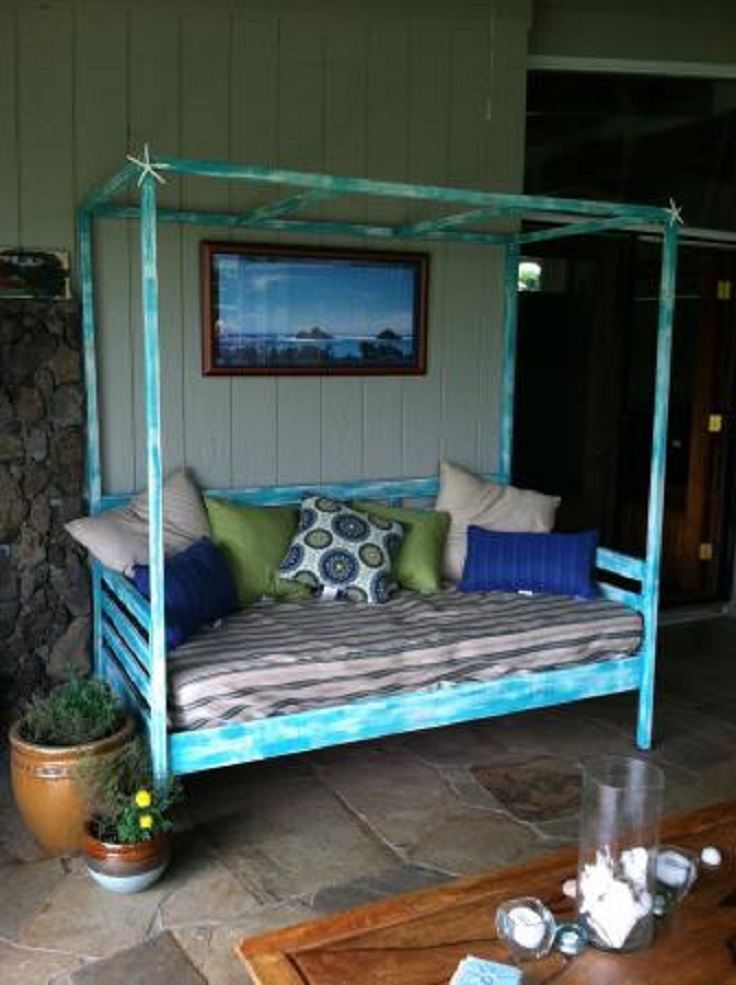 via ana-white.com
Build these beautiful beds with canopy in just one day by following this easy plan you can find here. It is a great addition to your backyard, perfect for relaxing, reading, or even taking a nap! You don't have to be a skilled carpenter to build it as it is easy to project, and the instructions are simple and easy to follow. Be creative with the paint.  Heirloom white was used for the bed on the photo, followed by sparsely painting over it with turquoise to look beachy.