Want to decorate your bathroom and save up some space? You should definitely take a look at this post. Here you can find lovely ideas for decorating your bathroom in different ways. With some easy, practical projects, you can make wonderful decorations. You can also make some space to store things like towels, cleaning products, personal care products, etc.
With different useful things, you can make pretty cool stuff to decorate with. You can always improvise in your own way so that to make them look even better and more in your style.
However, if you want to complete your bathroom appearance and want it to look modern and cute, these crafts are definitely a must-try. Choose any of the amazing crafting projects below and decorate your bathroom in your personal style. Enjoy!
Floating Basket and Kleenex Hand Towels
via honey and lime.co
An amazing DIY project which is rather practical and doesn't occupy much space. If you have a small bathroom, you should try this cute, simple project to store your things. It looks great, and you will be satisfied with its practicality!
Decorative Molding To a Bathtub
via inmyownstyle.com
Interesting and lovely project to do. Your bathtub will look completely different and wonderful! You should try this project to brighten up the bathroom; it's very simple and looks urban and nice. If you want your bathroom to be beautifully decorated, this is the right project to do!
Wall Full of Baskets
A very practical and nice way to decorate a wall in your bathroom. Plus, you'll get a place to store some towels, products, and other stuff. It looks nice, fancy, and functional, so why don't you try this amazing project?
DIY Mason Jar Storage
via lizmarieblog.com
Mason jars can be used to decorate in many ways. This is one of the best ways to decorate your bathroom-with mason jars. Not only do you make yourself a storage space, but you get a beautiful new bathroom decoration too. Pretty cool, ha?
Above-the-Door Shelf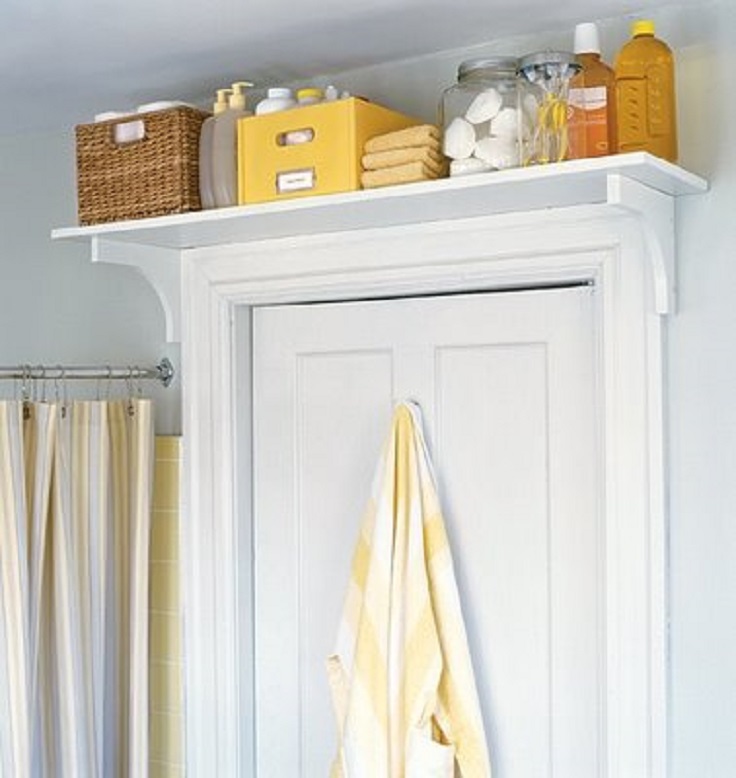 Another wonderful bathroom decoration idea. This is an easy and simple project to do, and it's quite practical. You can put different things on the shelf above the door, and you'll save some space and money. Looking awesome!
Helpful Bathroom Octopus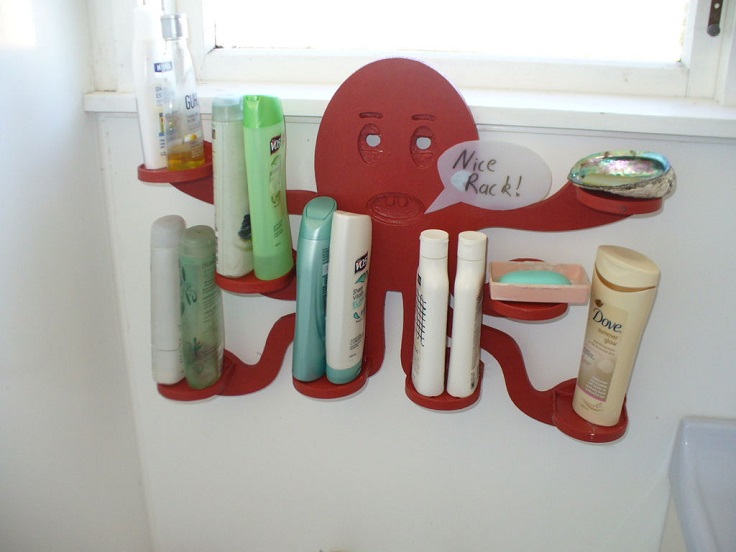 Super cute and functional octopus. It's really easy to make, you'll save money and time, plus you'll get an amazing bathroom decoration. You can achieve all that by just doing this cool project. Definitely, no regrets!
Framing Mirrors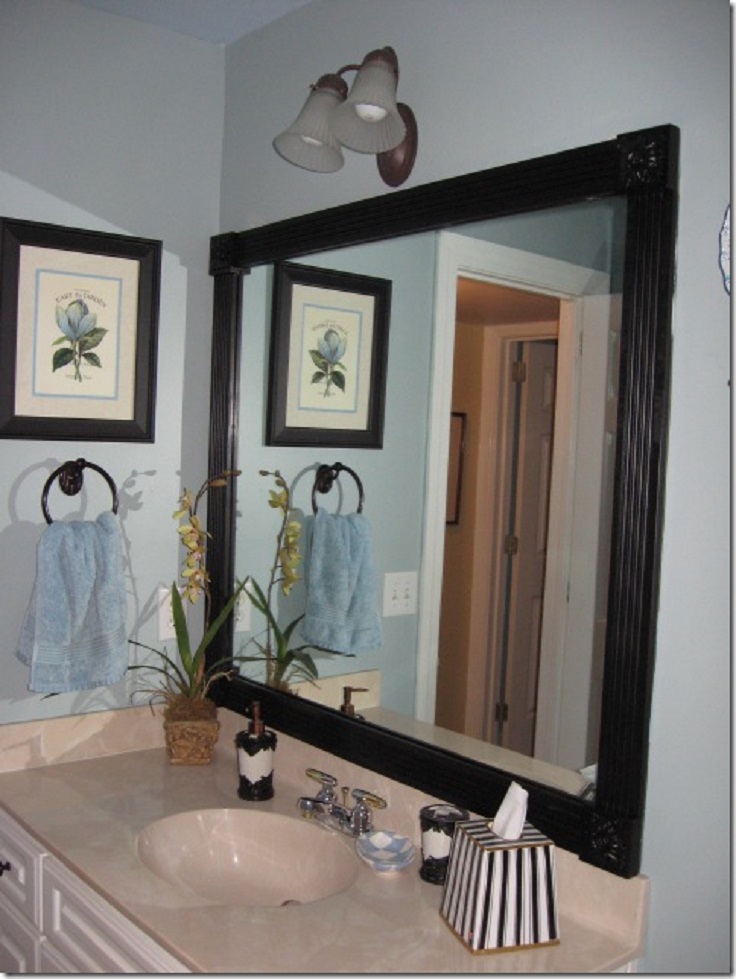 via southernhospitalityblog.com
If you have a plain mirror in your bathroom, then this is the right project for you. This is an easy way to make a nice frame for your mirror and decorate the bathroom simultaneously. Absolutely wonderful and compelling!
PVC Pipe Toothbrush Holders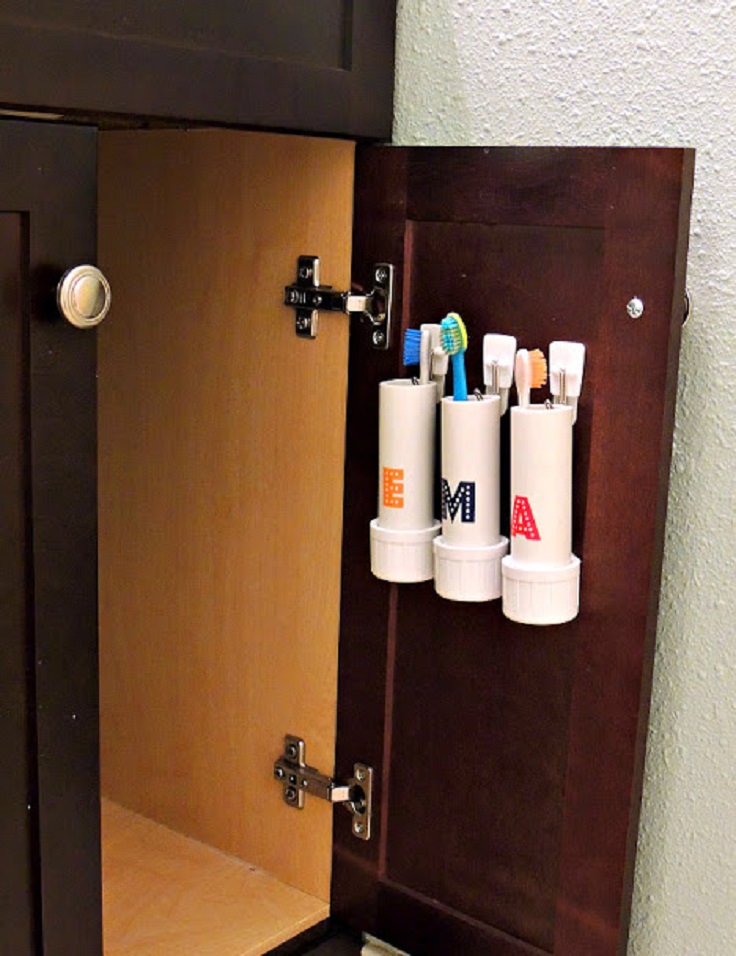 Want something different as a decoration in your bathroom? These toothbrush holders are amazing for that. It's an easy, interesting project and quite practical. Not only toothbrushes but anything small can be put in these cute holders. Absolutely amazing!
DIY Towel Rail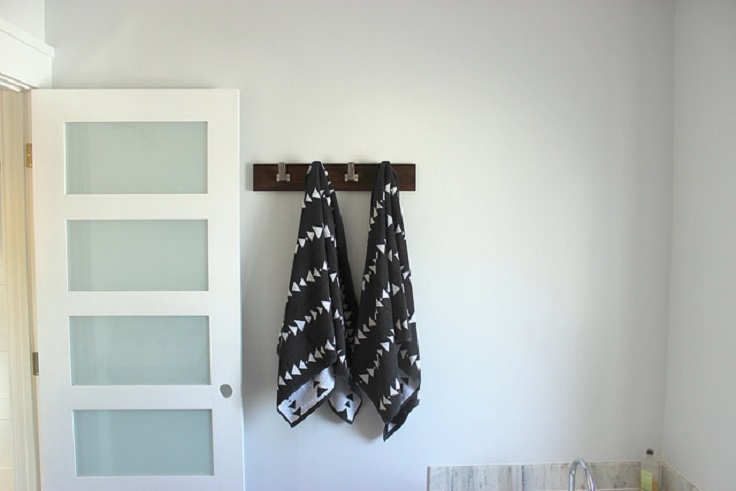 If you want to have your own towel rail, you can try this project. It's super easy and makes a great bathroom decoration too. Also, you can make bigger rails to hang your bathrobe. Easy, practical, and great project!
Cool Bathroom Decor
This interesting and easy bathroom decor will fit perfectly in any bathroom. It's simple, creative, and looks awesome. You can draw different things and make a decor this way. Definitely a must-try bathroom project!