Going to the beach is such a fun experience that promises so many good memories. But, before going, there are few things that you must take with you, such as a beach hat that will protect you from the intense sun and an after-relief sun lotion in case you get sunburnt – to name a few.
Instead of buying all these things, how about getting into a DIY mood and get things done your way? This won't be easy for everyone, but it's definitely going to be worth it. There are many ways to decorate your beach accessories, so take your time and enjoy the DIY process!
1. Sequin Beach Hat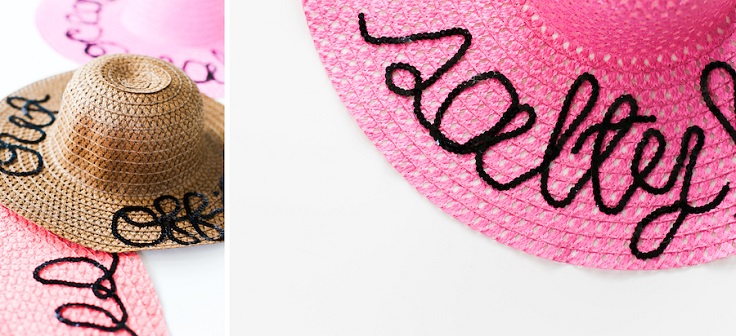 via saltycanary.com
Beach hats aren't only needed to protect yourself from the intense sun, but they also represent a great beach accessory. You can find many both expensive and cheap hats in stores, but when you make your own, you're going to love it even more, simply because it's truly yours! There are many ways to decorate a beach hat, and attaching sequins is one of those ways. For this project, you will also need scissors and a hot glue gun.
2. Fruit Print Blankets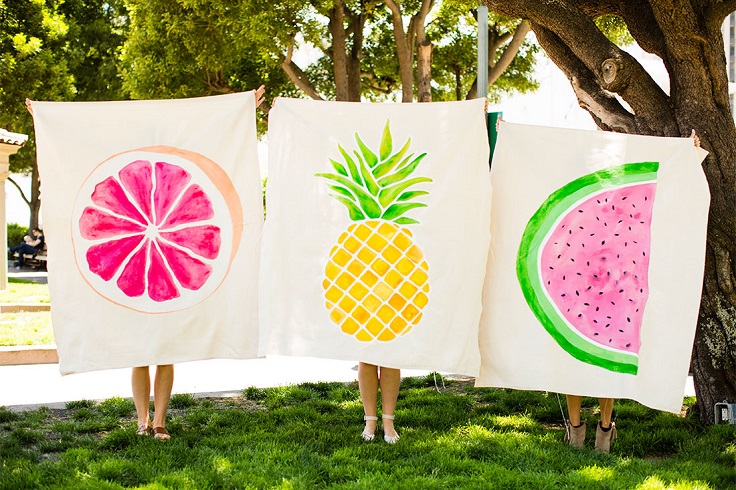 via brit.co
What's better than enjoying the sand by laying down on it? For this, of course, you need a comfy blanket or towel, but who needs all the dull ones at the stores? Or even worse, those you can't afford? Forget all of them and try making your own beach blanket. For this project, you need a canvas drop cloth, pencil, fabric paint, paintbrush, iron, sewing machine, and sewing pins. Just take a look at how happy and adorable these blankets look with the watermelon, pineapple, and citrus!
3. Pom Pom Beach Shorts
via merricksart.com
If you're the type of person for whom shorts are an important part of the wardrobe, then you know that owning at least one pair of beach shorts is a must. Have you ever tried sewing shorts or at least decorating them? Here's a project that will help you come up with your own pair of shorts or boost an already existing one, and we're talking about a pom pom magic here! You need 1-yard fabric, matching thread, and 1″ elastic.
4. Painted Beach Bags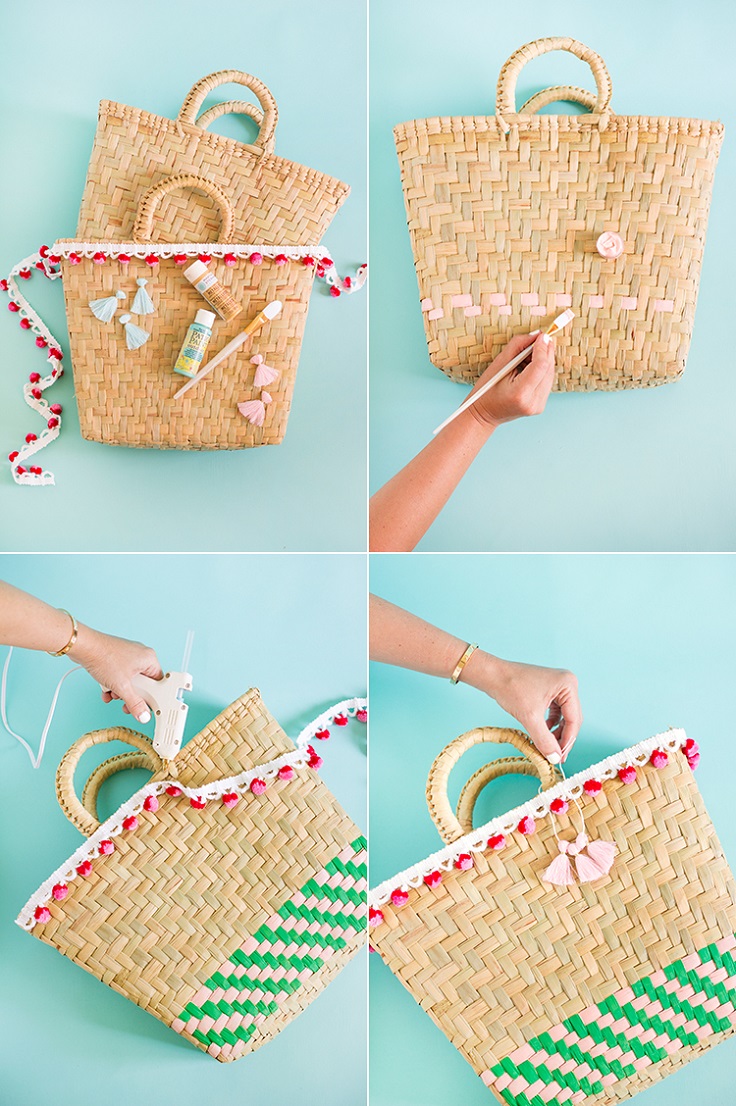 via freutcake.com
Going to the beach requires taking so much stuff with you –  towels, sunscreen lotions, sunglasses, wallets, and maybe even toys if you have kids with you. This means you need a big beach bag with you and who doesn't want a bag that will make everyone ask you where you got it from? You can decorate your own tote bag, and this is going to be really easy for you. You need a straw, grass, or bamboo tote bags, outdoor acrylic paint in various colors, paintbrushes, pom poms, pom pom trim, hot glue gun, and scissors.
5. Beach Cover Up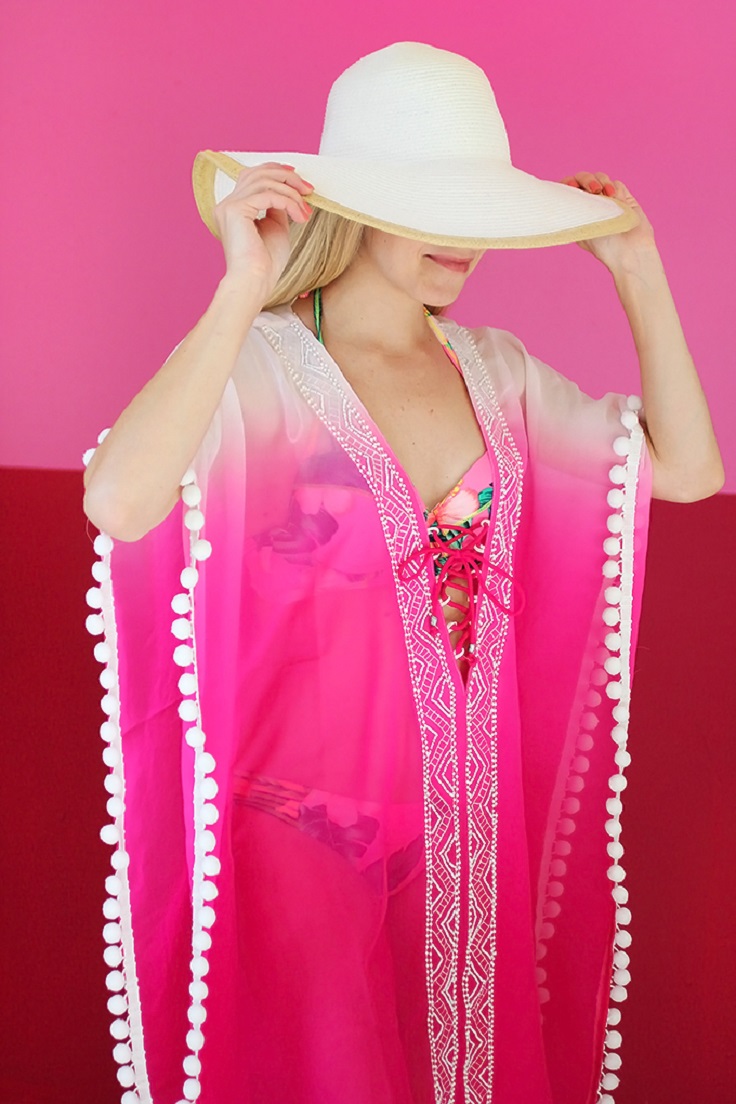 via ispydiy.com
The beach cover-up is great for few reasons, with two being the most usual – it protects your skin from getting sunburnt and for those who don't really feel okay with showing off their body at the beach, for whatever reason. For this project, you will need a store-bought cover-up in any color that you'd like. For decoration, you're going to use a pom-pom trim and fabric glue to attach the trim. It's amazing how small, fluffy pom poms can do such a change to a look!
6. Beach Wave Spray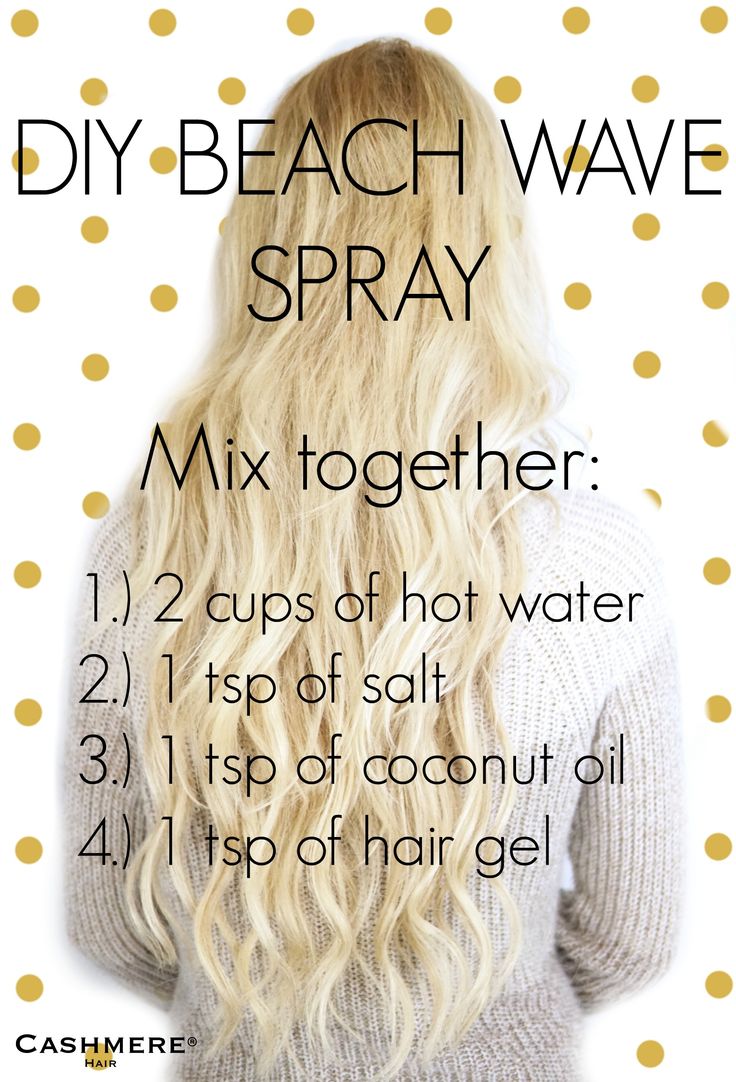 We're all wanting those beach waves so bad! Soft, boho waves are one of the most popular hairstyles today, and we can totally see why – they are both elegant and casual at the same time! Instead of damaging your hair with a curling iron (and let's face it, using curling iron when it's so hot outside can be so hard to do), you can use a homemade sea salt spray that will make your hair as if you got out of the sea. For this, you need 2 cups of water, 1 tsp salt, 1 tsp coconut oil, and 1 tsp hair gel. Place it in a bottle, mix it well and apply it.
7. Curved Sunglasses Case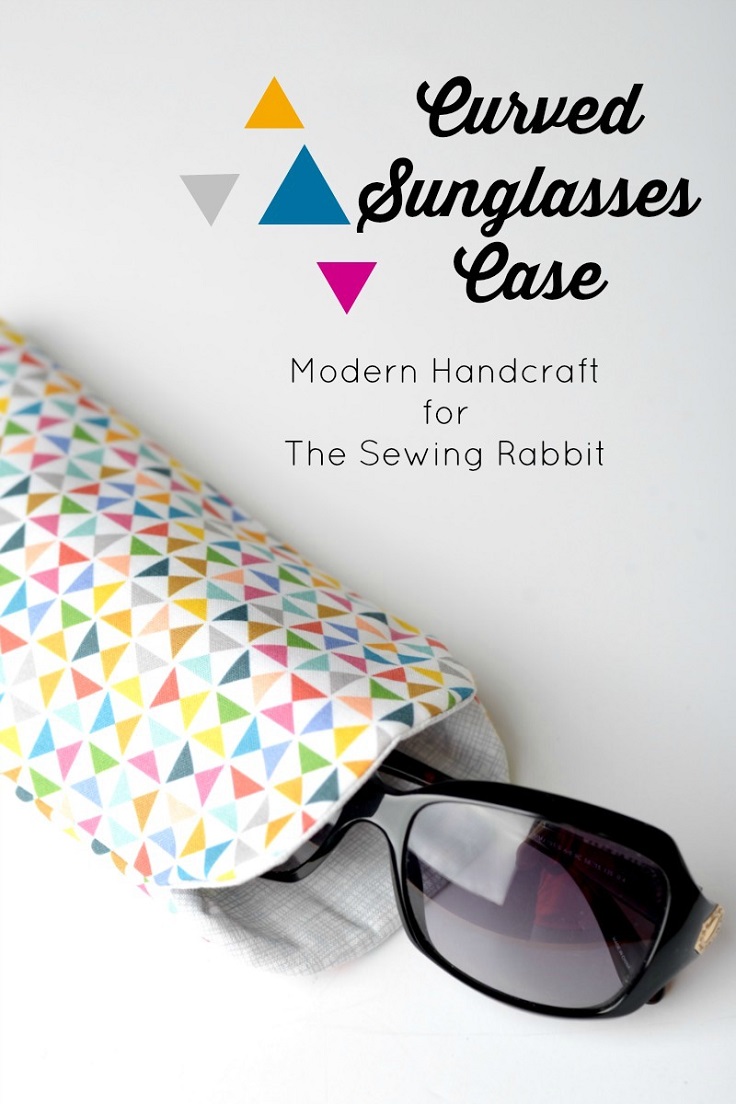 via mesewcrazy.com
When taking too much stuff with you in your beach bag, you definitely don't want your sunglasses to get broken, especially if you paid a lot for them. To prevent yourself from this heartbreaking experience, you should get yourself a sunglasses case, or even better – make your own. However, for this project, you'll need sewing skills too! Here are the materials you need – outside fabric – 2 cuts of 9″ x 5″, lining fabric – 2 cuts of 9″ x 5″, fusible fleece – 2 cuts of 9″ x 5″, coordinating thread, sewing machine, and notions, iron, glass for creating a curved line and pen.
8. Sea Salt Hair Texturiser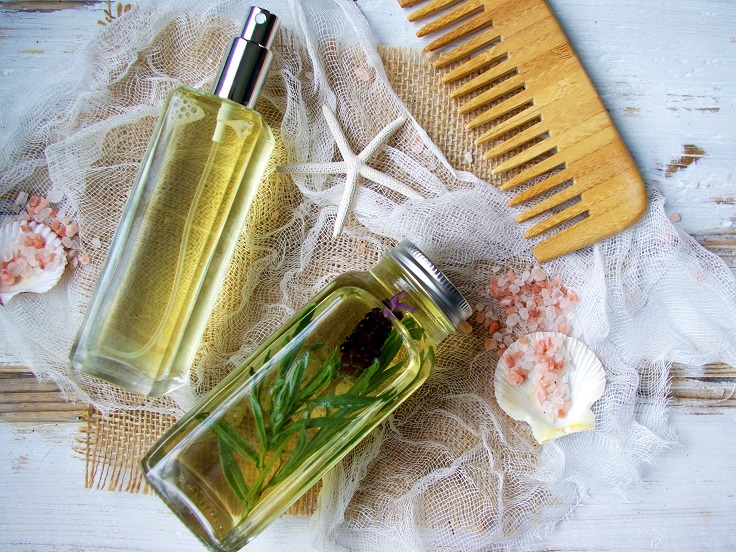 via primaleye.uk
Unlike the sea salt spray that is supposed to give your hair those amazing boho curls, the sea salt hair texturiser will give you the curls you want, but it will also take good care of the hair the good ingredients that it has. You need 1 cup of chamomile tea, 1 tbsp Epsom salts, 1 tbsp coconut oil (or argan oil), 1 tsp lemon juice, and 4 drops of lavender essential oil. Each of these has its own benefits – the chamomile helps an irritated scalp, the lemon juice fights dandruff, the lavender oil regulates blood circulation, and the coconut oil stimulates hair growth.
9. After – Sun Spray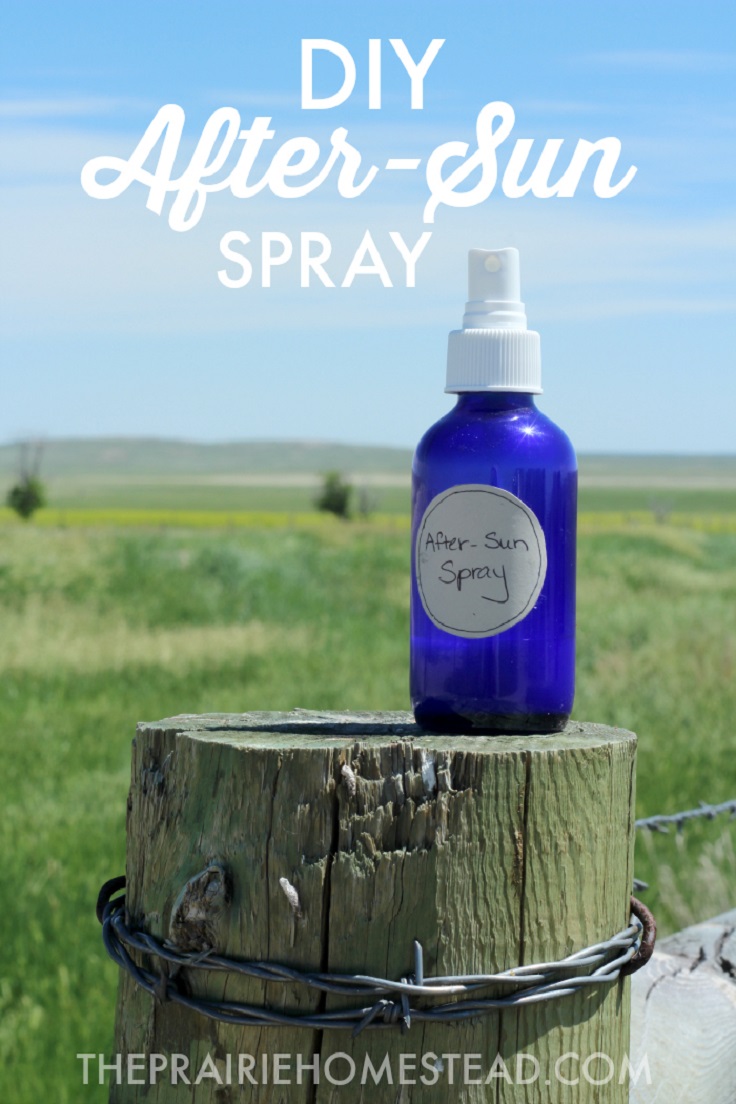 So, you're back from the beach and feel like you need to give your skin the proper care after it's been out in the sun for few hours. To make your own spray, you need 1/2 cup witch hazel, 2 tablespoons pure aloe vera gel, 10 drops of pure lavender essential oil, 10 drops of pure peppermint essential oil, and a 4 oz (or larger) spray bottle. All you need to do is pour all these ingredients into the spray bottle, shake it well before use and apply it to your skin, especially to the parts that need cooling. Don't spray near the eyes!
10. Sunburn Relief Lotion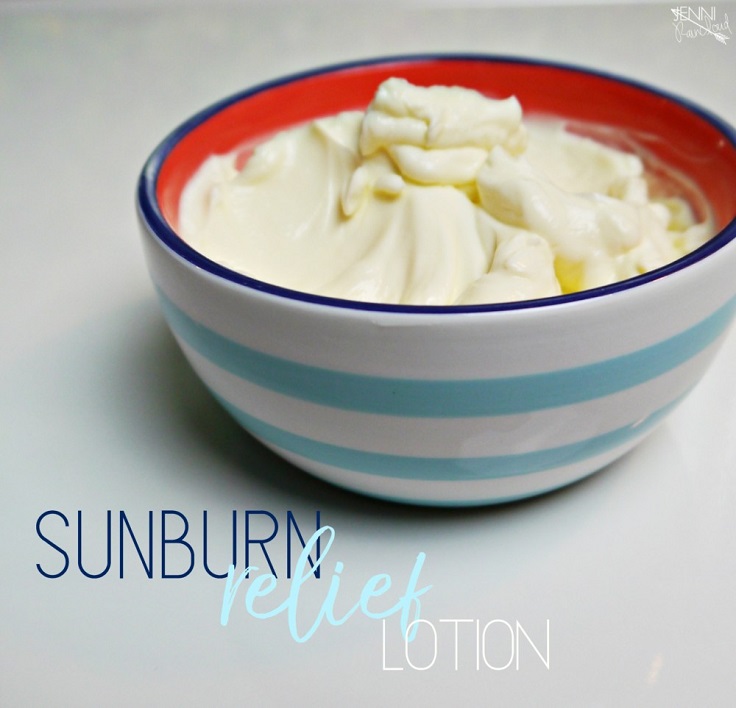 What many experiences after some intense and long-lasting time at the beach are sunburnt. This skin condition annoys so much, and in some cases, can even hurt a lot! You will need to apply certain products to help your skin from being burnt, and homemade products can help as well. Make your own after-sun relief lotion by using healthy, organic products, such as essential oils and certain vitamins. Check out the link below the picture to see which ingredients you need.