A very important part for a bride planning her wedding is planning the bridal shower party, a party with all her girlfriends where they can gossip, drink pink cocktails, and give presents and favors.
Nowadays the bridal showers are very popular and fun, but did you know that the custom of the bridal shower is said to have grown out of earlier dowry practices, when a poor woman's family might not have the money to provide a dowry for her, or when a father refused to give his daughter her dowry because he did not approve of the marriage. In such situations, friends of the woman would gather together and bring gifts that would compensate for the dowry and allow her to marry the man of her choice.
The earliest stories about these events have been known to originate in Brussels, Belgium, around 1860. A frequently quoted legend traces the origin of this practice to the 16th or 17th Century Netherlands. However, there are also parallels with many dowry practices and the United States colonial or hope chest (trousseau) custom.
The modern type is a gift-giving party held for a bride-to-be in anticipation of her wedding. Bridal showers were originally arranged to present gifts to the bride since they commonly took care of the household deeds; however, in more modern times, the bridal shower has been dedicated to giving lingerie and similar.
So, for your bridal shower surprise, your girlfriends with lovely favors all made by you, like aromatic candles, coffee bags, sweets, or even a flower in a jar.
Potted Succulents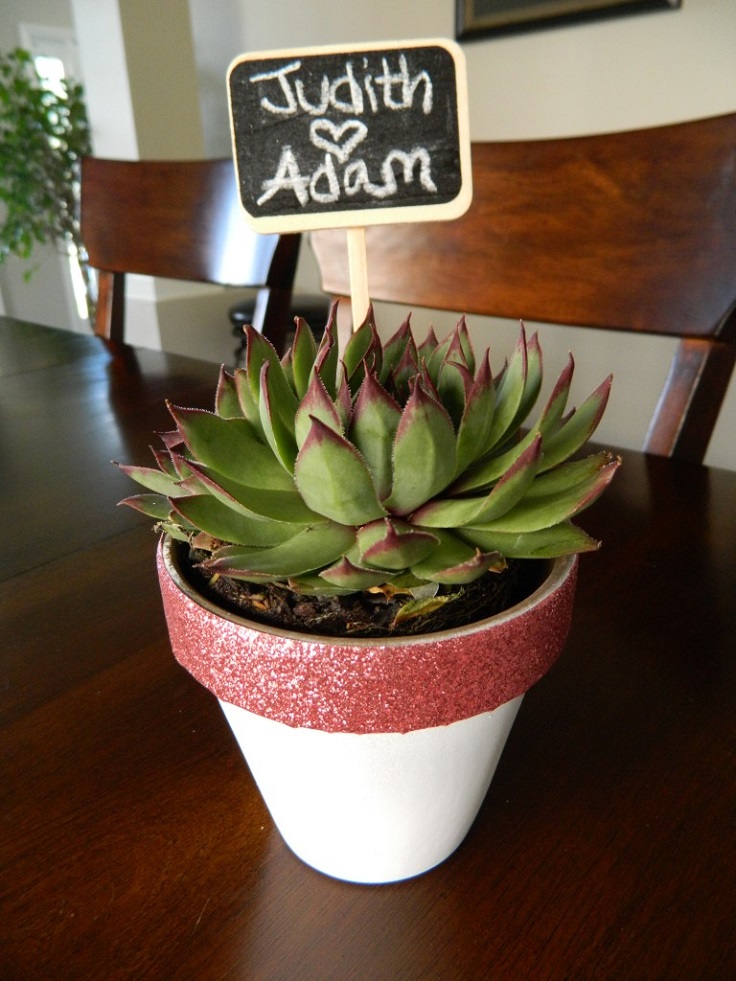 via punkwife.com
Make these cute potted succulent favors in 5 easy steps. They are low maintenance, easy to make, and very original. Purchase some succulents and terracotta pots. Using a white color, spray paint the pots white. Put glitter tape all around the rim. Drop your succulents in the pots, personalize them as you wish, and voila!
Pedicure in a Jar
via evermine.com
Kudos for this splendid idea! Mason jars filled with pedicure goodies do the perfect favor for a wedding shower. These favors are so easy to assemble – get some mason jars from a dollar shop and filled them with whatever you wish, like some basic pedicure tools, nail polish, cotton rounds… Print labels and tags and put a ribbon on the jars.
Glittered Wooden Spoon Favors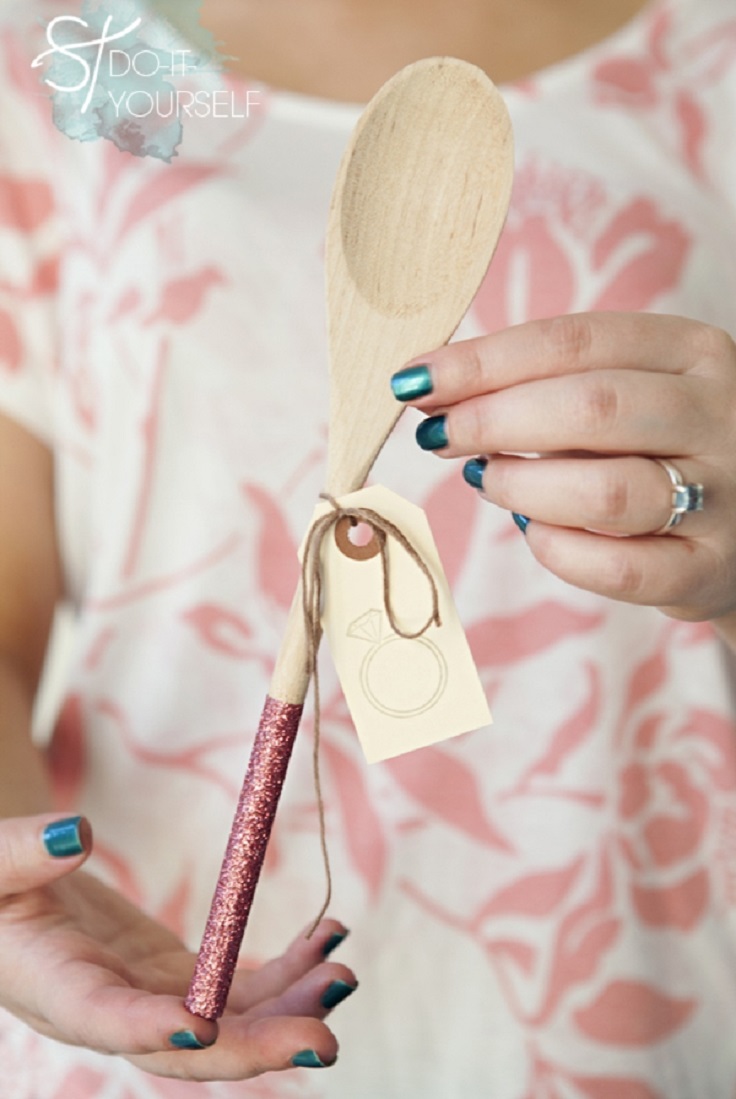 Plain wooden spoons are pretty affordable, and you can turn them into the most fantastic wedding shower favors! Just buy some and start dipping and painting. Choose paint and glitter colors by taste or by the theme of your wedding shower. When done, add thank you cards, and voila – you have cute favors for your girlfriends.
Instant Mocha Mix Favors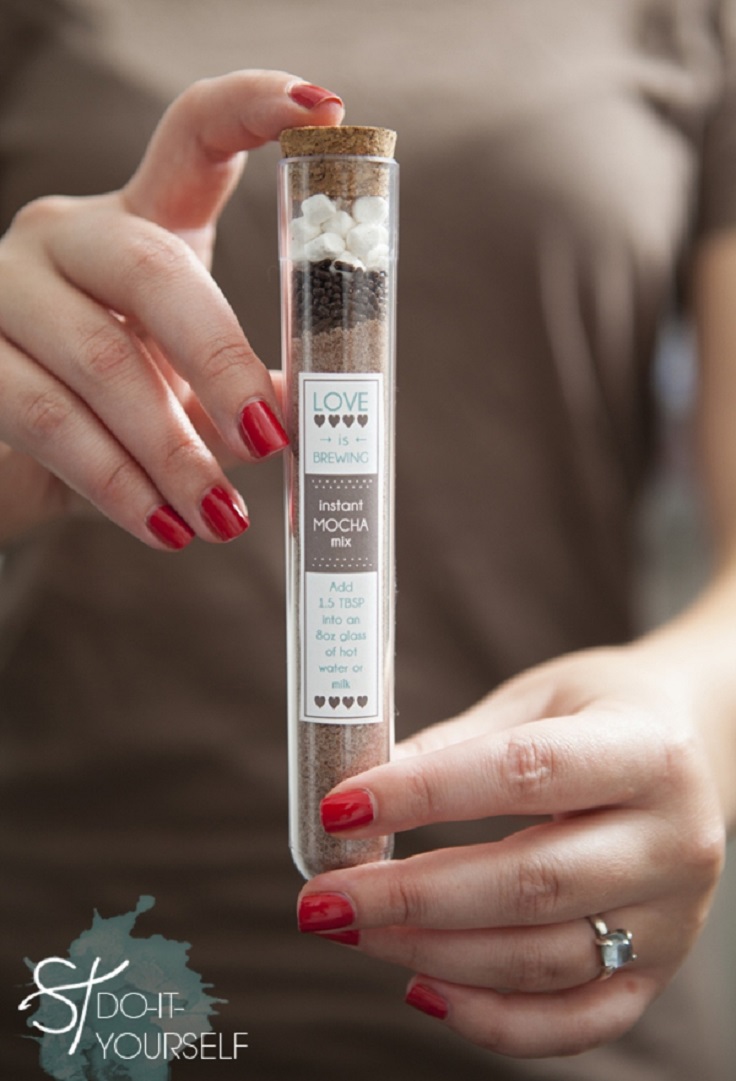 We love these adorable test tubes filled with the delicious mocha mix. They are so great to be used as a favor at a wedding shower. The test tubes are from Martha Stewart, and they are filled with sugar, creamer, coffee, milk powder, cocoa powder, cinnamon, mallow bits, and chocolate sprinkles. There are even a free label and recipe card to download for free.
DIY Soy Candle Favors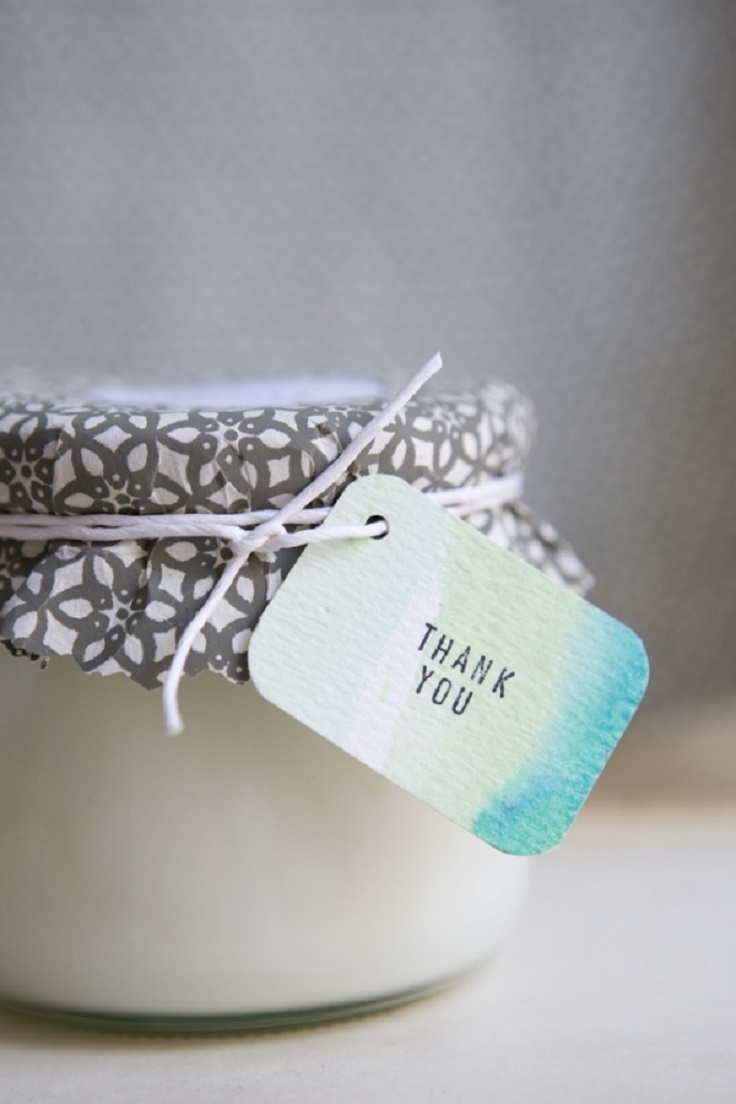 via ruffledblog.com
Candles are lovely gifts; they look pretty and smell awesome. So, make a candle as a favor for your bridal shower, and don't forget to add an honest thank you note. The tutorial we are sharing today is creative, but it uses recycled materials and natural ingredients and is budget-friendly.
Smarties Favors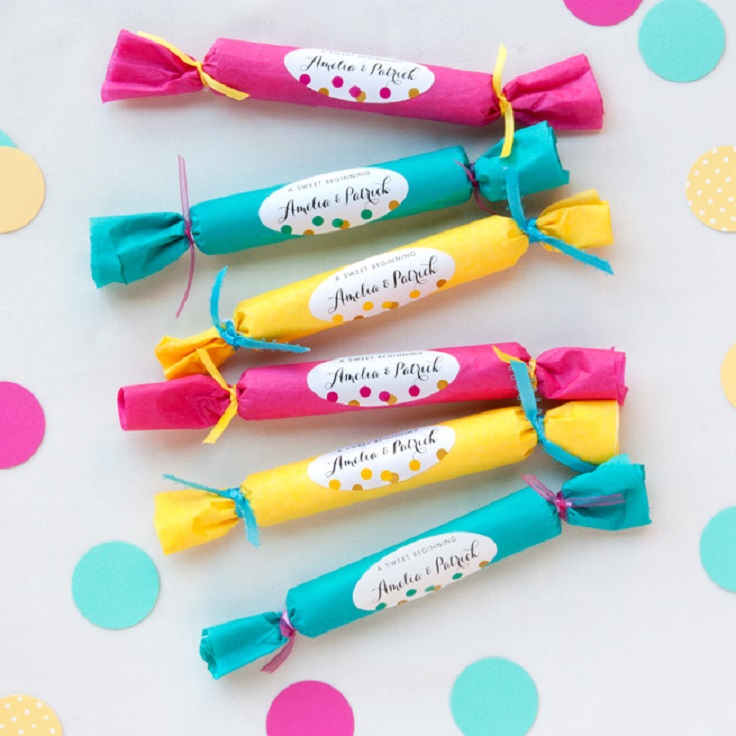 via evermine.com
Here is a smart idea. These favors will cost you no more than $1. All you need to make them are smarties, tissue paper, ribbon, and labels. You can adapt the color of the tissue paper according to your bridal shower theme.
Mini Jars with Homemade Raspberry Jam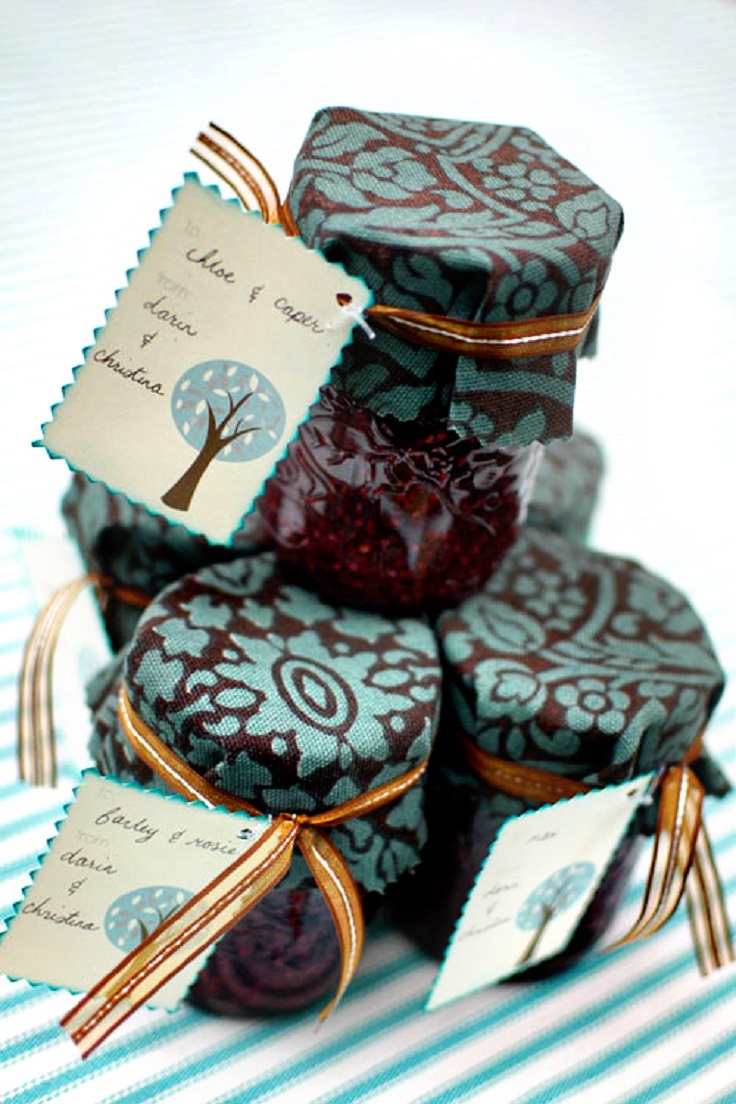 OMG – how cute are these little jars filled with delicious homemade raspberry jam? They are the ultimate favor. The jam is so easy to make as you will need just 2 ingredients – raspberries and sugar. When the jam is ready, pour it into the jars. Don't forget to personalize the jars with fabric circles on top and lovely tree tags.
DIY Coffee Bag Favors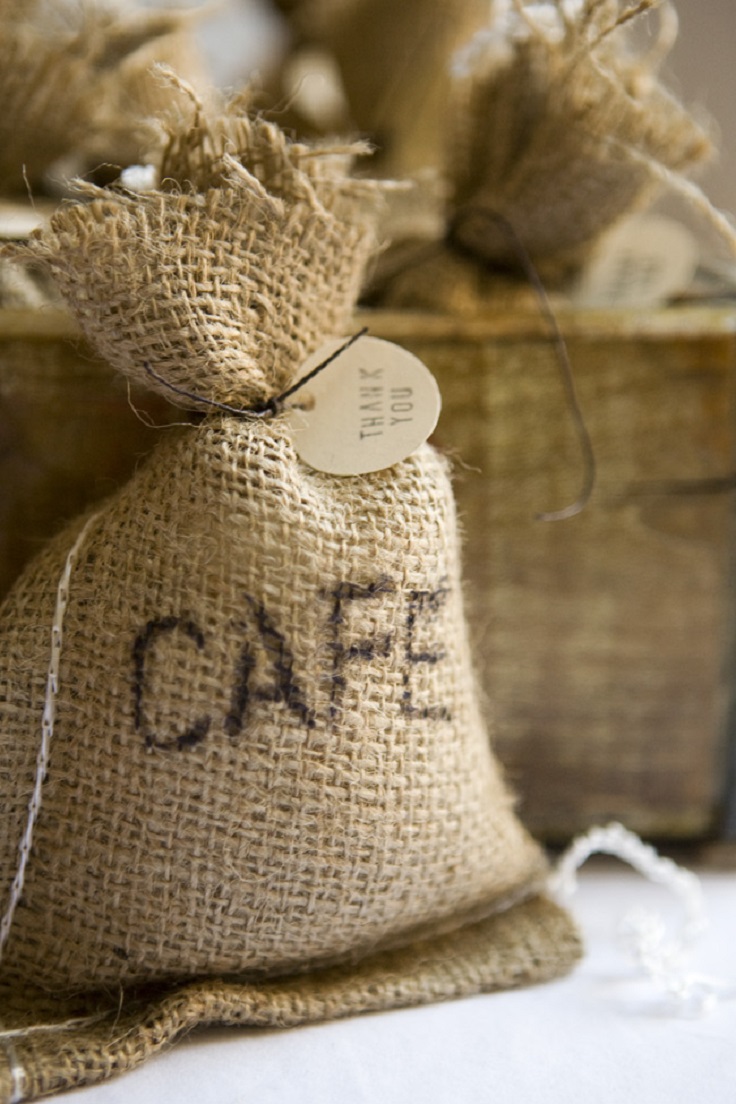 via ruffledblog.com
Who doesn't love the smell of coffee? You can choose regular coffee, decaf coffee option, or even tea. As for the cute burlap bags – you can buy them or even make them on your own. When the favors are ready, tie them up with a thank you bag. You can make one bag for only 50 cents!
Mason Jar Cookie Mix Favors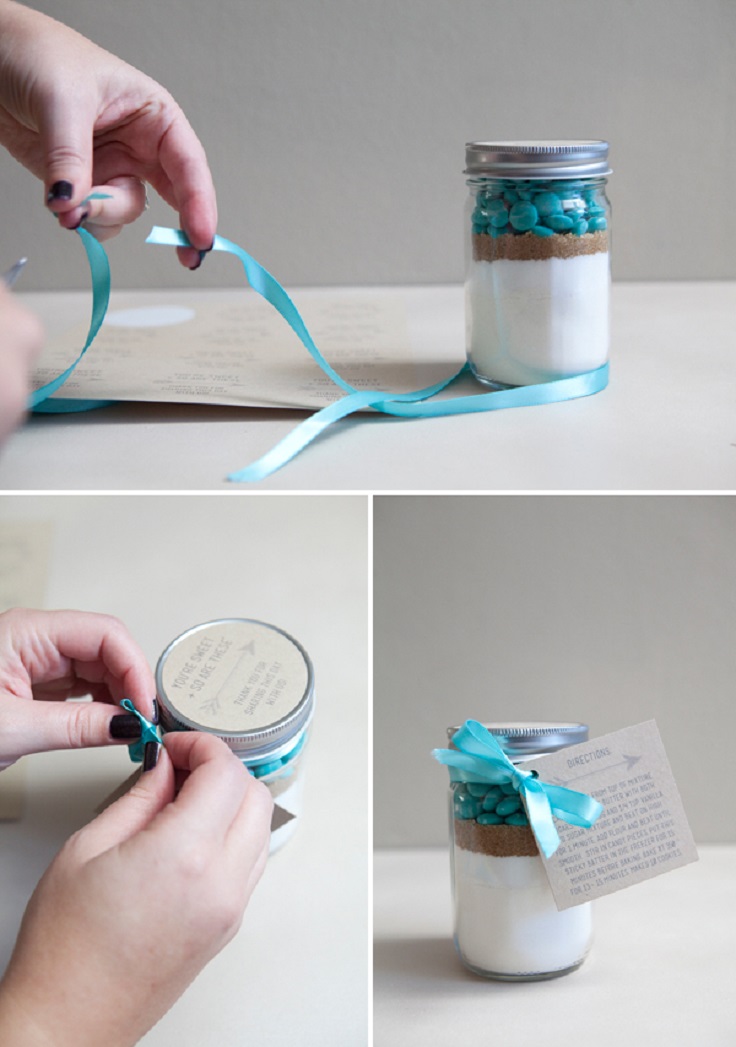 Jars are the best way to pack a cute gift. So, follow the DIY we share and make tasty cookie mix in a jar, a delicious and cute favor. And don't forget to add thank you notes with the ingredients and directions written on them.
Nail Polish Favors
via katienoel.com
If you like the pedicure jar favors, but they are a little bit off your budget, here is something more affordable. This favors consist of a nail polish and Emory boards tied together with some twine along with a thank you tag. They are easy to make, and your girlfriends will love them.