Cake toppers are great because of two reasons: they can be really cute and they can make any cake look more charming than it really is. You can create them at home and it won't take much of your time, or your money as well. For this, you will find so many ideas, so many pretty toppers that it will be simply too hard to pick. At least we had these difficulties! However, we managed to pick the ten cake toppers for which we hope that you are going to like. Check them out and tell us which you like the best!
1. Polaroid Cake Topper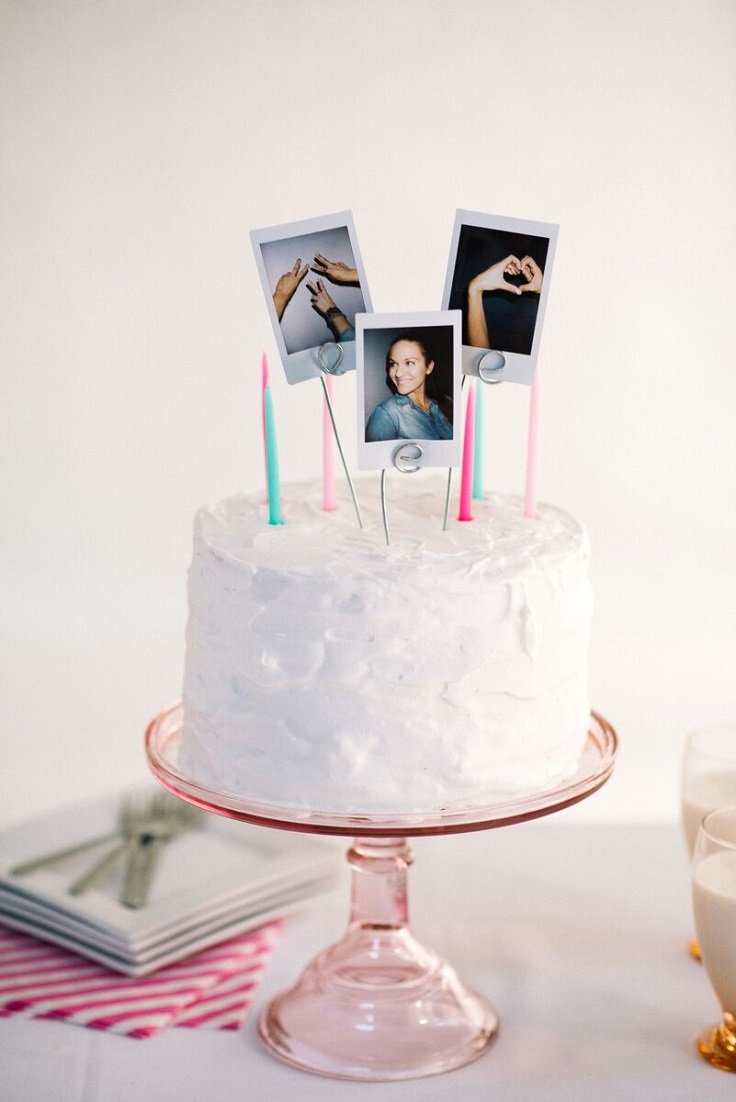 via letsmingleblog.com
This one is an amazing idea if you want to use memories as cake toppers. Besides the polaroid picture, what you need is 16 gauge wire, needle – nose pliers and wire clippers. Use the wire clippers and cut a piece of wire, enough long to stick it inside the cake. Next step is to use the pliers to create circular shape at the upper end of the wire and do this until you reach a "curly cue" look. After this, pull the center of the "curly cue" a little bit out so that you can place a polaroid picture.
2. Falling Leaves Cake Topper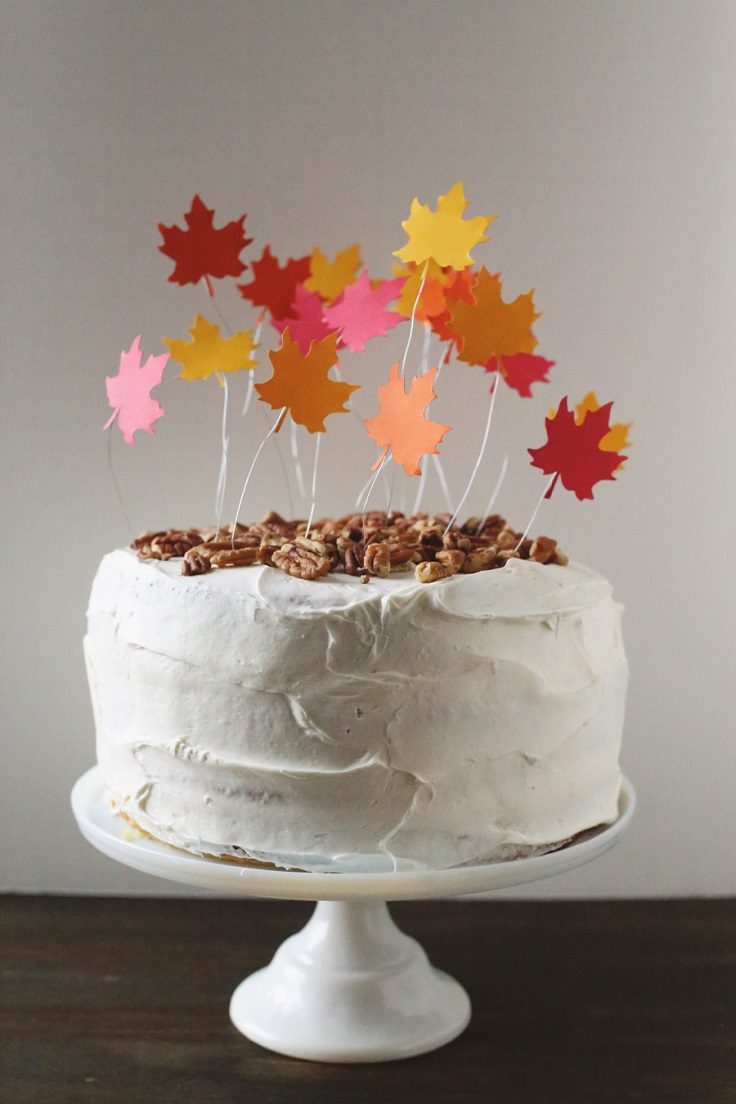 via momtastic.com
Even though there is still time until Autumn, you can either try this idea soon or wait a little bit for the season. However, here's what you need to do to make these toppers at home. The link below the picture is offering a free autumn leaves template, so first download it and use colorful cardstocks, preferably in red, orange and/or brown color. Cut them out and use two of them for one leaf. Use glue dot or any permanent adhesive to the back of each leaf and on that place secure an already cut length of wire.
3. Festival Flag Cake Topper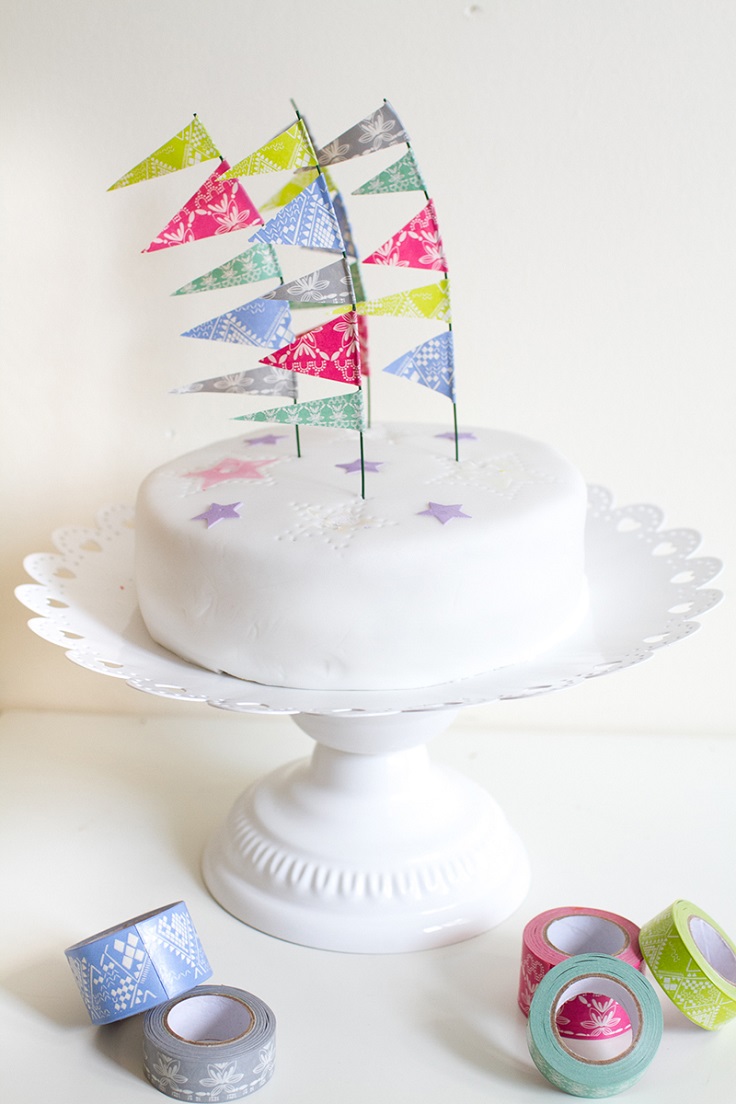 via bespoke-bride.com
Washi tape can be quite useful and pretty at the same time! Cut a floral wire to a desired length and and cut the washi tape around two inches. Pop the wire into the center and fold the washi tape onto itself to secure around the wire. Next step is to cut it into the shape of triangle and that's it. You can play a little bit with the shape, so the next washi tape triangle that you are going to make, make it longer and thinner.
4. Cactus Cake Topper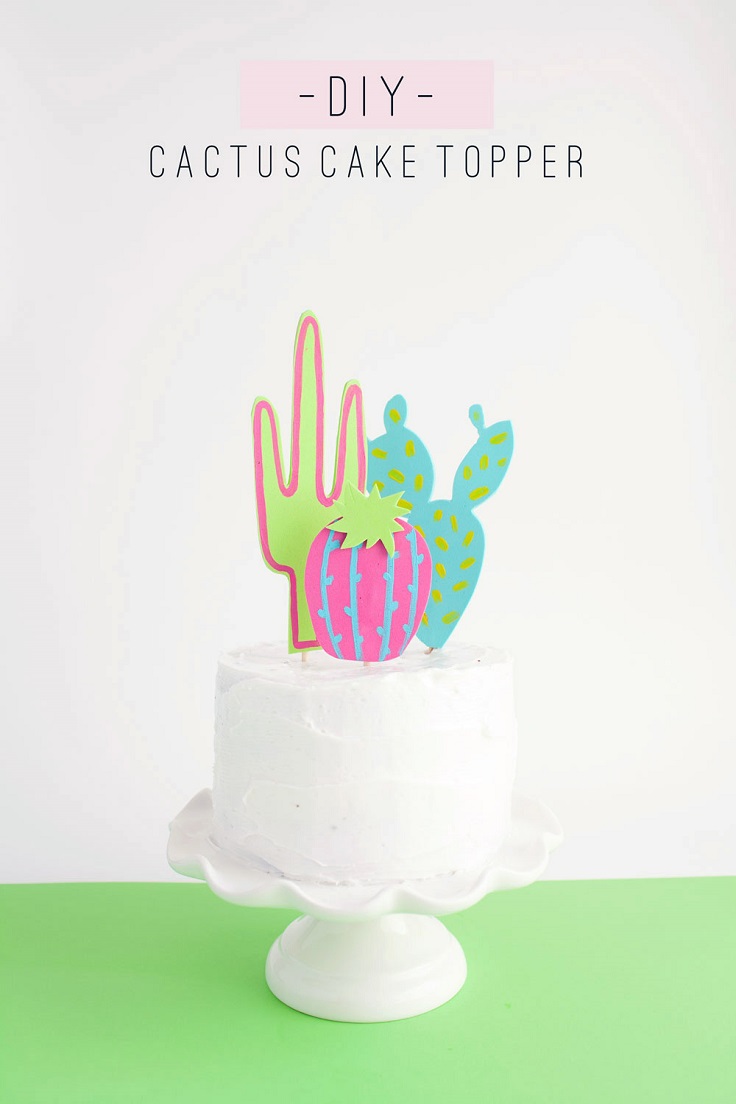 via tellloveandparty.com
Colorful and happy cactus such this one can make any dull cake look better than that! To make them, make sure you have foam sheets, scissors, wood skewers, paint, paintbrush, hot glue gun and cut out cactus shape. Use the paint and the paintbrush to decorate the cut out cactus and with a hot glue gun, secure a skewer on it and you're done. It's that easy, and that cute.
5. Fringed Love Cake Topper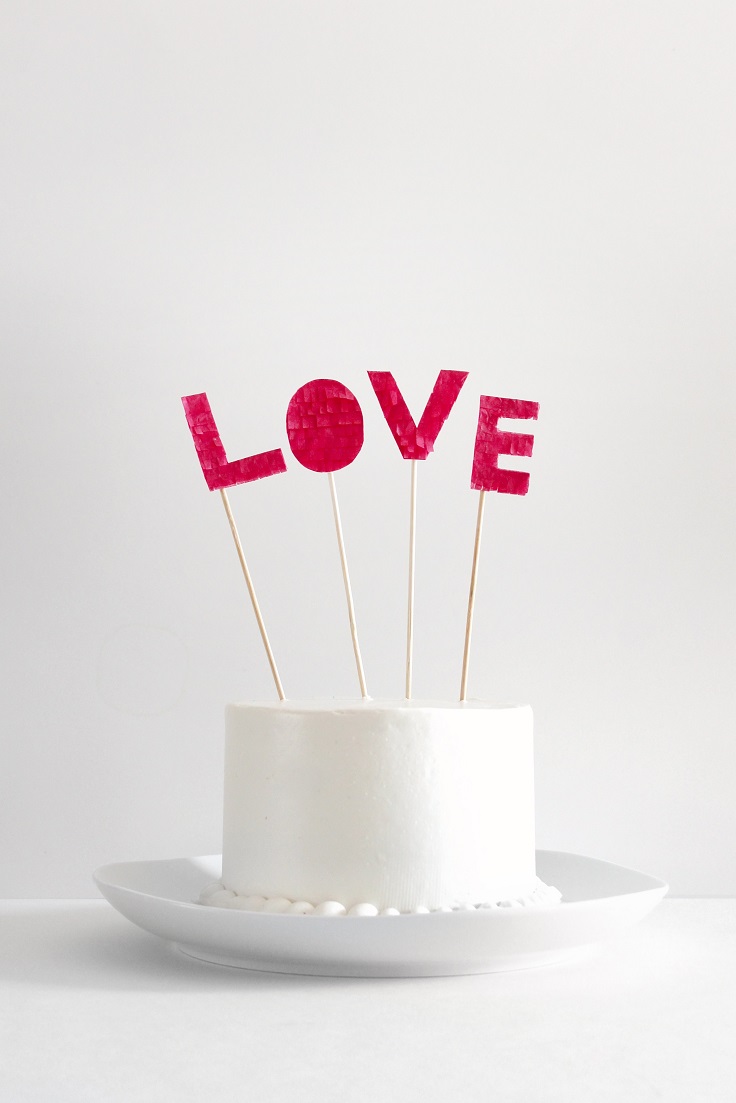 via sugarandcloth.com
Perfect for Valentine's, or any other occasion when you want to show your love, these toppers will literally show it. You need red or pink tissue paper, fringing scissors, scissors, cardstock, glue and kabob sticks. Cut squares out of the cardstocks and small pieces of tissue paper, and then with the fringing (or regular if you don't have these) scissors cut fringe across. Glue a piece of fringed tissue paper down the cardstock and start gluing each paper onto the previous one. When you're done with this step, turn each square over and cut the letters backwards. Glue them on kabob sticks and that's just it!
6. Washi Tape Cake Topper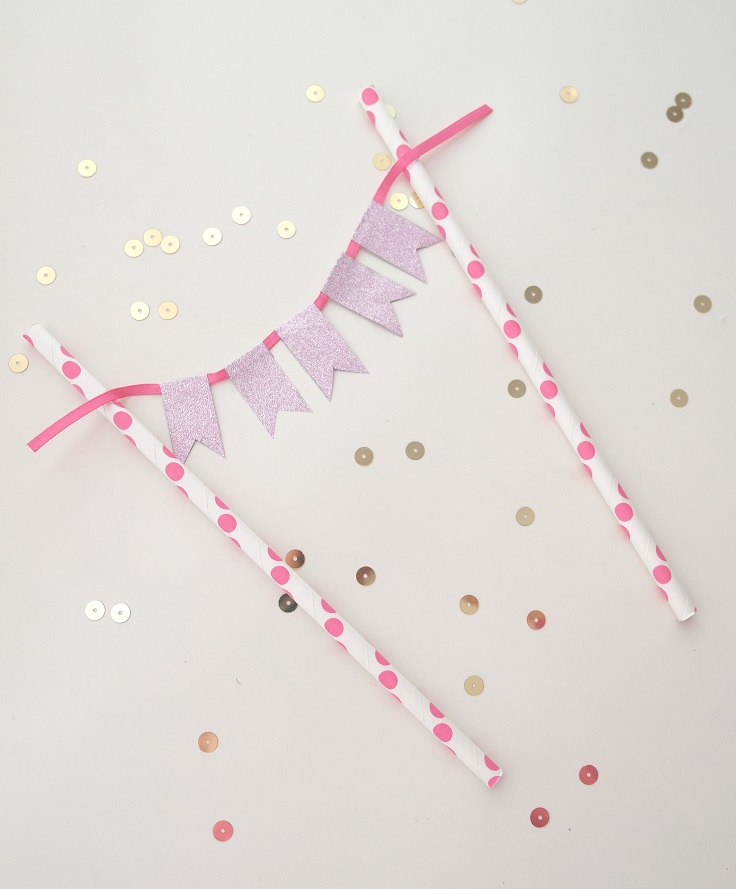 via foreveryourprintsblog.com
We're back to the washi tape, but this one is a little bit different. Besides washi tape, you need ribbon, paper straws, hot glue gun and scissors. Cut out two inch strip of the tape and fold it over the ribbon, and make sure the ends meet. Repeat this until you have enough washi tape flags on the ribbon. To make it more interesting, cut down triangle at the flag base. Use glue to secure the ribbon to the paper straws and voila – you just made a super cute cake topper.
7. Flamingo Cake Topper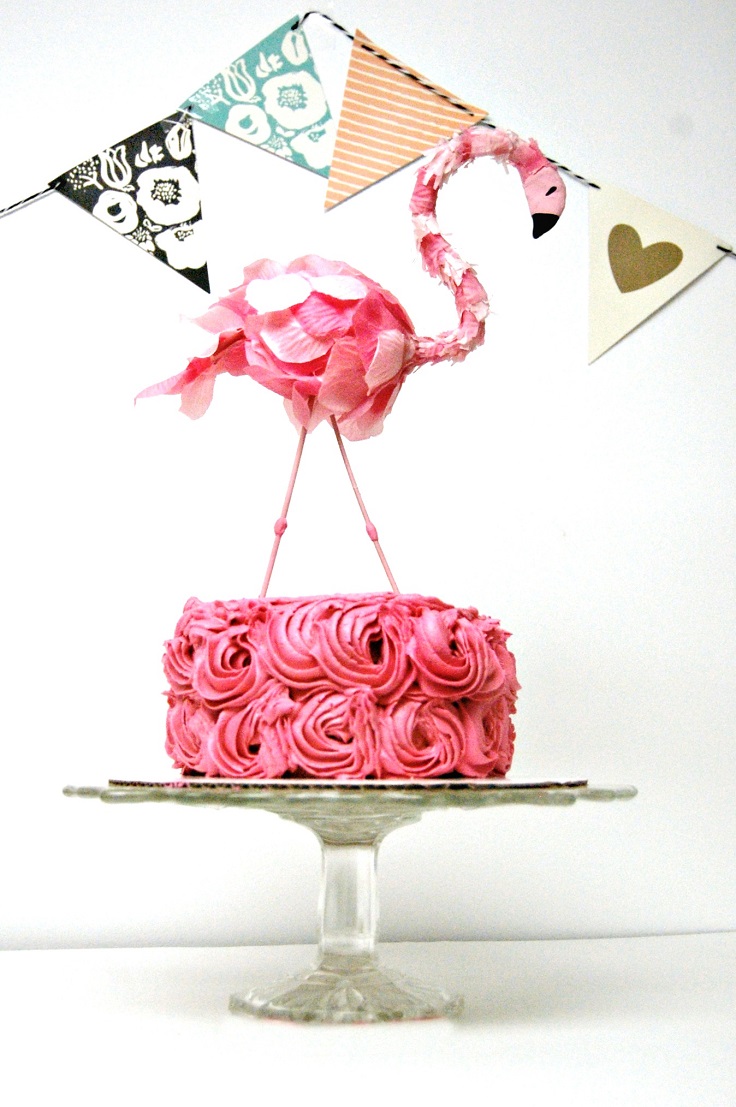 via thepartygirl.ca
For some this may be too much of a topper, but for those who like this, here's what you need: large foam ball, wire and wire cutters, cloud clay, modelling clay, pink paint, faux flower petals in two shades (any two pink shades will work perfectly, because they achieve the flamingo look), tissue paper, pink ribbon, two skewers, glue gun and scissors. These cake toppers are amazing and definitely unique – you don't get to see a flamingo topper every day. This requires some of your time, and there are more instructions, so make sure to check out the link below the picture.
8. Balloon Cake Topper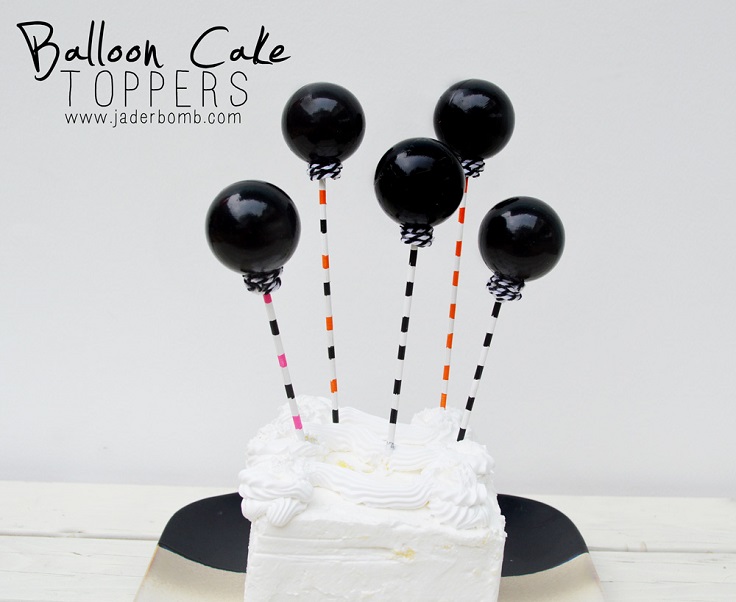 via jaderbomb.com
These balloon toppers are perfect for a black and white party! Start out by painting wood stick white and then paint stripes in different colors. Use Christmas balls as balloons, but first paint them black, and put more coats of paint if you need to. When they're all dried well, put some glue on the tip of the painted stick, stuck it inside the Christmas ball and hold it for few seconds until it's dry. Wrap twine and glue it around the stick if you prefer.
9. Crescent Moon Cake Topper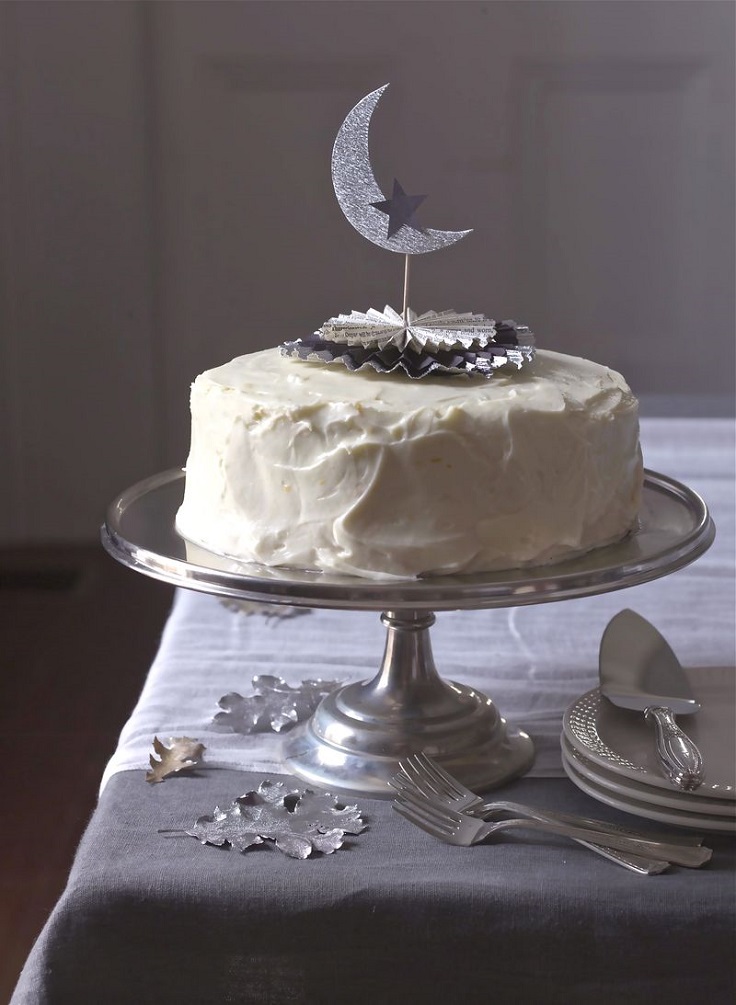 via urbancomfort.typepad.com
What an elegant and dreamy cake topper this is! To make it, you need moon and star templates, white cardstock, silver crepe paper, black construction paper, book pages, ruler, pencil, scissors, pinking shears, quick setting gel glue, scoring board and bone folder, two toothpicks and hot glue gun. It's really lovely. It isn't hard to make these, but there are more instructions so check out the blog to see what's going on with the cake toppers.
10. Glitter Heart Wedding Cake Topper
via paperpony.net
Simple and glittery, hearts are always here to save the idea. Cut out two hearts from a neutral construction paper for each cake topper. Place the flat end of a skewer on one heart and spread glue around, so that you can place another heart. Make sure they're dry, and when they are spread an even coating of glue and completely cover it with glitter. Let it dry and then glitter the other side of the heart. If you want to, you can cut the skewers to have a desired length. Place them in your cake and you're all done.