Let's talk about those plain old t-shirts hanging in your closet! Wouldn't you like to wear them with more than your faded jeans and sneakers on Saturdays? Why not spruce them up with a bit of gorgeous upcycling? Whether your personal style is lacy, cute, or funky, we have a simple DIY to remake your new, well-loved, or thrifted shirts into eye-catching wardrobe items!
This summer, cut-out and low back t-shirts have been trendy; you can find them in almost any store! These shirts are a perfect way to achieve a summery vibe and beat the heat.
All you need is some old t-shirt (even one or two numbers larger), scissors, and some sewing machines. Everything else, you'll find here. The ideas and the instructions. Choose your favorite and start making it right now!
Tie-Back Tank Top

via lovemaegan.com
As you wear it, the edges will curl a little, which actually makes it look better for a cropped look, pull it back more or cut the center shorter. And instead of ribbon, you can cut strips out of the left over t-shirt, shoelaces, lace, anything!
Braided Strap Tank Top
You'll need four yards of jersey fabric in a color you love. Trim the selvage edges and two extra 1 inch strips of jersey (from the 4-yard long edge) and save them for the belt.
Butterfly Twist-Back Tee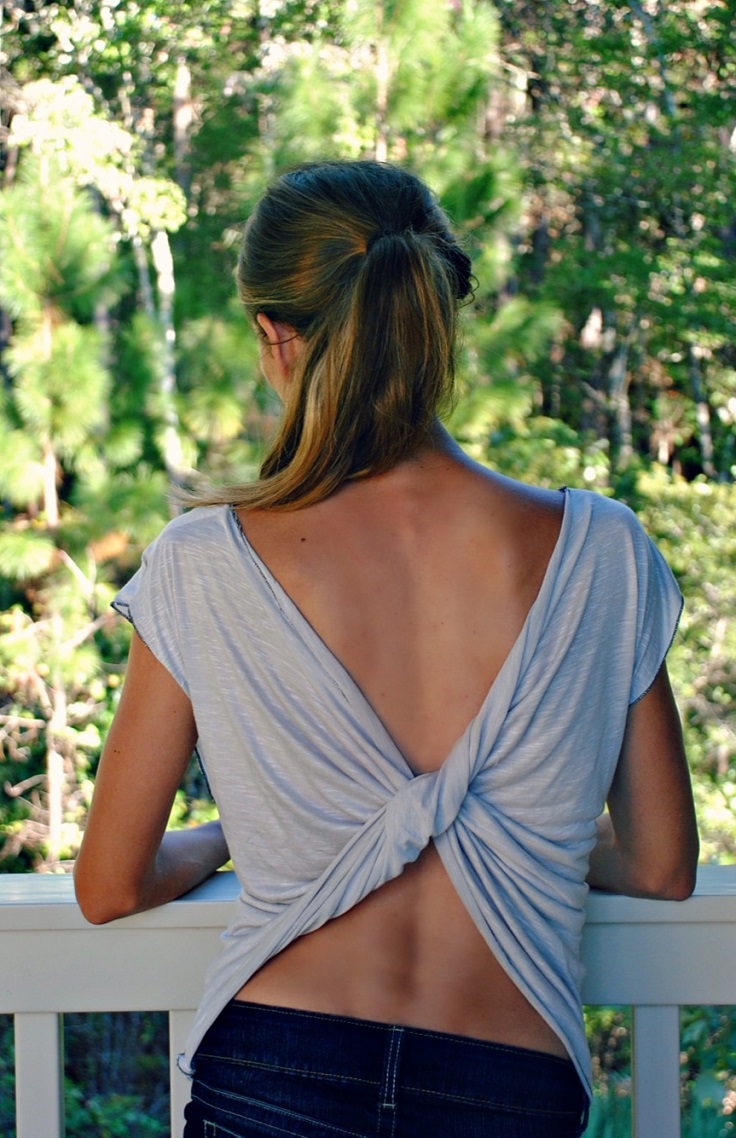 We love our DIY twisted tee and wanted to do a horizontal one. This effect is so simple and transforms your old t-shirts into an interesting twist.
Tie-Front Tank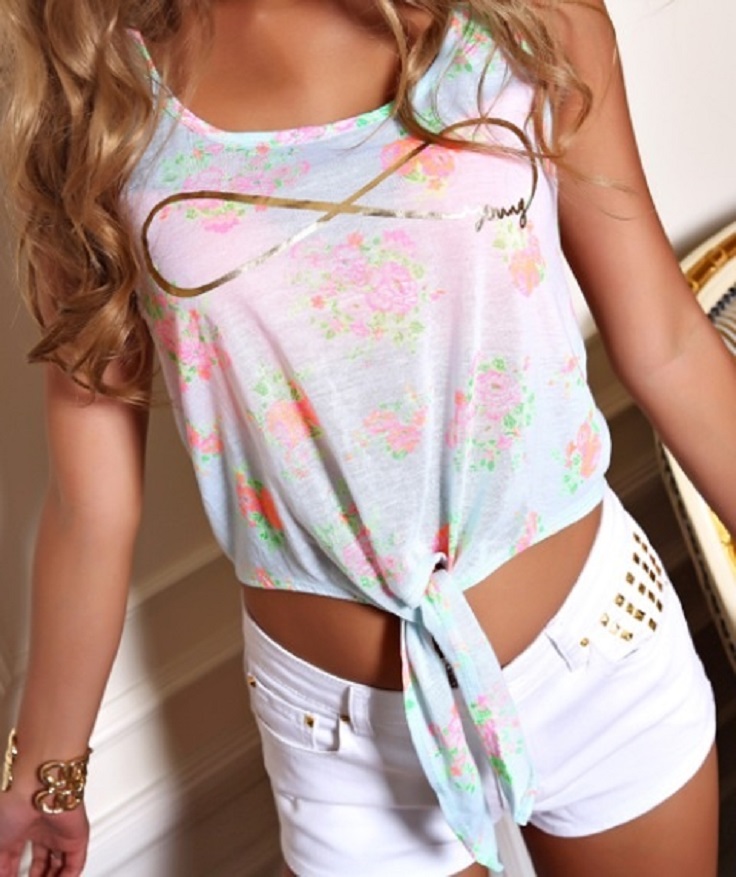 via somedreamingtree.blogspot.com
It is so easy that even we did it, and we're now tempted to turn a few more old tee's into summer tanks. Just make sure that you are putting the shirt back on and marking where you want to cut it at each step, so you don't end up with a super low neckline or really cropped shirt unless that's what you want.
Halter Tank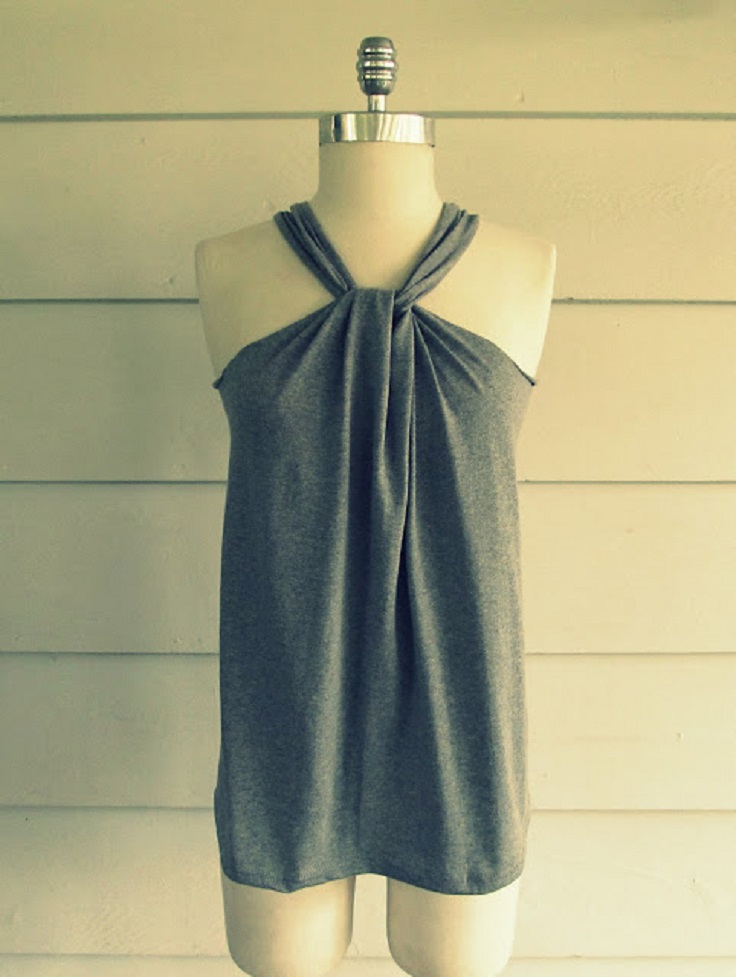 We wanted to do one more halter top to take to wear with jeans, and this is what we came up with. It can be changed in so many ways. Let's just say this is a 3 in one shirt.
Crochet Trim Seam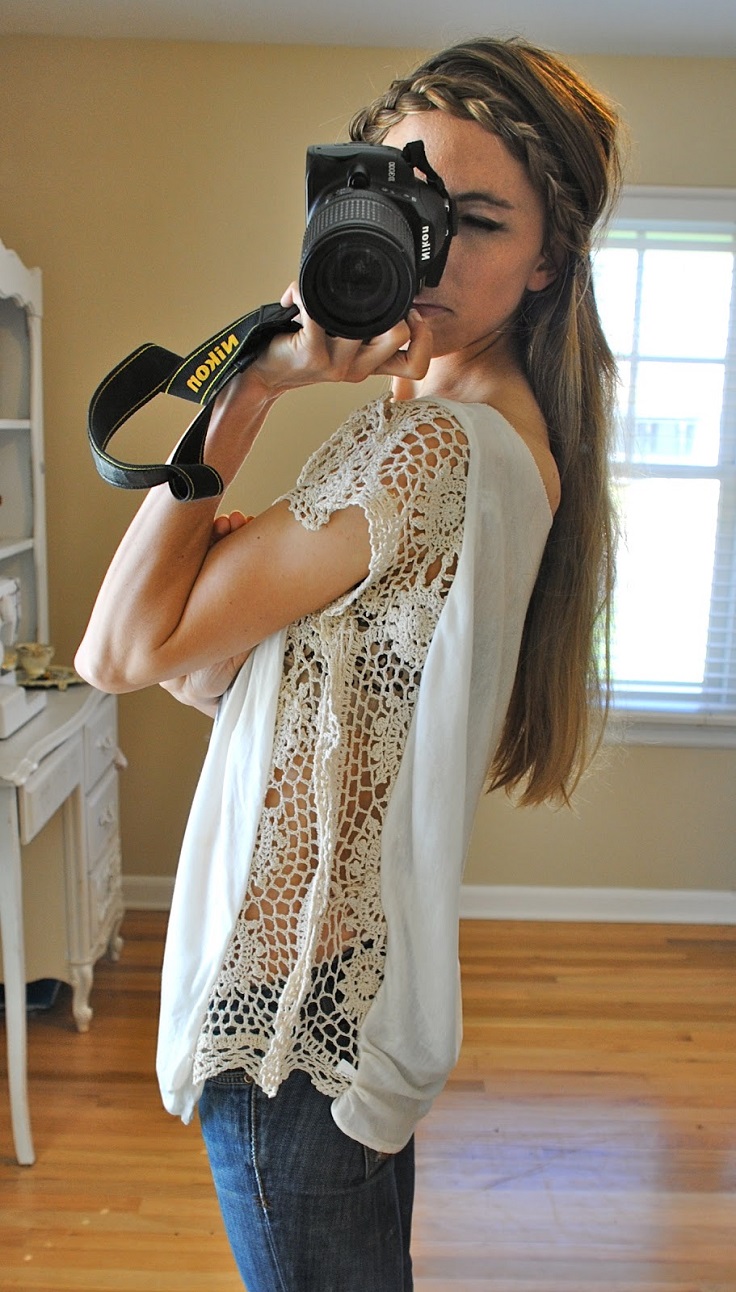 We came up with this idea to make tight shirts wearable again. We had so many cool t-shirts, yet most of them were purchased when it was trendy to have them snug.
The Rib Cage Spine Tee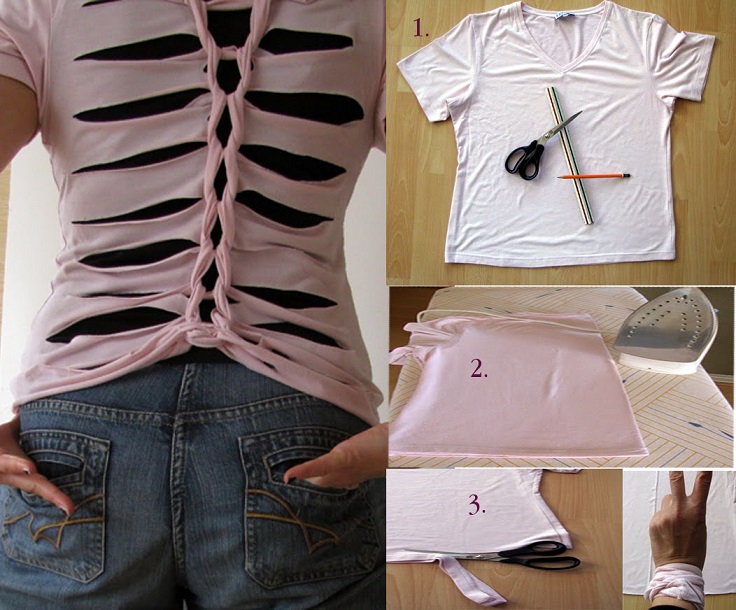 via steffi-cottoncandycastle.blogspot.com
You'll need a T-shirt we recommend a 100% or at least almost 100% cotton T-shirt with as little Lycra as possible in it), scissors (do yourself a favor and get some tailoring scissors if you are into crafting, they will make your crafting life so much easier), a ruler and a pencil for light material/(tailor) chalk for dark fabric.
Lace-Up Side Tank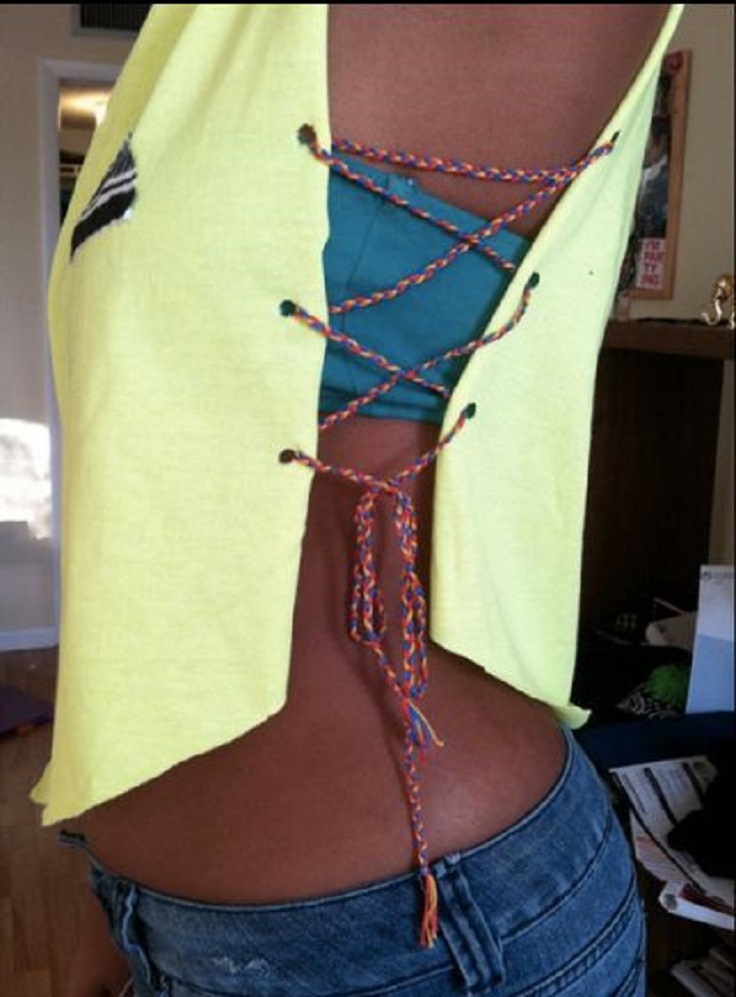 via buzzfeed.com
Just cut off the arms of the t-shirt, cut the sides, snip some small holes, and lace-up the sides with some braided string. This is so cool for a beach, wearing it over your swimsuit.
Ruffled-Top Tee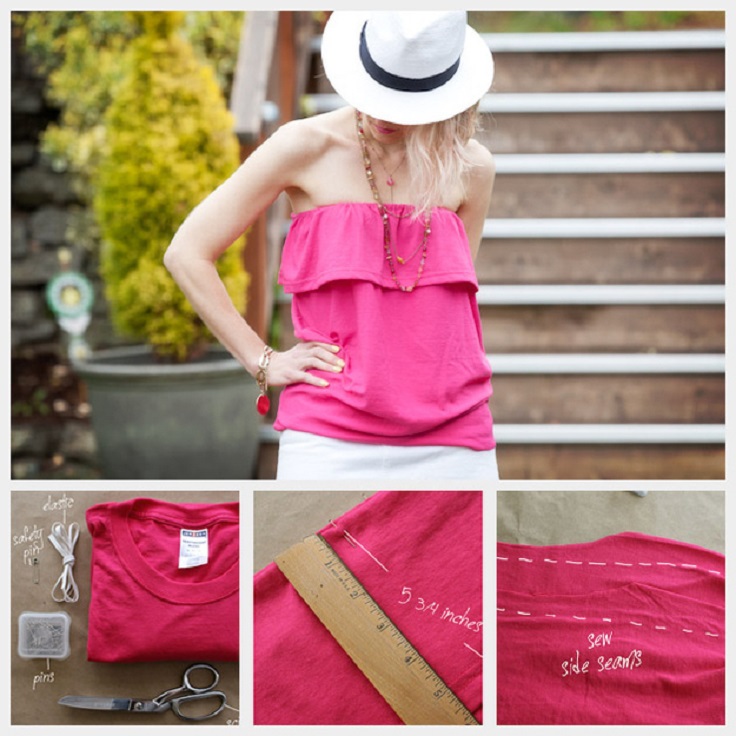 This is so simple to make; you can have a cute summer top with minimal sewing in less than an hour. You will need 1 L or XL T-Shirt, elastic, pins, scissors, safety pin, measuring tape or ruler, and a sewing machine.
Bow Back Tee
You could also add more bows if you want, or even cut out the entire back and make bows all the way down. The amount of the back you cut out can completely change the look of this shirt. Don't let the idea of sewing scare you. Although a needle or sewing machine may seem daunting, it just takes a little practice and patience.