A chandelier may just be what you need if you think your home needs a bit of style update. There is no reason to buy a new chandelier when u can DIY. All you need are some old things that you don't use anymore and a little bit of creativity.
Making your own adorable chandelier definitely takes a little more elbow grease, but all of these projects are creative and will not require you to spend a lot of money. Follow our list, pick your favorite chandelier that will brighten up your space, and wait for the next rainy weekend. We are sure you will find this list of DIY chandeliers pretty useful!
DIY Glass Chandelier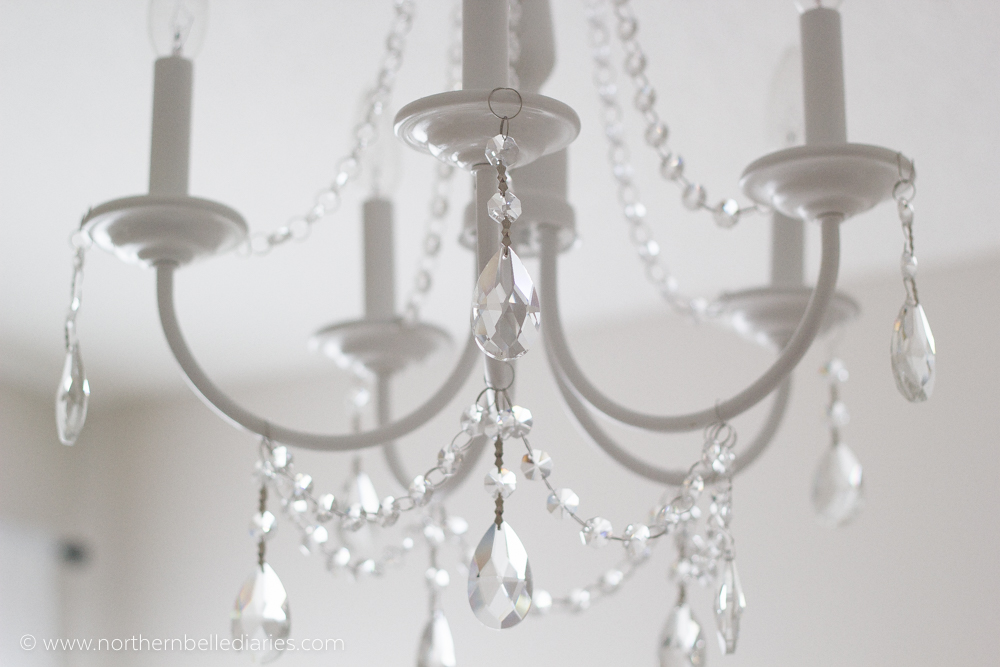 DIY Tutorial via lalalisette.com
Glass or crystal chandeliers can be beautiful and add so much drama into a plain-looking room. It can still add minimalistic detail to home decor. Reserve something a little special for those wishing to create a look of modern luxury, barely spending 100 dollars in the making. Ok so the glass is in fact plastic, but if no one told you, you would never ever know. They will still reflect a little light and make the room feel extra special. On a budget too. Regarding the actual chandelier, recycling is the best, tuning something rather old school, dirty and unloved, into an object of art.
DIY Moroccan Lantern Chandelier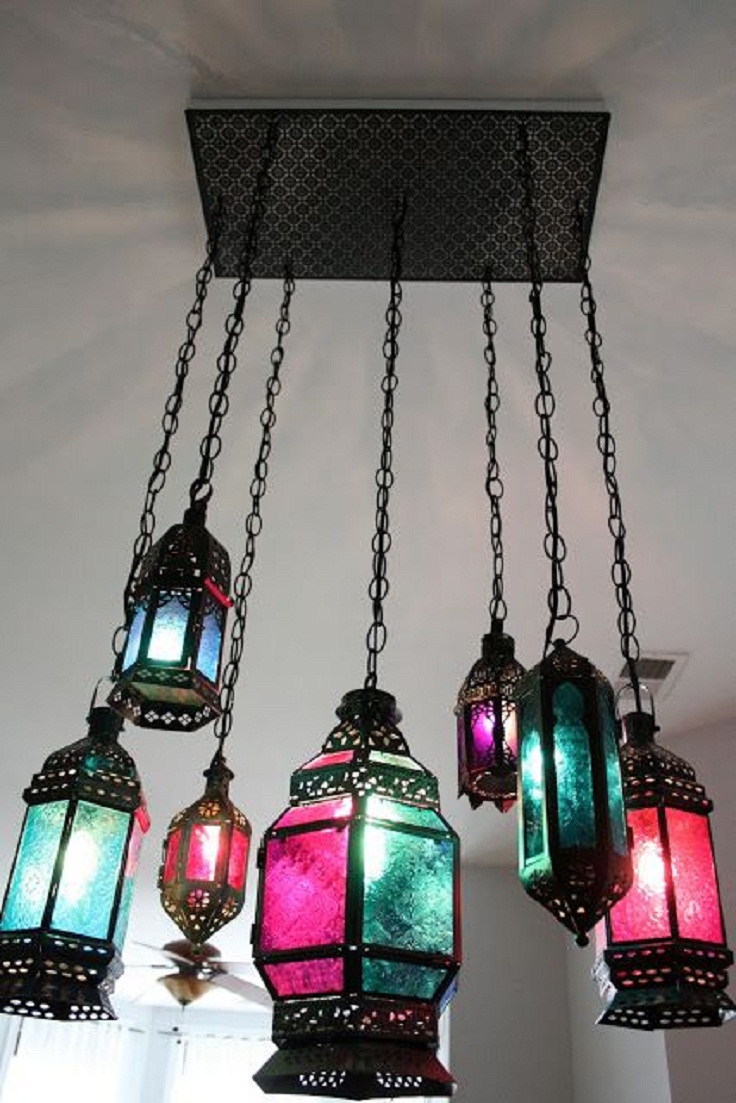 DIY Tutorial via indiefashionandbeauty.blogspot.com
Some of us simply love the Arabic lifestyle they have created. It gives such warmth to a room it is incredible. It really can change the coldest of rooms to something really zen with such deep and meaningful colors. This DIY is rather simple and could be done in the morning. You'll need to find a lighting pendant and once found, the entire setup is dead easy. If you have old rags you'll increase the theme alongside wall arts and statues, or you wish to go fully Moroccan fledged, you can. Theme a room why not.
DIY Drum Shade Chandelier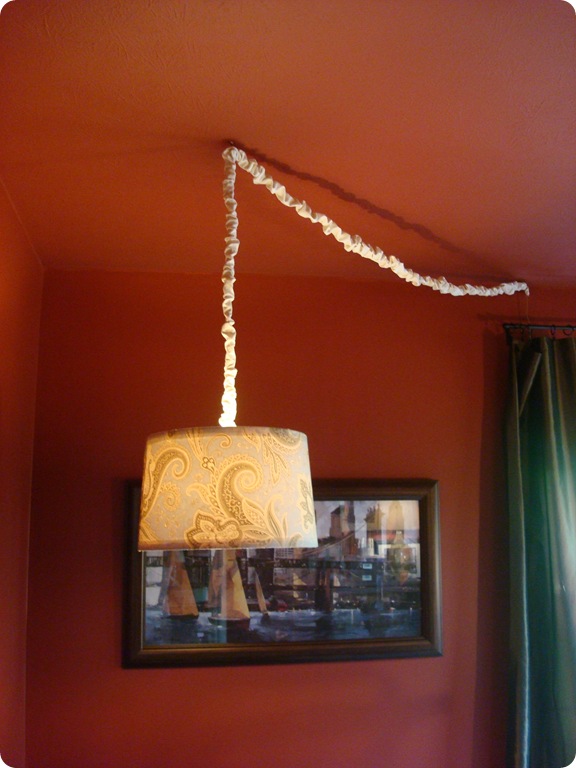 DIY Tutorial via thriftydecorchick.com
Style is so personal and it is always challenging to recommend certain designs. But do not forget, once you have the physical structure done with the understanding of what fabric you will need and love, then feel free to totally change it to what suits you best. The actual physical structure of the chandelier is a tough one and will last without falling on your head! Even for a novice, it'll be fun to understand how to change and create light making things work. Nothing more satisfying. Be patient, and let your imagination run loose alongside the super detailed tutorial.
DIY Vintage Birdcage Chandelier
DIY Tutorial via allthingsthrifty.com
If you love the middle ages and wish to take a little something from it, this chandelier ought to really do the trick. It is superb in say, a corridor as long as you have high ceilings. For low ceilings, however, you could make a side lamp. Just an idea (or do both to complement one another). The accessories will be breathtaking and the results are just out of this world. Making the rope is a little challenging, but the results and your hours of endless "fun" will totally be worth it. Besides, as they say, hard work pays off. We love this one in particular if you are fortunate enough to get your hands on such a birdcage.
DIY String Chandelier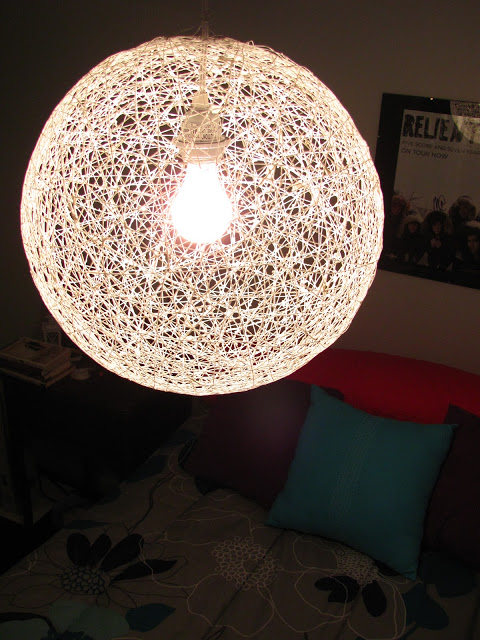 DIY Tutorial via careycreates.blogspot.com
This will take you back to when in school – this is a totally nostalgic DIY project. What is lovely about this, is that as soon as the night falls, the games of light hitting the hundreds of strings is rather theatrical for any room that needed a little oomph. Get a large balloon or two, (or more these things could explode!), a little yarn, cornstarch, glue and you are pretty much there. It is a simple DIY but one that will make a dramatic difference to your room, costing very little indeed.
DIY Paint Swatch Chandelier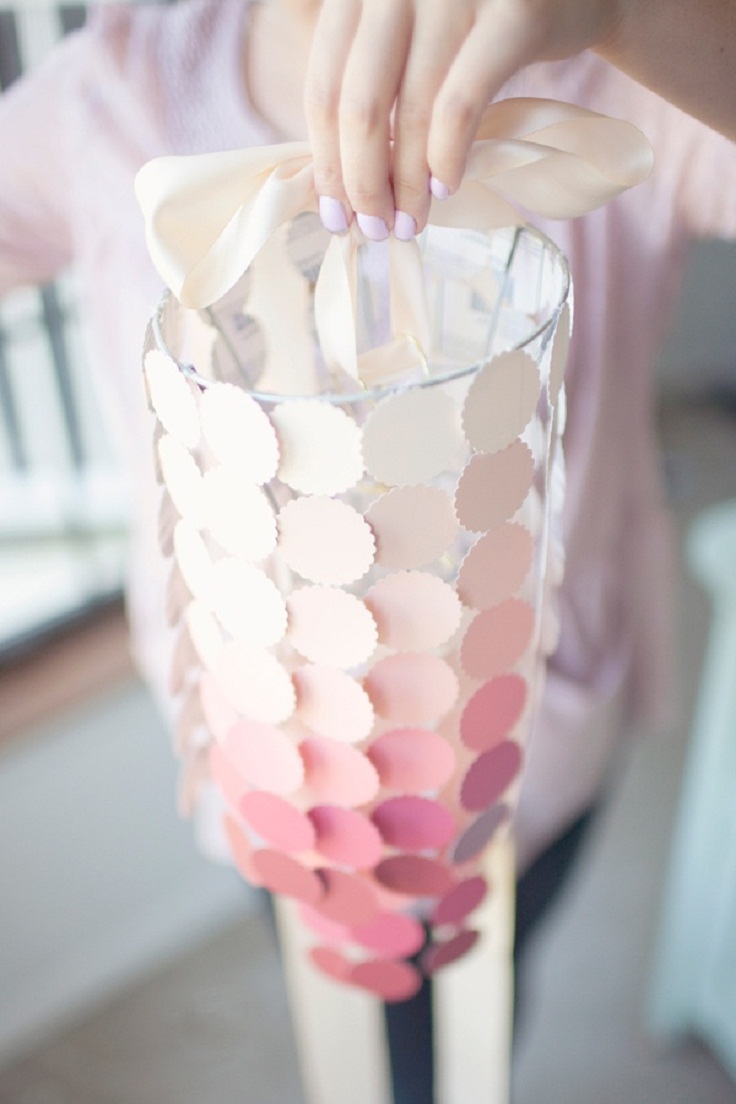 DIY Tutorial via rhiannonbosse.com
The kids love anything new. It is like, buy me this buy me that. And also, it is always about how to keep them busy. Well, fear not, we have your backs covered with this one. It is always nice to change things around a little and have the kids put their sleeves up too. It is an easy one to do and again should not take more than two relaxing hours. As soon as you have your desired palate color in mind, get as many shades as you can. There aren't any rules here. Just use colors that tickle your fancy mainly. Brighten the room up subtly, but surely. Look into making the bedside table light into a similar principle matching things up.
Three Tier Clothespin Chandelier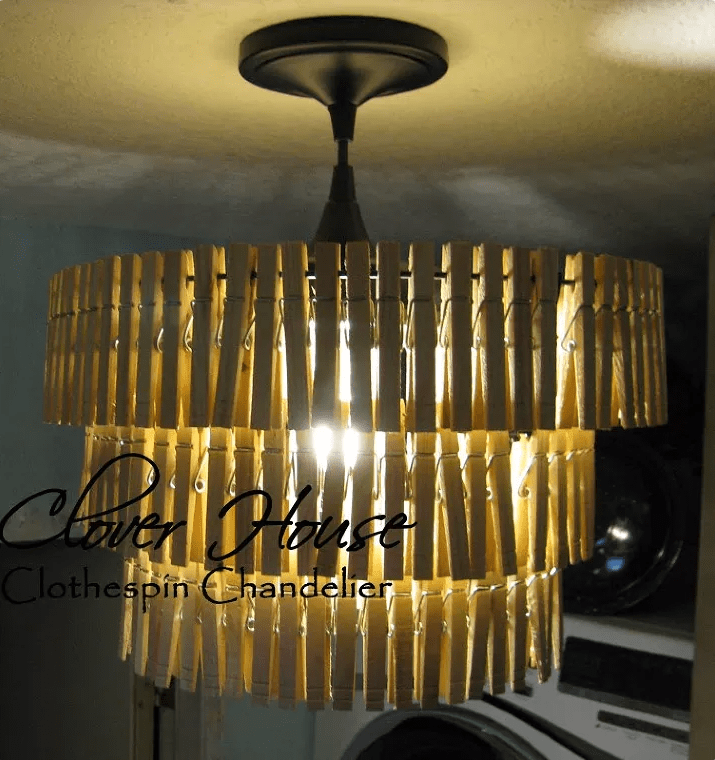 DIY Tutorial via hometalk.com
Perhaps this can even include the kids within your creation, explaining the art of washing and keeping clean at the same time! It's a win-win! You can paint the clothespin in any color you wish, just get yourself a spray paint canister for the job. Even add different color twists making something very unique to you and your room. Besides, it is a little fun. And, at just over 30 dollars to make, surely a great project.
DIY Feather Chandelier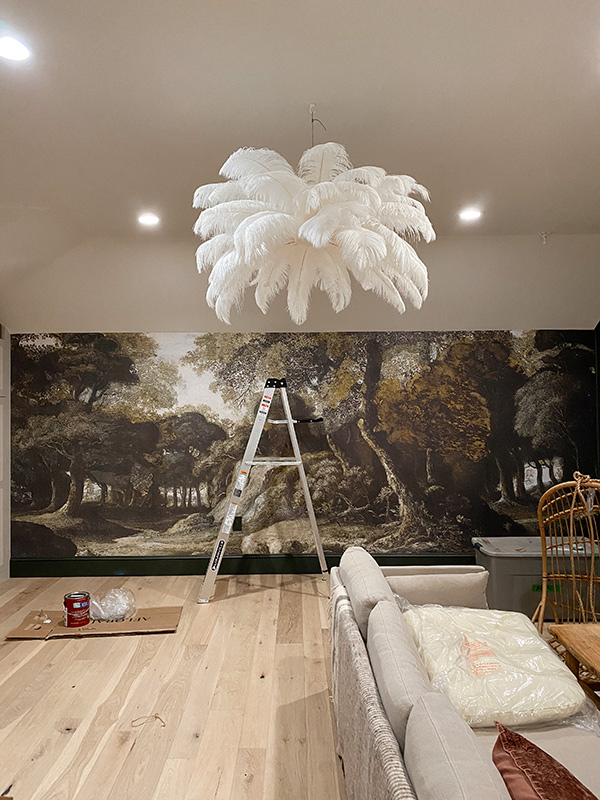 DIY Tutorial via blog.jennasuedesign.com
The selling price for a feather chandelier can be in the region of 1300 USD. Now, we appreciate that it is different, but if for everything different one has to go that deep into pockets, you'll end up spending your life savings on a few different items to differentiate yourself from the crowd. Naturally, we do not agree, and for a few bucks, one can truly achieve something super cool and original for a fraction of the price. A few toothpicks worth the grand scale of things. A brilliant DIY that will really make your room pop with innovation and style.
DIY Industrial Looking Chandelier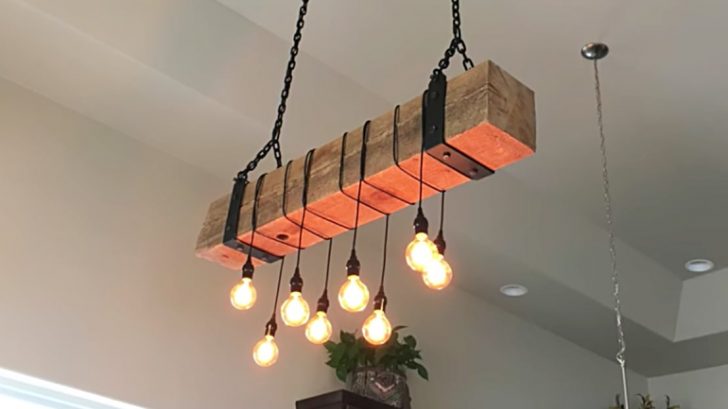 DIY Tutorial via diyways.com
Reclaimed wood is a terrific way to give a second life to something nature-made in the first place. Mixing wood with metal and warm yellow light from those industrial-looking bulbs, give a real rustic feel to your room. This will become a statement of its own, owning the room. However, with a few other soft touches from the sofa to the cushions to the floor rug, it will give a really elegant approach to the industrial days. This could be a two people job as it will be a little on the heavy side and demand some strength. Just be careful with the weight of it all. Secure it well enough with the correct bolts and other pieces.
DIY Mason Jar Chandelier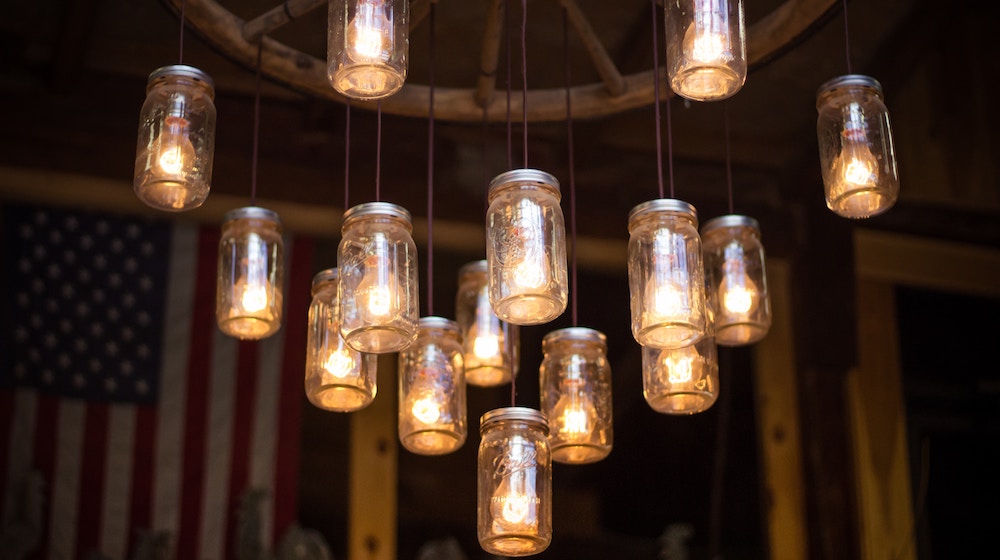 DIY Tutorial via diyprojects.com
Mason jars are available pretty much anywhere at a very low asking price. They are great left natural, or you could always give more life to them by spray painting them with glass paint. You could almost create something a little African in the making. But whatever floats your boat, this is a great way to recycle the unloved jars you might have at home, using them differently according to your home design look, and feel. If you have a nice used leather sofa and wondered what to put up on the ceiling, don't look away. This tutorial is fantastic and will really create an abundance of charm in your room.