Chess is the oldest and the ultimate two-player strategy board-game. It has been around for centuries and it is still popular and played by millions of people worldwide. The Queen's Gambit high viewership is another proof chess hasn't died yet. However, there are some people who may find it unappealing. It's certainly a good thing for every household to have a chess set, but, some of us will agree that the standard chess set could look a little more interesting. This is where we come in.
We've put together a list of the top 10 unusual DIY chess sets if you're looking for something more unusual and unique. What's more, if you have a child you want to teach how to play chess but you find the chess set you already have a bit dull and unmotivating, these DIY projects are just for you!
Take a look at these top 10 DIY chess sets and you will find the perfect one for your level of enthusiasm towards this timeless game.
Cardboard Chess Set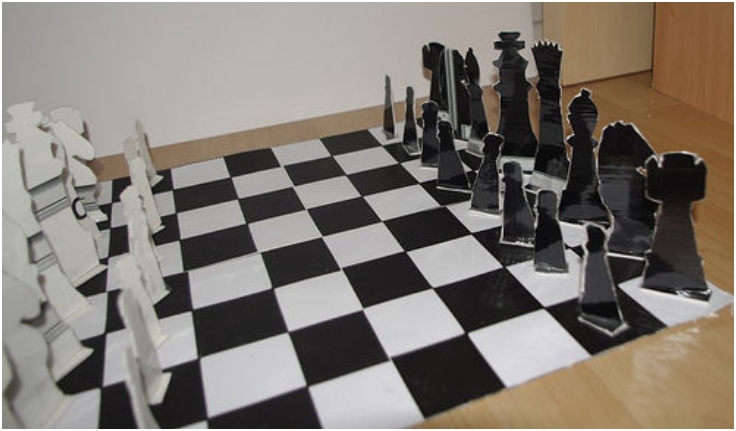 DIY: instructables.com
Who said you needed to have materials befitting a true DIY king/queen to create something inspiring? Besides, this picture proves you can use cardboard only and still make that legendary check-mate. And protect your king and queen. All you really need to win is a strong will and a focused mind.
DIY LEGO Chess Game Board and Pieces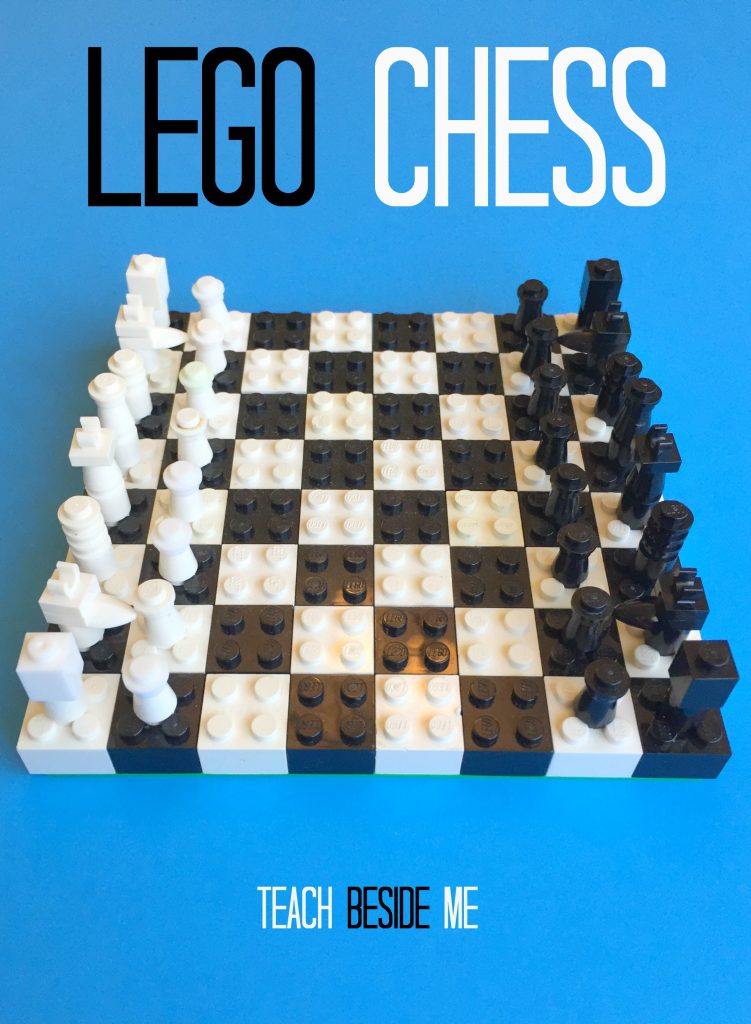 DIY: teachbesideme.com
When you make a chess set out of Lego blocks, what child wouldn't want to get into the game? Not to mention it's pretty easy to assemble that even your kids can do it as this DIY project teaches them the names of the chess pieces as well as everything they need to know to create their latest hobby.
Travelers Chess Set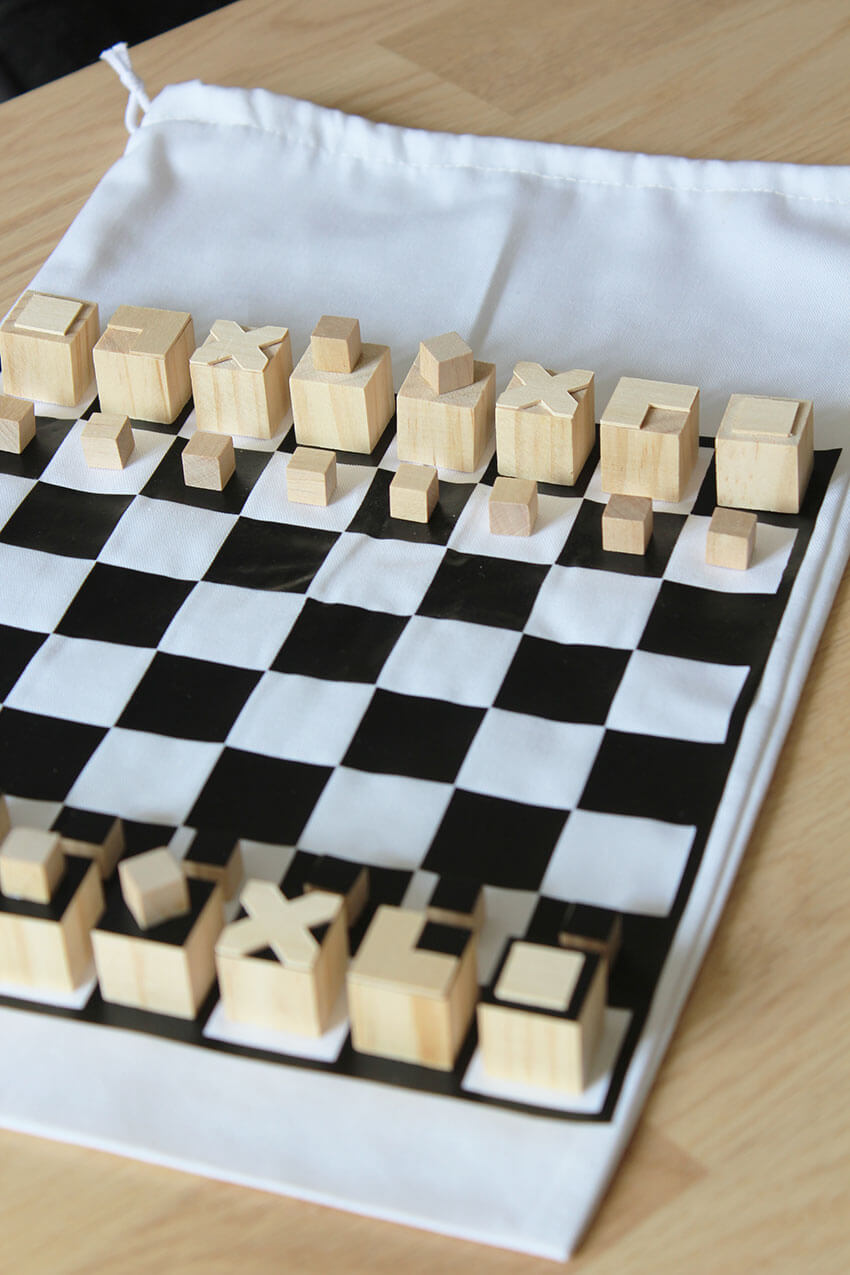 DIY: thecraftygentleman.net
Stuck at the airport due to rescheduled flight and nothing to do? This travelers chess set may kill some time. And if you do have some time to spare before you go on a trip, we suggest making it. This DIY project explains in specific details how to put the chess pattern on a drawstring bag and how to make the chess pieces, which, obviously, do not necessarily need to look like the standard ones. It's all about imagination and creativity, right?
DIY Garden Chess Board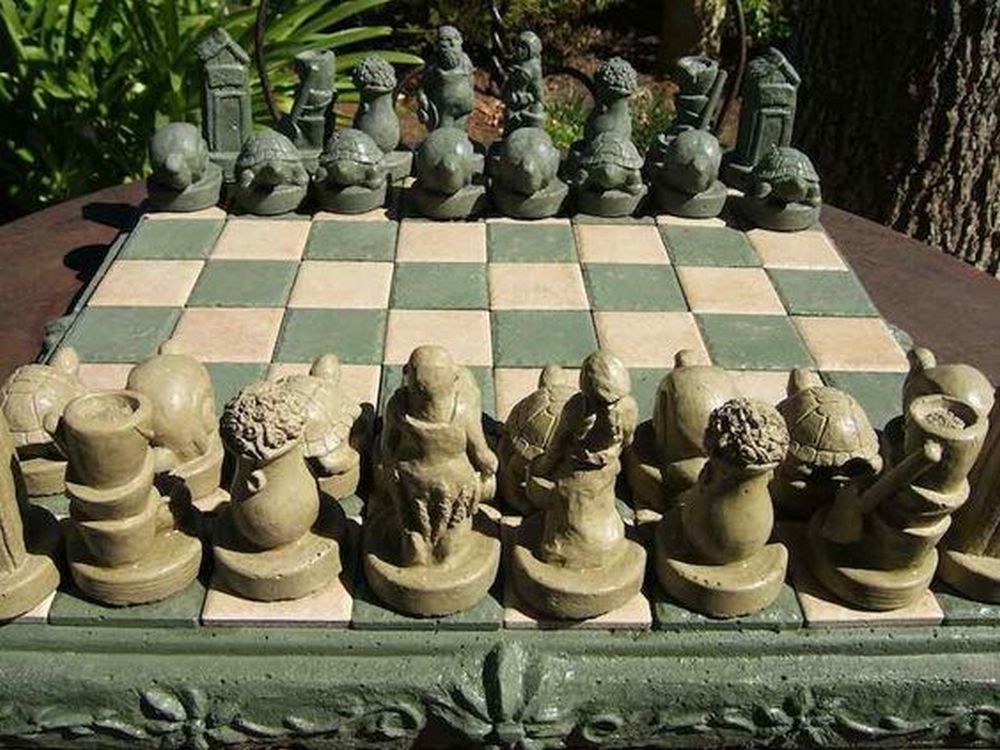 DIY: project.theownerbuildernetwork.co
Isn't this the most fascinating chess set you've ever seen? Having this one in your backyard will certainly motivate you to brush up on and master your chess skills. Not to mention the looks of pure amazement it will receive from your neighbors and passersby, which is always a plus – you get to challenge them for a game or two.
LED Chess Set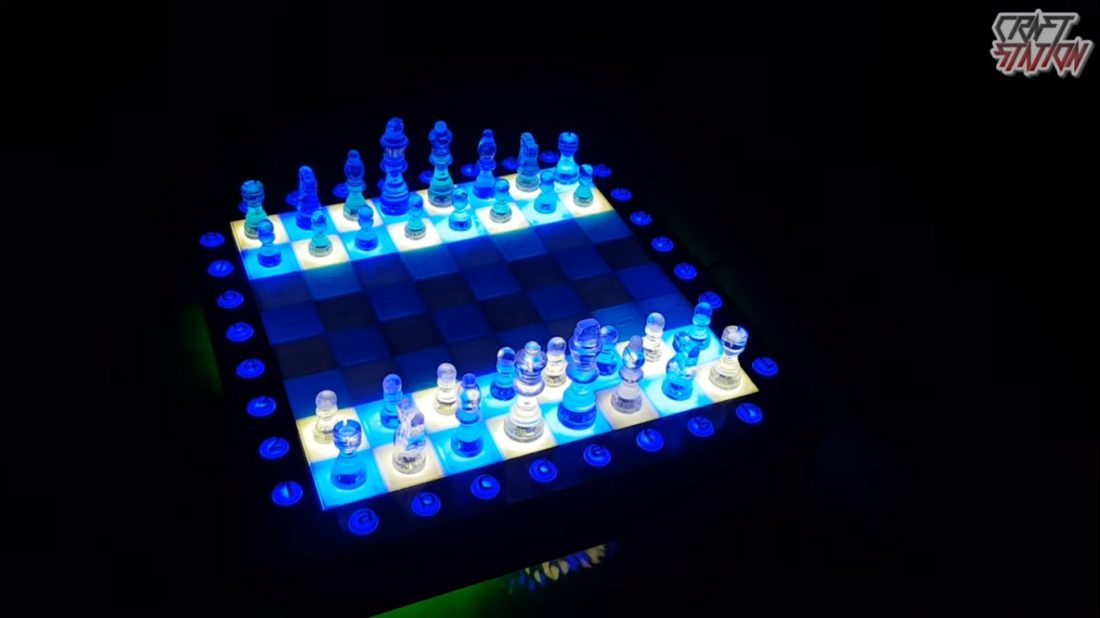 DIY: solidsmack.com
And you thought chess was dull? Well, it may be so to some, but it certainly doesn't have to look as such. Turn your family late-night TV sessions into chess game nights with this LED chess set and not only will you have something to spend your time more productively, you will also spend more quality time with your loved ones.
Rolled Paper Chess Set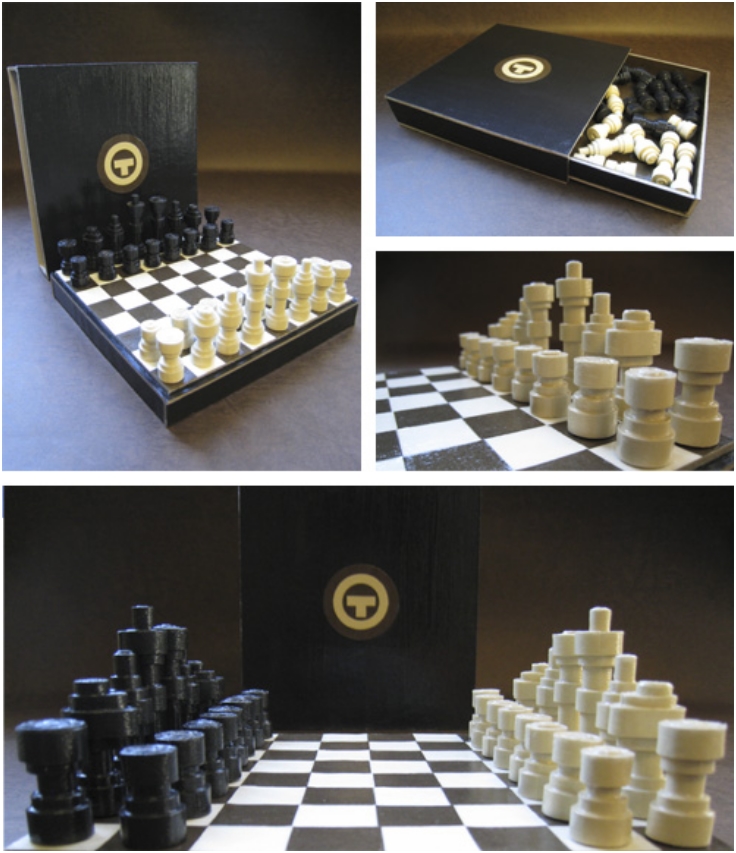 DIY: paperplateandplane.wordpress.com
Know any chess pros and you're unsure of what to get them? You already know they have multiple diverse chess sets at home. So, why not make them one they can take on a trip? This travel-size chess set is really easy to make, as it involves a box and some paper for the board as well as for the chess pieces. Regardless of how many sets they have, they will always appreciate a hand-made addition created with love.
Chess Board/Tray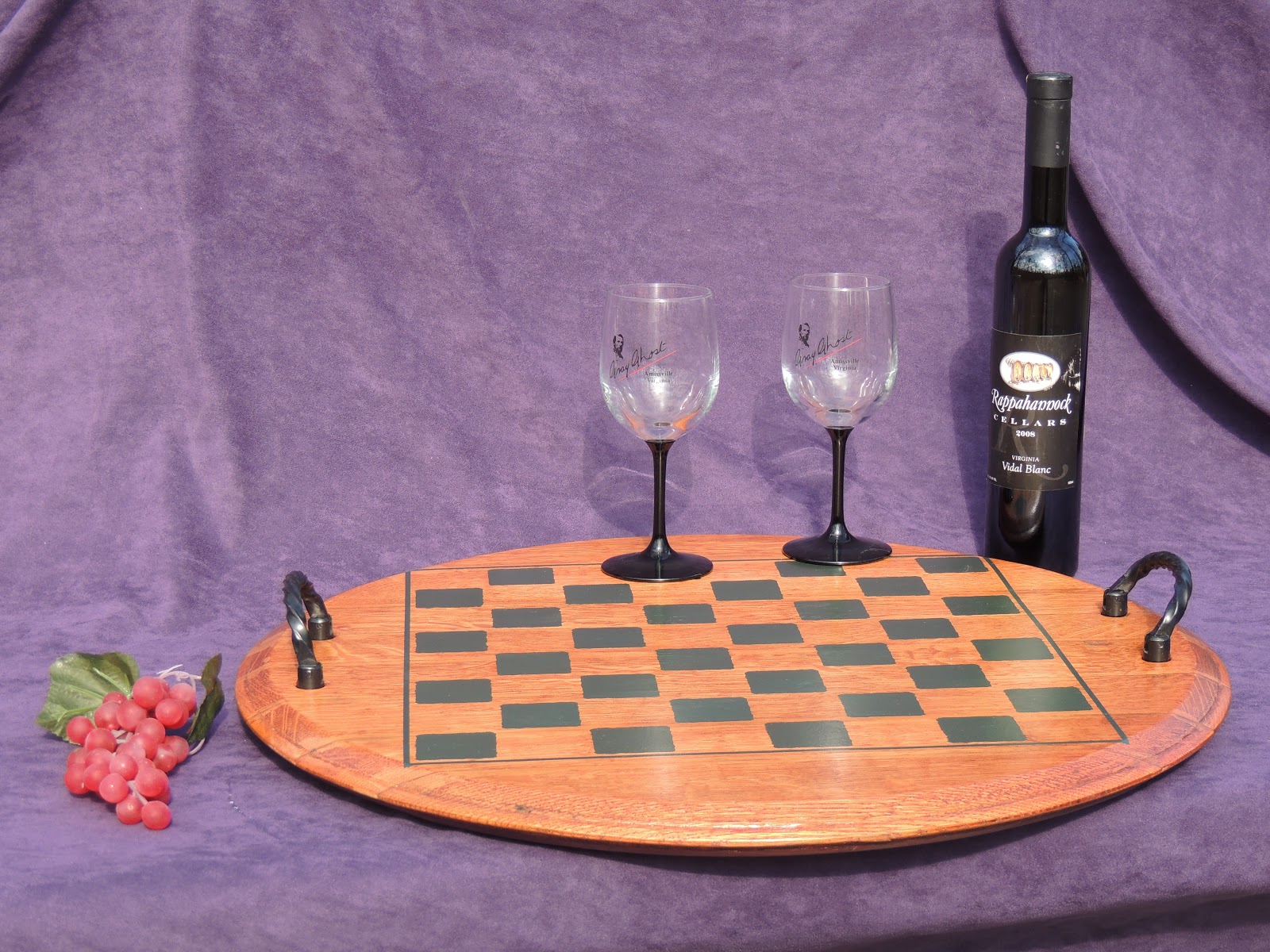 Looking for a unique way to spend a romantic evening with your geeky significant other? Look no further than this awesome chess board/tray you can make in an instant but that will be such a refreshing addition to your home.
Nuts & Bolts Chess Set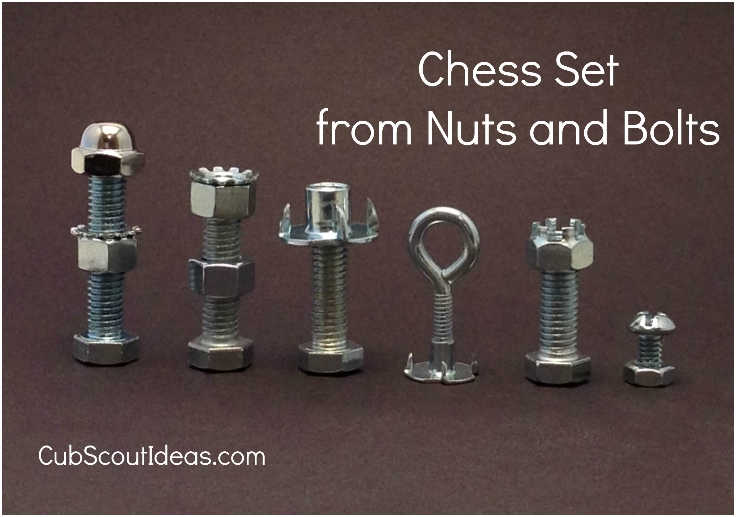 DIY: cubscoutideas.com
Have you ever wanted to have a game of chess, but somehow you've lost a few pieces, or dare we say, all of them? Sounds kind of familiar. Well, since its pointless and time-consuming to look for the pieces you don't even remember losing, why don't you replace them with some nuts and bolts such as these? They come in shapes and sizes that match the standard chess pieces, so why not? Change is always welcomed.
Upholstered Chess Table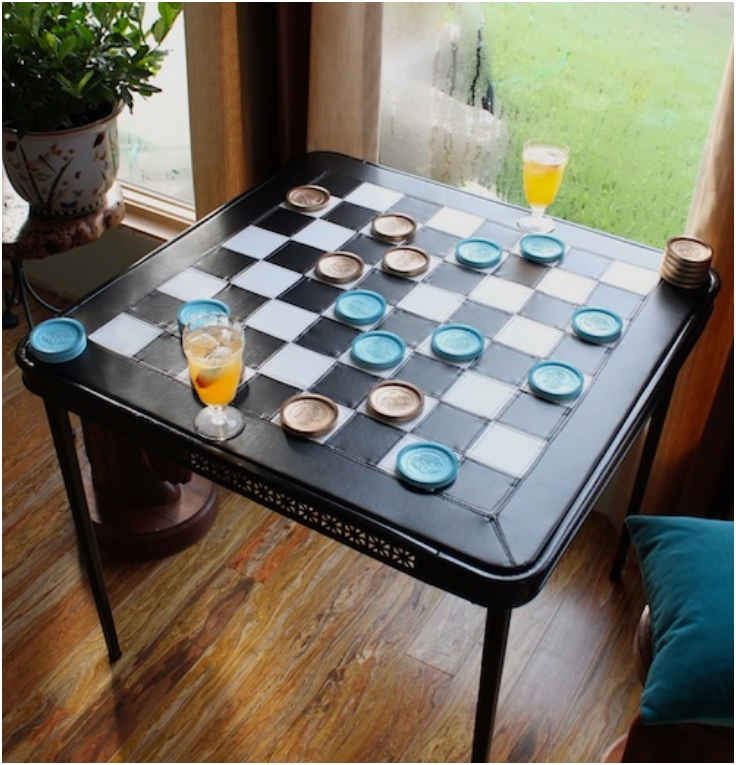 DIY: designsponge.com
Now here's a project you can take on if you're feeling crafty and have some time on your hands. It certainly makes for an interesting Sunday activity. Take out that old table that's been gathering dust in the basement all this time and finally make it usable again. This time, make it a chess/checkboard table everyone will want to give it a go.
DIY Chess Board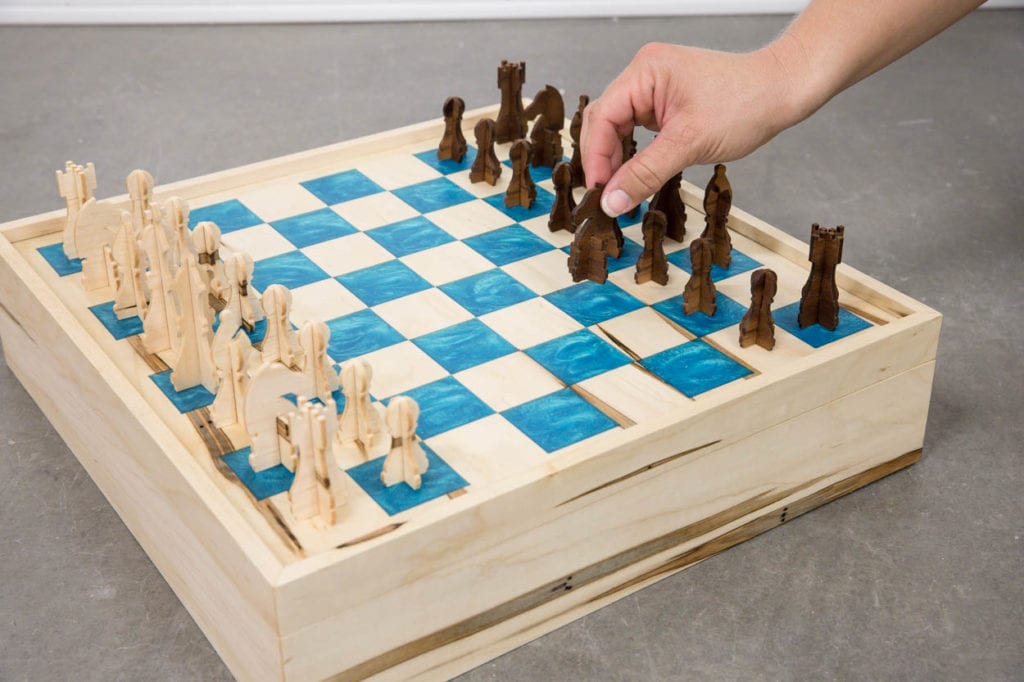 DIY: addicted2diy.com
Ok, hear us out – a chess/checkerboard that will hold both the chess and checkerboard pieces in one place. How amazing is that? No matter what you play, all the pieces will be there and with so much space, it's almost impossible for you to lose them or look for other places with more storage to put them. Plus, you get to build the whole thing, which will only add to your DIY satisfaction.
Alright, chess fans, time to get crafting! We hope you've found some inspiration for your next DIY project and that you'll share your creation in the comments below. Happy crafting!