Choker necklaces have been around for centuries and at one point were considered the height of jewelry fashion. The definition of the classical choker is a lace, velvet or other strip of material worn tight around the neck and adorned with some kind of a pendant.
Today, they are favored by various subcultures, but that doesn't diminish their appeal. They can be found made from various materials in different shapes and sizes, making them more versatile and suited for all styles and occasions. The appeal of the choker is that it makes the neck look longer, making the wearer look willowy, elegant and very sexy. Become a fan of the choker necklace and make one for yourself today with our top 10 DIY choker necklaces.
 Lace Bracelets & Choker Necklaces
Here is how you can make a classical elegant choker necklace from scratch. all you need is a lace or velvet ribbon long enough to circle your neck and a vintage shoe or belt buckle as the adornment. You'll have a lovely choker in minutes and it makes a great present or party favor.
via vestedbeevintage.blogspot.com
Belt Choker Necklace
Want a fun and edgy choker but don't have the time to go shopping for one? You don't have to, since you probably have dozens such chokers at home. Just take one of your belts, wrap it around your neck and you have an instant choker necklace.
via blog.boatpeopleboutique.com
Looping Circles Accent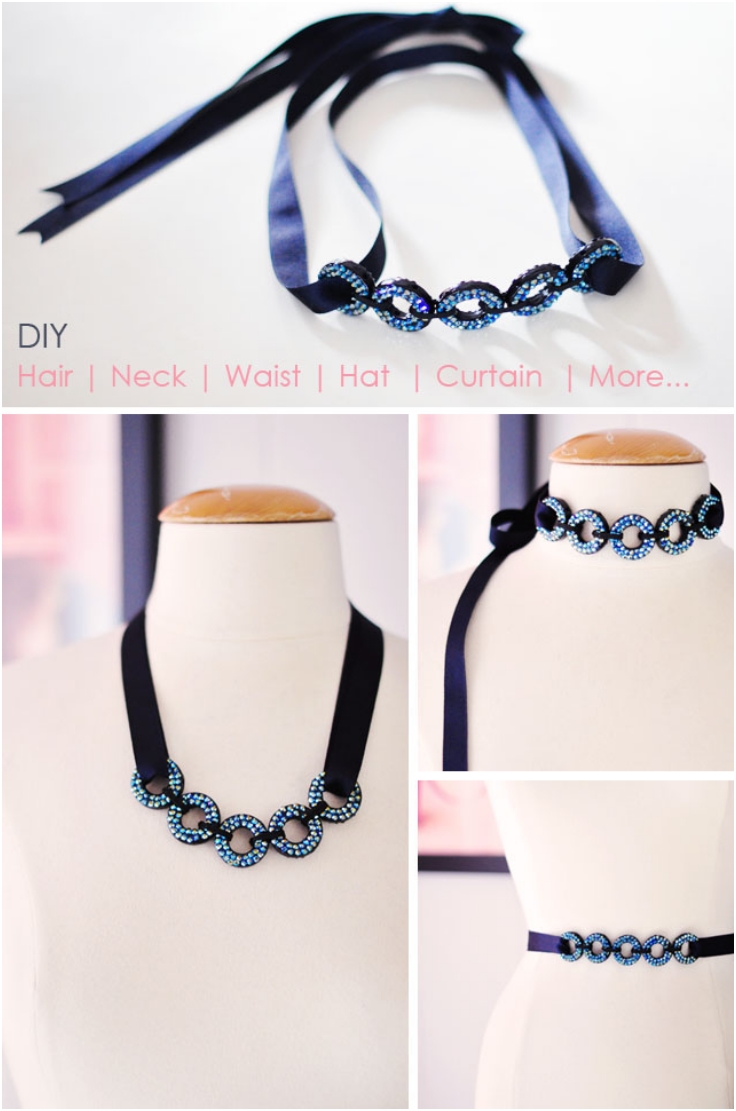 If you are a practical person that values versatility, then you will love this DIY. These decorative circles tied with ribbon can be anything you need them to be: a fancy necklace, a choker, a hat strap, a belt, a curtain strap, and anything else you can imagine.
via ionfashion.net
River Rock Choker Necklace
The combination of copper wire and small flat river stones give this choker a minimalistic and earthy look that looks simply incredible. This choker is truly fun to make and wear and the best part is that it will cost next to nothing.
Pyramid Stud Choker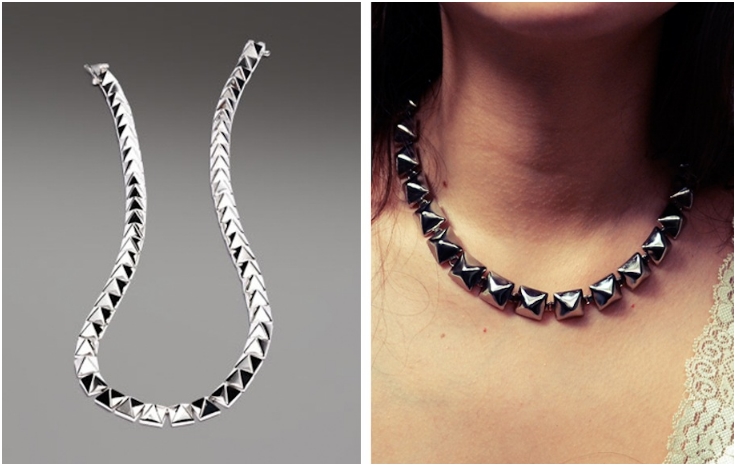 This pyramid stud choker was an Eddie Borgo original and costs over 300 dollars. And by folllowing the link bellow you 'll learn how you can use up your leftover studs, get a unique designer choker necklace and save a load of money.
via allthegoodgirlsgotoheavenblog.com
Pom Pom Choker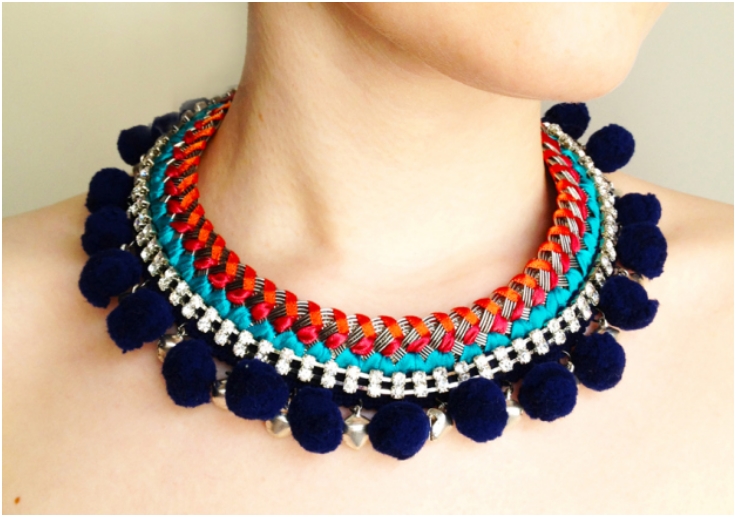 Some may think that chokers are not monochromatic and more suited for some fancy party. This choker will definitely change your mind. Made from various materials and different colors this choker can e worn with any outfit and the colors will accentuate your best facial feature.
DIY Pearl Choker & Rings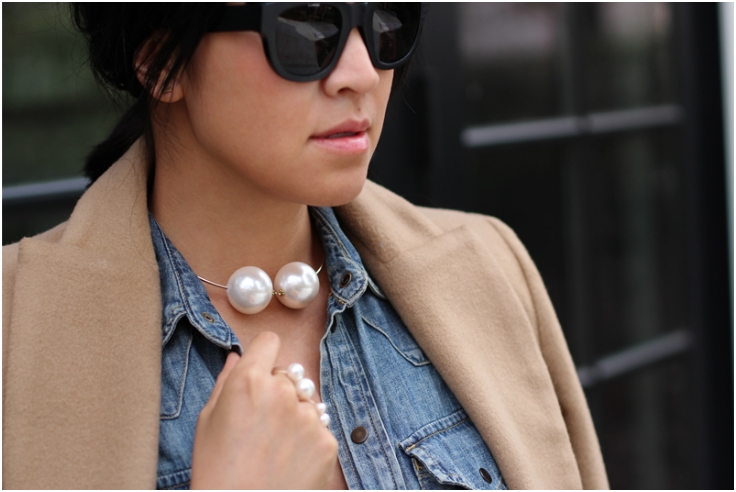 You might have come across this elegant pearl choker while looking trough the Chanel jewelry collection and you might have tough that with its price tag you will never own it. Well, now you can make it yourself and no one will ever know the difference.
via honestlywtf.com
Jumble Chain Choker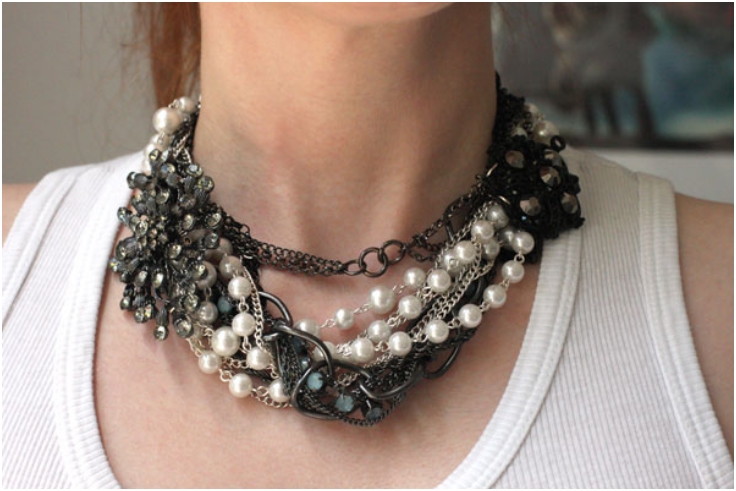 Is your jewelry box overflowing with old and outdated necklaces that you will never wear again, but are too precious to you that you can't just throw the away? By jumbling some of your old necklaces you can make this lovely new one and you don'r even have to use pliers.
via chic-steals.com
Crystal Spike Necklace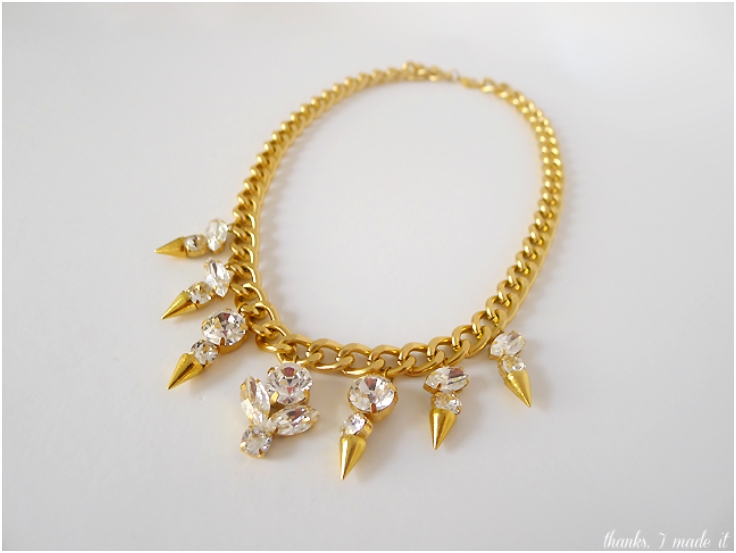 This is another necklace that have adorned the necks of celebrities. The gold chain may be reminiscent of the 80's and Run DMC era, but with a few carefully placed rhinestones, you'll have a gold choker that everyone will envy.
Battenburg Lace Choker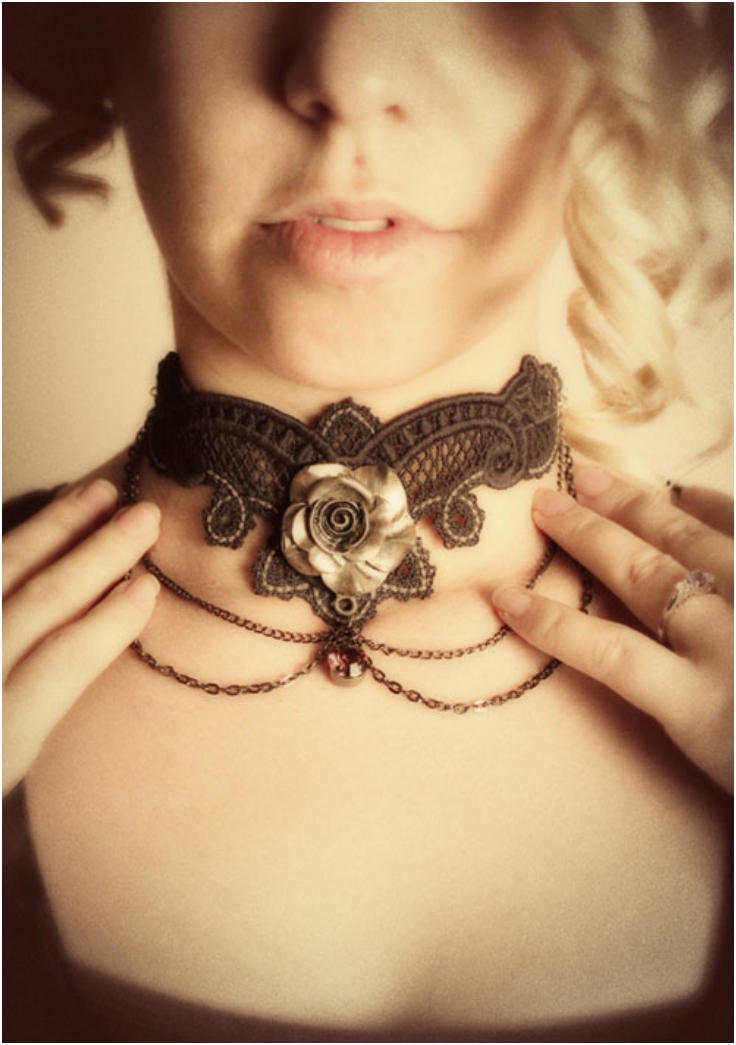 This is a wonderful choker in its classic splendor. You can use it to enhance your beauty and elegance at the next formal party or make it as a gift for your friends who are in love with the Gothic glam.
via urbanthreads.com