There are lots of ways to save money on your skincare products. If your skin has been exposed to harsh weather conditions, chances are you will want some tips on how to rejuvenate your skin and feel fresh again.
Who doesn't love to have some fun doing at-home beauty treatments? The great thing about a good DIY body scrub or facial is that it costs very little (Always great to watch the budget, right?!), and many times uses items or products you already have at home.
DIY spa products also make great gift ideas for your girlfriends!  If you love the taste and smell of cocoa, then you should look at these top 10 amazing cocoa beauty ideas for an easy DIY spa night that will have you feeling serene!
Anti-aging Face Mask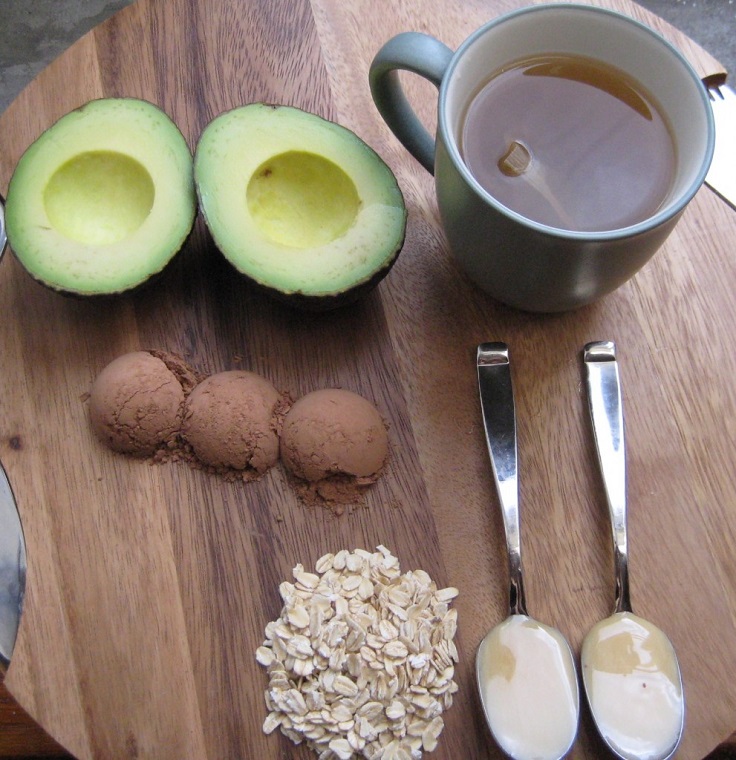 via franklysara.com
All ingredients that you need for this mask are:1/2 avocado, 1 dessert spoon, raw honey, 1 1/2 tablespoons cacao powder, 1 splash of cooled green tea, and 1 tablespoon oatmeal flakes. Add all the ingredients into a bowl, mash, and mix with a fork until completely combined. Then, slather it on, massaging the oatmeal into the skin, allowing it to exfoliate.  Leave it on for 20 minutes.
Moisturizing Face Mask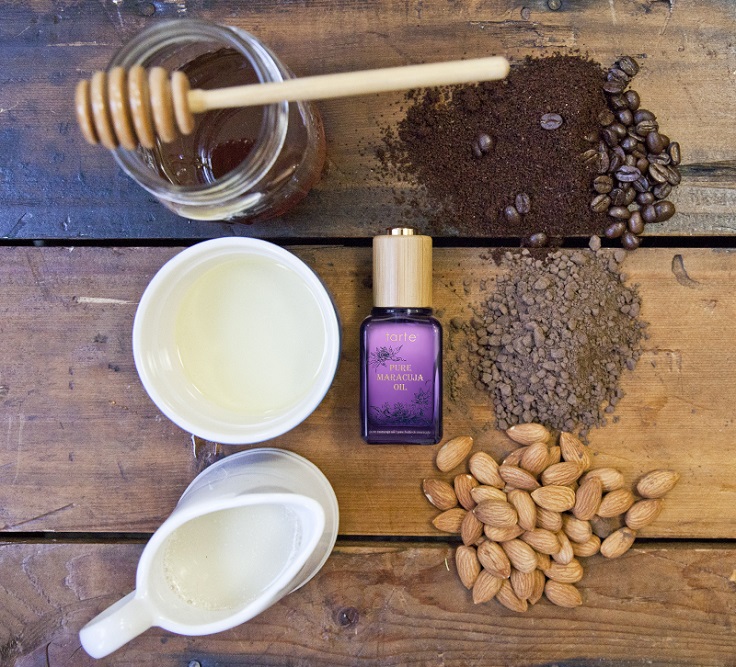 Face the harsh, dry temperatures with clam, hydrated skin. Grind coffee and almonds —separately–  into a fine powder. Mix the coffee, cocoa, and almonds together in a bowl. Add your diary (or dairy substitute) ingredient. Use only 3 Tbsp if you prefer a thicker mask. Stir in the honey. I like to warm it up. First, this helps the honey mix more easily. Try a warm water bath or a minute in the microwave.Continue mixing until smooth while slowly adding in the pure maracuja oil. Apply the mixture to your face, neck, and, if you like , your décolletage. Let the mask sit for 15 minutes. So raid your cabinets for the ingredients, mix up this DIY wonder and kiss wind-burned skin goodbye!
 Edible Mud Mask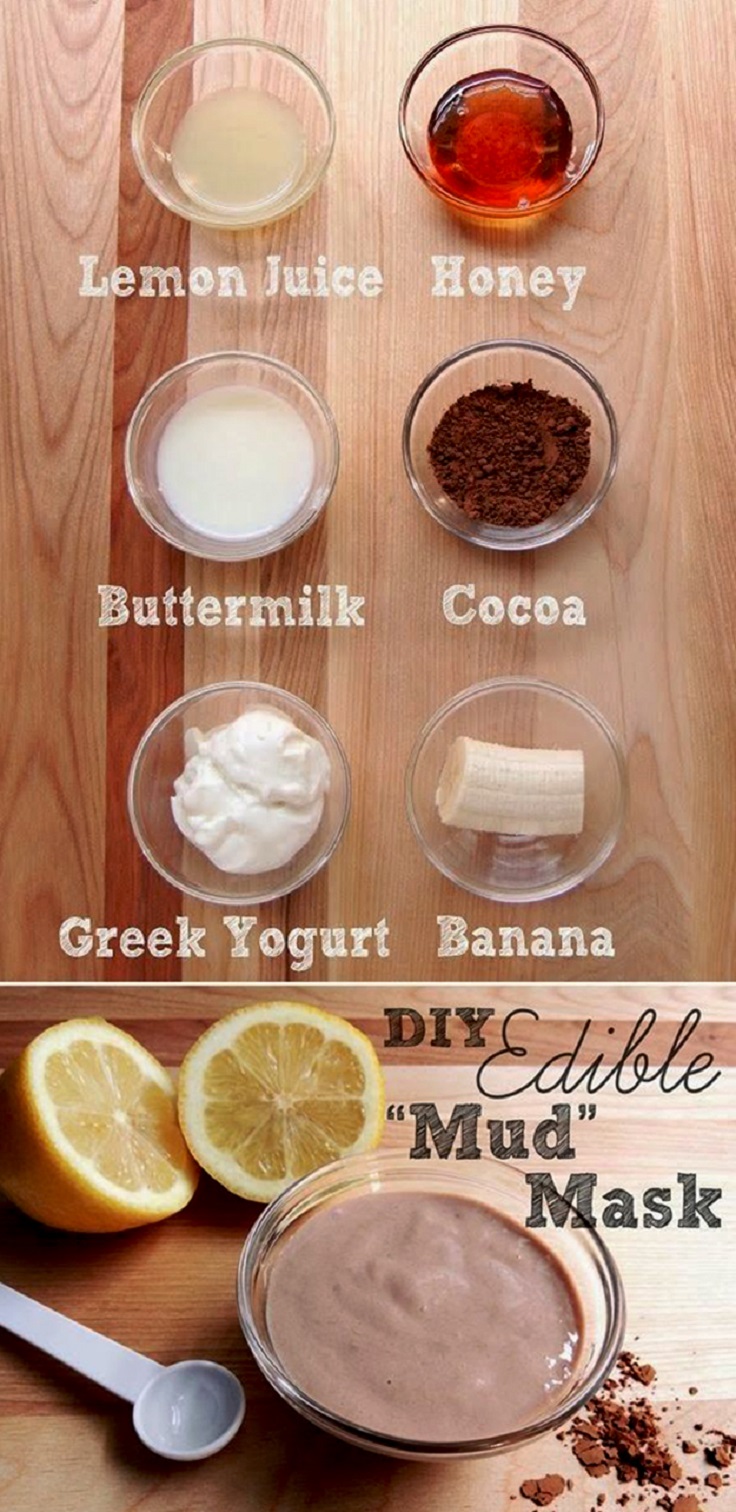 If you have dry or damaged skin, reduce or eliminate lemon juice and instead add an equivalent amount of honey. If you have particularly oily skin, use a little more lemon juice and a little less honey.  Mix well in a blender or food processor. Mask should be thick enough such that it does not run down your face. Apply a layer of the mask to your face and allow it to sit for 20-30 minutes. Wash off the mask with cool water, followed by a splash of cold water to close your pores.
 Foundation Powder
via live simply.me
All you need for this recipe is 1/4 cup arrowroot flour/starch, 4 TB cocoa powder or cacao powder, 1/4 tsp EACH nutmeg and ginger (if you have more of an olive skin complexion, you may need more), 1 tsp cinnamon, 2 tsp bentonite clay, 10 drops of vitamin e, and 12 drops of lavender essential oil. Gather your ingredients and a non-metallic bowl. The amount you use of each ingredient will greatly depend on your skin complexion. Mix all your foundation powder ingredients in the bowl, starting with the arrowroot as your base. Add each ingredient. Whisk together. Test the color by placing a small amount on your face (or arm) with your finger. It may take a little tweaking the first time to make the perfect shade for your complexion. Store your foundation powder in a small container and use a dry sponge or brush to apply. Now you're ready to face the day.
Foundation with Sunscreen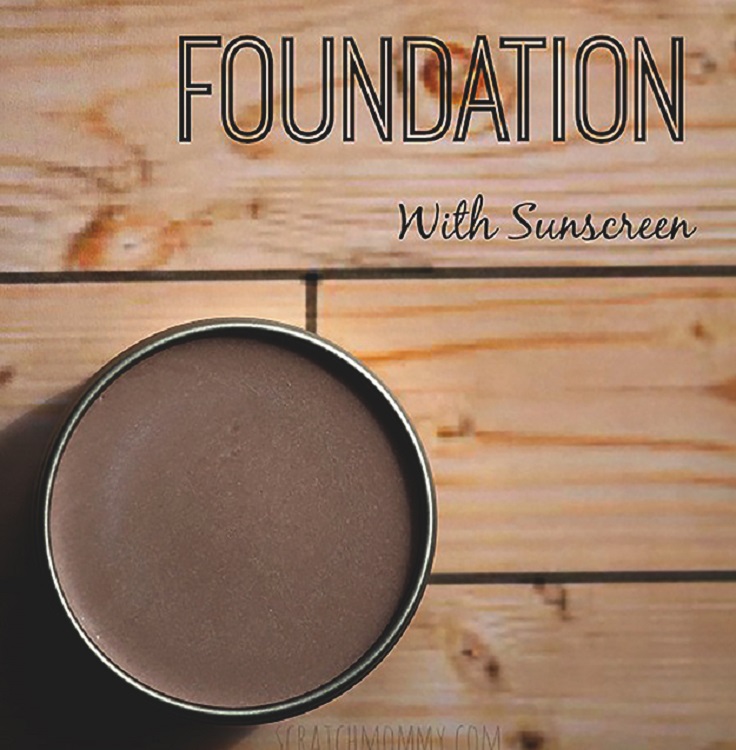 via diyready.com
Using your scale and the tare function, measure and combine the first five ingredients into the glass bowl into your double-boiler. DO NOT add zinc oxide, cocoa powder, or cinnamon! Completely  melt the first five ingredients, occasionally stirring with your whisk. Remove from heat and allow time to cool a bit (a few minutes…and wipe excess moisture off the outside of your bowl, too). Place your bowl back on the scale, hit tare, and add in spoonfuls of zinc oxide until you get to .5oz. Whisk to completely combine. Add 1/8t cinnamon; whisk to combine. Add cocoa powder a little at a time and whisk to get to the color you need. Pour into your selected container and allow it to cool.
Lip Gloss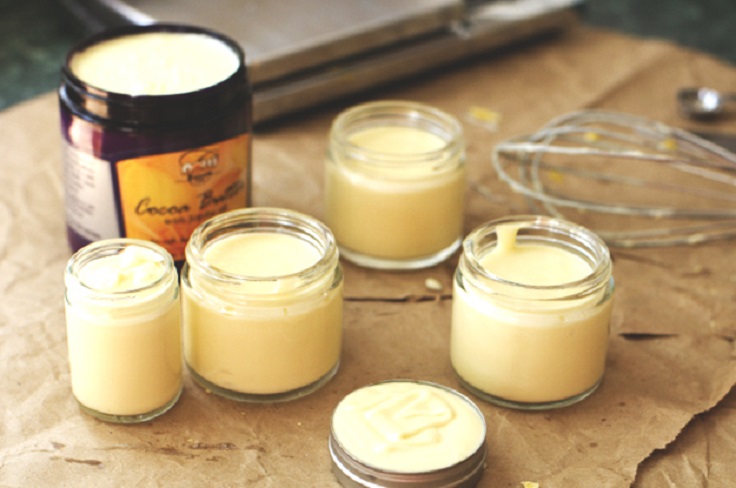 via diyready.com
Put your winter lips away with this smooth and buttery lip gloss. I am used to spending a ton of money on chapsticks and lip gloss, but not anymore. If you're trying to be frugal to save for that summer getaway, then every penny counts. This is a great way to cut the spending on at home essentials! You can make lip butter in bulk and save it for later too, which totally helps to add funds to that Bali trip. You'll Need: Chapstick or lip gloss containers (you can recycle old ones too), 1 tbs coconut oil, 1 tbs cocoa butter, 1 tb beeswax (2 tsp for a softer butter), 1 tsp cacao powder (for chocolate), 4-5 drops essential oil (for vanilla flavor).
Chocolate Facial
All you need in order to make this facial is some raw cocoa powder, raw honey, organic coconut cream, and raw avocado. Combine all these ingredients substituting honey, coconut cream, or avocado for each ingredient except cocoa powder. Apply a layer to the face or body. Leave on for 15 minutes, then rinse with warm water. Pat gently dry.
Body Butter

via ourlittlegreendot.com
In a bain-marie, meltdown your hard butter and oils until fully liquid. In a bowl, blend together the melted butter with all of the oils and set in the freezer to harden about 20 minutes. Once the mixture is solid again, but not too hard, whip it up using an electronic whisk, a food processor with a whisk attachment, a handheld whisk, and a bit of elbow grease or your kitchen-aide (lucky!) until you have created fluffy white clouds. Spoon it into a clean jar or container. It will keep for months. Slather it on!
Body Scrub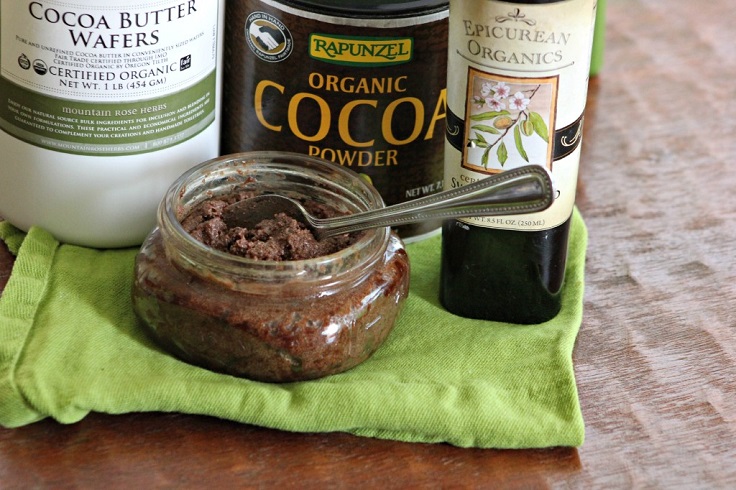 Melt cocoa butter over low heat. Mix all ingredients in a bowl. And finally, store in a half-pint size mason jar. This body scrub will gently exfoliate your dry arms and hands with such a fun scent. One really neat thing about this recipe is that the body scrub is really easy to customize. Want to add a fruity scent to go along with the chocolate?  Add sweet orange essential oil.  Looking for more of a spice?  Go for adding just a hint of cinnamon – about 1/4 teaspoon.  Raspberry extract sounds divine!  Experiment and find your favorites.
Hair Color Booster for Brunettes
via wholeliving.com
Cocoa makes for a deeper, richer brown. How it works: Honey moisturizes while acids in the yogurt (lactic) and vinegar (acetic) penetrate the hair shaft, allowing the cocoa's pigment to sink in. Natural acids open the cellular doors to the pigmented molecules and make the results more pronounced. Whip 1/2 cup cocoa powder, 1/2 cup plain yogurt, 1 teaspoon honey, and 1 teaspoon apple cider vinegar into a paste. Shampoo hair, squeeze out the water and apply the mask. Keep it on for 2 to 3 minutes. Drape a towel around your neck to prevent the mask from dripping, as it may stain skin temporarily. Rinse, then style as usual.