If you're looking for a new hobby to pick up that doesn't require too much effort and has calming properties, you should look into crocheting or knitting. These old techniques for creating clothing, accessories, and even decorative objects from yarn is something that will not only bring you pleasure but can also become a way to earn something extra on the side. And if selling your yarn creations doesn't work out for you, at least you know that you can save a few bucks on the things you make.
In recent years crochet has started gaining more and more popularity. Even younger generations see the gains of knowing how to crochet brings. Once you get the hang of it, it really isn't that hard of a skill to pick up, and you can do wonders with it.
Since the yarn is the most used material for crocheting, the end projects are usually warm and cozy pieces of clothing that have the added benefit of being homemade and with lovely, intricate patterns and textures. You can be sure that you'll like and appreciate the handmade pieces more than any storebought clothing you own.
With that, we offer you to start your crocheting adventure with the top 10 easy projects for hats to get you hooked on crochet.
Gumdrop Slouchy Hat
The gumdrop beanie is a very popular hat design among teens. This is a pretty basic pattern as far as bennies are concerned, and the neat part is that you can easily change the look of the hat by experimenting with colored yarn. Follow the pattern, change the color of the yarn and you will end up with a very cool benie.
Crocheted Red Mesh Hat
Crocheting is also a nice way to make some mash pieces of clothing, even hats, This one has a little bit extra, showing a portion of how to use your basic crochet skills, like creating crochet flowers.
Rib Wrapped Cap For Children
There are of course simpler and easier patterns that can be easily considered unisex, like this rib wrapped cap. It has a nice trimmed edge and a sweet pattern that kids of all ages will love it.
Side-Cable Cloche
Crochet hats are not only rich in the pattern but in fit and style as well. This one has a cute design, with a band on one side, with a subtle little tilt of the brim on the other. Feminine, stylish, and cozy.
Russian Little Lady Hat
As cute as the hats may be, toddlers can be a bit reluctant to wear them. The most common objections you might hear are: it's itchy, it's sweaty, it's ugly and I don't like it. Now, this might be more of an intermediate or even advanced level of crocheting, but you can be sure that no little girl will call this precious hat ugly.
Cuddly Cat Crochet Scoodie With Pockets
Hats with scarves and pockets are all the rage now. They're practical and cozy, no more looking for the scarf and hat when going out, they're all here. And they're absolutely fun to wear you'll look adorable in them, especially if they have cute animal ears on top, like this cat scoodie. Even if you hate crocheted, you gotta love this craftmashift.
Newsboy Crochet Hat
Speaking of cute designs, a hat similar to this one may have been standard wear for younger men at the turn of the 19th century, but now the ladies love them. This newsboy crochet hat is bound to be a favorite for many who prefer the casual style, with a hint of sass.
Phannie
Speaking of older styles, the barret was once one of the most stylish hat designs in Europe and the US. Today, when we think of barret we think of moody artists. Still, there are some modernized barret designs like this one that comfortable, cute and will definitely stand out in the crowd.
Mod Lace Hat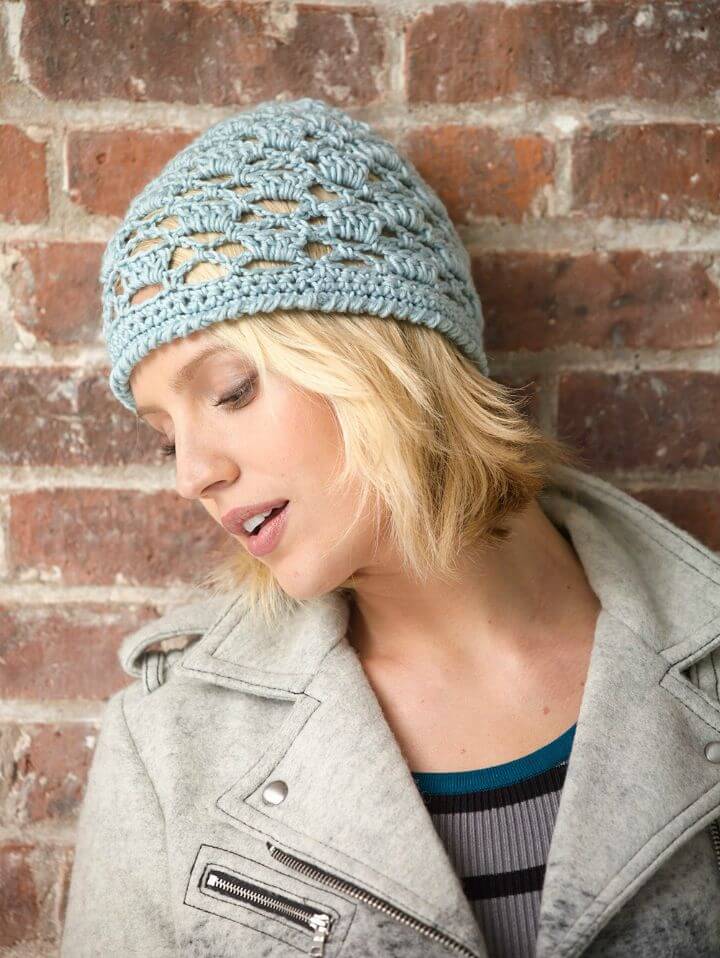 It seems like lace and mesh pattern don't ever get out of style. If you're looking for a unique mash hat for this winter, then you should get some soft yarn and try out this mod lace hat.
Le Vien Rose Earflap Crochet Hat
To wrap up our list of the softest, coziest, and most stylish crocheted hats without at least one earflap hat. This one has an interesting rose pattern that can brighten up even the most overcast wanted day. The fluffy top is just the best.
That's all the crochet hat patterns we have for now. We hope you liked them and we would love to hear your ideas and favorite pattern suggestions in the comments below.