There is no one that doesn't love pillows! They come in many different shapes, types, colors and forms, but the one thing that is in common in all of them – they are so much comfortable, and also a great decoration, no matter if you put them in your living room, your kids room or bedroom, they always look and also feel good.
So, if you want to know how you can make your custom pillows all by yourself, continue reading this post which we wrote just for you, and get inspired from this amazing and genius ideas.
Here you will surely find the one that you are looking for, because their shapes and decorations are just irresistible. The other thing that is great about this tutorials, is that they are so easy to make, so you don't even need to be a professional with this stuff, just find the items that you probably already have in your house somewhere, let your imagination and creativity start working, get few hours just for you, relax and start working your magic on this pillows!
1. Pretty Round Pillow
If you want to fresh your home with some new detail, then go ahead and choose new pillows! And not any kind of pillows, but DIY ones. You can choose which one you like, the square one or the round one. Each one of them has its own beauty and brings a new light to the home.
2. Throw Pillows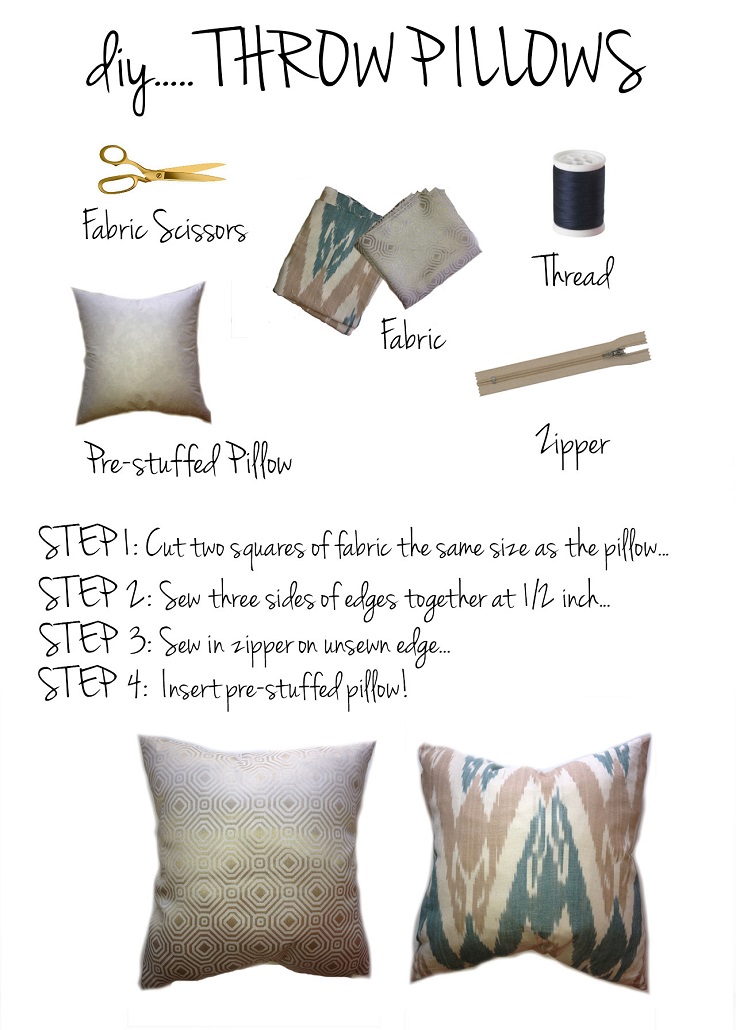 via verrylj.com
Again we have two choices on this picture for you. This cute and simple pillow covers are easy to make, and also will save you some money. Follow the 4 steps and get this beautiful pillows.
3. Heart Pillow
via lovethispic.com
If you want to fill your space with romantic atmosphere and screaming love in the air, then this hear pillow is a great way to do that. Make this beautiful pink heart made from little fabric flower shapes.
4. Outdoor Pillow Using Plastic Grocery Bags

via inmyownstyle.com
This is another kind of tutorial, it shows you how you can usefully recycle plastic bags. Get your favorite pillow covers and a bunch of plastic bags, open the tutorial for more instructions and get started.
5. Natural Tie-Dye Pillow
via highondiy.com
This is a natural way to change the color of your white pillow covers. The main things you need for this tutorial is turmeric powder like a natural color, rubber bands and a pot with boiling water.
6. No-Sew Fat-Quarter Pillow
This bright pastel colors are so nice to freshen up your space, and not only they look great, this pillows are also super easy to make, because you don't need to sew them. Find out how on the link below.
7. No Sew Pillow Out of Painters Tarps
In this tutorial you will learn how to make your own drawings and shapes on the pillows. You just need to find a pattern which will lead you while you add the color. Don't hesitate and open the link for more information.
8. "Love" Pillow
via josiejones.com
Another love pillow, that can serve as a present for your loved one, or you can simply make it, put it in your bedroom and surprise your partner when he sees it. It is so easy to make, and it is such a beautiful gesture.
9. Easy DIY Porch Pillows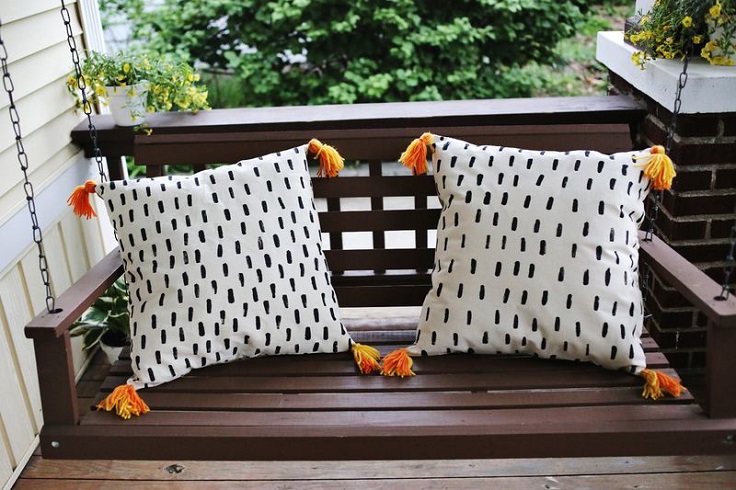 Make some pillows to decorate outdoors, because in the summer days, it is important to be comfortable in your porch, and also to make it look good. If you can't find the perfect ones in the stores, take a step forward and make ones by yourself.
10. Tie-Dye Pillow
via psimadethis.com
Great tie-dye technique indeed, because it turns out amazingly good, and who would have thought that you have done it all by yourself. We recommend this one!